For most living during the pre-war years, owning an automobile was still a luxury in itself. The wealthy upper echelon however, enjoyed a very different type of automobile. Completely bespoke, coachbuilt masterpieces were reserved for the ultra-wealthy and commissioned the finest craftsmen in the world to shape long, flowing body shapes around tremendously powerful engines and improved chassis technology to transport their passengers across longer distances in shorter time than ever before. Meticulously crafted wood work, brightly polished metal ornamentation, and plush seat trimmings ensured their passengers traveled in unparalleled comfort and style.

The late Mr. Fred Guyton had an eye for these stylish and elegant coachbuilt wonders, all of which are offered from his carefully curated collection at RM Sotheby's The Guyton Collection auction between the 4-5 of May.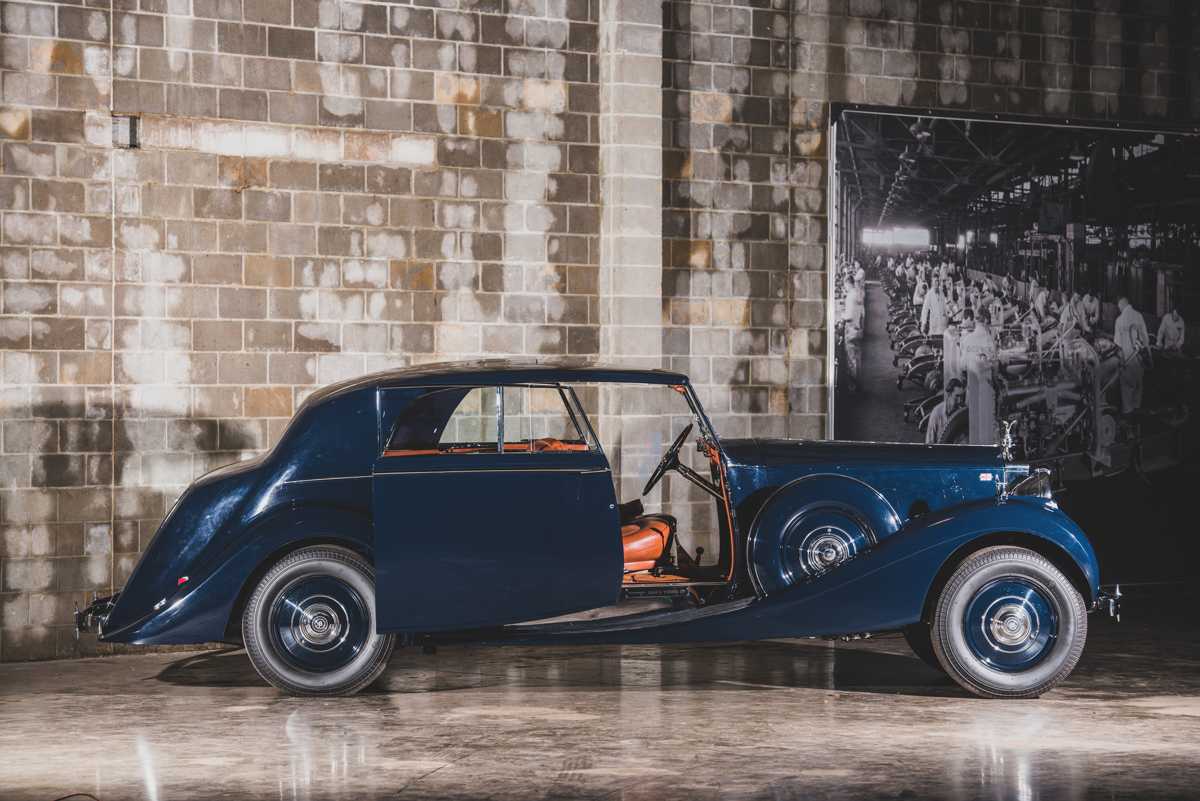 1938 Rolls-Royce Phantom III 'Parallel Door' Saloon Coupe by James Young
Estimate: $150,000 - $250,000 USD | Offered Without Reserve
Top UK coachbuilder James Young Ltd. produced only two Phantom III saloon coupes fitted with their innovative "parallel doors," which slid outward away from the body before sliding parallel to the body toward the rear of the car. The unique design also added safety, allowing the large two-door saloon to have well-proportioned doors which did not open into traffic. This chassis was ordered to accommodate the highest level of coachbuilt engineering available at the time, featuring an electric sunroof and sliding glass panel, smoked sliding rear glass, cocktail cabinets, and was fitted with sealed beam headlamps. The interior was trimmed in the finest pigskin, while polished metal and Circassian walnut trim decorated the cabin.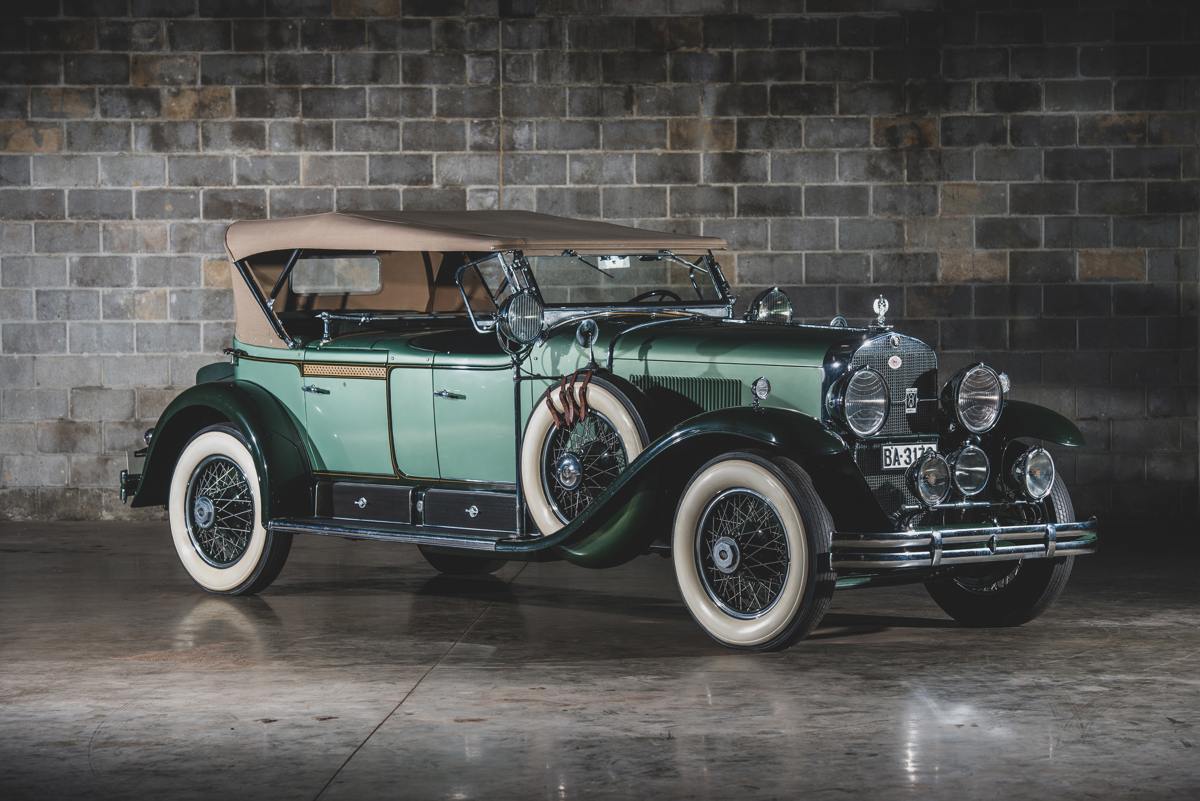 1929 Cadillac V-8 Sport Phaeton by Fisher
Estimate: $140,000 - $180,000 USD | Offered Without Reserve
While most manufacturers at the time sold a bare chassis to be bodied by outside coachbuilding firms, Cadillac sought to keep most of the business in-house and purchased coachbuilders Fleetwood Metal Body and Fisher respectively, the latter of which crafted the coachwork of this example. This chassis was originally delivered to a noblewoman in Badajoz, Spain, and was chauffeur driven until 1960, as it was widely considered "the best car in the province." Finished in a striking two-tone green livery with caned rear door panels and matching dark green leather interior, the dual-cowl sport phaeton is remarkably well-preserved and showing only 25,996 km on the original European-specification odometer.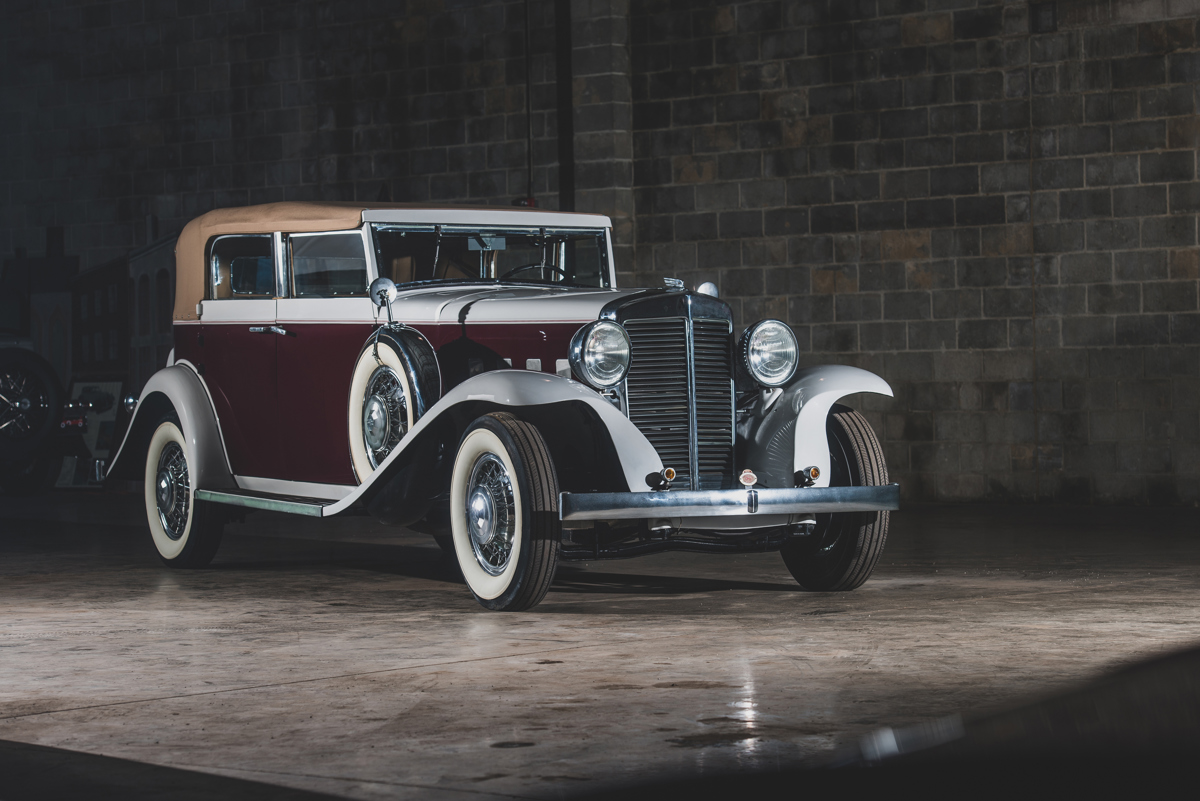 1931 Marmon Sixteen Convertible Sedan by LeBaron
Estimate: $250,000 - $300,000 USD | Offered Without Reserve
The Marmon Sixteen was Colonel Howard Marmon's vision of perfection, a combination of elegant styling through sharp design shapes, crisp body lines, and minimal ornamentation paired with world-class engineering. It featured a 200 horsepower, 490 cu-in all-aluminum V-16 engine mounted in a state-of-the-art chassis. It was capable of out-accelerating a Duesenberg Model J, but for a fraction of the price. This chassis underwent a restoration in 1985 and went on to earn a second place finish at the Pebble Beach Concours in 1988 and achieving both an AACA and a CCCA Senior First prize (no. 1689) before becoming part of the Guyton collection in 1996.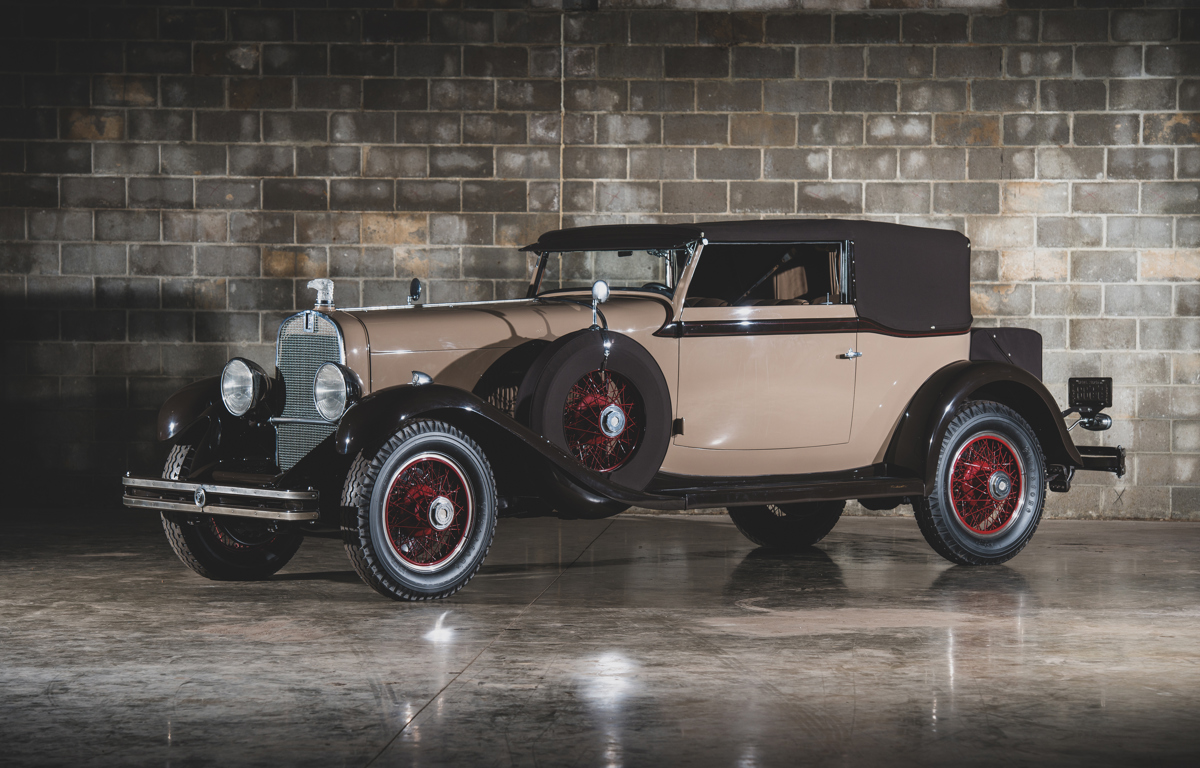 1930 Du Pont Model G Convertible Victoria by Waterhouse
Estimate: $400,000 - $600,000 USD | Offered Without Reserve
After World War I, E. Paul du Pont repurposed his Wilmington, DE, marine engine factory in order to produce high-end automobiles. Each vehicle was assembled with great care using high-end components using only the finest materials available. This chassis features bodywork by Massachusetts coachbuilder Waterhouse, with a convertible top mechanism that allows the top to fold flush to its convertible victoria body. This example benefits from a concours-quality restoration performed after Mr. Guyton's acquisition of the vehicle in 2000.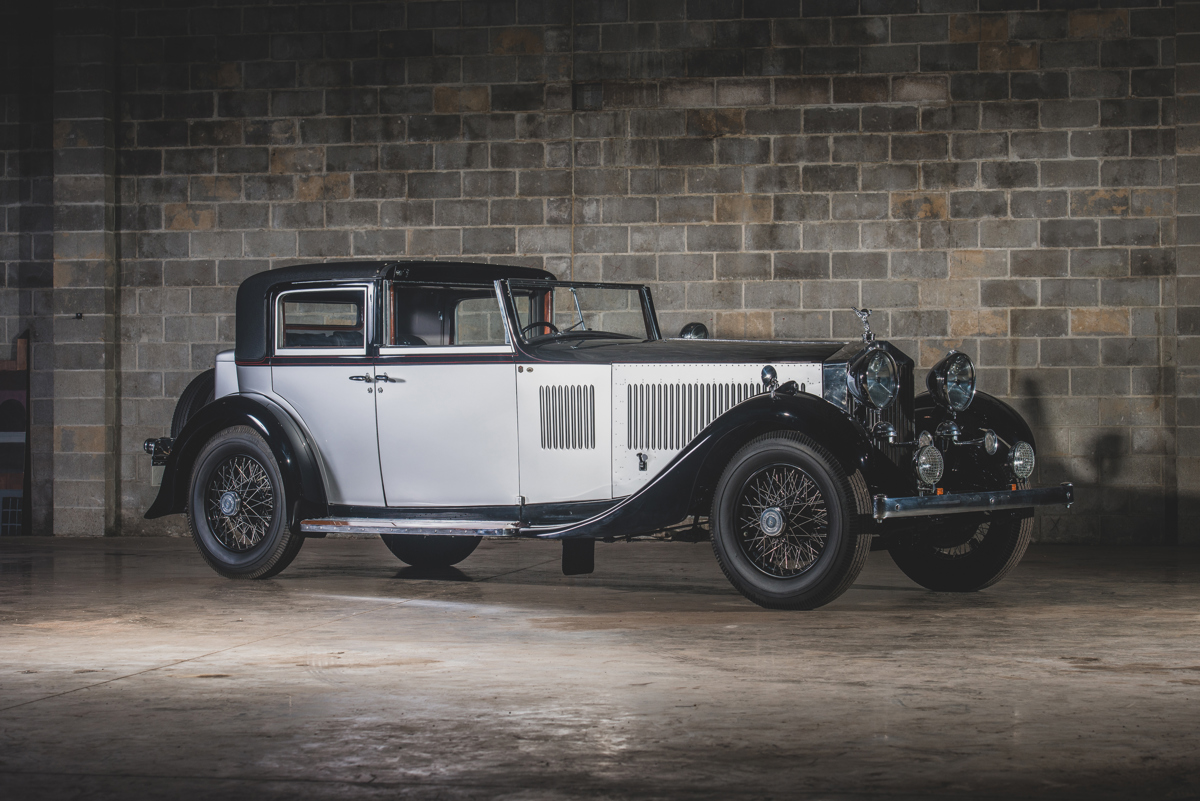 1931 Rolls-Royce Phantom II Continental Fixed Cabriolet de Ville by Thrupp & Maberly
Estimate: $150,000 - $200,000 USD | Offered Without Reserve
Coachbuilder Thrupp & Maberly created this rakish chauffeur-driven sedanca de-ville body with a small, closed rear compartment for only two passengers. Long curvaceous fenders, an extended scuttle line, a hood line with hidden hinges, and a very low roofline all accentuate the length of the close-coupled body. A concours-level restoration was performed, repainted in an elegant silver and black livery over black leather trimmed seating, with the original wood trim retained throughout the interior.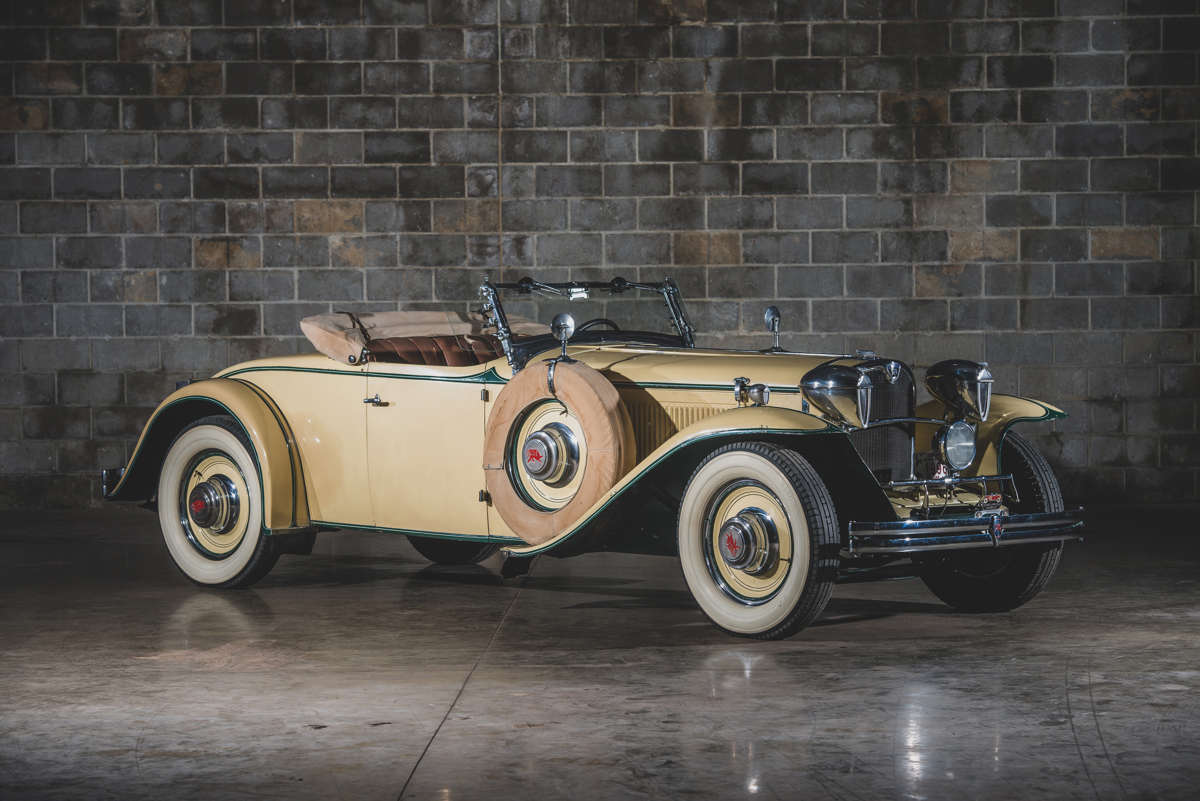 Ruxton Model C Roadster by Baker-Raulang
Estimate: $350,000 - $450,000 USD | Offered Without Reserve
Through Ruxton's brief and turbulent history as a manufacturer, a mere 96 Ruxtons were built and only 12 fitted with the Baker-Raulang roadster body. This chassis was the 11th of only 12 Ruxton roadsters ever produced and was owned by Ruxton president George Kissel as his personal vehicle. The front-wheel-drive roadster is fitted with Continental engine number 18S-162 and chassis no. 11005, making it the sixth automobile assembled in the Kissel Motor Car facility.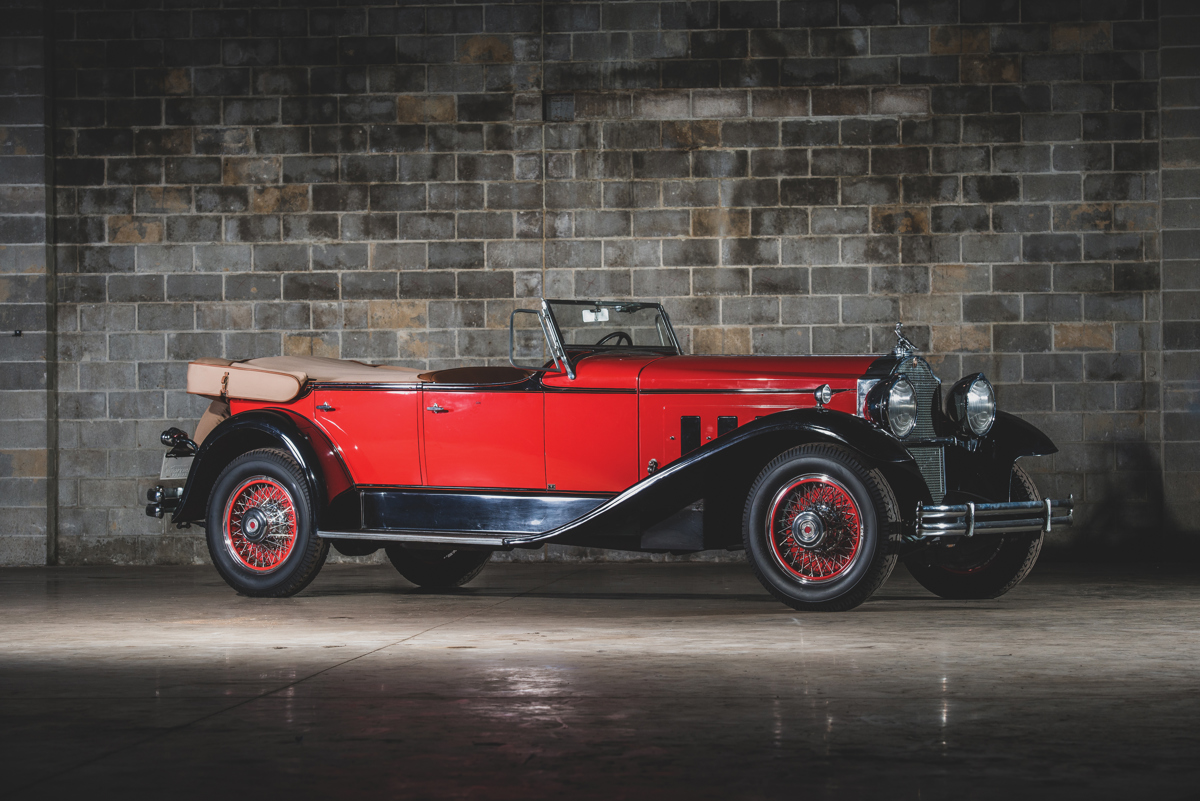 1930 Packard 734 Speedster Eight Phaeton
Estimate: $800,000 - $1,100,000 USD | Offered Without Reserve
Despite Packard's desire not to be viewed as a performance automaker, in order to be competitive with the Duesenberg Model J and Cadillac V-16, they would need to create something equally luxurious and capable. The 733 Eight's chassis was reinforced for added rigidity, and a heavily modified engine capable of 145 horsepower and a top speed north of 100 mph in top gear ensured it would match its rivals. Despite a new paint scheme from the previous owner and the seats reupholstered, Mr. Guyton's Speedster is largely original and shows nearly all mechanical components are within a single digit of each other, including stampings and tags.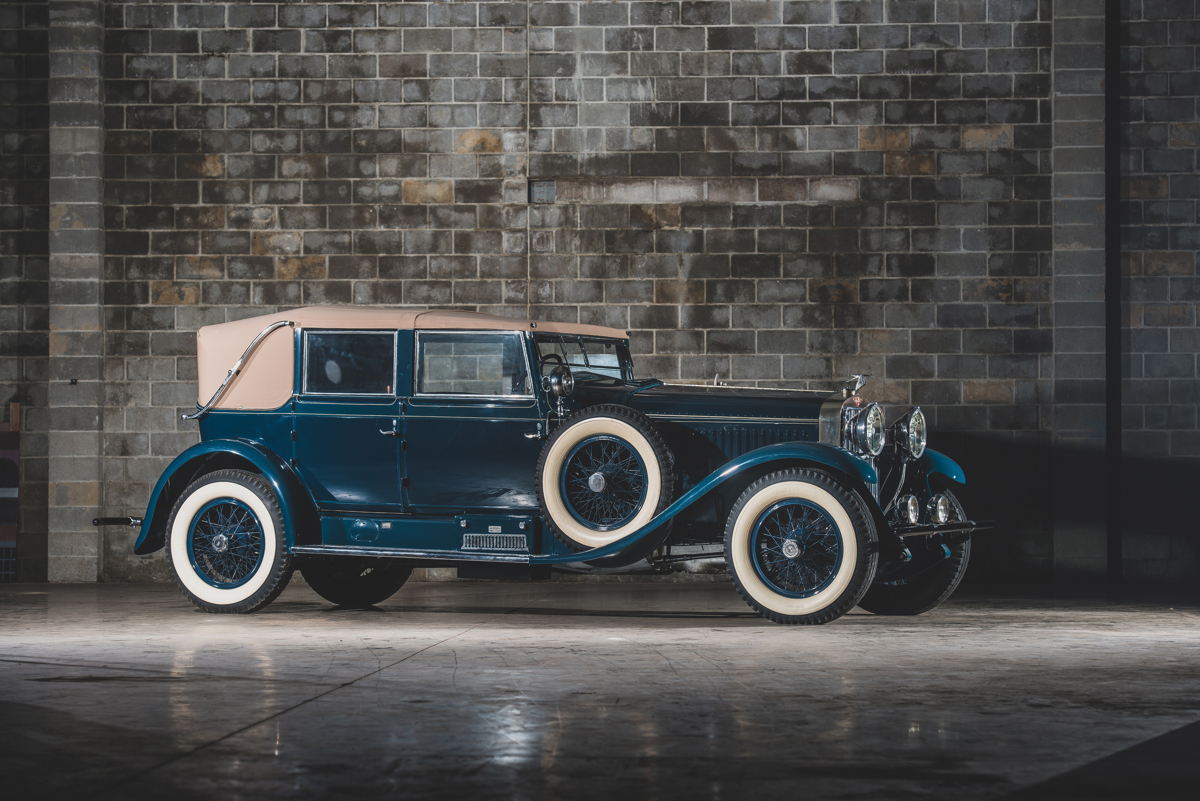 1928 Hispano-Suiza H6B Cabriolet de Ville by Hibbard & Darrin
Estimate: $250,000 - $300,000 USD | Offered Without Reserve
The French built Hispano-Suiza would become legendary for a combination of its smooth power and torque, elegant coachwork from the world's finest craftsmen, and advanced chassis design. The H6B sported an aircraft derived six-cylinder engine with steel cylinders in a lightweight cast aluminum block, producing 135 horsepower. The coachwork was constructed entirely of Hibbard & Darrin's patented Silentlyte aluminum for durability and lightness, with fine woodwork inlaid throughout the interior.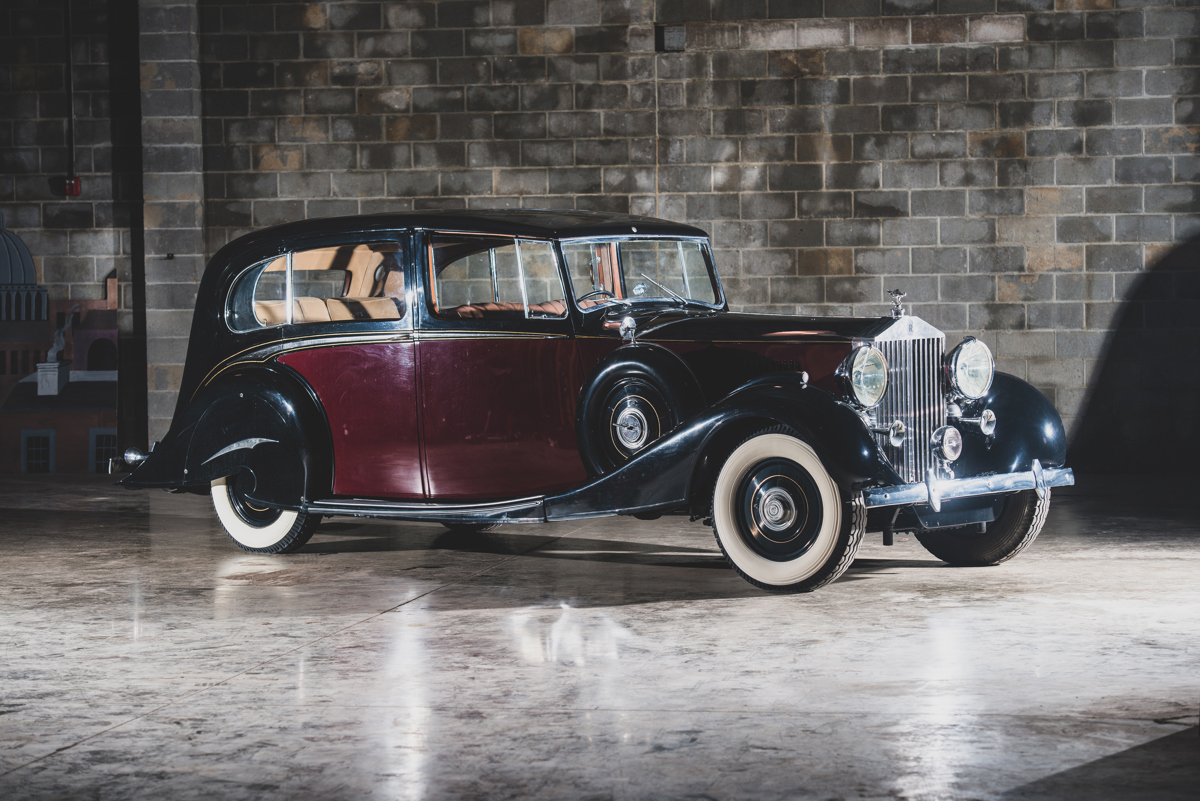 1939 Rolls-Royce Phantom III Limousine de Ville by Hooper
Estimate: $125,000 - $175,000 USD | Offered Without Reserve
Coachbuilders Hooper & Company of London created the exquisite limousine body of chassis 3DL120 for Rolls-Royce to display at events through 1939, including the New York World's Fair. The stylish body features a distinctive long roofline with a complex disappearing roof over the chauffeur's seat, sliding window shades in the rear compartment, an interior trimmed in fawn cloth and curl walnut, overstuffed swiveling jump seats, and streamlined fenders with "spats" over the rear wheels. Chassis 3DL120 was later re-bodied, and the original body was mounted on the present chassis, no. 3DL180.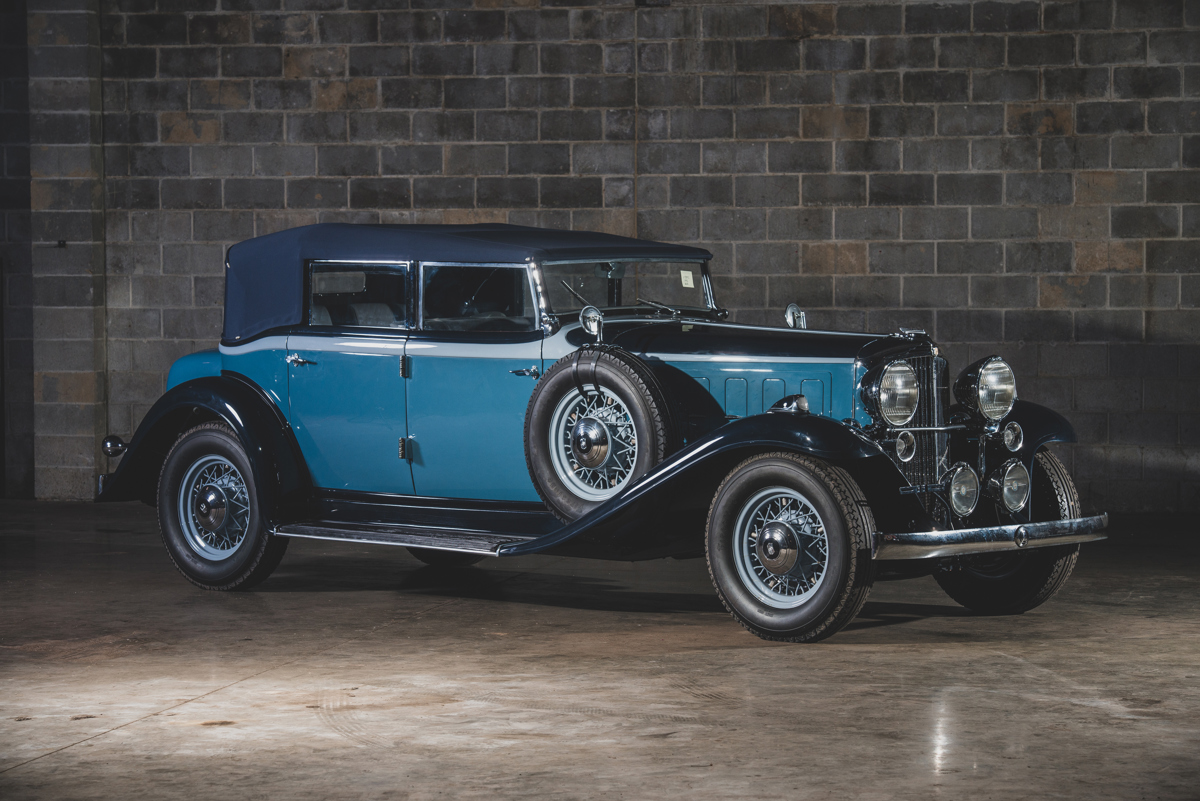 1932 Nash Advanced Eight Convertible Sedan by Seaman
Estimate: $125,000 - $175,000 USD | Offered Without Reserve
Historian David Brownell dubbed the Nash Advanced Eight convertible "Kenosha's Duesenberg," referencing the superb luxury automobile which was overshadowed by the attention Packard, Lincoln, and Duesenberg received. The custom-built convertible sedan features an inline eight-cylinder engine with dual ignition, Bijur automatic chassis lubrication, thermostatically controlled radiator shutters, and Delco adjustable shock absorbers. Under Mr. Guyton's direction, the Nash underwent a frame-off, ground-up restoration and is one of only three surviving examples with the convertible sedan body configuration.