When it comes to measuring the offerings of a car auction house, the week preceding the Pebble Beach Concours d'Elegance in Monterey, California, is peak season. But the breadth and depth of these offerings only say so much about the skill of any specialist in classic automobiles; another sign of how confident consignors are with the abilities of an auction house is the number of cars that are listed without reserve.    
At RM Sotheby's, 90 lots are offered with no reserve over the three-day sale. With a list that spans from coachbuilt cars crafted for royals of the post-war period to several desirable sports cars with still-potent performance, it will be worth tuning in from 18 to 20 August as these highlights cross the block. Here are some of our favorites in the post-war category: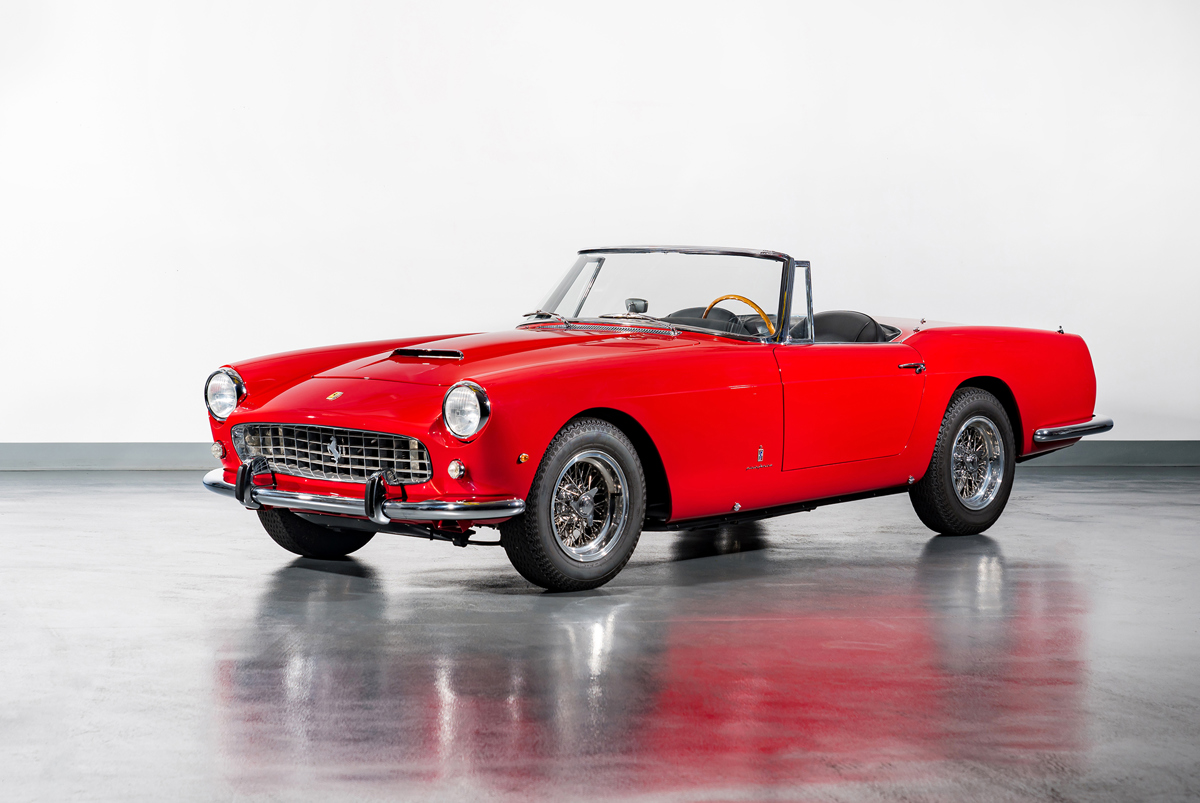 1961 Ferrari 250 GT Cabriolet Series II by Pininfarina
Estimate: $1,300,000 - $1,600,000 USD | Offered Without Reserve
Offered from The Oscar Davis Collection
What many consider to be among the most elegant open-air, front-engine Pininfarina designs of the mid-century period, the second series of the 250 GT Cabriolet is also a relatively uncommon Ferrari, with only 200 of the convertibles made in total. This example was the 136th ever made and has a fascinating history tracing back to its original French delivery and first owner, the chief chemist of the famous French perfume maker Parfums Carven. Its original color combination was Bianco-over-Nero. A tempting proposition to enjoy at vintage rallies in its present Rosso Corsa before returning it to its original state, this example's most recent restoration from Kevin Kay Restorations of Redding, California, totaled over $120,000 and is still holding up nicely; it was acquired by the great collector Oscar Davis in 2013. A most tasteful choice.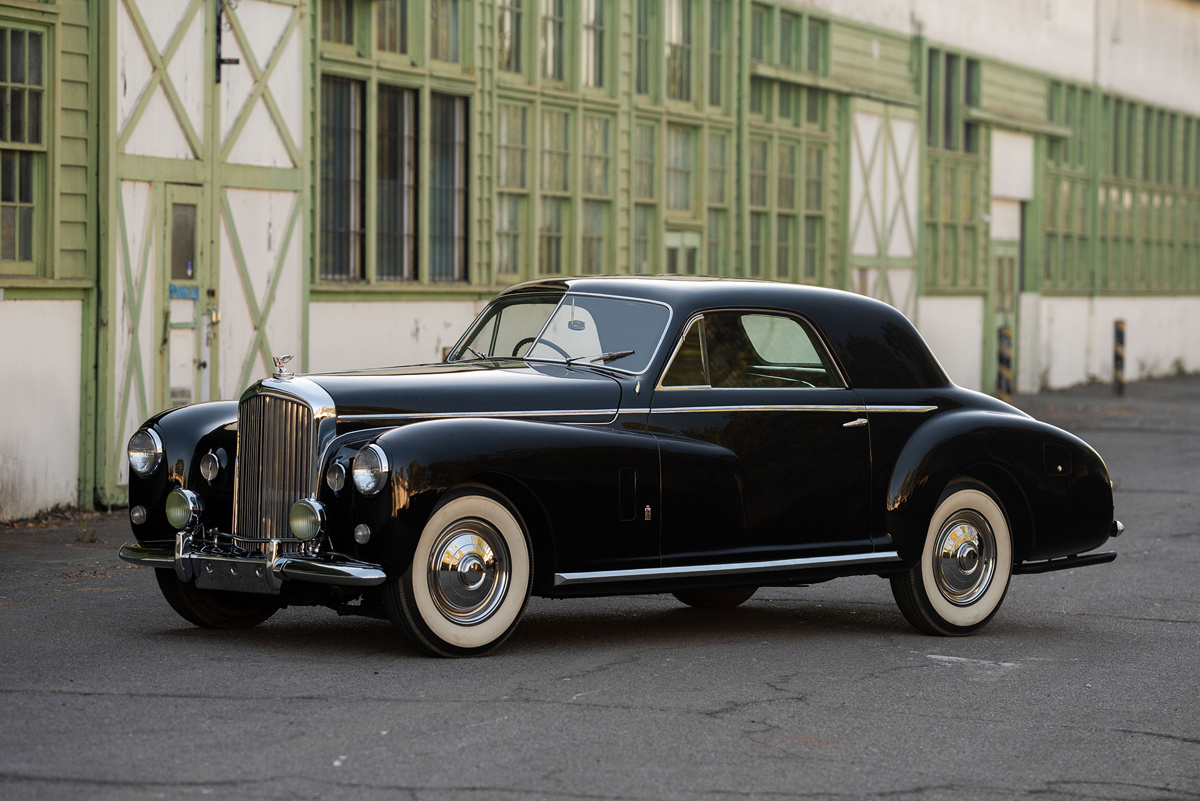 1949 Bentley Mark VI Coupe by Pinin Farina
Estimate: $200,000 - $275,000 USD | Offered Without Reserve
Offered from Masterworks of Design
For those who prefer their Italian coachbuilding in a statelier motor car, the elegant, hand-built coupe body on this Bentley Mark VI chassis is one of a mere five ever made. This example was particularly prized in-period as it was chosen by Pinin Farina to be displayed on their show stand at the Geneva Salon in 1949. With a history of important prior owners including a Swiss Baron and noted Pebble Beach figures Russell Head of Burlingame and Dr. Paul M. Woudenberg of Long Beach, this beloved Bentley is authentically presented, down to its plush green leather interior. Ahead of its time, especially considering the Mercedes-Benz 300 series debuted two years afterwards.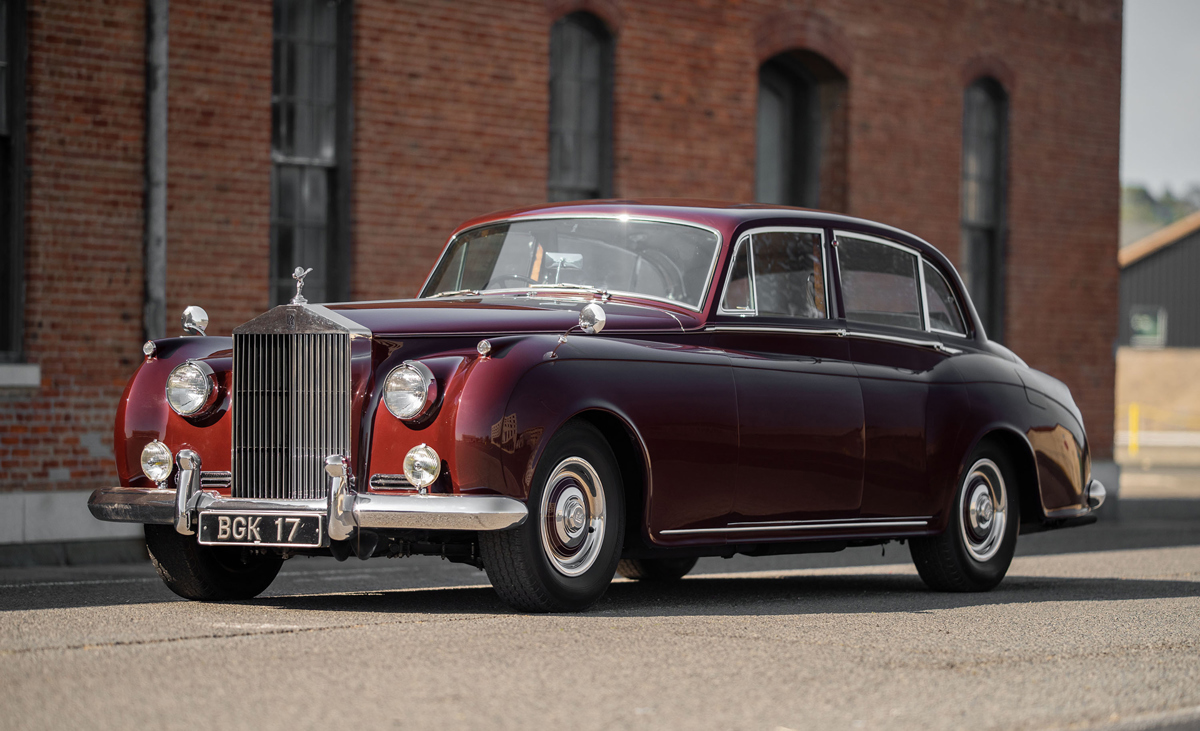 1959 Rolls-Royce Silver Cloud I Saloon by James Young
Estimate: $75,000 - $100,000 USD | Offered Without Reserve
Offered from Masterworks of Design
Retained in its current collection for the past three decades, this long-wheelbase Silver Cloud I Saloon is a rakish example from one of the UK's most typically conservative coachbuilders. James Young was based in the London borough of Bromley and could trace its lineage back to the 1860s, when it supplied hand-built carriages to the upper crust. This example was exported to Switzerland and served as the atelier's show car during the Geneva Motor Show in 1959. With its rear compartment generously appointed with fold-away picnic tables and a working divider window between passengers and the lucky chauffeur, this one-of-seventeen Silver Cloud is sure to provide a luxurious ride; an air-conditioning system was even added by a prior owner. An example of post-war British coachbuilding at its grandest.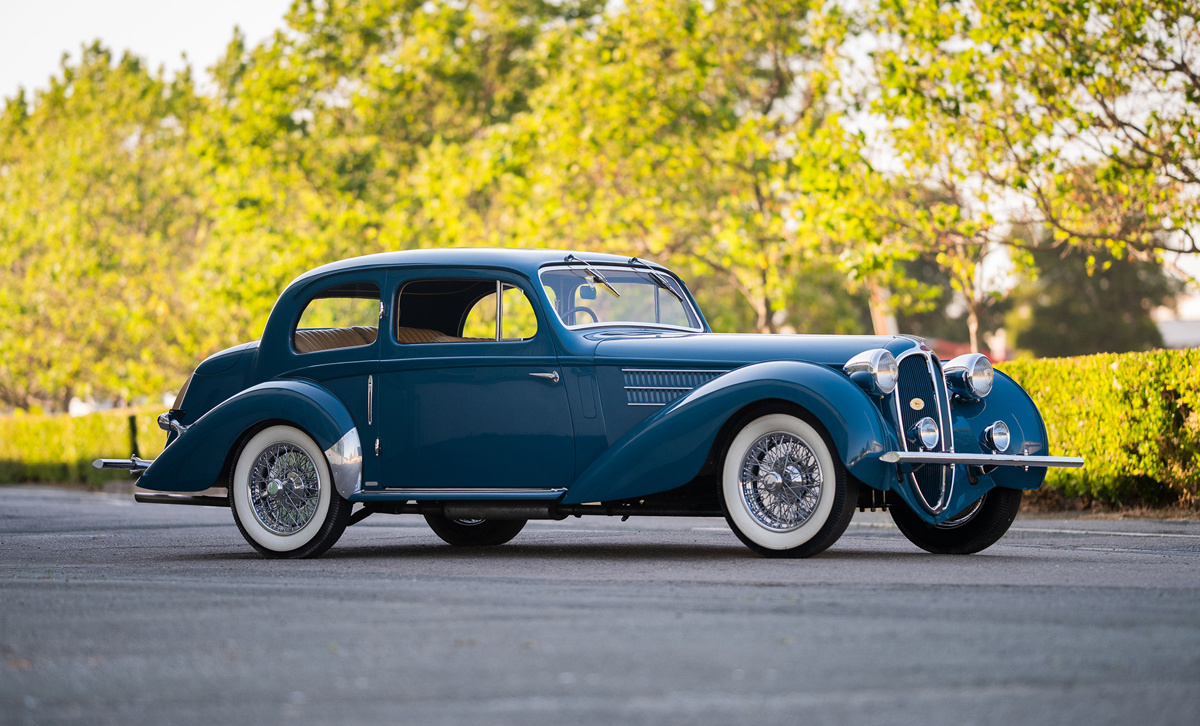 1946 Delahaye 135 M Coach by Guilloré
Estimate: $100,000 - $150,000 USD | Offered Without Reserve
Offered from Masterworks of Design
What could be one of the biggest values of the auction, this two-door, post-war Delahaye features swept-back coachwork by Carrosserie Guilloré of the Parisian suburb of Courbevoie. With a known history of marque enthusiasts, this very example won a National First Prize during judging by the Antique Automobile Club of America in 1985. With an older restoration in a spectacular color scheme, this triple-Solex-carbureted, six-cylinder grand tourer was known for its power and balance. It would make for an understated, yet undeniably pedigreed transportation.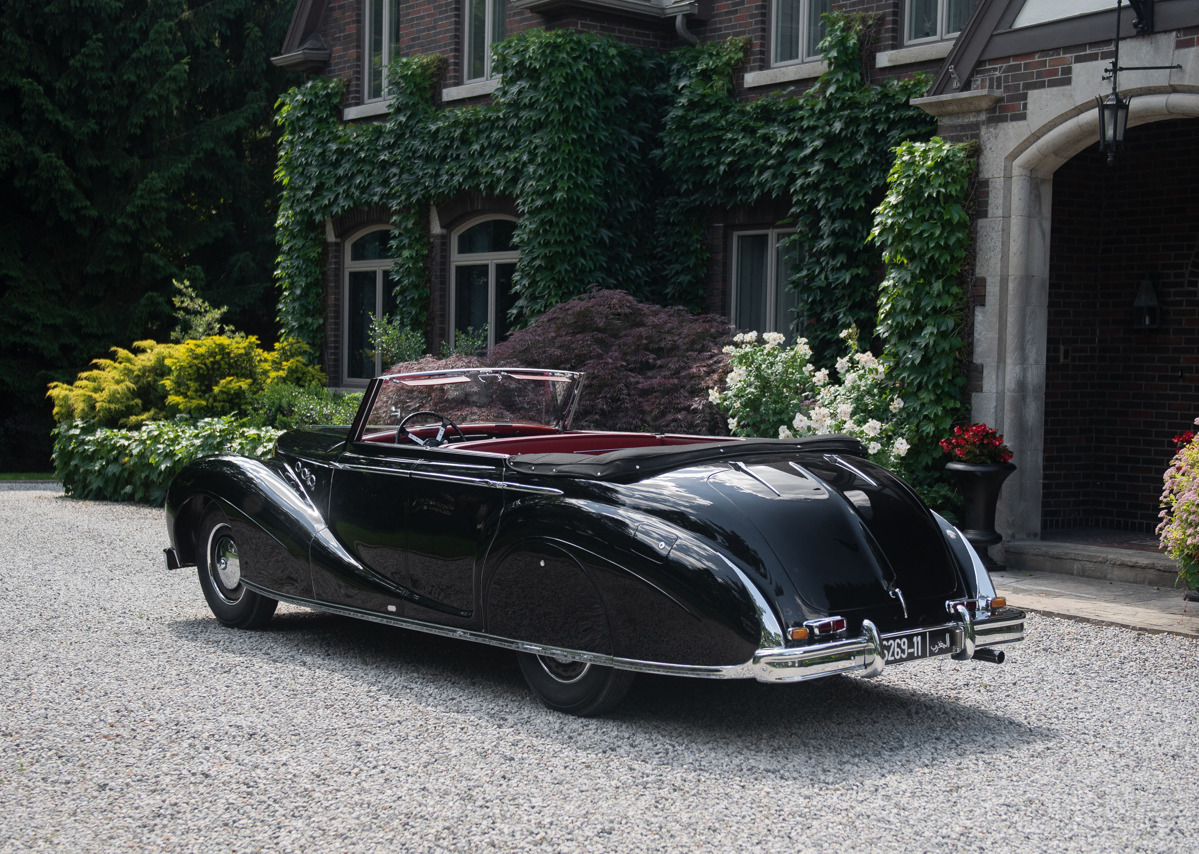 1950 Delahaye 180 Transformable Cabriolet by Franay
Estimate: $200,000 - $250,000 USD | Offered Without Reserve
Offered from Masterworks of Design
When it comes to ultimate pedigree, the original owner of this post-war Delahaye 180 Transformable Cabriolet was ordered new by the King of Morocco, Mohammed V from the Levallois-Perret, France-based firm Franay. Having built extreme, show-worthy cars on such top-tier chassis as Hispano-Suiza and Rolls-Royce, it was clear that King Mohammed V wished for exclusivity in his transportation. Long wheelbases were also a must, as this car was made to be a parade vehicle, as these fascinating period photographs show. With a generously appointed backseat lined in red leather that could quite literally be characterized as a throne, the future occupants of this undeniably dignified car will no doubt feel special. With a line of ownership after the Moroccan ruler including Pittsburgh physician and collector of unique automobiles Erle M. Heath, this example has been in its present collection for over three decades. A rare opportunity.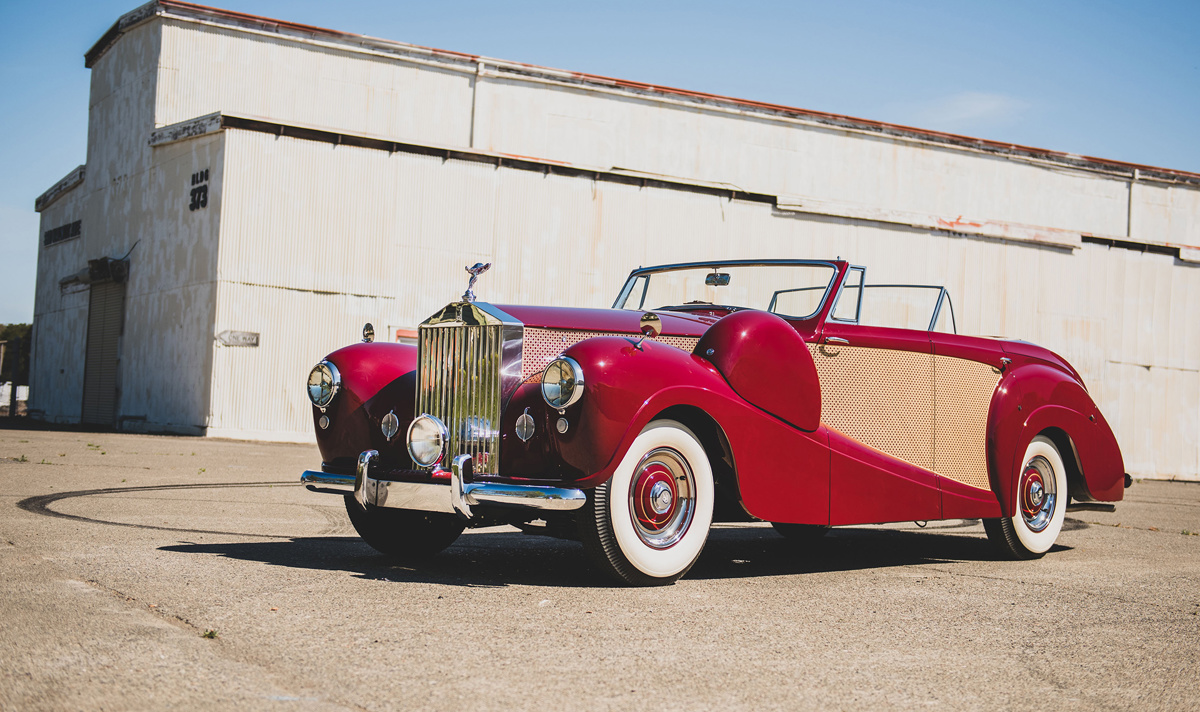 1954 Rolls-Royce Silver Wraith All-Weather Tourer by Freestone & Webb
Estimate: $350,000 - $450,000 USD | Offered Without Reserve
Offered from Masterworks of Design
Our most uncommon example so far, this coachbuilt, open-air Rolls-Royce was a true one-of-one. Commissioned from London-based Freestone & Webb by one of the true raconteurs of the early post-war period in Independence, Missouri, C. Blevins Davis, an American playwright and theatrical producer, this four-door Saloon is truly spectacular, down to the intricate, painted canework on its exterior. Its cream and scarlet leather interior provides a perfect counterpoint to its unmistakable exterior, and rear seat passengers get the benefit of a fold-away second cowl for wind protection. Original owner Davis was a personal friend and former neighbor of US President Harry Truman, and it would have been fitting to see the duo touring through the Missouri countryside in this stunning Silver Cloud.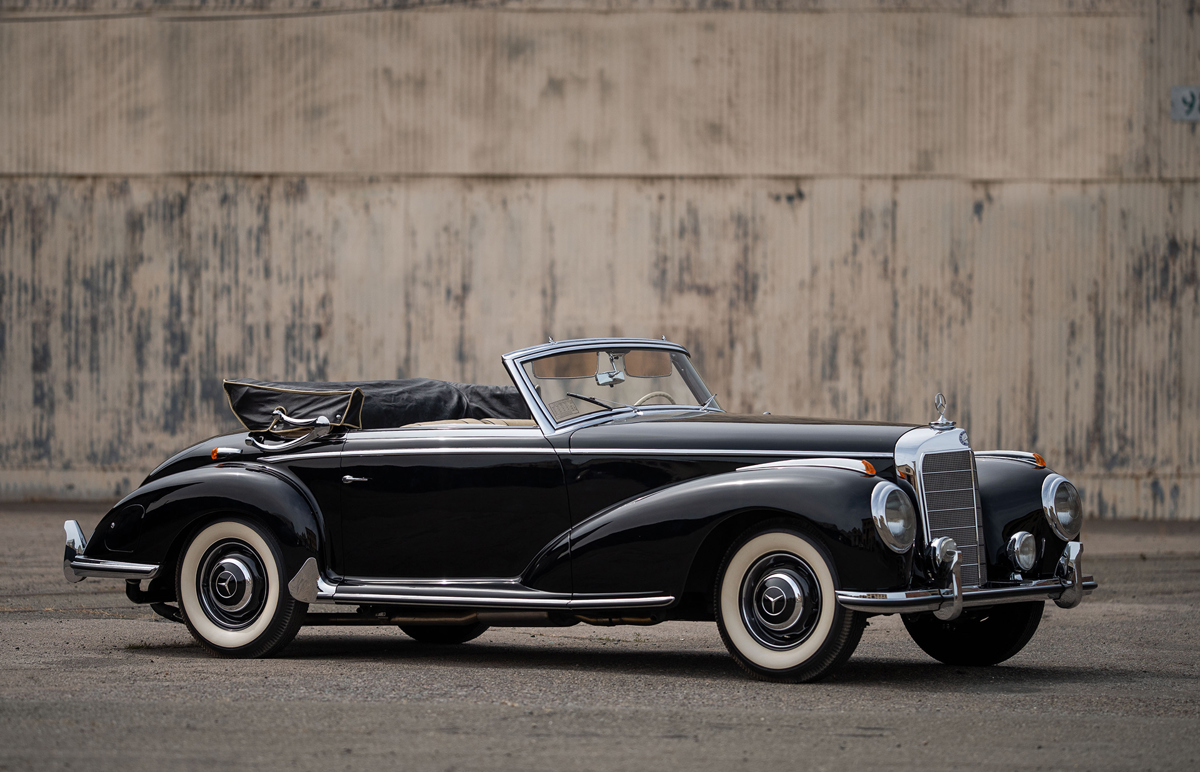 1952 Mercedes-Benz 300 S Cabriolet A
Estimate: $300,000 - $350,000 USD | Offered Without Reserve
Offered from Masterworks of Design
While there are certainly sufficient numbers of supercharged, pre-war Mercedes-Benz cars offered at Monterey 2022, there are also several worthy automobiles made in the post-war period. The three-pointed star brand's legacy of handcrafted automobiles from its Sindelfingen facility still measured up in the post-war years. The color combination on this handsome 300 S Cabriolet is worthy of note, as well as the shortened wheelbase that the "S" designation denotes. The exterior is actually a shade of blue (DB 320), with a contrasting brown leather interior. An expansive dashboard with plenty of chrome and burled wood greets the driver. This example is one of a mere 203 made across the seven-year production cycle, and its high-compression six-cylinder engine and sporting presence would make for a superb tourer.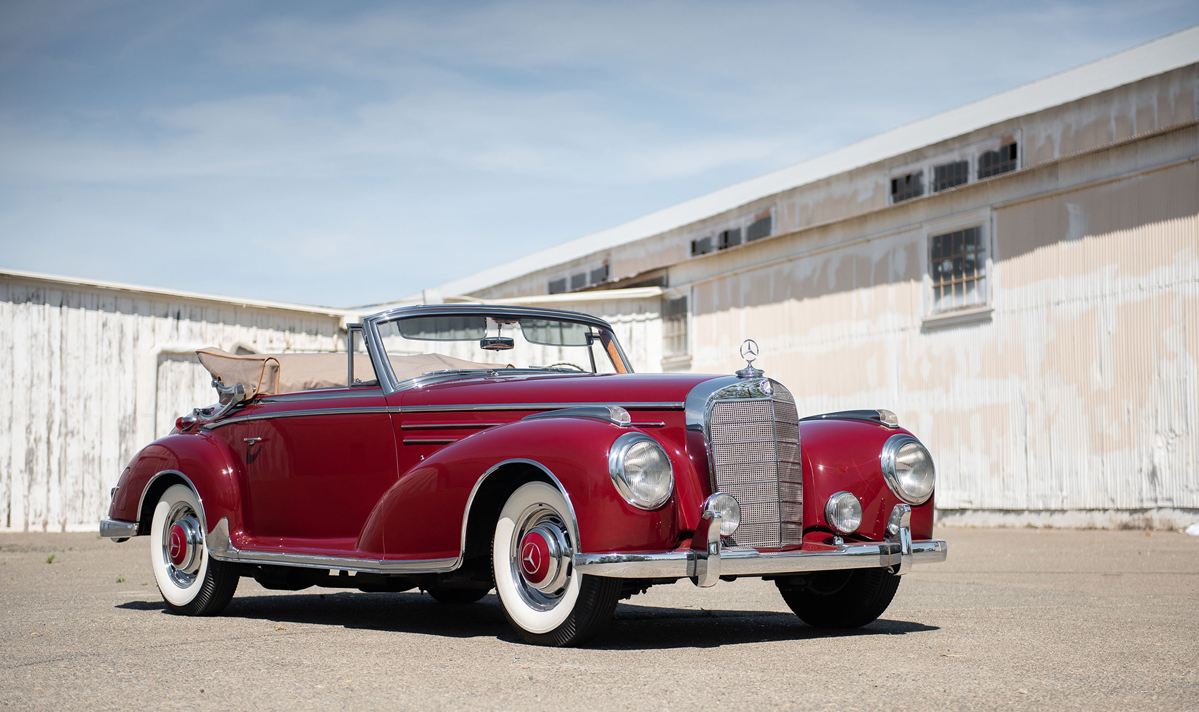 1957 Mercedes-Benz 300 Sc Cabriolet A
Estimate: $550,000 - $750,000 USD | Offered Without Reserve
Offered from Masterworks of Design
Even more exclusive, this Mercedes-Benz 300 Sc Cabriolet A is one of only 49 built. With its six-cylinder engine sporting a futuristic Bosch fuel-injection system shared with the 300 SL Gullwing and a revised suspension system, this model was the flagship Mercedes-Benz at the time. Its interior appointments, with Cognac leather to compliment the red exterior and tan top, are suitably luxurious. VDO gauges and a Becker Mexico radio stand out on the polished wood dash. The handsome restoration, though older, was expertly done by noted marque specialist Charles Brahms. Originally, this example was delivered in Graphite Grey over Red leather with a contrasting convertible top in black, an especially appealing combination. However, it is hard not to fall in love with its present configuration.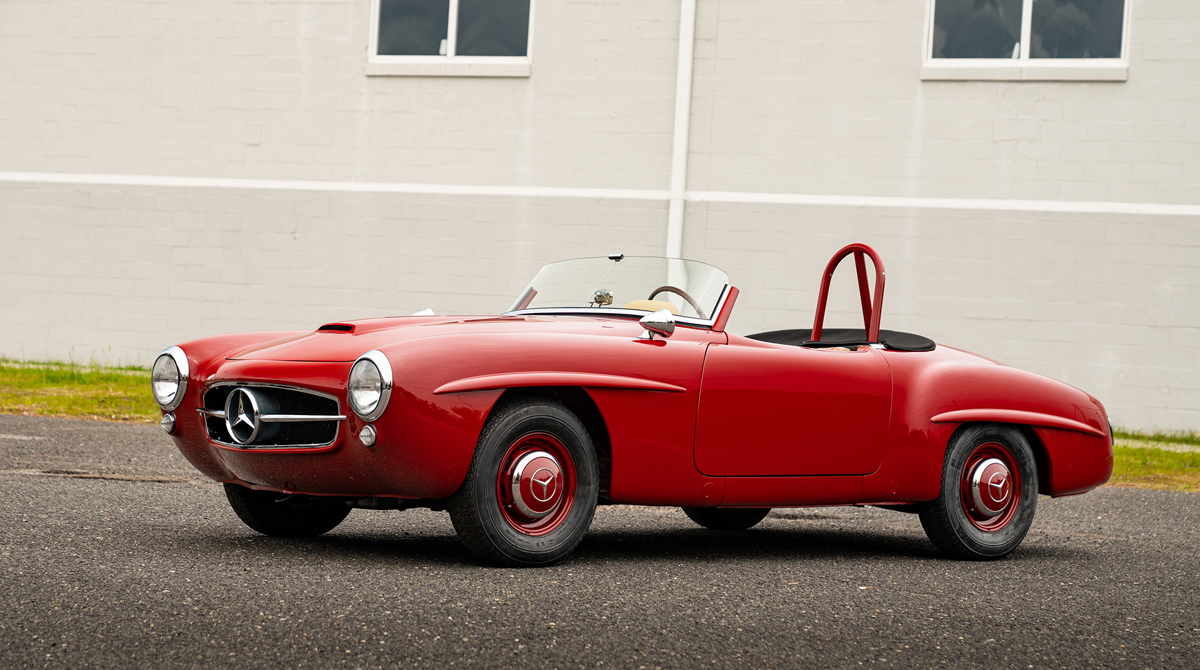 1955 Mercedes-Benz 190 SLR
Estimate: $250,000 - $300,000 USD | Offered Without Reserve
Offered from the Iannelli Family Collection
Having a number of period competition modifications soon after it was delivered, this sporting Mercedes-Benz was among the earliest 190 SLs built. The change to race-specification incorporated a cut-down windshield, a hood with a scoop cut out, and a roll bar behind the driver's seat. Unlike many of these post-war projects, this example was finished at the Mercedes-Benz Classic Center in 2007. A must-see refinished interior was installed by the skilled experts in Irvine, California, making for a striking combination of Crème leather and 300 SL red tartan gabardine cloth. Also worthy of note was the attention they paid to the engine bay, fully cleaning and sorting the 190 SLR's powerplant.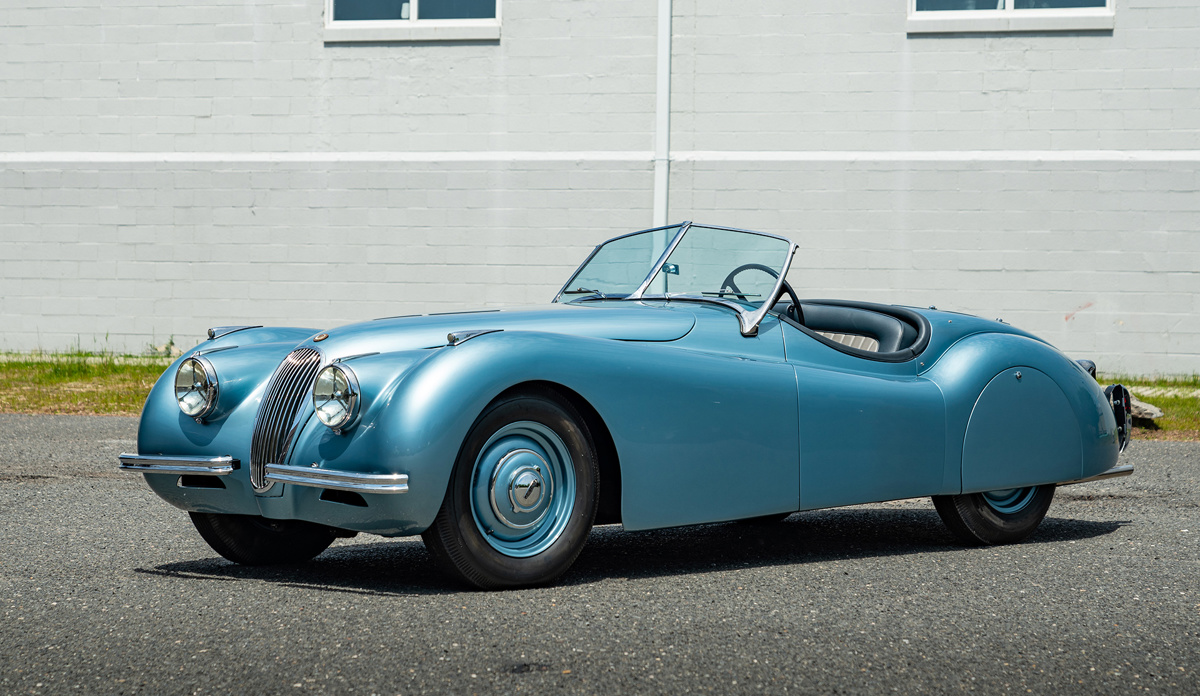 1950 Jaguar XK 120 Roadster
Estimate: $100,000 - $125,000 USD | Offered Without Reserve
Offered from the Iannelli Family Collection
A model which can claim a great deal of responsibility for igniting the sports car craze in the early years of the post-war period, the Jaguar XK 120 earned the attention of nascent auto enthusiasts with its impressive 120-mph top speed and smooth, aerodynamic styling. Powered by a numbers-matching engine, the file on this example from the Jaguar Daimler Heritage Trust shows that it was only the 288th built. As one of the earliest steel-bodied Jaguar XK 120 sports cars, this example comes complete with handsome rear wheel spats and wears its original, factory-correct color of Pastel Blue. With its exterior refreshed and internal mechanicals all receiving attention in 2010 by Classic Showcase of Oceanside, California, this sporting Jaguar has been rated at 99.99 points at several Jaguar Club of North America exhibitions.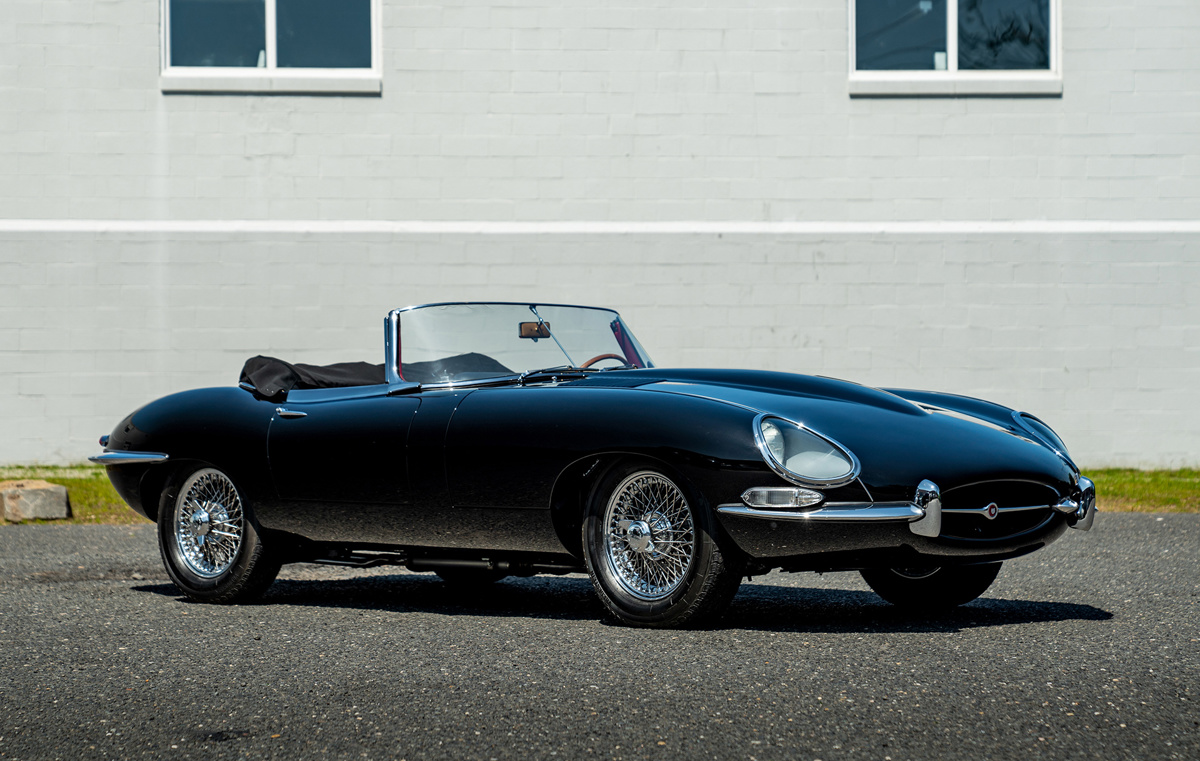 1961 Jaguar E-Type Series 1 3.8-Litre Roadster
Estimate: $225,000 - $275,000 USD | Offered Without Reserve
Offered from the Iannelli Family Collection
Another delightful offering from the Iannelli Family collection, this first-series Jaguar E-Type Roadster also benefitted from a trip to Classic Showcase of Oceanside, California, for a thorough reconditioning that was completed in 2015. The consignors reported that not a single element or system on this Jaguar has remained untouched; even much of the chassis itself has been powder coated. Among the most desirable of all E-Type variants, this example features the coveted flat floors, welded louvers, covered head lamps, and a Moss non-synchromesh four-speed transmission found towards the early end of production. Wearing the subtle, yet powerful factory-correct color combination of black-over-red, the expert restoration of this classic Jaguar makes it worthy of closer inspection.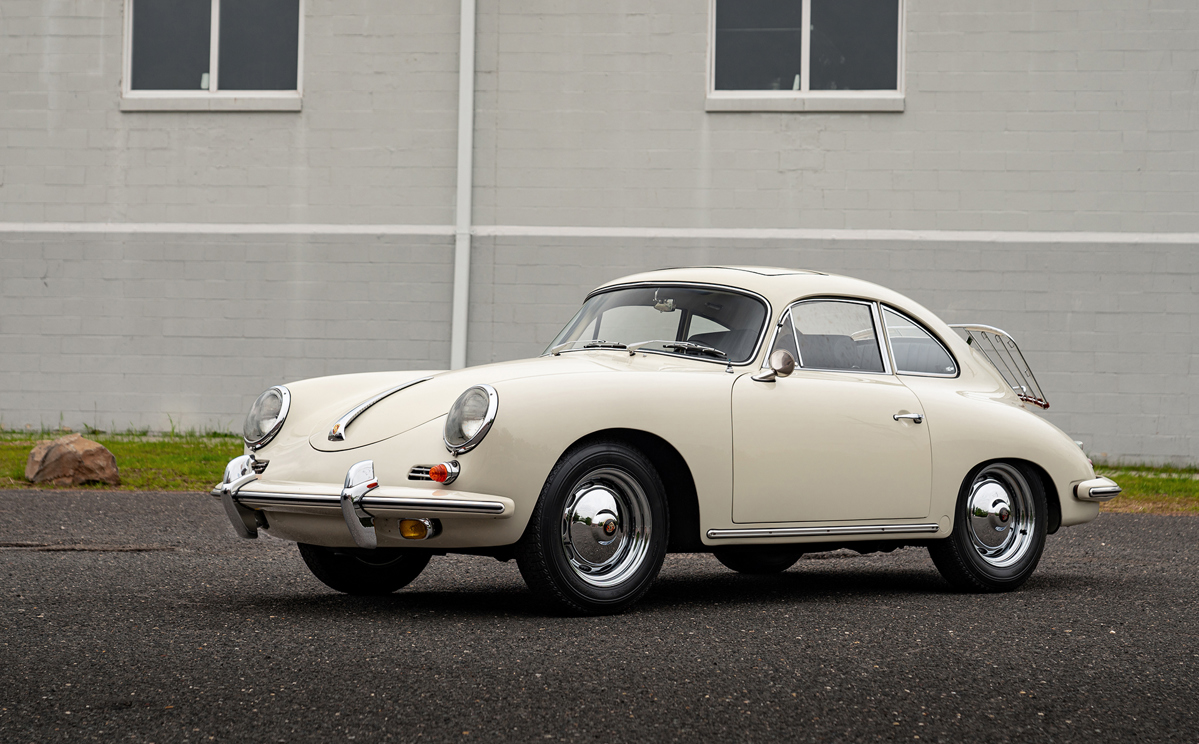 1960 Porsche 356 B 1600 Super 'Sunroof' Coupe by Reutter
Estimate: $100,000 - $125,000 USD | Offered Without Reserve
Offered from the Iannelli Family Collection
As the 1960s dawned, Porsche was keen on upgrading their already-venerable 356 platform. With its numbers-matching, high-compression 1600 Super engine turning out 15 horsepower more than the standard 356 B, this Heron Grey-over-blue leatherette example must have been purchased by a true connoisseur. Ordered with 16 additional options from new, this well-specified sports coupe was first delivered to the famed Florida dealership of Brumos Porsche. Originally equipped with a Blaupunkt Cologne radio and a chrome luggage rack, as well as the larger Alfin brakes that also came with the Super package, this example is also desirably fitted with a sliding metal sunroof. A well-cared-for gem.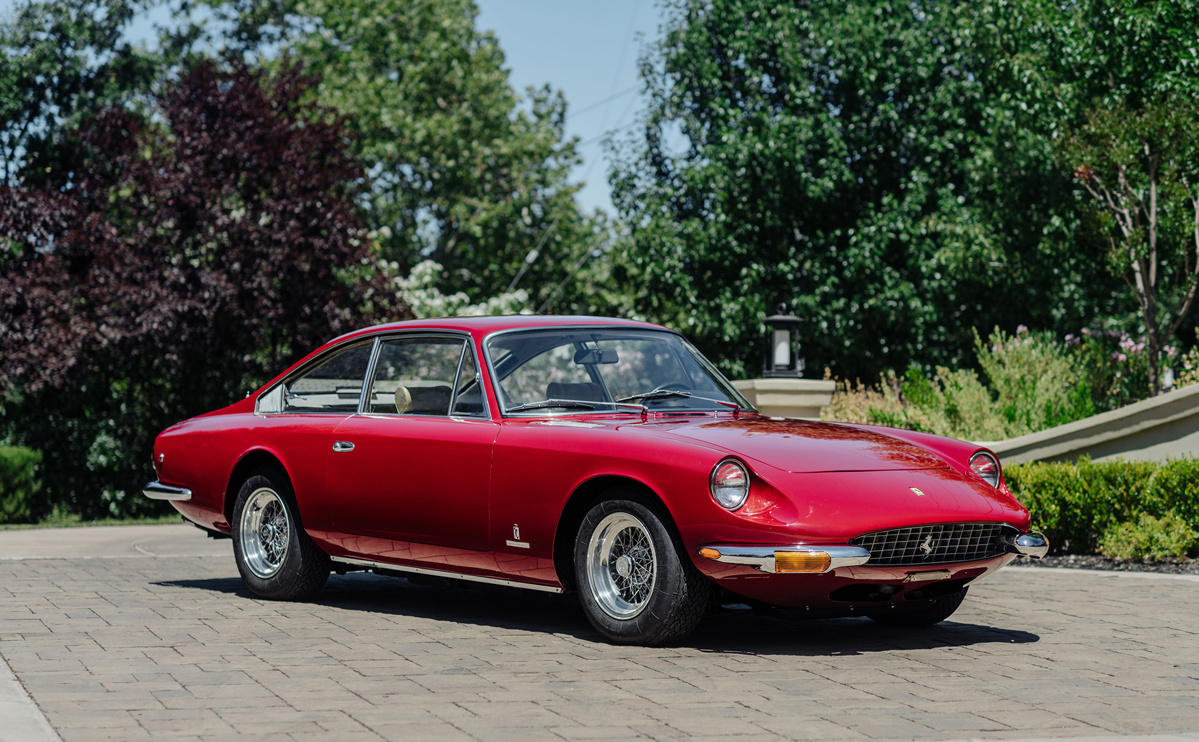 1969 Ferrari 365 GT 2+2 by Pininfarina
Estimate: $225,000 - $250,000 USD | Offered Without Reserve
Don't adjust the colors on your monitor, this twelve-cylinder Ferrari grand tourer is not painted the typical shade of Rosso Corsa. Instead, this is a much lesser-seen example finished in Rosso Nearco-over-Beige Connolly, its factory-correct color scheme. The numbers-matching 4.4-litre V-12 powering the 365 2+2 was fitted with triple twin-choke Weber carburetors. This model was Ferrari's flagship of the time in terms of luxury and was ordered new through William Harrah's Modern Classics dealership in Reno, Nevada, by noted Utah collector Richard Losee. With a noteworthy pedigree, and a restrained style that has only grown more beautiful with time, this four-seat sports car was treated to a recent engine and suspension rebuild by Ferrari expert Patrick Ottis of Berkley, California. New tires were also fitted to its 15-inch Borrani wheels, opening the prospect of a long-distance rally or tour with this lovely Ferrari.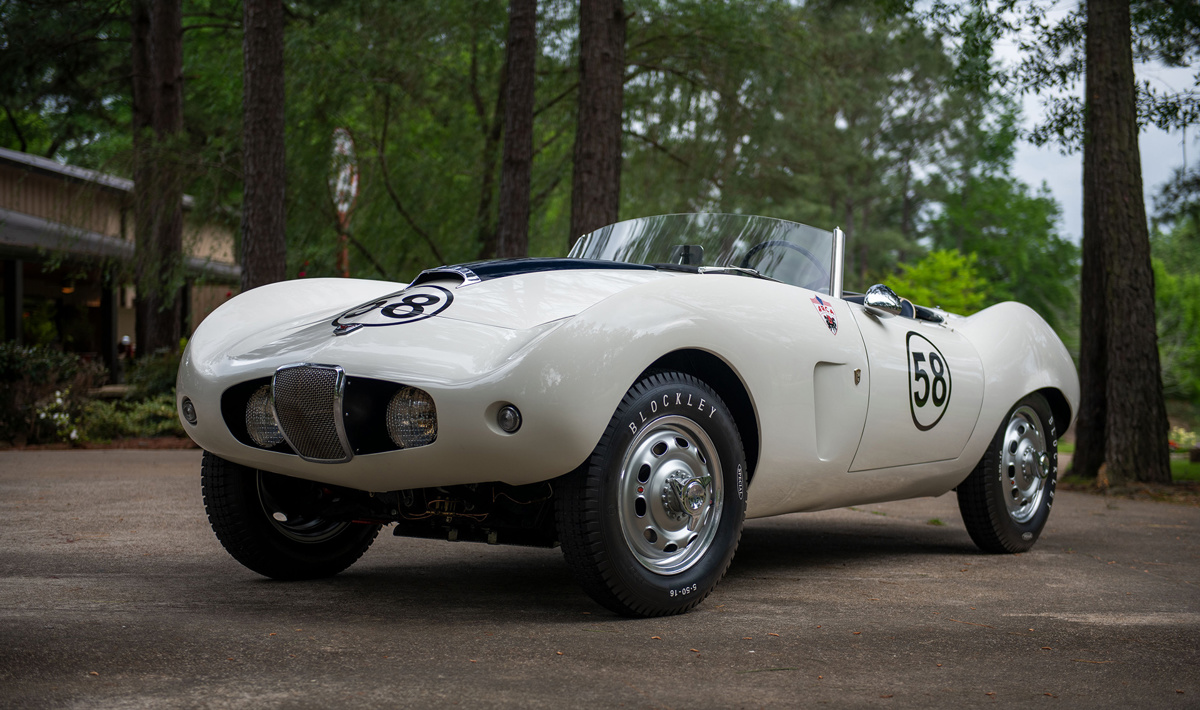 1954 Arnolt-Bristol Bolide Works Roadster by Bertone
Estimate: $400,000 - $475,000 USD | Offered Without Reserve
Not just any Arnolt-Bristol, this example was one of four Roadsters retained and campaigned by the Works team during the 1955 season. A truly international enterprise, the Bertone-designed Arnolt-Bristol Roadster represented a union between Italian styling, a British powertrain, and American ambition. The impetus behind this effort was Chicago-based Stanley "Wacky" Arnolt, who convinced famed French racing driver René Dreyfus to return to competition at the 12 Hours of Sebring endurance race in 1955. Dreyfus was tasked with managing a team of two other drivers while also running a car himself. This was the car that Dreyfus used, managing a 4th place finish in the 2.0-litre class. His younger teammates finished in first and second but still, this Works-prepared Roadster, which has recently been reunited with its numbers-matching engine block, is a piece of mid-century sports car history. Having extended its competitive life into the modern era, this race-used example campaigned at the 2010 Mille Miglia and would certainly be welcome to any vintage rally.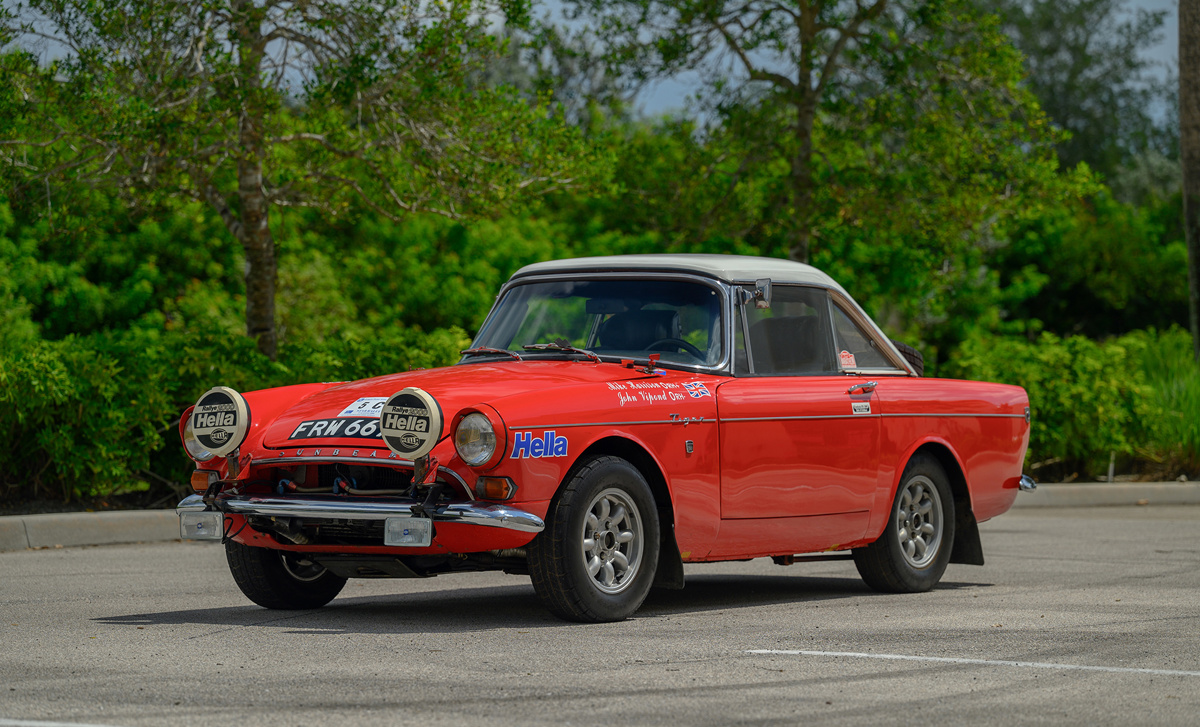 1965 Sunbeam Tiger Works Rally
Estimate: $150,000 - $180,000 USD | Offered Without Reserve
Another example with period motorsport history, this Sunbeam Tiger was one of a mere seven retained from new by the Rootes Competition Department and prepared for rally competition. With its well-balanced 260-cubic-inch V-8 engine and nimble chassis, the Tiger was ideal for racing cross-country on varied terrain. This example was used by the Works team at the 1966 Monte Carlo Rally, with Englishman and future WRC rally mastermind Andrew Cowan at the wheel, an ambitious effort which sadly ended in retirement in part due to extreme weather conditions. With its factory seating and engine configuration both returned to standard, this example would be a well-suited entrant to the Rallye Monte Carlo Historique or any other vintage cross-country touring event. Plenty of potential for fun.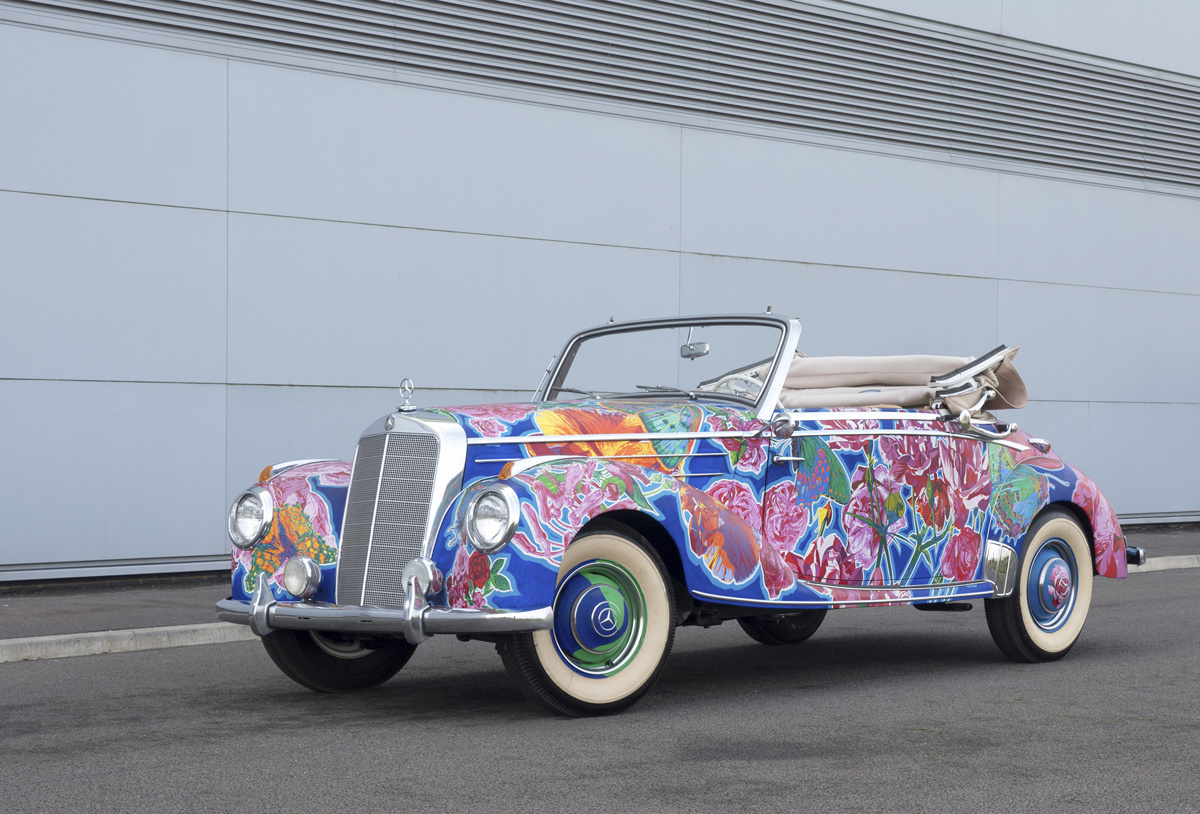 1952 Mercedes-Benz 220 A Cabriolet
Estimate: $220,000 - $350,000 USD | Offered Without Reserve
The final lot on our list of post-war, no reserve examples at Monterey is a truly unique piece by a true genius of an artist. Having explored this work of art on wheels by Hiro Yamagata in greater detail in an earlier post, we can still admire the brilliant color patterns and deeper significance of the natural scene painted on this post-war Mercedes-Benz. As part of a planned two dozen works of art, all on this same 220 A Cabriolet model, Yamagata launched a worldwide gallery tour for the series he dubbed "Earthly Paradise," including appearances at the Venice Biennale and the Vienna Museum of Applied Arts, where this example, known as "Butterflies and Roses," was put on display. A genuinely delightful example that sits at the nexus of art and automotive art, this brilliant Mercedes-Benz is sure to stand out in any collection.
Which of these without reserve cars in Monterey 2022 would you like to take home? Click here for more information about the auction and to register to bid. Good luck!