Classic luxury, as they say, never goes out of style. What is considered timeless and elegant in one century often proves equally tasteful in the next one. As we saw in our earlier exploration of some foundational Rolls-Royce models in the pre-war era, the strength of the brand's chassis and powerplants attracted coachbuilders around the world to display their signature designs, flowing backwards from the signature "Spirit of Ecstasy" radiator mascot. As before, even in the previous century of carriage-derived coachbuilding, these cars were built to a human scale, specifically with several very important people in mind.
Our list of post-war Rolls-Royce cars includes examples built for members of the royal family and high society. The discerning tastes of the consummate British brand's clientele directed the aesthetics of these grand limousines, touring sedans, and coupes, both during and after the era of coachbuilding ended. Offered from a genuinely special, marque-specific collection of Rolls-Royce and Bentley motorcars all carefully curated by a single owner over a lifetime, RM Sotheby's is proud to offer the following selections as part of our next thrilling auction, A Passion for Elegance, set to unfold on 19 June 2021: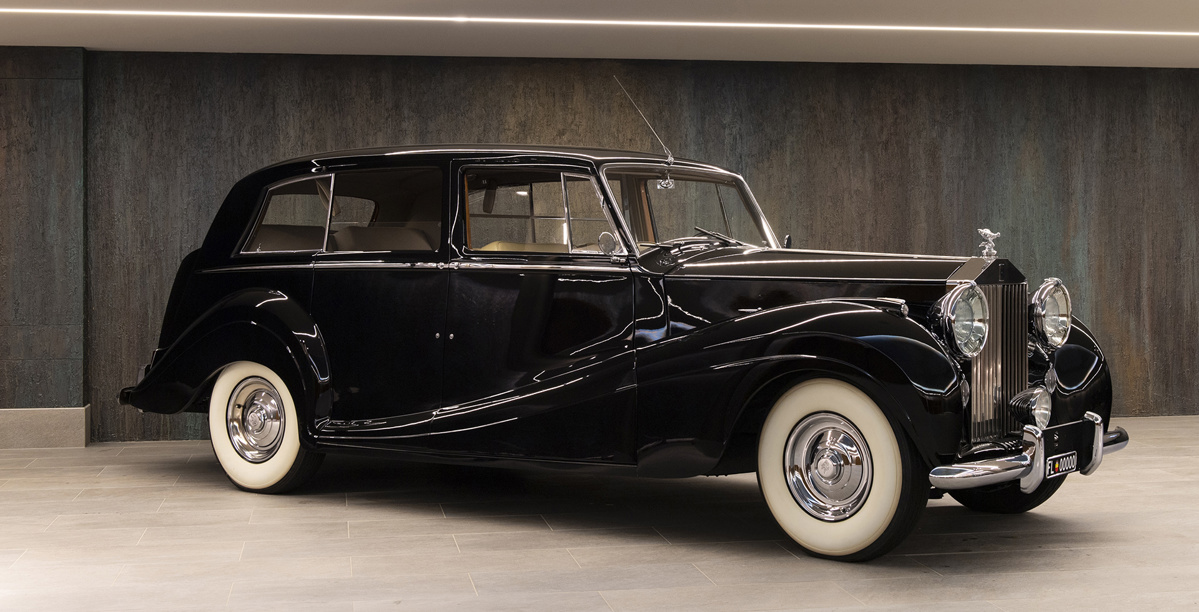 1952 Rolls-Royce Silver Wraith Limousine by H.J. Mulliner
Estimate: CHF65,000 - CHF110,000 |
Offered Without Reserve
In the years immediately following World War II, automakers and their clientele alike were wondering how many pre-war styles and technologies would carry over into the post-war era, all while eagerly awaiting the newest creations from OEMs around the world. Thankfully for Rolls-Royce, the luxury they built into their pre-war cars proved itself to be a desirable feature once again. When it came time for their customers to trade in their pre-war examples, fresh metal like this Silver Wraith Limousine by H.J. Mulliner awaited them. The limousine-length variant of the Silver Wraith was the largest chassis available from Rolls-Royce in the immediate post-war period; offering a commodious rear cabin with fold-out "occasional seats" for additional passengers. Ordered new by the wife of a hotel magnate in Miami, Florida, this Rolls-Royce retained the traditional division between driver and passengers, with long-lasting Beige leather front seat for the chauffeur and soft Fawn cloth in the rear for its owner.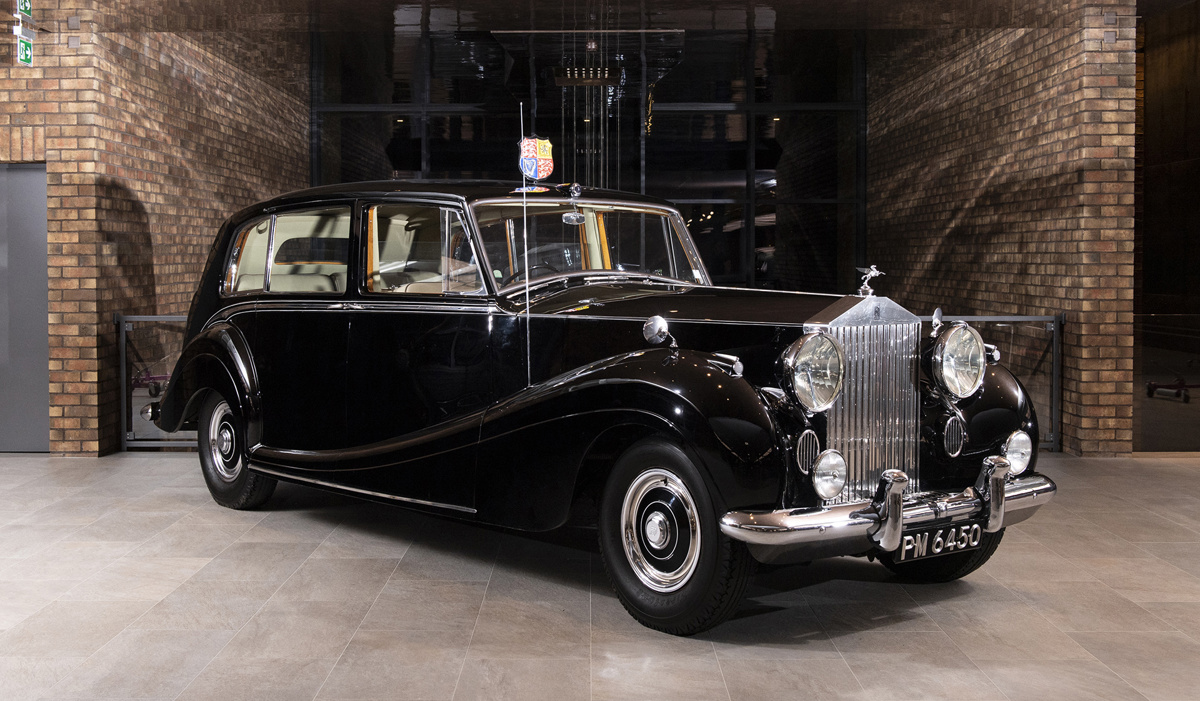 1954 Rolls-Royce Phantom IV Limousine 'Princess Margaret' by H.J. Mulliner
CHF400,000 - CHF600,000
With a royal edict to provide no-compromise luxury cars to well-funded governments around the world, Rolls-Royce moved into the post-war world with confidence. The Phantom IV was made to occupy a space even more grand than the Silver Wraith we covered earlier, with a wheelbase measuring 305 mm longer than its already-extended predecessor. The only thing not oversized about the Phantom IV was the pace at which they were constructed: Only 18 in total, spanning from 1950 and 1958, adding up to an average of three built per year. As this car's official title reflects, this example was prepared specifically for Her Royal Highness Princess Margaret, sister to Queen Elizabeth II. As such, nearly every detail on this example was carefully considered, down to the power-operated, cloth-covered driver's seat—an essential addition for a state official who wished to occasionally operate her own Rolls-Royce. Among collectors, this fourth-series model is considered the most difficult to acquire which is a testament to the extremely low build quantity of the production run.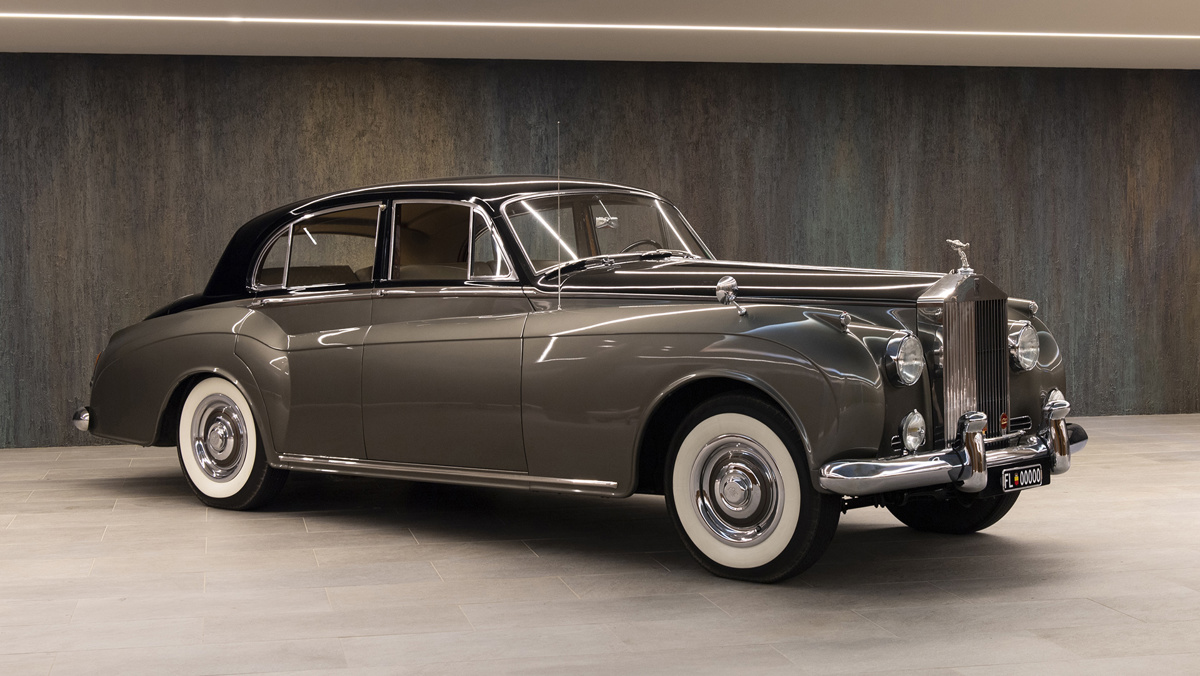 1956 Rolls-Royce Silver Cloud I Sports Saloon by James Young
CHF130,000 - CHF220,000 |
Offered Without Reserve
While preferences between Rolls-Royce collectors often vary, the flowing shape of the Silver Cloud I Sports Saloon, like this example by Bromley, England-based James Young, Ltd., perfectly bridges classic pre-war styling with post-war aerodynamic innovation. The fenders alone deserve special attention. This model featured hand-formed aluminum like the rest of James Young's signature lightweight coachwork. The fenders were integrated into the overall body design yet still retained plenty of character. Most importantly, coachbuilders like Young were not tempted by the slab-sided design that was popular among many automakers' styling departments in the period. While the rear cabin still retains a significant degree of comfort, the swooping fenders and substantial stance of this Sports Saloon both suggest that this is a Rolls-Royce designed with the distinguished driver in mind. Rolls-Royce considered James Young's craftsmanship so worthy of consideration, they put this very example on display at the Paris Salon de l'Automobile that year.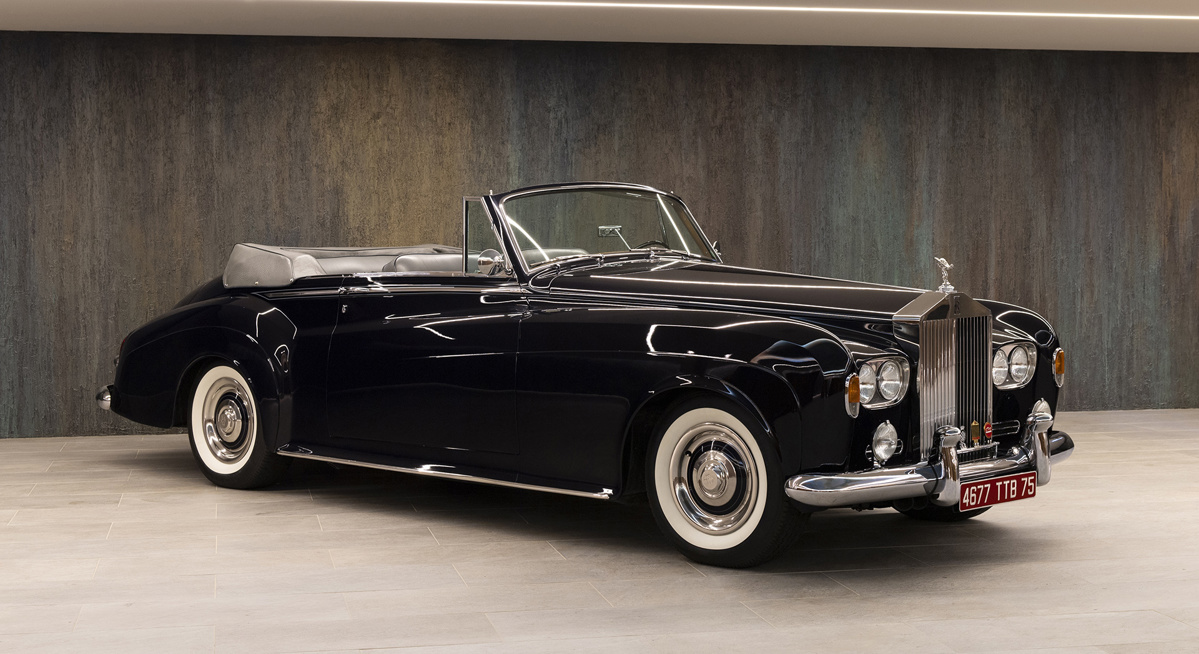 1963 Rolls-Royce Silver Cloud III Drophead Coupé Adaptation by H.J. Mulliner
CHF530,000 - CHF660,000
As the august British automaker moved into the 1960s, even its most conservative coachbuilders began to experiment with hints of amusement, like the open-air styling on this Silver Cloud III Drophead Coupé Adaptation by H.J. Mulliner. Of course, fine Rolls-Royce automobiles with configurable tops were well accounted for in the pre-war period, so this Drophead Coupé can be considered one example in a chain of classics. Purchased for Italian actress Sophia Loren by her husband Carlo Ponti while the iconic starlet was living in Paris at the Hotel Lancaster on the Rue de Berri. With a dark-over-light, blue-on-blue color scheme, this factory-sanctioned, open-top Adaptation was crafted in limited quantities: A mere 37 in total, with only 25 in left-hand-drive like this example. Exclusivity is an inevitable extension of luxury.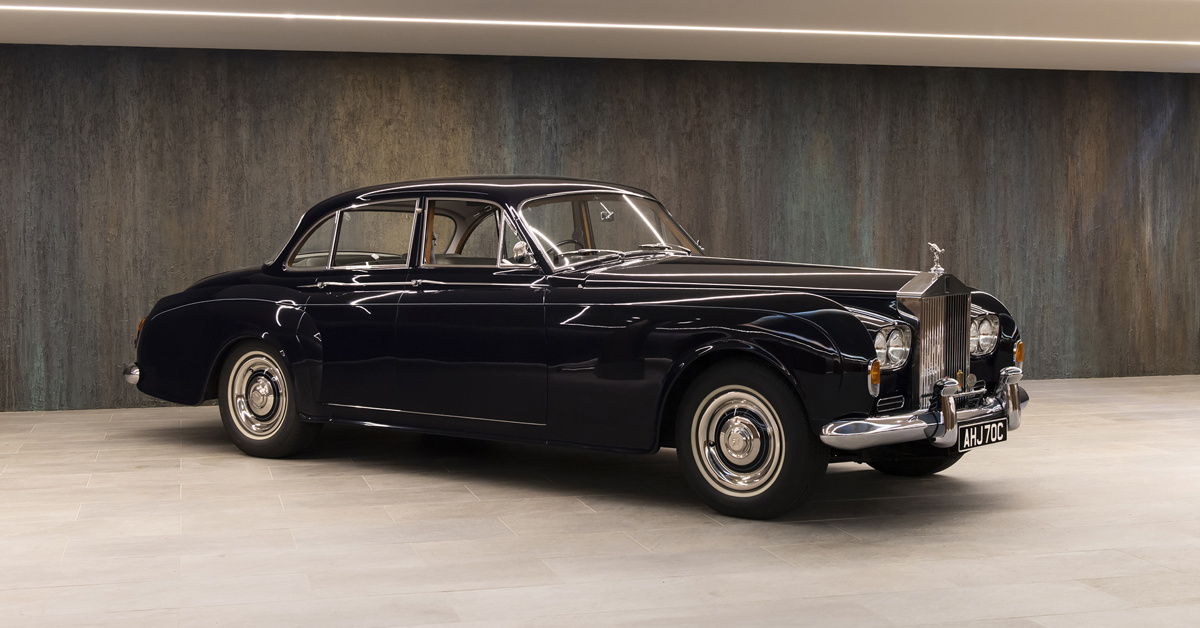 1964 Rolls-Royce Silver Cloud III Saloon by James Young
CHF130,000 - CHF220,000 |
Offered Without Reserve
Taken together with the custom Drophead Coupé we covered previously, the following three examples encompass the last gasp of the fully independent coachbuilding industry. One of a mere twenty Silver Cloud III examples finished in Saloon styling by James Young, the evidence of hand-made quality exudes along the body of this limited-production Rolls-Royce, from its feather-like exterior door handles to its Midnight Blue-over-grey Connolly leather color combination. Though creating small-batch quantities of no-compromise cars eventually determined the fate of the independent coachbuilders, their work survives today as a testament to the quality of mid-century, made-in-England craftsmanship.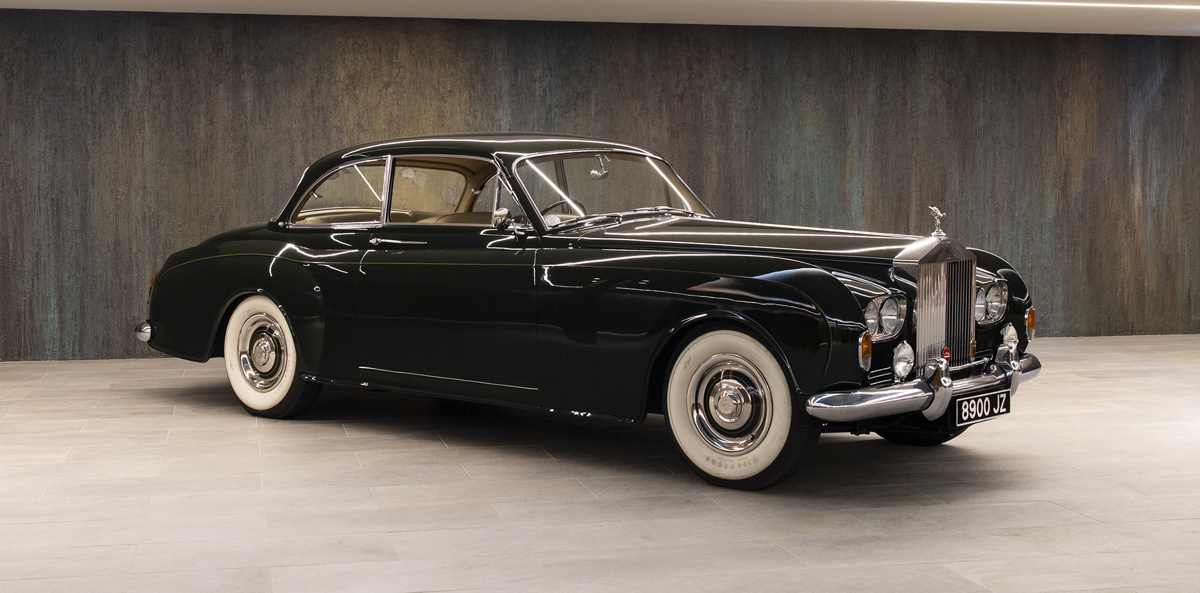 1965 Rolls-Royce Silver Cloud III Saloon Coupé by James Young
CHF175,000 - CHF260,000 |
Offered Without Reserve
If the one-of-twenty Silver Cloud III Saloon we covered earlier is somehow too common a choice, James Young also offered a Coupé variant to even fewer customers. This two-door example is one of a mere six constructed in this style by the Greater London-based coachbuilder in the last years of its operation. One look at the staggering total number of hours—amounting to more than 2,632 in total—suggests the massive effort undertaken to create this uncommon Coupé body style. The finished product of the talented team at James Young was an undeniable achievement, distilling the extended form of Rolls-Royce's most sporting saloon into a two-door format. Restored to its original color combination of Brewster Green-over-Beige leather interior, this coachbuilt Coupé is the rarest Rolls-Royce on our list.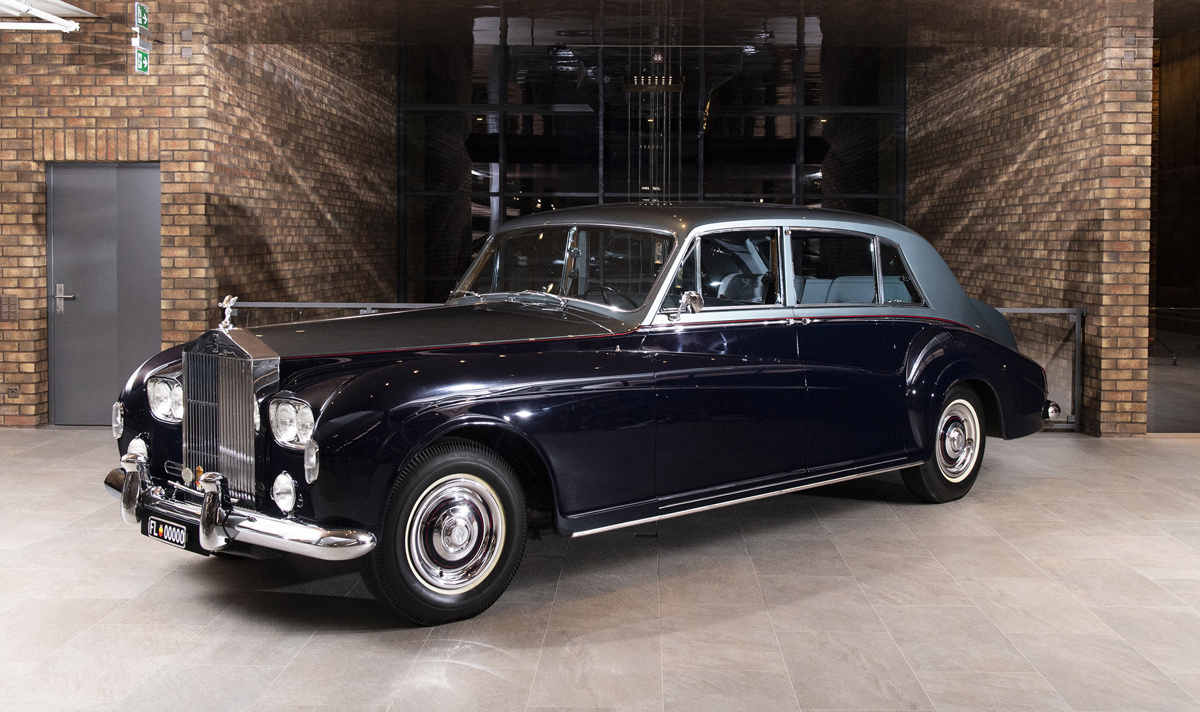 1967 Rolls-Royce Phantom V Touring Limousine by James Young
CHF220,000 - CHF310,000 |
Offered Without Reserve
The last of our three examples from the final years of independent coachbuilding is a return to the extended-wheelbase style that helped build the reputation of the Rolls-Royce brand. This Touring Limousine was part of the final series of Phantom V chassis delivered to the four main coachbuilders still in operation, on which were constructed automobiles of extraordinary opulence. Originally ordered by New York City-based architect Joseph E. Morgenthaler of 71 Park Avenue in this spectacular two-tone livery of Tudor Grey-over-Midnight Blue, the extensive list of accessories and custom options specified on this example pushed its final sale price to $34,560 USD, more than double the average price of a new home in 1967.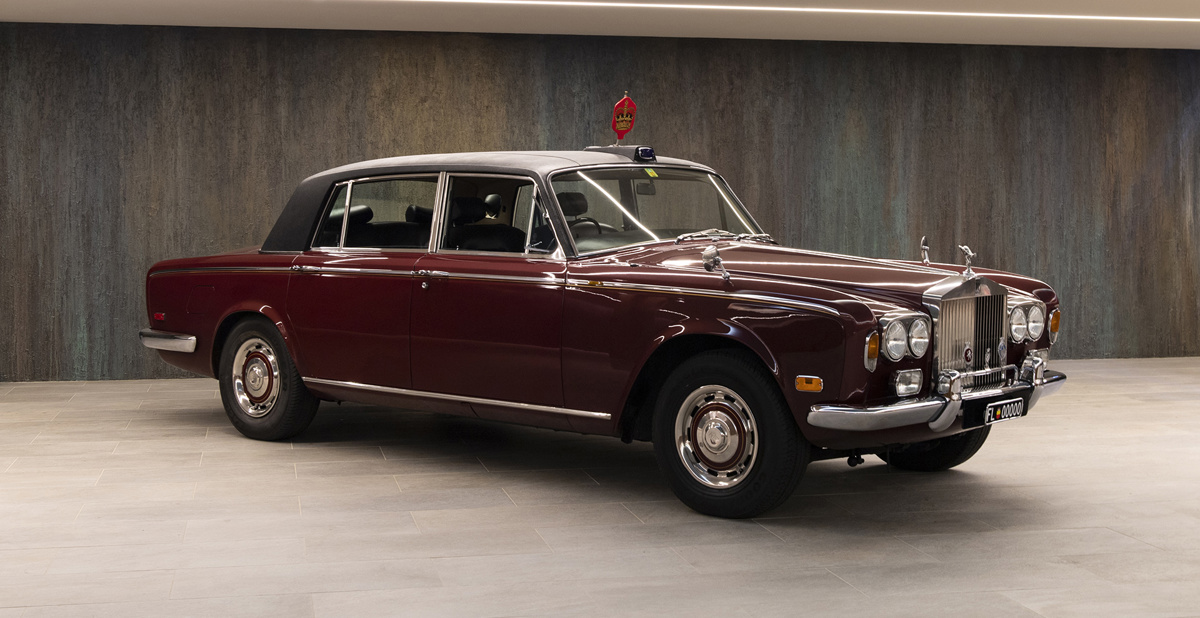 1975 Rolls-Royce Silver Shadow LWB Saloon 'Princess Margaret'
CHF65,000 - CHF110,000 |
Offered Without Reserve
Another fully documented member of the royal garage, this extended-wheelbase Silver Shadow Saloon was ordered directly from Rolls-Royce by the Countess of Snowdon, Princess Margaret. Faithfully preserved, the many original specifications ordered by Her Royal Highness still shine through today on this example, from the matte finish on the book-matched wood dashboard to the handsome color combination: Cardinal Red with Black Everflex vinyl top and Black leather interior with Cherry Red carpets. Other alterations on this bespoke example were more befitting an automobile serving official government business, including an illuminated blue police lamp, flagmast, and a roof-mounted platform to display the royal shield. Princess Margaret purchased her next Rolls-Royce in 1979, a Silver Shadow II, and after changing hands once, the ownership of this example passed again to royalty, Hollywood-style, when it was acquired by the Burt Reynolds Production Company and shipped to America. This stunning Rolls-Royce Silver Shadow Saloon remains a well-preserved eexample of mid-seventies luxury.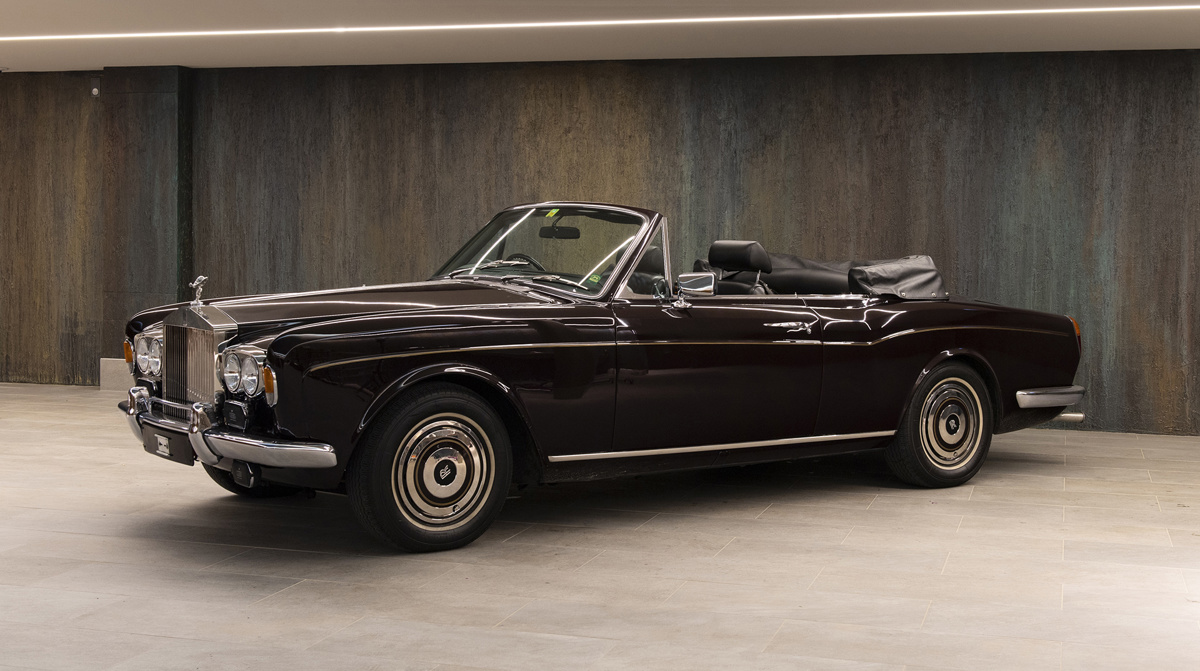 1976 Rolls-Royce Corniche Drophead Coupé by Mulliner Park Ward
CHF60,000 - CHF80,000 |
Offered Without Reserve
While many independent coachbuilders were forced to close by the 1970s, that did not mean that fine coachwork became completely extinct. Acquired and brought in-house by Rolls-Royce management in 1939 and 1959, respectively, the twin firms of Park Ward and H.J. Mulliner & Co. were officially combined into Mulliner Park Ward in 1961. Bringing handcrafted quality to both Bentley and Rolls-Royce models, examples like this Drophead Coupé assert that the workmanship of the brand's in-house coachbuilding wing was more than mere veneer. The careful prior owners of this Corniche have both been faithful to its service schedule (with accompanying receipts from expert firm Royce Service & Engineering) and have even included a series of improvements relating to drivability and efficiency, including the addition of Harley Bailey anti-roll bars and a 2006 upgrade by Alternative Fuel Systems which allows this example to run on regular petroleum or liquified petroleum gas (LPG) for maximum mileage. A Rolls-Royce for the road.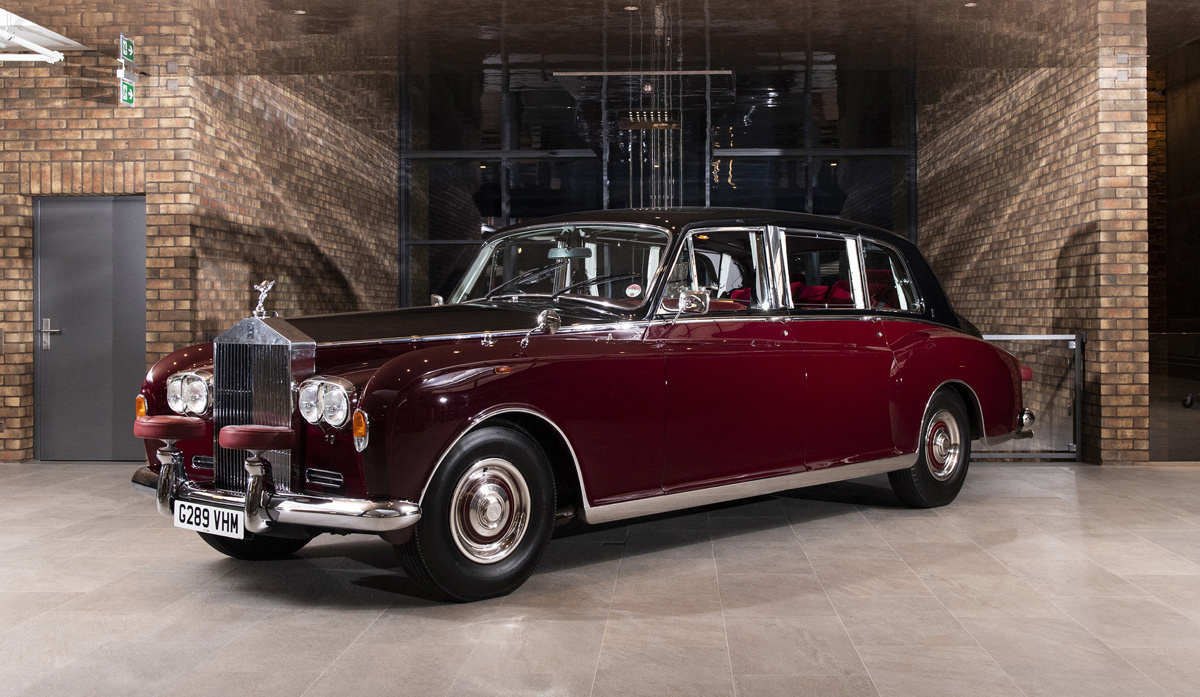 1990 Rolls-Royce Phantom VI Special Limousine by Mulliner Park Ward
CHF310,000 - CHF350,000
As the 1980s evolved, Rolls-Royce was still committed to delivering a coachbuilt experience for their best clients. Though the Phantom VI initially debuted in 1968, the final year of production was not until 1990, the absolute final limousine built for a private client and customized at the brand's Hythe Road facilities, was this very example. Though 374 total examples were built over the Phantom VI's twenty-two year production run, the last decade of production only amounted to 33 total built, two of which were built to nearly identical specifications for retired British furniture manufacturer and philanthropist, George Moore, CBE, KStJ. Moore optioned this example with nearly every accessory offered by the brand including a full wicker picnic set, twin "toadstool" tufted seats that could attach to the front and rear bumpers, and a pair of veneer tables that fitted over the front fenders for a full alfresco dining experience. With a total of 118 options specified (and a staggering £600,000 final price to boot), this Phantom VI Special Limousine marks the end of an era and is surely worthy of its name.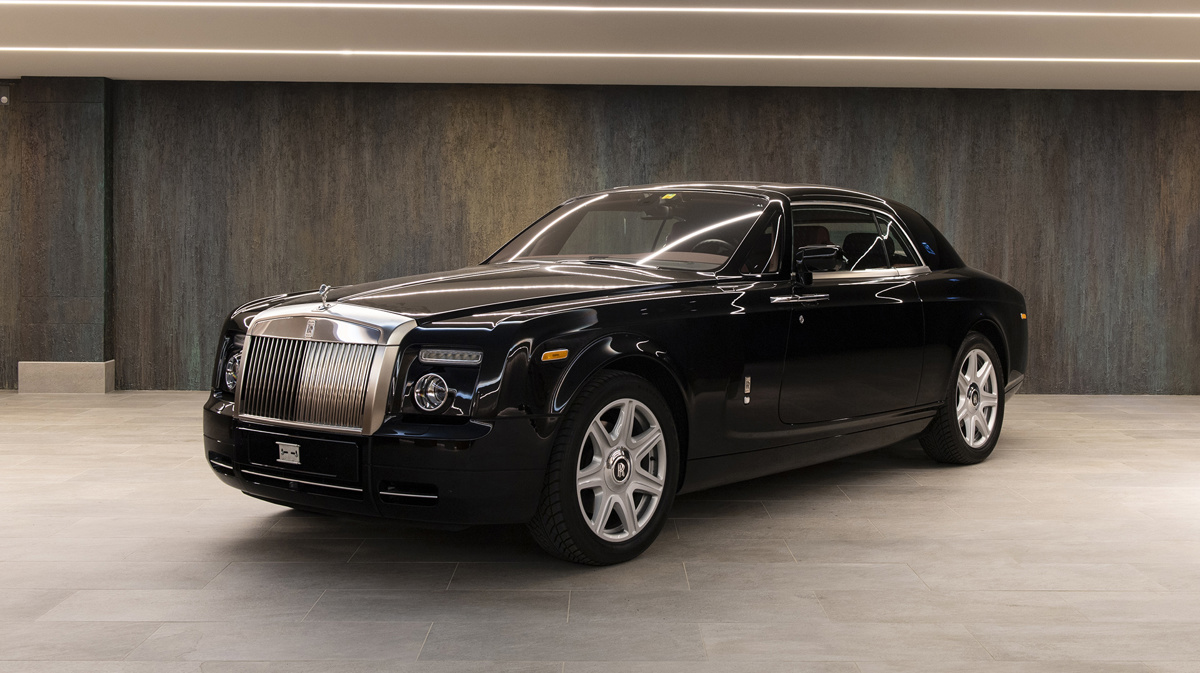 2008 Rolls-Royce Phantom Coupé
CHF130,000 - CHF175,000 |
Offered Without Reserve
As Rolls-Royce moved into the 21st century, their new owners, Germany's BMW Group, decided to bring the brand back to basics. The Phantom name was resurrected, not for a separate-chassis vehicle, but for three ultra-exclusive variants of one spectacular model. Of these, the closed-top Coupé was the last to debut, echoing the design of the show-stopping 100EX concept car from 2004. While driving at night, owners of the Phantom Coupé had the option to illuminate their cabins in an otherworldly glow, courtesy of thousands of strands of fiber optic lights hand-laid in the car's headliner. Powered by a V-12 engine and featuring rear-hinged, power-closing "coach doors," this Phantom variant was especially well-deserving of its retractable "Spirit of Ecstasy" radiator mascot; physical evidence that the Rolls-Royce brand was still very much alive.