With near-immediate access to winding roads and scenic vistas, the network of roads traversing the California coast are world-famous for a reason. As opportunities for top-down motoring essentially occur year-round on the west coast, the choice becomes which environment do you prefer to traverse: A shady grove of old-growth trees? A tide pool-lined ribbon of bays, inlets, and beaches? Or a tour through the human-built landscape, preferably in tandem with other classic cars. The legendary route linking all these realms is a scenic byway called Seventeen Mile Drive. A private drive, reserved for those Monterey residents who live near the picturesque coastline, this is the rare road worth its toll.
Fortunately, RM Sotheby's has a premium selection of Porsche sports cars that were practically made to match this extraordinary landscape. Whether water- or air-cooled, turbocharged, naturally aspirated, or even partially electric-powered, these Porsche examples represent state-of-the-art technology designed to deliver an engaging drive. Encompassing years of engineering refinement, all made to advance the interest of fun, these examples all embody the qualities that make the Porsche brand so preeminently desirable and endlessly collectible. The height of Porsche style appearing in the heart of California, all available at RM Sotheby's Monterey sale from 12-14 August 2021: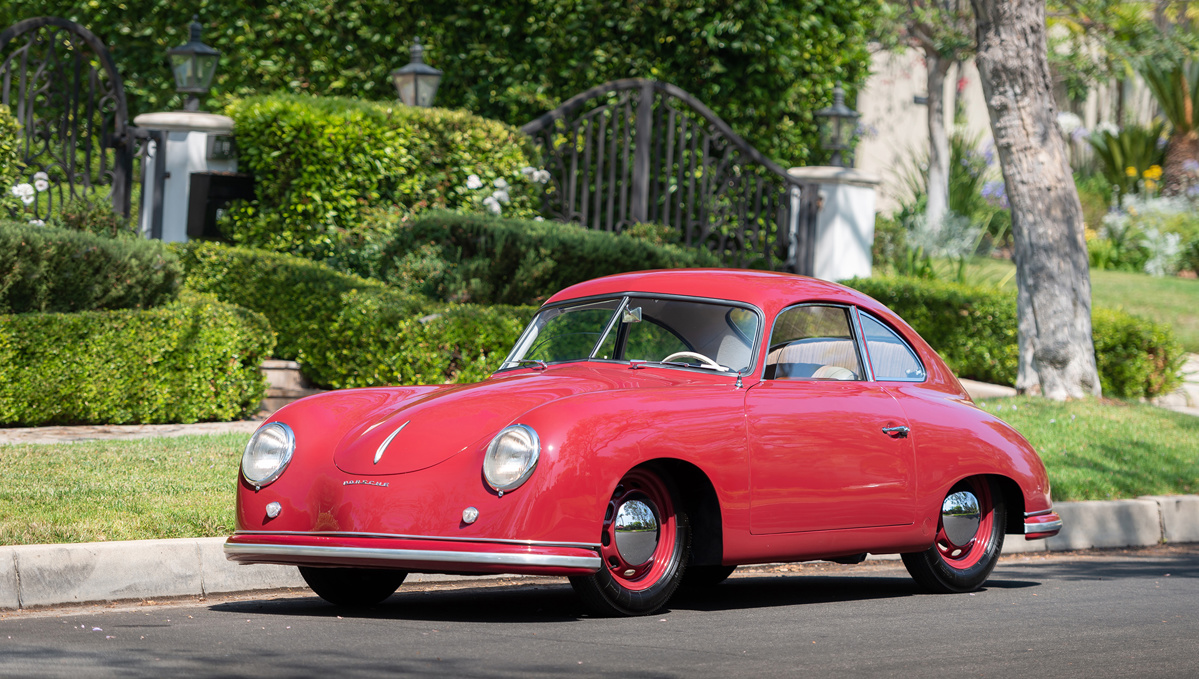 1951 Porsche 356 'Split-Window' Coupe by Reutter
Estimate: $400,000 - $450,000
Opening our list on classic Porsche style could almost only be a so-called 'Split-Window' version. While wraparound windshields were still the domain of high-end concept cars in 1951, nearly every other exterior feature on this early "pre-A" coupe was sculpted with aerodynamics in mind. Notice the lack of exterior chrome adornments, and critically, at this point, no Porsche crest. Previously a piece of the prestigious Ingram Porsche collection, this German-delivered model sported a maroon-and-grey color combination from new and was recently restored with precision to the original specifications as it left the Reutter facilities in 1951. Notable for balancing post-war streamlined aesthetics with the correct Type 528 1500 Super engine that Porsche implemented starting in October 1951, this example's restoration was directed by Oregon-based, envelope-pushing Emory Motorsports, who have developed an expertise restoring Works-built Porsche cars from the same year.
1954 Porsche 356 1500 S Speedster by Reutter
Estimate: $600,000 - $700,000
We may be spoiled for selection in America, especially those who count ourselves as Porsche aficionados. With the United States market having been a key supporter of Ferdinand Porsche's nascent sport car engineering firm from the beginning, noted New York City distributor Max Hoffman moved into a role almost as a regional product planner. After suggesting the now-famous Stuttgart crest as a badge that could serve to symbolize the brand, Hoffman suggested a special Speedster variant with a cut-down, one-piece windshield, perfect for the motorsports-oriented American market. This example, still retaining its numbers-matching engine and transmission, was the sixty-first of a limited run of 200 total Speedsters in this first year of production. Painted a model-and-year correct shade of 602 Speedster/Sky Blue matching its highly desirable 3.5-by-16-inch Kronprinz steel disc wheels with Rudge knock-off hubs, this fresh example is fully equipped for a blast up the coastline, top down.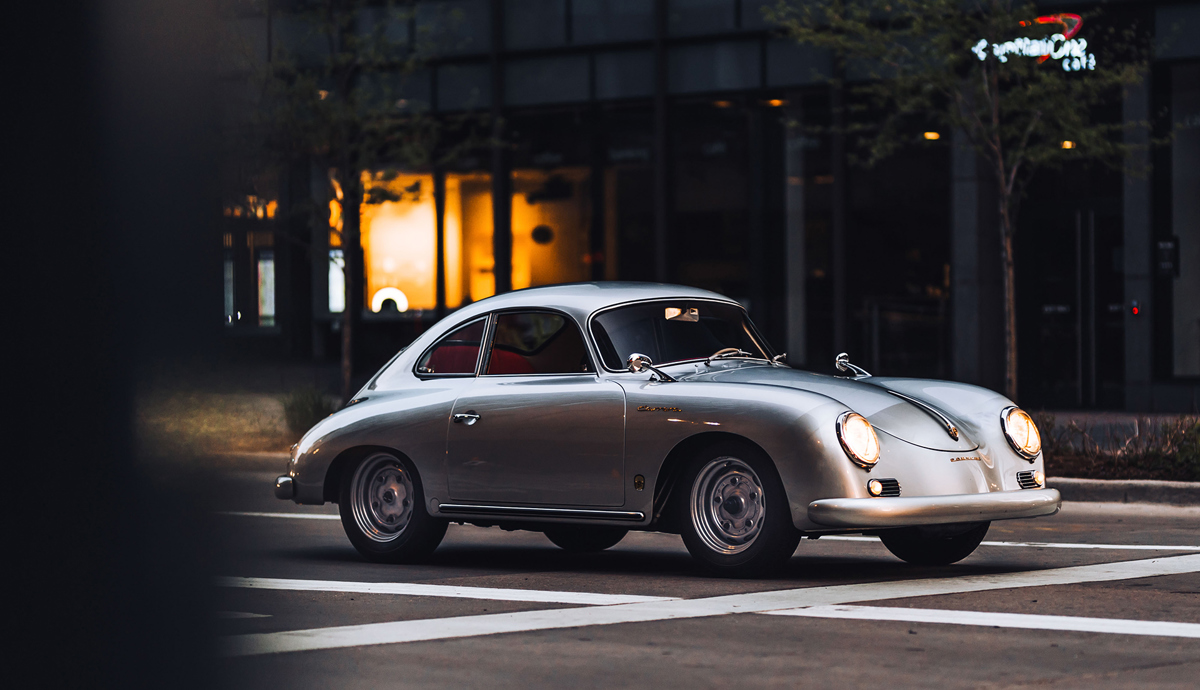 1956 Porsche 356 A Carrera 1500 GS Coupe by Reutter
Estimate: $425,000 - $500,000
This is how Porsche works: Though some novices may perceive the last selection of automobiles as similar, some significant engineering is occurring underneath the body shell. The golden twin 'Carrera' fender flank badges signify more than a symbolic upgrade, with this example sporting a dry-sump engine of Ernest Fuhrmann's design, featuring four camshafts spinning on roller bearings and twin spark plugs per cylinder. Designed by Fuhrmann in his spare time, the so-called Carrera engine would come to embody the Porsche brand for years to come. Underneath the shapely coupe body shell, the suspension was redesigned down to the bump stops, all in the interest of better handling. Finished in the classic German colors of silver-over-red, this example is pure Porsche.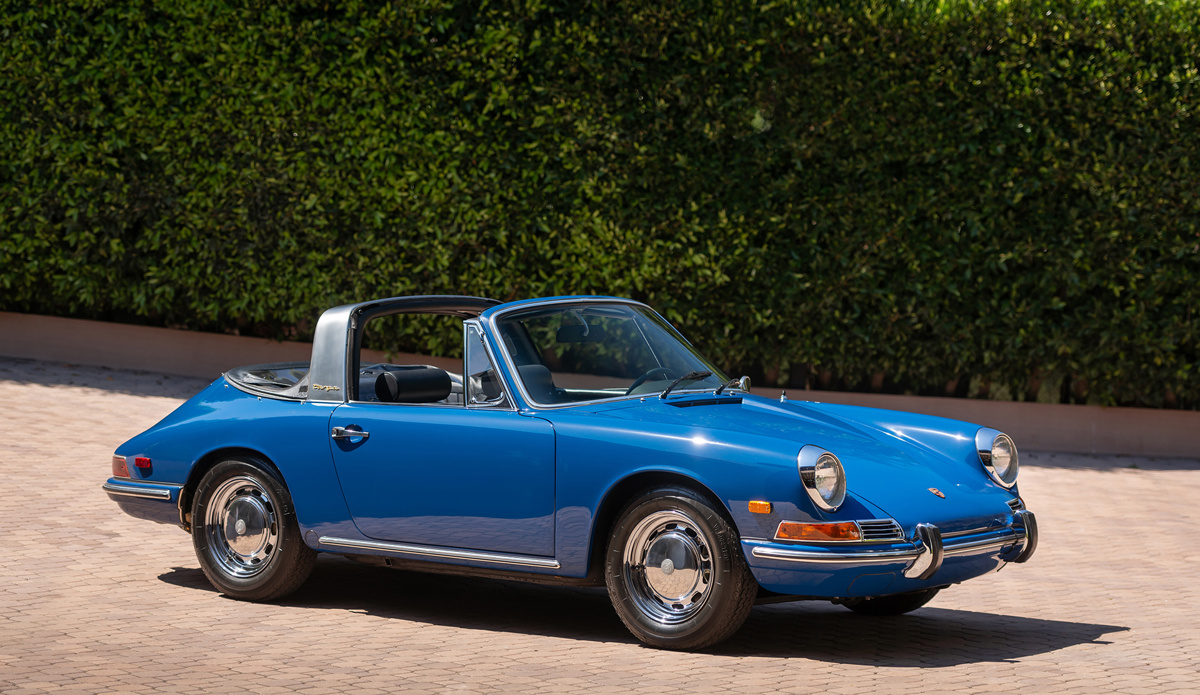 1968 Porsche 911 'Soft-Window' Targa
Estimate: $200,000 - $250,000
Echoing the exterior aesthetics of our Speedster cover car, by the late 1960s, Porsche was offering a full suite of features on their open-top sports cars, not least of which was a brushed-metal, basket-handle-style reinforcing brace, for which the Targa model became world-famous. We can trace the Porsche engineering department's attempts at fashioning an open-air sports car out of their newest model back to the 911's predecessor, the 901. RM Sotheby's expertise extends to auctioning the second 901 ever made, and the first cabriolet. While this fully open style proved alluring, Porsche engineers recognized the need for additional body stiffness, hence this Targa-topped example's brushed-metal hoop. This matching-numbers 'Soft-Window' example was the 10th of 268 built for the 1968 model year and is a true California car, delivered as-new to Porsche Cars Pacific and sold to a Mr. Paul Galvez of San Francisco. Finished in its correct color of 6803 Ossi Blue with its interior in black leatherette with a Houndstooth seating insert, this Targa delivers Porsche style in a pure, top-down distillation.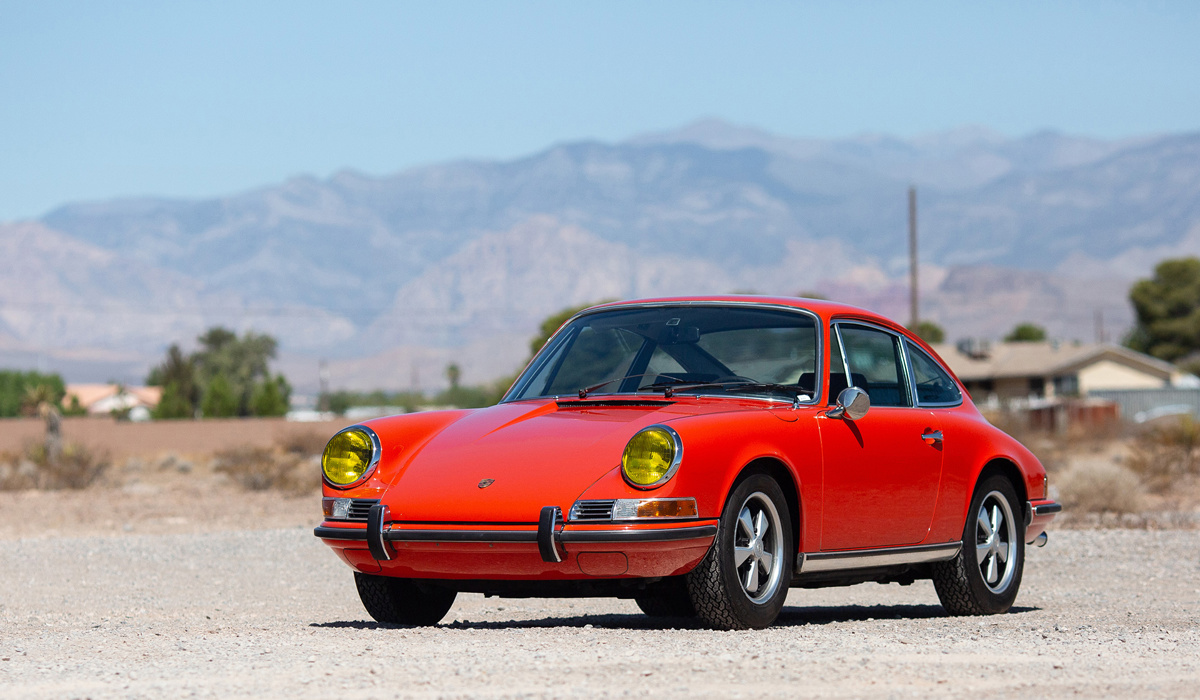 1969 Porsche 911 S
Estimate: $140,000 - $160,000 | Offered Without Reserve
Even from an outside perspective, one glance at the headlight lenses on this period-correct 911 S suggests that something out-of-the-ordinary is occurring underneath the hood. As this highly original German-delivered example transferred to French ownership early in its existence and remained there ever since, its amber-colored headlights were mandatory. Now only three owners from new, this numbers-matching, well-preserved 911 S still shows off its top-of-the-range status and is ready for its next chapter to begin.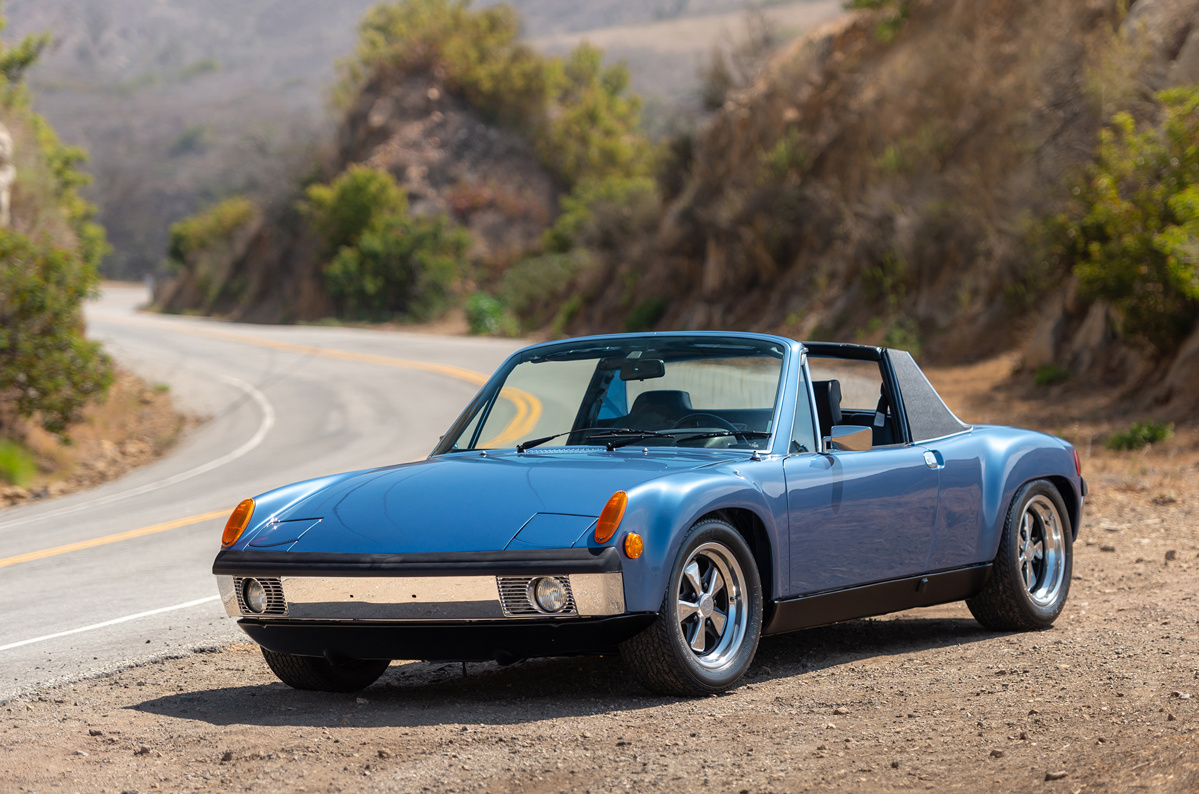 1971 Porsche 914/6 'M471'
Estimate: $450,000 - $550,000
As the 1970s dawned, Porsche engineers further pushed the envelope of achievable road car performance. Starting with their venerable 914 platform, which debuted in 1969 with a 1.7-liter flat-four-cylinder motor, the development team, directed by none other than Ferdinand Piëch, did not cease in optimizing the mid-engine Porsche for motorsport. Launched to help qualify the six-cylinder 914/6 GT for homologation, this example is one of a mere twenty-three made in 1971 and 1972 by Porsche in optimal M471 (aka "The Competition Option Group") specification. If the steel fenders on this example appear to sport a wider shape than the typical 914, that is by design. Other upgrades include the unique steel-flared front valance and desirable 6x15 Fuchs alloy wheels attached with 21-mm spacers. Formerly owned by the so-nicknamed "Dr. 914," George Hussey of Marietta, GA, this example benefits from his careful stewardship and meticulous restoration. The quality and rarity of this example compelled the North American division of Porsche to put it on display at their Atlanta facility during their celebration of the 50th anniversary of the 914 model in 2018.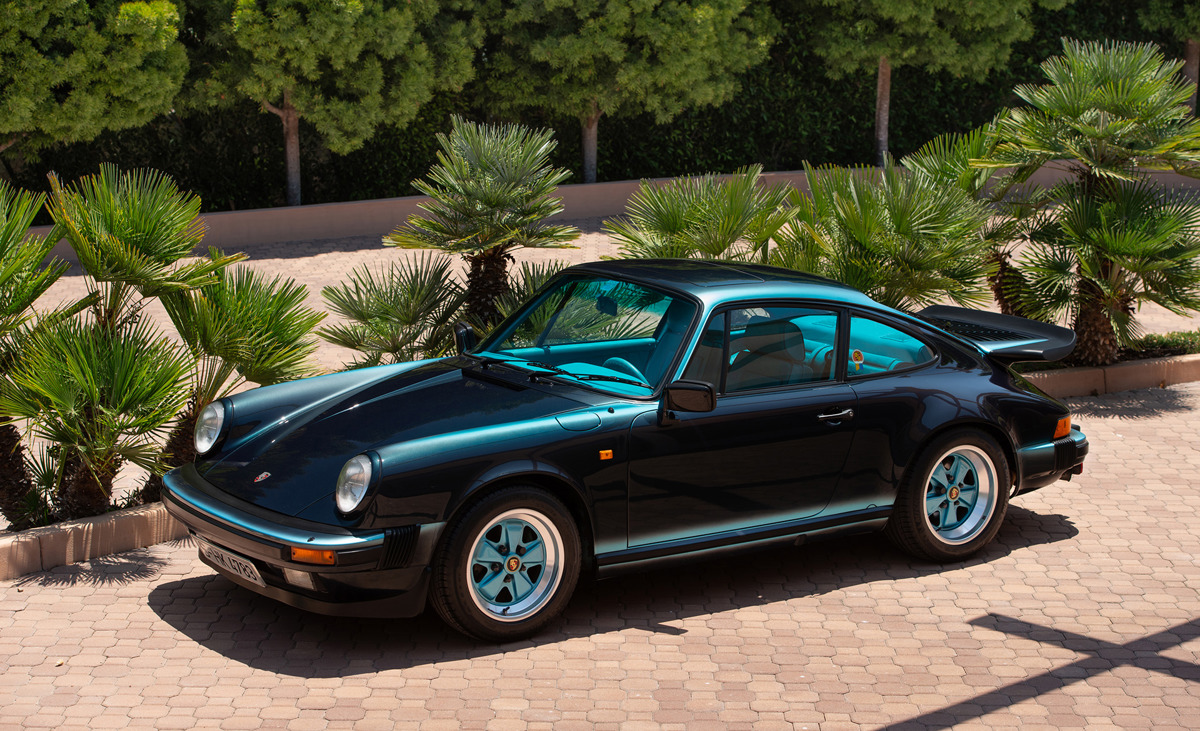 1984 Porsche 911 Carrera 3.2
Estimate: $235,000 - $335,000
As the 1980s began, Porsche began offering its signature 911 sports car in a spectrum of colors and finishes that would have not been out of place in the previous age of fine coachbuilding. Those clients whose relationship with Porsche called for a bit of extra attention were allowed to contact the Sonderwunsch Programm (or, "Special Wishes Program") and request exterior and interior finishes that were not available to others. This striking example wears a one-of-a-kind color scheme in dark blue metallic with an unforgettable turquoise interior, made to match an heirloom sweater beloved by its first owner. The extensive work required to re-trim each of the interior components and deliver the deep tone in its exterior shade required it to be pulled off the official production line in Stuttgart and shipped to a nearby paint expert in Bietigheim. Of course, to have such a special wish granted, the first owner of this example had to have the ultimate connection, and indeed, as assistant to Porsche CEO Peter Schutz, Tilman Brodbeck certainly possessed that. A beloved example, well-known in collector circles from its appearances in 911 Millennium by René Staud and 000 magazine, this example is a showpiece for Porsche personalization and is well-worth a closer examination.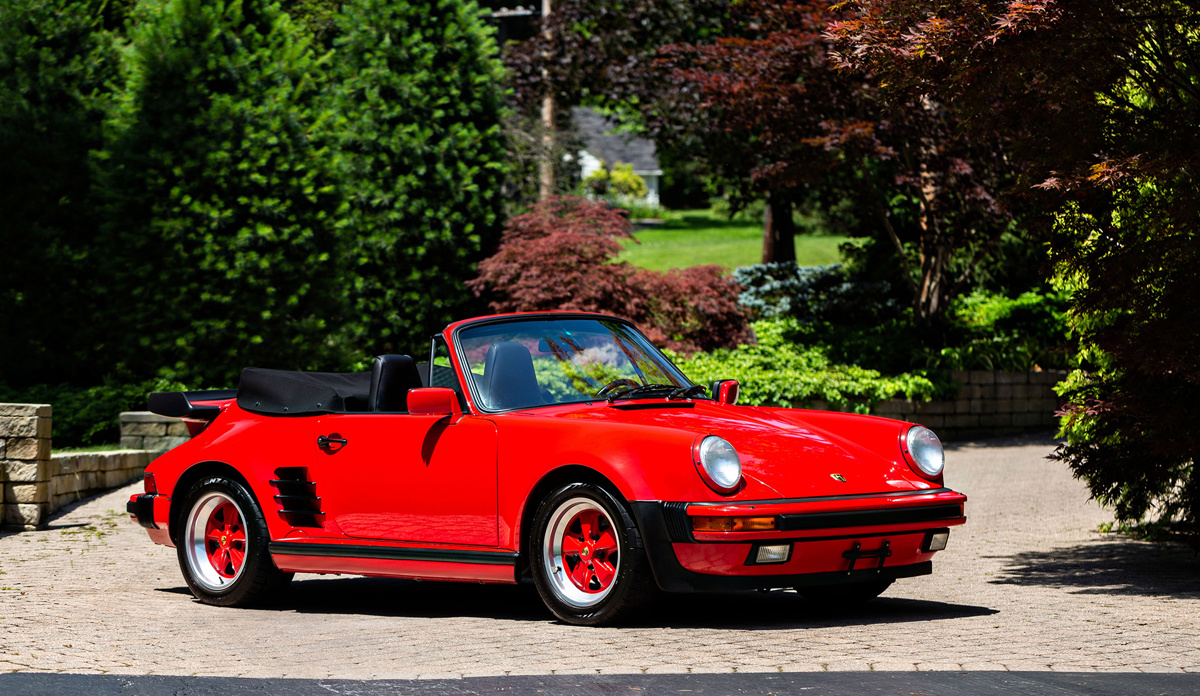 1987 Porsche 911 Turbo Cabriolet
Estimate: $175,000 - $225,000 | Offered Without Reserve
Moving into the 1980s, Porsche did not overlook development of their signature 911 sports car. With turbocharged power occupying a place at the top of the Porsche range, and with engine technology directly translated from the brand's motorsport division, the only problem was that the Turbo was not licensed for U.S. import between 1979 and 1985. Launched at the Los Angeles Auto Show for the 1987 model year, the Turbo Cabriolet offered Porsche customers (yes, even those in the United States) their most advanced powerplant with the possibilities of open-air motoring. But true Porschephiles know that this was not the ultimate Turbo Cabriolet offered by Porsche in-period…
1988 Porsche 911 Turbo 'Flat-Nose' Cabriolet
Estimate: $300,000 - $400,000 
Of course, in terms of pure Porsche style, their ultimate drop-top, turbocharged passenger car came with an even more prestigious option. Prospective owners could communicate with the division of Porsche known then as the Sonderwunsch Programm, now called Porsche Exclusive Manufaktur, and for the astonishing in-period price of $23,244, receive an entirely dramatic aerodynamic alteration of the front nose, making an all-new Flachbau (or "Flat-profile") variant. Today, this Guards Red-over-black example, showing only 3,501 miles at the time of cataloguing, perfectly embodies Porsche flair in the 1980s.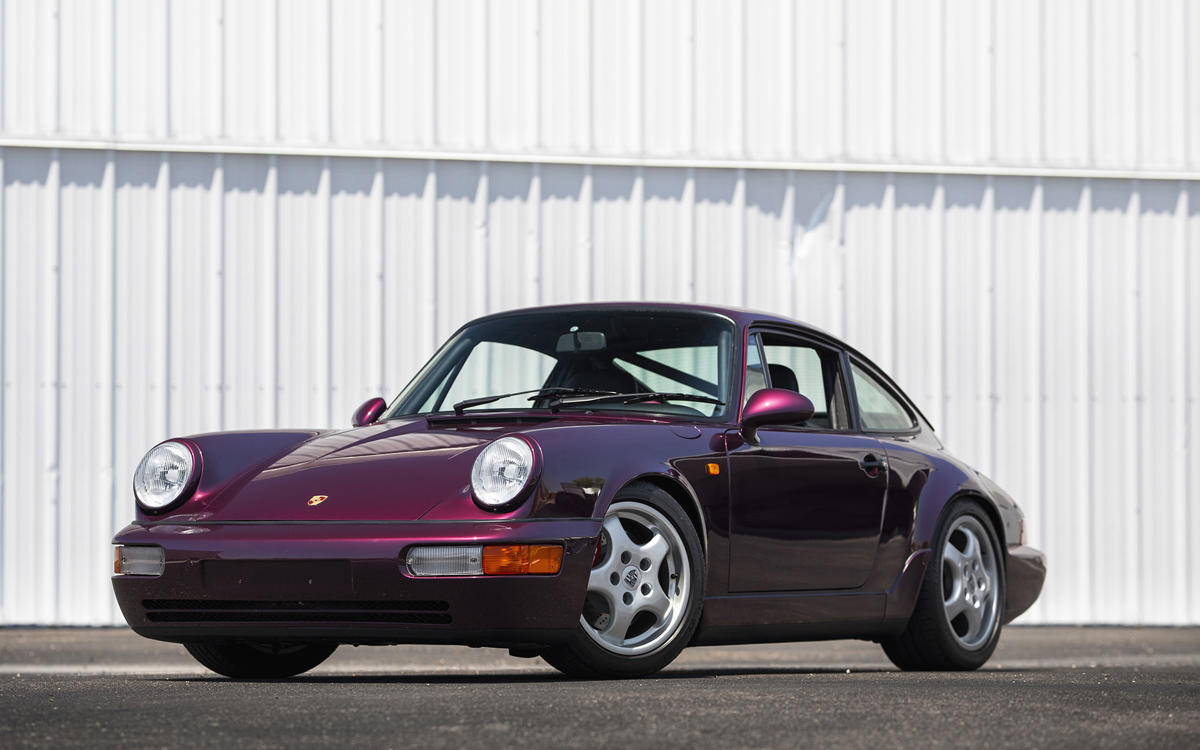 1992 Porsche 911 Carrera RS N/GT
Estimate: $325,000 - $400,000 
When we speak of exclusive Porsche style, one-of-one color schemes like this handsome Amethyst Metallic example are exactly what we mean. This example is one of a mere twenty built for a special race series in Macau that never materialized. Once again, Porsche Exclusive was tasked with delivering over-the-top tri-color interior color schemes with leather-lined Matter roll cages to match. The twenty examples are now known as the "Macau Cars," and are all highly collectible, as much for their desirable M003 racing packages as for their aesthetics. As prepared for the one-off race series, this example retains its lightweight side glass and door cards, aluminum hood and roll cage, as well as a correct 3.6-litre M64/03 flat-six from the same series.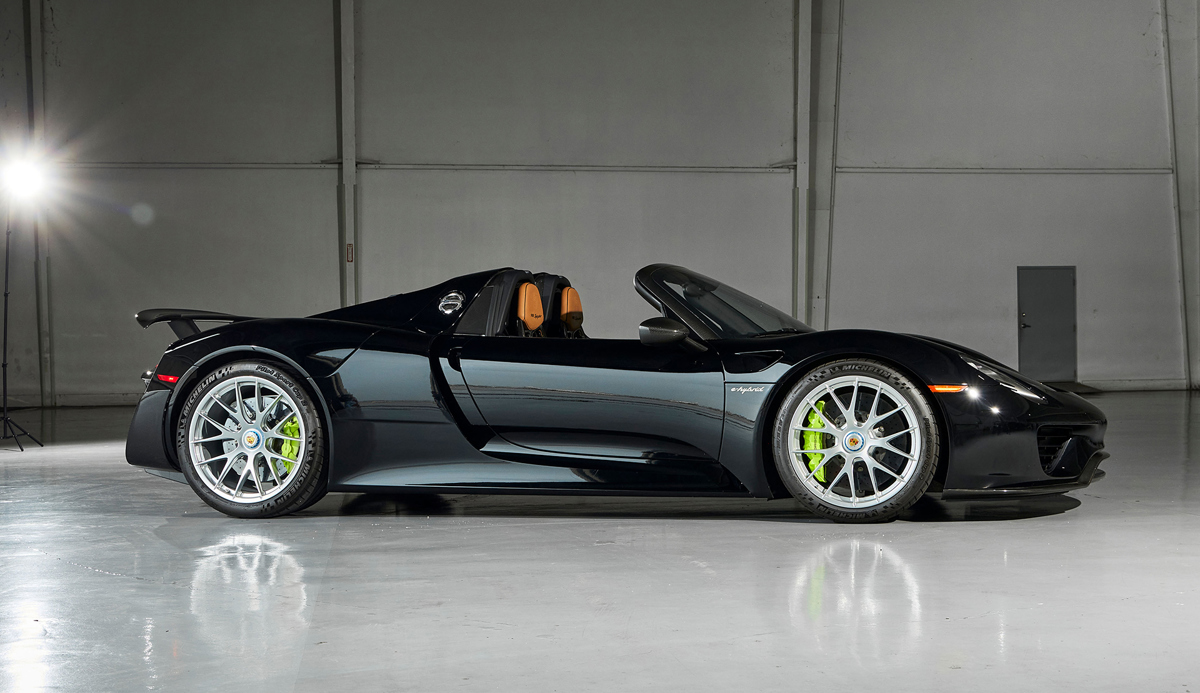 2015 Porsche 918 'Weissach' Spyder
Estimate: $1,200,000 - $1,400,000 | Offered Without Reserve
The Fox Collection
This piece has provided a delightful journey through the technology-driven evolution of Porsche sports cars. Scrolling back through the list, one can see the changes brought by aerodynamics and engine technology. When it comes to 21st century technology, Porsche has seemingly reset the timeline, starting over again with the revolutionary hybrid-powered 918 hypercar. Powered by three motors—two of which are electric and can be charged by regenerated braking power—the 918 produces a prodigious 887 combined horsepower. This example, wearing a supremely tasteful color combination of a Black exterior with "Color-to-Sample" tan leather interior with exposed carbon fiber, is made even more special by the addition of the 'Weissach' package, which brought an array of features made to lighten the futuristic hypercar by a not-insignificant 100 lbs. Looking to the future, we can clearly see the future of stylish Porsche sports cars is in good hands.