Walking into the sprawling East Texas compound built by well-known classic car collector Gene Ponder is, at least for any automobilia aficionado, almost an out-of-body experience. Every surface of every wall is adorned with valuable porcelain signs, prints, and paintings depicting period motorsport. Radio-controlled airplanes are suspended from every ceiling. Almost every marque from automotive history is represented in memorabilia form, with scale models carefully arranged on every table, shelf, and cabinet. Organized with care, the massive collection can still strike some as overwhelming, encompassing everything from period pinball machines to full-size mannequins dressed in race-worn Nomex suits and even a Ferrari 'Basta' sailboat model. For such a wide-ranging collection, we needed an expert guide.
Enter Kurt Forry, RM Sotheby's in-house memorabilia specialist. With decades of experience dealing with every aspect of the automobilia world, Forry has earned a reputation for his discerning eye and deep, diverse knowledge base. Touring through each of the seven buildings included in RM Sotheby's just announced site-specific auction, Forry quickly differentiates between original artwork and reproductions, sorting the most valuable pieces into lots designed to compel any car fan. We caught up with Forry at the end of the cataloguing session and asked for his highlights: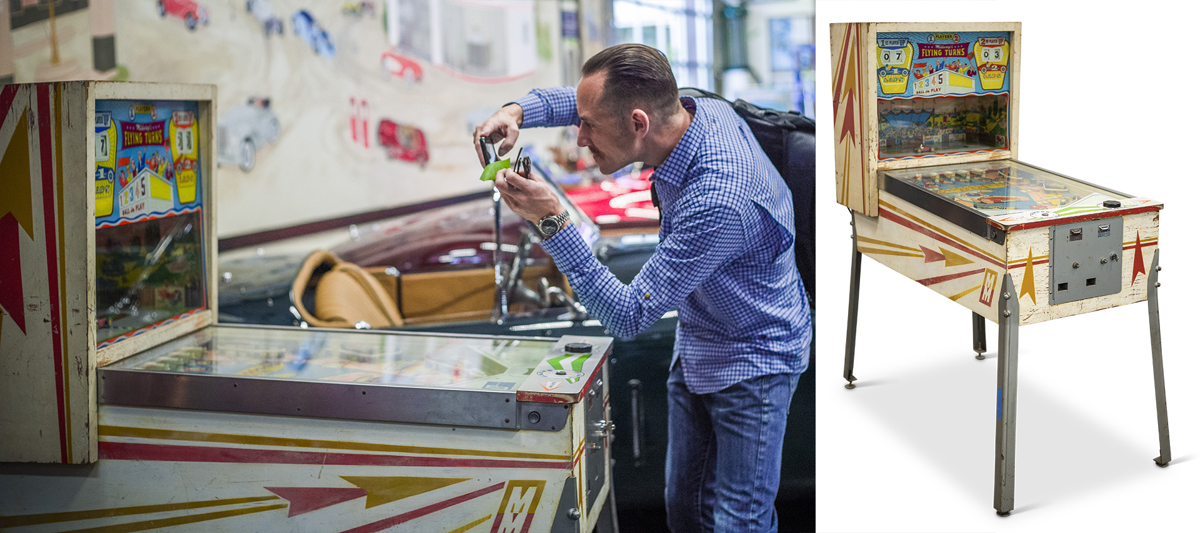 Midway's Flying Turns Pinball Machine
A stand-alone way to enliven any car cave, garage, or automobilia collection is a vintage pinball machine. The Ponder Collection features no fewer than five choices for vintage pinball games, including a Mario Andretti-themed edition from Gottlieb. This motorsport-themed example features a delightful diorama depicting a classic motor race. Forry chose this example because, "I've only seen one other example of this fantastic pin, and its visually stunning, very rare, and only sold or traded privately. I'm unaware of this coming up at auction ever!" No quarters are required.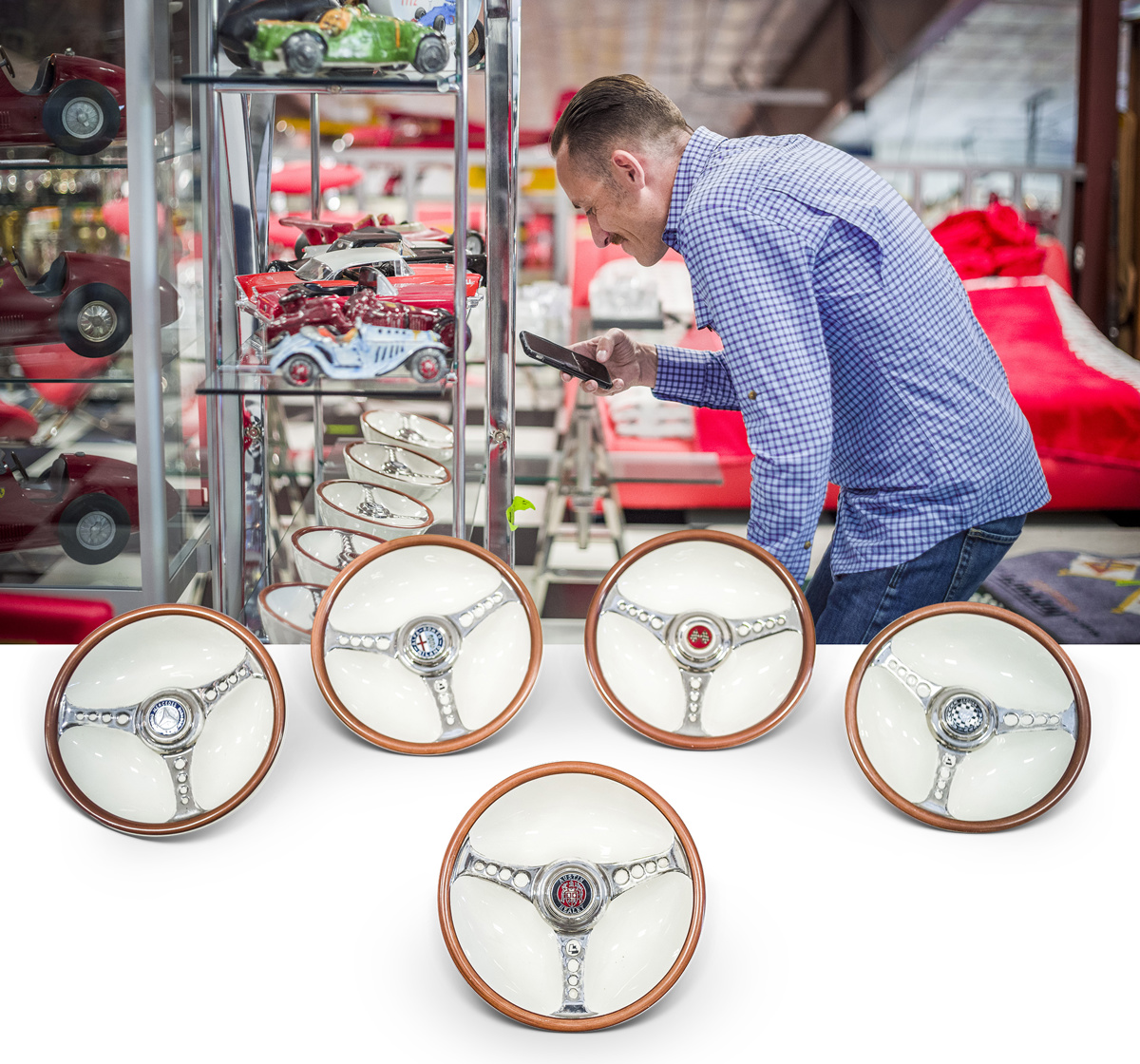 Les Leston Steering Wheel Ashtrays
Found in the finest European sports cars, the wood-rimmed steering wheels made by Les Leston quite literally launched the aftermarket accessory market. British-built and made with lightweight materials, the products made by Leston's firm are highly coveted and today regarded by many as art. Fitting subjects, then, to be depicted by these hand-painted ashtrays. Forry says, "These are exceptionally rare to find, especially in a group and moreover in such exceptional condition. Keeping in mind, these did function as ashtrays!" Showcasing brands like Jaguar, Alfa Romeo, and Mercedes-Benz, these ceramic dishes could even entice a non-smoker.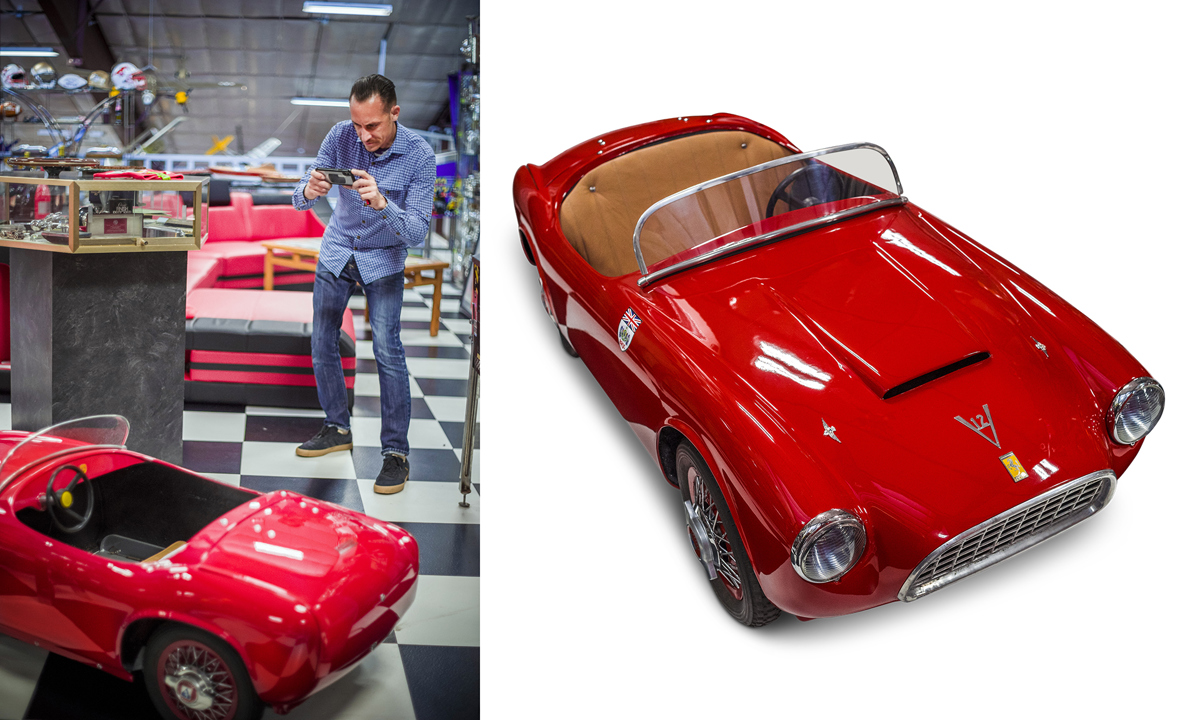 1956 Ferrari Bimbo Racer
In an auction jam-packed with all models of memorabilia (not to mention over 110 distinctive automobiles), we must pause to spotlight a few pint-sized offerings for the young motorist. As one would expect from such an encyclopedic amassing of automobilia, the Ponder Collection includes several so-called "Baby Bugatti" models in electric drive, as well as a generous assortment of pedal cars. But the crowning example surely is this shapely vintage racer, designed by renowned stylist Giovanni Michelotti and built by SILA in Italy. Today, Gruppo SILA is still in operation as a worldwide supplier to the automotive industry, specializing in state-of-the-art transmissions. Fittingly, SILA's approach to building a child's car was exceptionally professional, with a fiberglass body, independent suspension in front and rear, and four-inch rear brakes. A three-speed transmission was also standard-issue, expanding the outer reaches of performance for the emerging driver when paired with 12-volt power. An exceptional first Ferrari for any budding enthusiast.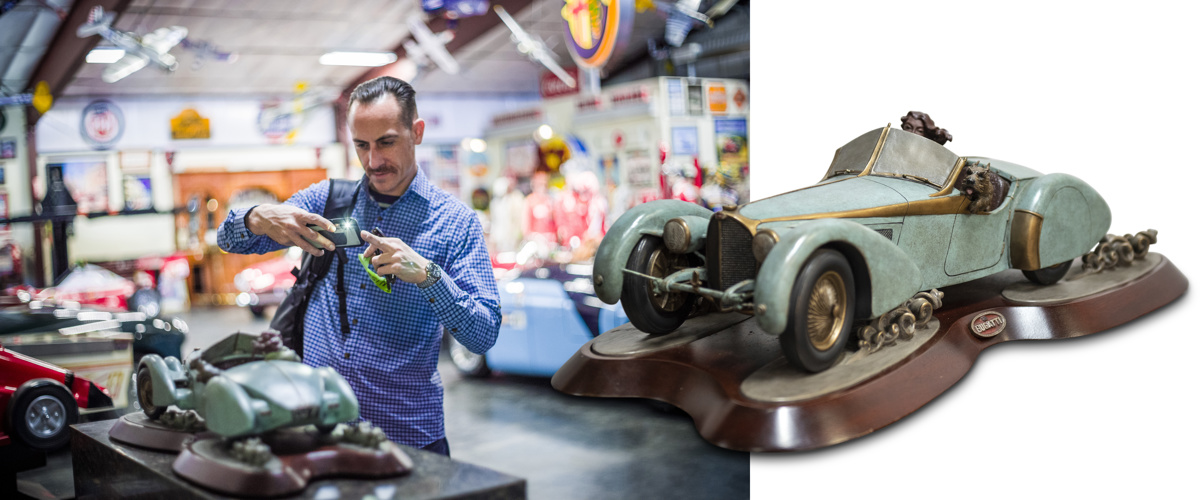 Bugatti Bronze by JP Nesse with Plinth
Not all collectables need to be drivable. This evocative sculpture uses the full material qualities of its underlying bronze to depict a spirited sprint in a Bugatti Type 57 SC Corsica roadster, with its signature split windshield barely shielding the long-haired driver and low-cut door providing a perch for her canine companion. From the rear, sculptor JP Nesse has created a sense of movement in the piece with gracefully swirling dust trails coming out of the Corsica's unmistakable fenders. Forry chose this piece because, in his words, "Nesse bronzes are hot, hot, hot right now! I feel people are gravitating to his style and the solid collectors market for automotive bronzes…as long as you have a car audience of sophisticates to sell them too!" Fans of Nesse's work will also be interested to see his take on the classic lines of the Jaguar XK120.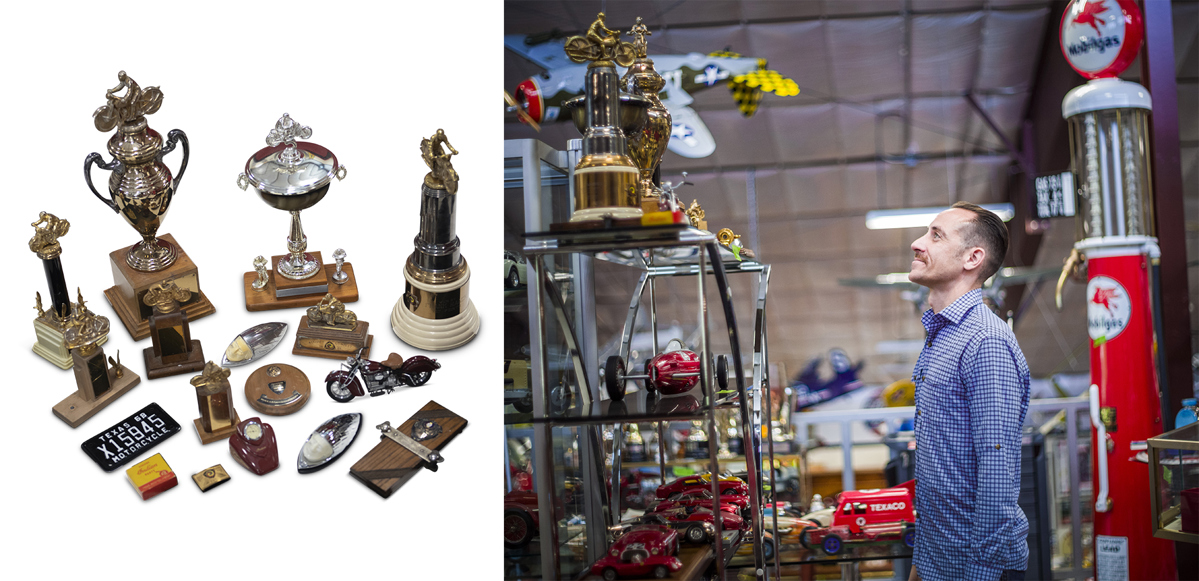 Vintage Motorcycle Trophy and Memorabilia
According to Forry, the market for vintage trophies is at least in part reflective of how they appear on display. These vintage motorcycle trophies are especially uncommon to see. The bronze cyclist figures depicted atop these period trophies would look handsome in any collection of vintage ephemera. "Vintage AMA event trophies from the mid-century are always sought after in the high-end motorcycle world of collectors," according to Forry. Having the heft usually associated with period trophies, this lot would also make a stunning gift for any motorcycle enthusiast in your life.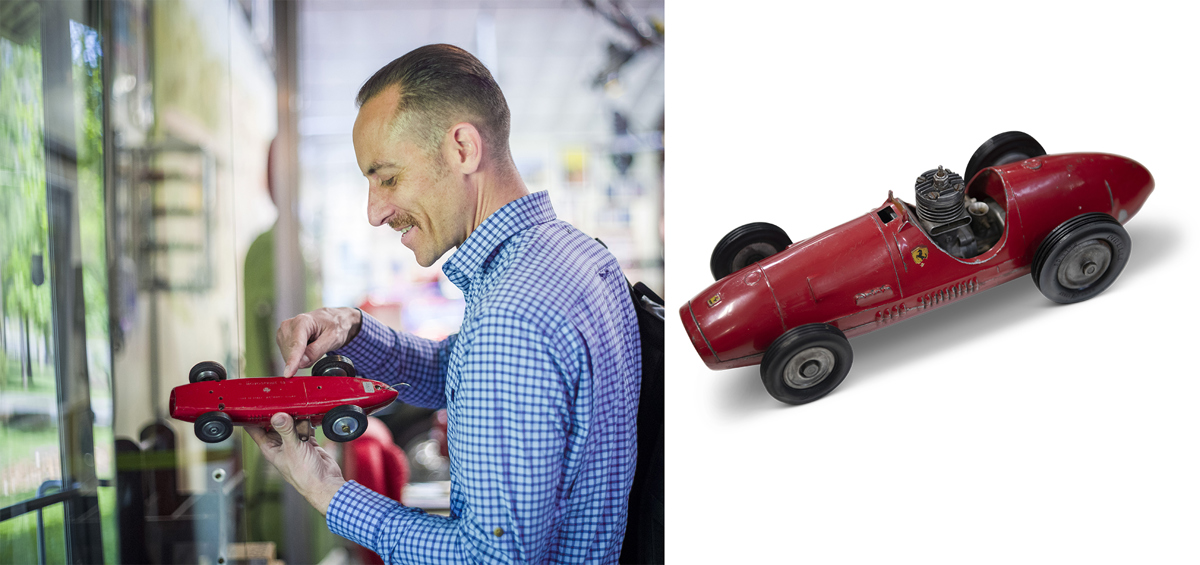 Movosprint 52 Ferrari Tether Car
Though this vintage Ferrari Tether Car may look like a mere toy, these cars were created to handle near impossible speeds. Watching competitions between tether cars is extremely impressive to the uninitiated, with these tiny vehicles whipping around circular tracks at triple-digit speeds, with only a string keeping them on-track. As one might imagine, the wear and tear these tether cars typically experience traveling at 200 mph is more than most scale models accumulate in a lifetime of play. The freshness of this Ferrari by Movosprint cannot be overstated; it even still boasts its original box. According to Forry, "These are made by Movo of Milan and proving to be quite rare and sought after because of the cross-collectability. And, quite simply, classic Ferrari race cars are undeniably cool!"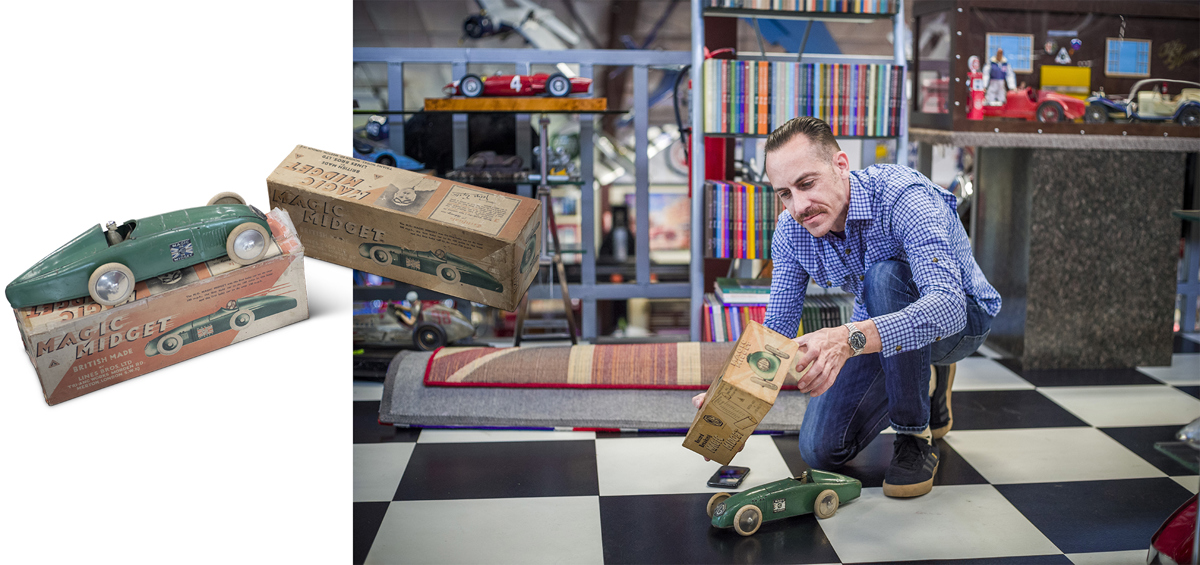 "Magic Midget" MG Tin Toy in Original Box
Collectable toys are, in part, a testament to the power of nostalgia. For those with fond memories of unwrapping presents and wiling away carefree hours of play, finding new-in-box toys for sale today can tap into positive feelings of childhood. Actually sourcing these original-condition model cars is another story, as most toys were used as intended, living hard lives before being passed along to subsequent generations. As a result, well-preserved items like this "Magic Midget" MG Tin Toy are exceptionally uncommon, especially when found in their original cardboard boxes. "We all love to see an original survivor and this one's nearing 100 years old! I hope we can sell it to another time-capsule collection for a hundred more!" says Forry. Would you use this Tin Toy for play or display?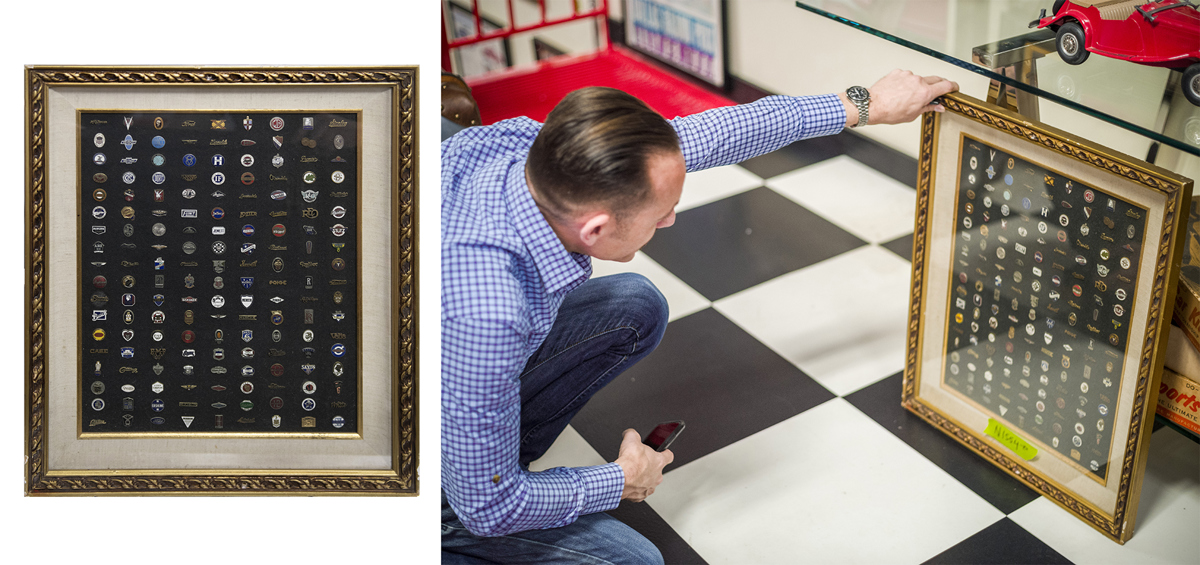 162 Mixed Marque Lapel Badge Collection
Perhaps the most remarkable fact about the Ponder Collection is how universal the contents are among automakers. Gene Ponder first found a passion for the MG brand after a childhood encounter with an MG TC, but that enthusiasm quickly evolved into other legendary European sports car marques. This framed collection of lapel pins contains a staggering number of automakers from around the world, totaling 162 in all, including impossible-to-find marques ranging from Riley to Mercer and many, many more. The only temptation with this lot would be to open the frame and put these lapel pins to good use at your next concours gathering or club meet.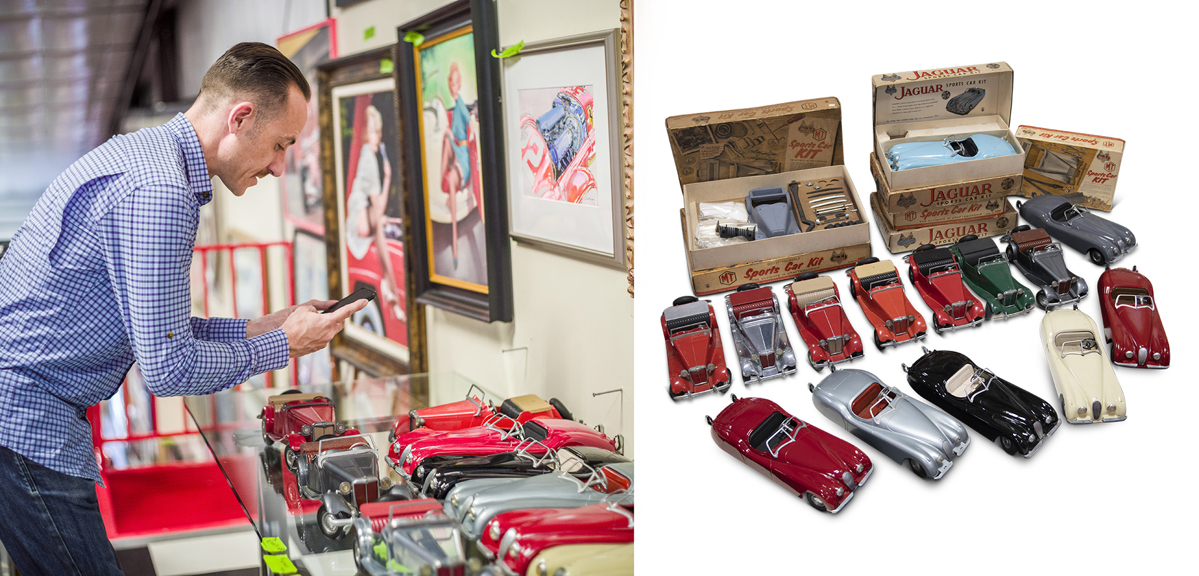 Doepke Model Car Kits and Models
Known for building every sort of vehicle from construction-grade excavators and custom dump trucks to fine scale models of European sports cars, Doepke Toys were regarded as some of the best-built among all kids toys. Today, also appreciated by adults who recall fondly the quality of these scaled-down sports cars, Doepke examples like these have become collectible. Especially when discovered in the lightly used condition that these model cars and kits are presented in (some are still unassembled and still in their original boxes), many memorabilia collectors will find this lot worthy of note, as Doepke models of this size can regularly run into the $250 to $450 range. "The Ponder Collection features several lots of well-preserved toys, but this generous selection of Doepke models could start a quality collection by itself. A prize for anyone interested in Jaguar or MG," says Forry. With these models and kits painted in a wide variety of stunning hues, this assortment of automobilia is certain to provide surprise and delight to car fans of any age or era. And with two of his most beloved brands represented, no wonder they appealed to Gene Ponder himself.
Stay tuned in the coming months as we preview the many memorabilia lots and extensive list of automobiles from the Gene Ponder Collection in advance of the site-specific auction on 22 to 24 September 2022.