Long before his famous fight with Enzo Ferrari, Ferruccio Lamborghini was a farmer.
This is not intended as an insult: Lamborghini's expertise as an entrepreneur and manufacturer of farm equipment was crucial to legitimizing his upstart sports-car company. When the two icons of Italian industry clashed in 1961, their disagreement revolved around a burned-out commercial clutch used in both Ferrari's sports cars and Lamborghini's tractors.
Ferrari reportedly inflated the clutch's resale value nearly 100 times—an exorbitant sum for a common part—infuriating Lamborghini and inspiring him to confront Ferrari in person. As longtime Lamborghini test driver Valentino Balboni later recounted, Ferruccio's personal experience with component costs gave the young magnate grounds to stand up to Il Commendatore: "You build your beautiful cars with my tractor parts."
This subtle cross-class shade added fuel to the feud with Ferrari, building the legend of Lamborghini in the process. Who among us did not immediately choose a side after hearing that Ferrari dismissed Lamborghini with "You are a tractor driver, you are a farmer. You shouldn't complain driving my cars because they're the best cars in the world," as Balboni recalled?
If Ferruccio Lamborghini could be reduced to a mere tractor driver, he was at least in good company. Henry Ford was one of the earliest automotive industrialists to pivot to farm equipment, building the first Fordson tractor prototype in 1916 after observing the demand for work-oriented versions of his Model T (which debuted nine years prior).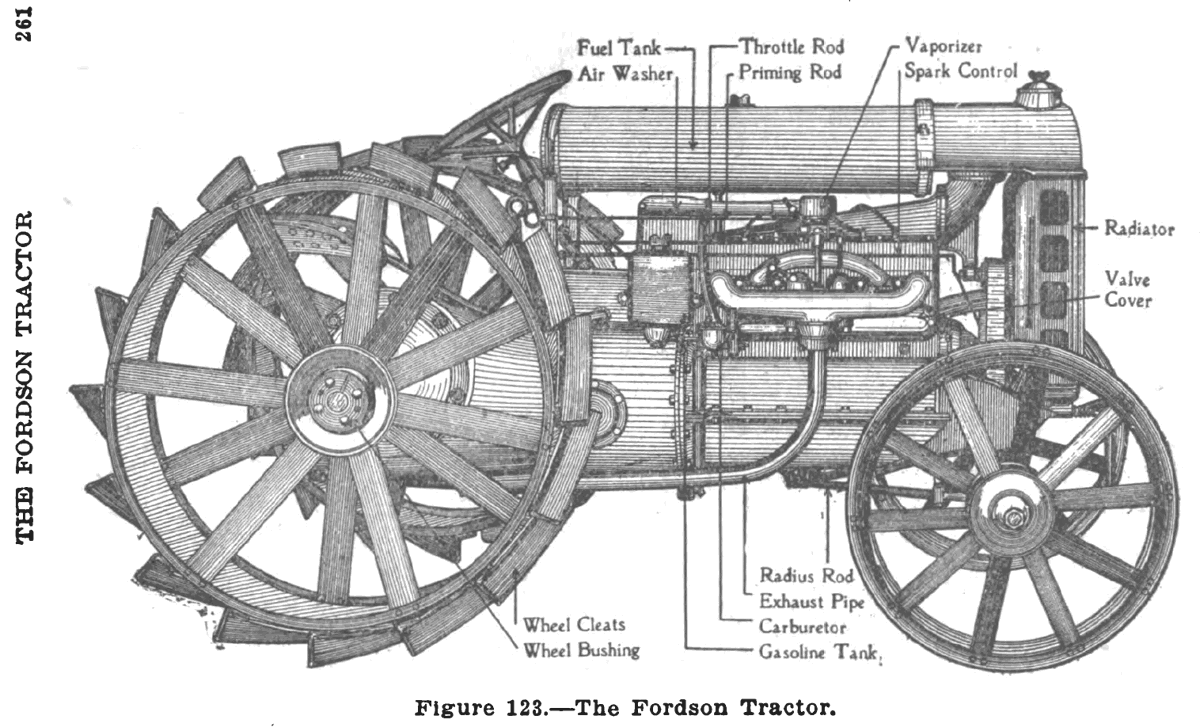 Diagram of the 1919 Fordson "Model F" Tractor.
Like the Model T, the Fordson's most significant initial competition was the domesticated horse; Ford's tractor proved as disruptive in farmers' fields as his Model T had been on early roads. The Fordson's impact expanded worldwide after the British Ministry of Munitions officially selected it for import in 1917, establishing a factory to build the Fordson in Cork, Ireland, thus bolstering the UK's domestic agricultural independence at the height of World War I.
The Allied war effort was aided the following year with the debut of Fiat Trattori's first tractor, the 30-horsepower Fiat 702. Fiat was joined in 1925 by Landini, which cemented the legacy of fine Italian farm machinery—a legacy which Ferruccio further enhanced when he founded Lamborghini Trattori in 1948.
From left, a selection of 1950s tractors, including the Porsche-Diesel Junior 108 L, the Fiat 18 "La Piccola," David Brown's Cropmaster, and the Lamborghini 1R.
During a brief period in the mid-1950s, an interested farmer had a choice between a brand-new Porsche-Diesel Super, Lamborghini's 1R, the bestselling "La Piccola" Fiat 18, a bevy of Ford models for the UK and beyond, and David Brown's Cropmaster 30—the same David Brown regarded as Aston Martin's eventual savior. The company was initially called Ferguson-Brown, but Brown's collaboration with Irish inventor Harry Ferguson dissolved after a dispute over a patented three-point hitch linkage; Ferguson took his design to Fordson in 1938, but this association was also short-lived. Ferguson battled with Ford over the same hitch linkage and eventually won a $9 million settlement for patent infringement in 1952.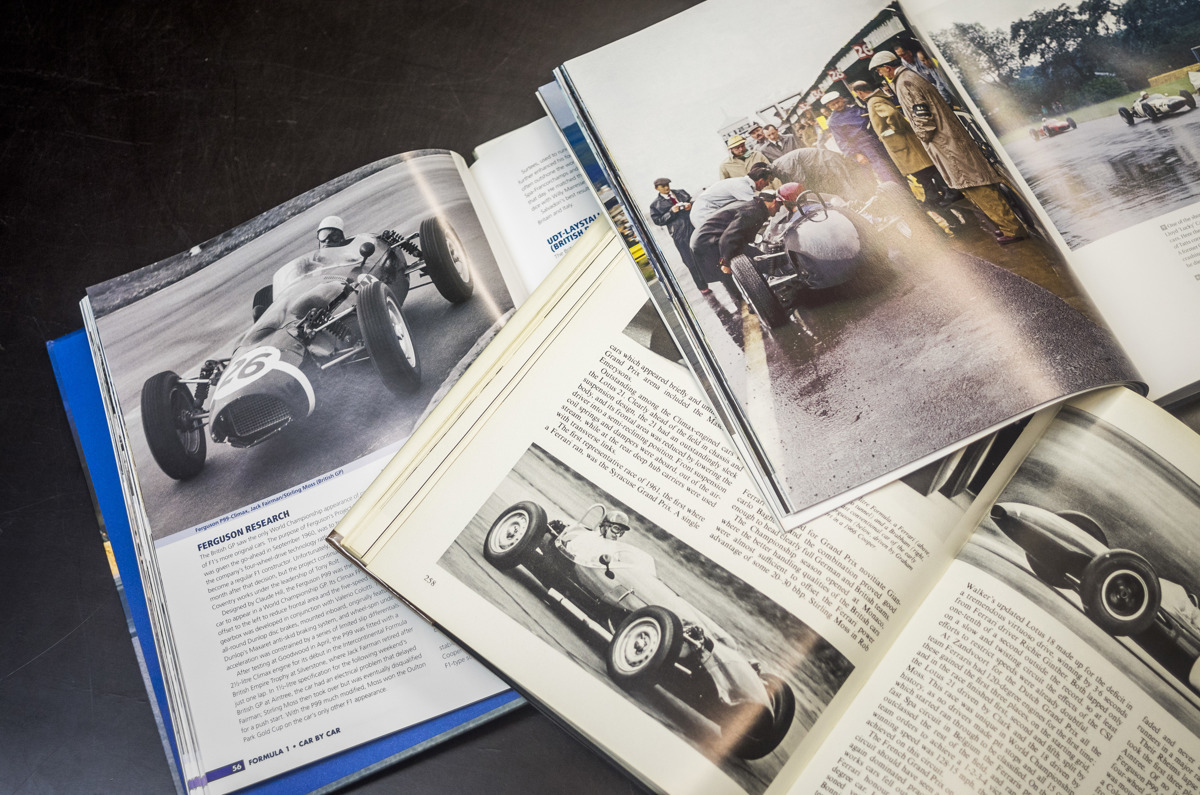 Several Formula 1 history books in RM Sotheby's library show the 1961 Ferguson P99, which was the last car with a front-engined layout to win a Formula 1 event.
Ferguson's swan song was on the racetrack rather than the farm—he forever entered the history books by creating the first four-wheel-drive Formula 1 car, the Climax-powered Ferguson P99, in 1961. Clearly, engineering genius translated from cars to tractors and vice versa—and feuds over farm implements were not exclusive to Italy.
Of course, the Lamborghini story didn't stop in the fields. From the first prototype 350 GTV in 1963 to the Miura supercar and beyond, the Automobili Lamborghini name became synonymous with extreme design and uncompromising performance. Yet all that time, the bullish brand was still manufacturing tractors under the Lamborghini Trattori label. Lamborghini's tractor division is still in operation today. Judging from its recent Golden Tractor for Best Design award at the 2014 Tractor of the Year awards, Lamborghini's tractors are still top-of-the-line.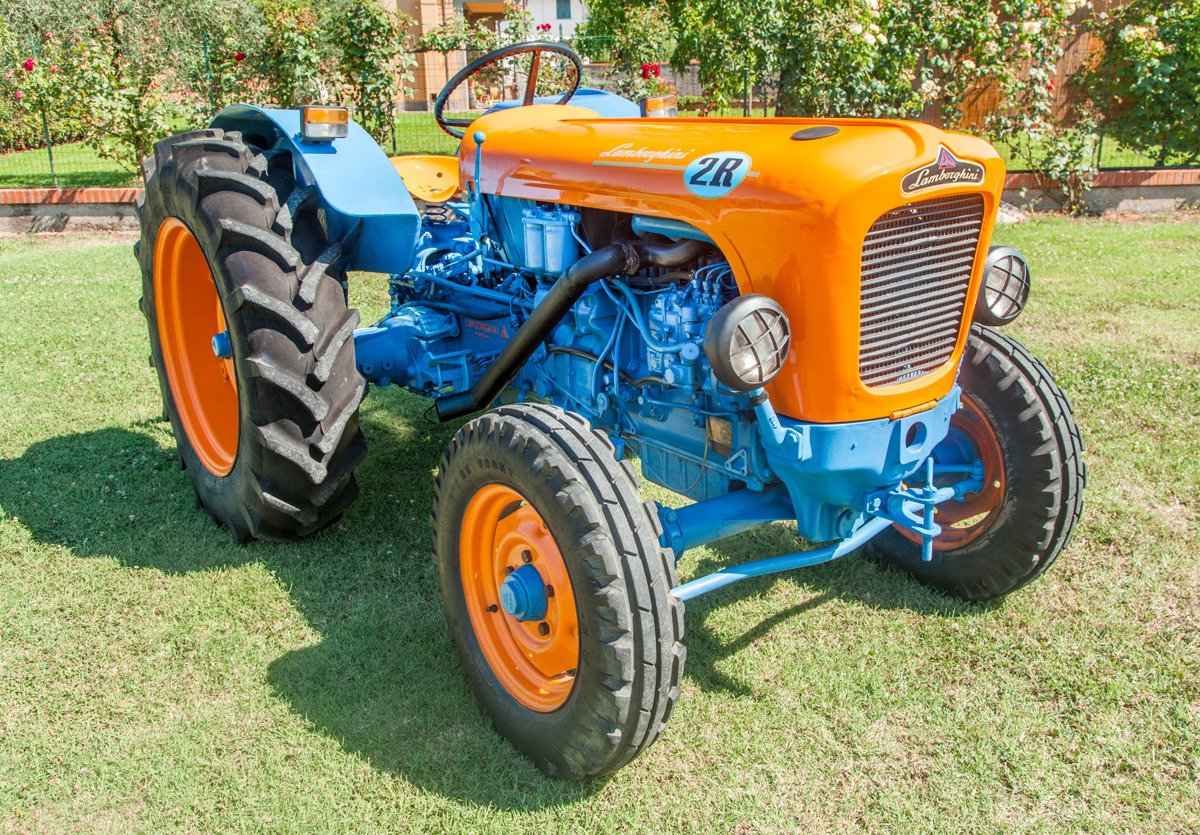 The 1965 Lamborghini 2R, offered at RM Sotheby's 2020 Online Only: The Palm Beach Auction.
If this unexpectedly dramatic story about fighting and farming has inspired an interest in owning a vintage tractor from a legendary automaker, you have a unique opportunity to do so: This 1965 Lamborghini 2R is set to appear at RM Sotheby's upcoming Online Only: The Palm Beach Auction, starting 20 March. Painted in a striking orange-and-blue color scheme, this high-riding Lamborghini echoes the iconoclastic spirit of its founder: plowing ahead with plenty of style to spare.
And if all this tractor talk is interesting, but your collecting strategy tracks more conservatively, perhaps consider this 1961 Porsche-Diesel Export Senior, offered at RM's The European Sale featuring The Petitjean Collection auction. It offers all the prestige of an air-cooled Porsche combined with an extremely serious-looking hydraulic loader—perfect for when your other Porsche gets stuck in the snow.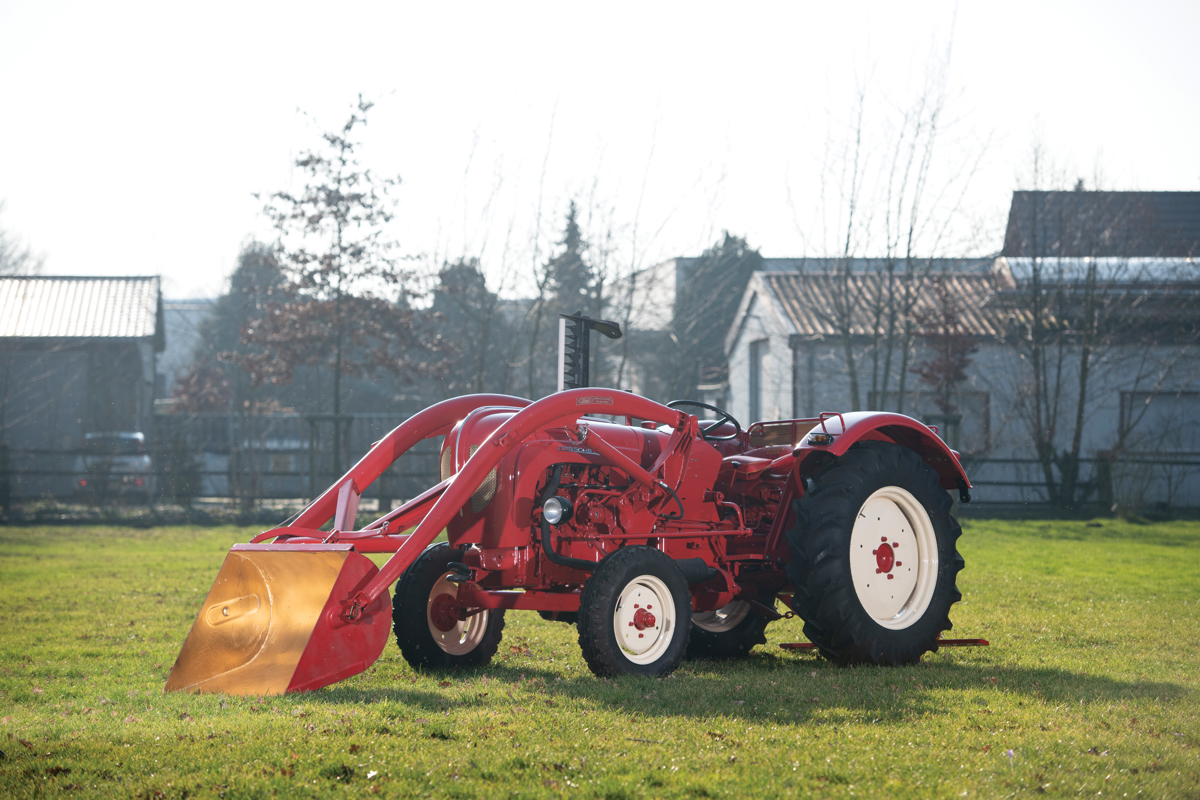 The 1963 Porsche-Diesel Super Export, offered at RM Sotheby's Online Only: The European Sale featuring The Petitjean Collection 2020. (Photo: Dirk de Jager © RM Sotheby's 2020)