Long before anyone is issued their first driver's license, even before the age where go-karts or Power Wheels are allowed, there exists a perfect toy to inspire a love for transportation at an early age: Pedal Cars.
Popularized between the 1920s and 1950s, these kid-powered playthings were essentially miniaturized versions of actual automobiles – some deluxe examples even feature inflatable tires, handbrakes, and even opening hoods complete with mock engines. Unlike the comparatively slim offerings available to first-time drivers, pedal car manufacturers presented children the opportunity to pilot a diverse selection of classic automobiles, dump trucks, airplanes, boats, three-wheelers – even an Amphicar.
Bruce Callis, the collector responsible for both curating and restoring the vast majority of this collection, could not remember a time where he wasn't an automobile aficionado. "I've always been fascinated by cars," he said in a 1994 interview. The spark which ignited his pedal car interest, in particular, was a 1963 "Tee Bird," which Callis and his wife Nancy discovered in unrestored condition at an antique mall. Callis' son Kevin enjoyed a similar model when he was a child, and with his wife's encouragement, Callis purchased the pedal car with plans to restore it to its former glory.
With assistance from his grandson, Michael Ready, Callis disassembled, cleaned, and repaired nearly every pedal car they could find and acquire. The duo researched original retail catalogs for each pedal car to make their restorations as accurate as possible. For more detailed work, Callis hired skilled craftsmen to perform the body-work, sand-blasting, painting, and chrome plating necessary to make the pedal cars look like they were fresh out of their original packaging.
Displayed for two years at the McLean County Museum of History in Bloomington, Illinois, the Callis collection is impressive not only for its variety but its depth. Though the majority of the collection was completely restored, Callis and Ready left some examples unrestored for comparison. The unrestored pedal cars emphasize how uncommon it is to find pristine playthings of any kind. "People have to remember, toys were meant to be played with. Finding them in as-new condition is rare, if not impossible. Part of the interest in collecting toys is recreating that moment from childhood that you either had or wish you had—the joy of receiving a new toy." With the variety of cars, trucks, boats, and even airplanes on offer, this encyclopedic collection is certain to bring out the kid in any collector: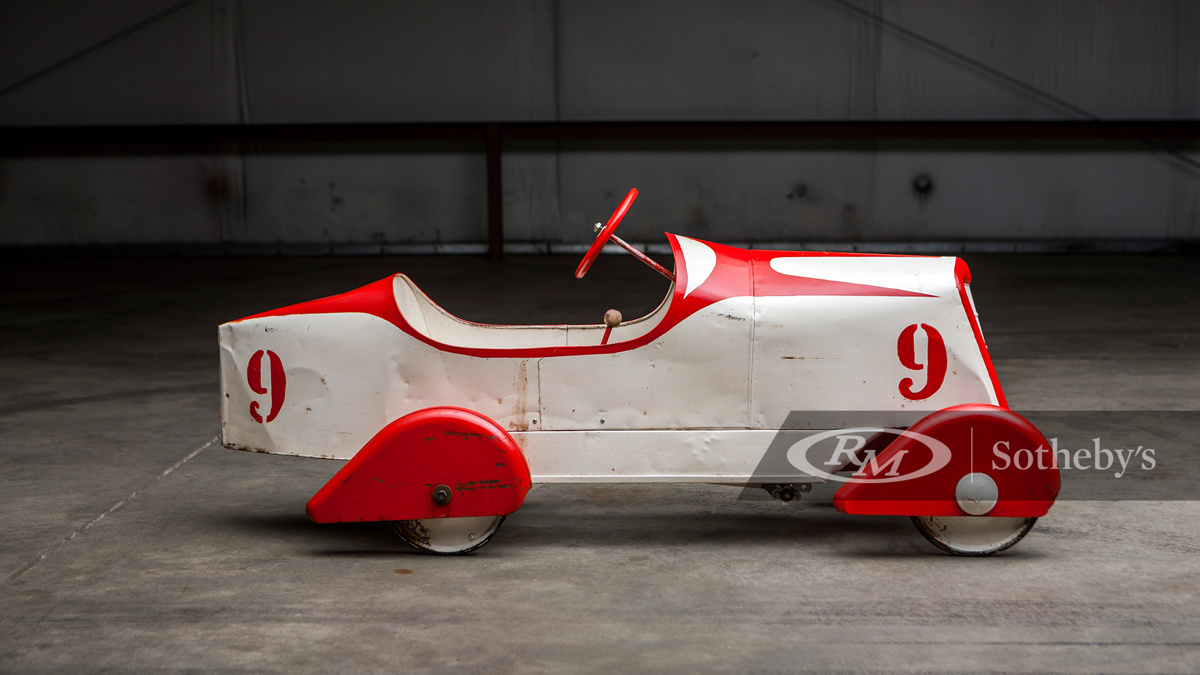 1935 Skippy Racer

by American National
The American National Company of Toledo, Ohio, modeled this pedal car after popular race car designs of the 1930s. Presented in original condition, the twin, streamlined front fenders move with the steering wheel input. By the late 1930s, the company was the largest manufacturer of children's vehicles in the world. American National is still in business today, though, after World War II, the company transitioned from pedal cars to making wheelchairs and hospital stretchers.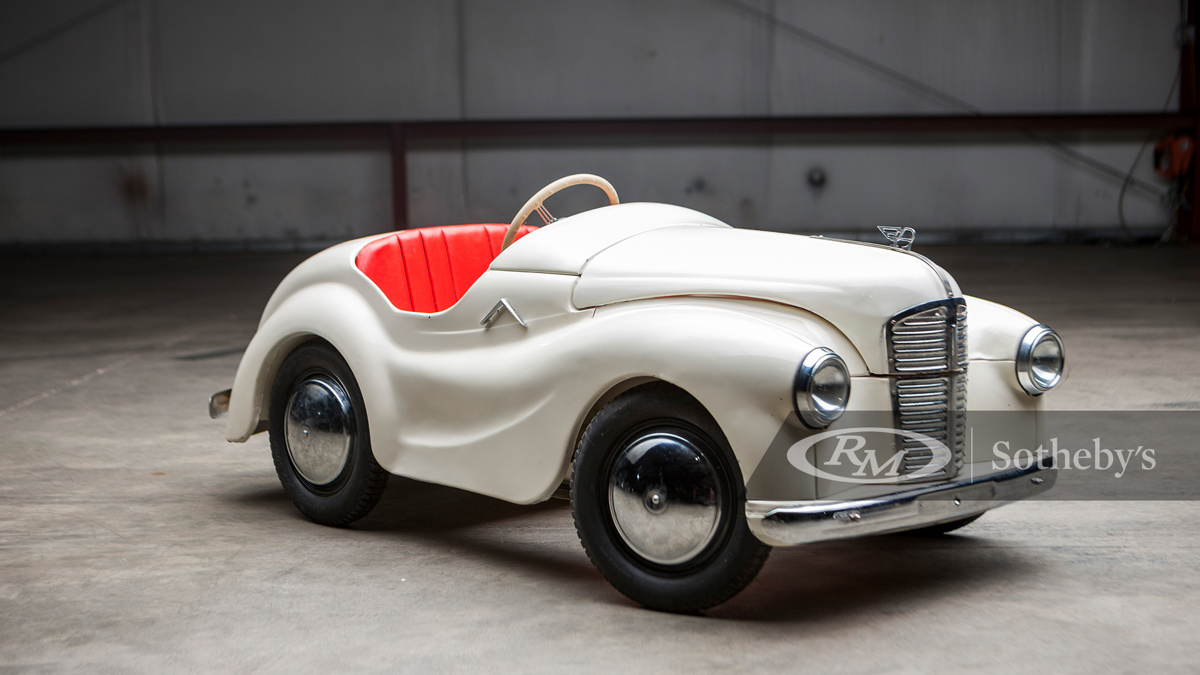 1955 Auston J-40 Roadster

by Austin Motor Company
Welsh coal miners battling Black Lung Disease found work producing the "Junior Forty" (J-40) pedal car between 1950 and 1971. Workers at Austin Motor Company's "Junior Car Factory" in Bargoed, Wales, produced this high-end pedal car using scrap materials from the Austin A40 Devon and Dorset production process. The J40 features an openable hood and trunk, spare tire, working horn, and battery-powered lights.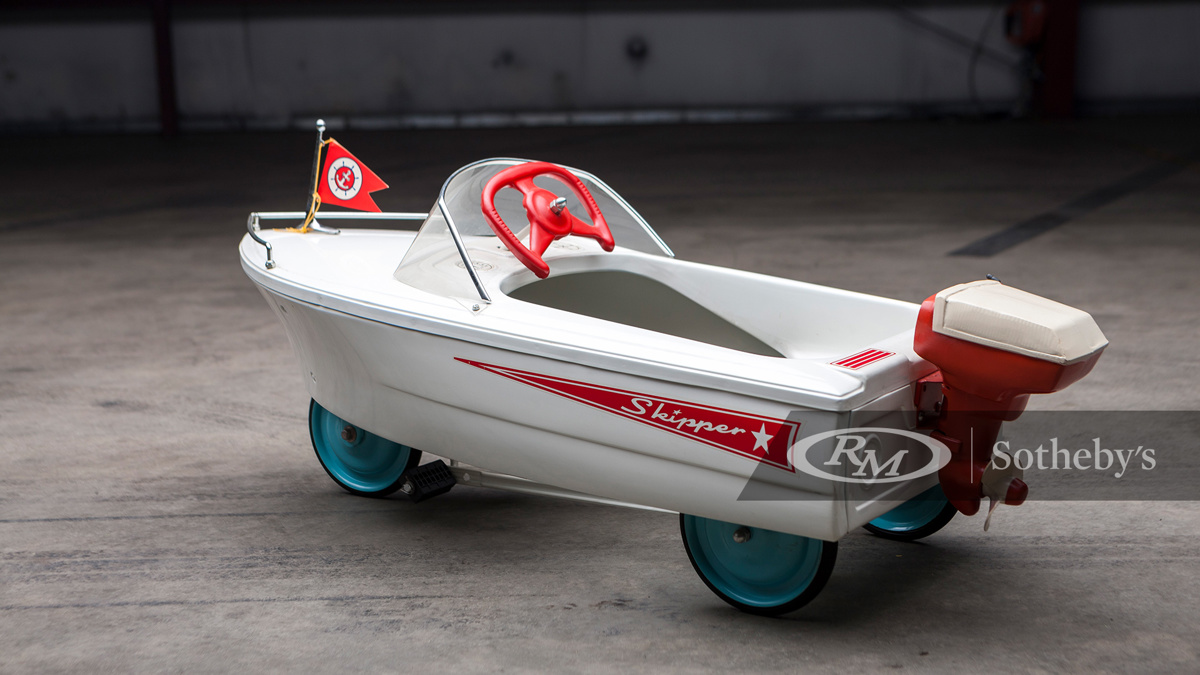 1968 Skipper Run-A-Bout

by Murray-Ohio
When the Murray-Ohio Manufacturing Company introduced this pedal-powered boat in 1968, it was a brand-new concept. The three-wheeled ship came in three models: The Jolly Roger, Dolphin Gulf Stream, and Skipper Run-A-Bout (shown here). The boat includes a battery-operated outboard motor, chrome-plated rails, and a pennant tied with realistic rope.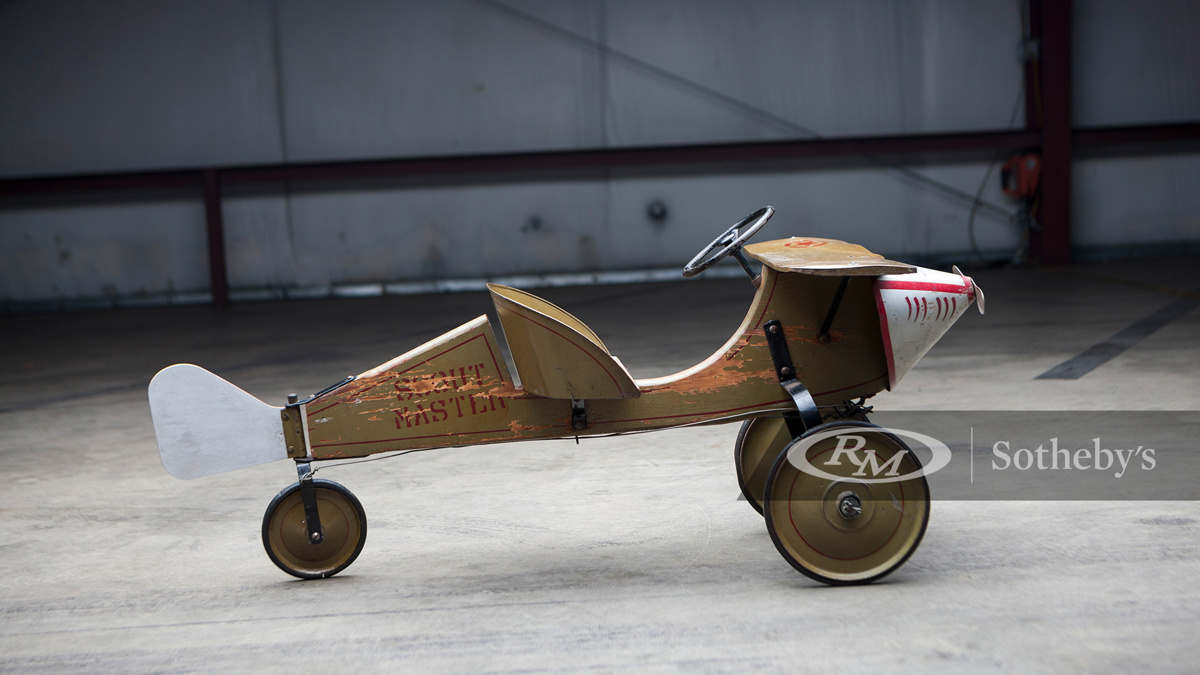 1929 Scout Airplane

by Sidway-Topliff
A deluxe pedal car in the late 1920s could cost up to $60 (equivalent to about $850 today), a steep sum when a pedal-powered tricycle cost one-tenth the price in the same period. This Scout Airplane was made by the Sidway-Topliff Company of Washington, Pennsylvania, in 1929. The fuselage is constructed of hardwood with an aluminum nose cone, propeller, seat, and wings. It is presented in original condition except for a replaced tailfin. The Sidway-Topliff Company sadly could not survive the Great Depression and went out of business in the 1930s.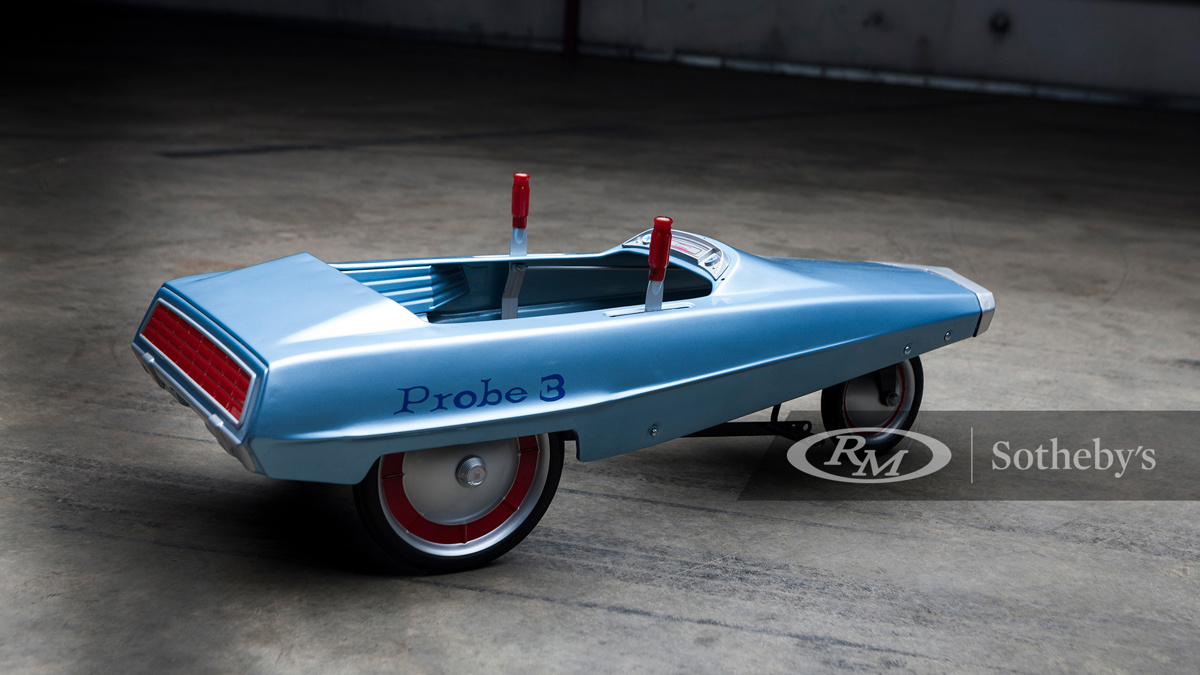 1969 Probe 3

by AMF
New Jersey's American Machine and Foundry (AMF) made this unique three-wheeled pedal car from 1969 to 1973, showing that not all pedal cars were derived from real automobiles. The driver shifts the levers to steer—pulling the right lever backwards and pushing the left lever forwards causes the car to steer to the right (and vice-versa). Other variations included a standard steering wheel and four tires.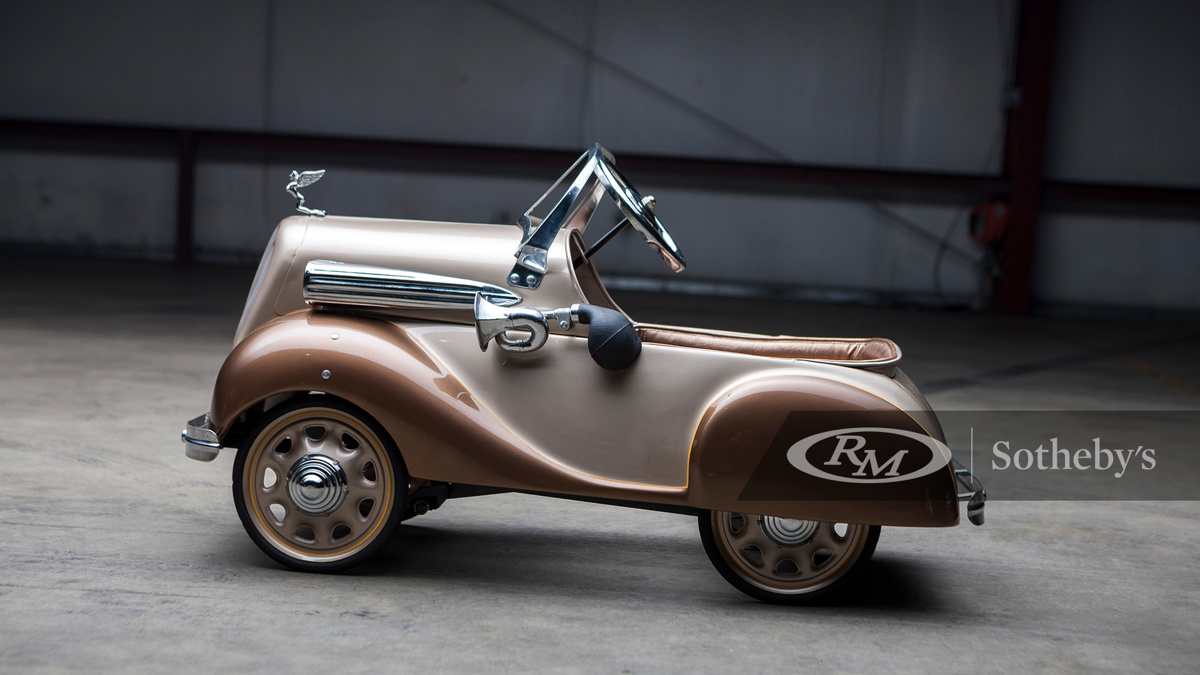 1935 Chevrolet

by Steelcraft
Steelcraft of Cleveland, Ohio, was a division of Murray-Ohio Manufacturing, a company that initially was founded in 1919 to supply parts for adult-sized automobiles, but four years later diversified their production to pint-sized pedal cars. The pivot proved to be the company's saving grace—their wide array of income streams helped Murray-Ohio avoid bankruptcy during the Great Depression. This 1935 Chevrolet pedal was built between 1935 and 1937 and sports cone-shaped headlamps, just like the real thing.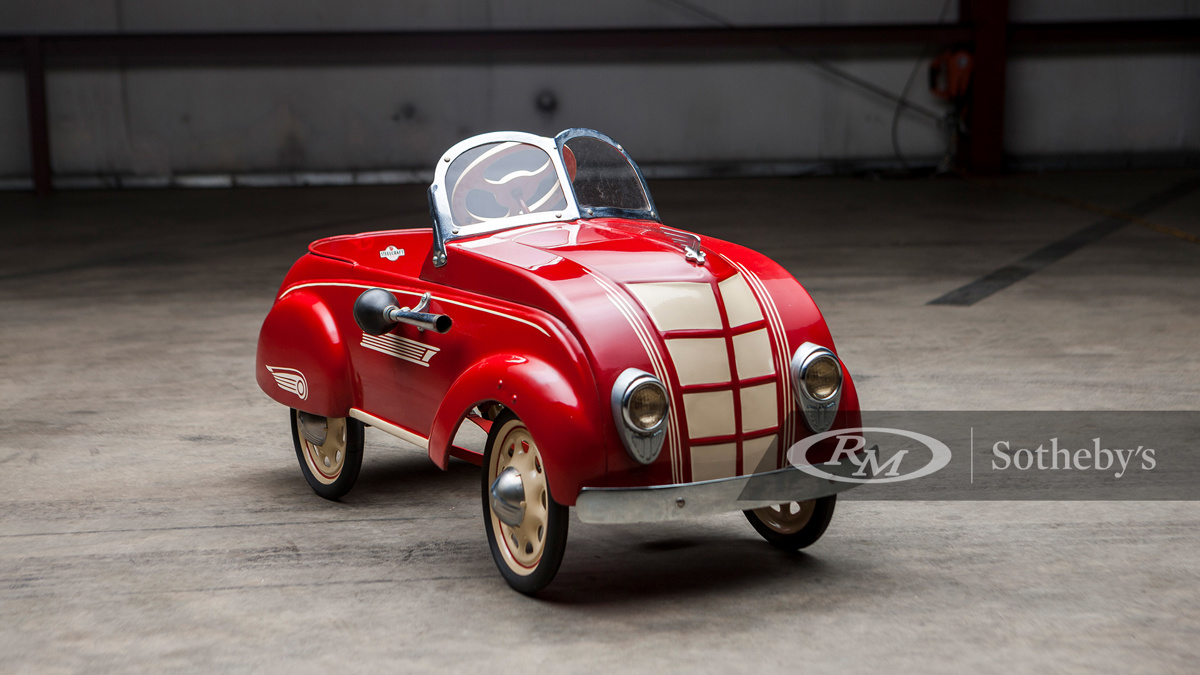 1935 Chrysler Airflow

by Steelcraft
Occasionally, the pedal cars proved more popular than the cars on which they were based. The Chrysler Corporation introduced its full-sized Airflow automobile in 1934, but it proved unsuccessful. Steelcraft's pedal-powered version, however, was popular from 1935 to 1941—four years longer than the actual car. Like the real Airflow, this pedal car features working headlights and an aerodynamic shape.