Imagine, if you will, a dream Ferrari dealership, offering the finest prancing horses from throughout the Modenese brand's fine history. Motorsport would need to be mentioned, as the victories overseen by Enzo Ferrari did much to burnish his sports car brand's credibility. But the marque's many road cars should be front and center, with both front-engine grand touring examples as well as more sports-oriented mid-engine models. Naturally, being a dream dealership, some of Ferrari's well-regarded halo models should also be in attendance, from the fearsome 288 GTO, the lovely 250 GT/L Lusso, and to the eternally elegant 275 GTB/4.
Thankfully, some dreams come true. Carefully curated over a lifetime by an ex-competitive racer based in the south of France, The Petitjean Collection represents a dynamic and diverse selection of prancing horses. Special flavors range from 'Quattrovalvole,' 'Monospecchio,' and 'Vetroresina,' to the always-desirable 'Berlinetta Boxer'; truly, this selection resembles a candy store for fans of Ferrari. All offered without reserve at RM Sotheby's Paris 2022 auction held on 2 February, here are some highlights from a stunning collection: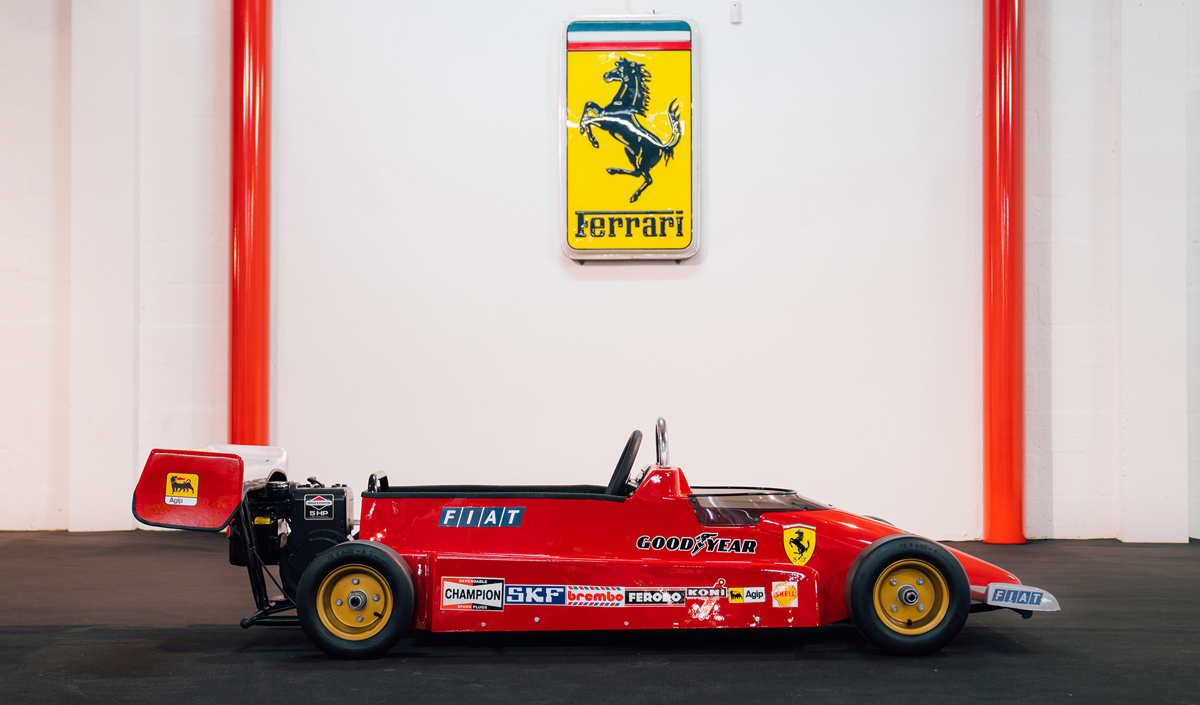 Formula 1 Go-Kart by Bird
Estimate: €5,000 - €10,000 EUR | Offered Without Reserve
Beginning with a Ferrari fit for enthusiasts of nearly every age and size, this purpose-built go-kart was made in the style of Ferrari's 1980s-era livery by Bird Corporation of Elkhorn, Nebraska. Powered by a rear-mounted Briggs & Stratton engine producing five furious horsepower, this track-oriented racer would be enough to inspire a lifelong love of Ferrari in any young driver.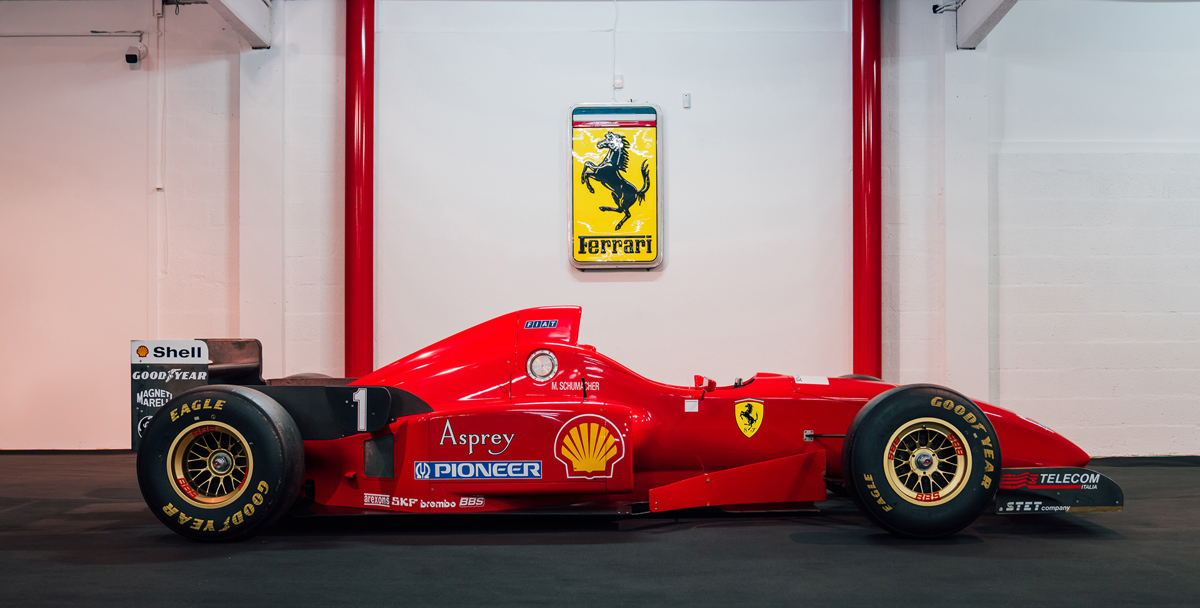 1996 Ferrari F310 Show Car
Estimate: €60,000 - €100,000 EUR | Offered Without Reserve
According to a declaration by the former racing driver-turned-Ferrari dealer, Pierre Landereau, this iconic Formula 1 show car was originally supplied by Ferrari. That lineage would make this low-slung racer a true artifact of prancing horse history, as the F310 model was the same used by none other than a 25-year-old Michael Schumacher in his first season racing for Ferrari in the World Driver's Championship. With Schumacher's record that season racking up three first-place finishes, earning Scuderia Ferrari second place in the Constructor's championship, this model shows off the beginning of a beautiful racing relationship.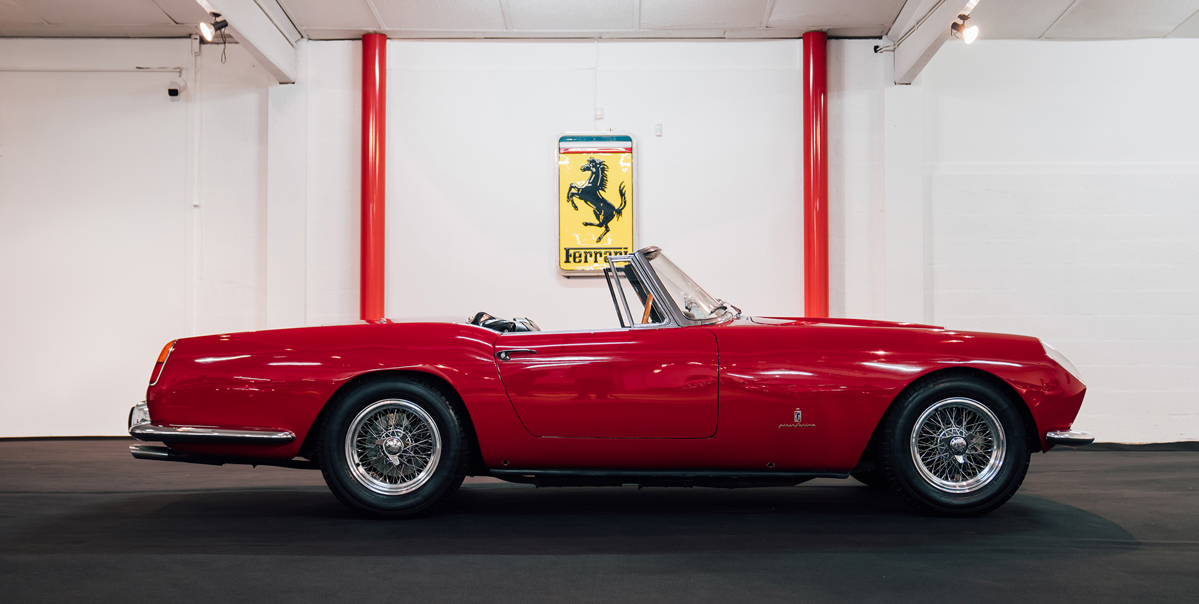 1959 Ferrari 250 GT Series II Cabriolet by Pinin Farina
Estimate: €850,000 - €1,100,000 EUR | Offered Without Reserve
Moving from motorsport to one of the most celebrated roadgoing models in Ferrari history, the second series of the open-top 250 GT presented owners with all the power of a twelve-cylinder racer with the refinement of a grand tourer. One of only 201 examples of the 250 GT Series II Cabriolet built between 1959 and 1962, this model featured an evolved version of the legendary "Colombo" V-12, with 3.0-litres of displacement and spark plugs moved to the outside of the cylinder head. Another upgrade worthy of mention was the braking system, which featured discs on all four wheels. This example's numbers-matching V-12 was rebuilt in 2005; it took home first prize in the "Moderne" category at the Saint-Jean-Cap-Ferrat held on the Côte d'Azur and has been a treasured part of The Petitjean Collection for 26 years.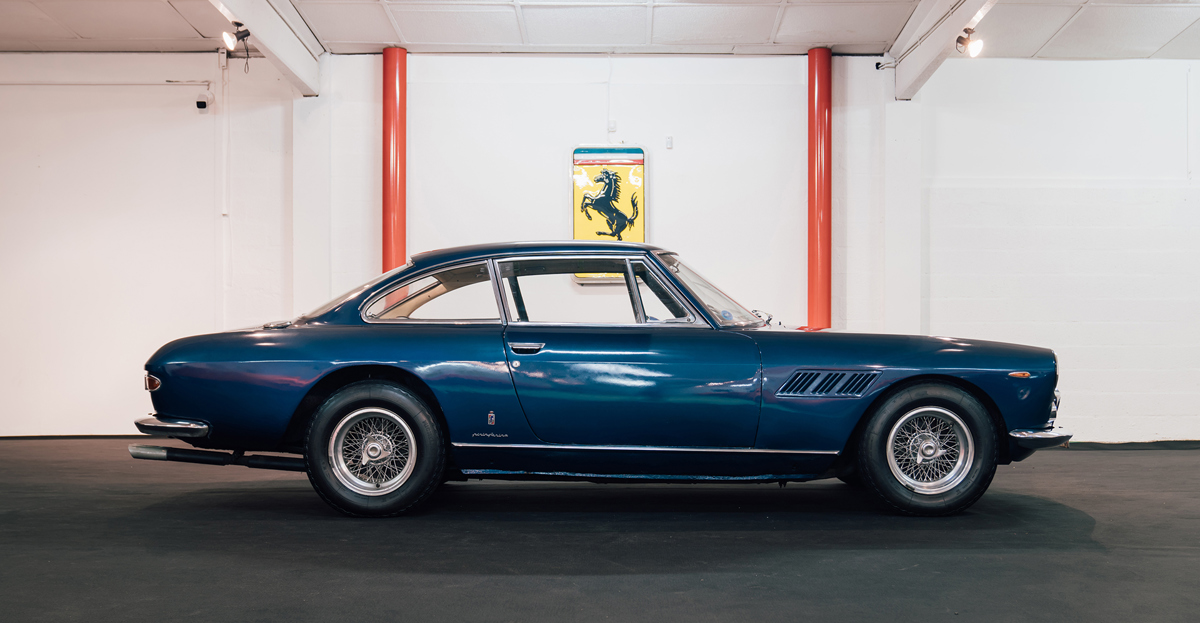 1964 Ferrari 330 GT 2+2 Series I by Pininfarina
Estimate: €170,000 - €200,000 EUR | Offered Without Reserve
In many ways, the story of Ferrari is one of constant evolution, from classic to modern, and from the track to the road. This front-engine example is powered by a higher-capacity 4.0-litre "Colombo" V-12, rated at 296 brake horsepower, and is numbers-matching from the factory. With distinctive side fender vents and quad headlamps, many Ferrari aficionados prefer the Series I aesthetics. Painted a handsome combination of blue-over-beige leather interior, this Ferrari was delivered in the supremely tasteful color of Verde Scuro, a handsome shade of green, perfectly suited for any grand tourer, opening intriguing restoration possibilities.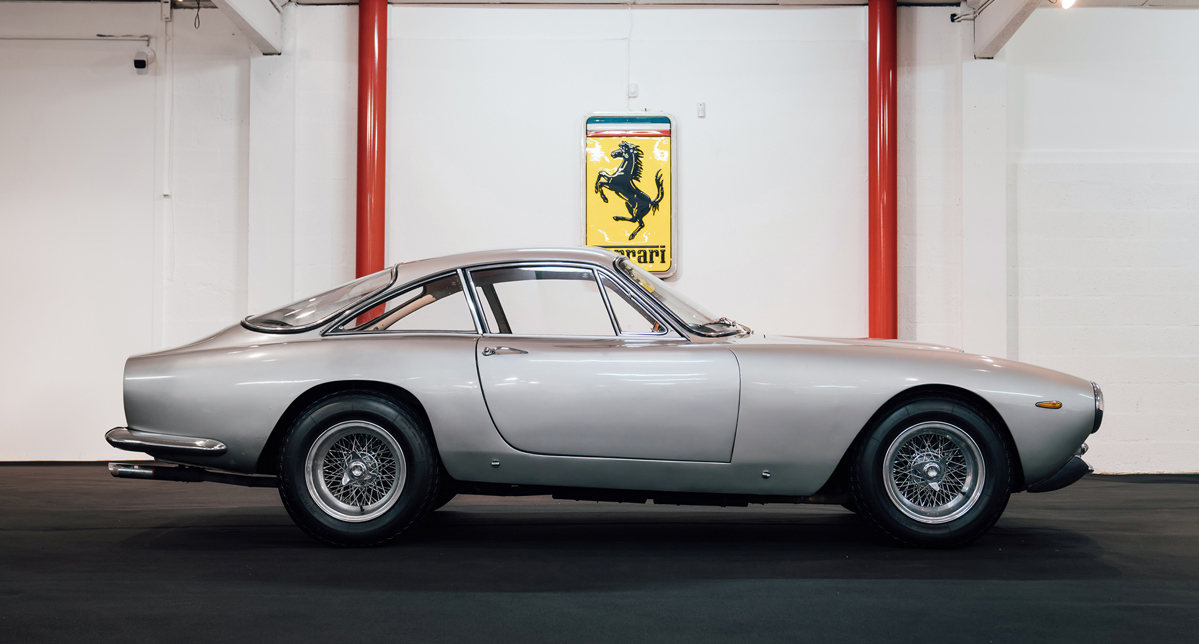 1964 Ferrari 250 GT/L Berlinetta Lusso by Scaglietti
Estimate: €900,000 - €1,100,000 EUR | Offered Without Reserve
"Lusso," as many Ferrari fans know by heart, is the Italian word for "luxury." Representing the top-of-the-line grand touring model for the Modenese brand in the mid-1960s, for many of the Ferrari faithful, the 250 GT/L Berlinetta Lusso marked a high point in terms of design in the marque's history. With swooping styling handbuilt by Scaglietti on a tubular chassis made of circular steel, the Lusso exuded strength and grace. It also marked the end of an era, as the 350 examples built were the last in the lineage of the iconic Ferrari 250.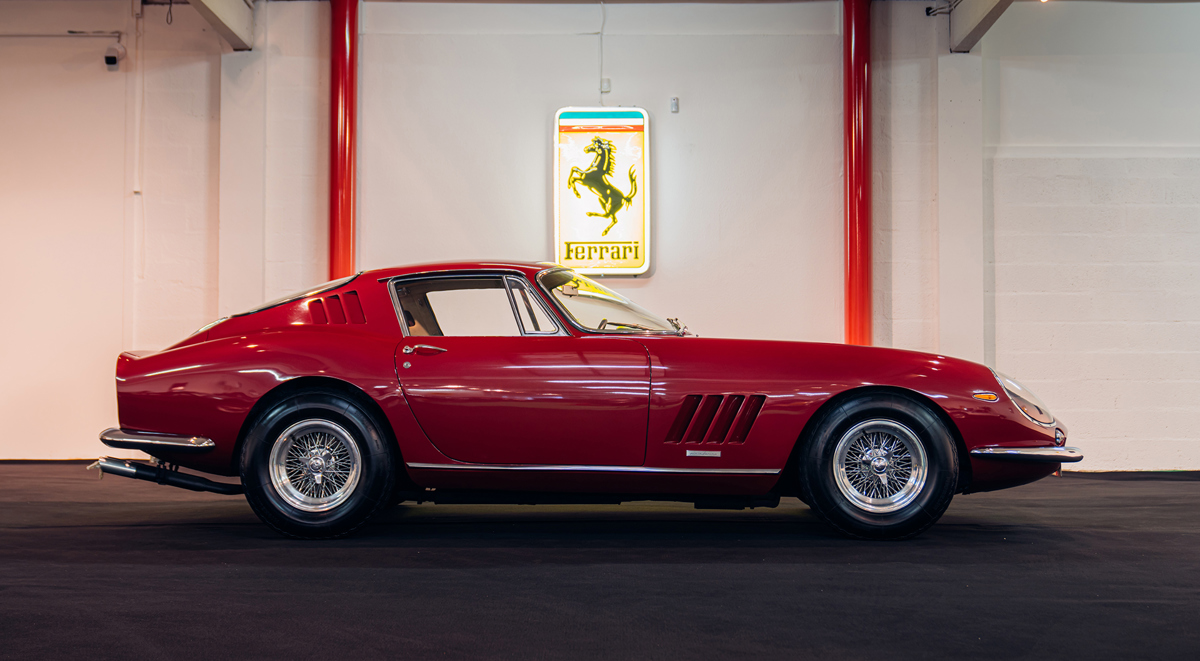 1966 Ferrari 275 GTB/4 by Scaglietti
Estimate: €1,700,000 - €2,000,000 EUR | Offered Without Reserve
From the last in the Ferrari 250 lineup, to quite literally the first 275 GTB/4 ever made, examples like this show the breadth of The Petitjean collection. Displayed by Franco-Britannic Motors for Ferrari at the 1966 Paris Salon de l'Automobile, in many ways, the upcoming RM Sotheby's auction in Paris represents a homecoming for this four-cam example. As the first production example of the 275 GTB/4 ever made, this car, serial number 09021, was, after a brief tour as a press demonstrator, destined for one of Ferrari's most valued customers. Noted French fashion designer Charles Jourdan, whose designs now exist in prestigious museums like The Metropolitan Museum of Art in New York, collected ownership of this unique Rosso Rubino-over-Beige example in 1967. Purchased by Monsieur Petitjean merely two years later in 1969, this coveted example with its matching-numbers twelve-cylinder engine should be of great interest to all Ferraristi.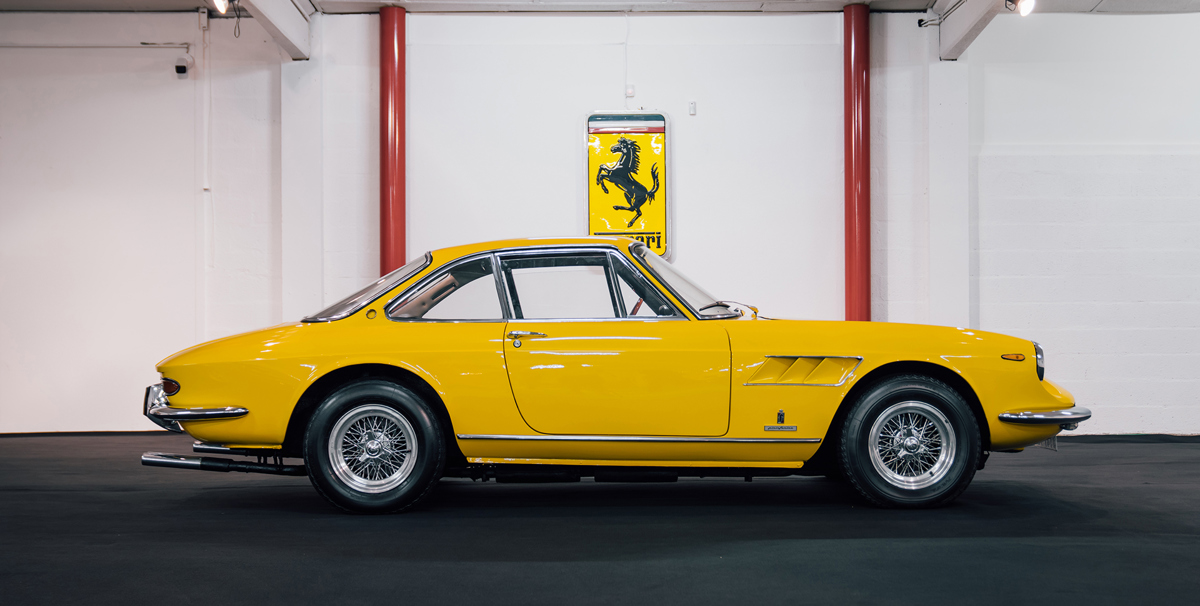 1968 Ferrari 330 GTC by Pininfarina
Estimate: €300,000 - €400,000 EUR | Offered Without Reserve
Another prancing horse which has been under the long-term stewardship of Monsieur Petitjean, this 330 GTC has been treasured for its place in the Ferrari family tree as much as for its twelve-cylinder engine. After the 250 model was discontinued, Ferrari evolved to offering the 330 GTC as its touring model of choice beginning in 1966. As part of his collection for over 34 years, this example was painted yellow and fitted with Borrani wire wheels under Monsieur Petitjean's ownership and retains its numbers-matching powerplant.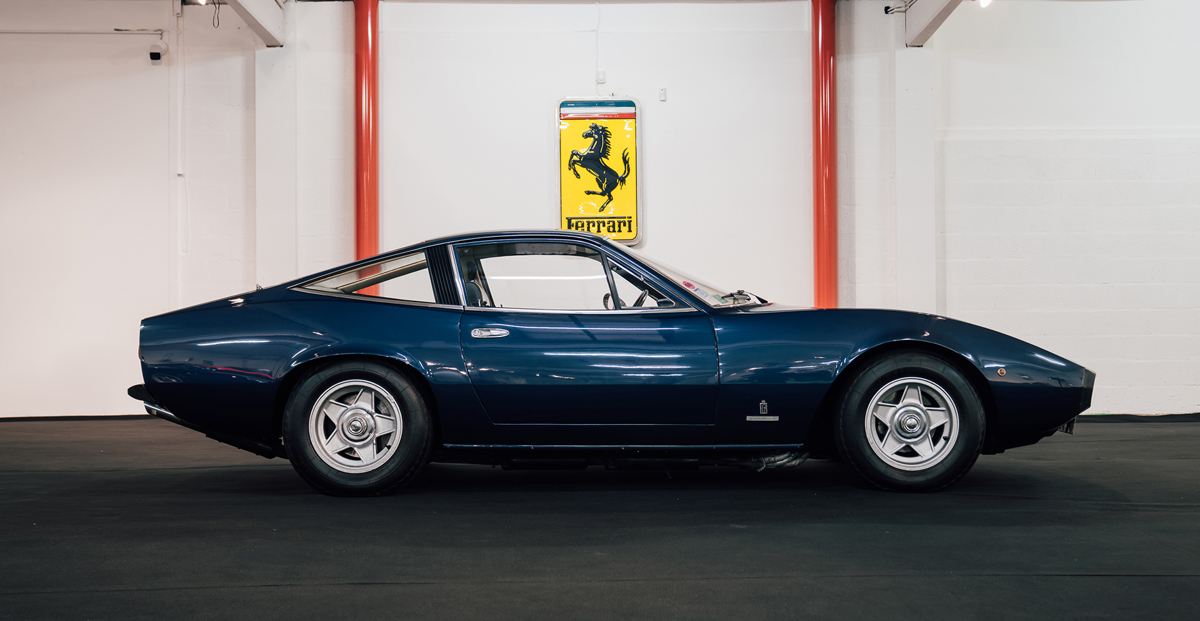 1972 Ferrari 365 GTC/4 by Pininfarina
Estimate: €120,000 - €170,000 EUR | Offered Without Reserve
As the 1970s dawned, Ferrari once again moved into a new decade with designs that were ahead of their time. Based on the chassis of the 365 GTB/4 Daytona, a sports car from the late 1960s which for many featured a design that captured the 1970s, the 365 GTC/4 presented a tantalizing option for Ferrari fans at a desirable price point. Packed with options that would have wowed Ferrari fans from the 1950s, the 365 GTC/4 featured power steering, electric windows, and air conditioning as standard. This numbers-matching example is finished in a gorgeous, factory-correct combination of Blu Ortis exterior over a Pelle Nera Cogolo interior.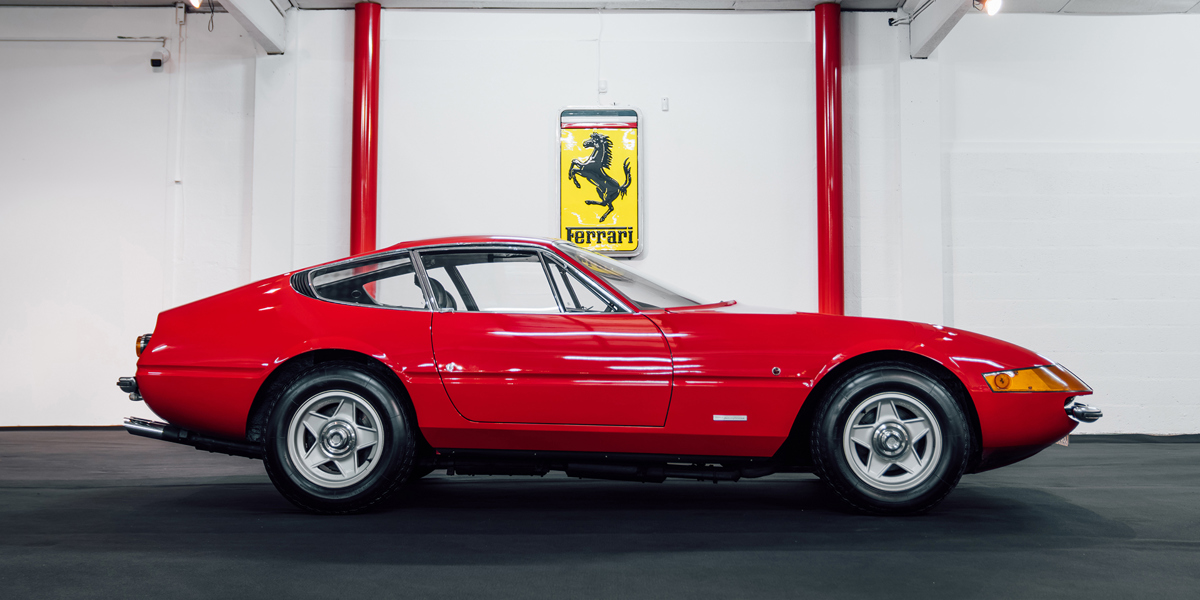 1973 Ferrari 365 GTB/4 Daytona Berlinetta by Scaglietti
Estimate: €340,000 - €425,000 EUR | Offered Without Reserve
While Ferrari fans tend to differ in which front-engine model they believe most displays the brand's aesthetics, certainly for the 1970s, the 365 GTB/4 Daytona Berlinetta was the superior option. While the first models were shown to the public at the Paris Salon in October 1968, Ferrari was ahead of their time, as per usual, and the Daytona attained legendary status in the decade that followed. This example joined The Petitjean Collection in 1979, with Monsieur Petitjean as only the second owner. Still powered by its original engine and transmission, this German-delivery example was made even more distinctive with a repaint in its original color, Rosso Chiaro, under the watchful supervision of Monsieur Petitjean.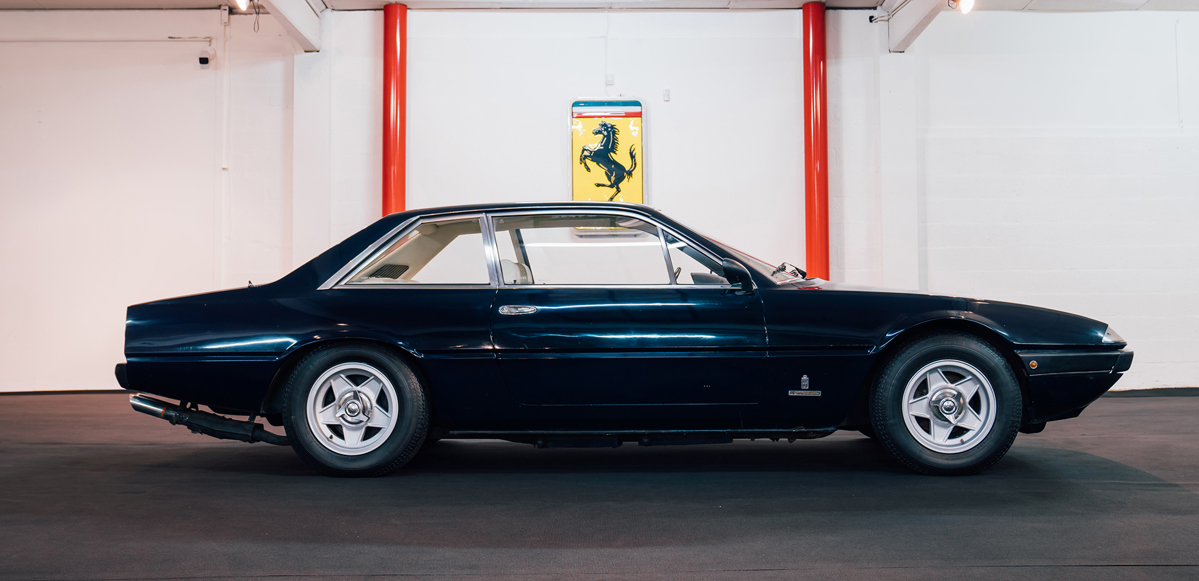 1976 Ferrari 365 GT4 2+2 by Pininfarina
Estimate: €40,000 - €60,000 EUR | Offered Without Reserve
As the longtime favored builder to Ferrari, Pininfarina was tasked with making the brand's top-of-the-line models, and this front-engine, V-12 grand tourer was no exception. With sharp lines and a tasteful Blu Ortis-over-Pelle Bianca color scheme (which was the original combination featured by this French-delivery example) this four-seat, grand touring machine proves that the Ferrari magic is perhaps best experienced with friends.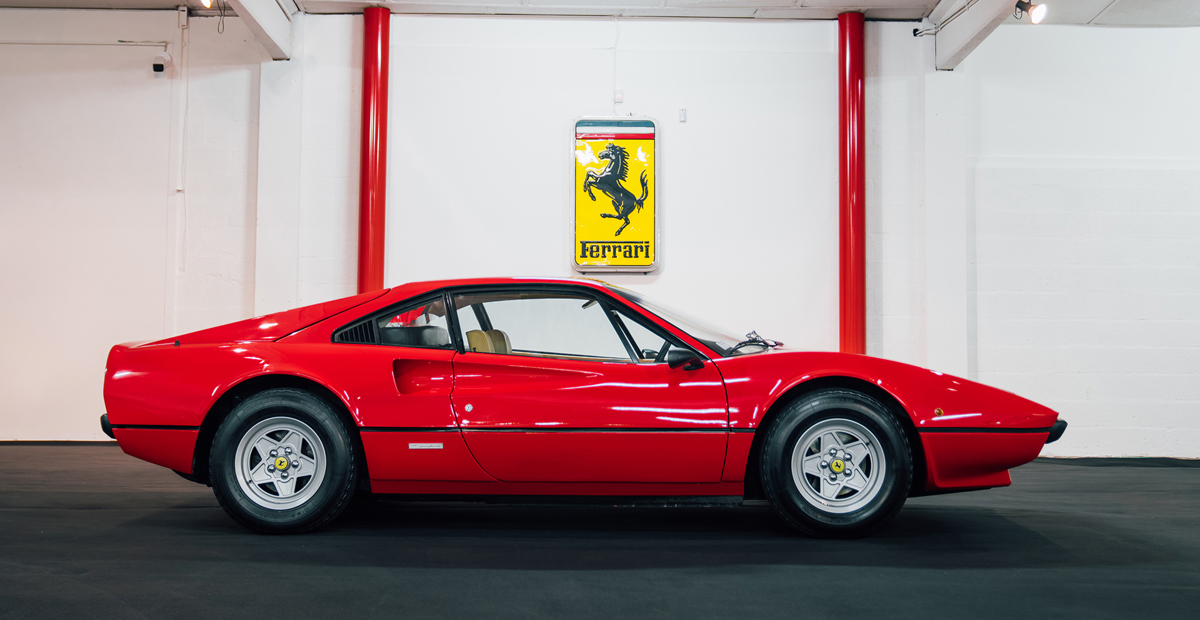 1977 Ferrari 308 GTB 'Vetroresina' by Scaglietti
Estimate: €75,000 - €110,000 EUR | Offered Without Reserve
Though the front-engine, twelve-cylinder formula was a fundamental component of Ferrari's early success at motorsport, by the 1970s, it was clear that the future of performance vehicles lay with a mid-ship engine configuration. Experimentation with modern materials, too, proved key to the progression of Ferrari sports cars. The 'Vetroresina' body panels on this early 308 GTB weighed far less than the steel bodies in later production models (amounting to a scant 1,050 kg in total), making these early examples desirable for collectors. A mere 712 examples share this bodywork, according to marque expert Marcel Massini. Originally finished in Azzurro-over-Beige leather, this numbers-matching example is uncommon and coveted.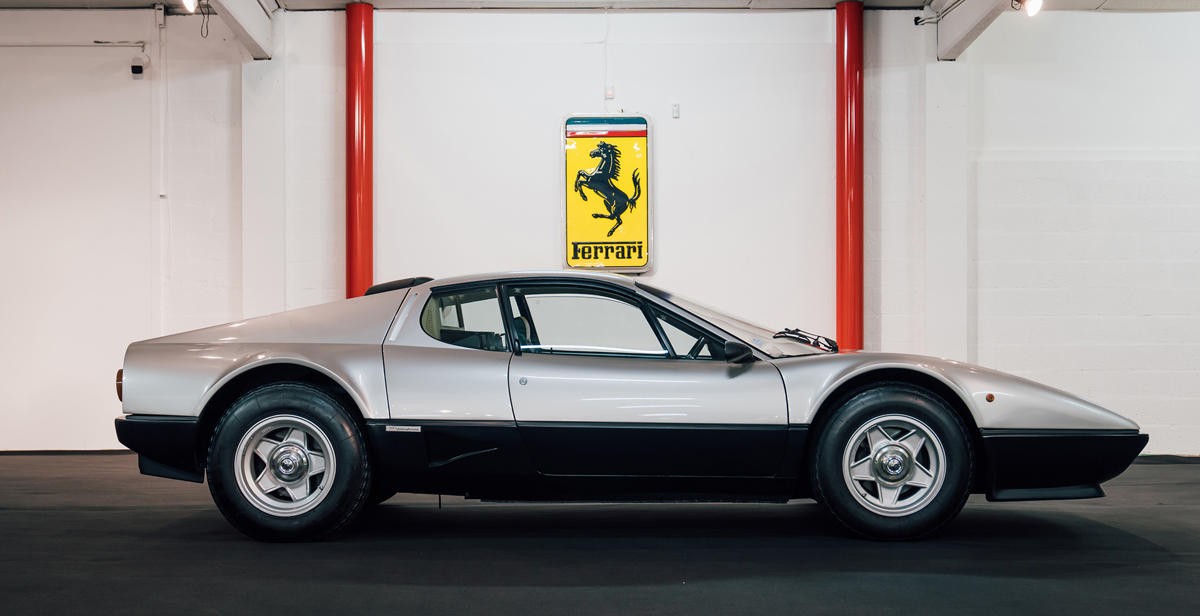 1978 Ferrari 512 BB
Estimate: €170,000 - €230,000 EUR | Offered Without Reserve
If the mid-engine 308 showed what a modern engine configuration could do for Ferrari's sporting possibilities, the BB (later referred to as "Berlinetta Boxer") models proved that framework could soar when paired with a twelve-cylinder powerplant. An evolution of the 365 GT4 BB, the 512 BB debuted in 1976 with an enlarged 5.0-litre, dry sump lubricated, V-12 engine. The earliest models of this series, like this example, breathed through Weber carburetors for the ultimate bridge between classic and modern. Wearing a subtle color combination of original metallic Argento Italver over a non-original black leather interior, this example has been recently acquired by Monsieur Petitjean and showed a mere 30,862 km at the time of cataloguing.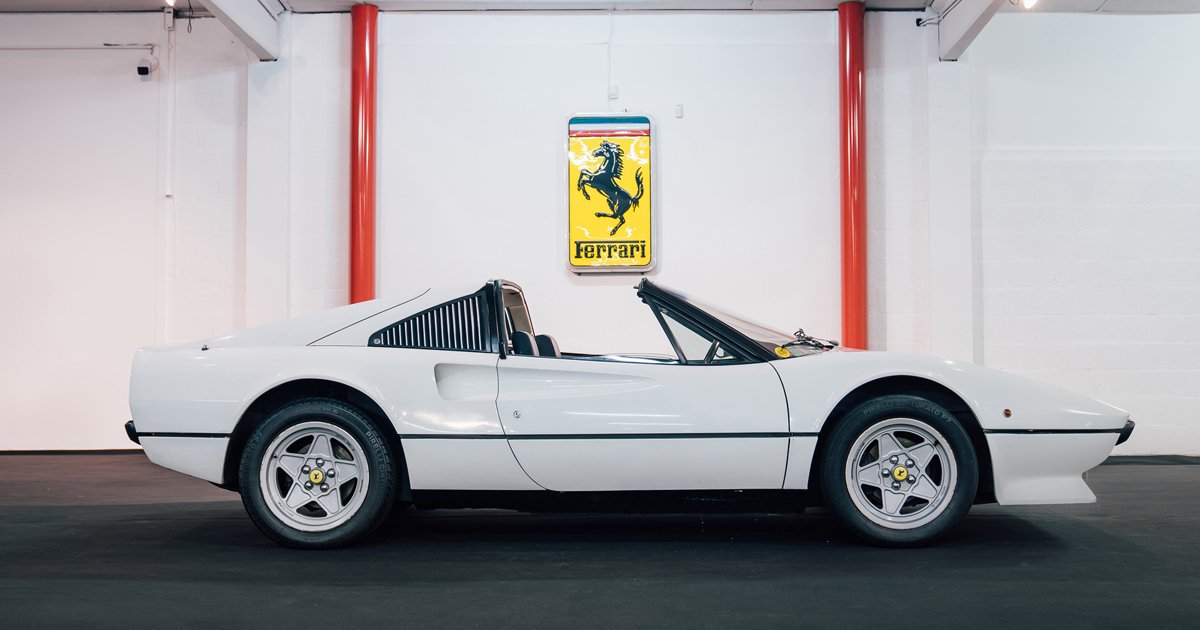 1978 Ferrari 308 GTS
Estimate: €60,000 - €80,000 EUR | Offered Without Reserve
As the 1970s progressed, Ferrari continued to experiment with advancements in their mid-engine 308 sports car. First released in 1977, the 308 GTS (for "Gran Turismo Spider"), introduced an open-air component to their exhilarating mid-engine sports car, with a removable targa top. This example, now finished in Bianco Polo-over-Blu, was reportedly once owned by royalty. According to researcher Guillaume Cognet, this example was registered to the Palace of Monaco, where it wore a fitting shade of "Monaco Blue." Also breathing through a pair of desirable twin-choke Weber carburetors, this Ferrari is worthy of your attention.
1979 Ferrari 308 GTS
Estimate: €60,000 - €80,000 EUR | Offered Without Reserve
A distinct benefit of dealing with a focused, single-owner collection is the breadth of examples that arise during a lifetime of searching. Monsieur Petitjean discovered this striking 308 GTS example in 1986 on the Côte d´Azur, where it was owned and used sparingly by a local doctor, who in turn purchased it from its first owner. Now owned for over 35 years as part of The Petitjean Collection, this example retains its numbers-matching engine and transmission and has amassed a total of only 15,566 km on its odometer at the time of cataloguing. Wearing a unique color combination of metallic Blu-over-Pelle Bianca leather, the well-kept interior of this mid-engine Ferrari is worth examining in greater detail. A gorgeous grand touring targa.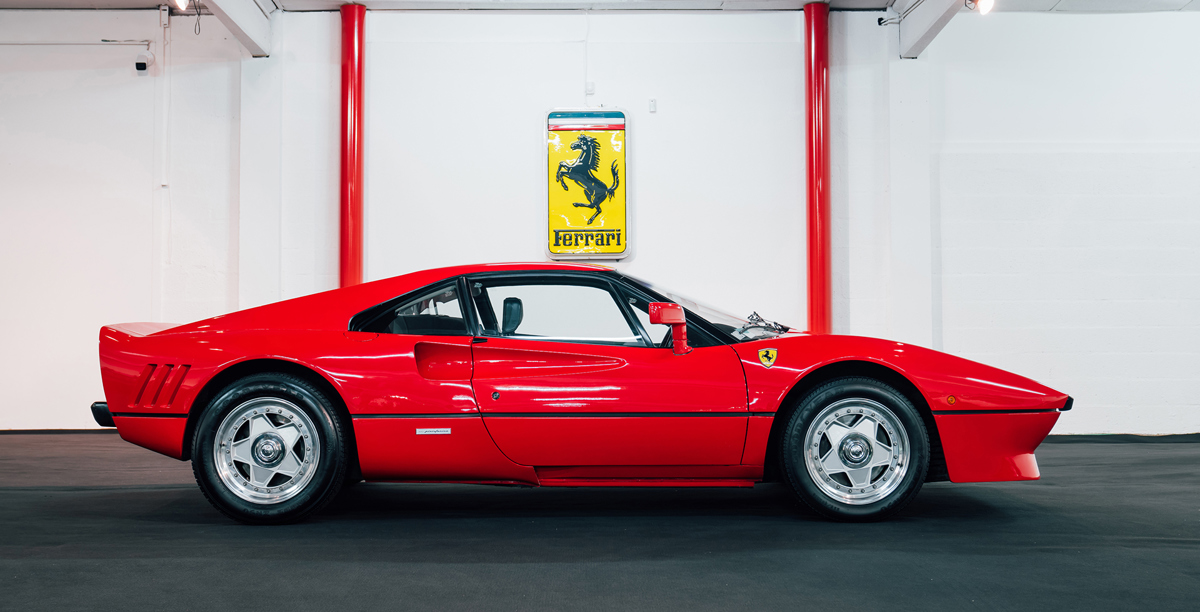 1985 Ferrari 288 GTO
Estimate: €2,400,000 - €2,600,000 EUR | Offered Without Reserve
A top-tier Ferrari that practically needs no introduction, the 288 GTO was designed to deliver a follow-up to another legendary prancing horse, the 250 GTO. Research into lightweight materials, which started in the 'Vetroresina' era, birthed body panels for the 288 GTO that were made of a composite of carbon fiber and Kevlar. Powered by a 2.4-litre, twin-turbocharged V-8, which was originally developed for the Lancia LC2 Group C racer, the 288 GTO could boast advancements in terms of propulsion and construction. Truly a car worthy of its "GTO" moniker, this Rosso Corso-over-Nero leather example was originally purchased by Bepp Mayer, a German racing driver, who thoughtfully specified it with air conditioning, power windows, and a radio. With Monsieur Petitjean as only the third owner of this example, this 288 GTO's legend is destined to continue.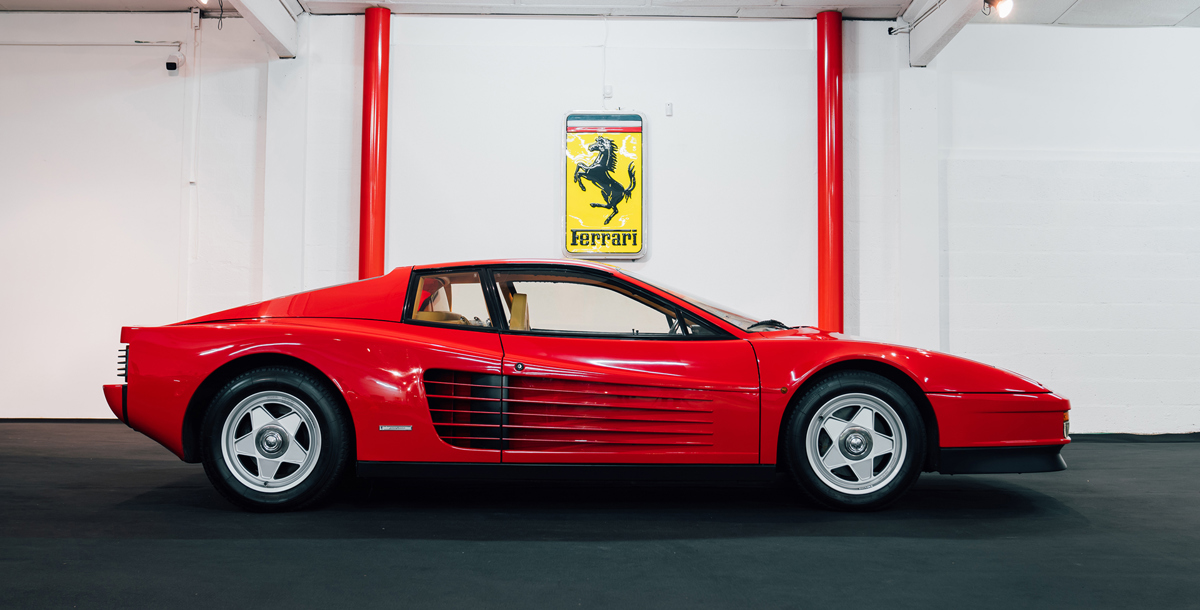 1986 Ferrari Testarossa 'Monospecchio'
Estimate: €80,000 - €120,000 EUR | Offered Without Reserve
The final Ferrari on our extensive (but not exhaustive) list covering The Petitjean Collection shows the summation of the brand's continuous efforts. With its distinctive side intakes leaving an indelible impression for many young enthusiasts growing up in the 1980s, the Testarossa was an instant icon upon its release. Early versions, like this example, sported only one wing mirror (or 'Monospecchio'), making for a cleaner silhouette. Wearing a classic Ferrari color combination of Rosso Corsa over a cream and brown leather interior, this example is desirable today for its timeless aesthetics as well as its 4.9-litre, flat-12 engine. With a veritable dream garage full of some of the most desirable models in Ferrari history, which one would you choose?
To view the rest of the Ferrari-related memorabilia and models from The Petitjean Collection, please click this link, and be sure to register interest before the auction on 2 February 2022.