You have waited all week for this: Waking up early on a weekend morning, grabbing your keys, and heading for the Pacific Coast Highway. Just you and a few hundred others, simultaneously creating and enjoying the car culture that makes So Cal famous, driving independently, together.
Named for one of America's most beloved roads, the Pacific Coast Highway Collection comprises eight cars which all embody the types of bold, independent automobiles one might see on a Sunday drive along the California coastline. With PCH spanning more than 655 miles in total, drivers are bound to encounter a dazzling spectrum of collector cars from every era, appearing in every form, from vintage to modern. Some collections only reveal their commonalities once they are in motion; multiple motors across time periods and countries of origin, singing together in harmony.
United by the shared love of the road, each offering an undeniably unique driving experience, RM Sotheby's is proud to present this well-selected group of cruisers, customs, and sports cars, all headed to our Online Only: Open Roads auction, with lots closing on Saturday, 27 February 2021.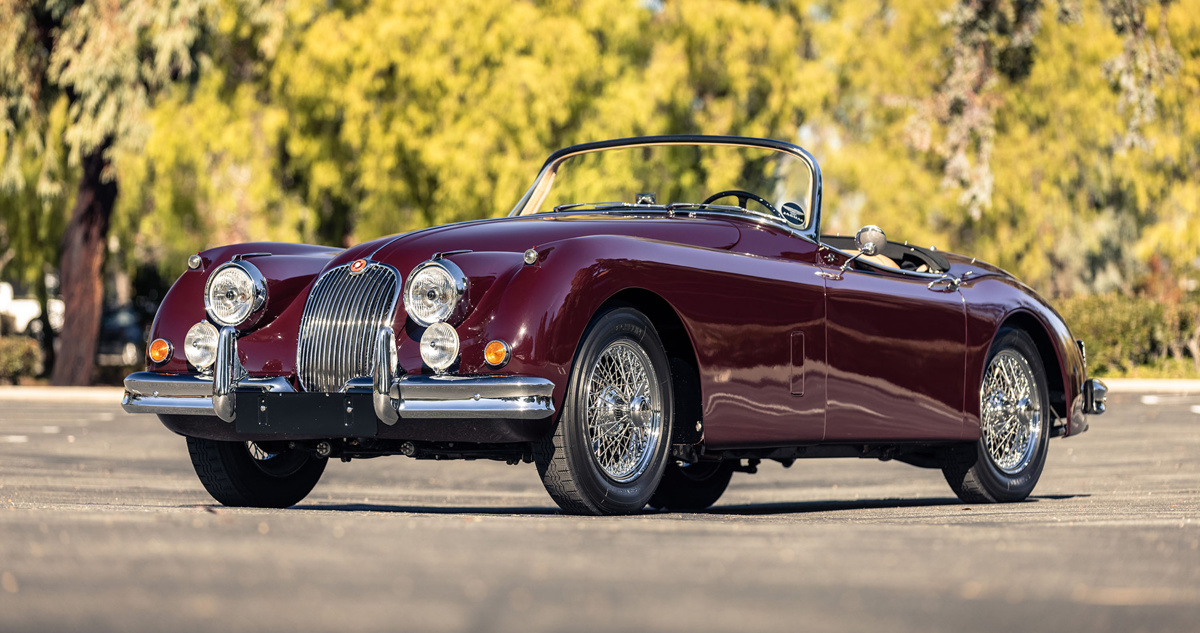 1958 Jaguar XK 150 S 3.4 Roadster
Estimate: $175,000 - $225,000 USD
Beginning our road-friendly list with perhaps the quintessential British roadster, the late 1950s provided fertile ground to grow the ultimate evolution of the no-nonsense, open-top sports car. Though many companies pursued similar visions of the ideal roadster, Jaguar could credibly claim to have been one of the first, starting with the company's predecessor, S.S. Cars, Ltd. in 1934. The XK 150 S 3.4 was the fastest Jaguar for sale in 1958, packing a triple S.U. carburetor setup, producing 250 horsepower from a revised DOHC six-cylinder XK motor. The result was a roadster with enough grunt to satisfy the U.S. market in-period, but to modernize even further, this example's matching numbers engine has been sleeved by Jaguar marque specialist John Pollock, increasing total displacement to 4.2 liters.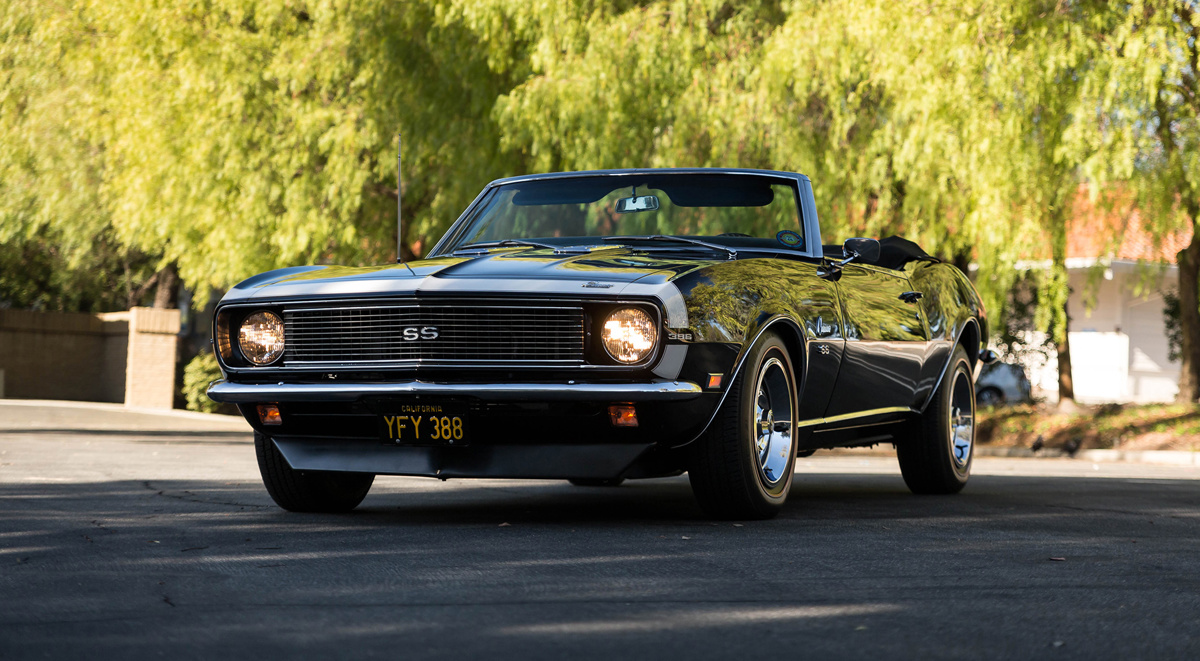 1968 Chevrolet Camaro 396/325 Convertible
Estimate: $100,000 - $125,000 USD
Fast-forward ten years and open-top, muscle car cruising dominated car culture, both on coastal highways like PCH, and along grand boulevards and main streets across America. And though this may be an affront to performance purists, the best cruisers all have automatic transmissions. The Turbo Hydra-Matic unit on this example is perfect for a long drive on your favorite road. This faithfully restored example, powered by its matching-numbers Big Block engine, recently completed a tour of one of America's most storied cross-country highways, Route 66. A classic for a reason.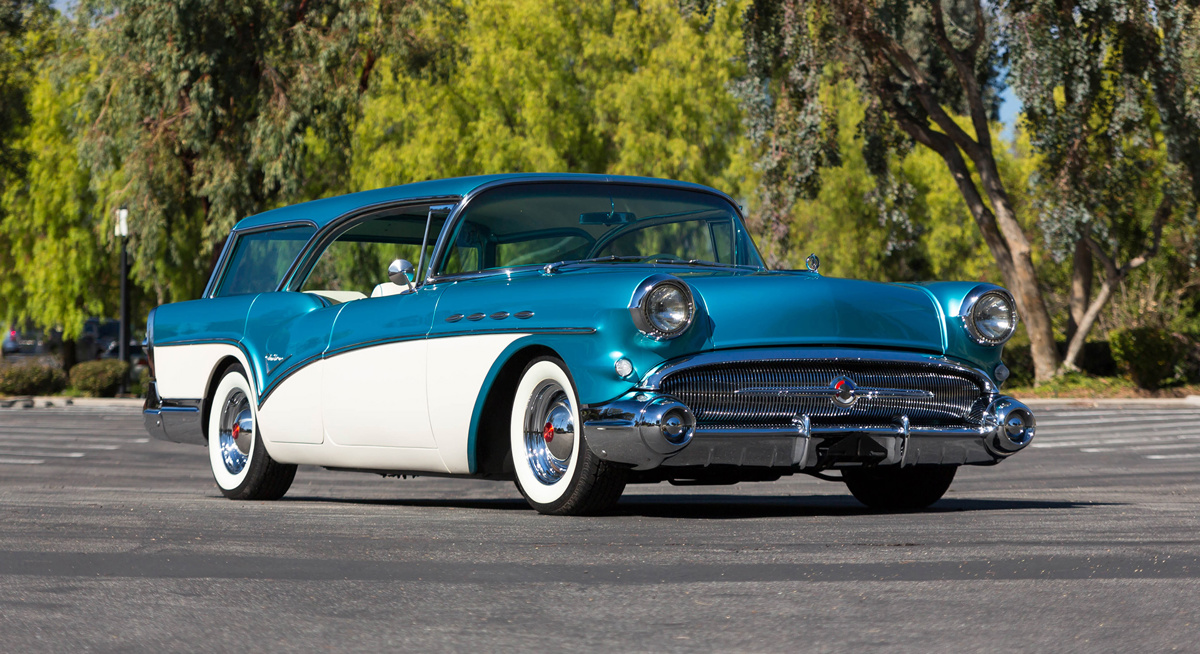 1957 Buick Century Caballero Estate Wagon Custom
Estimate: $125,000 - $150,000 USD
Sometimes, the joy of a Sunday cruise on Pacific Coast Highway is spotting uncommon models, driving literally (and sometimes spiritually) in the opposite direction. As Cadillac did not offer an estate version of their Eldorado, Buick was the GM brand of choice for those who wished to transport passengers and goods in premium style. This two-door example treats backseat occupants supremely well, as the extended estate body allows for a view outward unobstructed by the typical b-pillar. Powered by a "Nailhead" V-8 engine, this example was restored in 2010 by Mike Fennel, famous for his Pebble Beach Concours-quality restorations, and sports numerous upgrades.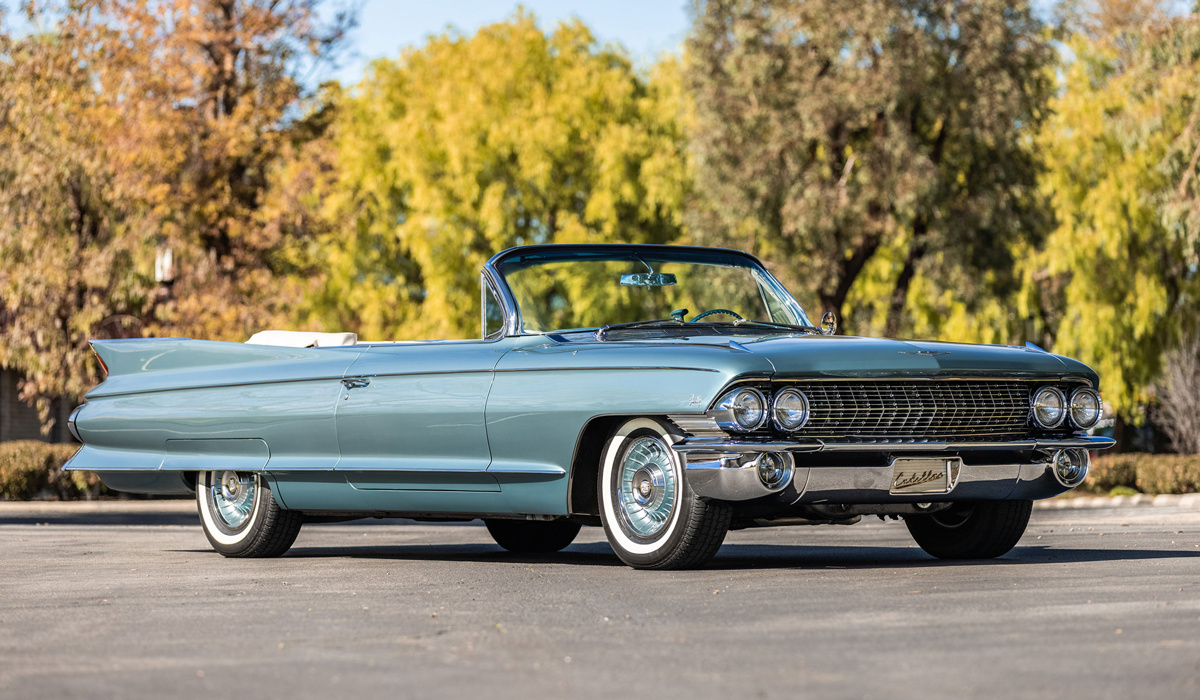 1961 Cadillac Eldorado Biarritz
Estimate: $75,000 - $100,000 USD
Another icon of American cruising, the Cadillac Eldorado should stand atop any list of domestic mid-century luxury automobiles. After the Eldorado's expressive tailfins peaked in 1959, the years afterwards brought continued refinement. The most significant design change for the 1961 model year was arguably not the tailfins, but a redesigned silhouette, bringing a squared-off look to the coupes. The top-of-the-line Biarritz Convertible, in contrast, retained its low-slung looks. This example is exceptional for its originality, showing fewer than 33,000 miles from new.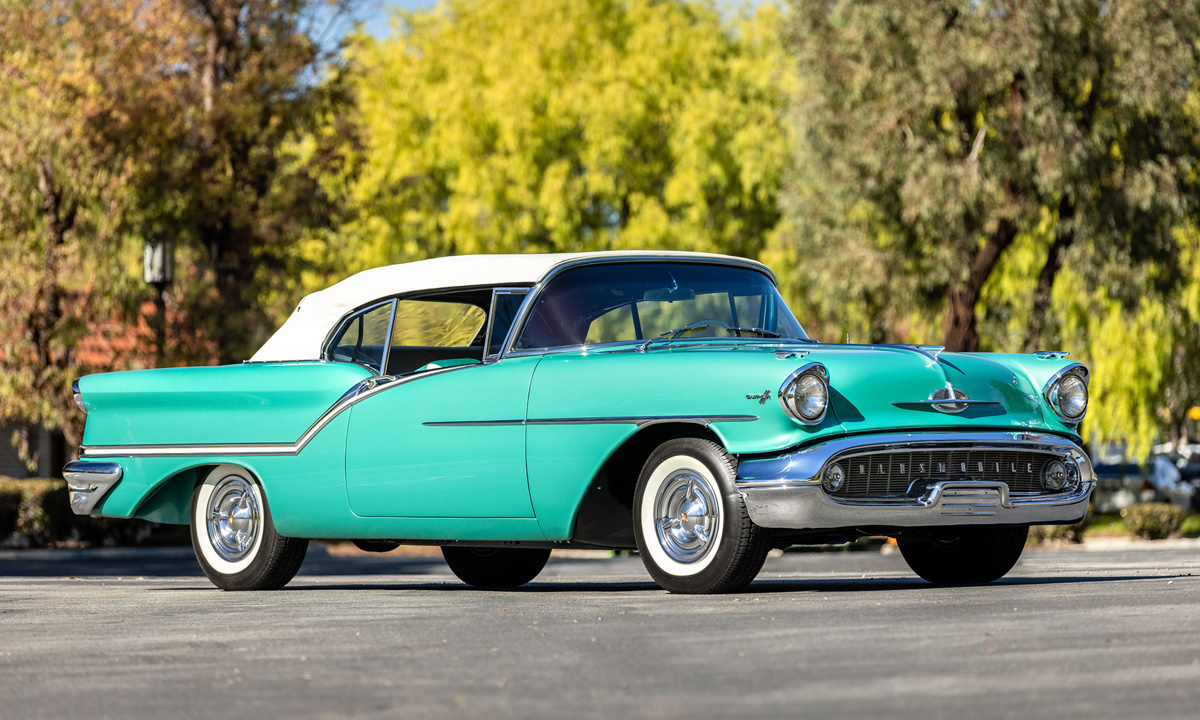 1957 Oldsmobile Super 88 Convertible
Estimate: $75,000 - $100,000 USD
Though 1957 is typically associated with another iconic General Motors brand, this Super 88 Convertible shows why Oldsmobile was a solid choice for the mid-century sports car shopper. Powered by the legendary 371 cu. in. "Rocket 88" eight-cylinder engine, this example benefitted from a recent mechanical overhaul in 2011. With tasteful chrome accents, this Oldsmobile proves that, while the Bel Air may have a monopoly over the 1957 model year in the minds of many auto aficionados, GM's other offerings were just as stylish and sporting.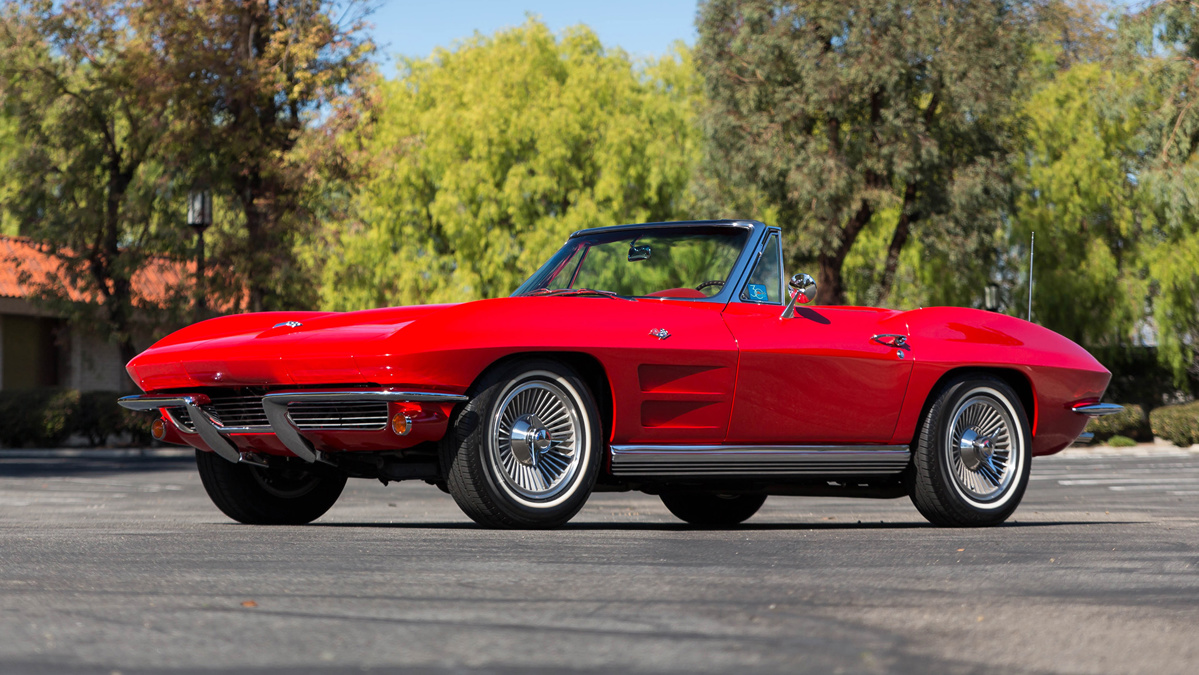 1964 Chevrolet Corvette Sting Ray Convertible
Estimate: $75,000 - $100,000 USD
Our list of all-American open-tops continues with perhaps the most significant sporting icon created by General Motors throughout the 1960s: The Sting Ray Corvette. With its sharp name and even-sharper styling inspired by the XP-87 Stingray Racer from 1959, this Corvette's red hue closer resembles the original color scheme envisioned by GM styling director Bill Mitchell. In perhaps a collective act of foresight, the Sting Ray era was largely dominated by the convertible version; coupe sales only achieved parity with the convertible variant only in 1963. After the single-year, "split-window" coupe was discontinued, the public clearly preferred the convertible versions. All the better for cruising.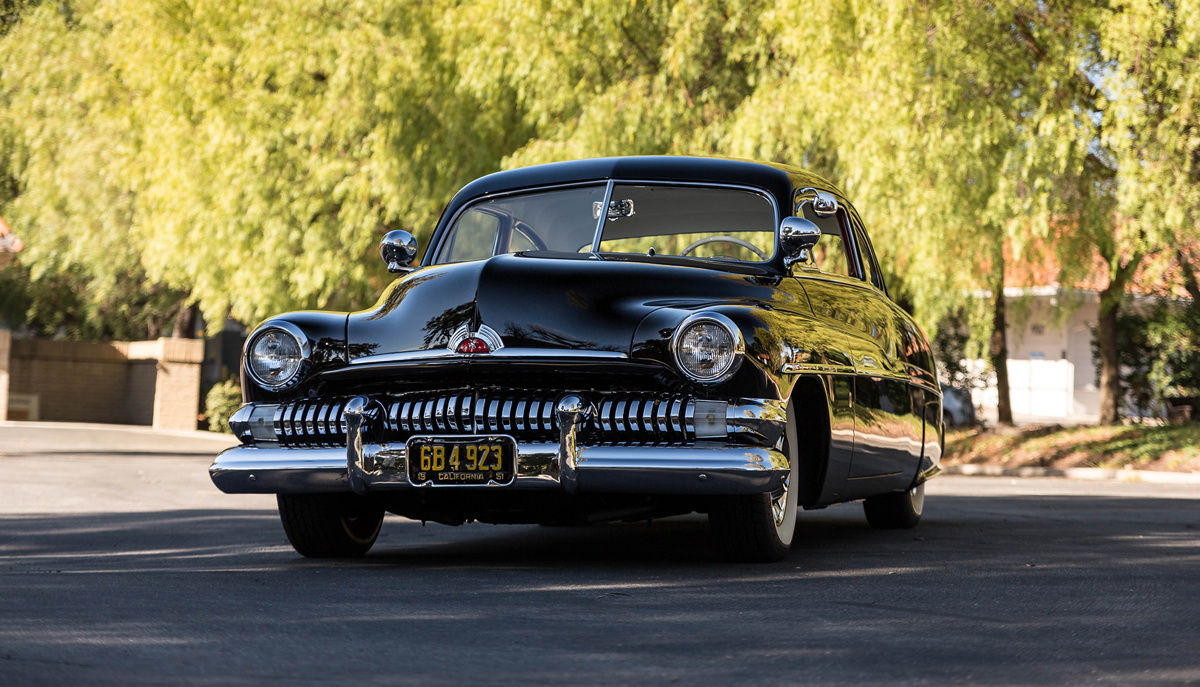 1951 Mercury Eight Coupe Custom
Estimate: $175,000 - $225,000 USD
Though we have highlighted a couple of customs thus far on this list, this Mercury embodies the closest example of the custom car culture that was both founded and fostered in sunny So Cal. One of the most famous chassis of that era for customizers was the so-called "Merc Coupe"—invariably a 1951 model, typically seen in the same style as George and Sam Barris's signature Hirohata Merc, which was completed in 1952. This lowered example could be called a "Lead Sled," though the customization is far more refined and modern than the lead-filled coupes of years past. The rear shocks, for instance, feature adjustable pressure control. Low and slow lives on in the modern era.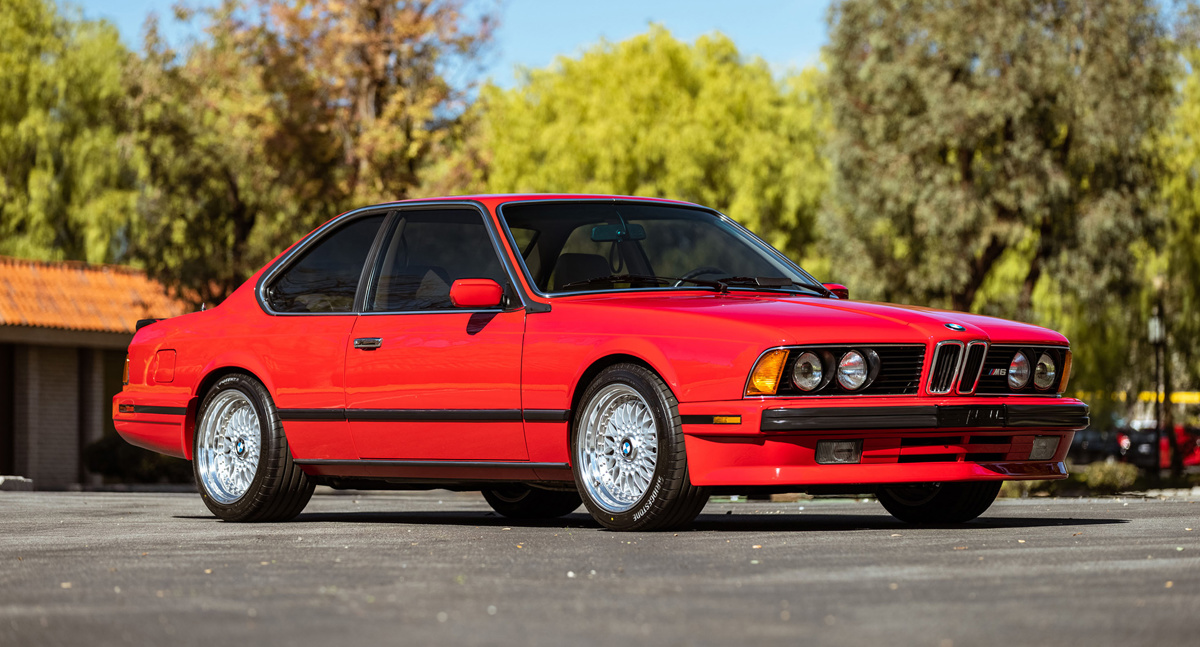 1988 BMW M6
Estimate: $50,000 - $75,000 USD
Our final lot may strike some as a surprise, however, firing up this shark-nosed M6 and feeling how it handles on the highway brings this BMW in line with the other examples on our list. The uniting factor is the power to cruise, with the 3.5-litre, straight-six-cylinder powerplant on this M6 providing more than enough for a Sunday drive down PCH, even in modern traffic. With a plush, leather interior and seating for four, this M6 provides the perfect balance between comfortable conveyance and capable canyon carver. Featuring an upgraded stereo system and ample luggage space, this BMW would make for an unforgettable companion on a road trip along the full span of the Pacific Coast Highway. A grand touring car for a road unlike any other.