February is the perfect month for dreaming of open-air motoring. Whether you have in mind a cross-country road trip on a legendary highway like Route 66 or the Pacific Coast Highway, or merely are daydreaming of summertime cruises, the second month of the year is prime time to find new roads, consider new possibilities, and plan your escape.  
Wanting to capture that same spirit of boundless freedom that encompasses any epic road trip, RM Sotheby's has highlighted several selections from our latest Online Only: Open Roads auction, all sharing the same sunny disposition. Staggered bidding on these spectacular roadsters, cabriolets, and convertibles ends soon, so if you wish to incorporate an open-air vehicle into your summertime plans, it's best to act soon: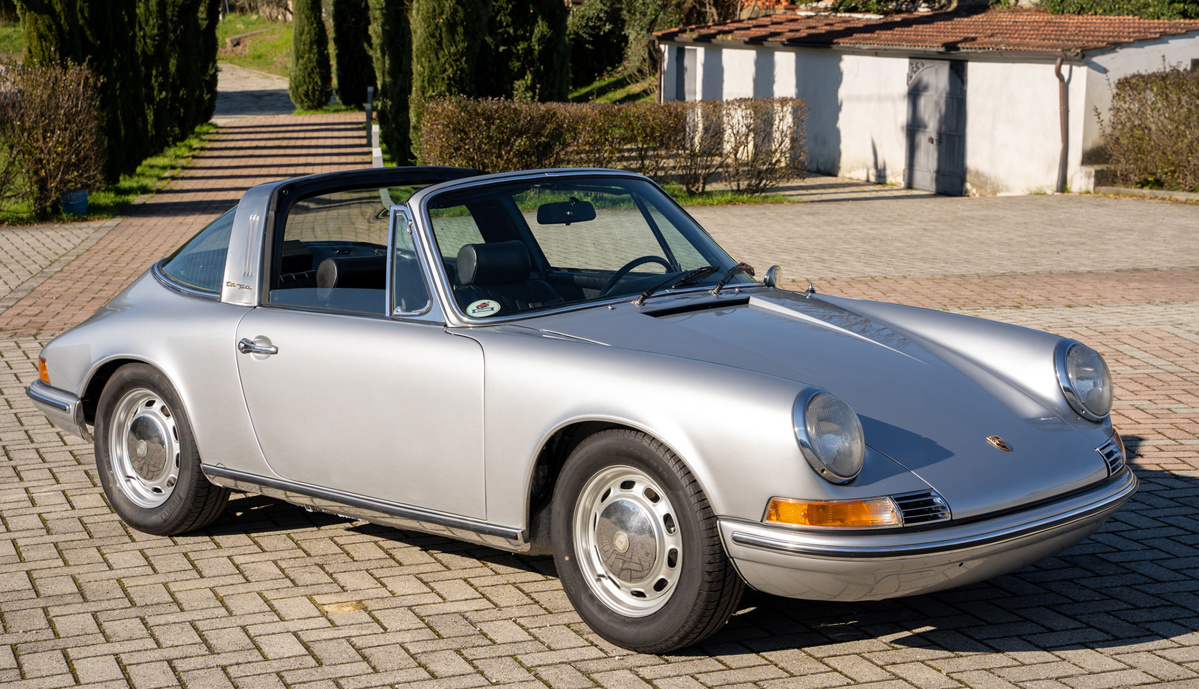 1971 Porsche 911 T 2.2 Targa
Estimate: €75,000 - €90,000 EUR
With its practical, removable top safely stowed away, either behind the front seats or in the generous luggage compartment underneath the front hood of the 911, this Targa shows off the benefits of a truly transformable vehicle. Complete with a Porsche Production Specifications certificate noting its numbers-matching engine, this 911 provides all the benefits of open-air travel, with the added security of protection from wind noise and inclement weather.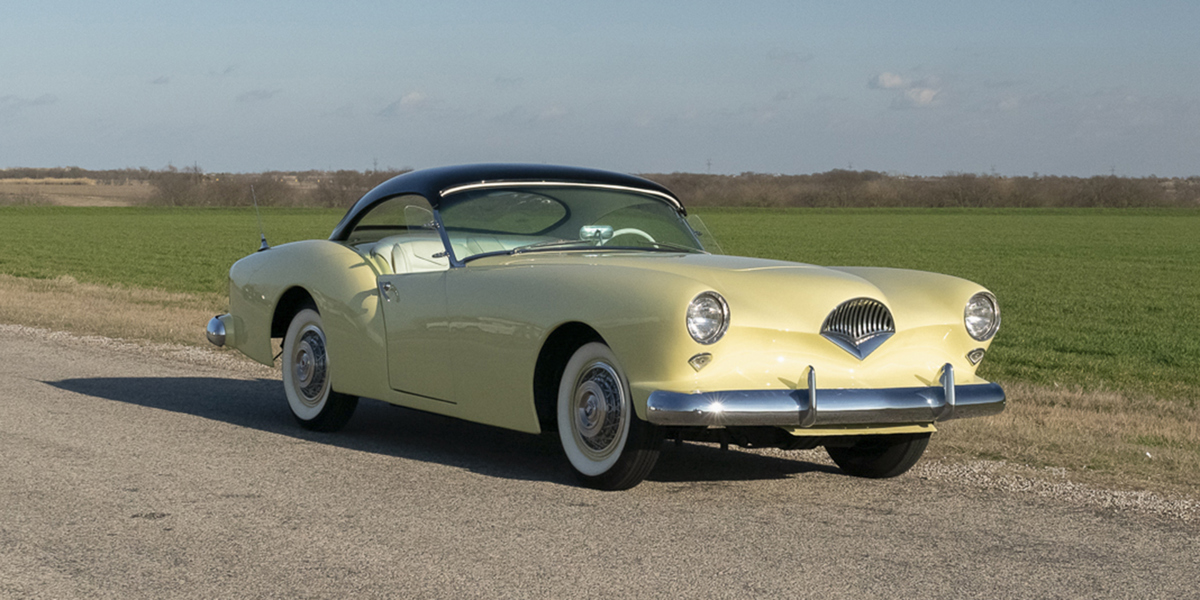 1954 Kaiser-Darrin Roadster
Estimate: $170,000 - $180,000 USD
Our cover car is somehow at once iconic while being relatively unknown. The story of the Kaiser-Darrin starts in the aftermath of World War II, with discharged American veterans returning home having experienced European sports cars firsthand. U.S. Domestic automakers were eager to satisfy this new desire for sports cars, and after Chevrolet greenlit production of the Corvette concept in 1953, Henry J. Kaiser saw the business case for a small, open-top roadster. Full of futuristic features, from its fiberglass body construction to its sliding "pocket" doors and graceful hardtop, this Howard "Dutch" Darrin-designed roadster represented a completely contemporary, thoroughly American interpretation of the classic European sports car.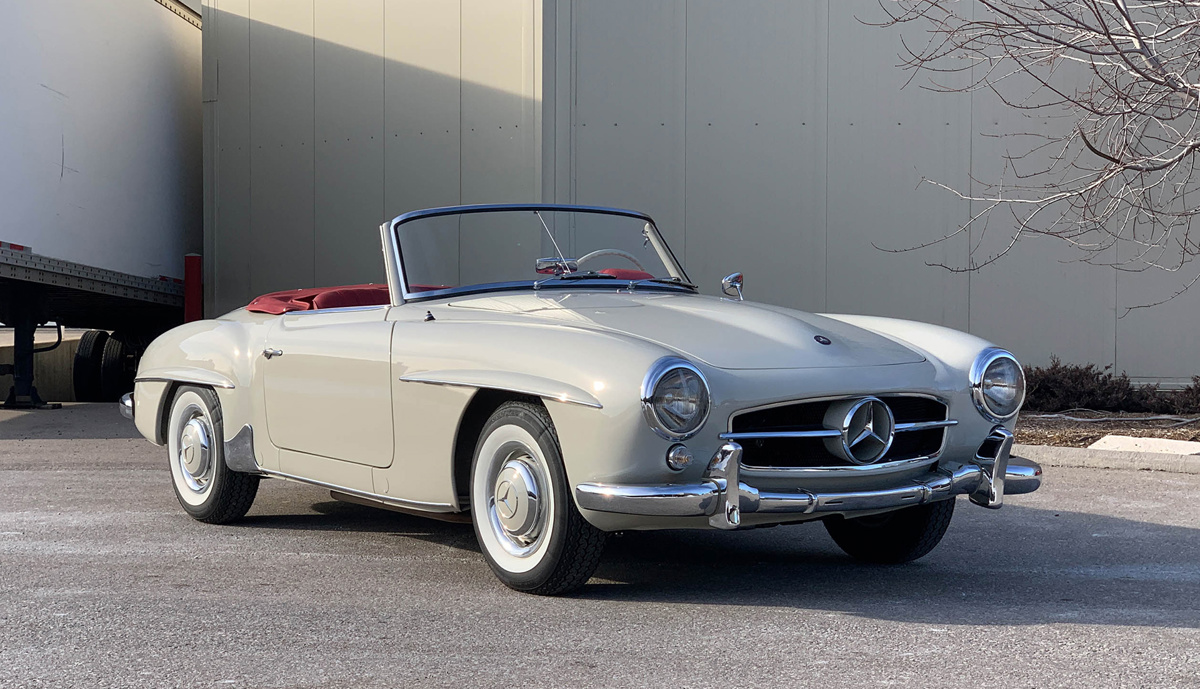 1956 Mercedes-Benz 190 SL
Estimate: $100,000 - $120,000 USD
At this point, devoted Mercedes-Benz fans can rightfully protest as, by the middle of the 1950s, the three-pointed star brand had turned out not one, but two thrilling open-top sports cars. The 190 SL actually preceded the open-top variant of Mercedes-Benz's 300 SL by two years; this example is from the rear-wheel-drive roadster's second year of production. With a classic front-engine, 1.9L four-cylinder format, this open-top sports car was all about delivering superior handling and steering feel, rather than flat-out, straight-line performance. The premiere Mercedes-Benz take on the lightweight, British roadster.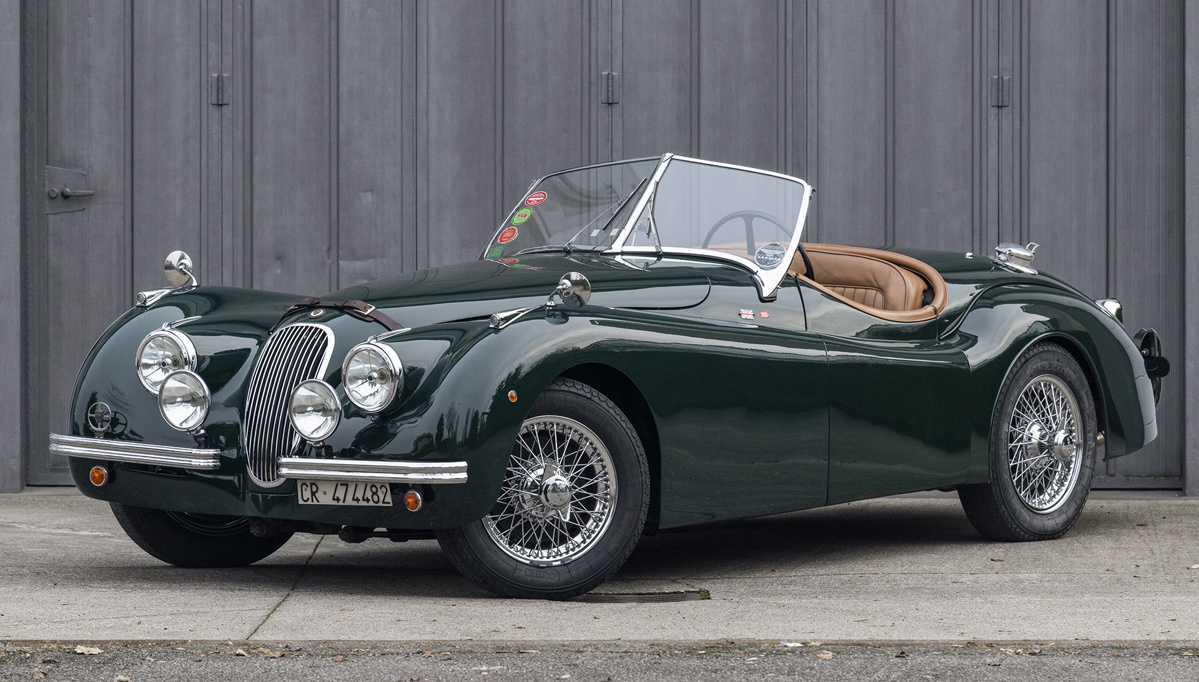 1950 Jaguar XK 120 Roadster
Estimate: €90,000 - €110,000 EUR
Discussions of the platonic ideal of the post-war British roadster typically begin in 1948, with the debut of the low-slung Jaguar XK 120 at the Earl's Motor Court show that year. Offering shapely curves, equaling the output of the most talented pre-war coachbuilders, on a handful of sports cars is one thing. But Jaguar's aim was setting a worldwide benchmark for serial production sports cars, with a product that touted its 120 mile-per-hour top speed in its model name. No wonder the carmakers of the world wanted to capture the same spirit of motoring that became Jaguar's signature.
1958 Jaguar XK 150 S 3.4 Roadster
Estimate: $175,000 - $225,000 USD
We have covered this top-of-the-line Jaguar roadster in our earlier overview of the road trip-worthy Pacific Coast Highway Collection, but it bears mentioning again, as this essentially was the British sports car against which all international competitors were measured. The long, graceful hood of the XK 150 S conceals a 3.4L straight-six motor breathing through three S.U. carburetors, the penultimate evolution of Jaguar's pre-E-Type powerplant engineering. Recently refreshed, with $20,000 of accompanying receipts, this example would be equally adept for touring or show.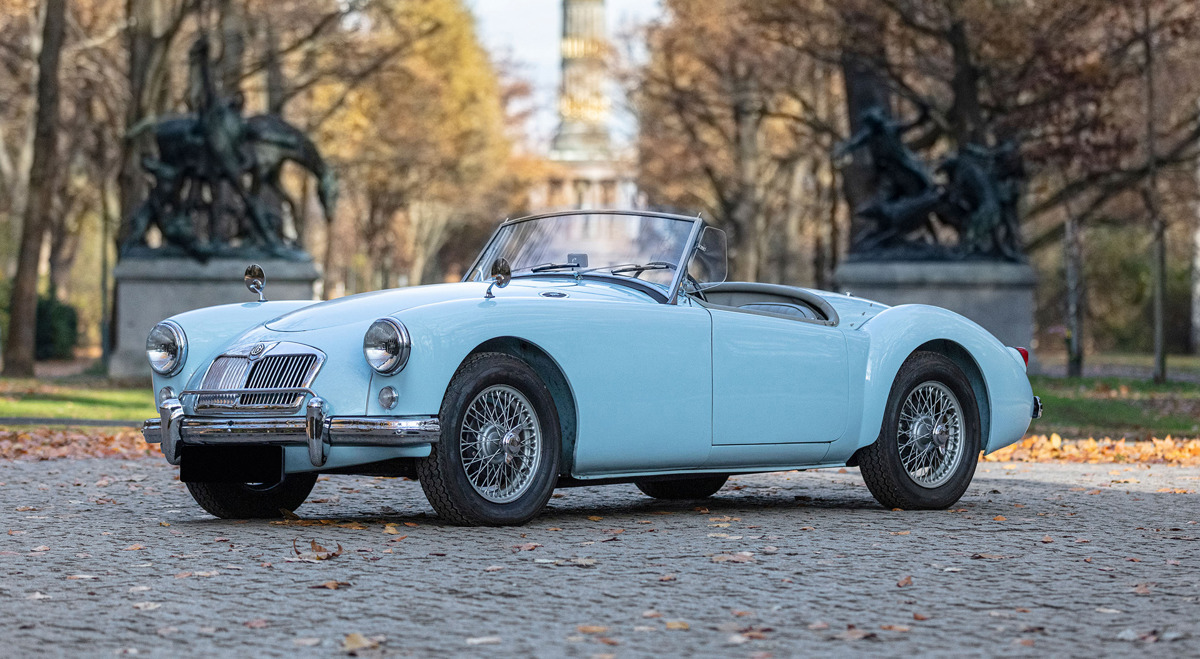 1958 MG MGA 1500 Roadster
Estimate: €30,000 - €40,000 EUR

 

|

 

Offered Without Reserve

 

Jaguar did not own a monopoly over the open-top British roadster; rival company MG also established a reputation for making lightweight, nimble runabouts in the pre-war period, from their "Old Number One" of 1925. By the time this MGA 1500 was produced, the company founded as Morris Garages had thirty years of experience building sports cars. The twin S.U. carburetor setup and featherweight construction of this example (just over 900 kg in total) added up to a package that emphasized driving enjoyment and has only grown more desirable over time.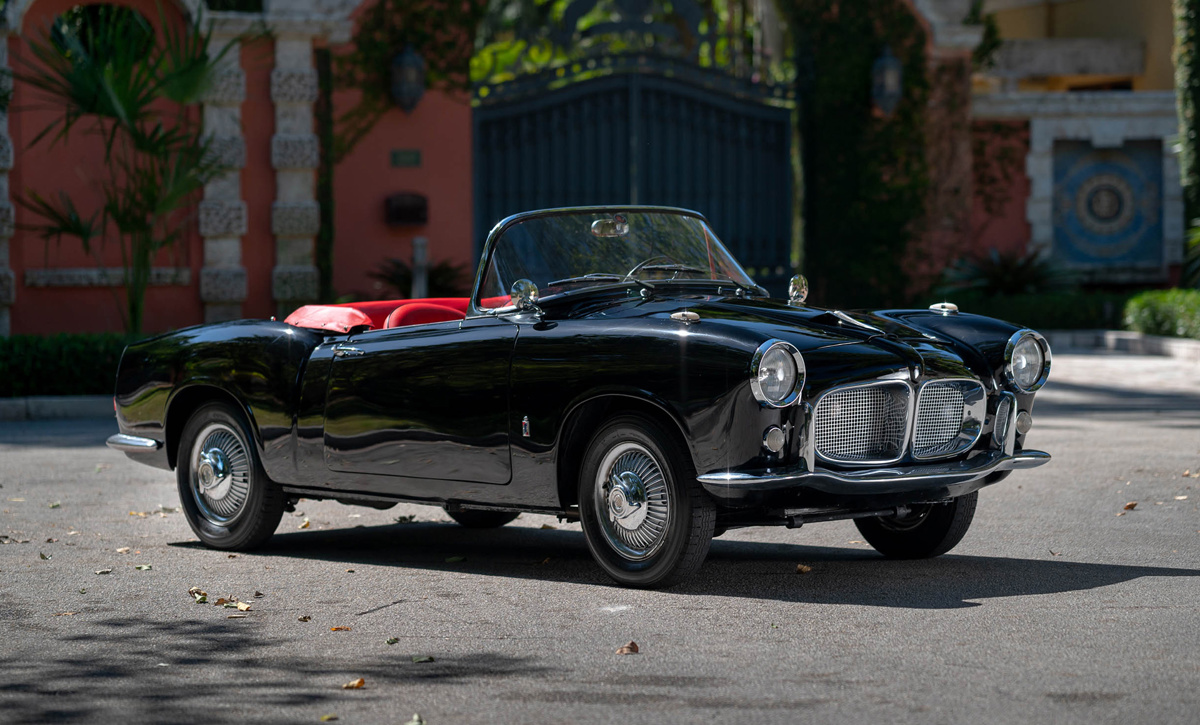 1958 Fiat 1200 TV Spider
Estimate: $40,000 - $60,000 USD
Though this convertible Spider from Fiat was unlikely to break any performance benchmarks, it lacked little in the charm department. With its undeniably delightful styling balanced by a tasteful color combination of black exterior over a red interior, this four-cylinder Fiat is certain to put a smile on your face during in-town trips. Recently serviced, this mid-century example still has plenty to offer today.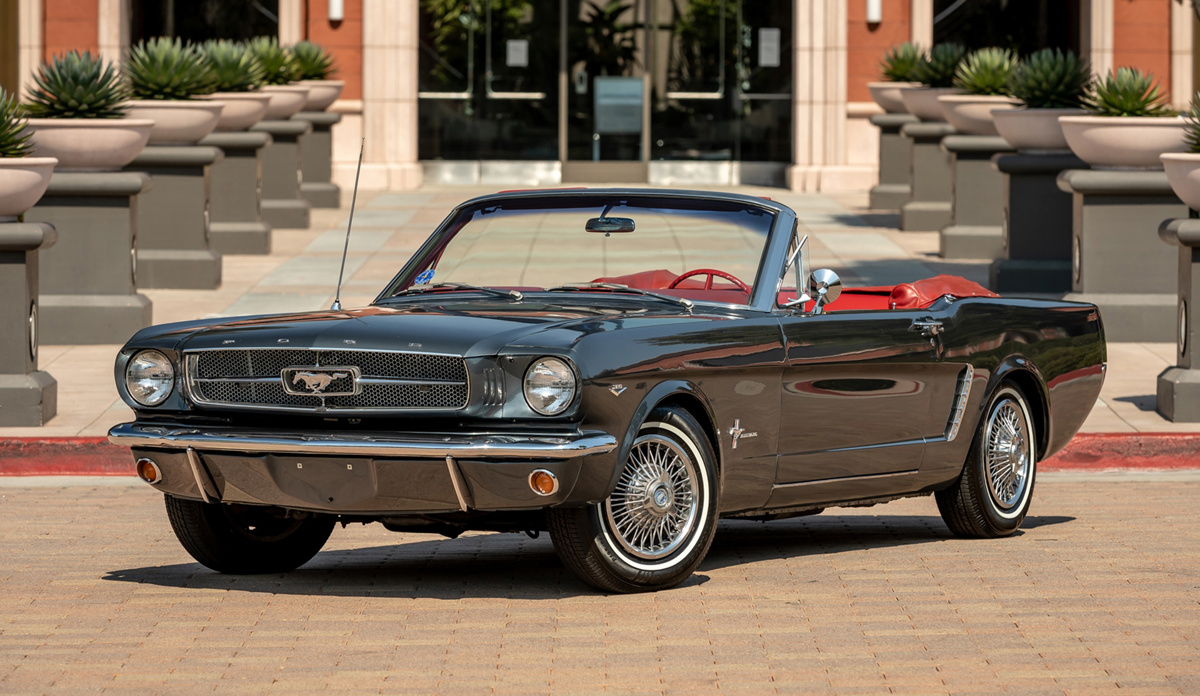 1965 Ford Mustang Convertible
Estimate: $45,000 - $55,000 USD
No summary of mid-century motoring would be complete without mentioning the Mustang. In many ways Ford's answer to the post-war hot rod craze of the late 1950s, the soon-to-be-legendary pony car launched in the same year as another icon: the Porsche 911. Unlike the quintessential German sports car, the Ford Mustang received an official open-top variant almost from the beginning; this well-optioned Convertible has been an ideal companion for American roads from day one.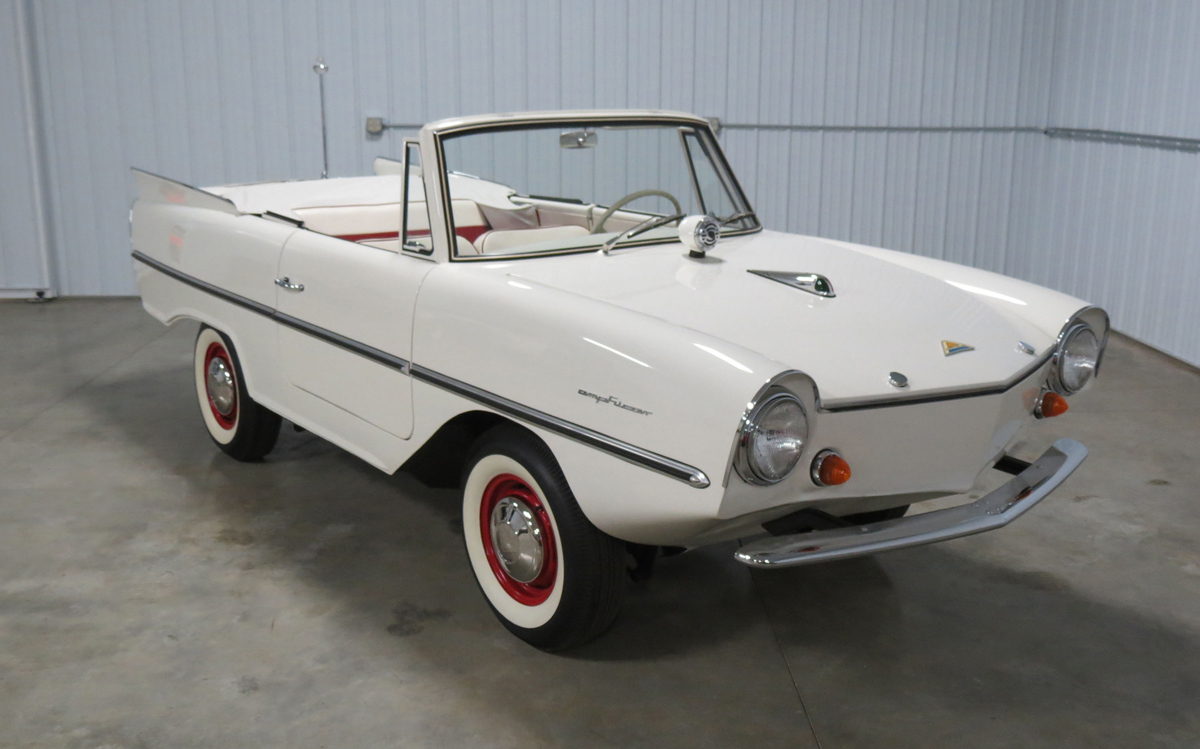 1964 Amphicar 770
Estimate: $75,000 - $95,000 USD
Along with producing sporting cars like the Mustang and 911, the 1960s also was a time of experimentation in the very nature of automobile transportation. While this West German-engineered, British-powered Amphicar makes our list for its open-air qualities, certainly its abilities on open water surpass all of the other examples on our list. Having benefited from a recent refresh in 2020, it has not since been used in water, allowing its next owner the option of choosing where to take this endlessly transformable amphibious vehicle.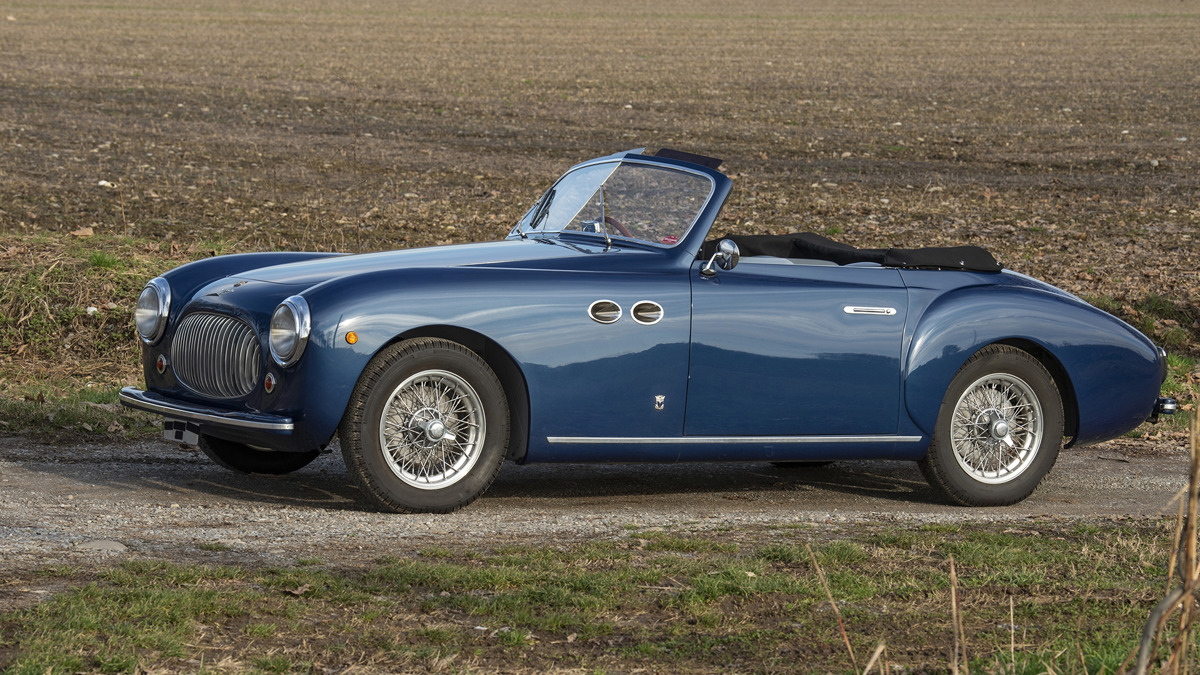 1950 Cisitalia 202 SC Cabriolet
Estimate: €400,000 - €450,000 EUR
The final lot on our list of open-top examples actually represents the beginning, of sorts. Though the Cisitalia brand may not be as well-known as Ferrari or Lamborghini, this boutique sports car manufacturer helped push the envelope of sports car design with their groundbreaking 202. Both Farina and Vignale contributed coachwork to Cisitalia, building the reputations of both design firms in the process. To this day, a Cisitalia coupe is the only automobile included in the collection of the Museum of Modern Art in New York, a high honor indeed. More than a stationary work of art, this recently restored, open-air Cisitalia qualifies for vintage rallies like the Mille Miglia. Nothing compares to the endless possibilities offered by open roads, with open-air automobiles to explore them.