Boasting a portfolio of natural wonders and highways that run nearly horizontal through desert valleys, Arizona is a destination state for road trips. Whether it is experienced on a bucket list-style, cross-country journey along Route 66, or merely on-screen, in one of the numerous feature films—from Thelma & Louise to Disney-Pixar's Cars—that depict its landscape as a location, Arizona serves as inspiration for anyone who has felt the freedom of the open road. Composed of convertibles, cabriolets, and even a barchetta or two, these open-air automobiles embody that spirit, and are all going to be available for auction at next month's RM Sotheby's Arizona auction.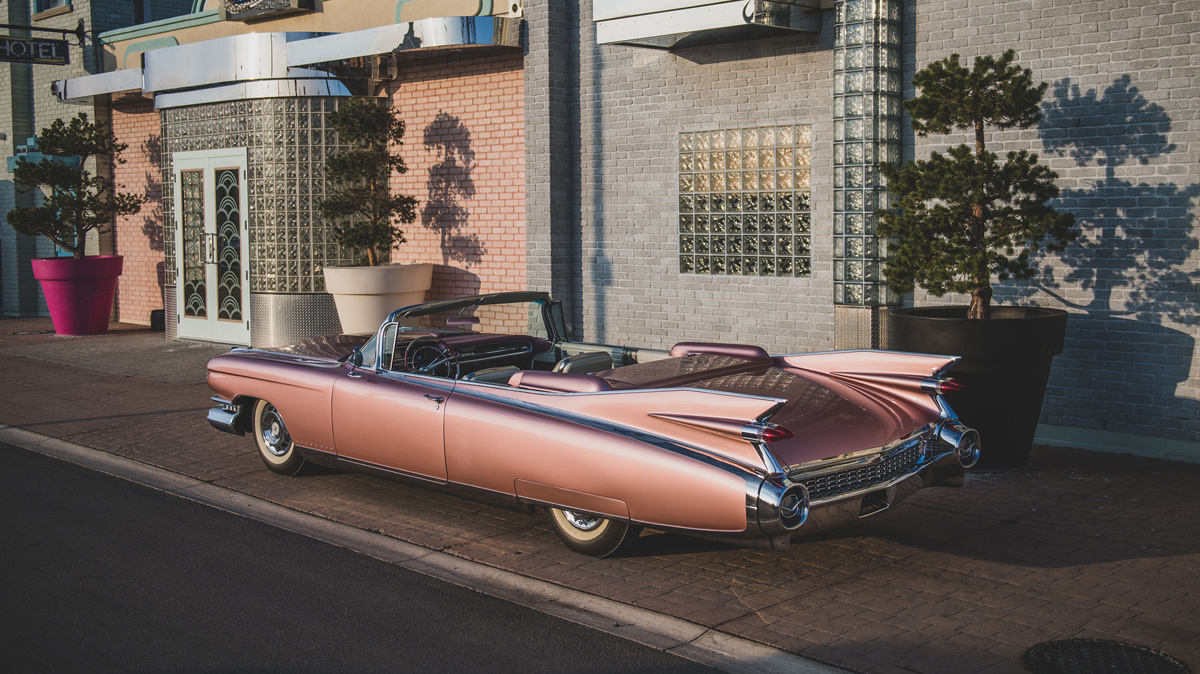 1959 Cadillac Eldorado Biarritz
Estimate: $200,000 - $225,000 USD
This top-of-the-line Cadillac has become an American icon for a few reasons, chief amongst them are those unmissable tailfins, which reached their peak in 1959. Though these aircraft-inspired structures did more to solidify the Cadillac brand than stabilize any Cadillac car at high speeds, because of the subtle differences between model years, the tailfin has taken on a new meaning for car collectors. Painted a shade reminiscent of a factory color called 'Persian Sand,' this Eldorado would be perfect for an open top cruise in the desert twilight.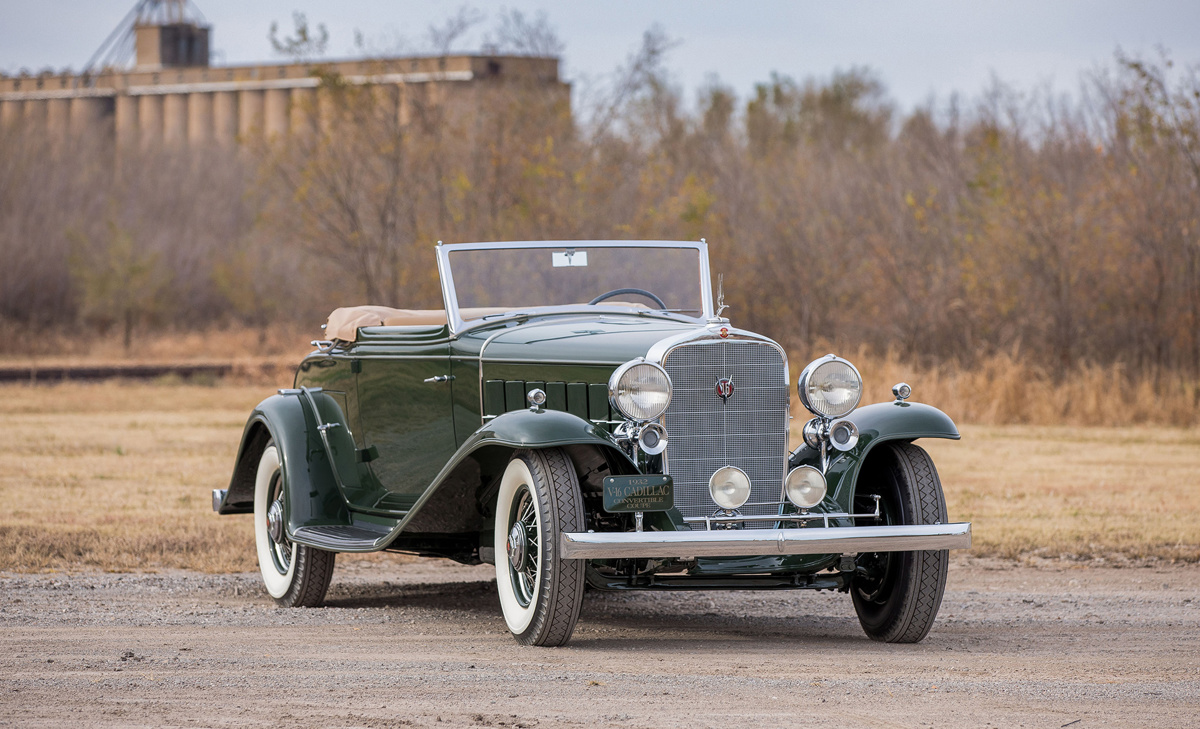 1932 Cadillac V-16 Convertible Coupe by Fisher
Estimate: $750,000 - $850,000 USD
Flash back in time to the 1930s and the top-of-the-line Cadillac still sported a folding cabriolet top. We featured this example previously in a blog post titled "World Standard," and indeed, this sixteen-cylinder Cadillac set industry benchmarks for quiet, powerful motoring. The Cadillac's imposing powerplant had been given the same level of design and detailing as the rest of the car, courtesy of General Motors' new design chief, Harley J. Earl. Cars like this Cadillac set the standard for American automobiles at the time, if not the world.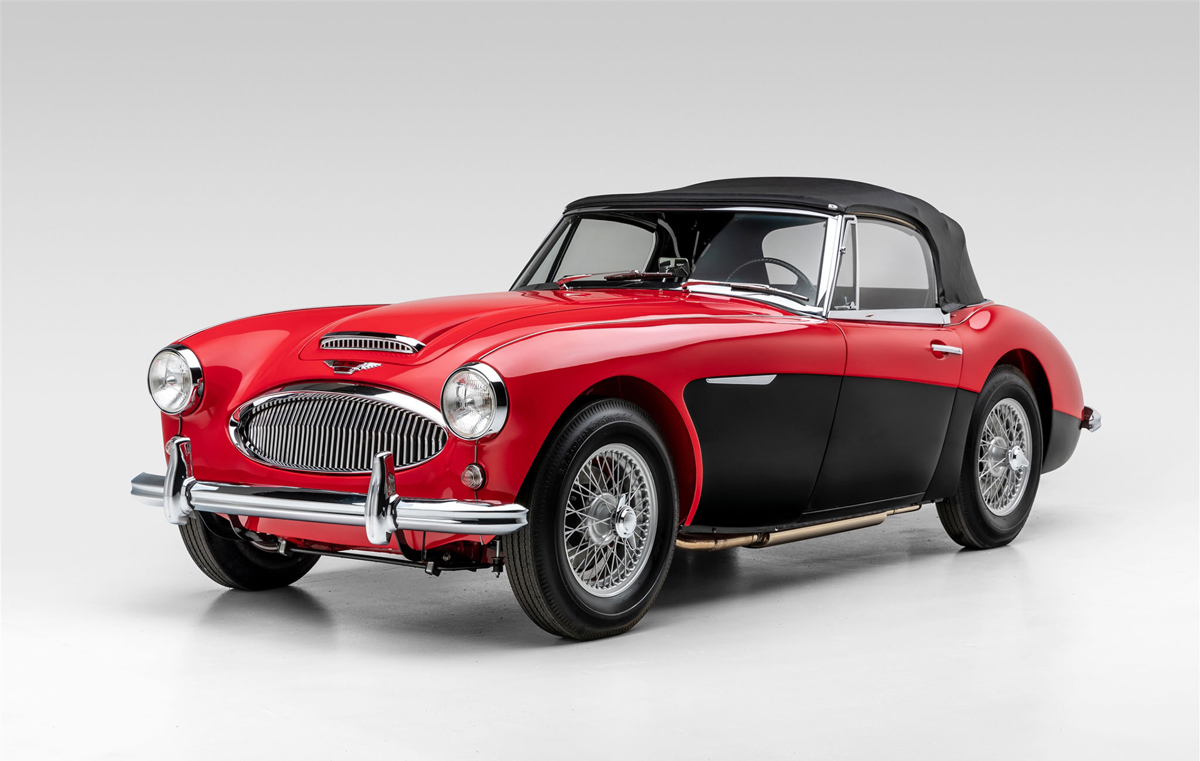 1963 Austin-Healey 3000 Mk II BJ7
Estimate: $70,000 - $80,000 USD
 

|

 

Offered Without Reserve

 

Thirty years after the V-16 Cadillac debuted, drop-top roadsters like this 1963 Austin-Healey were re-writing the rule book in terms of power-to-weight ratios. Some earlier models even eschewed side windows, opting instead for removable sliding side-screens, with see-through panels made of Perspex. The dividing line for these no-frills BN7 and BT7 roadsters is June of 1962; after that, Austin-Healey invested a bit more on interior comfort, offering wind-up windows and a quick-folding canvas top with their revised BJ7 roadster. After all, it can rain in the desert, too.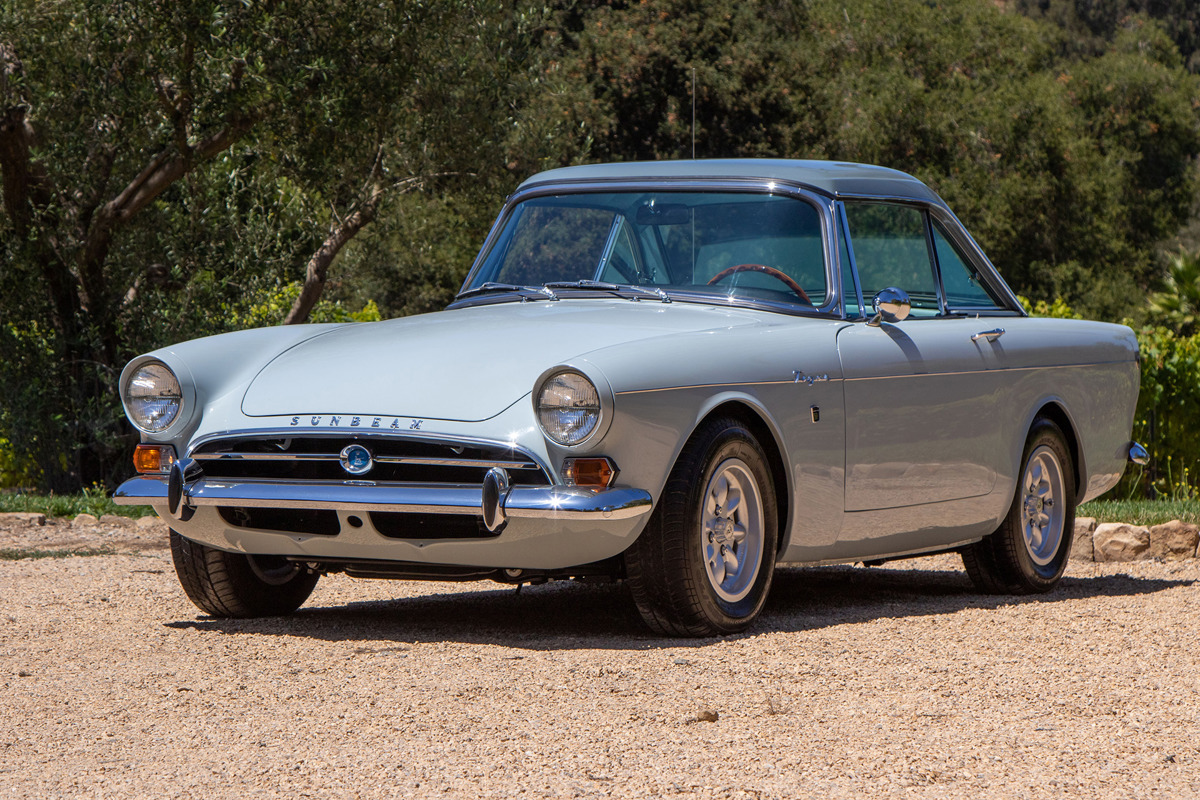 1964 Sunbeam Tiger Mk 1
Estimate: $120,000 - $140,000 USD
 

|

 

Offered Without Reserve

 

Take a quick glance at this British icon and you might mistake it for a coupe. Sunbeam Tiger sports cars have become quite coveted in today's market, with the connection to Carroll Shelby's brand of high-performance modifications to existing chassis. The major modification in question is, of course, the addition of a 260 cubic-inch Ford V-8 engine under the hood, improving the Tiger's power-to-weight ratio considerably. One of an estimated 27 cars wearing this specific shade of Balmoral Gray, this example is made even more special with the addition of a factory hard top.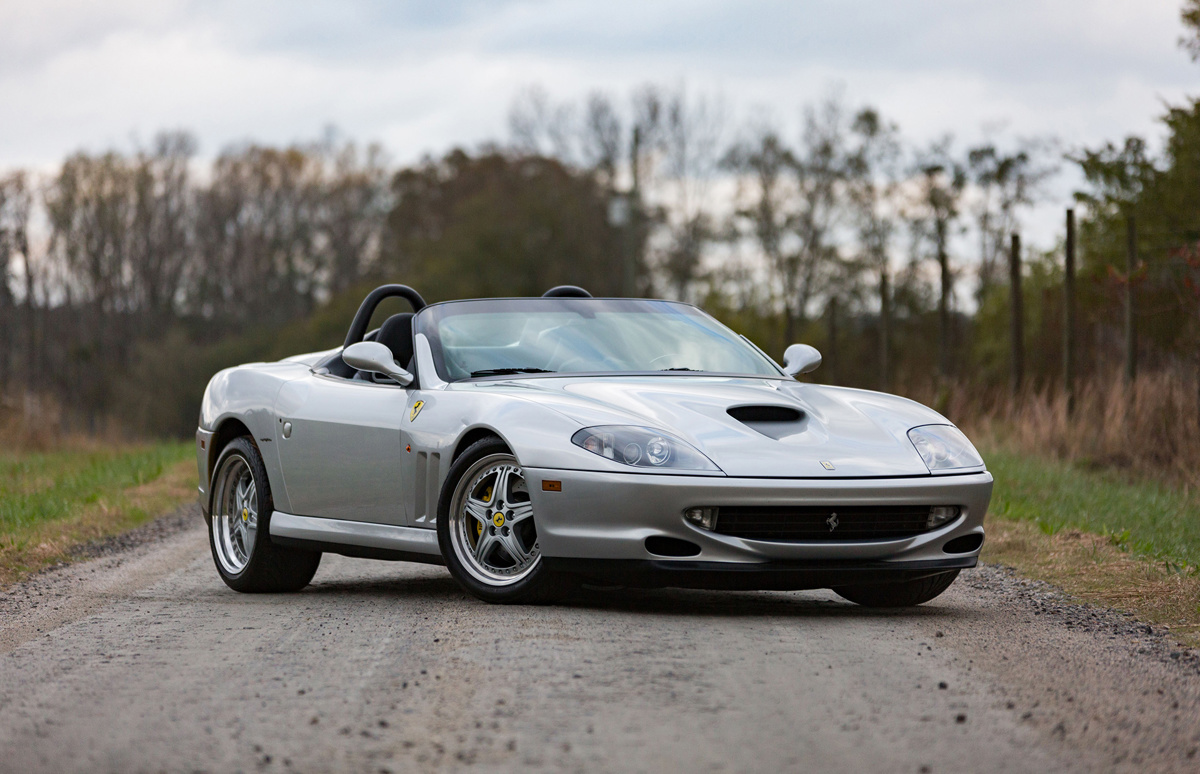 2001 Ferrari 550 Barchetta Pininfarina
Estimate: $300,000 - $350,000 USD
Another special example we've featured before on this blog, the Barchetta is notable for its respectful take on Ferrari heritage. Classic 'barchetta' coachwork meant the ultimate in open-air motoring, with no side windows and only a snap-on top. The goal was to mimic a lithe, low-slung powerboat, as that is roughly what 'barchetta' means in Italian. This modern Barchetta came with a few more creature comforts than Ferrari's mid-century efforts, including power-operated side windows and a foldable canvas top in case of inclement weather.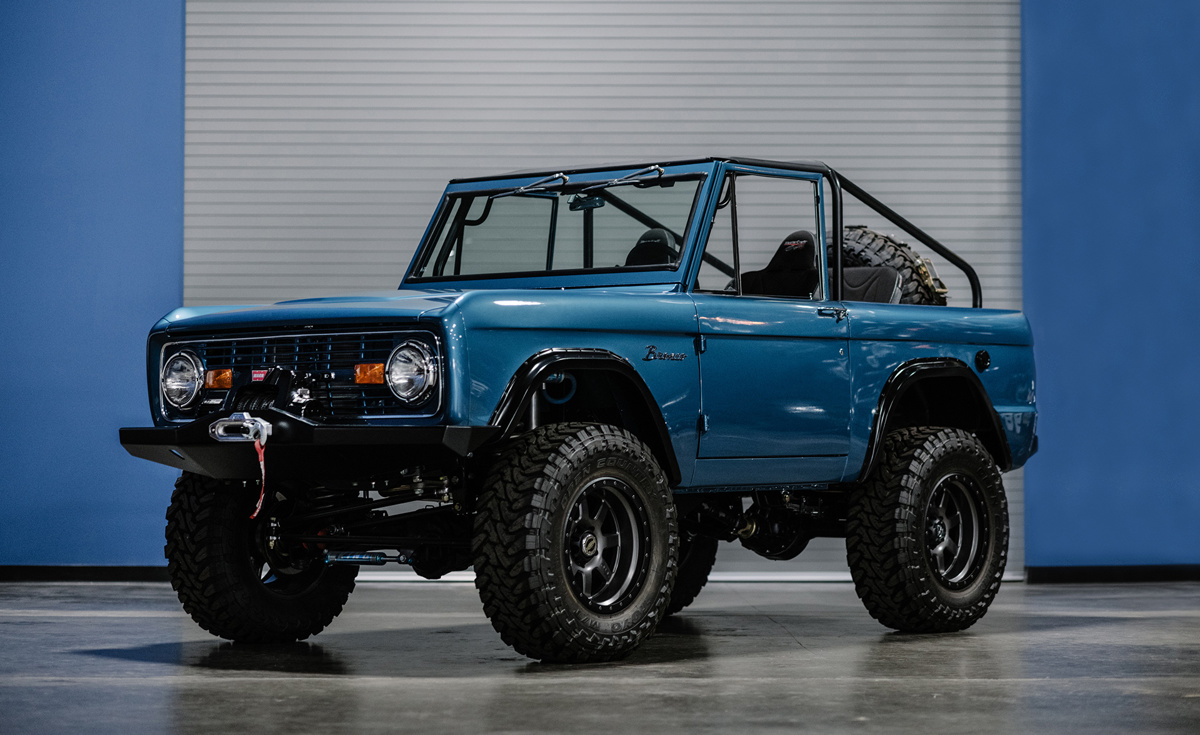 1972 Ford Bronco Custom
Estimate: $120,000 - $160,000 USD
Truly the truck one would want to have in case of inclement weather (or any weather, realistically), this Bronco was custom-built for a Ford enthusiast who wanted a bit more performance out of his classic off-roader. Built by the Carroll Shelby engine company, this Bronco packs a punch—underneath the hood sits a 331 cubic-inch V-8 engine producing 421 horsepower. With the brand-new, sixth-generation Bronco slowly making its way to Ford dealerships, the first-generation versions are becoming more desirable than ever, especially after being treated to upgrades like this example.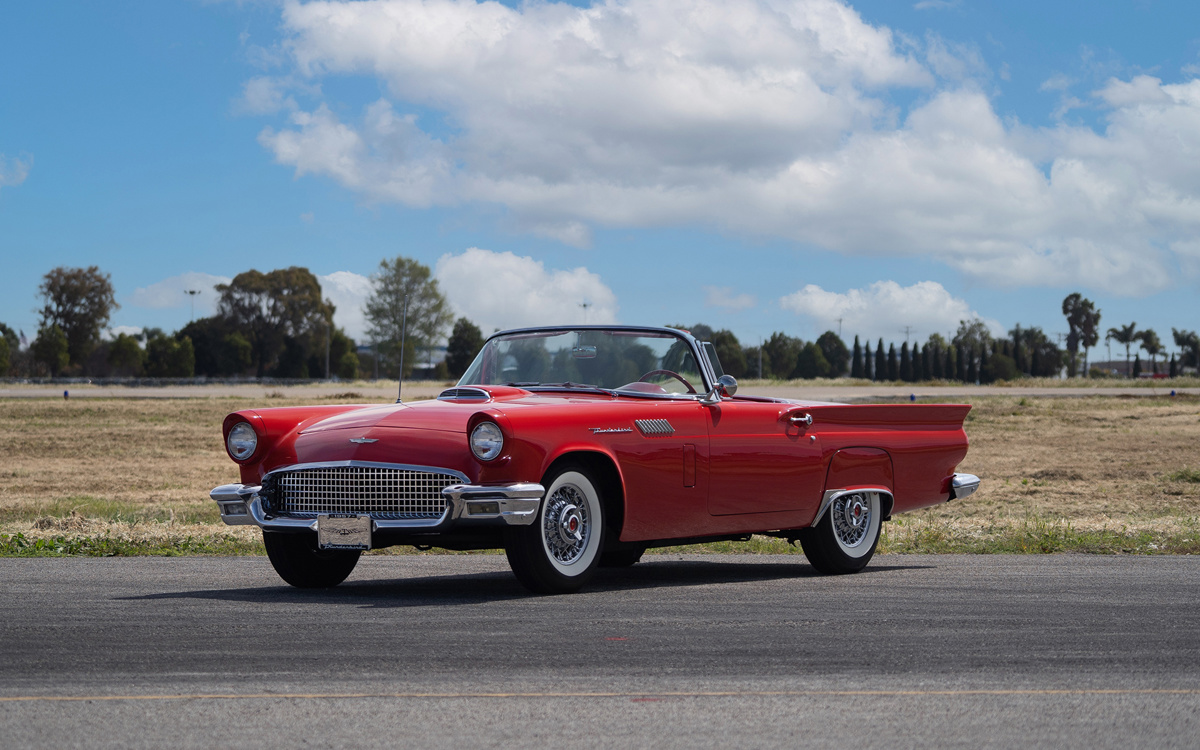 1957 Ford Thunderbird
Estimate: $40,000 - $50,000
 USD 

|

 

Offered Without Reserve

 

For a Ford fan who wishes for an open-air experience but does not require all the off-road capability of the Bronco we featured earlier, this Thunderbird offers an interesting proposition. With a mid-century design that stands out even more today, this first-generation example from 1957 sports the most recognizable feature of any generation of Thunderbird—a rear porthole window.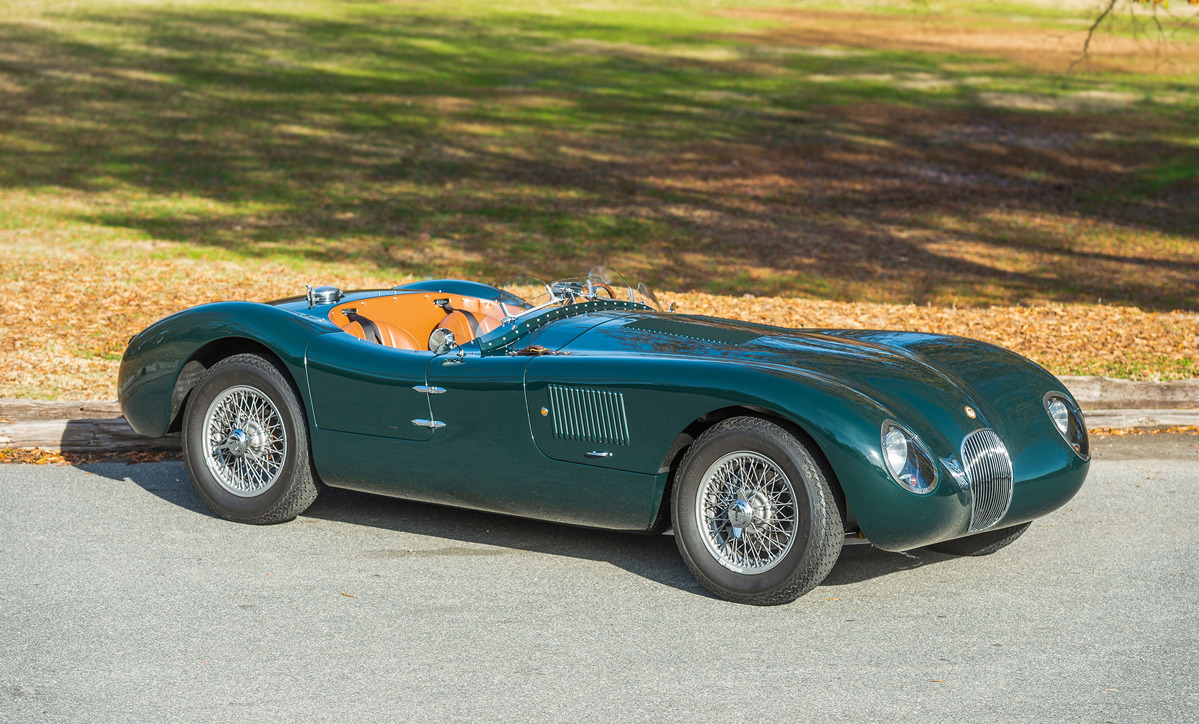 2015 Jaguar C-Type Evolution by Proteus
Estimate: $150,000 - $190,000 USD
It boggles the mind to think that the original Jaguar C-Type and Ford Thunderbird came from the same decade, the differences in purpose and design were profound. Then again, Jaguar built the C-Type to win Le Mans, and cars intended for competition quite literally look different than their consumer-driven counterparts. The remarkable thing about mid-century race cars like the C-Type is that the performance that made them extraordinary in the past means that they are still usable today. The only problem is, period-built competition cars have taken on stratospheric values, commensurate to their rarity. The solution are cars like this C-Type replica by Proteus; sports-racers that one can feel comfortable driving in the modern era, in any conditions.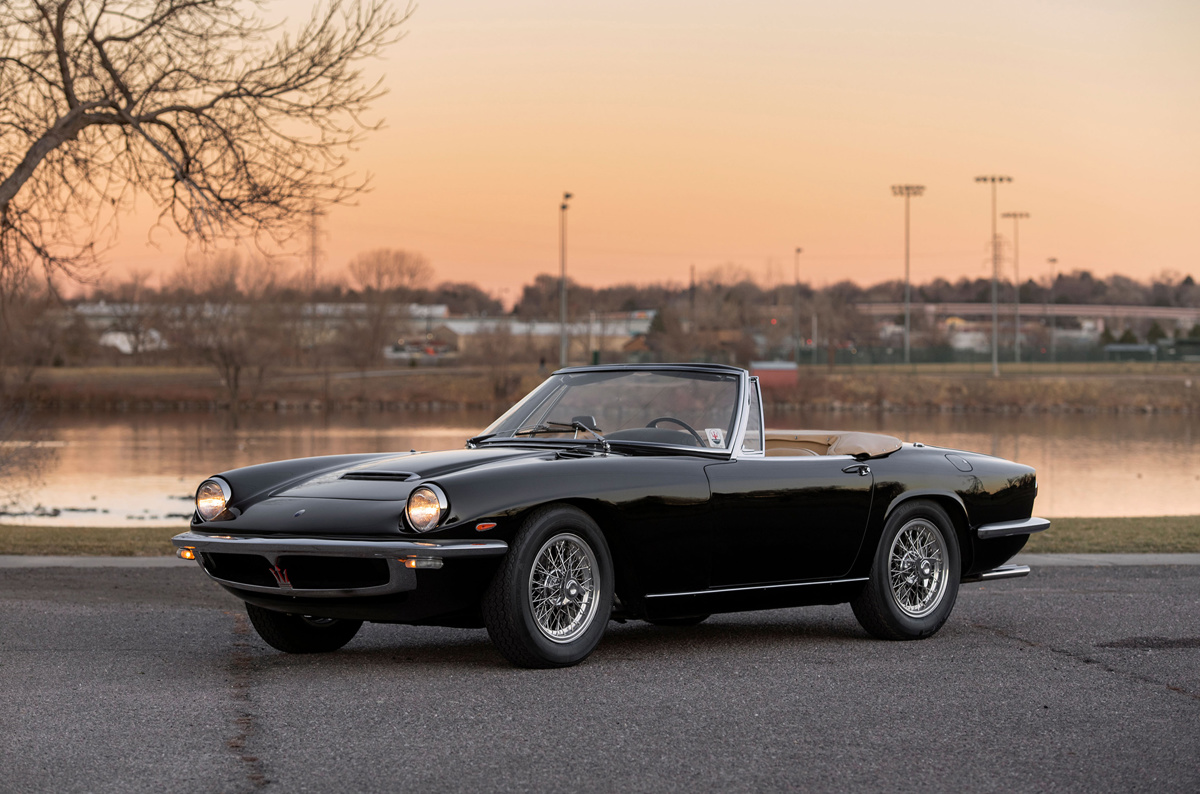 1965 Maserati Mistral 3.5 Spyder
Estimate: $500,000 - $600,000 USD
The relative rarity of any open-top sports car makes them inherently special and desirable. And when the underlying sports car is itself an uncommon example, the open-top variants become even more coveted. Built over a period of seven years, the Mistral is known for being the last sports car powered by Maserati's signature, six-cylinder, twin-spark engine. While it enjoyed a relatively lengthy build cycle, total production of the Mistral Spyder only added up to a mere 125 examples.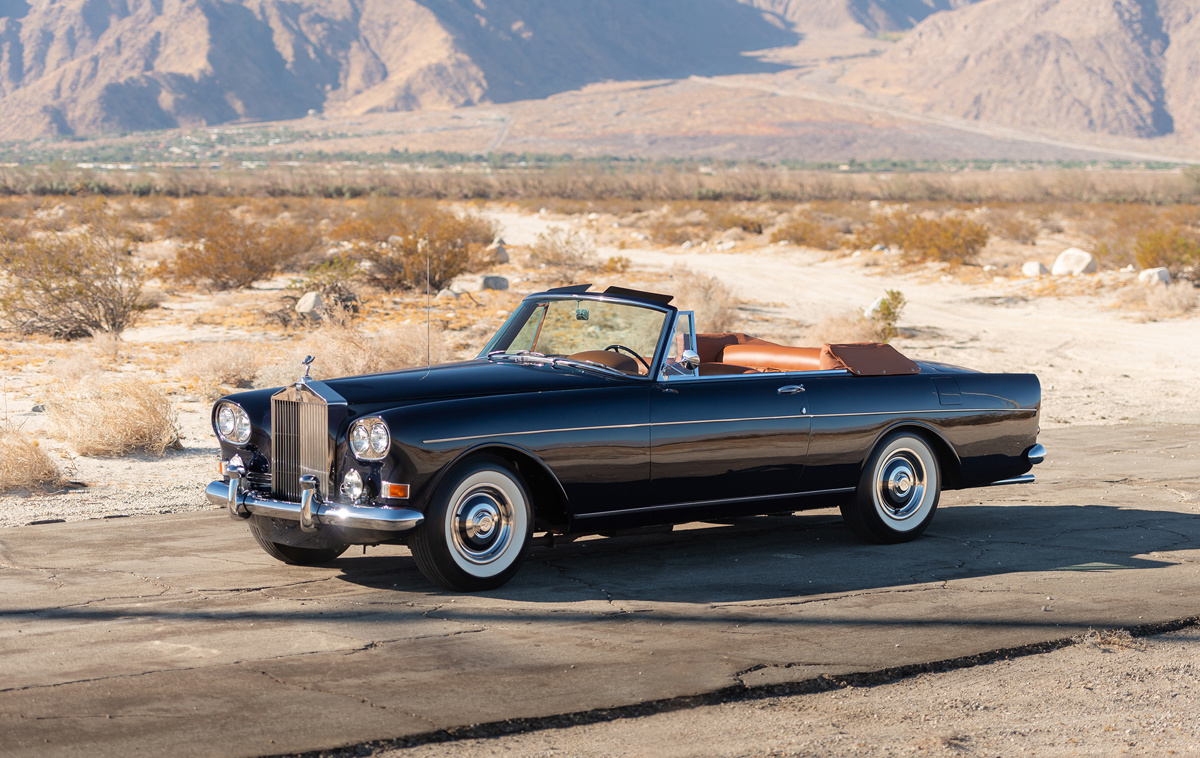 1965 Rolls-Royce Silver Cloud III Drophead Coupe by Mulliner Park Ward
Estimate: $200,000 - $250,000 USD
Turning from an uncommon Italian classic to another connoisseur-grade cabriolet, this coachbuilt Rolls-Royce is the epitome of British luxury. With a distinctive front headlight treatment unlike any other Rolls, before or since, this open-top grand tourer shows off its luxurious appointments in a stately manner. Like the Cadillac Eldorado that is today's feature car, this Silver Cloud III also features tailfins, but the execution is characteristically subtle. A tasteful choice for open-air cruising.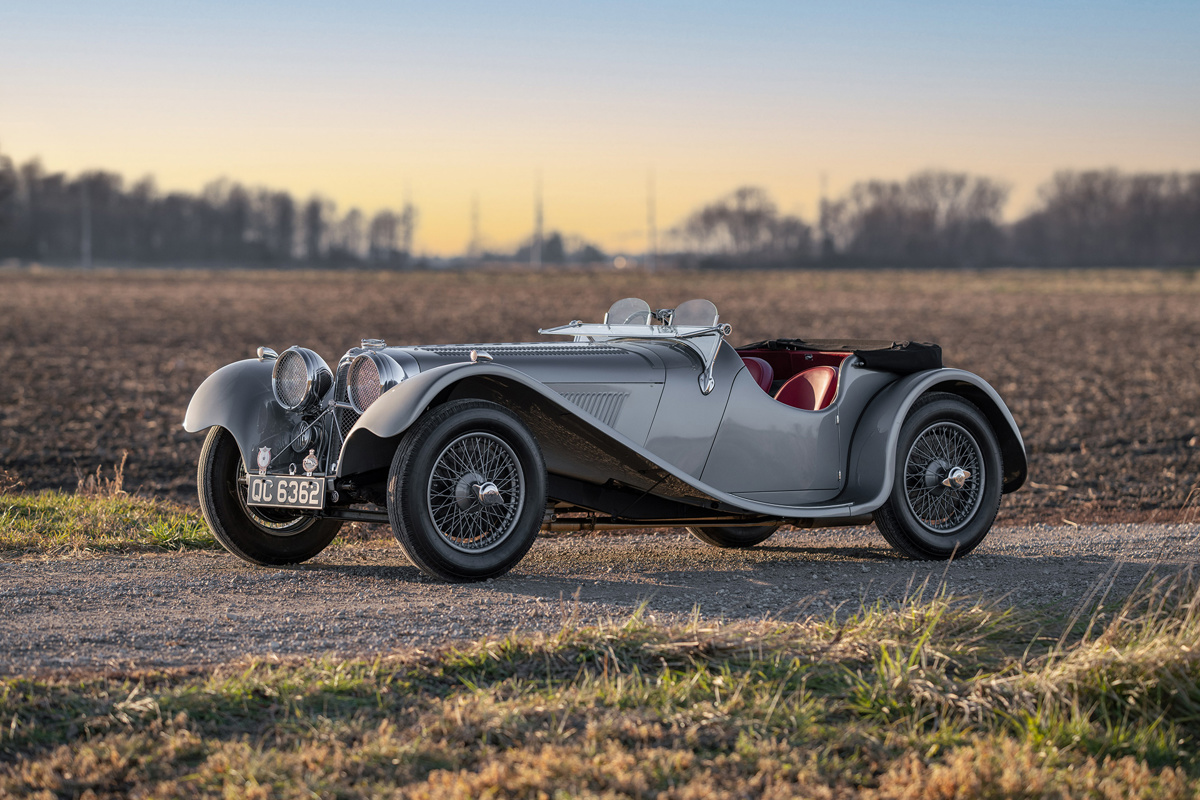 1938 SS 100 Jaguar 3½-Litre Roadster
Estimate: $500,000 - $600,000 USD
A completely different take on British luxury motoring, released thirty years before the Drophead Coupe we featured earlier, this SS 100 formed the foundation of the brand known today as Jaguar. Built in limited quantities, these SS 100 Roadsters were known for their prodigious performance from their signature 3.5-Liter, inline-six engine, featuring overhead valve-style cylinder head engineered by Harry Weslake. The recent beneficiary of a comprehensive restoration completed in 2014, this pristine SS 100 earned a perfect 100-point score that year from the strict judges at the Jaguar Owners Club of Los Angeles.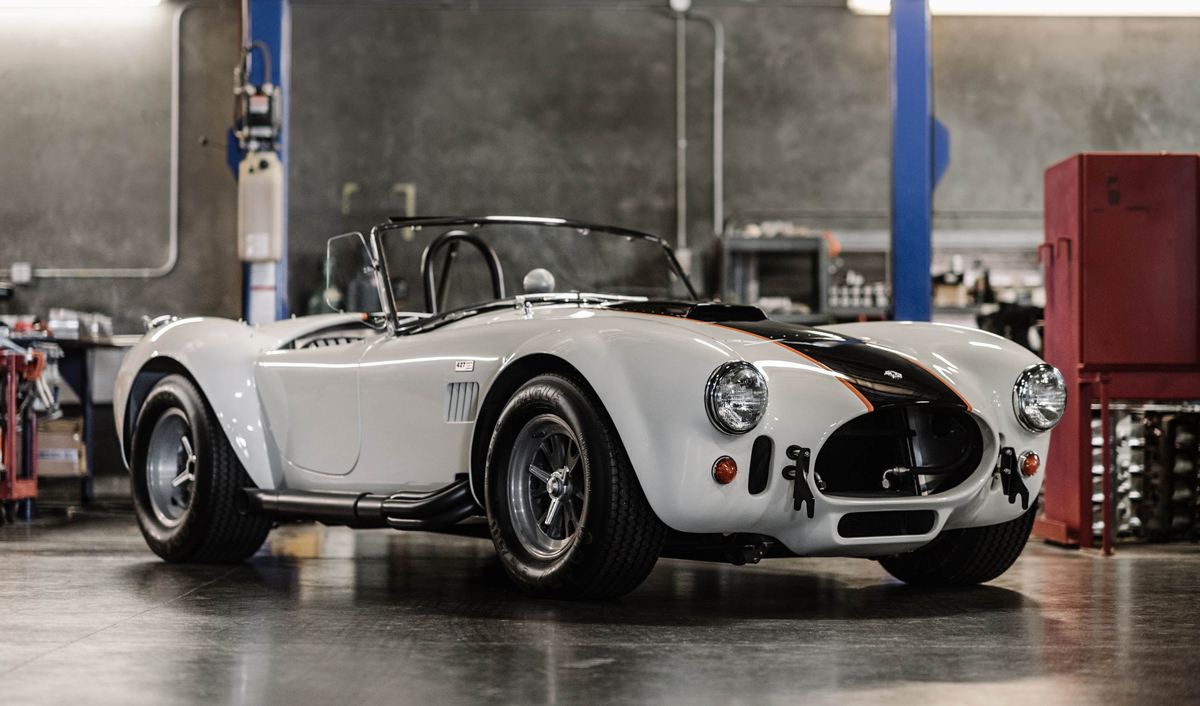 1965 Shelby 427 S/C Cobra 'Sanction II'
Estimate: $375,000 - $425,000 USD
Pairing classic Cobra styling with modern construction, this 'Sanction II' Shelby was completed by the Southern California-based company in 2014. We featured a look back at Carroll Shelby's greatest hits in his own words on the blog recently, and this 427-powered Cobra represents in many ways the pinnacle of American performance.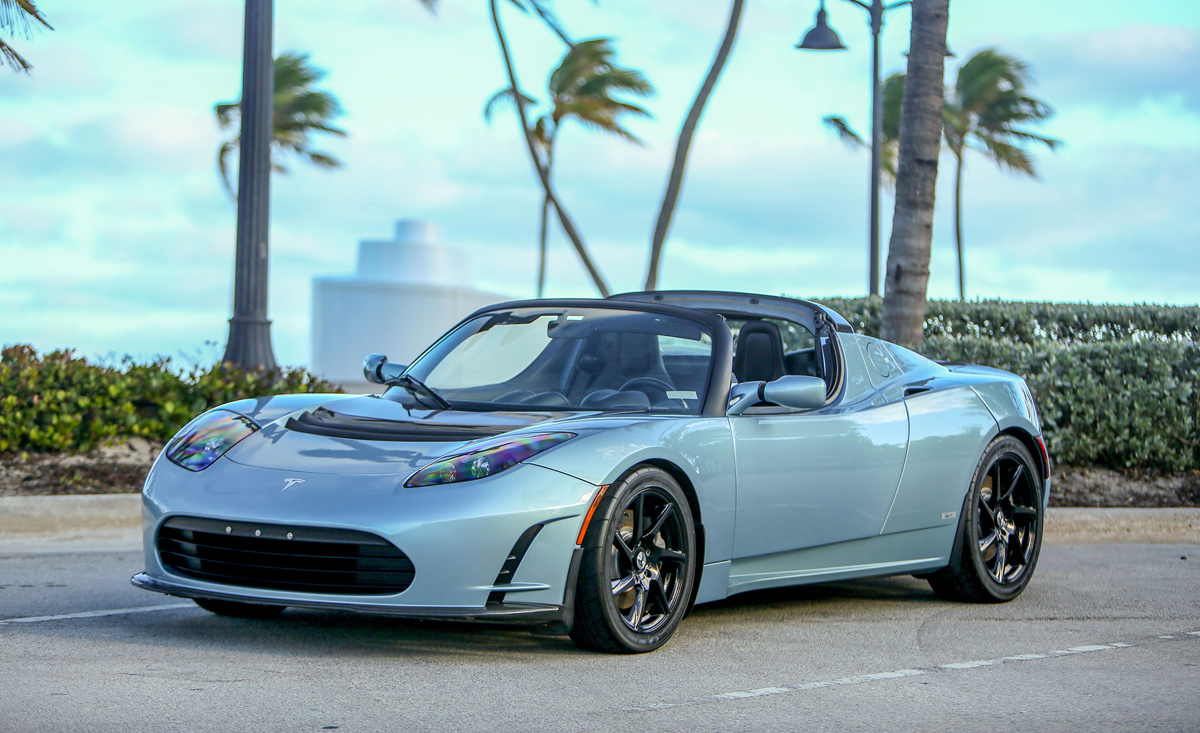 2011 Tesla R80 3.0 Roadster Sport
Estimate: $90,000 - $110,000 USD
 

|

 

Offered Without Reserve
The 21st century in American automotive culture is still a time that has yet to be defined. Yet, when histories of this time are written, Tesla and the push for electric power will undoubtedly be a talking point. This first-generation Roadster model introduced the world to entrepreneur Elon Musk's nascent EV brand when it was released in 2008; the earliest versions even featured a "two-speed" transmission to mimic the feel of shifting gears. By the time this R80 Roadster Sport came out in 2011, Musk was already hard at work on its four-door successor, the Model S sedan. And no matter how much Musk's sedan has come to define Tesla, this open-top Roadster is the model collectors are certain to favor. A new era for open-air motoring, indeed.