While every single-seat Ferrari is arguably historic, the SF1000 made history before it was even unveiled. Revealed onstage at the neo-classical Reggio Emilia theatre in an eye-popping introduction, the SF1000 is Scuderia Ferrari's sixty-sixth single-seat race car, but the first ever to debut outside the factory in Maranello. In recognition of such a storied setting, the event was a performance in itself: A nimble troupe of dancers displayed incredible feats of flexibility while a DJ blended Ferrari engine notes with an arrangement by a live orchestra; mixing modern and classical, an instant entry in the pantheon of Italian theatre. But the evening's main attraction was undoubtedly the SF1000: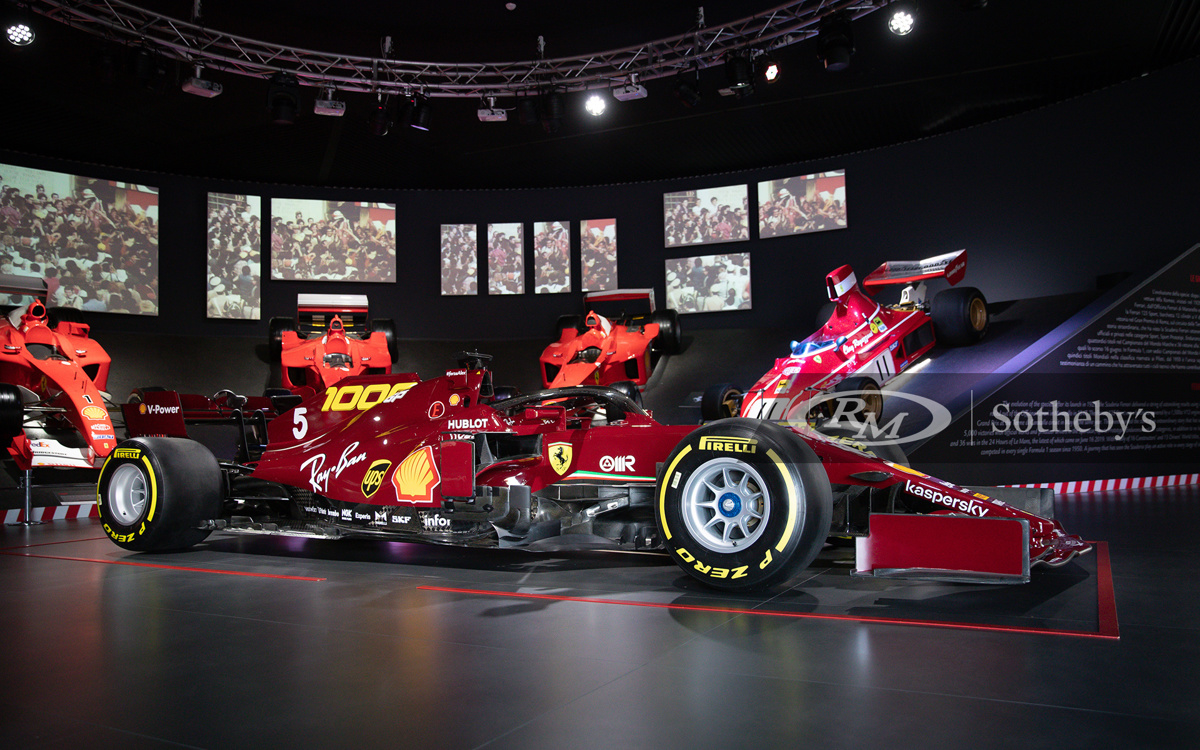 Ferrari SF1000 Show Car, 2020
Estimate: €150,000 - €200,000. Offered Without Reserve.
Introduced by a parade of Ferrari insiders underneath a spectacular display of special effects on stage at the 153-year-old Reggio Emilia theatre, the SF1000's name signified the prancing horse's 70th year of participation in FIA racing, and more astonishingly, their 1,000th Grand Prix entry. In an even further nod to Ferrari heritage, the SF1000 shown above was painted to match the first Ferrari ever made, the 125S, and destined for the Ferrari museum in Maranello. This unique sculpture is part of RM Sotheby's Once In A Millennium auction, including many items of memorabilia signed by Ferrari's beloved racing drivers.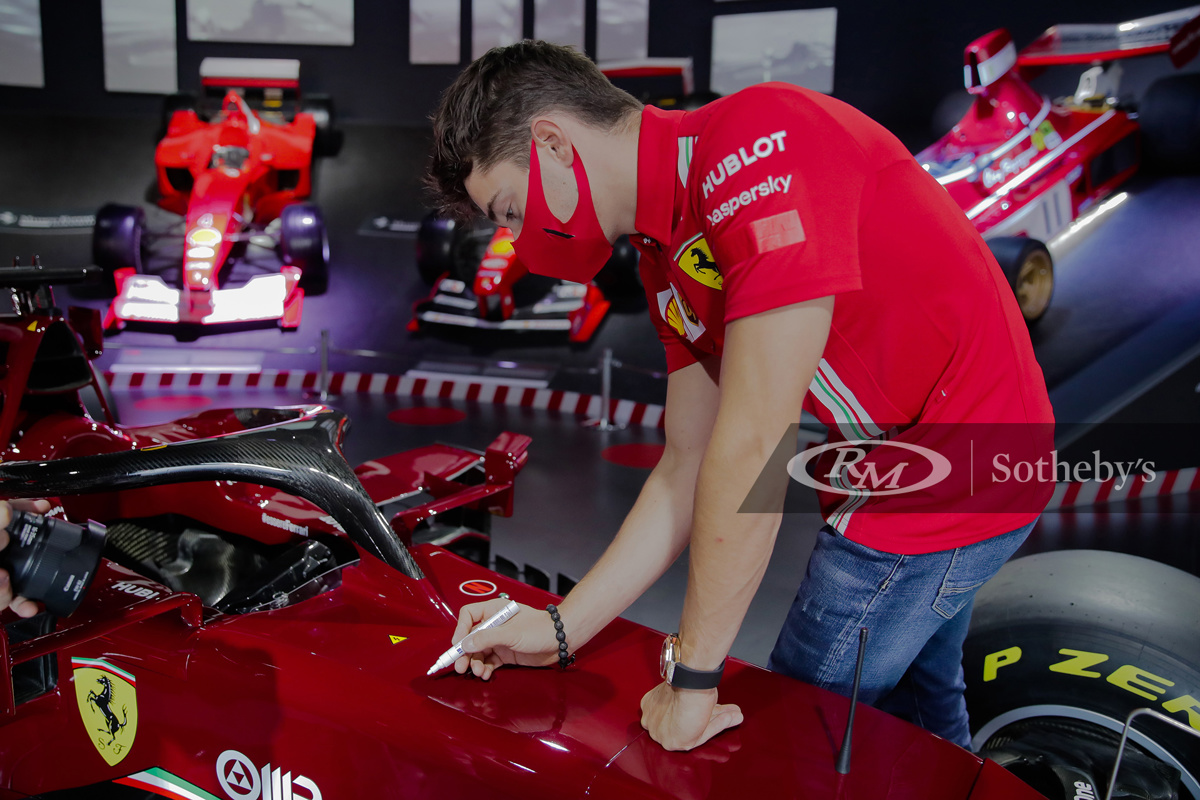 Back at the Reggio Emilia theatre, introducing the SF1000 was no easy feat. Wearing a subtle, even Enzo-esque suit with the brand's famous badge embroidered over his heart, current Ferrari CEO Louis C. Camilleri addressed the attendants with sincere and reflective words, not often spoken during a press release: "Time, in fact, is our enemy," Camilleri said at one point during his speech. "Think about it: We spend days, nights, weeks, months to gain tenths of a second, or a hundredths of a second. And therefore, we are very much focused on the long-term."
In the front two rows before Camilleri, wearing matching Ferrari suit jackets, sat the physical manifestation of that investment: The students of the Ferrari Driver's Academy. Much like similar academy systems in Europe, nurturing the next generation of football stars, Ferrari established their own Academy in 2009 as a way to grow their own talented roster of team drivers. The first graduate of that program was the late Jules Bianchi, godfather of current Ferrari driver (and another Academy alumnus) Charles Leclerc.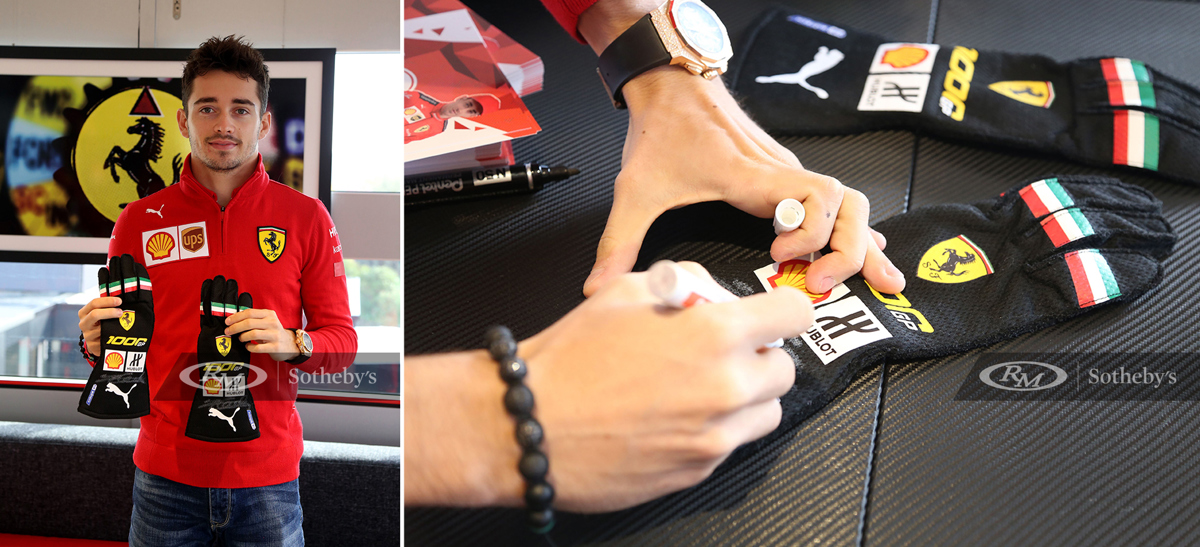 Charles Leclerc Signed Racing Gloves, 2020
Estimate: €2,500 - €3,000. Offered Without Reserve.
Making an explosive debut on Ferrari's Formula 1 team in 2019 by winning the Pirelli Pole Trophy in his rookie season, Monaco-born racing driver Charles Leclerc is already destined to become part of the prancing horse's long-term racing history. With a five-year contract, Leclerc will be the face of Ferrari's racing team for the foreseeable future, making signed memorabilia like this pair of racing gloves more like a modern artifact. The Once In A Millennium auction will also offer a replica of Leclerc's racing helmet and a custom-made racing suit signed by Leclerc.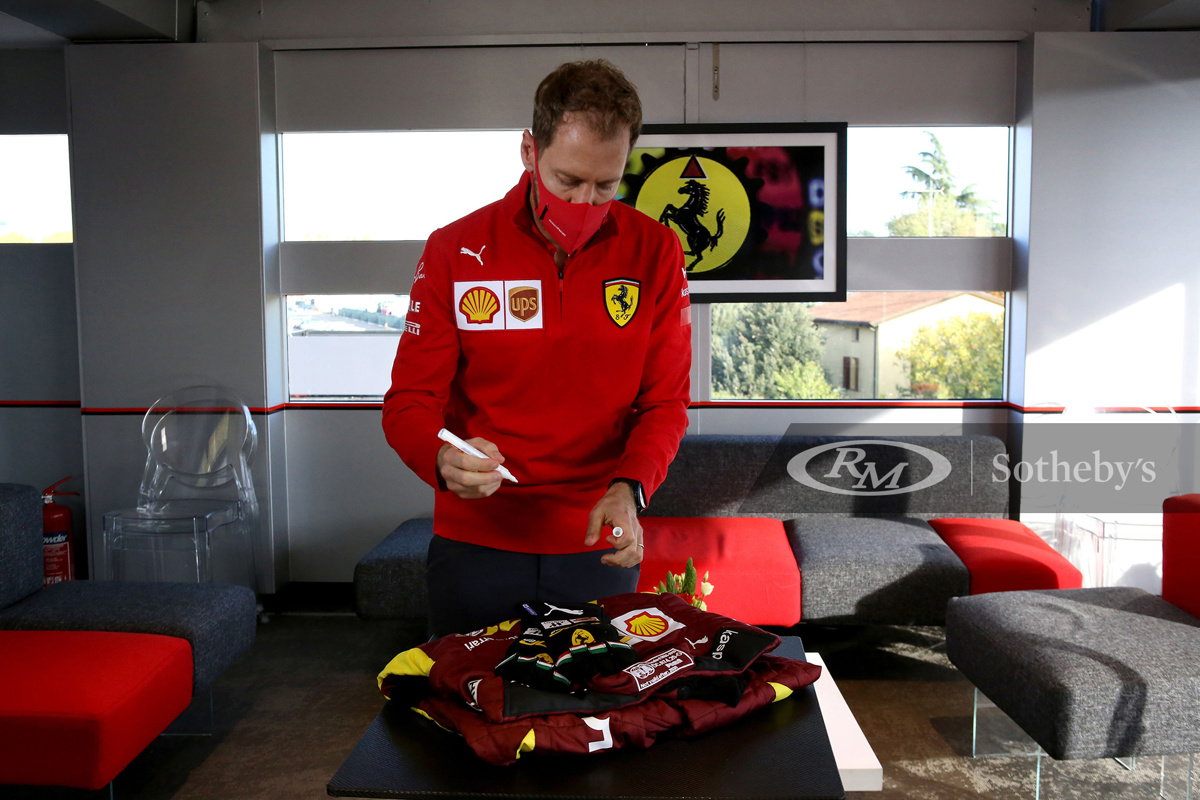 Sebastian Vettel Signed Racing Suit, 2020
Estimate: €10,000 - €15,000. Offered Without Reserve.
Standing beside Leclerc as the SF1000 was unveiled was the team's veteran, Sebastian Vettel. Racing in his final year with Ferrari, Vettel nonetheless expressed his admiration at the Ferrari team for working hard on the aerodynamics of the new F1 car. Before the unveiling, both drivers got an opportunity to view the 2020 model beside its predecessor, the SF90 from 2019. Vettel particularly highlighted the difficulty of making the rear of the SF1000 even narrower than before. With a winning reputation even before joining the Ferrari team, Vettel has also secured his place in Ferrari history. The Once In A Millennium auction also includes a replica racing helmet and a pair of racing gloves signed by the German-born racing driver.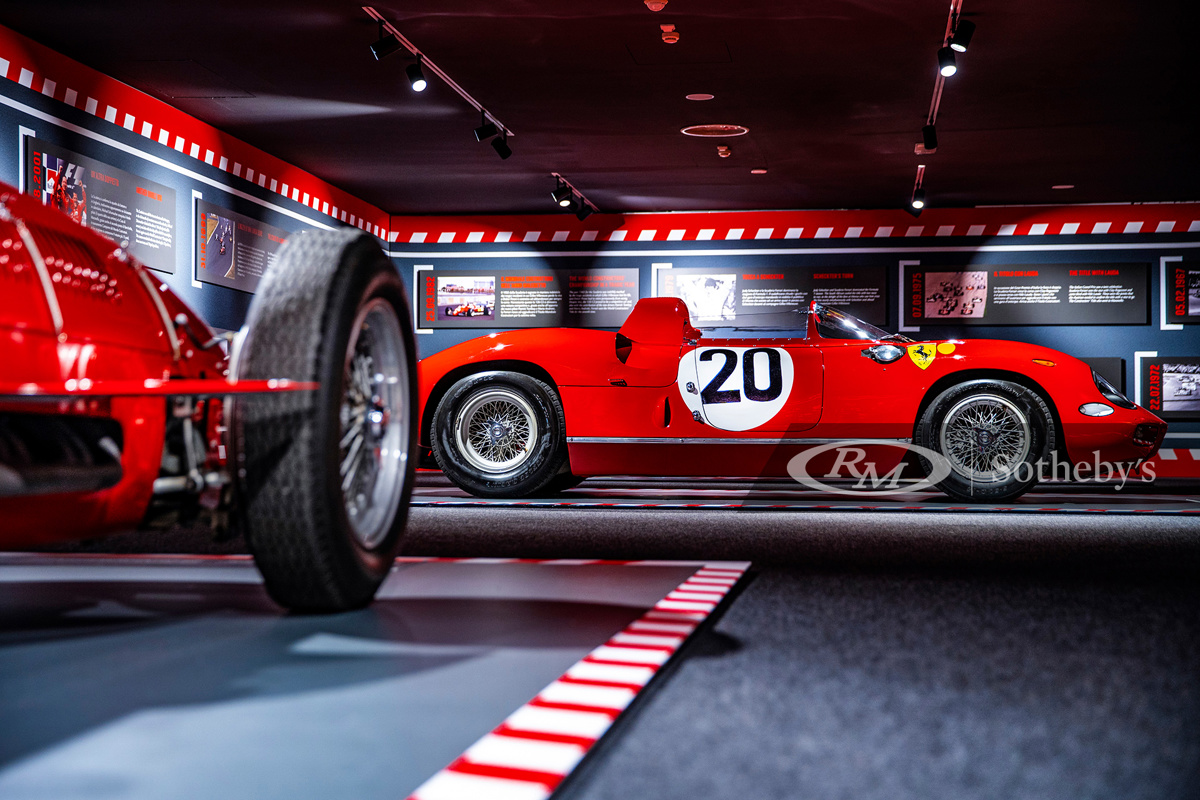 2021 Formula 1 Grand Prix Race Experience at Ferrari Gestione Sportiva, Maranello
Estimate: €12,000 - €14,000. Offered Without Reserve.
Especially for true Ferrari fans, perhaps the most exciting listing of all is an opportunity to personally visit the birthplace of the SF1000, as well as all future Ferrari race cars at Ferrari Gestione Sportiva Maranello (Ferrari's Sporting Management facilities). View Ferrari's race history firsthand in this museum-like setting, including a faithful recreation of Enzo Ferrari's office. This incredibly exclusive experience will be offered to only three lucky parties; certainly, the kind of tour Ferrari's F1 rivals would love to attend.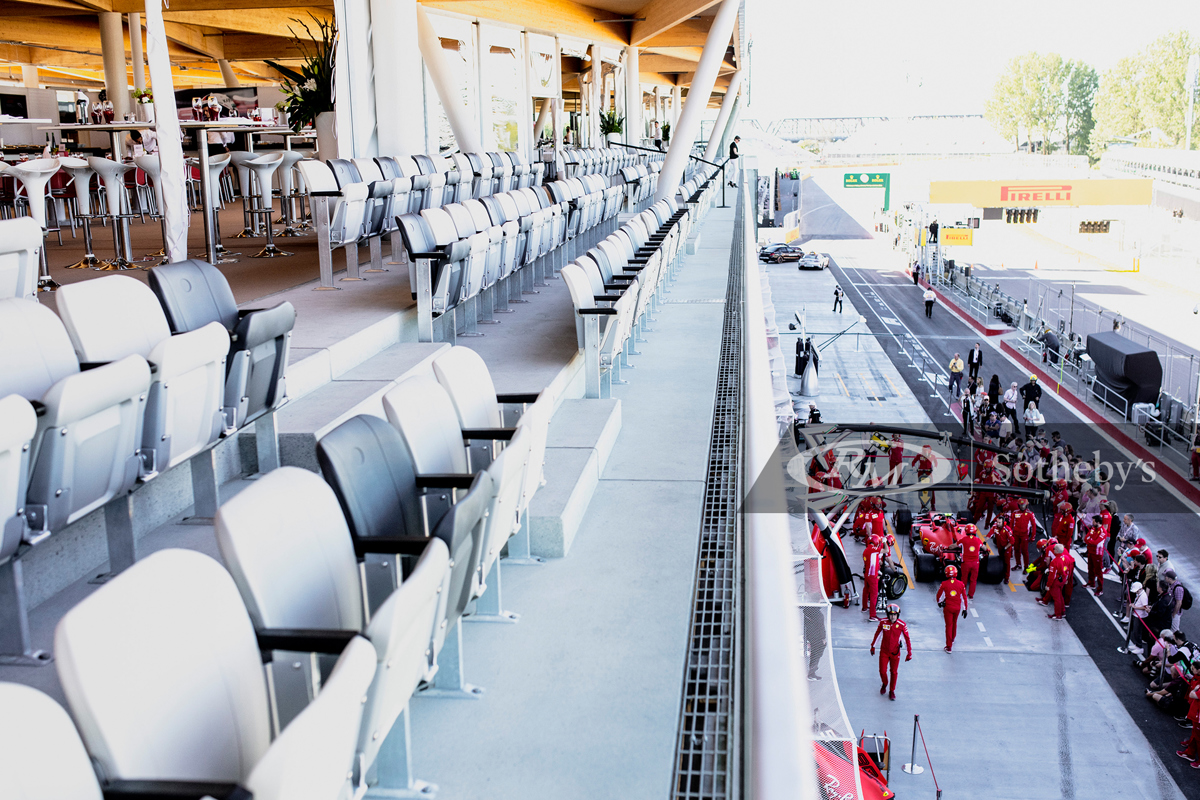 Behind the Scenes Experience with Scuderia Ferrari at a 2021 Formula 1 Grand Prix
Estimate: €24,000 - €26,000. Offered Without Reserve.
The final Ferrari lot on today's list offers an even more immersive experience for those who want to see the Scuderia up-close and in-person. Offered to only two parties, this truly is the chance of a lifetime for F1 fans to see how Leclerc and his future teammate, Carlos Sainz Jr., react to the changing regulations in the 2021 season. The ultimate behind-the-scenes vantage point on the future of the prancing horse's proudest division.