Finding the right accessory can be akin to the final piece in a puzzle game. Even after a lifetime of careful car ownership, fixing all the issues that naturally arise with any vintage vehicle, one can find themselves still missing…something. Whether it is an original owner's manual, its pages still crisp from lack of use, or something more dashing, like an ashtray shaped with the same graceful dish of a Nardi steering wheel, having the right auto accessories can make your favorite car feel that much more complete.
As part of our Online Only: Open Roads, April auction, the following lots offer something for fans of all brands of classic automobiles. Hopefully, at least one of these lots will complete the puzzle for at least one eager automotive collector, though time is of the essence, as these desirable lots are all offered without reserve: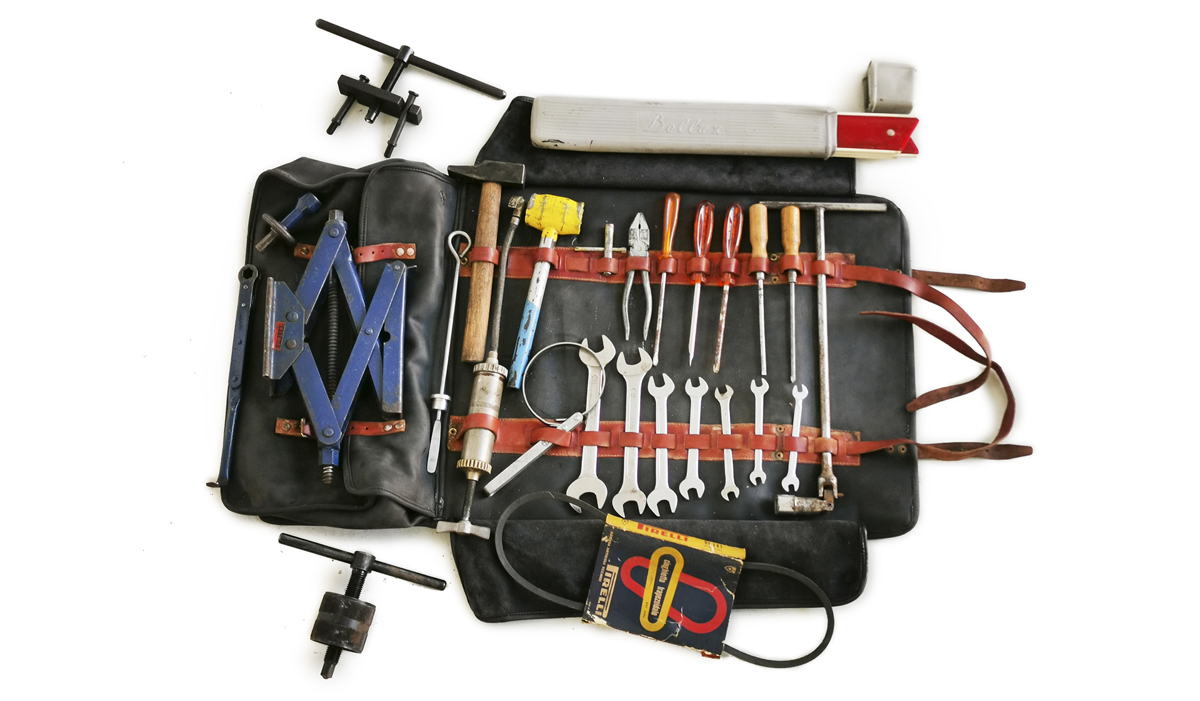 Ferrari 275 Tool Kit with Jack
Estimate: €8,000 - €12,000 EUR

 

|

 

Offered Without Reserve

 

Perhaps the ultimate automotive accessory, original tool rolls are collections in and of themselves. If the kit which came with your car is incomplete, sourcing the exact wrenches, belts, and screwdrivers that were included originally can be a multi-year process. For owners of perhaps the pinnacle front-engine Ferrari, this complete, period-correct tool roll is a prize indeed.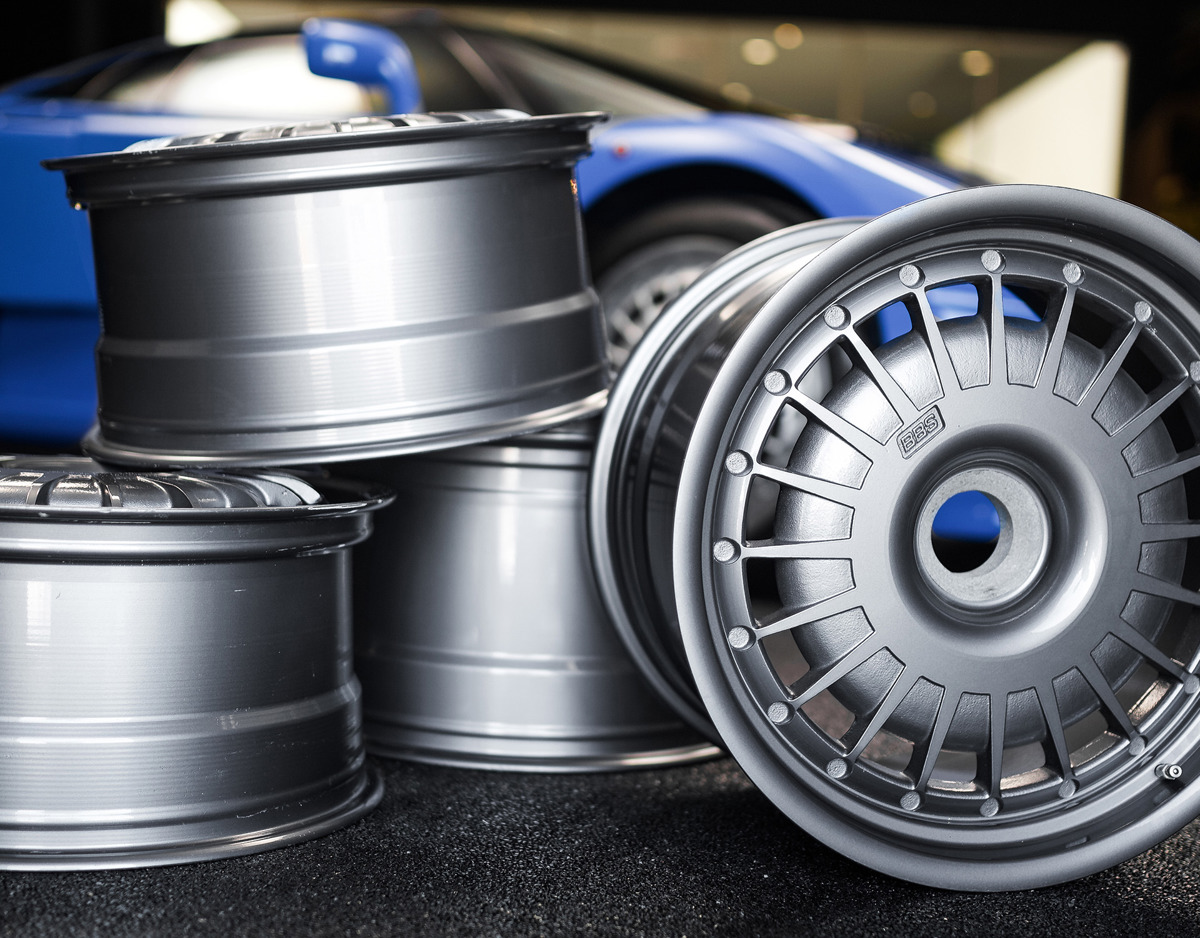 Set of Bugatti EB110 Wheels
Estimate: €8,000 - €12,000 EUR 

 

|

 

Offered Without Reserve

 

Our list of ultimate automotive accessories would be incomplete if we focused on only one brand, however legendary they may be. Other Italian exotics need their time in the sun, too, after all. These magnesium wheels were made for the revival of the founded-in-Alsace, France, based-in-Italy boutique supercar brand, which in the mid-1990s was enjoying a renaissance, courtesy of Romano Artioli. Though today, with the benefit of hindsight, we know the story ends happily, with the VW Group purchasing the rights to the famous name and taking it to the next level in the 21st century, but before that, the fate of Bugatti was in Artioli's hands. Luckily, he was a true enthusiast (and also the father of the Lotus Elise); the accessories on Artioli's Bugatti EB110 were built to be exceptional. These 18-inch, two-piece magnesium wheels were manufactured by BBS: 9-inches wide in the front, and 12-inches in the back. Extreme, perhaps, but necessary for the first quad-turbocharged production car.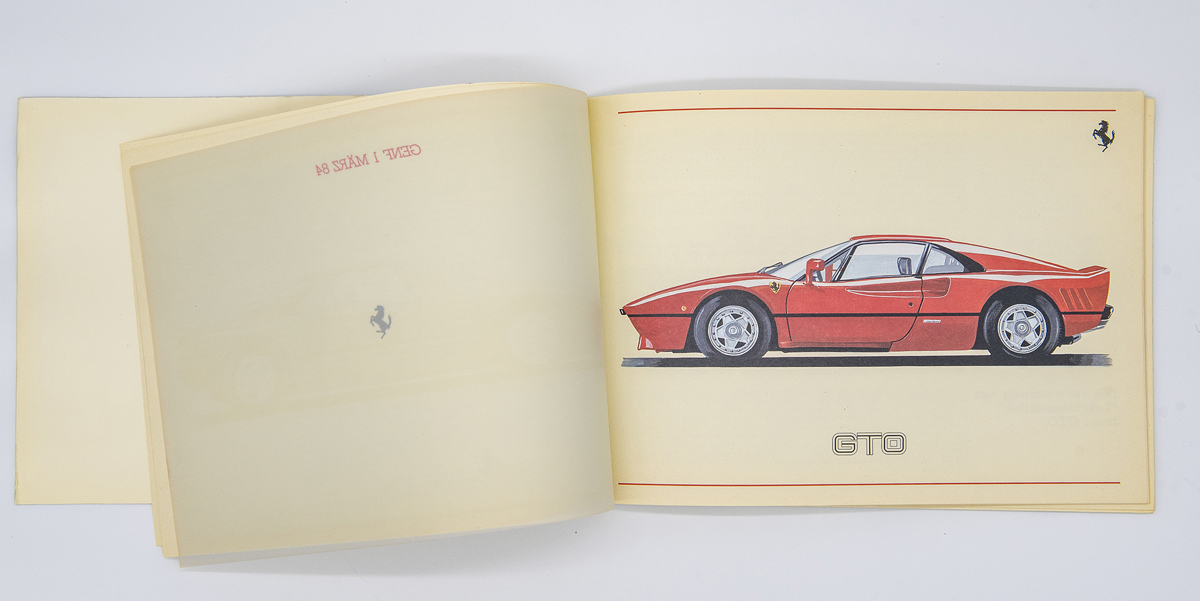 Ferrari 288 GTO Owner's Manual Set with Folio
Estimate: $5,500 - $6,500 USD

 

|

 

Offered Without Reserve

 

In terms of literature, the original printings of Ferrari owner's manuals are akin to the first editions of beloved books by great authors. With one exception: Re-prints are rarely (if ever) commissioned, making the few surviving copies truly coveted works of art. And with gorgeous artwork showing the profile of one of Ferrari's greatest ever road cars executed so elegantly, these owners' manuals would not look out-of-place as framed artwork.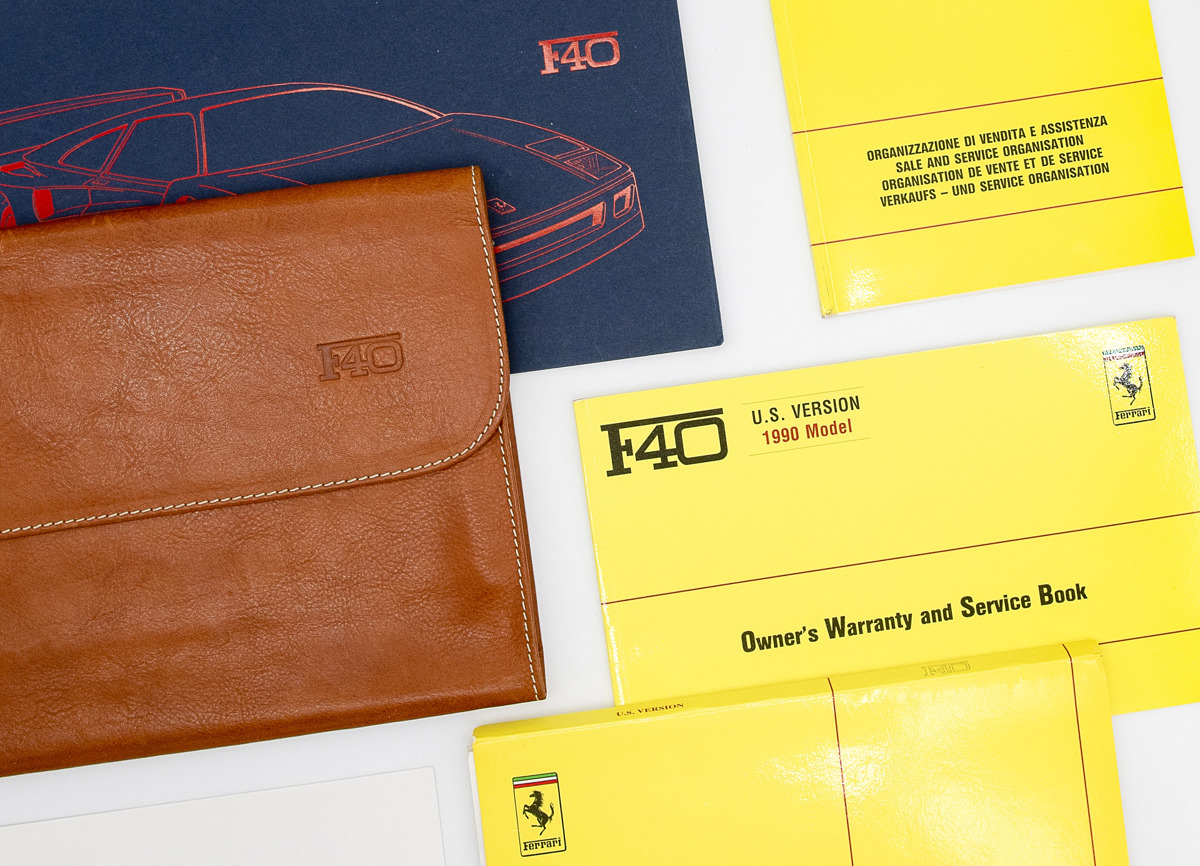 Ferrari F40 Owner's Manual Set with Folio, US Version, 1992
Estimate: $5,500 - $6,500 USD 

|

 

Offered Without Reserve

 

No matter the model, Ferrari has a long heritage of presenting its proud owners with literature that they can carry with confidence. Hence the history of offering owner's manuals, wrapped in fine Schedoni leather (the Milan-based brand's imprint can be seen on the inside of this handsome cover). The commodious cover also includes the original F40 sales brochure, warranty and service book for the 1990 model, consumer information, technical manual, and sale and service organization book.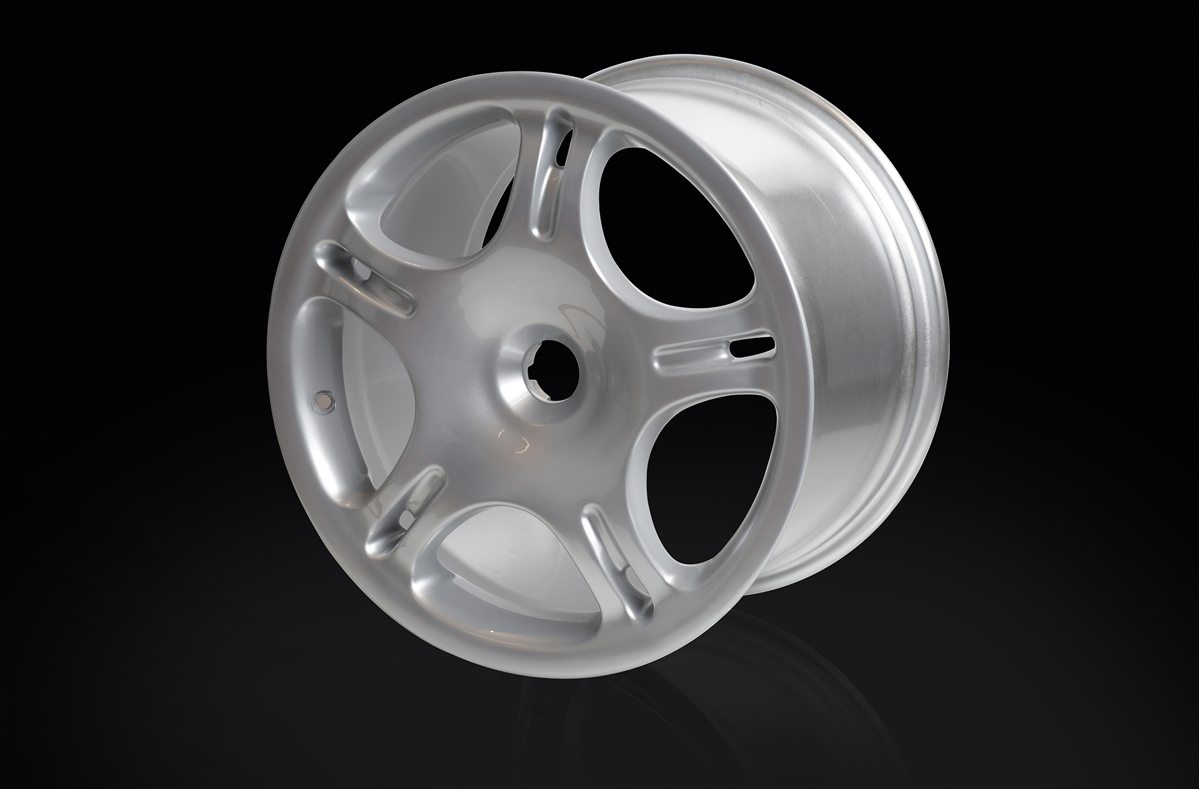 McLaren F1 Wheel
Estimate: £3,000 - £5,000 GBP

 

|

 

Offered Without Reserve

 

While one wheel is included in this lot (as opposed to the four featured on our EB110 cover star), this is certainly one exceptional wheel. From its inception, the McLaren F1 project was determined to re-write the rule book on how to build a super-sports car, an ethos that can be seen as far back as the original press release. Project leader (and current living legend) Gordon Murray was keen to emphasize that his new hypercar's design started where the rubber literally met the road: With the wheels and "tyres." As the original release states: "The McLaren F1 rides on purpose-designed OZ Racing wheels, painstakingly developed to match the car's character. They are cast like Formula 1 racing wheels in aerospace-grade magnesium alloy and feature sophisticated anti-corrosion measures to ensure sustained performance and appearance throughout the McLaren F1's long-predicted service life.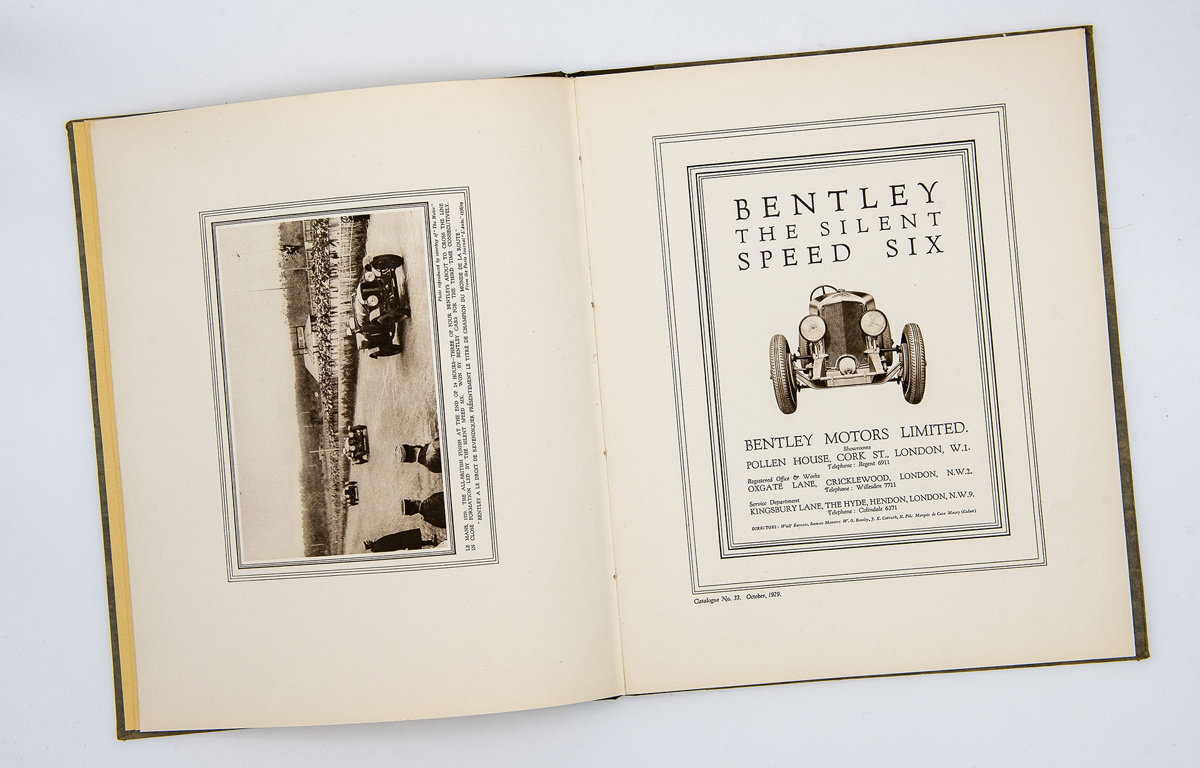 Bentley Speed Six Hardcover Sales Brochure
Estimate: $2,500 - $3,500 USD

 

|

 

Offered Without Reserve

 

Physical proof that "they no longer make them like they used to," this pre-war Bentley Speed Six Sales Brochure resembles our modern brochures in name only. As much of a historic artifact, documenting the British brand's endurance racing success at Le Mans, as a mere "advertisement," the equally enduring Bentley legend was built, at least in part, by hard-bound literature like this example.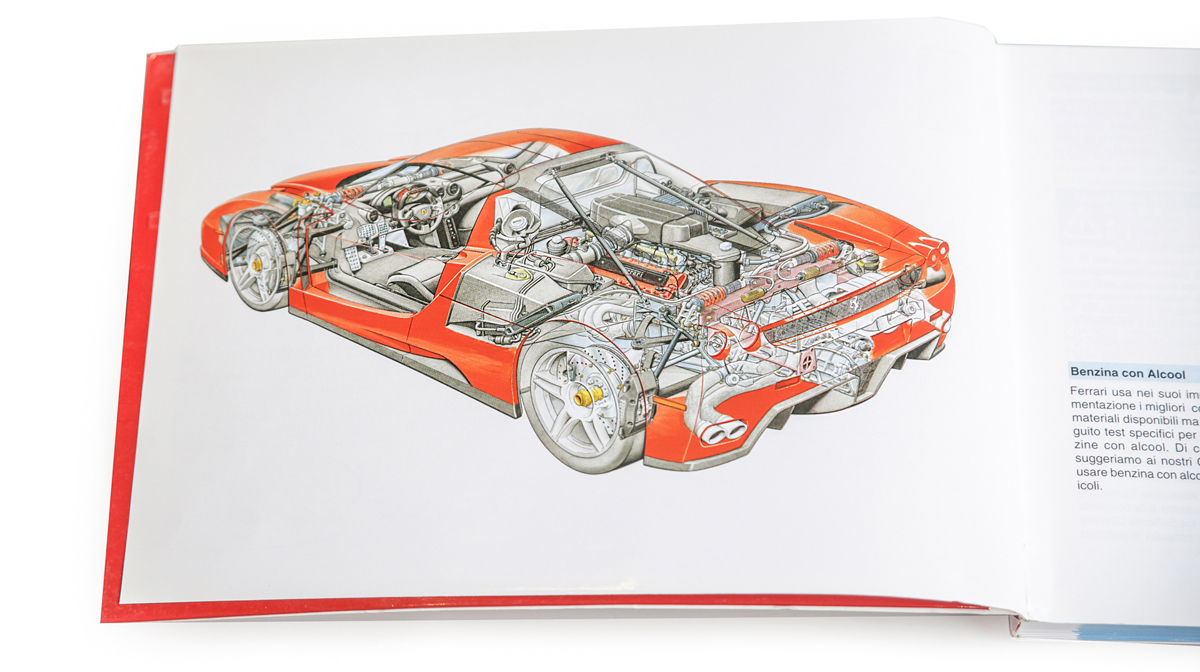 Ferrari Enzo Owner's Manual, Warranty and Service Book, and Folio
Estimate: £1,500 - £2,500 GBP

 

|

 

Offered Without Reserve

 

While the literature of today might be measurably less tough in terms of printing and binding, by the dawn of the 21st century, these items were unquestionably luxury items, from the quality of paper involved to the intricate technical drawings included. Another example of frame-worthy Ferrari artwork that happens to appear in an owner's manual, put simply, they could not make them like this back then.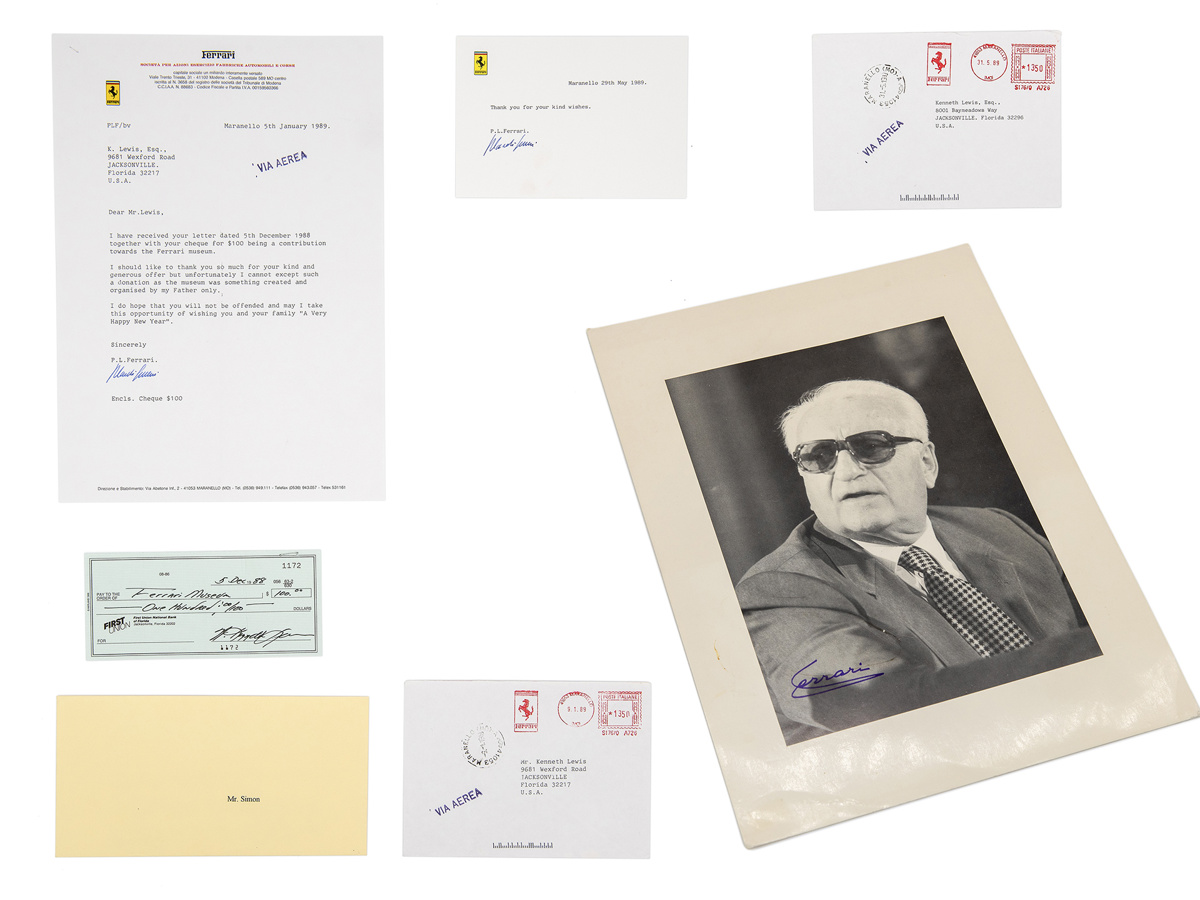 Enzo and Piero Ferrari Signed Ephemera
Estimate: $1,200 - $1,500 USD

 

|

 

Offered Without Reserve

 

Evidence that the culture of devoted enthusiasts founded by Enzo Ferrari is about more than just mere automobiles, the signature of "Il Commendatore"—resplendently recreated in Enzo's favorite shade of ink—itself commands a following. An icon in every sense, ephemera that has been personally blessed by the founder of Ferrari, like this example, are artifacts of automotive history.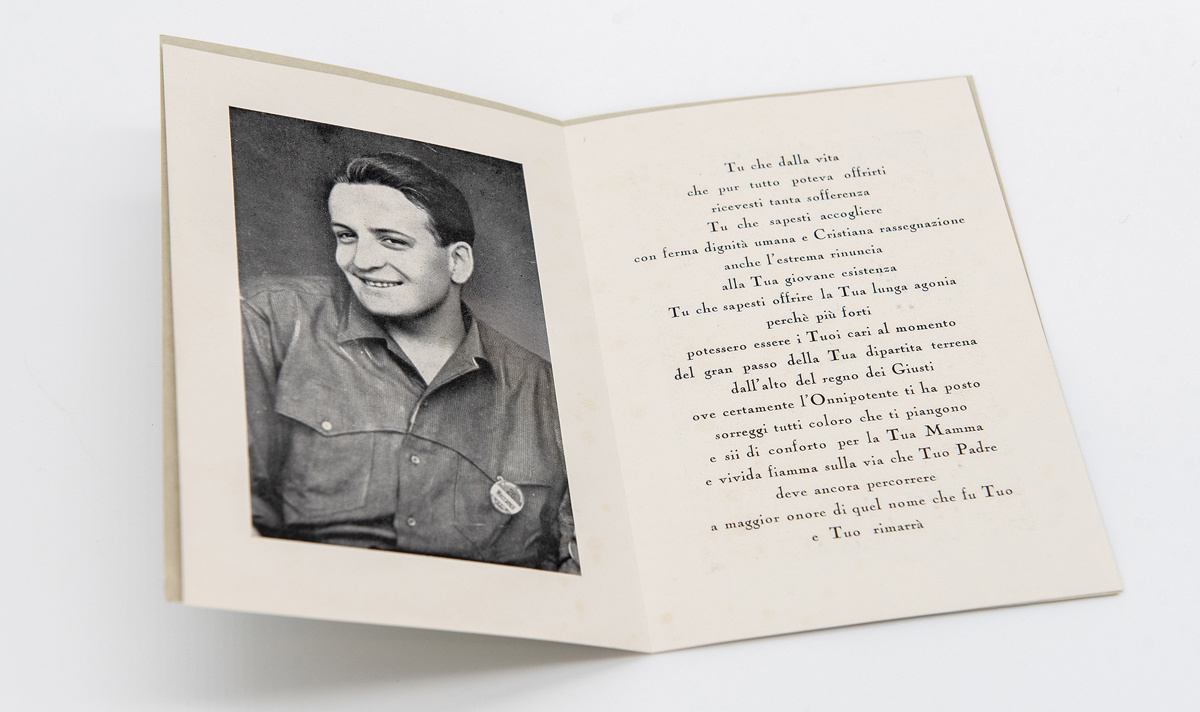 Alfredo Ferrari Funeral Announcement, 1956
Estimate: $800 - $1,200 USD

 

|

 

Offered Without Reserve

 

An extremely personal man, the death of Enzo Ferrari's beloved son Alfredo was a personal blow unlike any other. After all, Ferrari was a man who celebrated notable birthdays by giving his workers the day off (while he diligently worked from his desk); it only makes sense that he would turn extreme tragedy into opportunity, launching the "Dino" in memoriam. The rest, as they say, is history.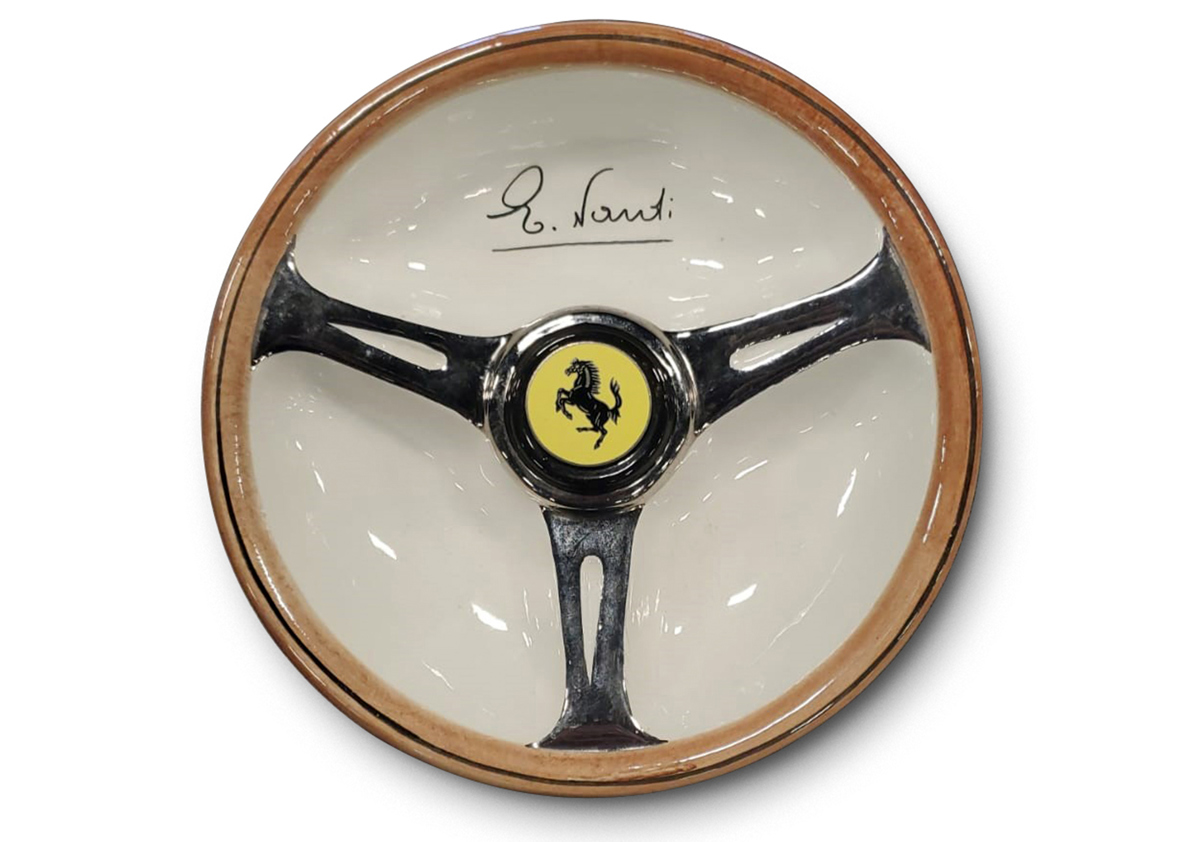 Nardi Ferrari Steering Wheel Ceramic Ashtray
Estimate: $2,000 - $3,000 USD 

|

 

Offered Without Reserve

 

Though a quick glance at this piece of glazed, mid-century artwork might leave the impression of the deeply dished steering wheel made famous on the most sporting Ferrari (and Porsche) models, it is in fact a well-executed ashtray. Sporting the famous signature of Enrico Nardi, this well-executed steering wheel is almost too beautiful to use as intended.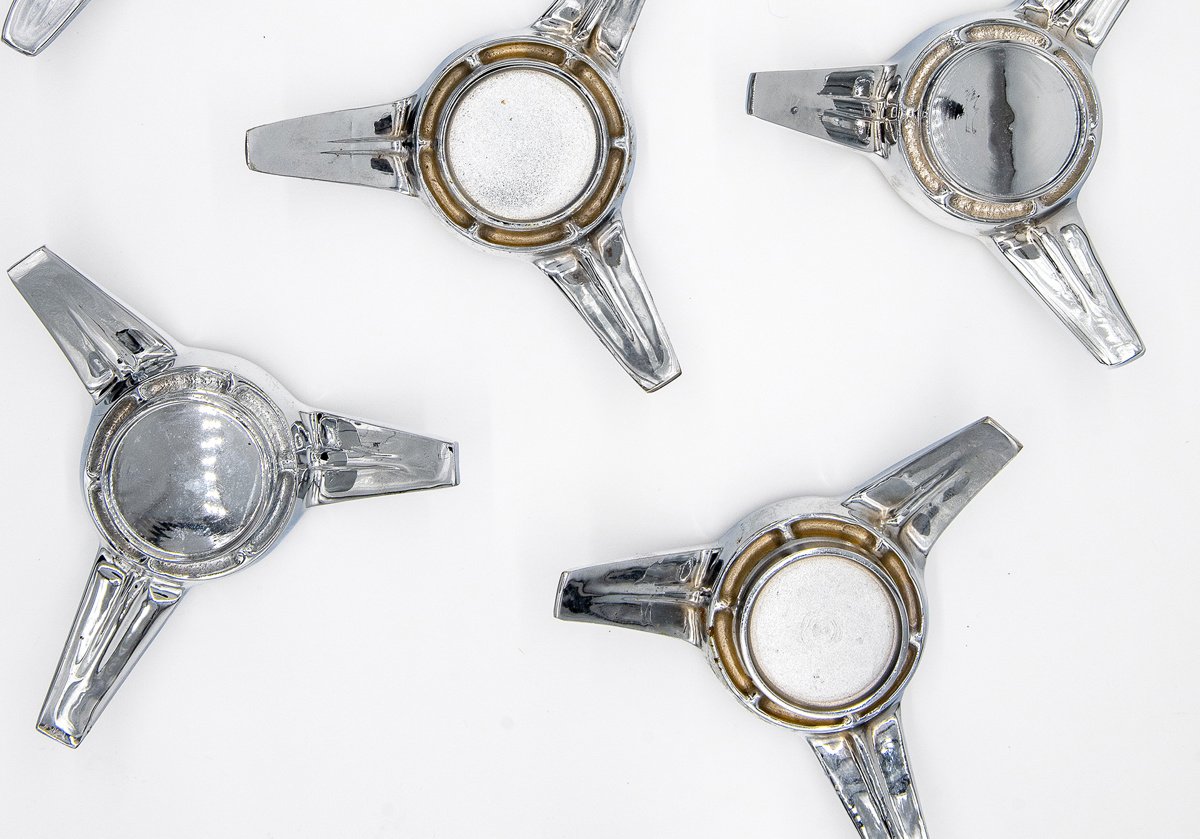 Set of Three-Eared Knock-Offs
Estimate: $800 - $1,200 USD

 

|

 

Offered Without Reserve

 

One of the most immediately practical designs in wheel history, the three-eared "knock-off" wheel hub is so-called because removal (usually via a rubber mallet) is made easy for quick pit stops. Today, cars with three-eared knock-off wheels are valued as much for their aesthetic qualities as for their practicality. This set is believed to be from a 1970s-era Lamborghini.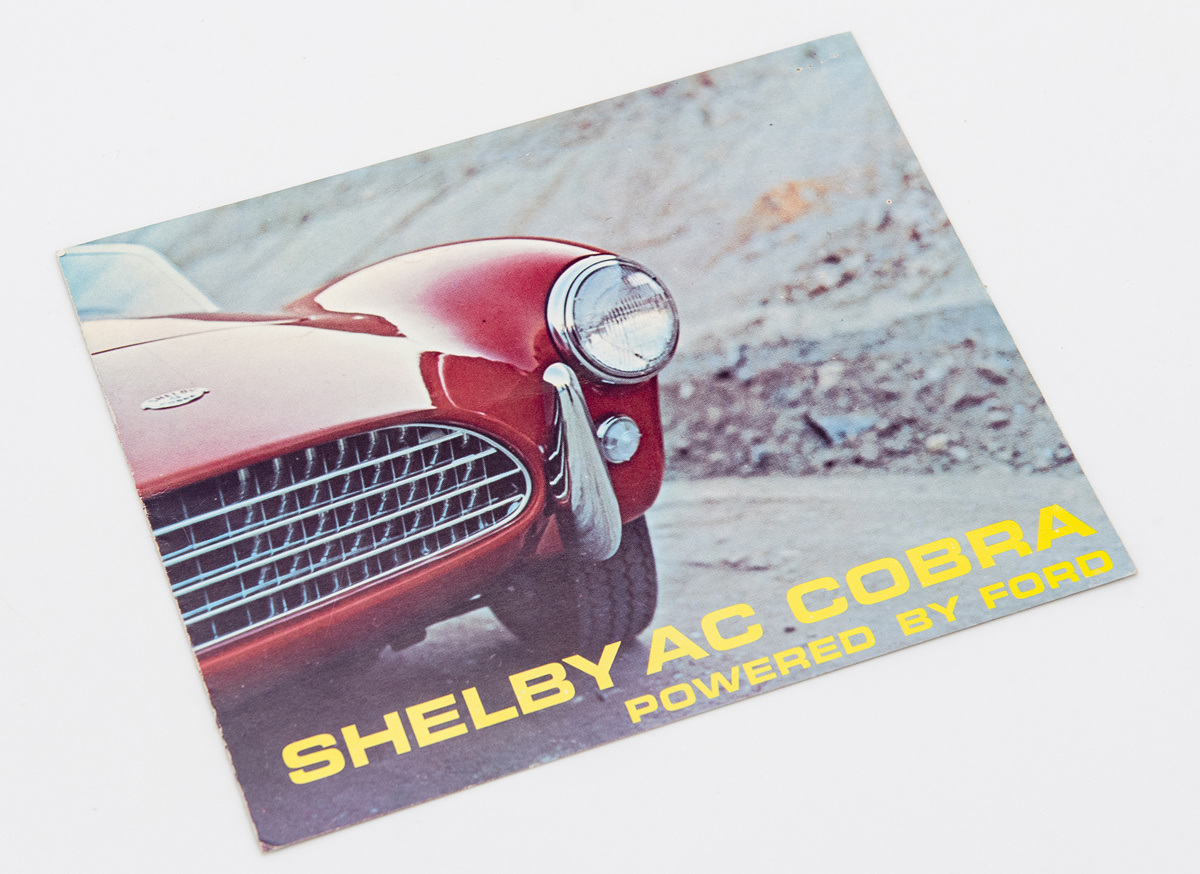 Shelby AC Cobra Sales Brochure
Estimate: $600 - $800 USD 

 

|

 

Offered Without Reserve

 

Our list of automotive artifacts would not be complete without mentioning Ferrari's main rival. Worthy of inclusion merely for its evocative, period photography, this sales brochure is fascinating from a marketing perspective. Carroll Shelby's company matured quickly, eventually competing against Ferrari head-on, but examples like this well-considered brochure suggest that Shelby was bound for success, even at this early age.