Whether the Woodies in question were constructed before or after WWII; whether they were originally American or, as in some rare examples, built in Europe, any car wearing wood accents is essentially a special thing. Because of the inherent qualities of the grains, textures, and patterns of the hand-selected and environmentally diverse types of woods used in these examples, each of them is essentially unique. Because of this inherent complexity, each of these examples, whether assembled in the pre-or post-war period, had to be finished by hand. The special feeling that one gets when spotting a Woodie driving on the road can partly be explained by this experience of uniqueness. Woodies are unlike any other vehicle on modern roads.  
Woodies, it goes without saying, are also essentially fun. Whether built in a sporting Shooting Brake style or even as a resort-bound Station Wagon, spying a Woodie implies the viewer is on a vacation of sorts. Perhaps the quintessential view of beaches on either the coastlines of California or Florida is a parking lot filled with Woodie wagons, surfboards attached. While these days, serious collectors have moved into the Woodie world recognizing the coachbuilt qualities of some of these early examples, many of which would not dare be driven near the beach. No matter, as the next owners of these sporting examples will get to decide how to drive their Woodies, all available at RM Sotheby's signature classic autumn auction from 7-8 October 2021 in Hershey, PA: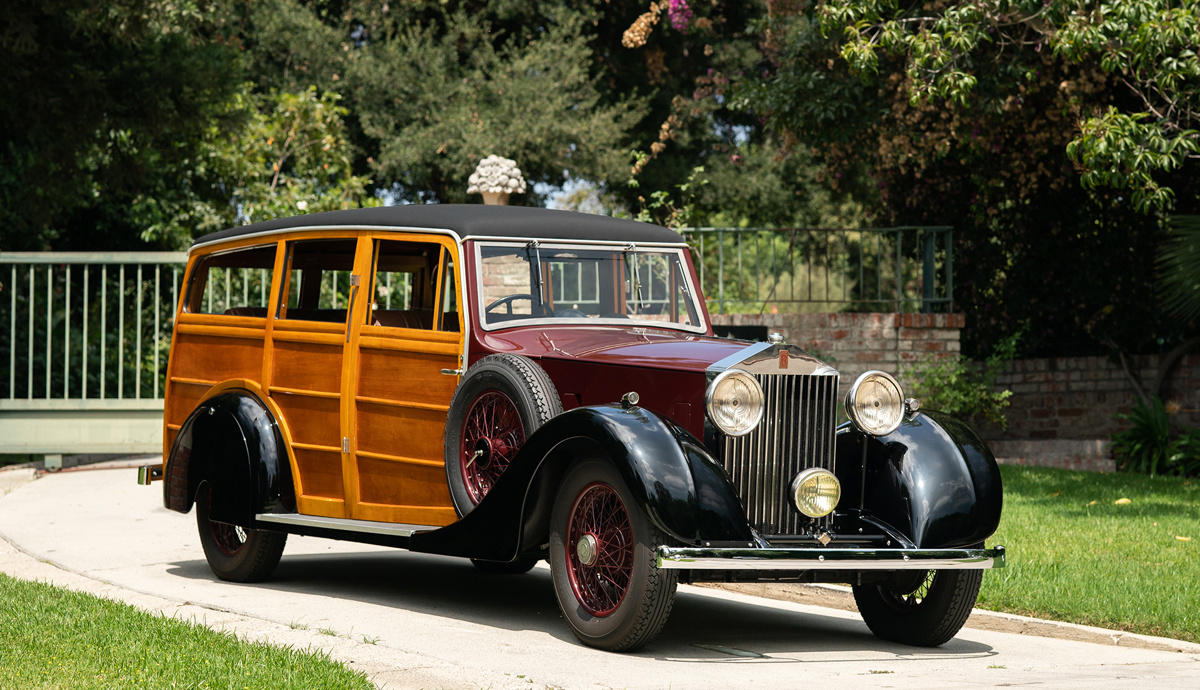 1932 Rolls-Royce 20/25 Shooting Brake
Estimate: $75,000 - $100,000 USD
While occupying a status almost since its inception as the consummate British luxury brand, built for royalty and those aspiring to be, Rolls-Royce understood relatively early that even its most elite clients wished to pilot themselves from time to time. The 20/25 model, launched originally in 1929, offered a sporting 3.6-litre straight-six-cylinder engine, which boasted far superior power-to-weight figures relative to its 20 HP predecessor launched in the aftermath of WWI. Like many Shooting Brake-styled Rolls-Royce examples, this chassis was originally ordered as an Enclosed Limousine, with swooping coachwork and English Ash interior courtesy of the Queen's own coachbuilder, Hooper and Co. Originally procured by a British barrister and later Liberal politician based in London named Sir Ronald Wilberforce Allen, this example was subsequently reborn in the Shooting Brake style, complete with a reinforced fold-down rear hatch opening, perfect for a gentleman to balance his firearm and favorite hunting dogs. Or a generous picnic for two. Either outing would fit the carefree nature of this upscale Woodie.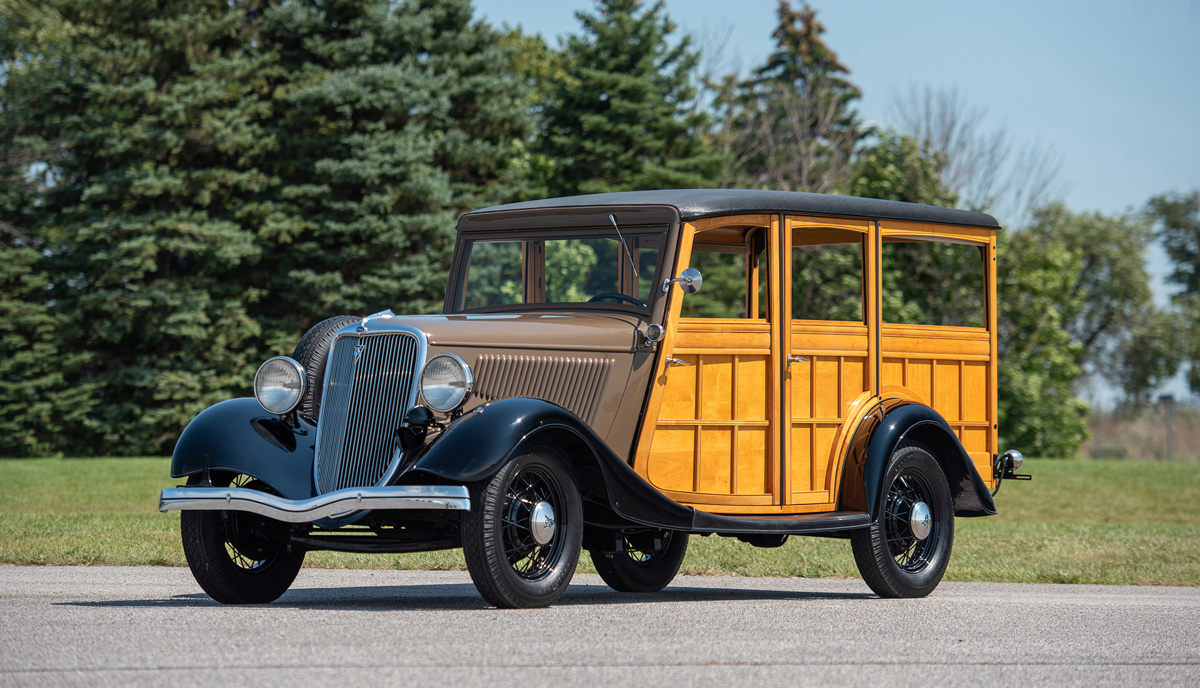 1934 Ford Station Wagon
Estimate: $50,000 - $60,000 USD
While the implied meaning of a typical station wagon has shifted in the modern era, originally, these wood-framed vehicles quite literally served as professional vehicles, outfitted by fine resorts around the world to pick up travelers who had just arrived at train stations. Typically open all-around to maximize both outward visibility for passengers as well as airflow, these vehicles were perfect for warm-weather resorts, favored by the fortunate few who were able to travel during the later years of the Great Depression. This particularly well cared-for professional car, powered by the venerable "flathead" Ford V-8 engine, only showed barely over 3,072 miles at the time of cataloguing, a slim figure. Worth a closer look for the condition of its engine as well as handsome Naugahyde interior, this example is made even more desirable by the relatively scant build quantities: this Ford Station Wagon is one of a mere 3,000 built in 1934.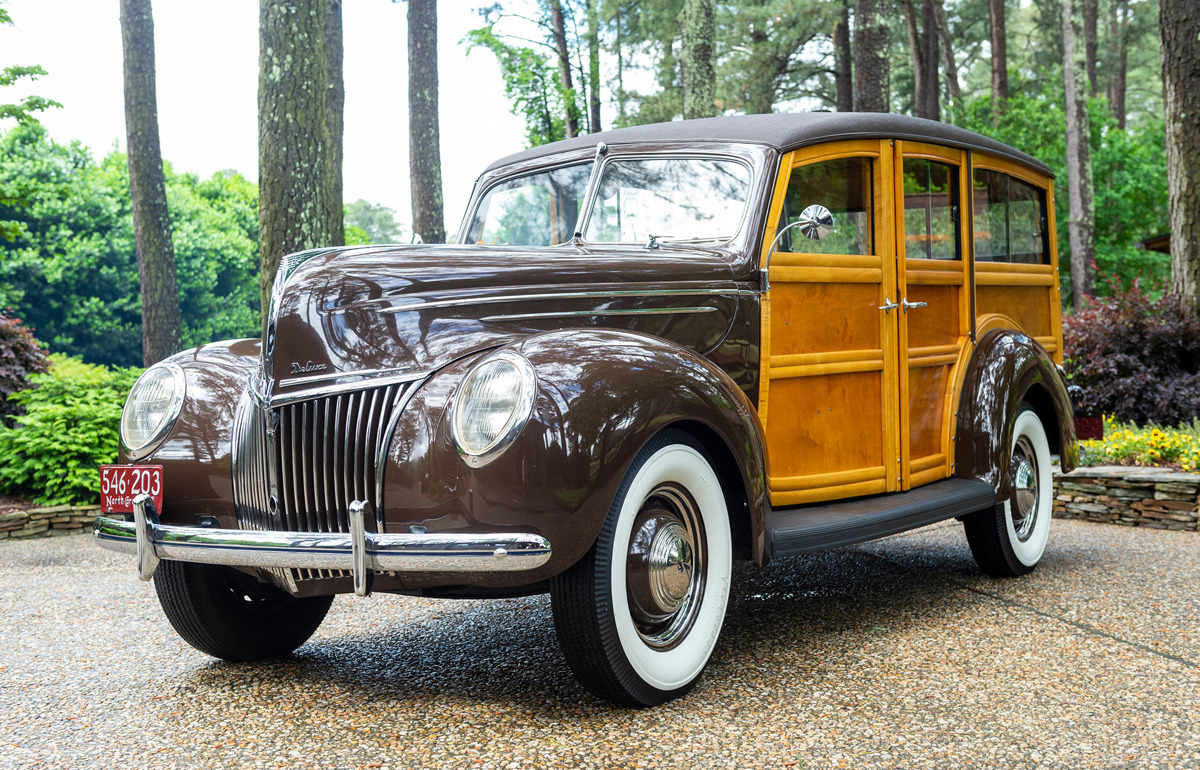 1939 Ford V-8 DeLuxe Station Wagon
Estimate: $60,000 - $75,000 USD | Offered Without Reserve
By the later part of the 1930s, wood-bodied Station Wagons had earned a wider appeal with an upmarket audience. This DeLuxe branded example earned its name with a handsome Banjo steering wheel, beautiful Birds-Eye maple wood, and an optional heater, perfect for early morning cruising. Featuring third-row seating, the goal of many modern manufacturers, this pre-war Ford is built to carry an entire family in style, no matter the era. Riding on new Firestone whitewall tires and equipped with both a radio and working clock, as well as excellent original running boards, this Ford is the perfect vehicle for warm weather adventure.  
1946 Pontiac Streamliner Eight Deluxe Station Wagon
Estimate: $75,000 - $100,000 USD
Moving into the post-war period with this striking and rarely seen Pontiac Streamliner 8 Deluxe, one can witness the evolution of the wood-bodied Station Wagon. Once implying bodies constructed fully of wood, after World War II, the Woodie style remained intact until 1949, which was the final year parent company General Motors constructed non-steel bodied station wagons. For 1946, the Silver Streak inline eight-cylinder-powered Streamliner Deluxe Station Wagon represented the most expensive car offered by Pontiac and measured a commanding 5.48 meters in length. With interior upholstery in two-tone fabric and brown vinyl, this top-tier station wagon balanced a sporting nature with a premium feel. Inside, passengers and driver alike will delight in the spacious atmosphere created by its wood-bodied construction. A post-war gem, popular among Pontiac fans.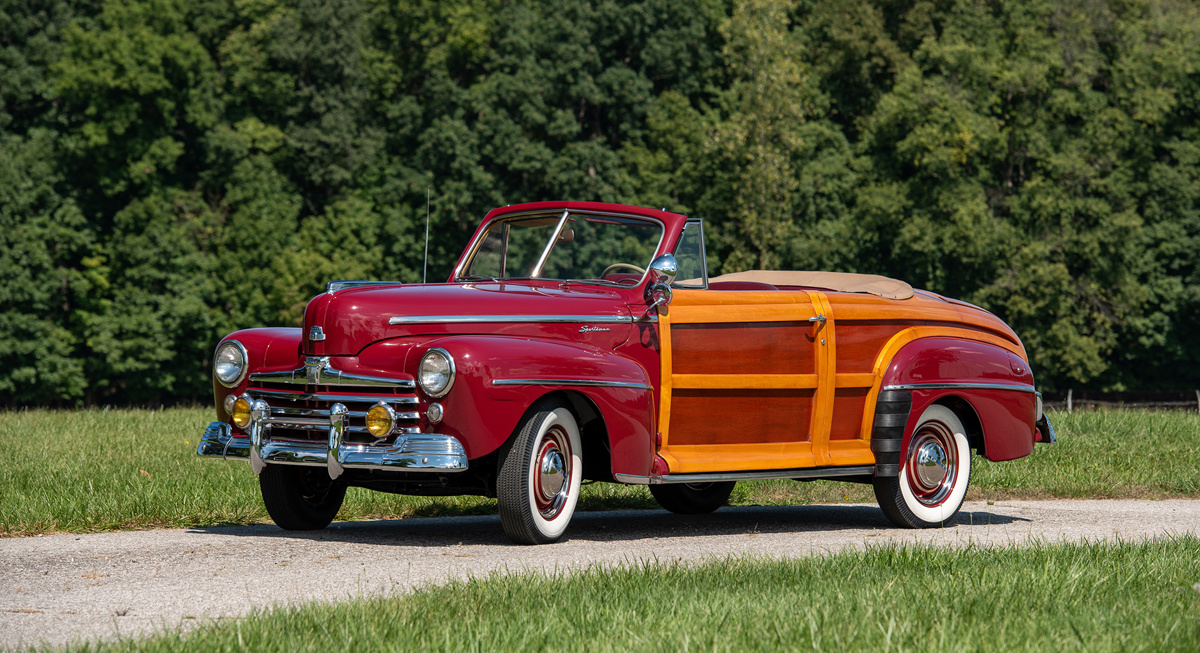 1947 Ford Super Deluxe Sportsman Convertible
Estimate: $100,000 - $125,000 USD
One of the few convertible Woodies ever constructed by any automaker, this Deluxe Sportsman was assembled at Ford's Iron Mountain plant in northern Michigan. Featuring an elegant blend of three types of wood from timber grown in traces owned by Henry Ford, including Mahogany, Birch, and Maple, which combine to create a handsome layered effect. Designed by Ernest "Bob" Gregorie under the encouragement of Henry Ford II, the Deluxe lived up to its moniker with real leather interior, French stitching, and power windows. Though the wood-bodied Sportsman Convertible was five hundred dollars extra compared to its steel-bodied sibling, this early example of a "halo" model proved its worth by attracting customers into Ford dealerships in the first few tentative years after World War II. Finished in Pheasant Red with a maroon-toned interior and a rich tan canvas soft top with matching boot cover, this well-optioned and accessorized example is outfitted with the cabin heater, power windows, bumper guards, dual side mirrors, factory Ford-script spotlight, amber fog lights, sun visors, a clock, an AM radio, and color-keyed steel wheels with factory "dog dish" hubcaps and Firestone wide whitewall tires.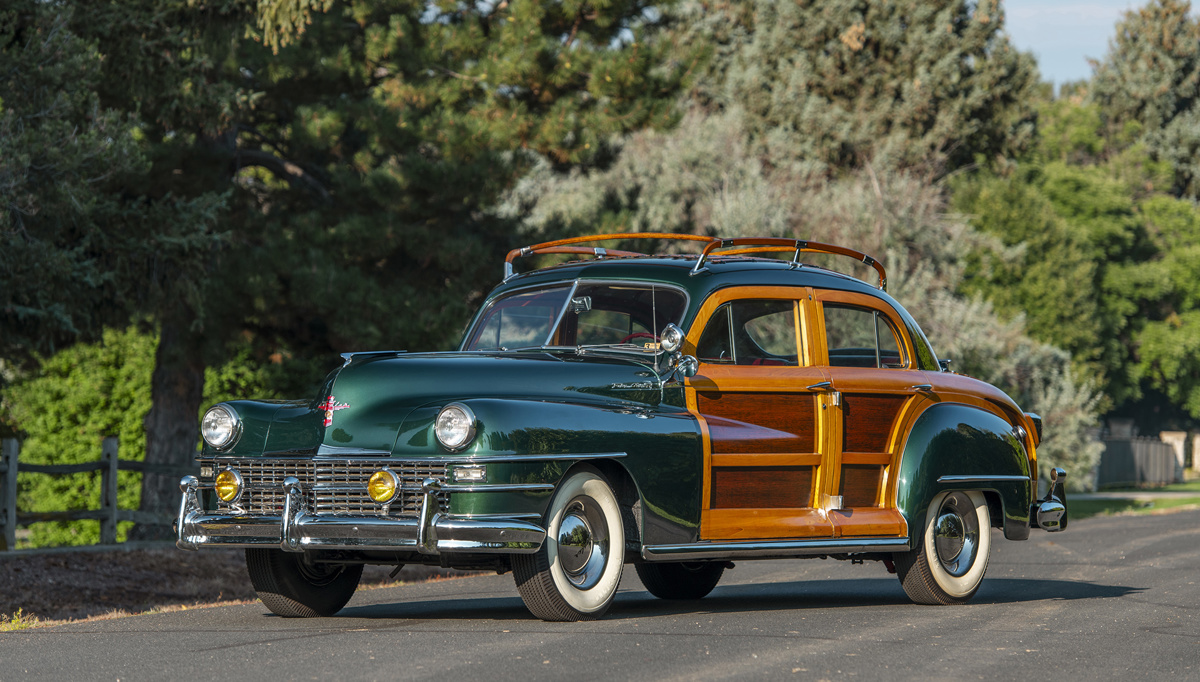 1948 Chrysler Town and Country Sedan
Estimate: $75,000 - $90,000 USD
Part of what made Woodies so desirable in the post-war period was their limited production figures in the pre-war era. Though demand for these distinctive vehicles was even stronger in the years after World War II, the total production figures were limited by the complexity of perfectly matching both natural and man-made materials, right down to the Town and Country's signature chrome roof rack with wood skid panels, a feature sported by all Sedan models. Inside, the adventurous theme continued with Highlander Plaid cloth inserts perfectly accenting the Burgundy leather. Befitting the Town and Country's hand-crafted construction, only 1,175 Sedan models were constructed in 1948. Perhaps more pertinently, given the sporting nature of the model, Town and Country authority Donald Narus estimates this car is one of only 41 known to survive. Deservingly included in the Classic Car Club of America's prestigious list of Full Classics, this delightful example lives up to its dual-natured name.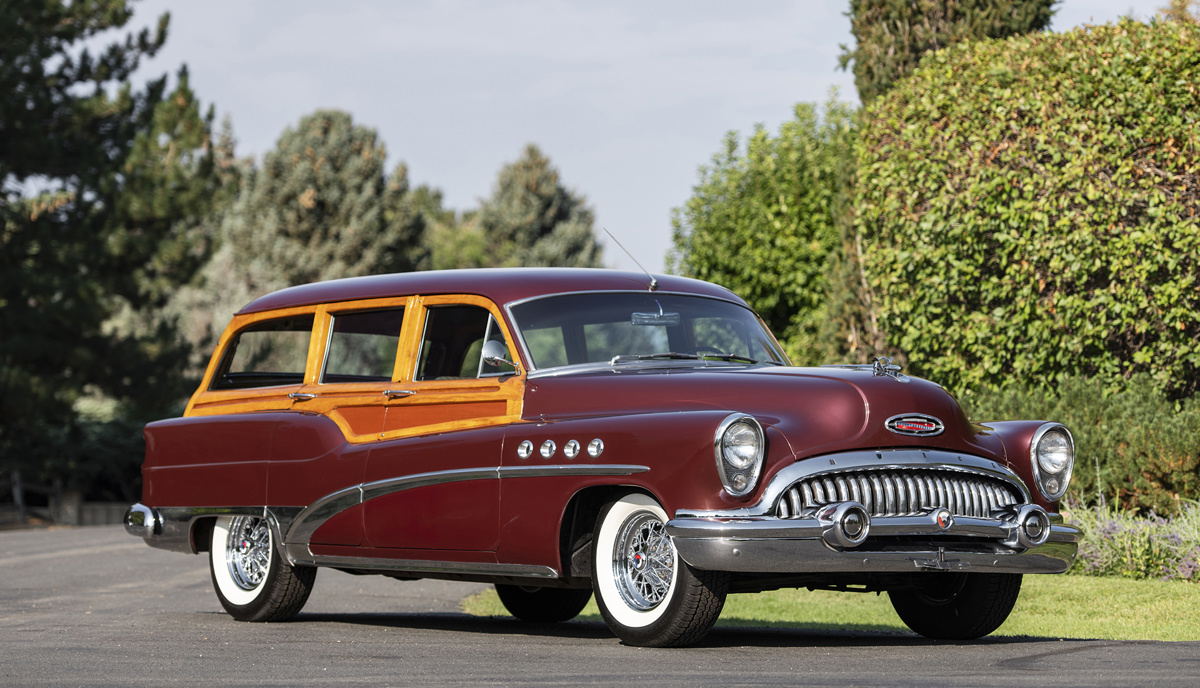 1953 Buick Roadmaster Estate Wagon
Estimate: $65,000 - $80,000 USD
The final lot on our list of expressive Woodies is this post-war Buick Roadmaster. As the introduction of new car models picked up again for Detroit's Big Three automakers starting in 1949, the trio shifted from wood-bodied cars to using wood-accented doors, panels, and trim. Perhaps the ideal blend of structural stability with the evocative surfacing offered by wood, the period Buick advertising materials echoed this mixture, describing the Estate Wagon model as "perfectly at ease with casual clothes…equally so at white-tie-and-tails affairs." Riding, naturally, on Goodyear wide whitewall tires with Kelsey-Hayes wire wheels and powered by the equally outstanding Buick 332 cu. in. "Fireball" V-8 engine, this example is one of a mere 670 made for the model year. Approximately three times less common than its steel-bodied Super Wagon sibling, this Estate wagon shows that the addition of a natural material, thoughtfully constructed, produces an authentically desirable automobile.