When it comes to natural materials, there are few resources that can replenish themselves like wood. Less expensive to harvest than mining minerals and less dangerous to form than stamping steel, timber was plentiful in the woods of northern Michigan in the early 1900s; the only problem was transporting the felled trees, as the modern network of high-speed roads and trucking had not been established yet. Ford's solution was another natural one: Using the waterways of Michigan as a sort of timber superhighway straight to the River Rouge plant. Starting as early as 1919, Model T cars were shipped in wooden boxes made from timber from Ford's Iron Mountain facility in Michigan's Upper Peninsula; used wood was pressed and recycled to charcoal, forming the Kingsford charcoal company in the process.
That same spirit of resourcefulness and ingenuity still fuels the charm of wood-bodied cars today. Whether the wood makes up the structural components of the car or merely provides an all-natural aesthetic enhancement to its exterior, Woodie wagons, convertibles, and sedans are American by their very nature; practical and lighthearted all at once. RM Sotheby's appreciates the innate appeal of a Woodie, especially when parked under a palm tree, within view of the ocean. As such, we are extremely proud to present these three rarely seen icons of the Woodie world, all headed to our annual Amelia Island auction, set for 22 May 2021:
1934 Dodge KCL Westchester Suburban by Cantrell
Estimate $30,000 - $40,000 USD 

|

 

Offered Without Reserve

 

The impressive self-sufficiency that Ford started with his timber traces in Northern Michigan was enviable, but difficult to replicate for his in-period competitors. After Ford released a station wagon variant of the Model A with a wooden body and framework in 1929, Dodge was keen to get in on the action. Unfortunately, unlike Ford, they had no untapped forest from which to draw materials, so instead, Dodge enlisted external bodybuilders to execute fully formed wooden frames on their commercial-grade 109-inch chassis.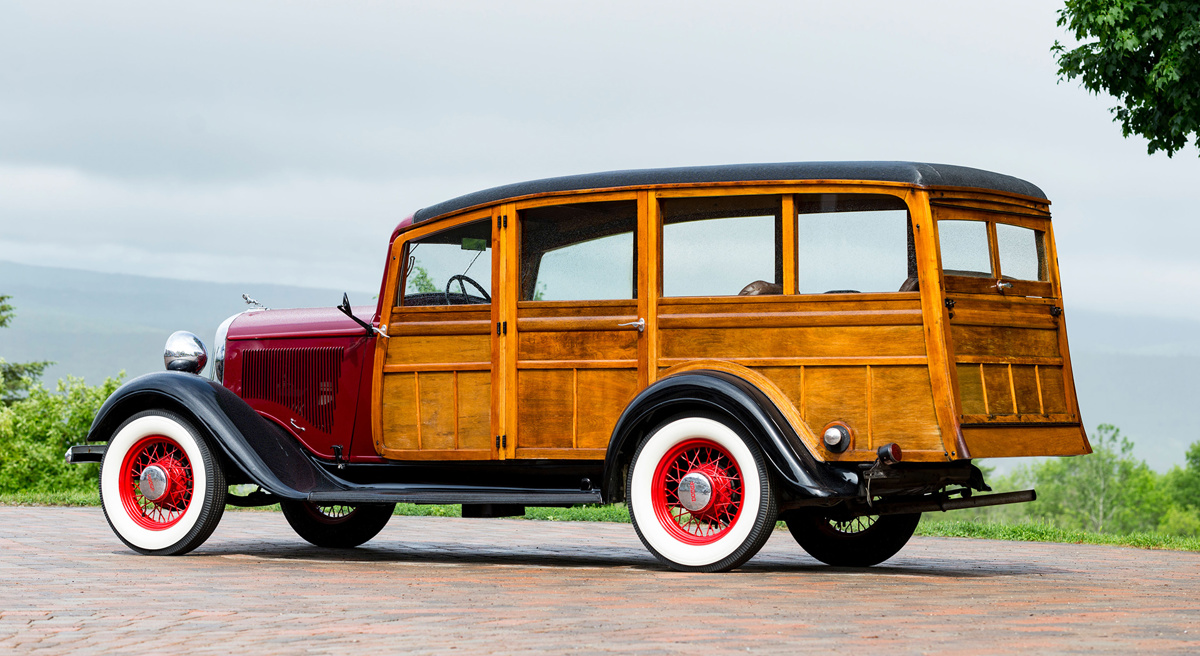 Essentially, what Dodge was doing was enlisting coachbuilders to properly compete against the vertically integrated Ford. There should be no shame in this division of labor, as this was the golden age of coachbuilding; the finished products of well-regarded outfits like that of the J.T. Cantrell & Company of Huntington Station, New York, rolled out of period workshops as completely unique pieces, hand-formed and finished. With its wood believed to be all-original, this example stands above typical station wagons, with roll-up glass windows throughout.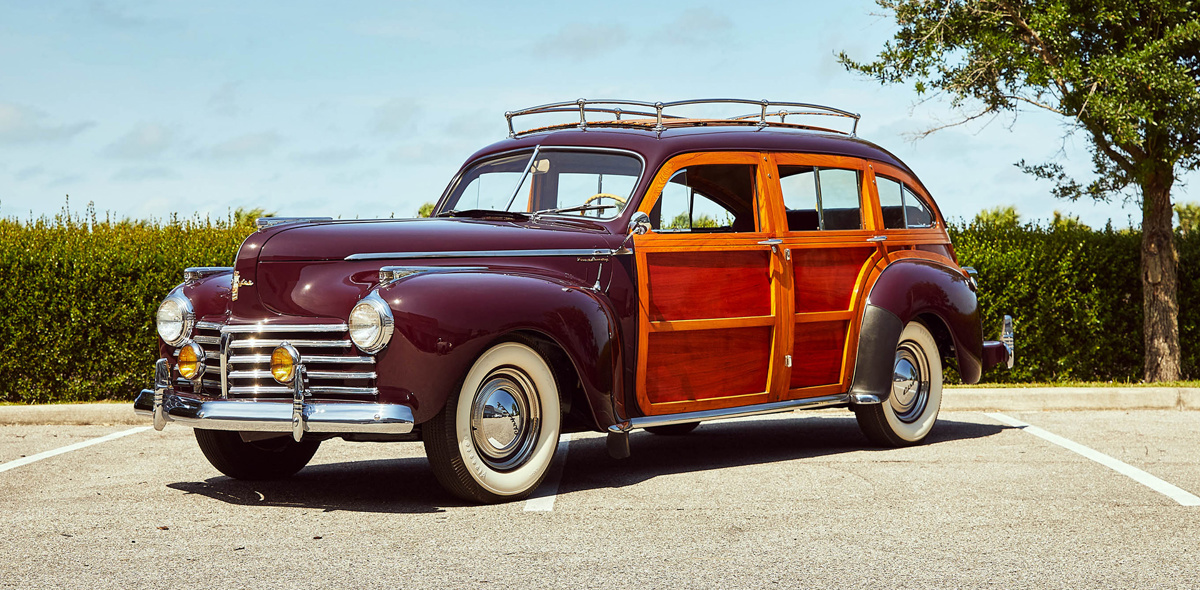 1941 Chrysler Town and Country 'Barrel-Back' Nine-Passenger Station Wagon
Estimate $275,000 - $325,000 USD
During WWII, with steel and rubber rationing and chrome looking like an unnecessary indulgence, what had been a practical material before the war once again began looking like an intriguing option for OEMs. Wood, that reliable and renewable resource, became a way to enliven existing body styles as new car production essentially ceased. Chrysler was keen to capitalize on the new novelty of wood, practically reinventing the idea of the station wagon in the process, when the Town and Country debuted as a mid-year model in March 1941.
Earlier station wagons, like the Dodge KCL Westchester Suburban we covered previously, were typically owned by resorts, and were used to shuttle eager hotel guests to and from train stations (hence their title: "station wagon"). In contrast, cars like this Chrysler Town and Country 'Barrel-Back' Nine-Passenger Station Wagon were intended to be used year-round, as well-appointed city-bound commuters during the week, while still packing enough practicality for weekend trips to the family cabin. While shuttling nine souls from the town to the country is perhaps not considered a luxury today, only 797 nine-passenger variants were completed in 1941, making examples like this one an uncommon sight in any location.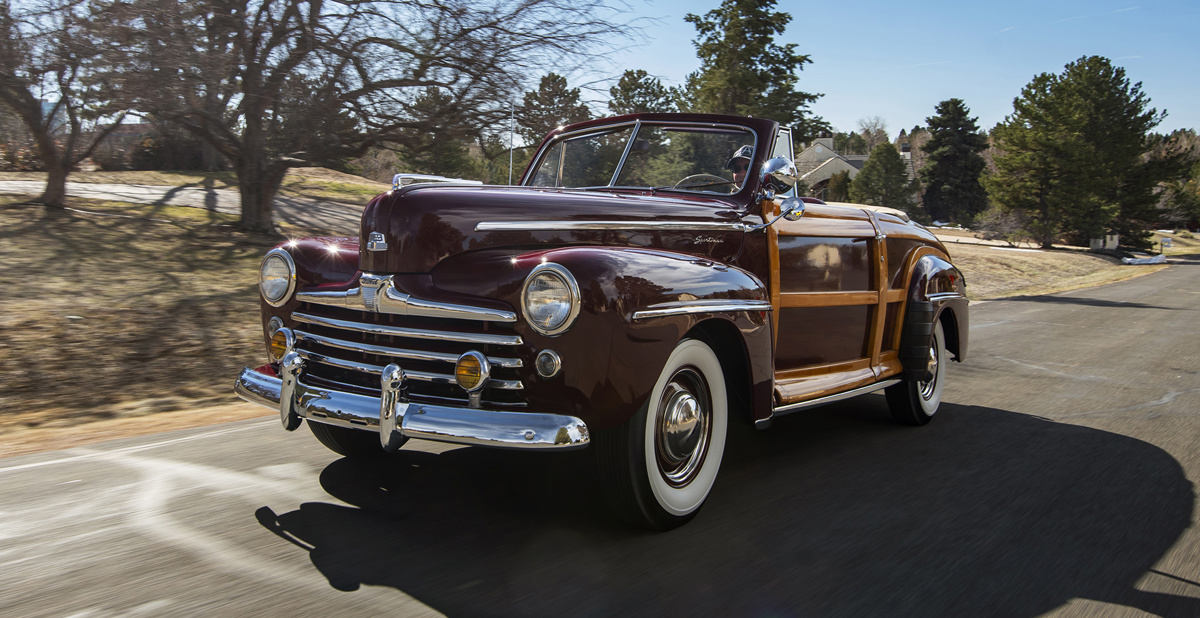 1947 Ford Super DeLuxe Sportsman Convertible
Estimate $160,000 - $200,000 USD
Perhaps the most direct evidence of the effectiveness of wood as the ultimate aspirational trim level occurred after WWII officially ended. With new designs on the horizon and rations of household materials in the U.S. thankfully ceasing as sugar was finally freely available once again, the post-war world was officially swinging again in 1947. With that, Detroit's automakers once again turned to wood as the natural material to bridge the gap between what existed before the war and the promise of future vehicles.
The Ford Super DeLuxe Sportsman Convertible was ahead of its time in more ways than one. The idea behind taking a wooden, station wagon-style body and adapting it to a sporting chassis started with none other than Henry Ford II, who commissioned a one-off from designer E.T. "Bob" Gregorie as early as 1945. The idea for a full production run came once the one-off caused a public commotion when Ford II and Gregorie used it on two separate Florida vacations in spring, 1946. The sports-oriented Woodie had officially arrived in the post-war period.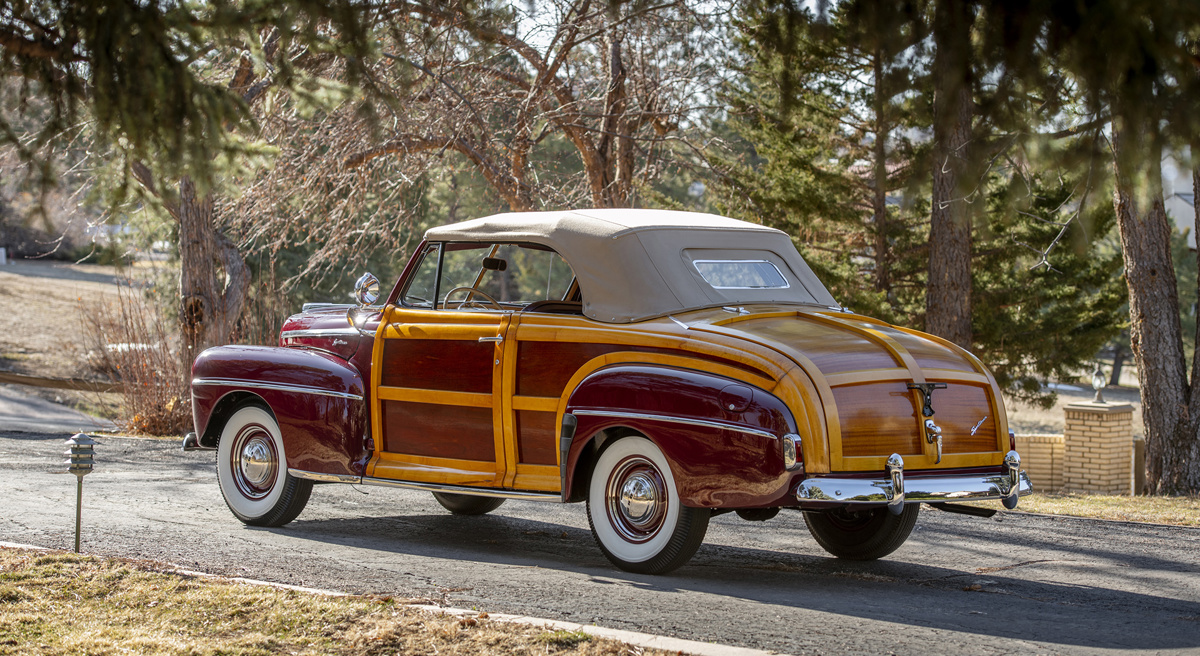 Packed with an upgraded 239 cubic inch engine, power windows, and the all-important electric top, the Ford Super DeLuxe Sportsman was a halo car for the early post-war era, commanding a hefty premium among the automaker's offerings and attracting interest to Ford dealerships nationwide. Perhaps as an indirect result of this prestigious position, examples like this Sportsman are exceedingly uncommon; of 2,274 built in 1947, fewer than 100 remain. A representation of Ford's unmatched in-period supply chain, and the ultimate fulfillment of the growing promise of Iron Mountain, the Sportsman was the first convertible Woodie and stands today as an undisputed icon among all wood-bodied cars.