For many fans of American muscle, scanning the side flanks of a mid-century classic is like a watch collector, eyeing a rare Rolex for telltale differences. In this morning's example, the one-year-only Dodge Charger 500, die-hard muscle car aficionados will no doubt notice the red tail stripe reading "500" and the small, silver badge on the sculpted doors, which denotes this model is indeed, a "Hemi," with a J-code 426-cid, 425-hp V-8 engine.
But it is only after taking in these specific details that one can appreciate the gestalt of this uncommon example. More likely, one will have to study the Dodge order books for Hemi-powered Chargers to appreciate the true rarity of this tasteful example, as it is one of a mere fifteen built, and the sole 1969 Charger painted White and fitted with a four-speed manual transmission. These are the style of muscle cars that RM Auctions' clients prefer, and our upcoming event in Auburn is positively jam-packed with fine examples. Whether your performance car preferences lean to any one branch of Detroit's "Big Three" automakers, RM Auctions has selections for you: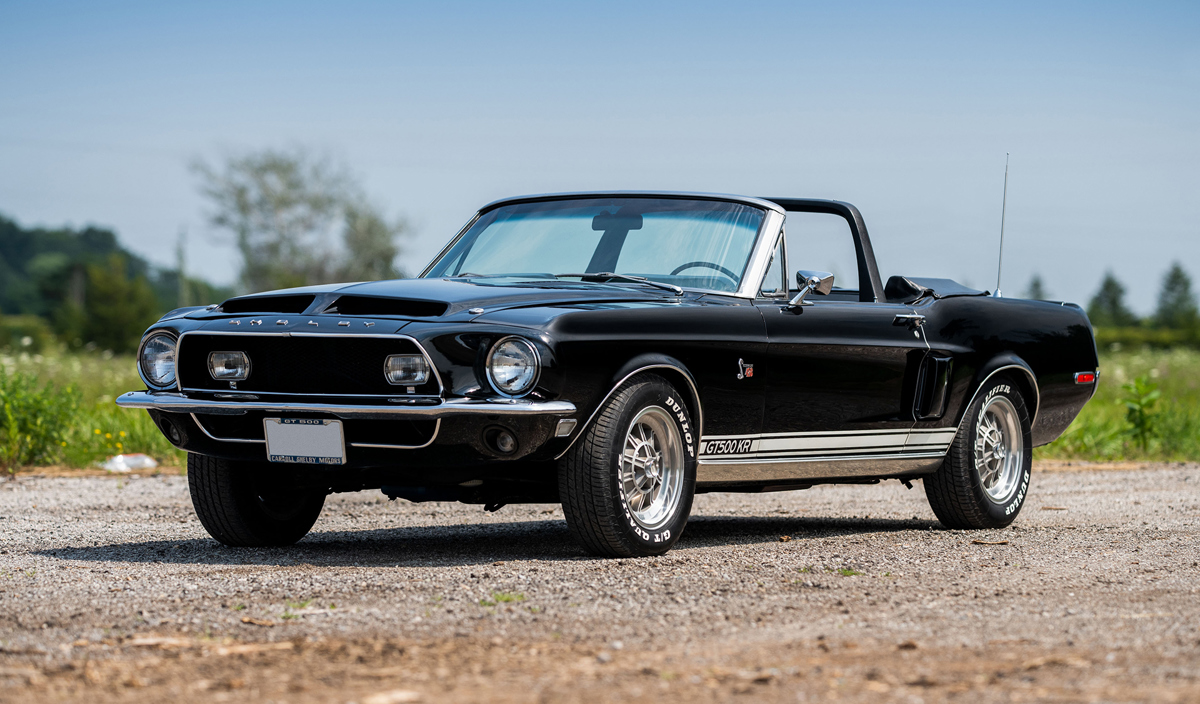 1968 Shelby GT500 KR Convertible
Estimate: $150,000 - $200,000 USD
Of course, if we want to talk about mid-century muscle cars, we must first mention the Mustang. Barely four years after its debut in April 1964, Ford's groundbreaking pony car had evolved into a true muscle car. With no shortage of help from Southern California-based Carroll Shelby, by 1968, Ford could confidently offer the Mustang-based GT500 in premium "King of the Road" (or KR) trim. Boasting an advertised 350 horsepower (though some estimates rate the true output closer to 400 horsepower), this example is one of a mere 518 built in Convertible spec. Well-equipped with power steering and an automatic transmission, this is one iconic muscle car that would be ideal for a summertime cruise.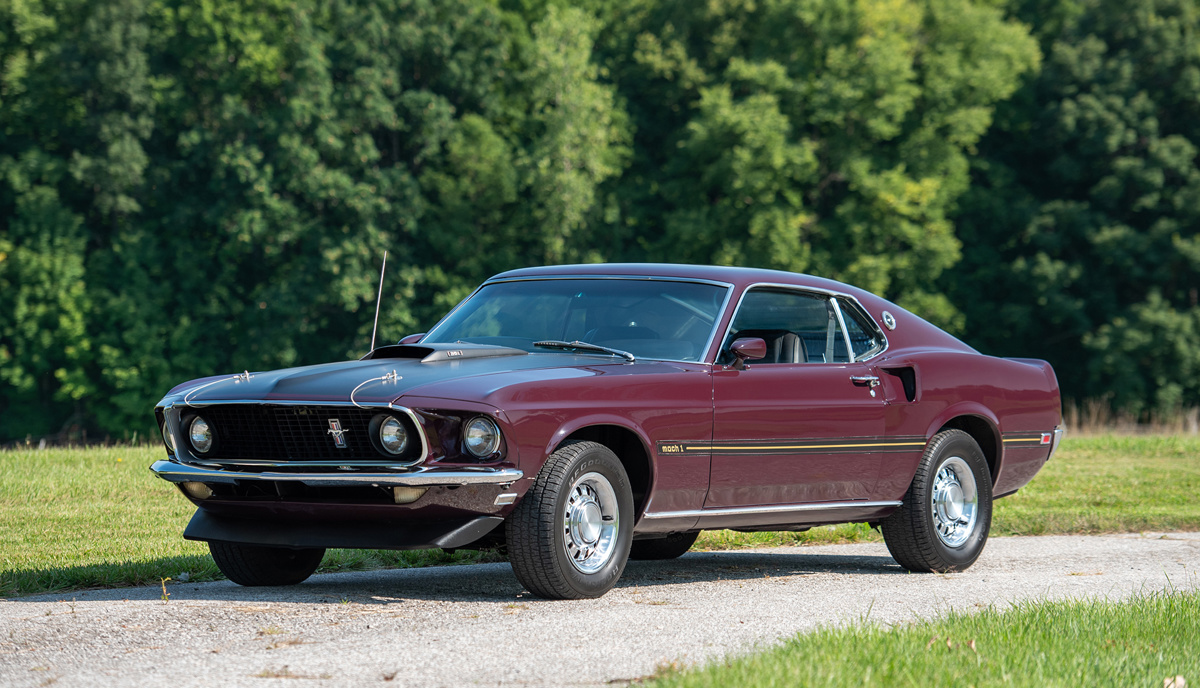 1969 Ford Mustang Mach 1
Estimate: $55,000 - $65,000 USD | Offered Without Reserve
The North American Motor Car Collection
Though Carroll Shelby added a great deal of performance credibility to Ford's popular pony car (not to mention a streak of signed gloved boxes), company executives knew they could provide a similarly potent package. Launching in August 1968 as a 1969 model, the Mustang Mach 1 denoted both a performance and aesthetic upgrade over the base model, including a matte black hood secured by purposeful hood pins and a choice of powerplants, including the 351 cubic-inch V-8 engine featured on this example. All Mach 1 examples shared this rakish Sportback shape. Paired with a four-speed manual transmission and an optional Hurst shifter and painted this handsome shade of Royal Maroon over black, this muscle car presents a tasteful choice.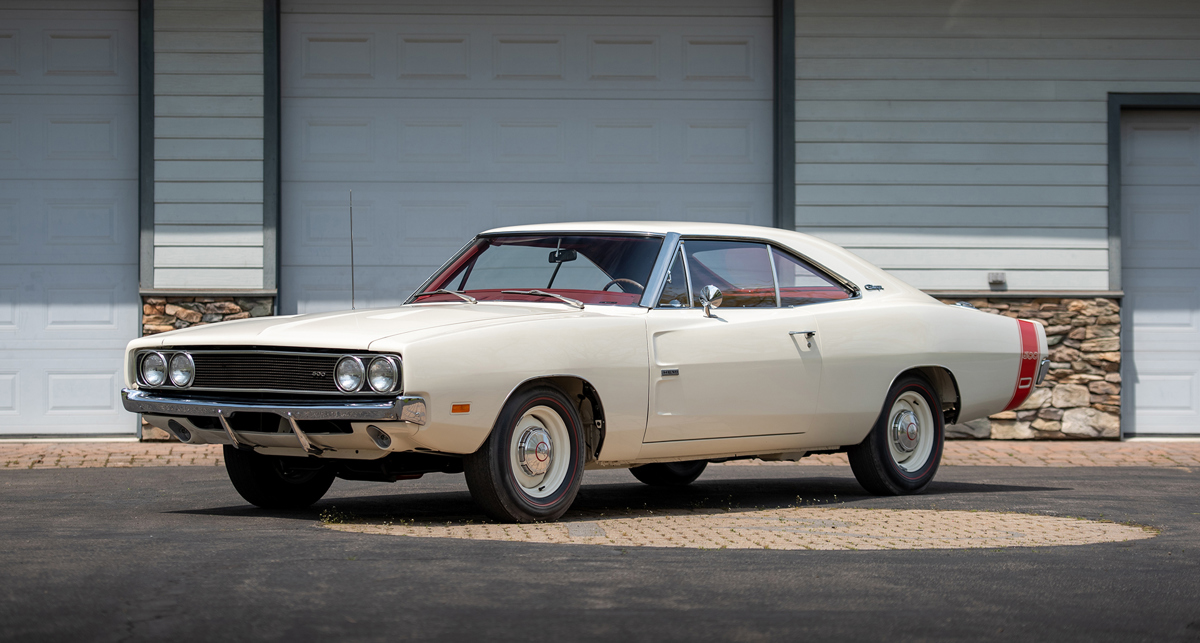 1969 Dodge Charger 500 'J-Code'
Estimate: $160,000 - $180,000 USD
As Dodge aficionados know well, the connection between NASCAR competition and the Charger was more than mere advertising. Originally developed for the 1964 race season, the hemispherical-headed V-8 engine (or "Hemi" for short) had advanced to its highest output 426-cid, 425-hp V-8 J-code form by 1969. While the 500 designation on this Charger denoted the number of units that Dodge needed to sell to homologate their muscle car for motorsport, the premium pricing and late 1960s oil crunch did not help sales. Only 392 were made in total, with only 119 of those featuring the upgraded engine. This example made even more special due to its White exterior paint over red interior and four-speed transmission is an uncommon muscle at its finest.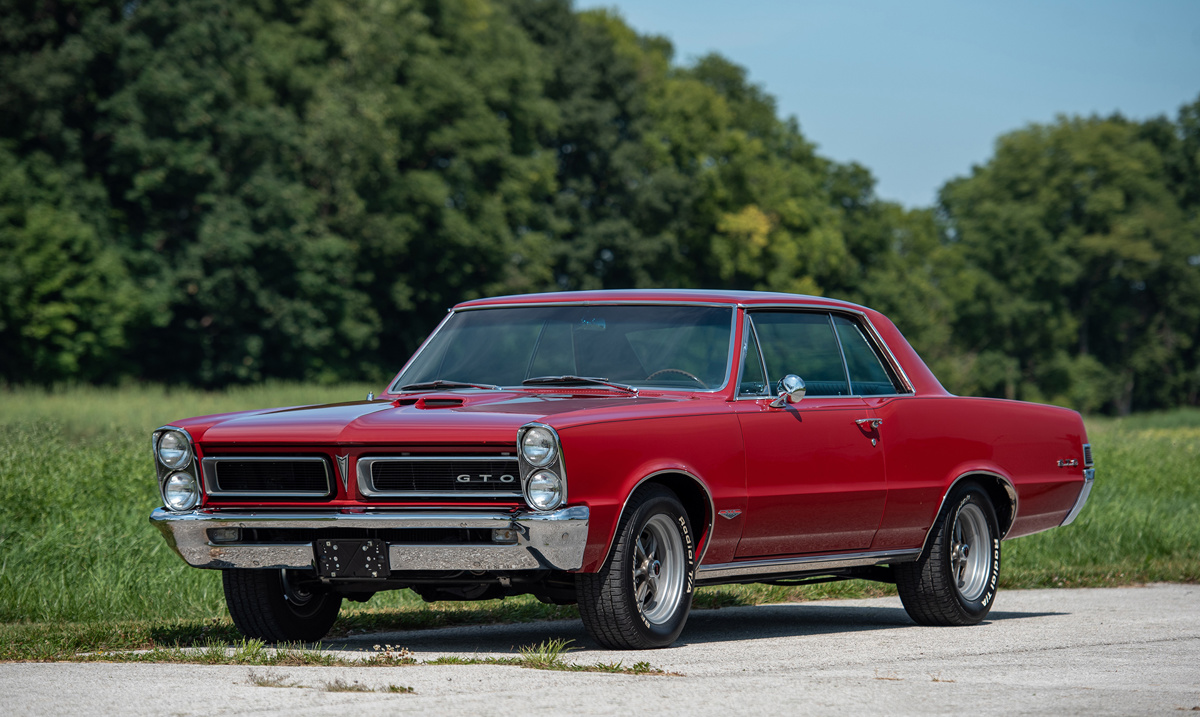 1965 Pontiac Tempest LeMans GTO
Estimate: $65,000 - $75,000 USD | Offered Without Reserve
The North American Motor Car Collection
Of course, the muscle car wars were not waged solely between Ford and the brands of Chrysler Motor Company. General Motors, too, joined the fray at a relatively early date with the Pontiac Tempest Le Mans-based GTO. Conceived by automotive impresario John Z. DeLorean—who was at that point running GM's Pontiac division—the muscle car formula of putting a high-output "Tri-Power" V-8 engine paired with a four-speed manual transmission into a mid-sized car was in many ways proven true by examples like this one. Borrowing one of the most legendary acronyms from European racing history did not hurt either, though the GTO legend became woven into American culture ever after. This sharp-looking Montero Red-over-black example is even more desirable due to a complete restoration from its prior owner.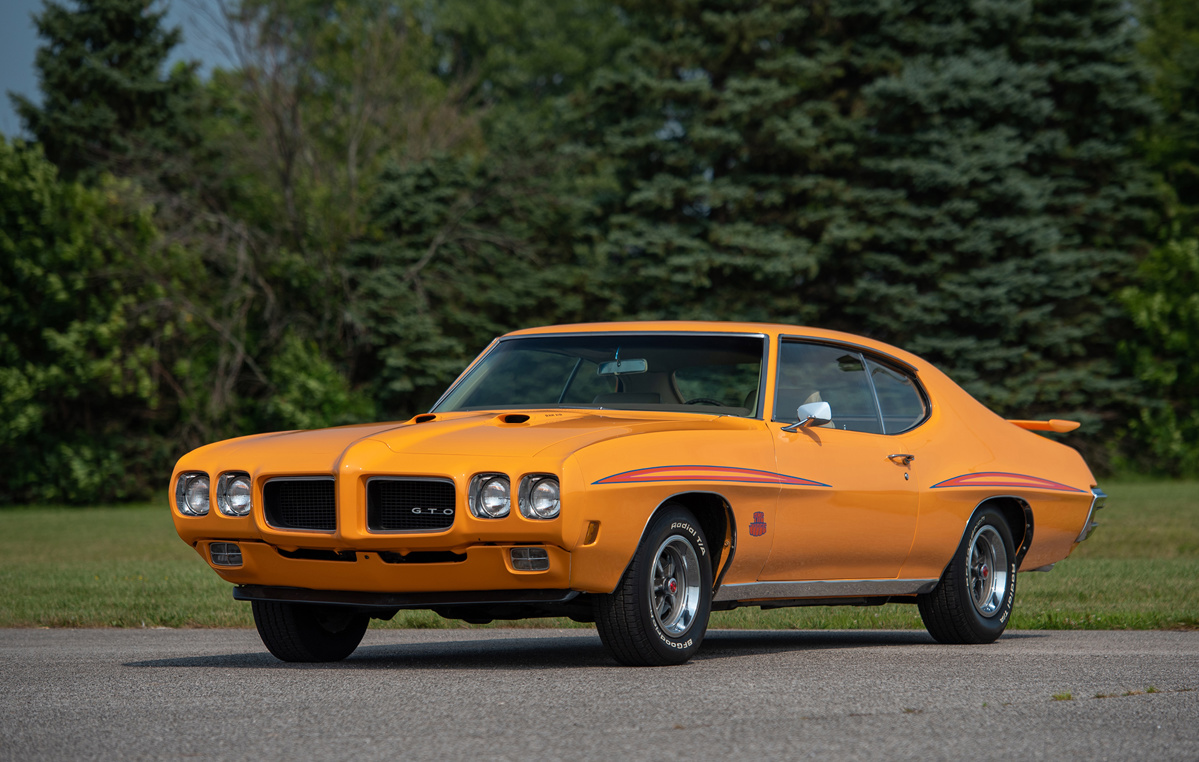 1970 Pontiac GTO Judge Ram Air III
Estimate: $50,000 - $60,000 USD | Offered Without Reserve
By the dawn of the 1970s, muscle car manufacturers felt the freedom to experiment with outsized wings and cartoonish themes—sometimes literally, at least in the case of the Plymouth Superbird. This comparatively serious example was named for a well-loved Sammy Davis Jr. skit on the popular Rowan & Martin's Laugh-In program. Portraying the no-nonsense honorable Judge Samuel Davis Jr., the famous founding member of the Rat Pack dispensed justice with the help of an inflatable, neon-colored gavel. Conceived to compete head-on against the Plymouth Superbird, this second-year example of Pontiac's GTO Judge came standard with the Ram Air III V-8 engine, rated in-period at 366 horsepower and 445 lb-ft of torque.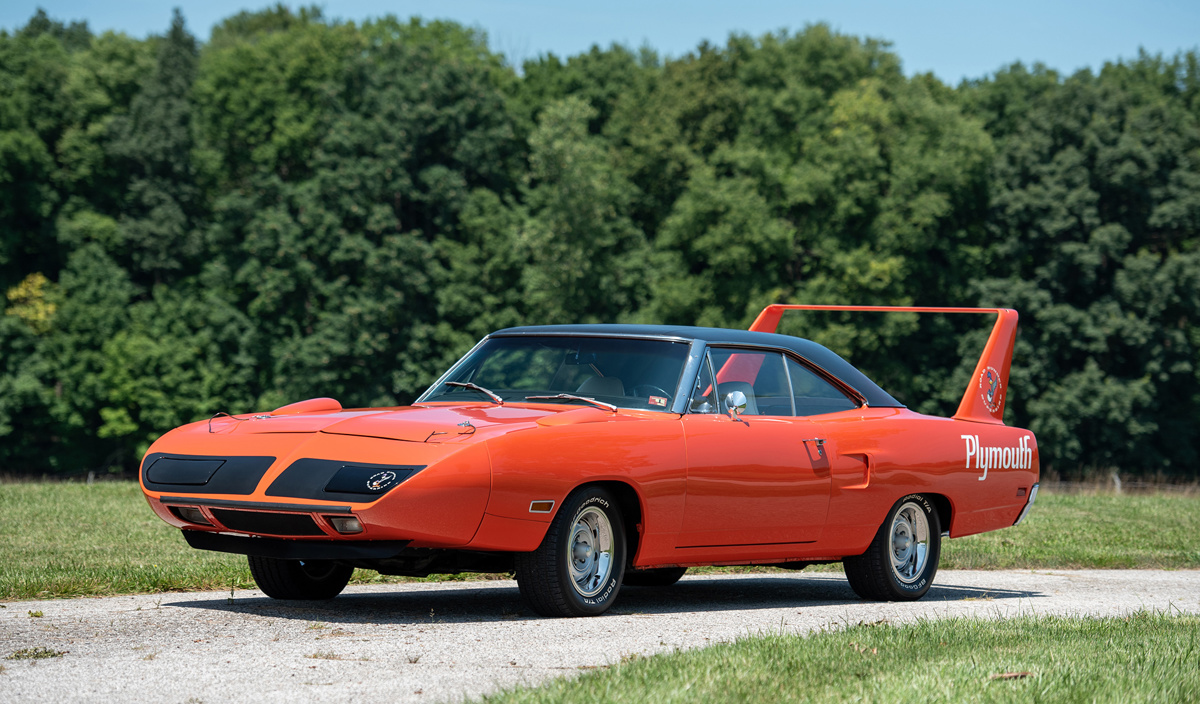 1970 Plymouth Superbird
Estimate: $150,000 - $175,000 USD
The North American Motor Car Collection
Of course, we would be remiss not to mention the main competition of Pontiac's Judge. Made famous on the oval circuits of NASCAR by "The King" himself, Richard Petty Jr., the Plymouth Superbird was a seventies icon and for many enthusiasts, represents the peak of the muscle car wave. Featuring a towering rear wing, extended outward to improve trunk clearance as much as downforce, as well as a hood-mounted tachometer and perhaps the funniest in-joke ever to appear on a production car, a horn that mimics the cartoon Road Runner's common refrain of "meep meep." Powered by its original, numbers-matching 440 cubic-inch "Super Commando" V-8 engine fueled by a four-barrel carburetor, this 33,150-mile muscle car is from the well-curated collection of notable NASCAR crew chief Ray Evernham.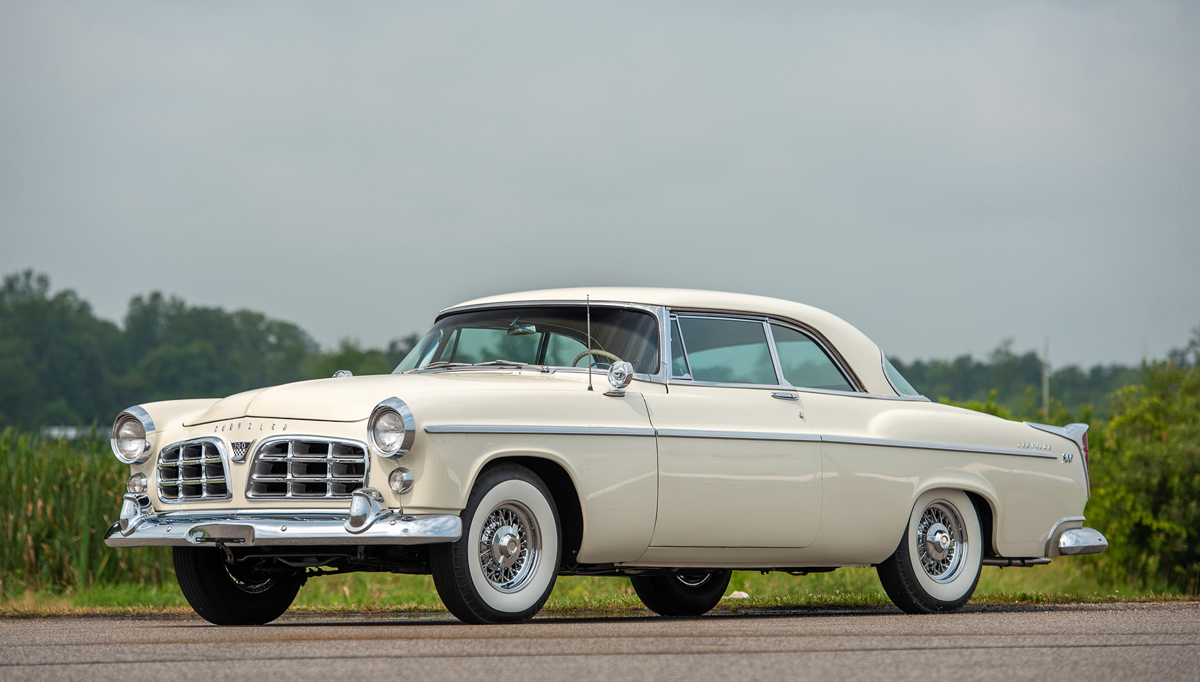 1955 Chrysler C-300
Estimate: $65,000 - $85,000 USD
Like any trend in automotive history, the true origins of the muscle car craze occurred far before their peak. Kicking off the series of Mopar performance-oriented machines known by aficionados as "Letter Cars," the Chrysler C-300 proved itself on the sands of Daytona, Florida, and on the diverse circuits of early NASCAR racing taking first place approximately 50 percent of the time in 1955 and 1956. The C-300 also deserves recognition as one of the founding examples of muscle car performance due to its 5.4-liter Hemi V-8 engine, the first of its kind to debut in a Chrysler product. This well-preserved first-year example (one of a mere 1,725 made) benefits from single-family ownership since 1960 and is accompanied by a bevy of original accessories, including service invoices dating back to 1967 and full documentation of a recent concours-quality restoration, completed in 2019. A piece of muscle car history worthy of driving as well as preserving, this example is sure to draw an audience at RM Auctions' Auburn Fall event, running from 2-5 September 2021.