Unlike the world of production-based automobiles, and as motorsport collectors can attest, the world of competition cars can at once be seriously complex and decidedly simple. After all, while hundreds (or as is more common, thousands) of series-production cars can roll off the line with ease, those fortunate few examples which actually have participated in professional driving are far more difficult to source. Finding those chassis which have been race-prepped by factory teams in advance of the big contest, let alone those which actively turned a wheel in sanctioned racing is a rare event. Collecting a garage full of these race veterans is a project that could only be completed over a lifetime.
Enter: Jean Guikas, a fixture of France's car collecting community. Introduced to fine cars by his father, Guikas was driving his first Ferrari at the age of 17. He has been building a collection ever since and dutifully passed his love of all things motorsport-related to his daughter, Camille. Together, the Guikas family has built a reputation that extends far beyond their home base in the south of France, and their comprehensive collection has expanded to include not only competition cars, but also sporting examples in nearly every category.
Recognizing the significance and diversity of this selection, RM Sotheby's has arranged for a spectacular auction setup at that most famous of French racetracks, Circuit Paul Ricard in La Castellet. With its long straightaways emphasized by its signature, painted run-off markings, this noteworthy track provides the perfect background for a site-specific auction, scheduled for 19 November 2021. Of the more than eighty lots listed in The Guikas Collection, a majority of the headline-worthy listings are motorsport-focused. Here are a few early highlights: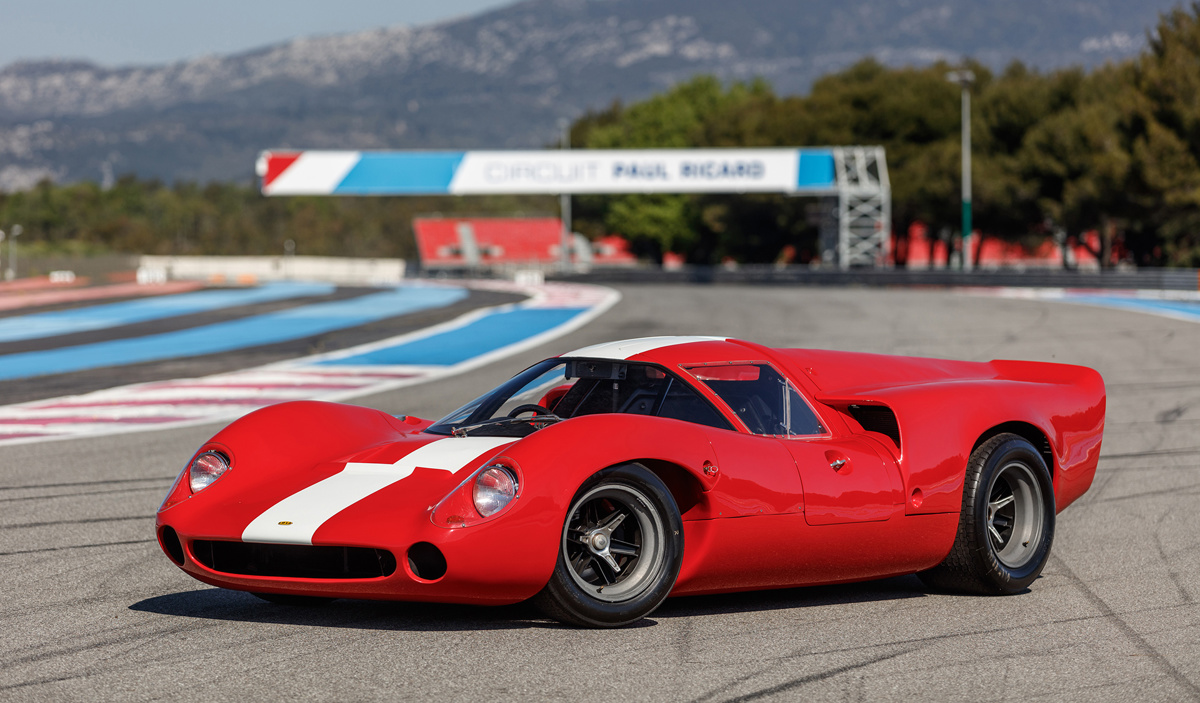 1967 Lola T70 Mk III Coupé
Estimate: €650,000 - €800,000 | Offered Without Reserve
Our thorough tour through The Guikas Collection provides a connoisseur's glimpse at the history of motorsport, with significant examples from multiple formats that all advanced the state-of-the-art. By the mid-1960s, British engineer Eric Broadley's endurance racing efforts had earned the attention of Henry Ford II, who employed him to assist with the development of the GT40. Since then, innovative Lola race cars have gained respect of modern aficionados including timepiece empresario Richard Mille, who recently effused about the race car's purpose-built design in the latest issue of The Road Rat. This documented example was formerly owned by noted competition car collector Monte Shallet, who used it in the 1989 GT40 Reunion and managed an impressive first-place finish.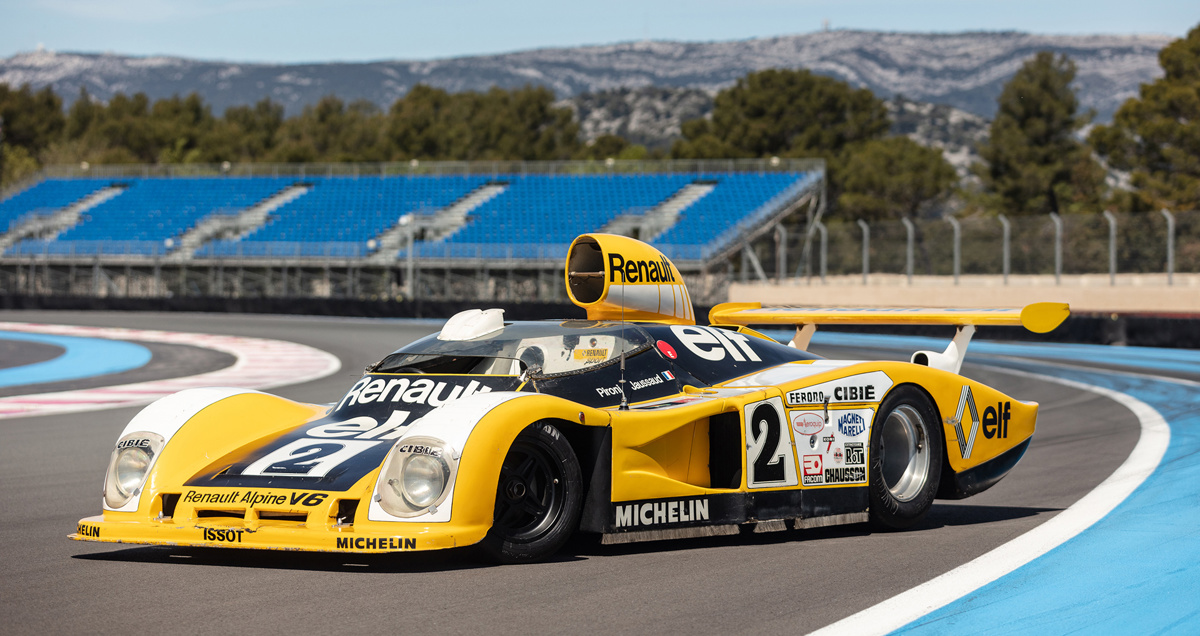 1976 Renault-Alpine A442
Estimate: €4,000,000 - €5,000,000 | Offered Without Reserve
Our cover car perfectly matches the vibrant background of Circuit Paul Ricard's so-called "Blue Zone," right down to the decade in which they were constructed. The late 1970s signified a sea change in racing, inspiring advancements in both safety and speed simultaneously. With Porsche continuing their string of victories at endurance racing from the late 1960s into the next decade, the team at Renault-Alpine knew they needed a significant redesign to best their rivals at the 24 Hours of Le Mans. The A442 was designed with maximum speed in mind, with its long tail, purposeful rear fin, and bubble-like top canopy all engineered to eke out a higher top speed on the Mulsanne straight than their arch-rivals Porsche could achieve. Though Renault-Alpine did not claim the all-French (encompassing driver, engine, and chassis) victory at Le Mans until 1978, this open-top, turbocharged example was one of just four Renault-Alpine A442 racers produced and one of three that competed in the 1978 running of Le Mans, a campaign in which Renault would secure their first and only Le Mans victory. As the only A442 privately owned outside of the Renault Factory, this example stands for many as a symbol of independence and French national pride, as well as the end of an era. Following the victory at Le Mans in 1978, Renault withdrew from endurance racing to concentrate fully on Formula 1.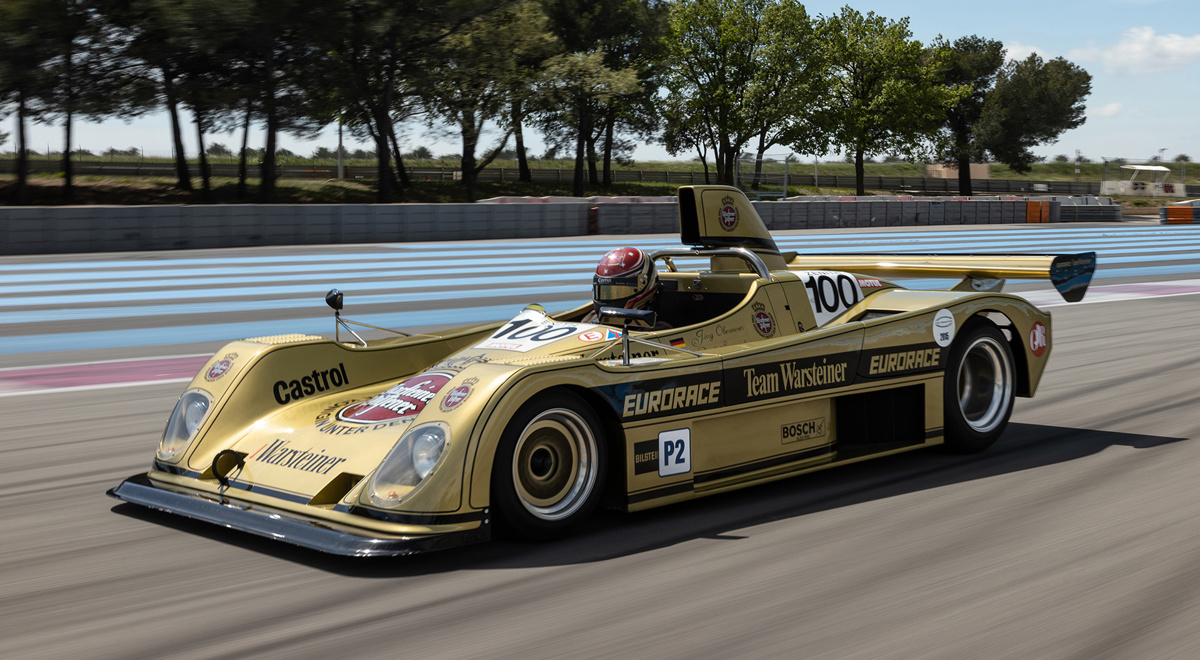 1976 TOJ SC304
Estimate: €675,000 - €800,000 | Offered Without Reserve
A prolific German-born driver with an independent streak, Jörg Obermoser went from winning races at the Deutsche Rennsport Meisterschaft (or DRM) series in the early 1970s to establishing his own racing firm and running his own cars. TOJ, which stood for "Team Obermoser Jörg," had no shortage of ambition, with engineering on the SC304 accomplished by former Porsche employees Kurt Chabek and Dieter Baatz. Powered by the venerable Cosworth DFV V-8 engine and paired with its reliable companion, the Hewland 5-speed manual gearbox, this 3.0-litre example was ordered new by Swiss-based racing outfit Team Schulthess along with an example of its 2.0-litre sibling, the SC204. Finished with only one week to spare before the running of Le Mans in 1976, this example was quickly updated in-period after the race with this brilliant gold Warsteiner livery.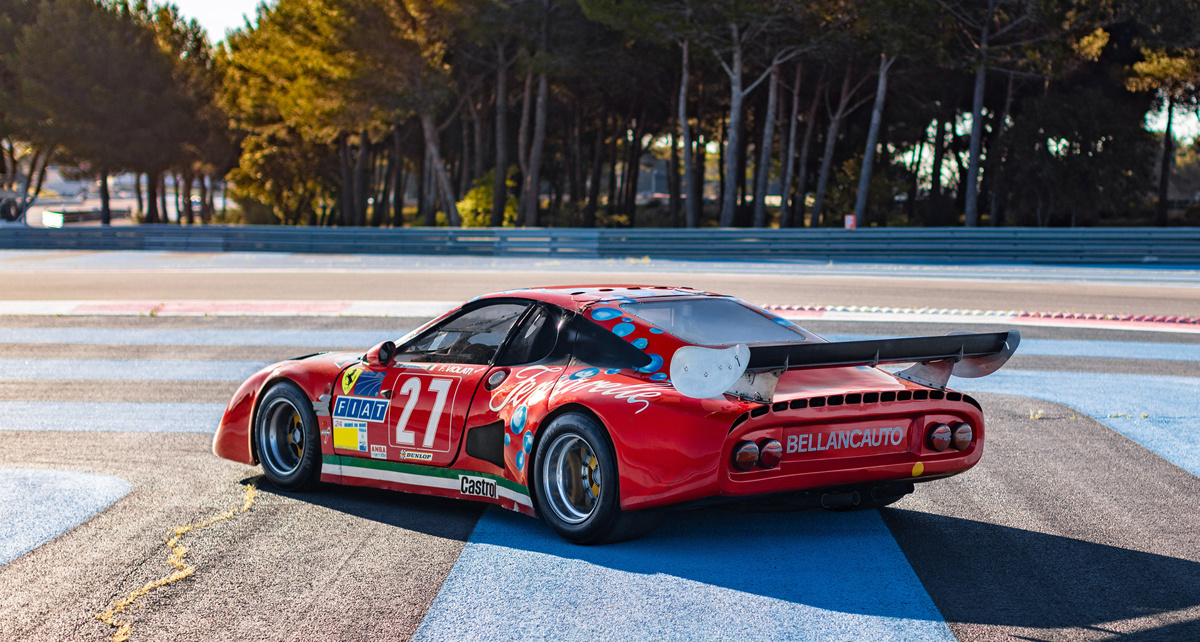 1981 Ferrari 512 BB/LM
Estimate: €2,250,000 - €3,000,000 | Offered Without Reserve
As the 1980s dawned, the regular arch-rival to motorsport teams of all formats was still a force to be reckoned with. With Porsche extending the success of their air-cooled, turbocharged 935 racers in endurance racing, the major privateer teams that favored Ferrari pushed the Italian automaker to create something equally adept. The regular production model that served as a basis for this capable race car was the all-new, mid-engine Ferrari 512 BB, of which only a handful were transformed into LM specifications. This example, one of a mere sixteen built between 1980 and 1982, featured extravagant, extended bodywork by Pininfarina, gaining 16 inches in length over its regular production counterpart. The aim was, as always, to maximize speed on the main straightaways, which this example (chassis no. 35529) used to its advantage during the 1000 km of Monza in 1981, placing first in the GTX class at the hands of Maurizio Flammini, Spartaco Dini, and Fabrizio Violati.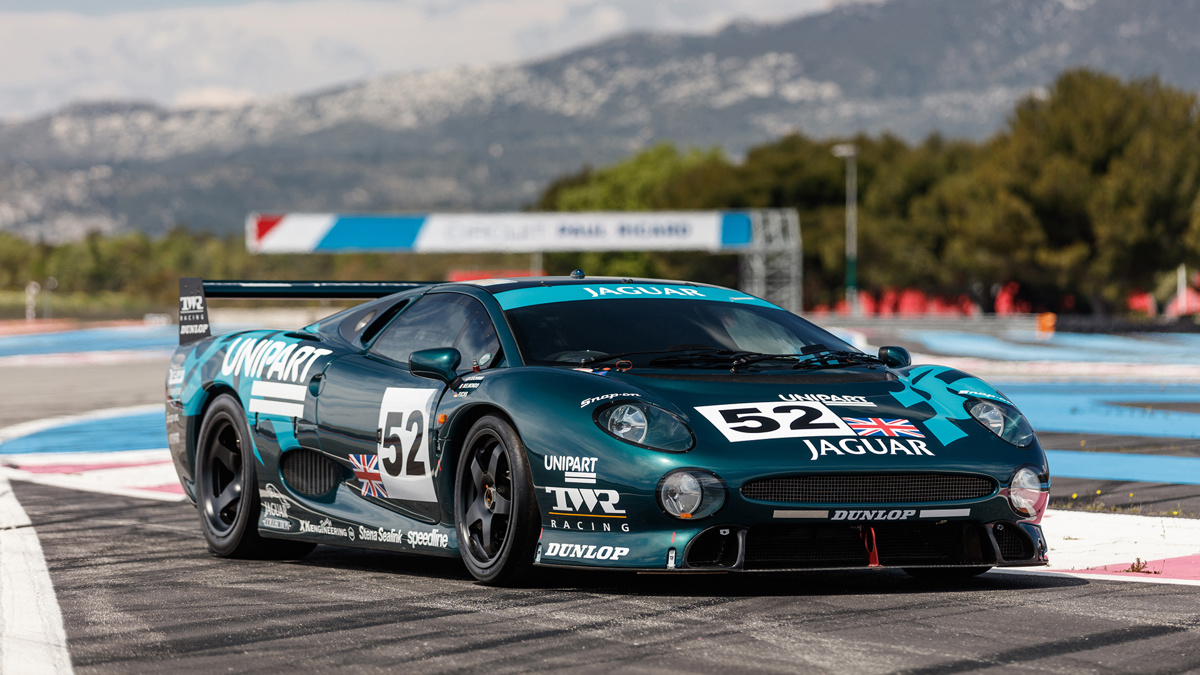 1993 Jaguar XJ220 C LM
Estimate: €1,000,000 - €1,400,000 | Offered Without Reserve
We have recently covered the roadgoing version of Jaguar's standout nineties supercar in this space, and suffice it to say that this motorsport-spec version is even more intriguing for collectors. Made by JaguarSport with a one-make race series in mind, this example, serial no. 003, was constructed by Tom Walkinshaw Racing (TWR) in May 1993. The series, named "Fastmasters," featured a handful of race-prepped XJ220 models, all driven by some of the greatest driving legends from the period, including David Hobbs, Brian Redman, and Bobby Unser, all racing under the lights on ESPN at prime time. This example was destined for a venue elevated far above this one-make race series, as it was campaigned at the 24 Hours of Le Mans twice, once in 1993 as TWR's official entry in the GT Class, and then again in 1995, as the main entry of Richard Piper's P.C. Automotive in the GT1 Class. Though serial no. 003 has been meticulously restored to its 1993 livery, fans of the BBC's Fifth Gear will enjoy knowing that ace wheelman Tiff Needell piloted this car at Le Mans in 1995.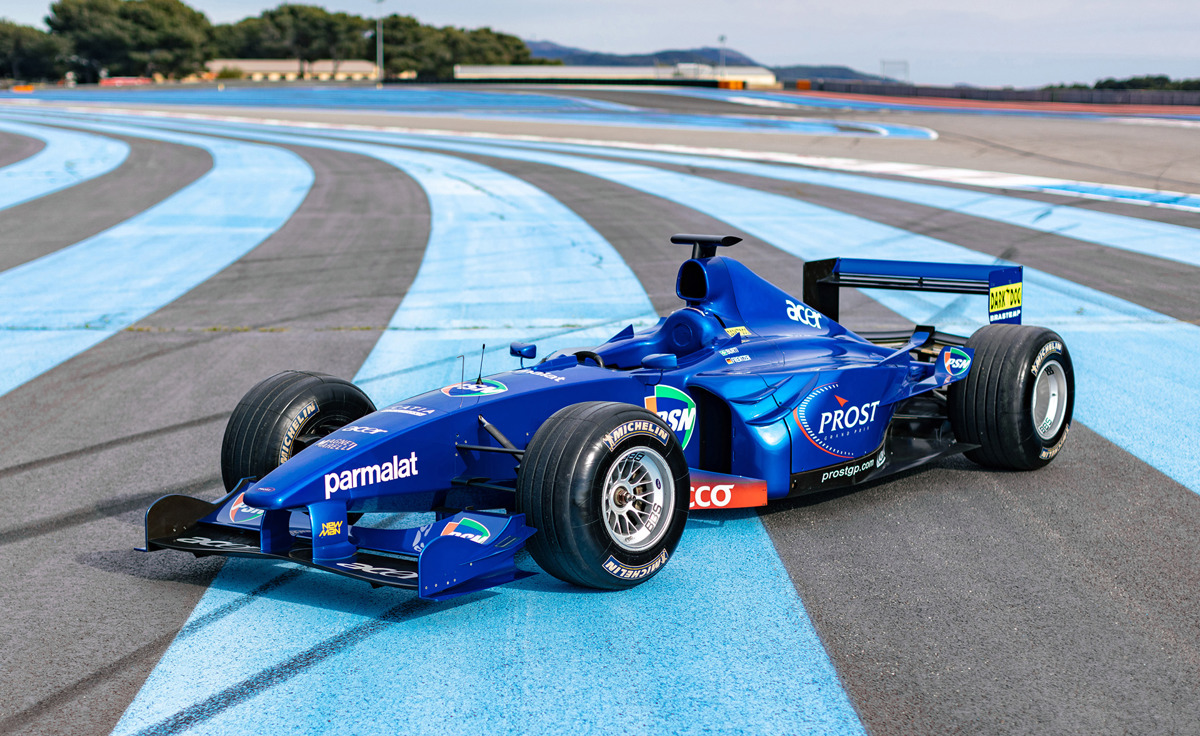 1999 Prost AP02 Formula 1
Estimate: €500,000 - €600,000 | Offered Without Reserve
Wearing a name that will sound familiar to all Formula 1 fans, the Prost AP02 is a rare example from the short-lived racing team fronted by the famous French driver. Though former Ferrari driver Alain Prost's formal foray into Grand Prix team ownership lasted only five years, it still represented France with pride, as Prost purchased the existing, well-established Équipe Ligier team in 1997. Prost's first strategic move was to extend the all-French theme with an engine upgrade, switching from Mugen-power to a 3.0-litre, V-10 motor from Peugeot. Constructed around a carbon fibre monocoque with a push-rod-actuated torsion bar setup connected to double-wishbones on all wheels, the AP02 was no slouch in terms of late 20th century performance engineering. The AP02 will forever be remembered as one of the first introductions for a young Formula Three champion named Jenson Button to the far speedier world of F1. Though Button and Prost's team driver Jean Alessi were driving AP02 models with different setups, the young driver managed to beat the old pro during an all-day session with forty laps at the grand prix circuit in Barcelona, Spain. This car, chassis number 03, was entered in the first four races of the 1999 Formula 1 season, racing in the Australian Grand Prix, Brazilian Grand Prix, San Marino Grand Prix, and Monaco Grand Prix. The car's best result came at the Brazilian Grand Prix at Interlagos where chassis number 03 took sixth place with French driver Oliver Panis behind the wheel.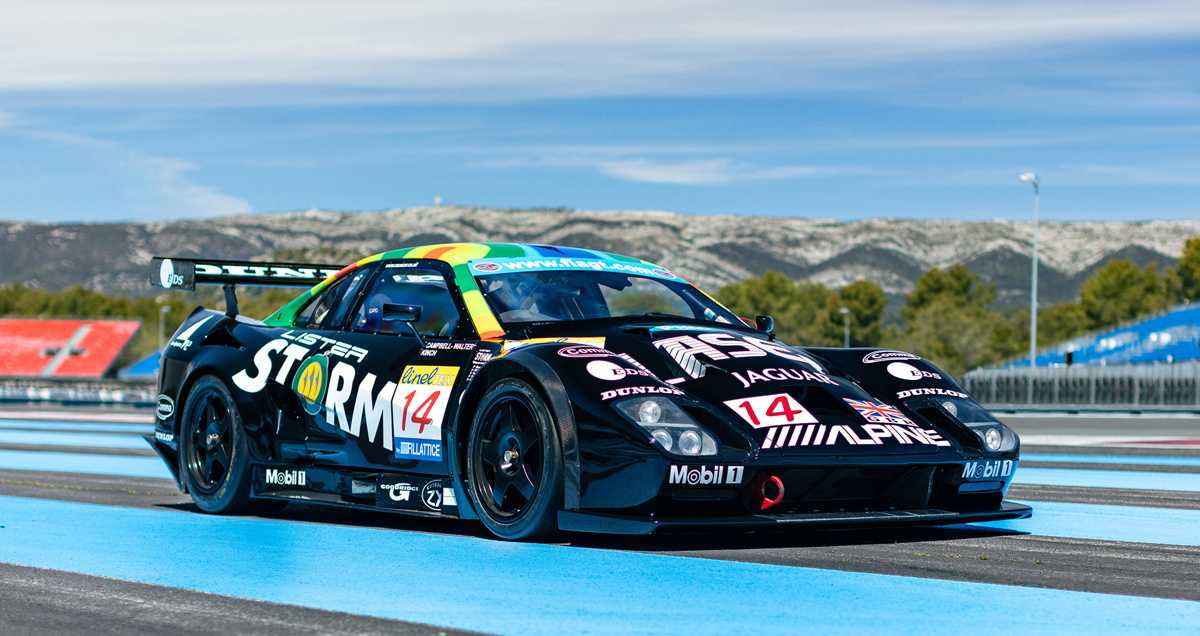 2001 Lister Storm GT
Estimate: €550,000 - €700,000 | Offered Without Reserve
Another name with a great history in motorsport, the Lister Motor Company is perhaps most-commonly associated with their mid-1950s series of Jaguar-powered 'Knobbly' racers, known for regularly finishing in front of the factory-prepped C-Types and D-Types. This great name was revived in the early 1990s by a team of investors and engineers including Laurence Pearce and original founder Brian Lister. Again, the brand's focus was building the world-beating sports-racing cars, and thus the Storm GT was born. Featuring pushrod suspension, carbon fibre body panels, and a 7.0-litre V-12 Jaguar powerplant, similar in development to the XJ220's twelve-cylinder sibling, the TWR-built XJR-9, this Storm was purpose-built by Lister to campaign in the FIA's GT Championship in the early 2000s. With a multi-year race record, capped by second-place finishes at Silverstone in 2002 and at the 24 Hours of Spa endurance race in 2003, this example, chassis 'GTM005', has a proven race history and comes with full documentation, including email correspondence with Lister archivists. A turn-of-the-century GT contender which has lost little of its potency in the last two decades.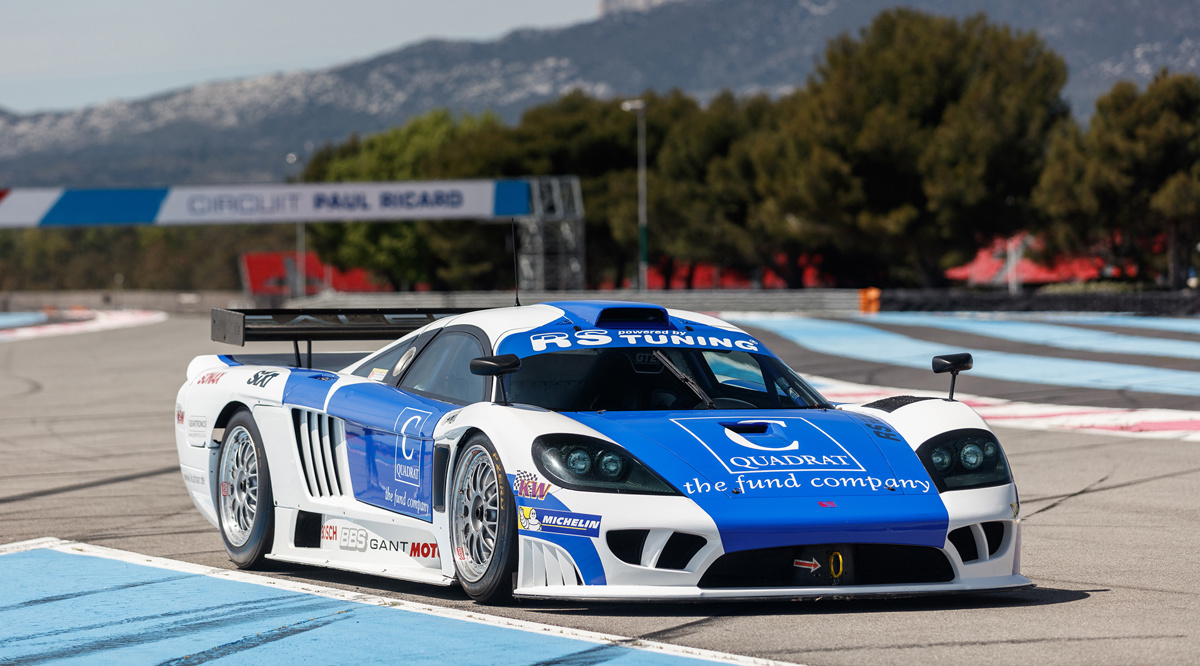 2005 Saleen S7R
Estimate: €650,000 - €800,000 | Offered Without Reserve
Perhaps it is uncommon to see an American manufacturer on a list of prestigious European-made motorsports examples, but Steve Saleen's eponymous Southern California-based automotive marque is anything but common. Featuring mid-mounted Ford V-8 power, the 2005 model year Saleen S7R featured a revised chassis by noteworthy French outfit Gruppe Oreca. Purchased new by the still-active German-based team Zakspeed, and piloted by co-drivers Sascha Bert and the Czech Jaroslav Janiš, this example achieved several significant podium finishes at the GT Endurance Championship from 2006 until 2008. This chassis was chosen not just by Zakspeed, but also by the Belgian-based team PK-Carsport, who acquired it from the former team before the 2008 season, and drove it to first-place victory at the series' final race in San Luis, Argentina. With a powerful stance and proven race record, not to mention its uncommon status as one of a mere 15 constructed, this American-branded racer has earned its place on the world stage. Look forward to the next Motorsports Monday as we continue our tour through The Guikas Collection, but until then, enjoy one last parting shot of this S7R's gorgeous 7.0-litre powerplant: