Every August the collector car world gathers on the Monterey Peninsula for the ultimate celebration of the most spectacular automobiles across every marque, generation, and discipline. RM Sotheby's Monterey sale has earned a reputation of being the pinnacle of the weekend's collector car auctions through innovative presentation, unmatched energy and customer service, and high-caliber consignments which are often the best examples within their category. This year is no exception, and the RM Sotheby's team has assembled nearly 200 of the world's most significant and desirable automobiles to cross the auction block.
Scroll down to explore 15 vehicles which are certain to steal the show at RM Sotheby's Monterey collector car auction 15–17 August.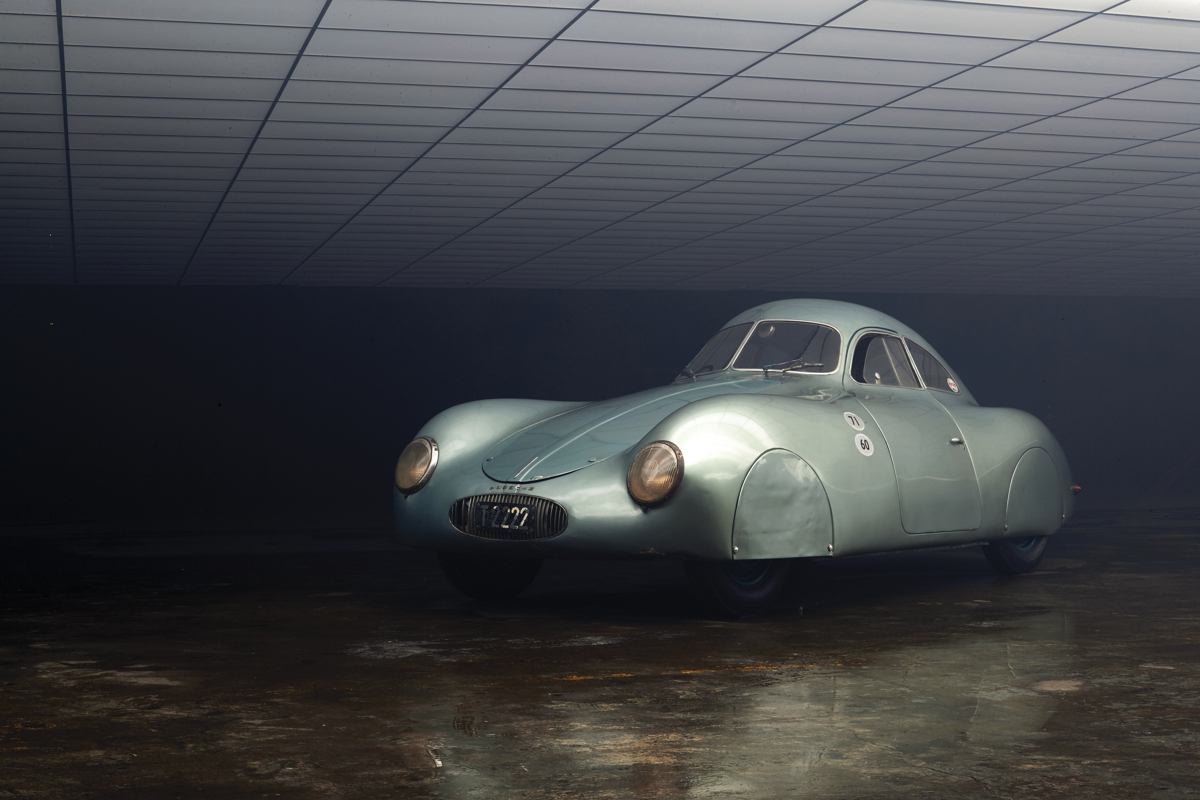 1939 Porsche Type 64
Estimate Available Upon Request
The first vehicle to bear the Porsche name is offered to the public for the first time in its long history. It is the first of three examples completed and is believed to be the sole remaining example. Since being used by Prof. Dr. h.c. Ferdinand Porsche and his son Ferry Porsche as their personal car, it was owned for 46 years by privateer race car driver Otto Mathé until his passing. It presents today in extremely original condition and is the most historically important Porsche ever offered to the public.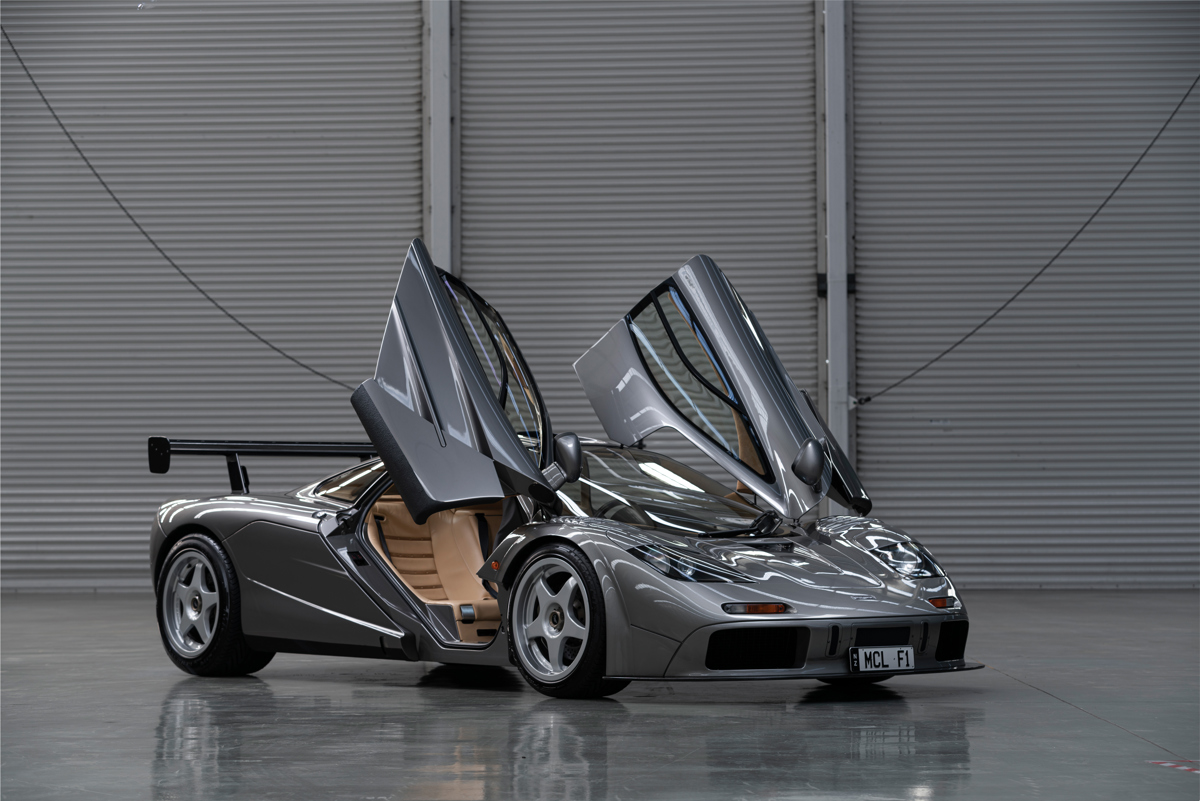 1994 McLaren F1 'LM-Specification'
Estimate: $21,000,000 - $23,000,000 USD
The ultimate version of history's most celebrated supercar. Chassis 018 is one of only two cars upgraded by the factory to LM specifications, receiving both the unrestricted GTR racing engine and Extra-High Downforce Kit bodywork. It received a host of modifications in two rounds across the span of two years, all performed by MSO, including a full repaint and retrim to its current livery of platinum silver metallic over beige and brown Alcantara. Of the 64 F1 road cars McLaren produced, chassis 018's unique configuration, regular servicing, and documented history make it one of the most desirable examples extant.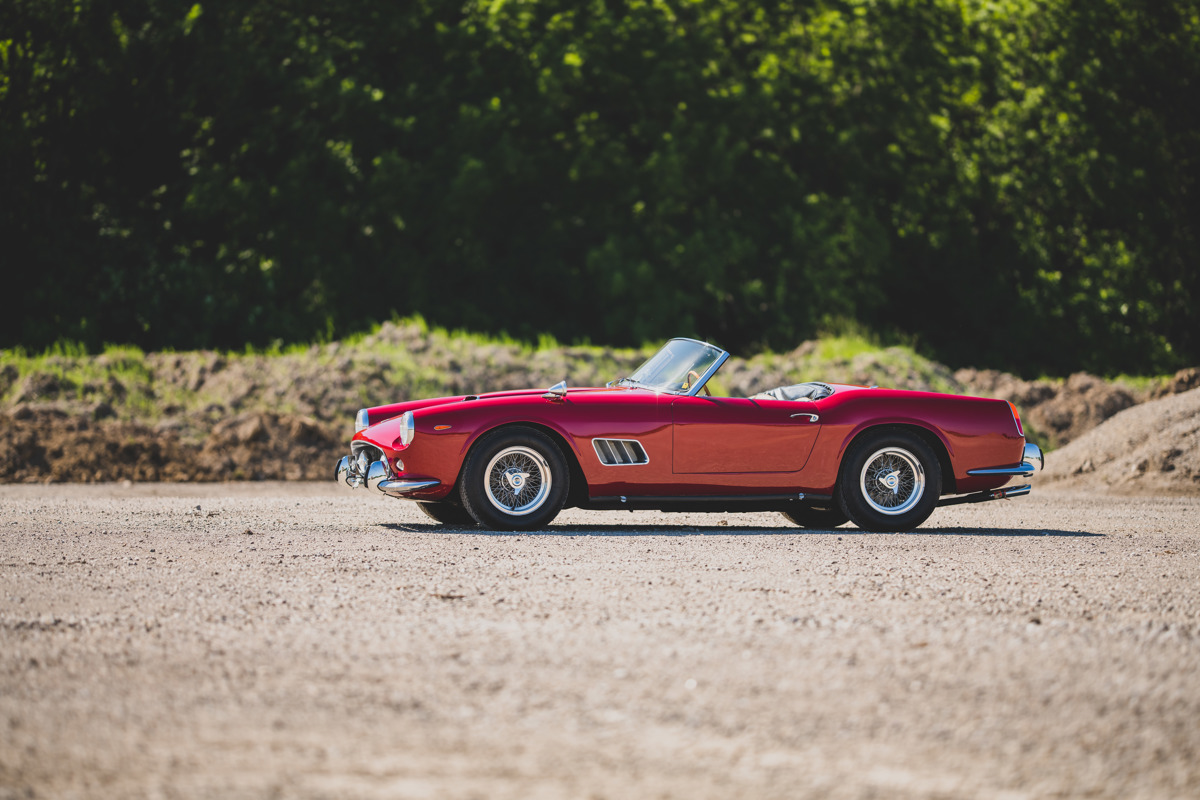 1962 Ferrari 250 California SWB Spider by Scaglietti
Estimate: $10,500,000 - $13,000,000 USD
Chassis no. 4131 is the second-to-last of all examples built and the only remaining unrestored SWB Cal Spider, making it likely the most original surviving SWB spider in existence today. It presents today in entirely original condition, having only four owners in its lifetime. It was the basis for George Carrick's book The Spider California—one of the first books ever published on what many consider to be the ultimate in all Ferraris. A singular highlight of any auction, the SWB California spider is offered from long-term ownership and is fully Ferrari Classiche certified.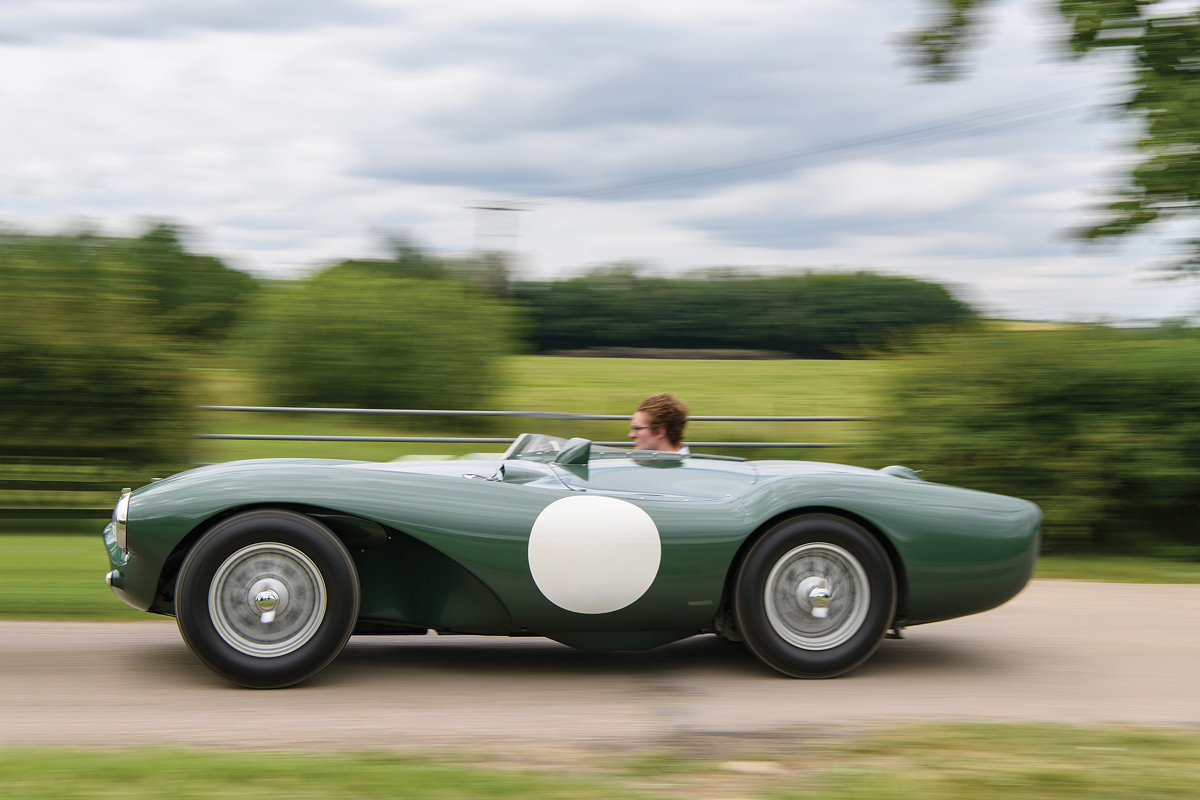 1953 Aston Martin DB3S Works
Estimate: $8,750,000 - $10,500,000 USD
Very few race cars of the 1950s can claim to have their original engine, chassis, and body from when they left the factory, but chassis no. DB3S/2 is one of those select few, being an important part of Aston Martin competition history and possibly the finest of the 10 Works DB3S still in existence. It was driven by Peter Collins, one of the all-time heroes of motor racing, and has competed at some of the most revered competitions of the period, including Le Mans, Sebring, Buenos Aires, Spa, Mille Miglia, and the Goodwood 9-hour race, where it claimed victory two laps ahead of the nearest Jaguar C-type.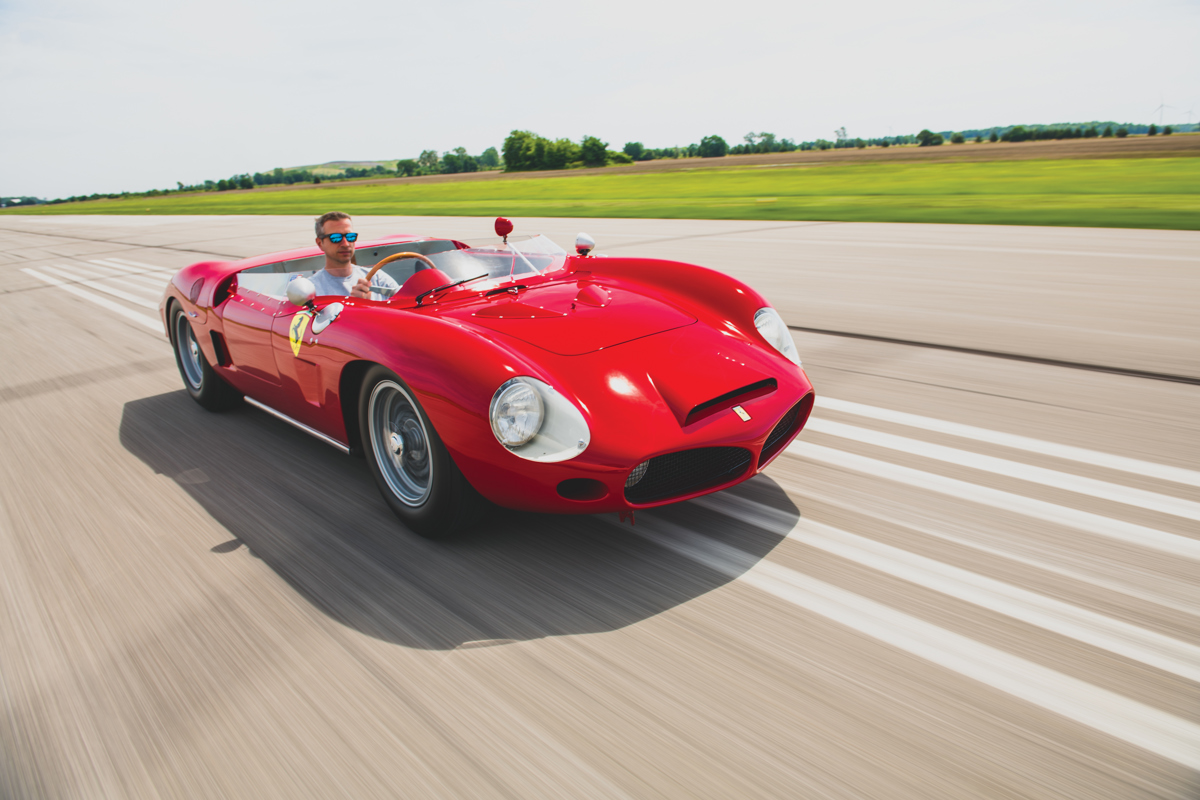 1962 Ferrari 196 SP by Fantuzzi
Estimate: $8,000,000 - $10,000,000 USD
Chassis no. 0806 is the final of just six examples ever built and the last of five surviving Scuderia Ferrari Sports Prototypes constructed for the 1961–62 seasons. The SP cars were Ferrari's first mid-engine prototype cars and an integral element in the evolution of the marque's famed P-car series. This example has had only four owners in the last 50 years, including time spent in the hands of some of the most significant private collections in the world, such as Pierre Bardinon's former Mas du Clos Collection. It presents today in outstanding overall condition and performed flawlessly on a recent test drive, as one would hope. Welcome at a host of international racing events, it guarantees entry into some of the world's most tight-knit circles of collecting and eligibility.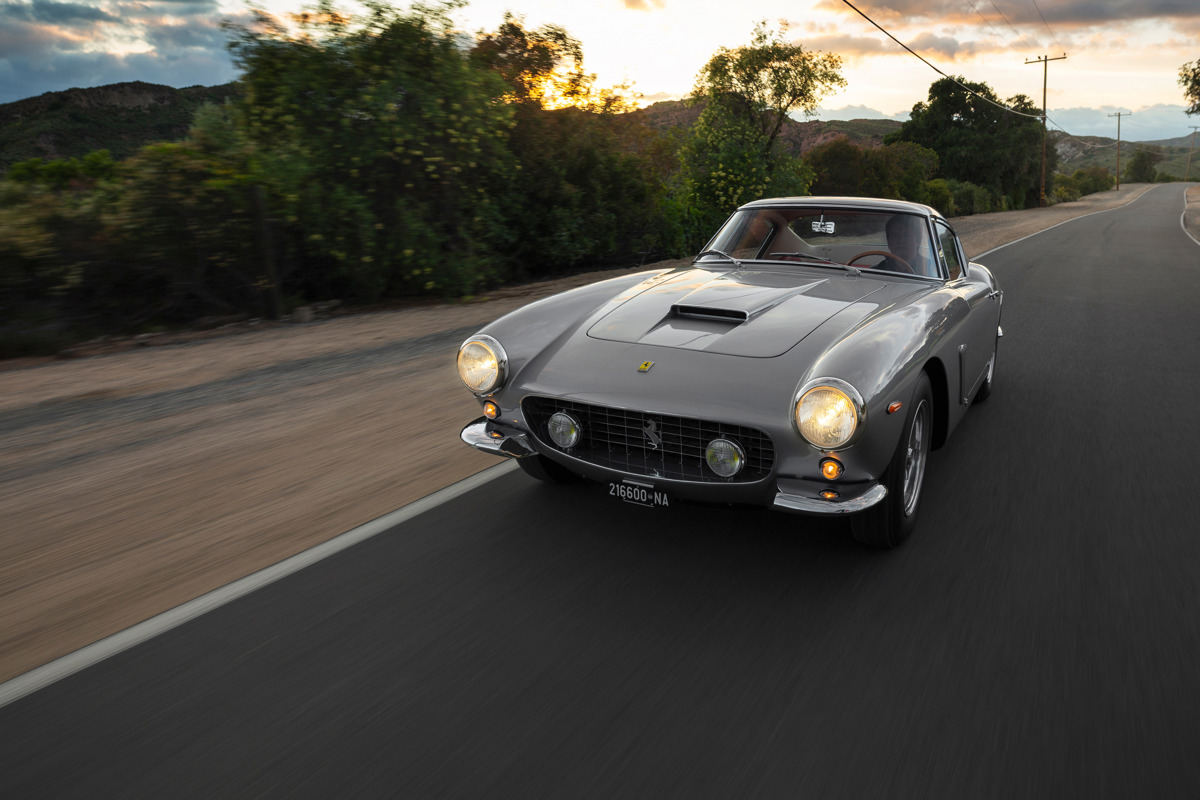 1962 Ferrari 250 GT SWB Berlinetta by Scaglietti
Estimate: $8,000,000 - $10,000,000 USD | Offered Without Reserve
One of only 40 steel-body SWB berlinettas, chassis 3359 GT has undergone a meticulous restoration overseen by Ferrari Classiche and was the recipient of the coveted Full Red Book Certification to confirm its authenticity. It was documented by Ferrari historian Marcel Massini and was the recipient of the Mention of Honour award in the competitive Ferrari 250 Dynasty Class at the 2012 Villa d'Este Concorso d'Eleganza. The 250 GT SWB Berlinetta is one of the most revered road-going Ferrari models of all time for its tremendous power from the Tipo 168/61 V-12 engine and well-balanced handling capability. This example will also be offered without reserve and selling to the highest bidder at this year's auction.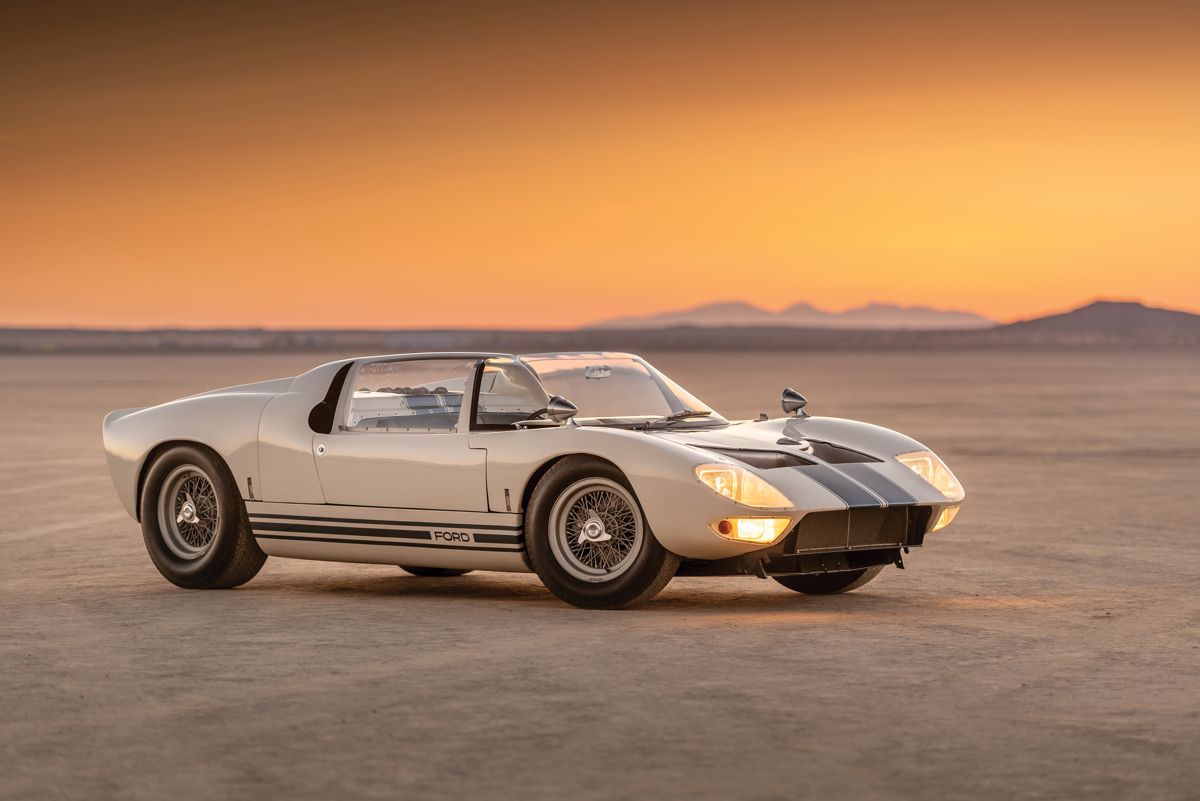 1965 Ford GT40 Roadster Prototype
Estimate: $7,000,000 - $9,000,000 USD
The GT40 was conceived to overthrow Ferrari's reign in competition, specifically the 24 Hours of Le Mans. Prior to the production of the 87 GT40 models whose serial numbers began with the P prefix, a group of twelve prototypes were built with sequential serial numbers beginning with a GT prefix. This example, GT/108, is the eighth of the aforementioned twelve prototypes and the first of only five roadsters built. This example has outstanding provenance, having been driven by some of the most legendary drivers of the era, including Carroll Shelby, Ken Miles, and Jim Clark. It was also one of two cars used by Kar Kraft to develop the J and X series models, which were the basis for the Le Mans–winning Mark IV.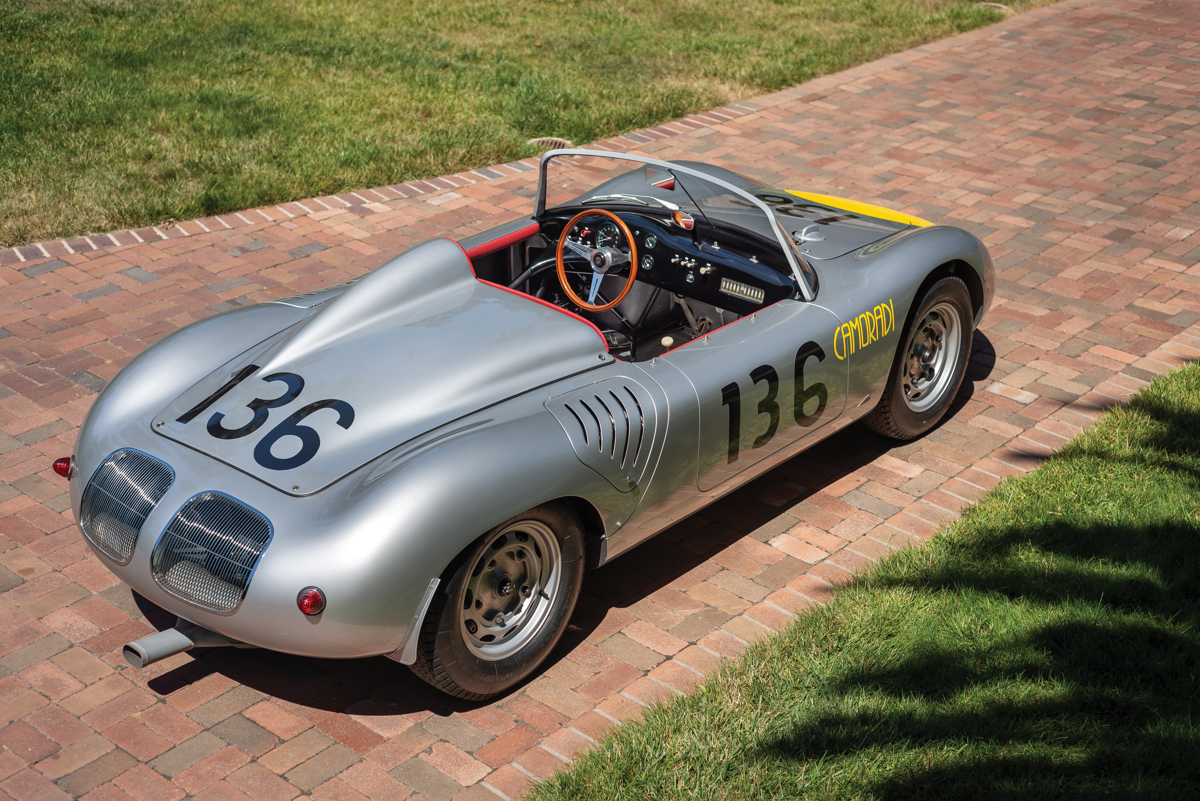 1960 Porsche 718 RS 60 Werks
Estimate: $5,750,000 - $7,750,000 USD
The RS 60 improved upon the successes of the 550 Spyder and Type 718 RSK by extending the wheelbase by four inches and adding independent wishbone rear suspension, uprated brakes, 15-inch wheels, and a wider cockpit. Of the 18 RS 60 examples, Porsche retained four cars for its factory efforts as Works-prepared cars with specific features unavailable on the customer cars. This example, chassis 718-044, was the final of the four Works cars and is likely to be the only to become available to the public. With outstanding racing provenance, having competed in 24 Hours of Le Mans, 12 Hours of Sebring, Targa Florio, and Nürburgring 1000 KM at the capable hands of drivers such as Stirling Moss, Graham Hill, Dan Gurney, Jo Bonnier, Bob Holbert, and Hans Hermann, chassis 718-044 is an unrepeatable opportunity to own a piece of Porsche motorsport history.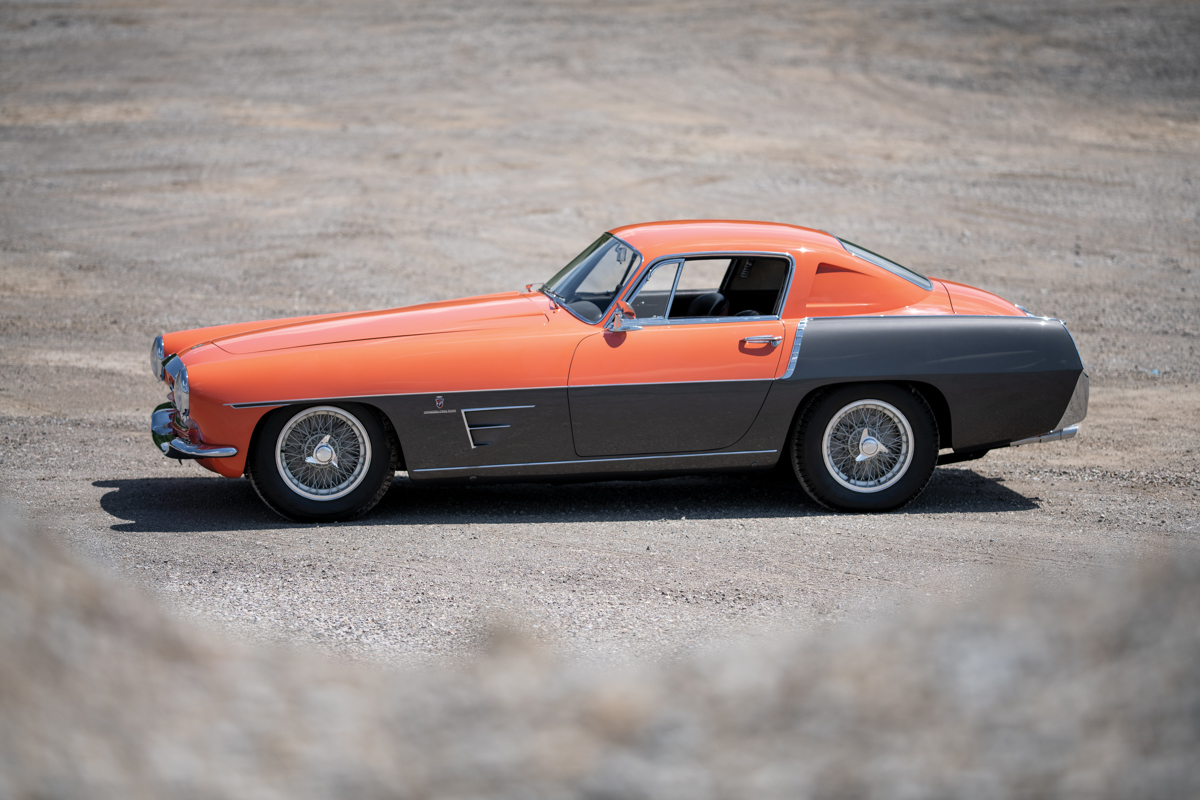 1955 Ferrari 375 MM Coupe Speciale by Ghia
Estimate: $5,000,000 - $7,000,000 USD
Chassis no. 0476 AM is a one-off speciale road car with an alloy body formed by Ghia and is the final Ferrari ever to be bodied by the famed coachbuilder. Beneath the unique coachwork is a full racing-spec 375 MM chassis and 4.5-liter Lampredi V-12 with three Weber 42 DCZ 3 carburetors, delivering 340 hp at 7,000 rpm. It has been Ferrari Classiche certified, confirming it is equipped with its original chassis, engine, gearbox, and differential. It presents today in remarkable condition in the striking original color scheme and retains its original Ghia interior.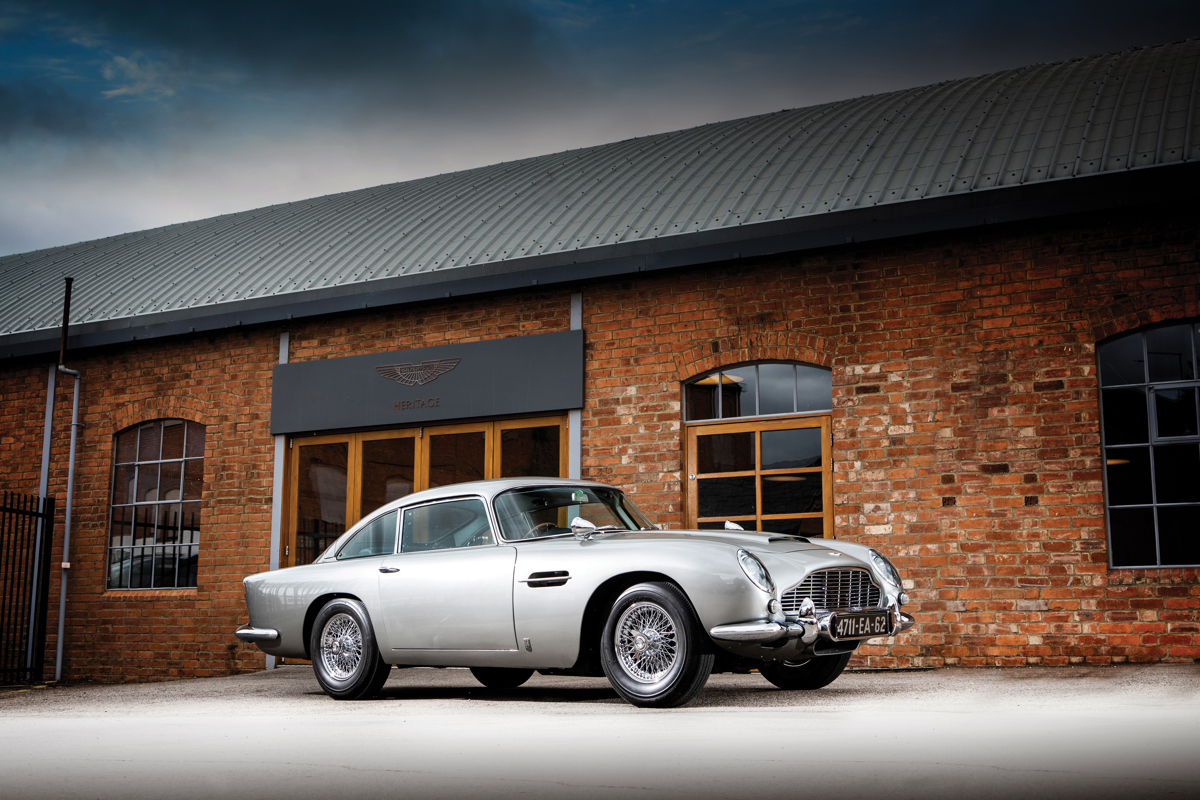 1965 Aston Martin DB5 "Bond Car"
Estimate: $4,000,000 - $6,000,000 USD
Chassis DB5/2008/R is one of only three surviving cars commissioned by Eon Productions to be outfitted with full MI6 Q specifications as pictured in Goldfinger, with functional modifications created by special-effects expert John Stears. Chassis 2008/R was one of two built from new with Bond gadgetry, destined for North America as a promotional campaign for Thunderball, the fourth in the James Bond series. Following the tour, chassis 2008/R would change hands only three times, including a 35-year period as the centerpiece of the Smokey Mountain Car Museum. A no-expense-spared restoration has since been completed by official Aston Martin Heritage specialists Roos Engineering in Switzerland, with all Stears-designed Bond modifications refurbished to function as originally intended.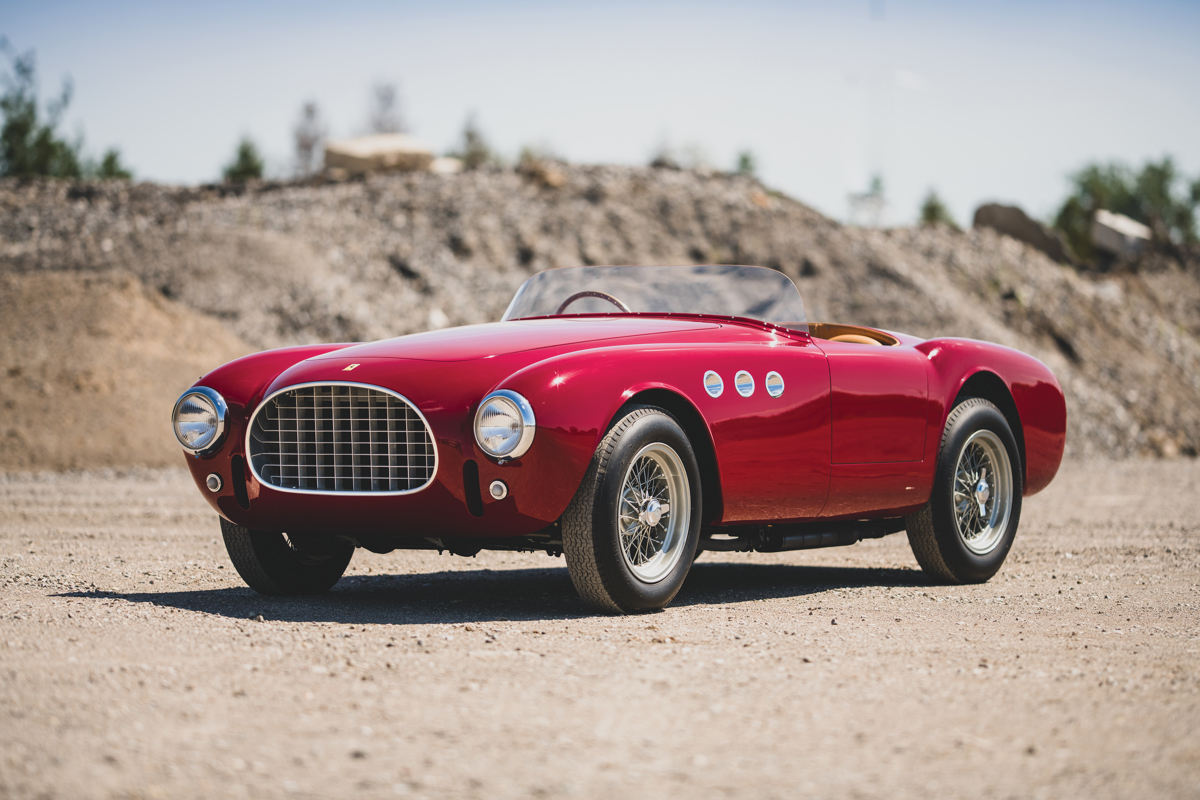 1952 Ferrari 225 Sport Spider by Vignale
Estimate: $4,000,000 - $5,000,000 USD
Chassis no. 0214 ED is one of just 12 examples of the model built and was originally raced in the UK by Irish publisher William Baird. Baird and co-driver Roy Salvadori earned a 3rd-place finish overall in the 1952 Goodwood 9 Hours and a 4th Overall and 2nd in Class finish at the Daily Mail International Trophy. It was campaigned in races throughout and into the mid-1950s by its second owner in Argentina. Following a restoration in Italy in the 1990s, and once again in the US in the 2000s, the 225 Sport Spider is offered from two decades of single ownership and is one of only three Ferrari models eligible for all major vintage events.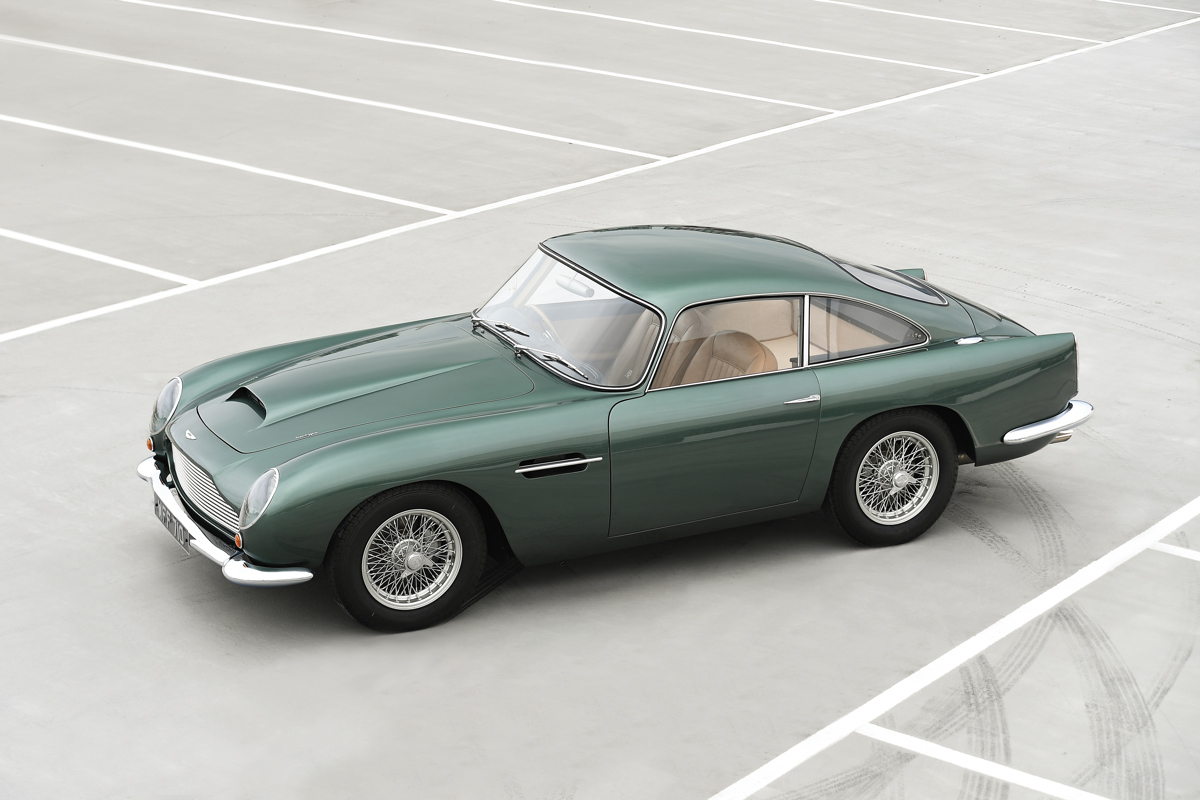 1961 Aston Martin DB4GT
Estimate: $3,000,000 - $3,400,000 USD
One of only 75 DB4GTs produced, and of only 47 produced in right-hand-drive, the DB4GT has achieved an almost mythical status and is seen as one of the most important and impressive post-war Aston Martins. This example received a competition department–built replacement engine, installed by Aston Martin in period, taken from the ex–Equipe Endeavor Stirling Moss lightweight DB4GT/0124/R. Most recently, this example was acquired by its current owner and returned to Newport Pagnell to be the reference car for the DB4GT "continuation series" and ensure the authenticity they desired for the 25 examples to follow. There, it was completely dismantled and repainted by the Works department in Racing Almond Green, the interior re-trimmed in Connolly hides. This example represents the pinnacle of the DB4 line with its fascinating history and flawless presentation.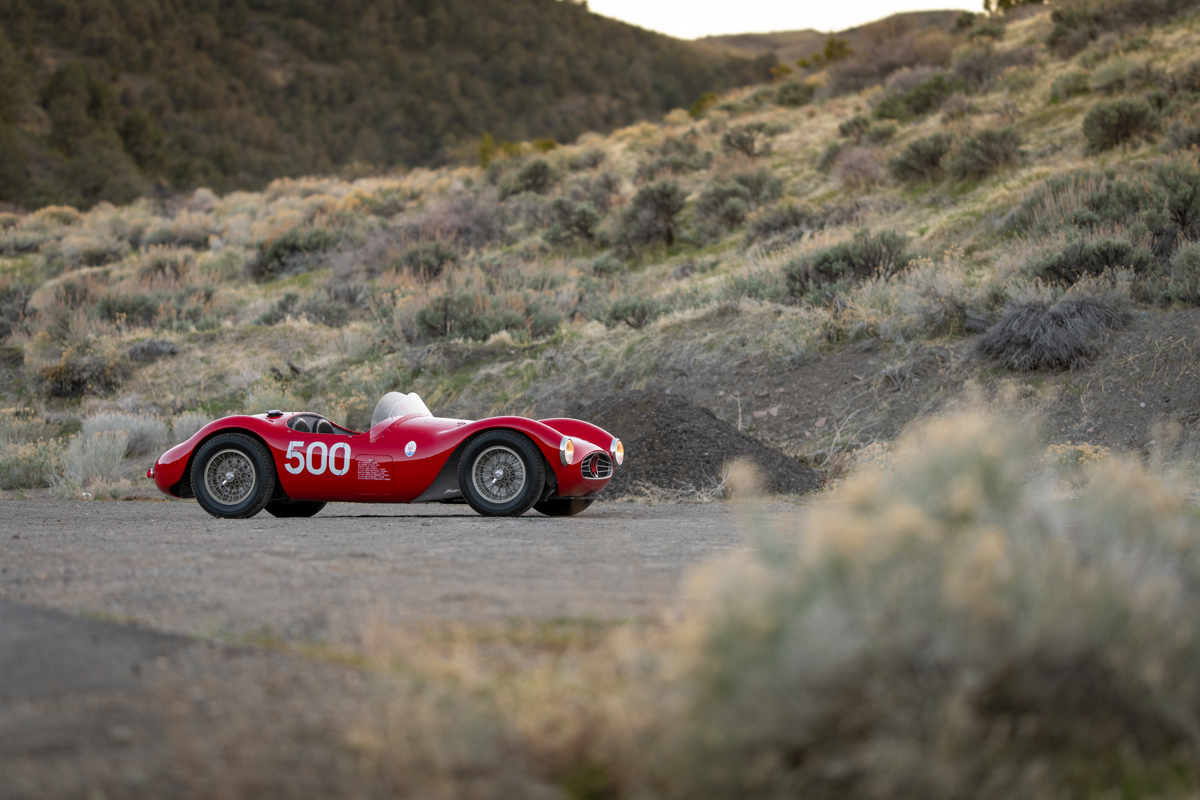 1954 Maserati A6GCS by Fiandri & Malagoli
Estimate: $3,250,000 - $3,750,000 USD
Offered for the first time in two decades following single-enthusiast ownership, this A6GCS was the 25th of 52 built and one of two campaigned by the Maserati factory team to compete in the 1954 season. At the hands of revered Maserati and Ferrari Works driver Luigi Musso, chassis no. 2078 saw numerous 1st place and podium finishes with Maserati in momentous road races such as the Targa Florio, Imola, and the Mille Miglia. Following its time as a Works race car, it was campaigned by subsequent owners throughout Argentina and Italy, eventually in vintage rallies such as the Mille Miglia, Monterey Historics, and the Colorado Grand with its most recent owner. Following a comprehensive restoration, it was the recipient of the Gran Turismo Award at the 2014 Pebble Beach Concours d'Elegance and would be a warmly welcomed entrant in any major concours or vintage racing events around the world.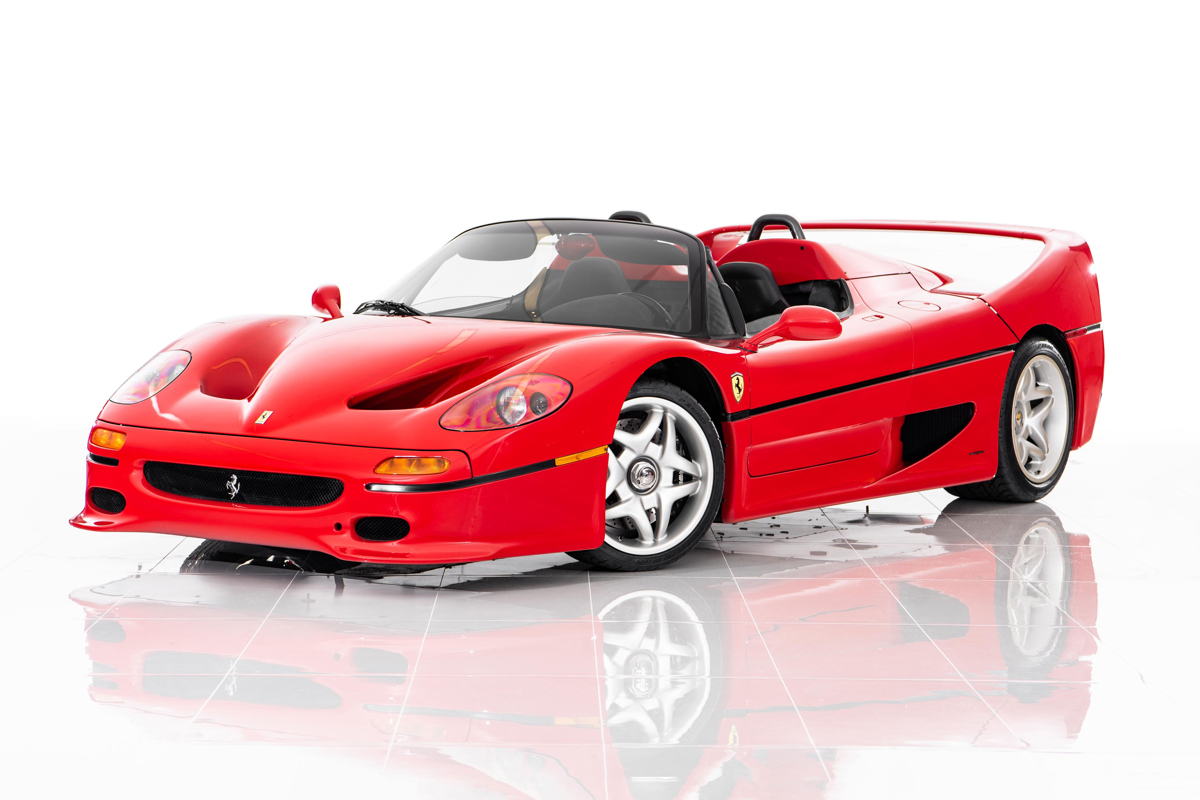 1995 Ferrari F50
Estimate: $3,000,000 - $3,500,000 USD
The successor of the legendary F40 incorporated as much race car as Ferrari engineers could make possible. The F50 is unique from every angle, from its aggressive styling to the 4.7-liter V-12 attached directly to the carbon fiber chassis. It is regarded by enthusiasts as the ultimate in Ferrari collectability for its combination of limited production, F1-backed performance, and bold Pininfarina styling. This particular example is one of the 55 US-production examples, is fully Ferrari Classiche certified, and retains its original luggage and all accessories. Notably, it is a Ferrari Club of America Platinum Award winner and remains in outstanding overall condition today.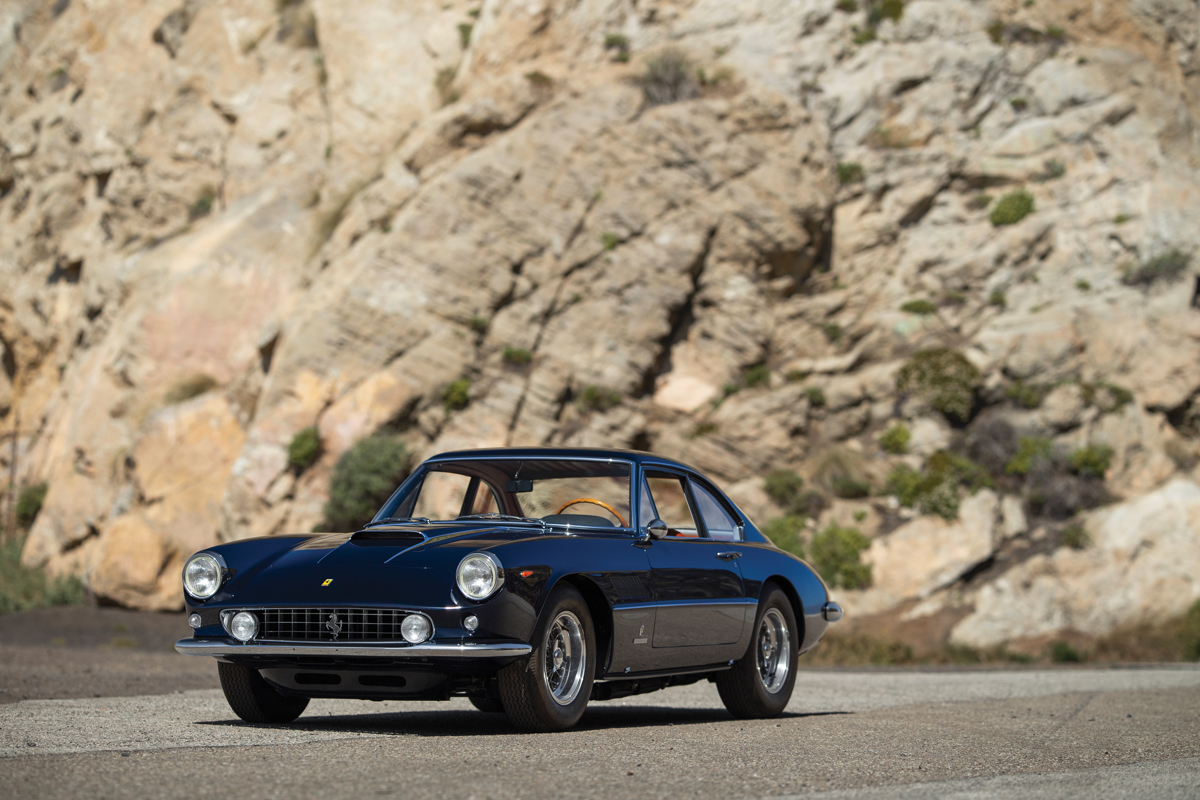 1961 Ferrari 400 Superamerica SWB Coupe Aerodinamico by Pininfarina
Estimate: $2,900,000 - $3,500,000 USD
Representing the pinnacle of Ferrari production, the Ferrari 400 Superamerica Coupe Aerodinamico was produced with the best in 1960s styling and world-class performance. Only seventeen short-wheelbase iterations of the Superamerica Coupe Aerodinamico were completed, this example being the fifth produced. It has been Ferrari Classiche certified, ensuring that it has its original Colombo-designed V-12 engine, gearbox, and rear differential. After being purchased from its original owner, this example was imported to the US, where it graced the April 1963 cover of Car and Driver magazine. It remains today an excellently restored example of one of Ferrari's most celebrated and significant models ever constructed.