Monterey Car Week is the must-attend event of the year for automobile aficionados, synonymous with the finest and most historically significant automobiles presented on the great oceanfront lawns during the official Concours held at the Pebble Beach Lodge, with sister shows at the Quail and the Concorso Italiano, and the opportunity to experience historic racers in action during the Historics Reunion at the Laguna Seca Weathertech Raceway. Reportedly over 20,000 automotive enthusiasts attended last year's activities, and this year that number will most likely grow.
RM Sotheby's is proud to host the flagship annual auction featuring an unparalleled catalog of blue-chip collector cars from the world's greatest marques. This year's Monterey sale has been extended to three days in anticipation of "An Evening with Aston Martin" and continues RM Sotheby's track record of offering the most exciting top-tier automotive consignments available, coupled with the highest standard of presentation and unmatched client service.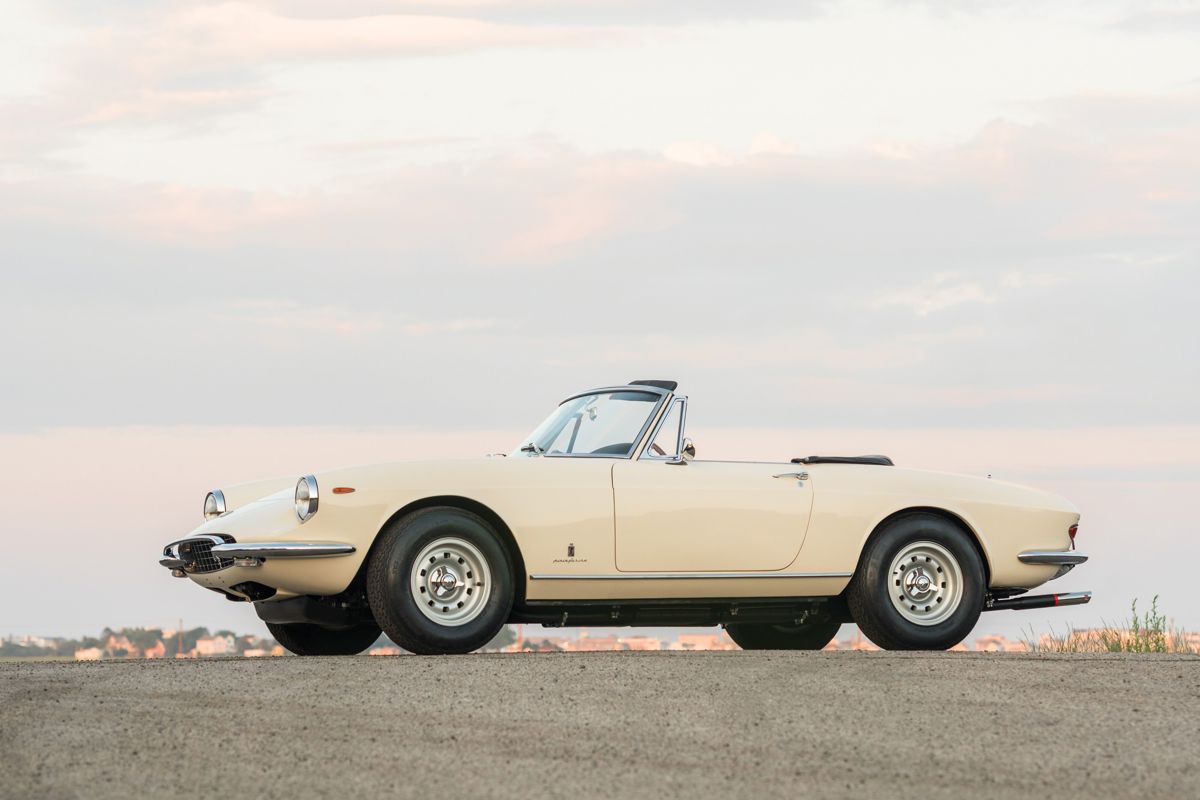 1969 Ferrari 365 GTS by Pininfarina
Estimate: $2,250,000 - $2,750,000 USD
This example is the first of only 20 365 GTS models produced and the only one to be finished in "Avorio" with a black interior. Garage Francorchamps SA of Brussels imported this chassis to Belgium to be displayed on their stand at the 1969 Brussels Motor Show and it remains in outstanding previously restored overall condition.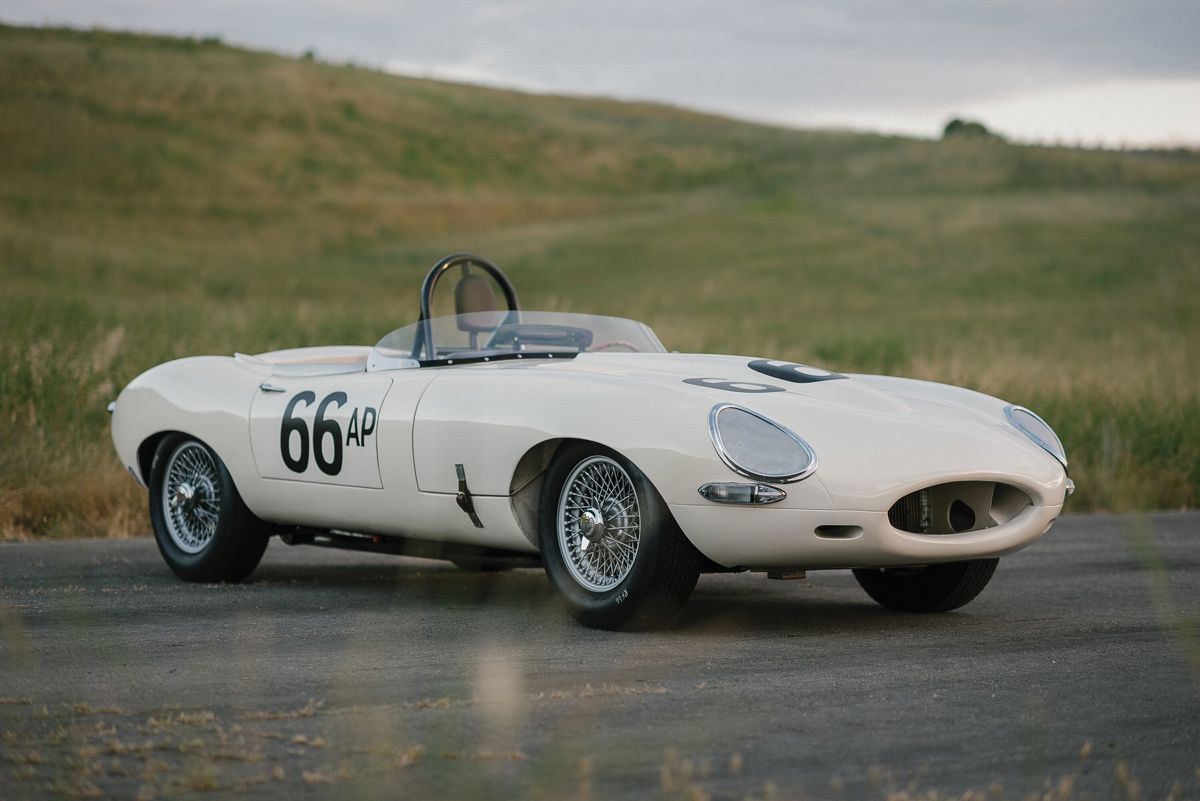 1962 Jaguar E-Type Series 1 3.8-Litre Roadster SCCA A-Production
Estimate: $250,000 - $300,000 USD
Shortly after the Jaguar E-Type's debut in 1961, this example was among the first E-types to enter into racing competition in North America. This chassis was produced 1 March 1962 and was immediately turned over to Joe Huffaker, one of the most prolific race car constructers of the era, to be prepared for SCCA A-production road racing. Number 66 became a familiar sight through the following years on the San Francisco area racing circuit, with a number of podium finishes and often holding its own against Allen Grant's 289 Cobra, Dick Guldstrand's Corvette, and Bev Spencer's Ferrari 250 GTO.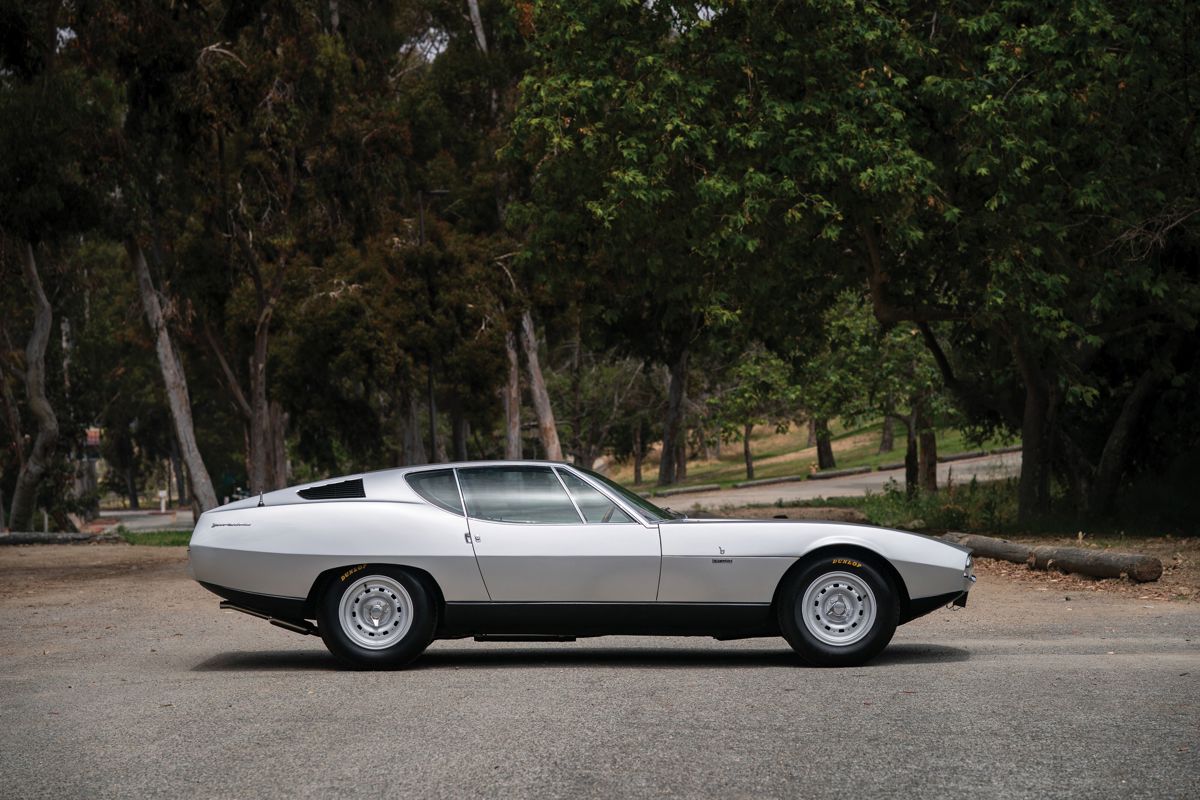 1967 Jaguar Pirana by Bertone
Estimate: $400,000 - $600,000 USD | Offered Without Reserve
The Bertone-Jaguar Pirana is the only of its kind, the product of the motoring staff at the Daily Telegraph dreaming up the ultimate grand touring car. The body was conceived by Bertone's chief stylist Marcello Gandini to create a grand tourer with the aim of creating the appearance of "controlled speed", with a long, sleek hood and plenty of slope at the rear. Beneath the bespoke Italian bodywork lies the 2+2 E-type chassis and the robust 4.2 litre inline six-cylinder engine, with Dunlop competition wheels and tires to further widen the stance. From initial wooden design model to a finished automobile in only five months, the Pirana was debuted at the 1967 Earl's Court motor show and additionally showcased all of the latest UK technologies.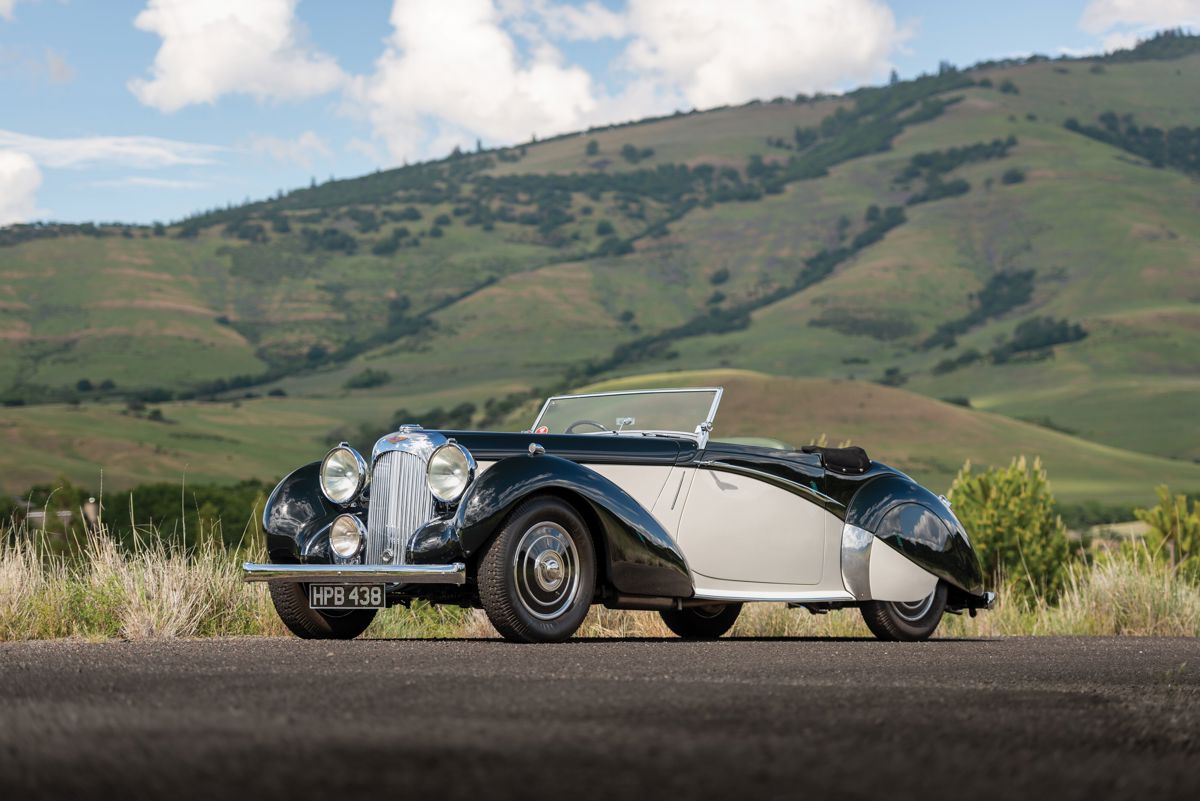 1938 Lagonda V-12 Rapide Drophead Coupe
Estimate: $1,200,000 - $1,500,000 USD
A total of 187 Lagonda V-12s were produced and of those, only seventeen were produced as the "ultimate" specification Rapide, built on the shortest available 124-inch wheelbase chassis. Twelve of those seventeen were fitted with a sleek drophead coupe body designed by Frank Feeley and produced in-house. This chassis is believed to be the first Rapide drophead coupe produced, and in 1941 it was upgraded with the Le Mans Sanction II "Marine" upgrade, which incorporated a revised firing order and an intake manifold with four SU DAL carburetors capable of producing 206 horsepower.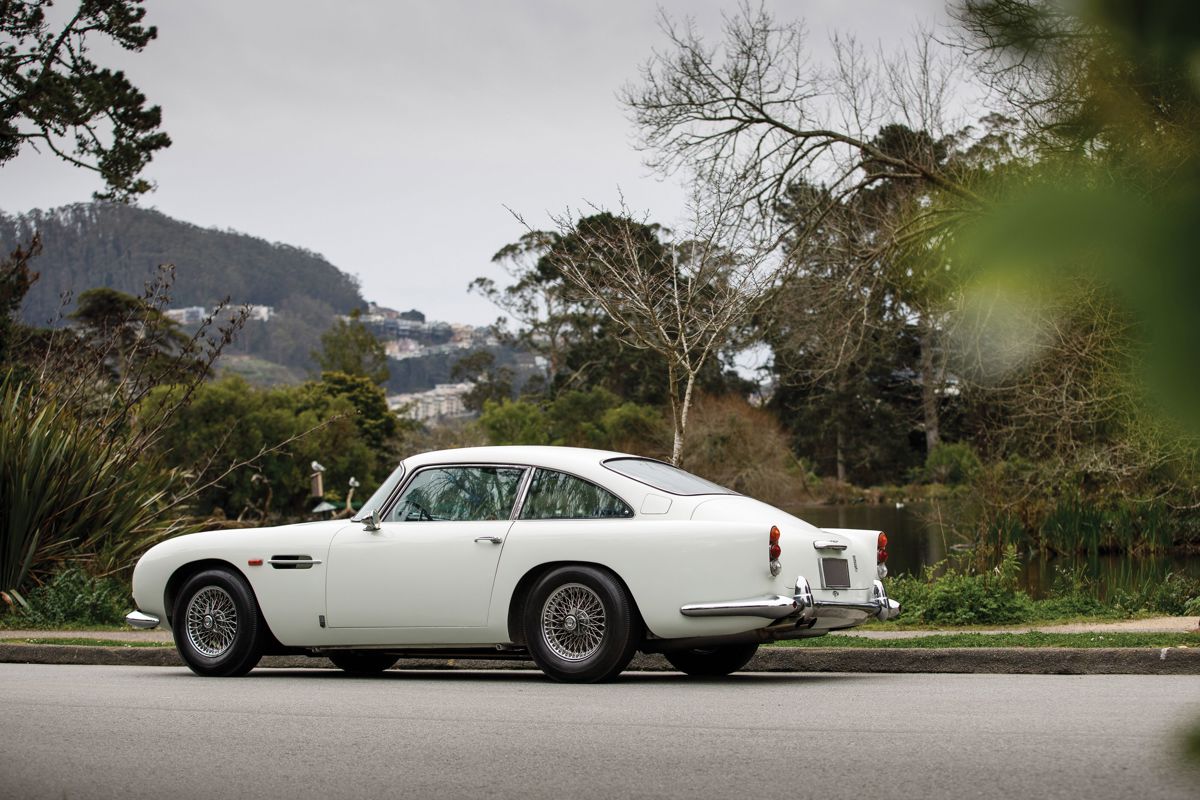 1964 Aston Martin DB5
Estimate: $700,000 - $900,000 USD
The DB5 was stylistically an extension of its exquisite predecessor but featured over 170 improvements over the DB4 and became one of the marques most sought after models after being featured in 1965 in the film Goldfinger as superspy James Bond's transport. Only 1,021 examples were produced in 1965, and this Platinum white over dark blue Vaumol leather example is one of the earliest production models, being the fifth produced as confirmed by correspondence from the manufacturer.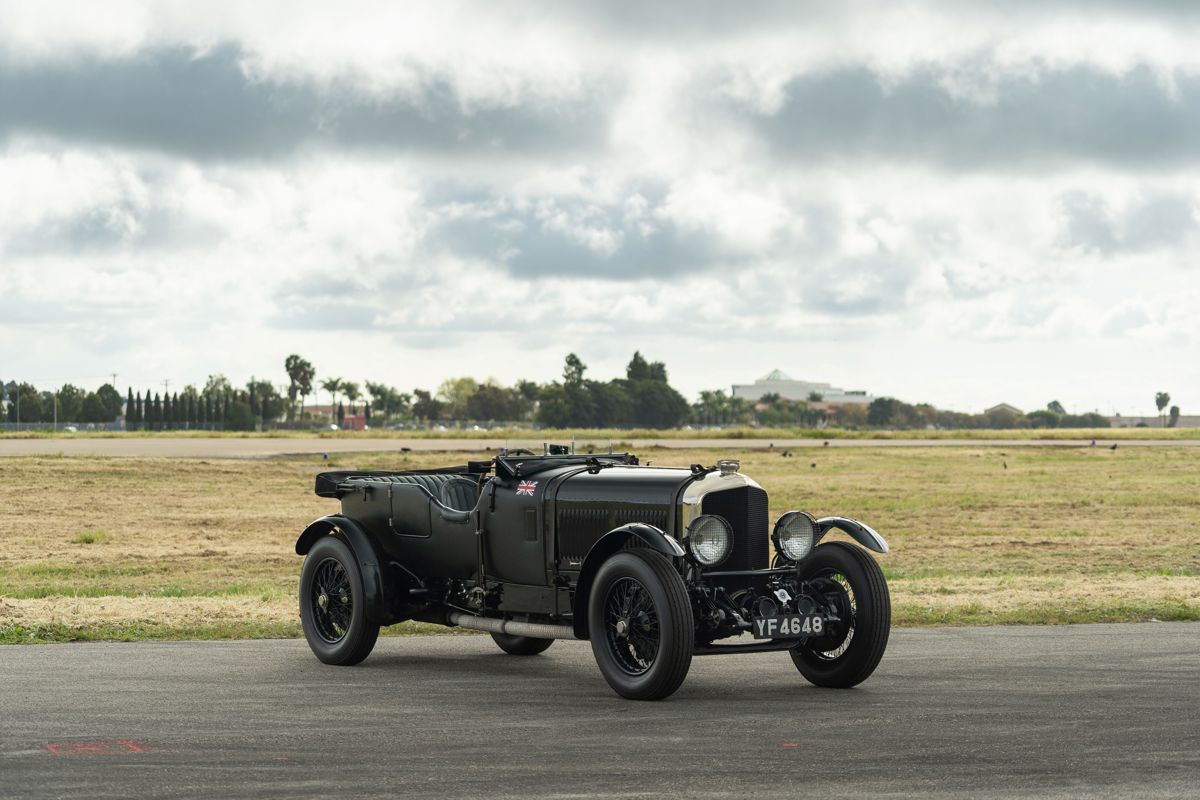 1927 Bentley 6½-Litre Le Mans Sports in the style of Vanden Plas
Estimate: $900,000 - $1,200,000 USD
Bentley's 6 1/2-litre engine was originally developed to carry heavier coachwork while maintaining the performance standard for which they had become known, but when used in competition form in a shortened chassis, it was this same engine that propelled the Bentley Works team to victory at Le Mans in 1929 and 1930. This chassis retained the majority of its original chassis, engine, steering box, and rear axle when its most recent owner took possession of it. He commissioned marque specialist David Ayres to painstakingly restore the vehicle to 1930 Le Mans team car specification, including modifying the engine to full competition specification.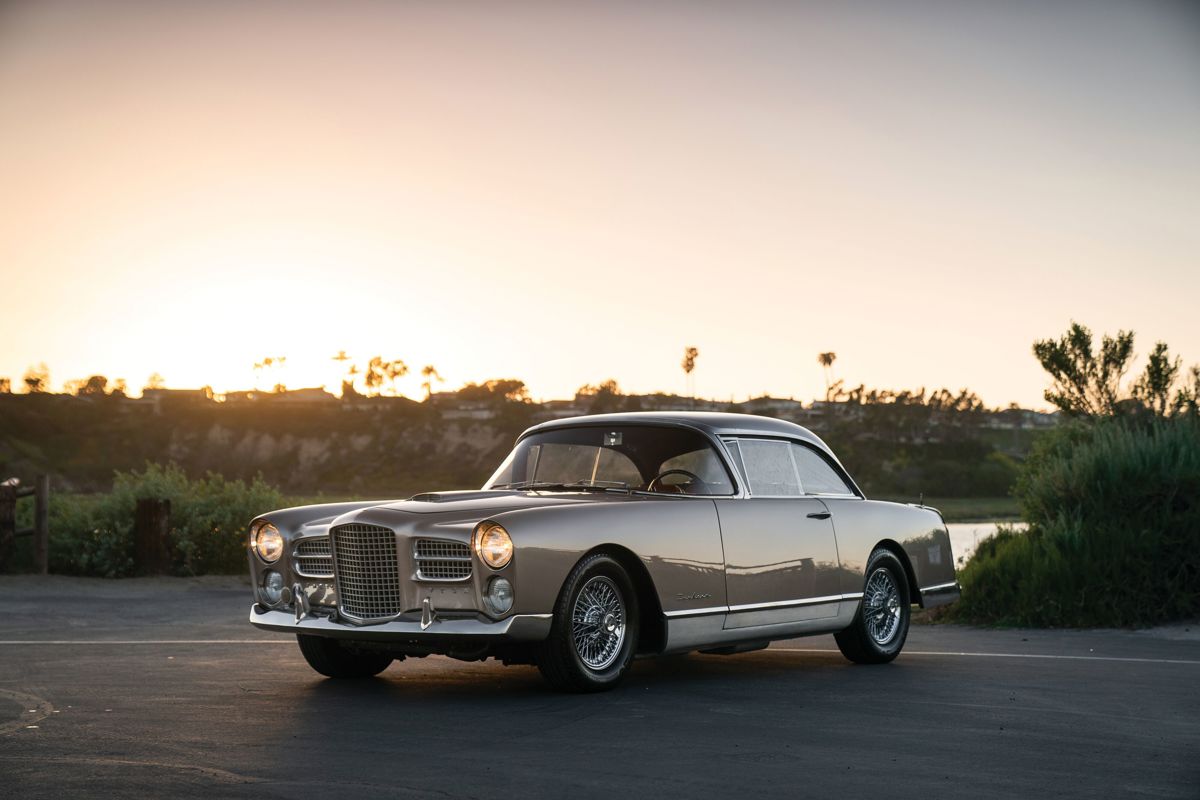 1958 Facel-Vega FVS Series 4 Sport Coupe
Estimate: $250,000 - $300,000 USD | Offered Without Reserve
Forges et Ateliers de Construction d'Eure et de Loire SA (FACEL) began in 1938 as a tool manufacturer for the aviation industry and expended to producing bodies for automakers Simca and Panhard. In 1954, Facel introduced the Vega—a luxurious four-seater powered by a 180 horsepower DeSoto Hemi engine. Between 1957 and 1958, Facel produced a total of 67 FV4s, including this early production chassis which is one of only 36 examples (Series 2 through Series 4) to feature the optional dual-quad 325 horsepower Chrysler 300 Firepower "Typhoon" Hemi engine.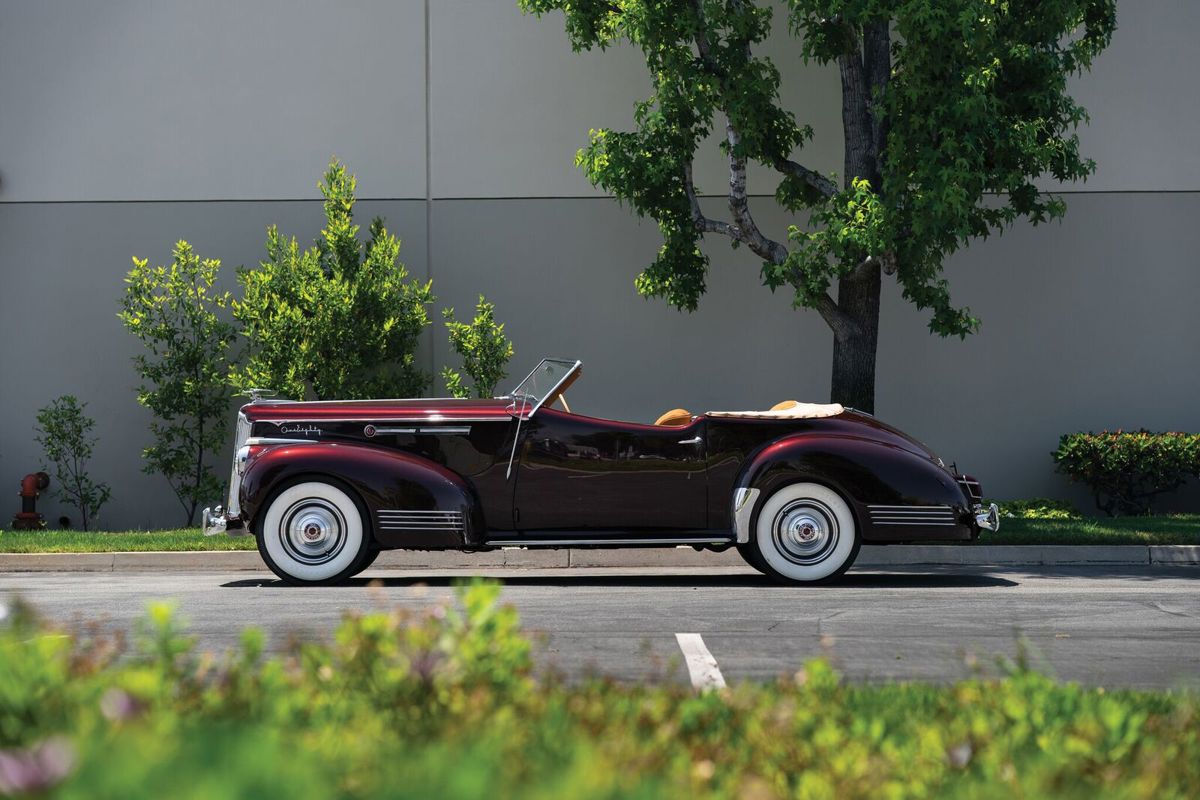 1941 Packard Custom Super Eight One Eighty Convertible Victoria by Darrin
Estimate: $300,000 - $350,000 USD
Known as the Banacek Darrin, this example was used extensively in the filming of the 1970s television series Banacek as it is considered to be one of the most beautiful Packard designs of all time. In 1990, Packard expert Don Sears oversaw the exacting restoration of this chassis, including the replacement of the cracked engine block with a correct 1941 engine. Following the completion of the restoration, this vehicle was awarded a number of accolades including the Pebble Beach Concours d'Elegance and a 100-point score with the Classic Car Club of America, with which the car holds Senior Premier badge number 1679.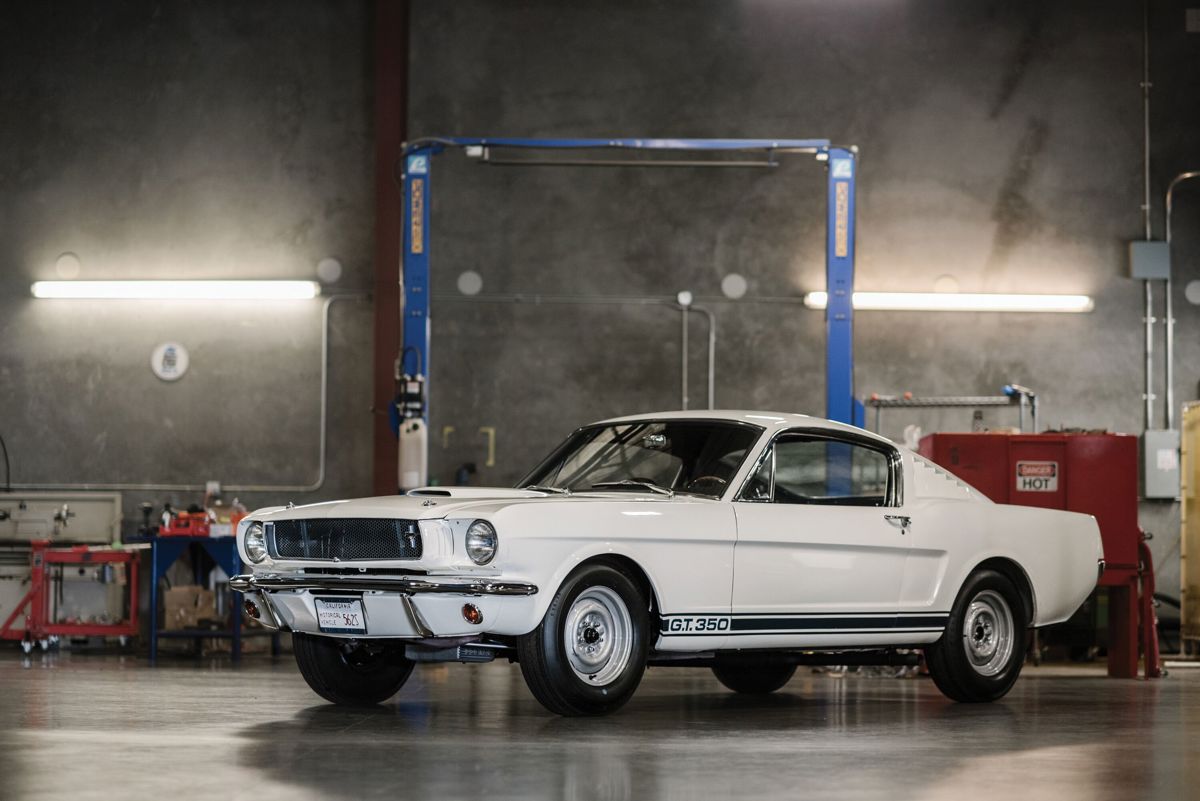 1965 Shelby GT350
Estimate: $400,000 - $500,000 USD | Offered Without Reserve
Shelby-Ford Mustang 5S089 is one of the earliest examples produced and is known as one of the highly desirable "double-digit" serial-number cars. The first 100 produced (numbers 015–113) were for homologation purposes to qualify for SCCA racing, and benefits from a trunk mounted battery modification, which was spared in later models as it was found to be a time-consuming endeavor. Additionally, the earlier production cars feature a weight saving fiberglass hood among other unique early production only features. A comprehensive restoration was performed in the mid-2000s, and retains its original engine block, heads, timing covers, transmission, carburetor, rear end, as well as the proper date-coded GT350 sheet metal.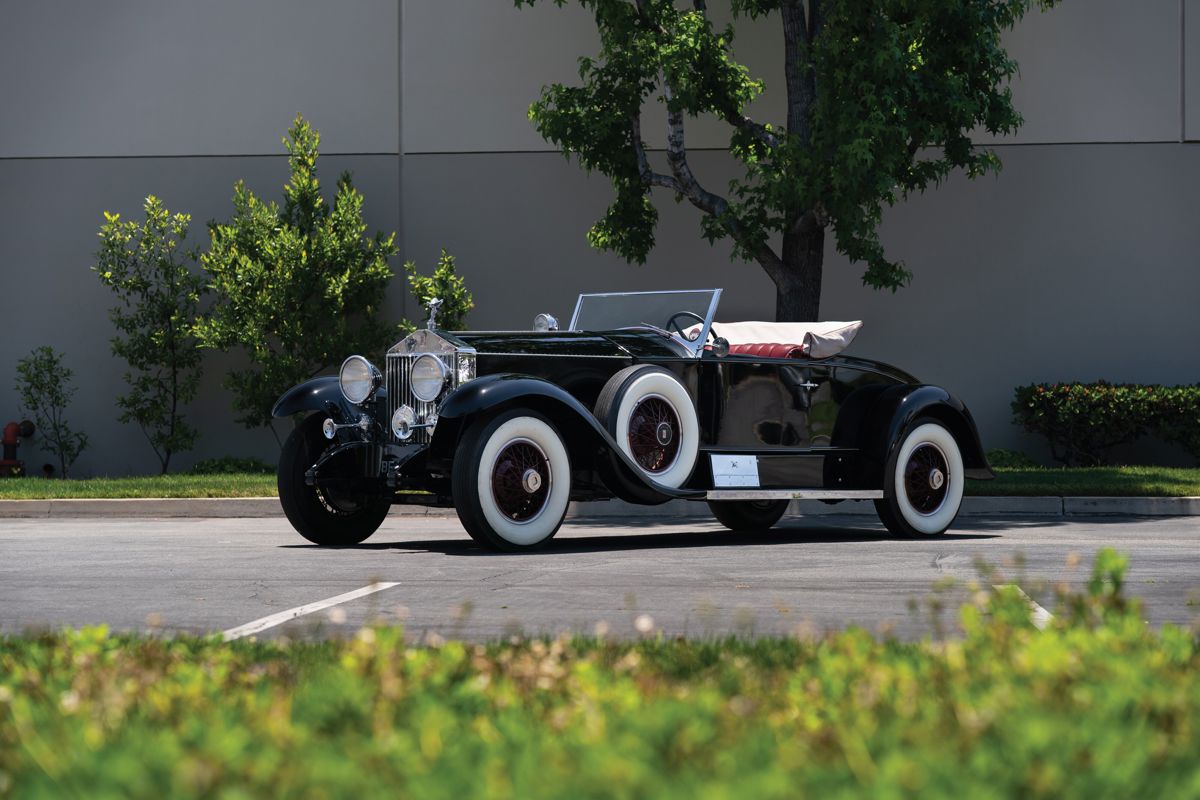 1927 Rolls-Royce Phantom I Playboy Roadster by Brewster
Estimate: $250,000 - $325,000 USD
Chassis number S162PM is one of only thirteen Springfield-built Phantom I Rolls-Royces to carry the Playboy Roadster body, in this case installed for its second owner in 1933, prominent 1920s screenwriter Sonya Levien Hovey. Warner Brothers Studio later acquired the Playboy Roadster as part of a fleet of prop vehicles and revised its bodywork to include more modern skirted fenders and lowered headlights. Over the following years it appeared in a number of Warner Brothers films, most notably the 1955 motion picture Giant alongside legendary actor James Dean, and the 1965 film Inside Daisy Clover, in which it was driven by Robert Redford.