From April to July, the always-pleasant weather in Monte Carlo turns even more ideal. The average number of days of rain per month falls from five in the springtime to just one in the summertime. With a temperate, not-too-hot climate, refreshing sea breezes, and a scant chance of rain, Monaco is an ideal setting for enjoying a classic convertible, and one where the top could conceivably stay open until autumn.     
With a world-class selection of vintage sports and luxury cars all set to cross the auction block at the Grimaldi Forum next week amid the stunning backdrop of the Mediterranean Sea, the only difficult decision becomes which drop-top you prefer. Do your tastes turn towards the modern supercar, like the Ferrari 430 Scuderia Spider 16M? Or perhaps you would rather drive a Drophead Coupé from classic British coachbuilders Mulliner Park Ward. Whichever mode of open-air motoring you desire, RM Sotheby's Monaco 2022 auction has an example for you. Monte Carlo is only starting to heat up for summertime, now is the time to choose your convertible: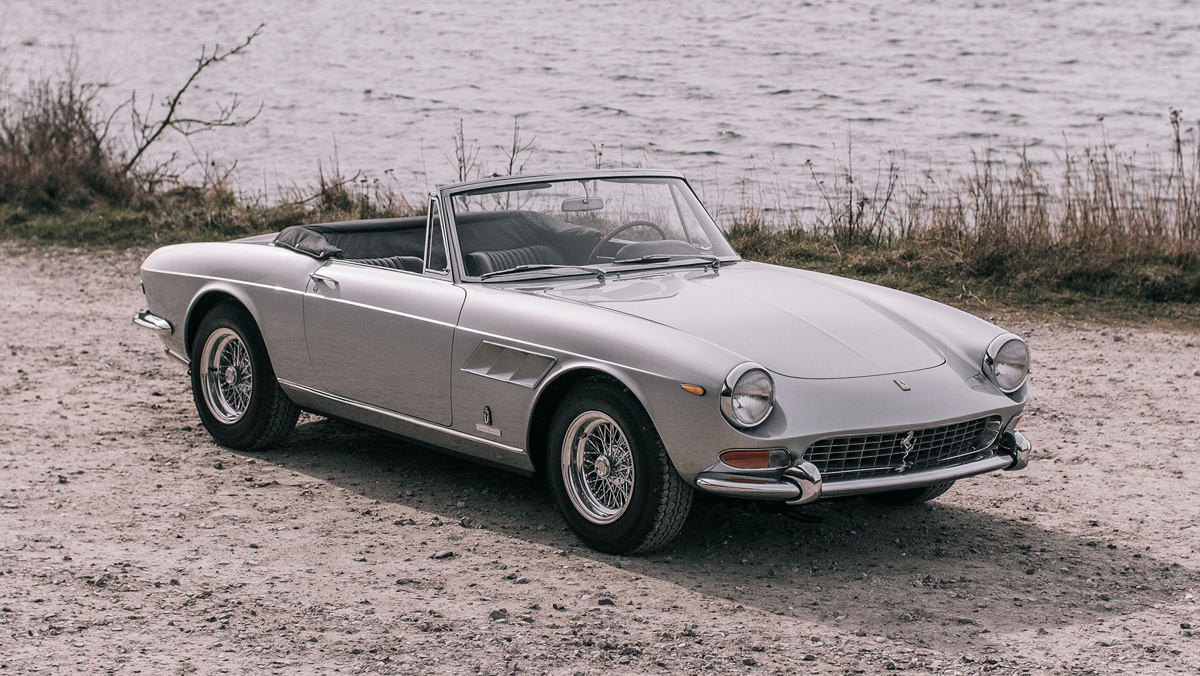 1965 Ferrari 275 GTS by Pininfarina
Estimate: €1,400,000 - €1,600,000 EUR
While the sumptuous, Scaglietti-built Ferrari 275 GTB is typically seen as one of the most desirable products from the prancing horse brand's mid-1960s output, its open-air GTS sibling was made in far more limited quantities, making this example twice as rare as the comparable Berlinetta. One of a mere 200 constructed at the Pininfarina atelier between 1964 and 1966, this numbers-matching, 3.3-litre V-12-powered Ferrari 275 GTS has a fully documented ownership history between the present day and when it was first delivered new to Austria. Wearing its original shade of Grigio Argento over a Nero interior, this twelve-cylinder, front-engine Ferrari would make a tasteful companion for Monte Carlo motoring, equally suitable parked in front of a casino as it would be packed for a weekend trip into Italy. Red Book certified in 2012 by Ferrari Classiche, this superb example is one of the auction's early highlights.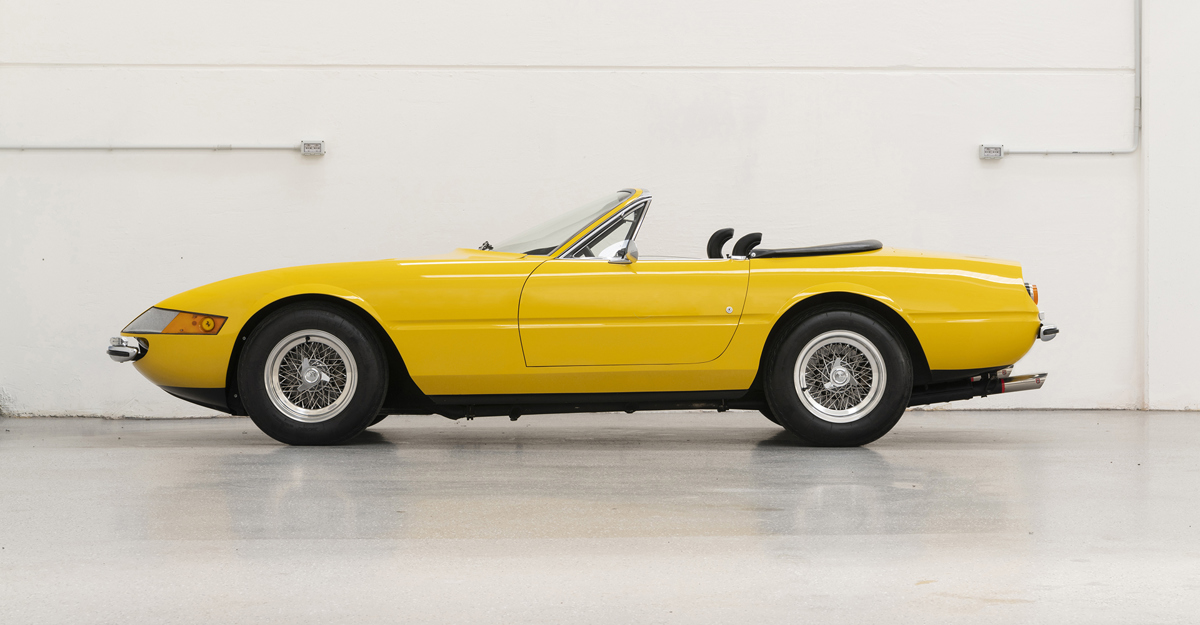 1973 Ferrari 365 GTS/4 Daytona Spider by Scaglietti
Estimate: €2,000,000 - €2,200,000 EUR
If you prefer your prancing horses with a bit of Technicolor pop, perhaps this Giallo Fly-colored Ferrari Daytona Spider will be more suitable to your tastes. The first question with any open-top 365 GTS/4 is whether or not the open-air treatment was completed by the factory, and for this fully authenticated, Ferrari Classiche-certified example, it was. According to preeminent Ferrari archivist Marcel Massini, this Spider is chassis no. 16839, the 90th of a mere 122 Daytona Spider sports cars handbuilt by Scaglietti in Modena. Benefitting from top-tier provenance throughout its ownership history, this US-specification example was delivered new via William "Bill" Harrah's Modern Classic Motors in Reno, Nevada, and enjoyed a colorful series of owners, including beeper brand founder Dean Becker. Recent ownership has seen this prestigious Italian thoroughbred returned to European specifications, its pedigree improved with the fitment of a correct air conditioning system, though all original US-delivery components have been retained and accompany the sale. Monaco would make a natural habitat for this genuine Daytona Spider.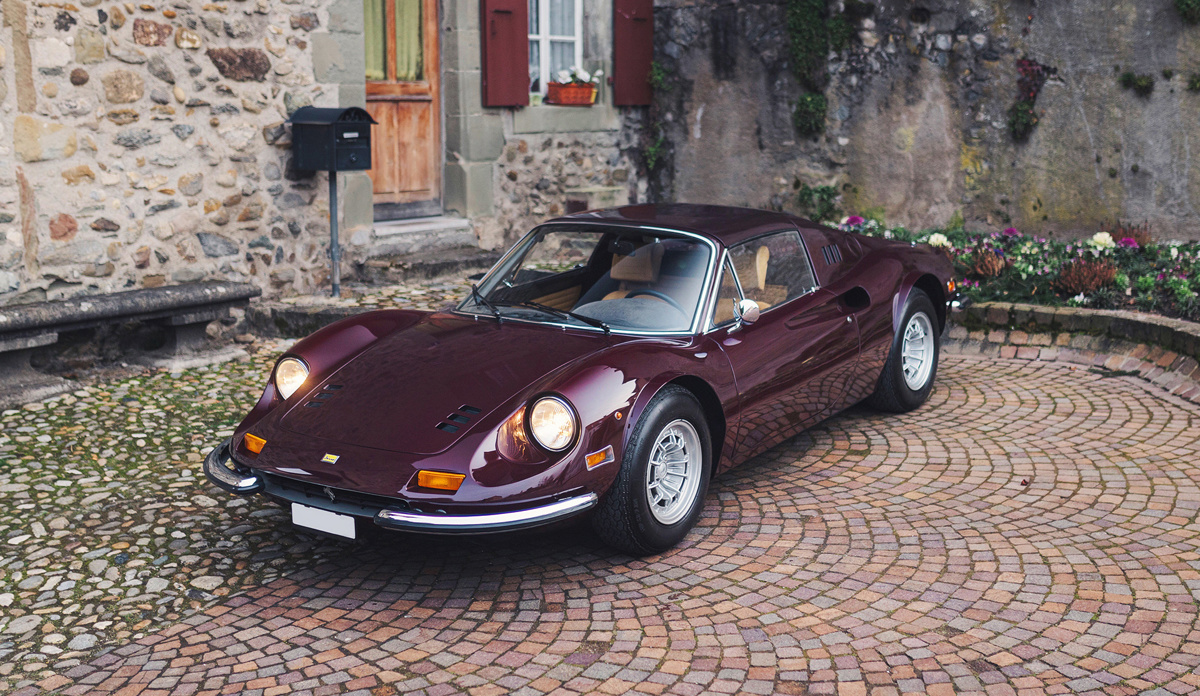 1973 Ferrari Dino 246 GTS 'Chairs & Flares' by Scaglietti
Estimate: €350,000 - €400,000 EUR | Offered Without Reserve
From the exact same era as the Daytona Spider we just covered comes this highly desirable Dino 246 GTS. Perfect for the prancing horse aficionado who prefers a more sporting mid-engine configuration, this six-cylinder Dino has been welcomed by great consensus into the Ferrari fold for its progressive packaging and still-fresh styling. Of all Dino 246 varieties, both GTB and GTS, this example is one of a mere 50 estimated to have been finished in this attractive shade of Rosso Cordoba. With its interior upholstered in Beige Connolly leather, this example was factory-ordered with both the "Chairs" (ribbed Daytona-style sport seats) and the "Flares" (iconic extended wheel arches), making it that much more tantalizing for the tifosi. Coincidentally also sold originally in America from Harrah's Modern Classic Motors in Nevada, this example benefits from stateside options such as power windows and air conditioning. Like the Daytona Spider, this targa-topped 246 GTS also has a history of celebrity ownership, with a signed affidavit showing it was once the property of Laetitia Casta, the well-known French actor and model. Casta, who famously did not drive, purchased this 38,816-mile example and treated it as a sculpture. Fitting for such a gorgeous Ferrari.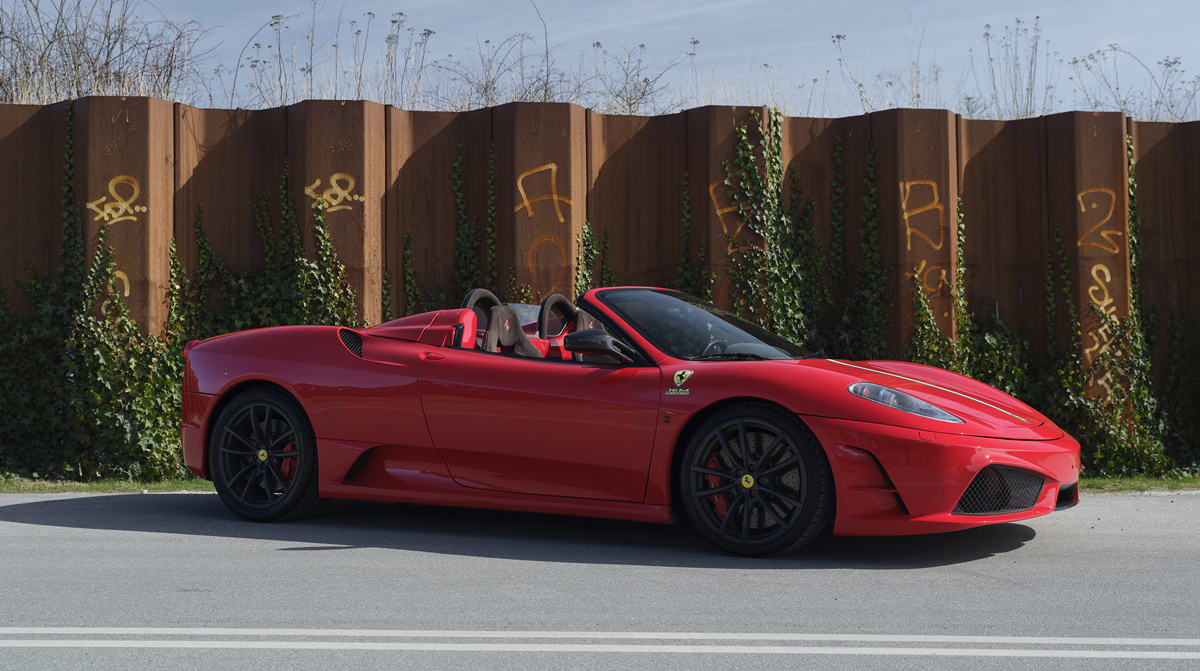 2009 Ferrari 430 Scuderia Spider 16M
Estimate: €250,000 - €290,000 EUR
One look at the dual hood stripes and redesigned front fascia of this modern, mid-engine supercar and it is immediately obvious that this is no ordinary Ferrari. Named for the 16th Manufacturers' Championship claimed under the banner of the prancing horse, the 430 Scuderia Spider 16M aimed to bring advanced technologies from the highest level of motorsport to eager Ferrari enthusiasts. Constructed with lightweight materials down to the titanium bolts on the bespoke wheels, the 16M split the difference between the "standard" 430 Spider and closed-top Scuderia in terms of mass, an impressive feat for any convertible. At the time of its release, this one-of-499 Spider 16M was the fastest open-top Ferrari around the brand's famous Fiorano circuit, which indicates its capabilities. Accompanied by a service book showing regular stamps from Ferrari dealerships up to its most recent entry on 5 April 2022, this lithe and agile supercar would be ideal for weekend adventuring.
1955 Lancia Aurelia B24 Spider America by Pinin Farina
Estimate: €625,000 - €675,000 EUR
Perhaps your taste in open-top Italian classics runs more toward other marques. Practically nobody would argue that this lovely Lancia Aurelia is anything short of a breathtaking car; already a rare model in general, this right-hand-drive example is one of only 59 examples believed to be equipped in this configuration. Restored in the mid-2000s back to its original factory color of Nero, this example is one of only three painted this shade in 1955. Accompanied by a practical, body-colored "Fontana"-style hardtop which was created expressly for this example at the same time as its restoration, this swooping Pinin Farina-designed beauty enjoyed an extensive engine rebuild at the hands of marque experts Omicron Engineering spanning late 2021 to early 2022. Receipts indicate more than £27,000 in services, including new pistons, liners, valves and camshaft, as well as a new clutch, and an overhaul of the braking system. Perhaps most intriguing for fans of European adventures, this Spider America is fully Mille Miglia-eligible.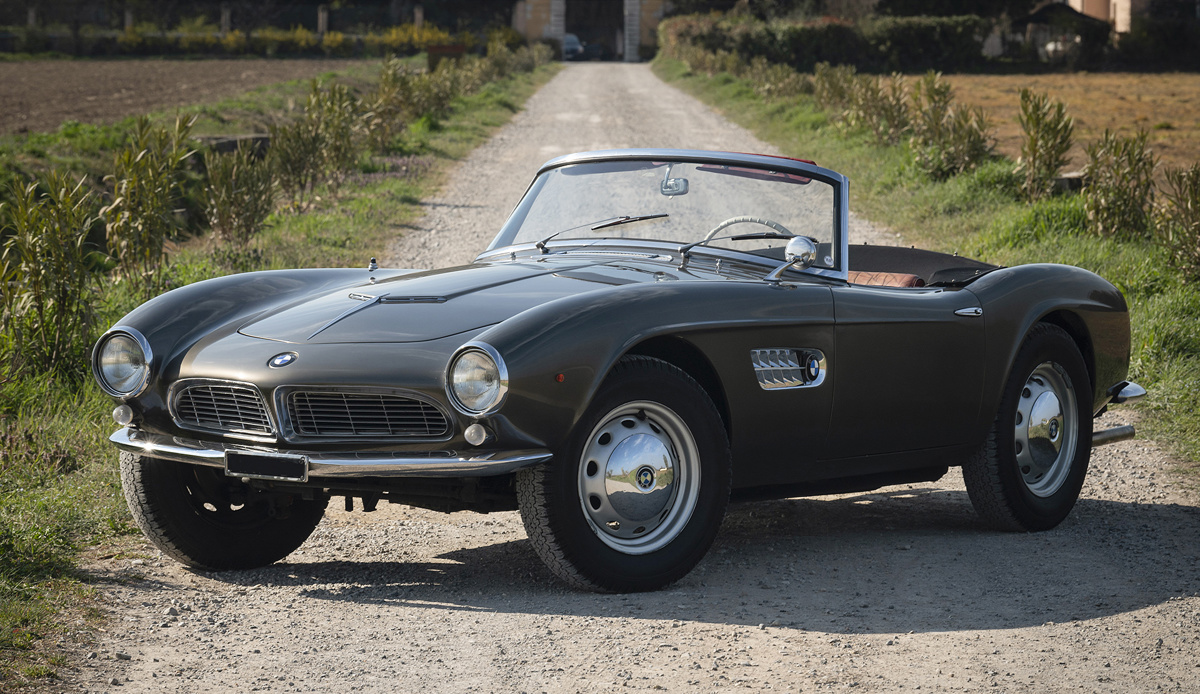 1958 BMW 507 Roadster Series II
Estimate: €2,100,000 - €2,500,000 EUR
Though our list has thus far centered on the output of one country, Italy did not control the totality of mid-century European sports car manufacturing. This Bavarian-made example offered front-engine V-8-power paired with an unforgettable shape by Count Albrecht von Goertz combined to create a car that still today ranks among the best of BMW. This example won over the hearts of a series of Italian owners after having been delivered through Casa dell' Automobili in Rome on 4 June 1958. As part of the second series of 507 production, one of a mere 252 overall, this roadster features a redesigned dashboard with a Becker Brescia radio, increased cabin space, and perhaps the ultimate accessory, the aluminum hardtop in matching Grigio Anthrazit Metallic. Featuring a perfectly contrasting, well-loved red leather interior, this Italian-owned BMW has been a regular sight at European gatherings, including the BMW Festival in Munich in 2016. One of Germany's best, offered with a history of enthusiast ownership.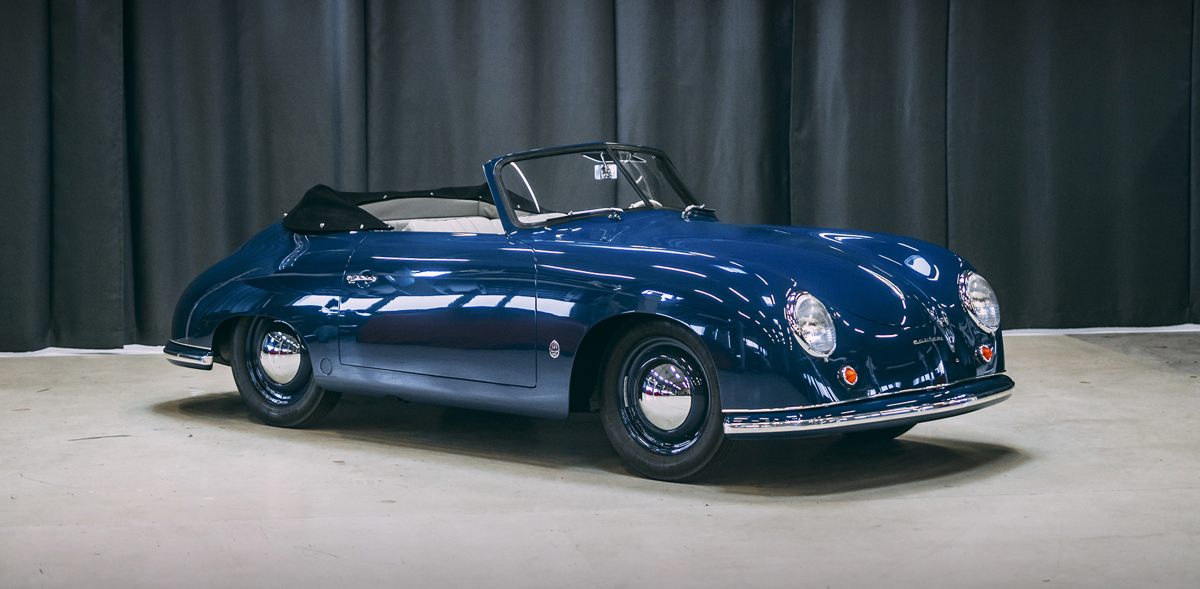 1952 Porsche 356 'Split-Window' Cabriolet by Gläser
Estimate: €500,000 - €600,000 EUR
Of course, if we are to mention mid-century sports cars made in Germany, we must not forget the brand from Stuttgart. Porsche, in their early years as a company, relied upon nearby coachbuilders to clothe their soon-to-be-signature air-cooled chassis. Reutter was the most commonly chosen by Porsche, but a select few were assembled by one of the most historic coachbuilders in Germany: Gläser. Based in Dresden, Gläser was founded in 1864 as a carriage maker. While the roots of the company's factory still today exist as a renowned producer for VW, Audi, BMW, and Mercedes-Benz, in-period, this Porsche proved expensive to construct. A mere 242 'Split-Window' Cabriolets were constructed under contract between 1950 and 1952. Gläser reportedly lost money on each example. Today appropriately valued for their quality construction and understated aesthetics, this Gläser-built 356 Cabriolet presents as an appealing example of post-war coachbuilding with its "Azurblau" (Azure Blue) exterior over "Leder hellgraues" interior. Classic Porsche.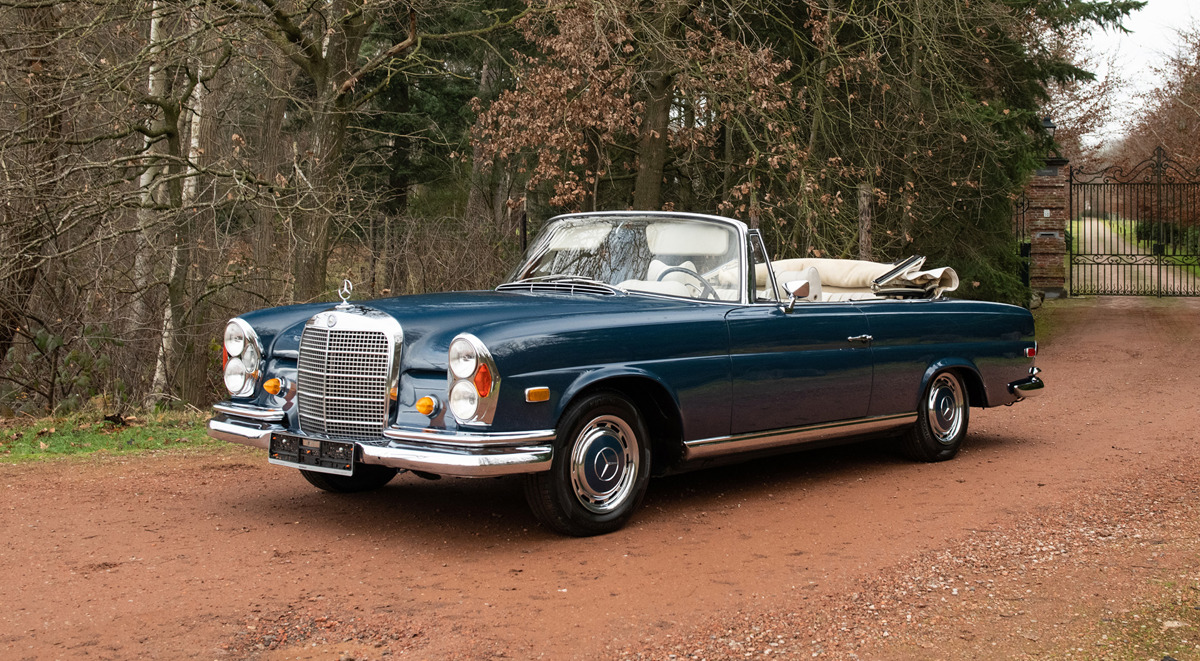 1969 Mercedes-Benz 280 SE Cabriolet
Estimate: €160,000 - €180,000 EUR
Our list-within-a-list of open-air sports cars from Germany would not be complete without an example from Mercedes-Benz. The W111 is preferred by many Mercedes fans for presenting a desirable balance between timeless styling and stout performance, especially so with its 2.8-litre, inline-six-cylinder powerplant. Launched in 1967, the 280 SE model produced such grunt from its all-new M130, 160-horsepower engine that the previous high-performing 300 SE was discontinued. This example has been faithfully maintained, with its original service book stamped with entries from the dealership where it was delivered new, covering an impressive span from 1969 to 1998. Real Art on Wheels of Leimuiderdijk, Holland, carried out extensive additional maintenance on this handsome example, encompassing new fuel hoses, a replaced timing chain guide, as well as a complete fluid flush and replacement. With an odometer reading totaling only 28,201 miles at the time of cataloguing, this classic Mercedes-Benz is the most accommodating and luxurious on our list. Would look in-place parked beside any hotel in Monaco.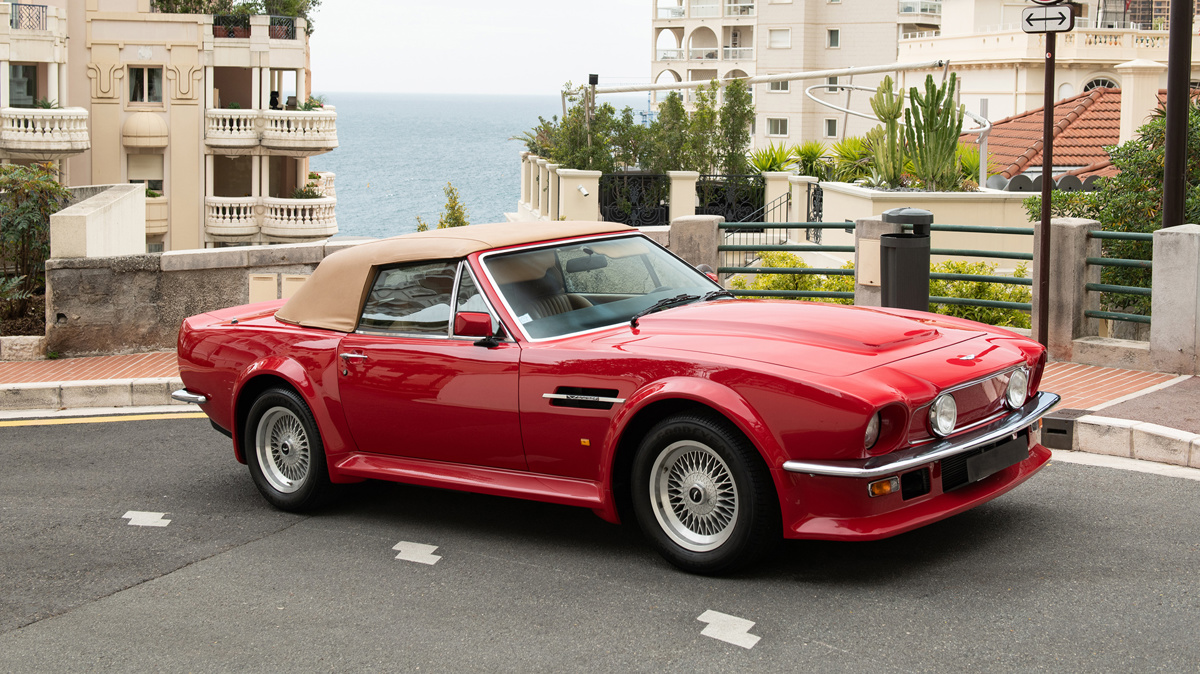 1988 Aston Martin V8 Vantage Volante 'X-Pack'
Estimate: €600,000 - €800,000 EUR
Wearing an outstanding original color combination of Suffolk Red over tan leather, our V-8-powered cover car for today is a genuine Monte Carlo car, with a recent service history carried out by Aston Martin Monaco. Initially delivered new to Achilli Motors of Milan, Italy, this open-air Vantage was seemingly destined for sunny days from its inception. Powered by the ultimate "580 X" iteration of the 5.3-litre V-8 engine which gave the V8 Vantage its name, the "X-Pack" advanced the model to a new level of performance with high-compression pistons engineered by Cosworth as well as four dual-barrel Weber carburetors. 432 horsepower was on offer from this limited-run model when new, endowing this example with a 0-60 mph acceleration time faster than a Ferrari Daytona. This example has been cherished since new, with an odometer reading only totaling 1,769 km when catalogued. Offering impressive performance with seating for four occupants, this open-air Aston Martin earned its title of Britain's First Supercar.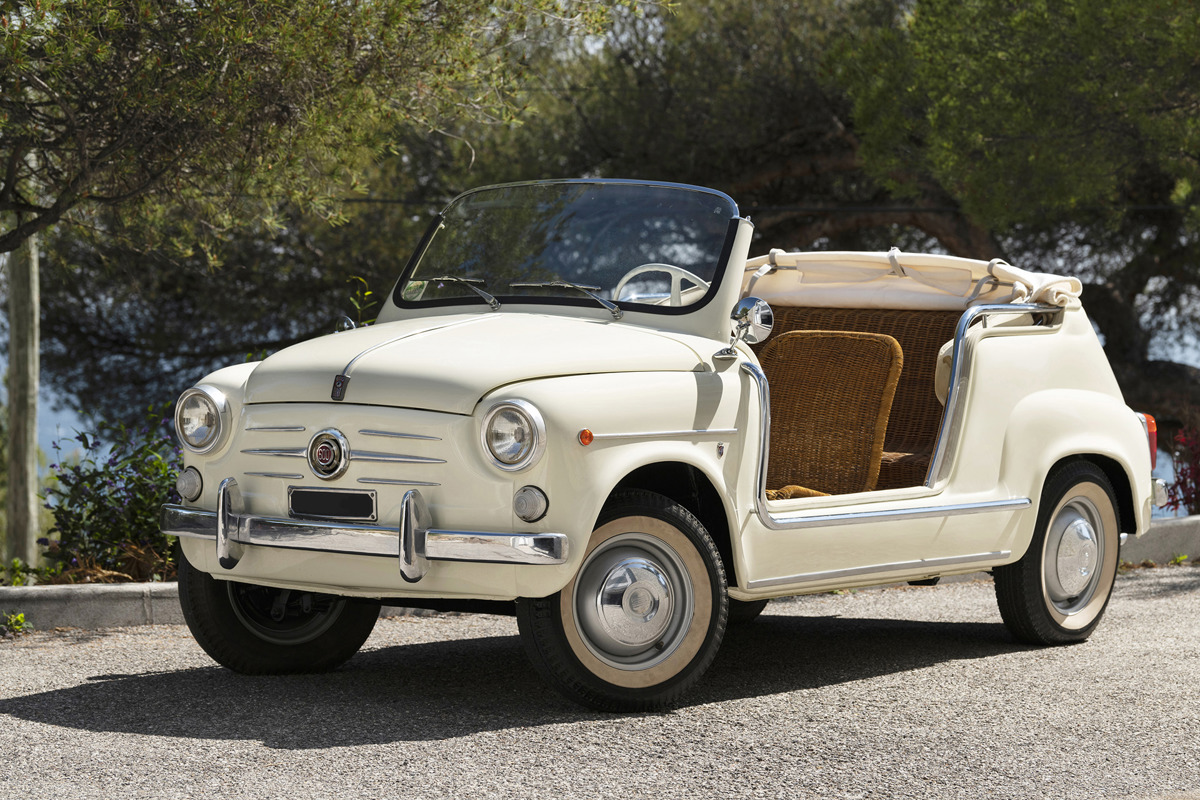 1962 Fiat 600 D Jolly by Ghia
Estimate: €80,000 - €120,000 EUR
It is customary to end a list of serious cars with a bit of fun, and for this piece spotlighting surfside specimens, there is no better example to serve as a finale than this Fiat Jolly. With an incredible Italian history of ownership crowned by Silvia Tunconi, the personal secretary to industrial empresario and head of Fiat himself, Gianni Agnelli, this example was kept in good stead in Italy's stunning Lake Como area for 46 years and used sparingly. The odometer on this well-cared-for example reads a mere 10,687 km. With its signature wicker seats complementing its Crema exterior, this coachbuilt Jolly is sure to show well at RM Sotheby's star-studded Monaco 2022 event, even among the long list of supercars and track-used motorsports examples composing this year's lineup. Until then, ciao!