When they are crafted with sufficient artistry, objects only accumulate value over time. Whether due to increasing rarity of quality materials and craftsmanship, or the ongoing evolution in taste and style, artifacts of the past can prove to be not simply more desirable today, but also more useful as well. How can this be possible? Read on to find out: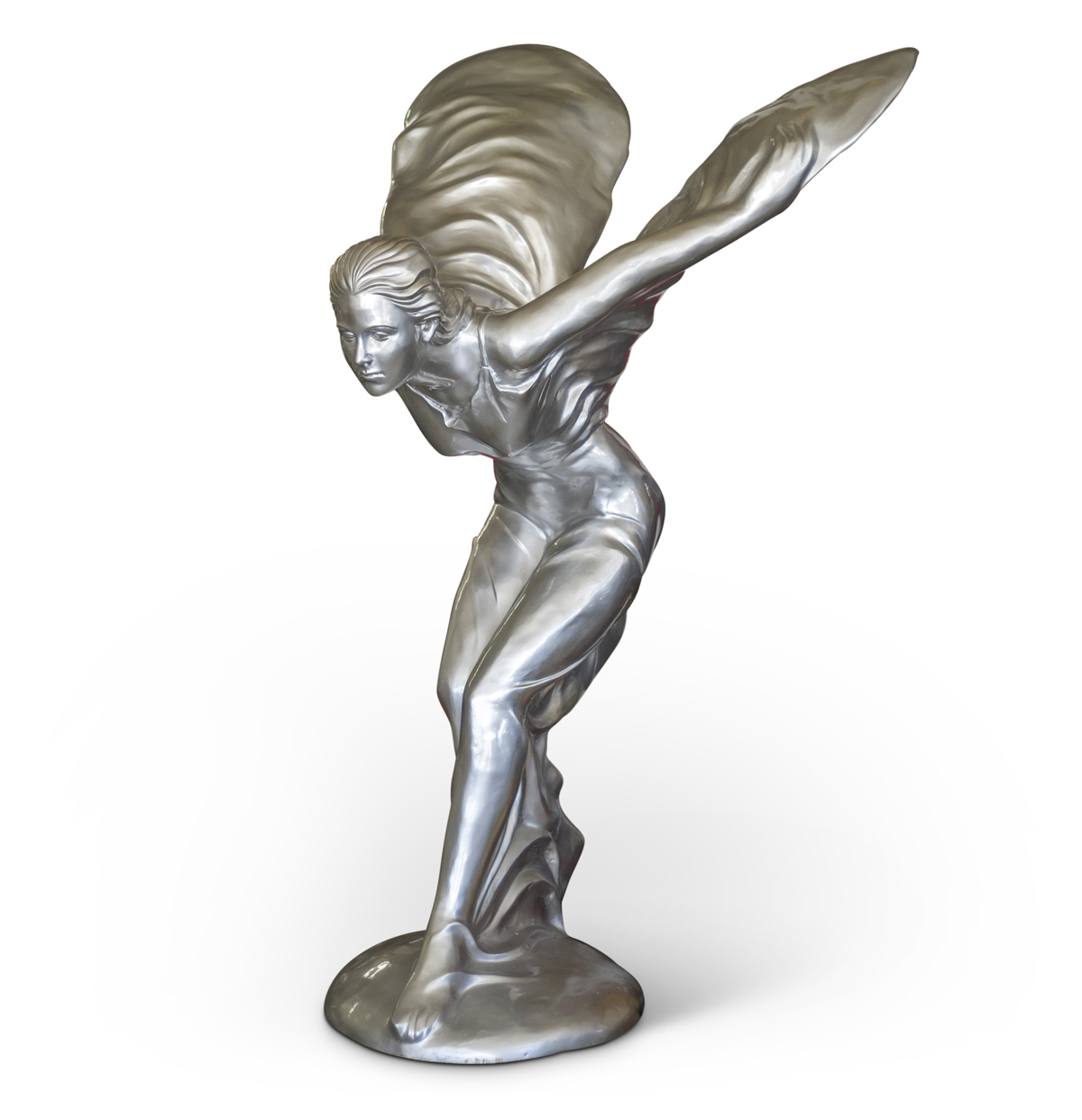 Rolls-Royce Spirit of Ecstasy Dealership Large Metal Display Statue
Estimate: $4,000 - $6,000
 

USD |

 

Offered Without Reserve

 

Originally offered to select Rolls-Royce dealers as a means of attracting customers, this angelic Spirit of Ecstasy sculpture is nearly life-sized—at least, as lifelike as any angel could claim to be. Though its eerie accuracy and dead-on proportions may make this Spirit appear to be computer-generated, having viewed it in person, this writer can guarantee the sculpture is very much real. And with the Rolls-Royce brand achieving record sales in 2019, it is evident this mascot has outlived its marketing purpose. So why not simply allow it to be art?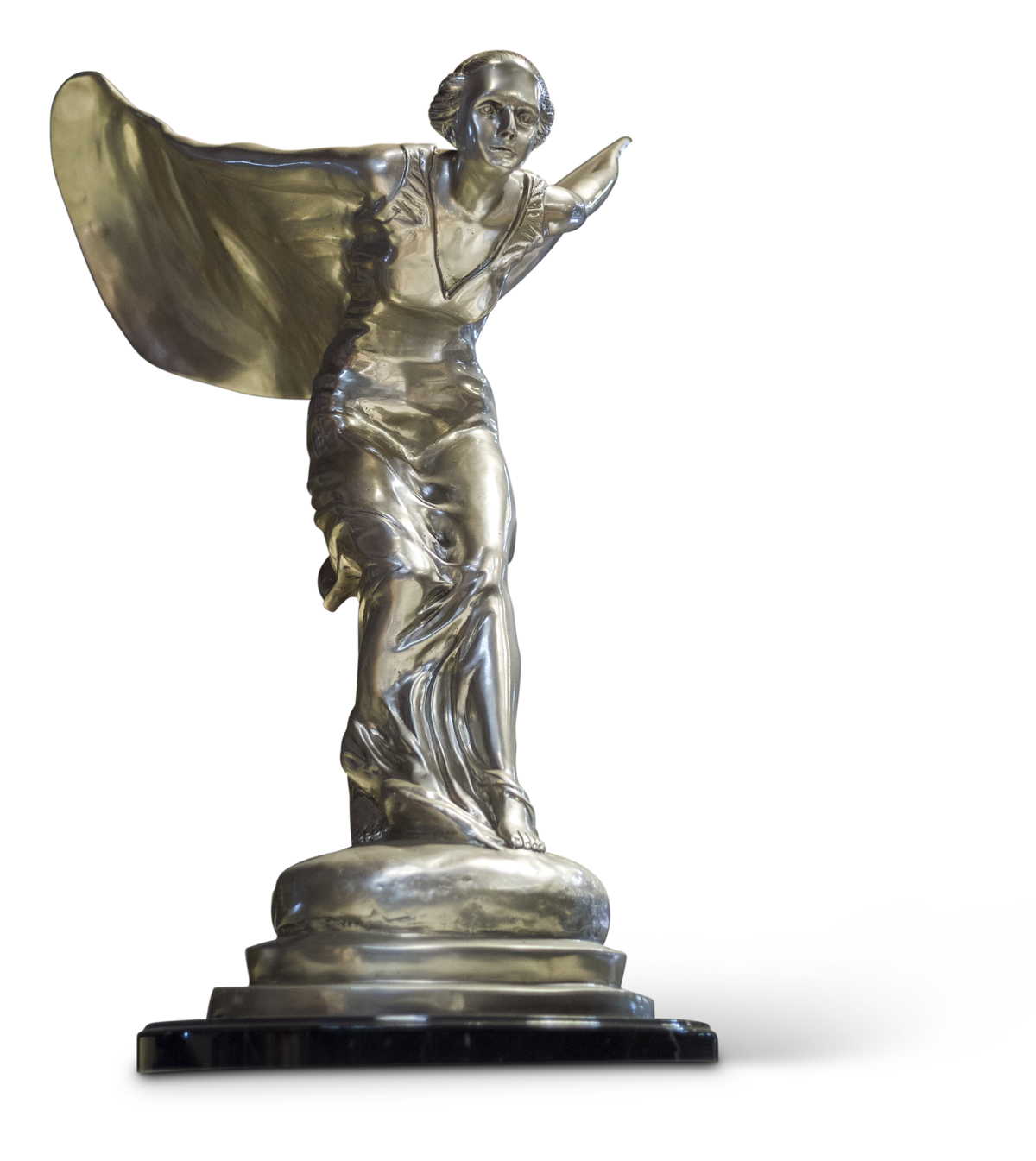 Rolls-Royce Spirit of Ecstasy Reproduction Dealership Display
Estimate: $3,000 - $5,000
 

USD |

 

Offered Without Reserve

 

In a similar manner, this Spirit of Ecstasy reproduction dealership display (with its famous Charles Sykes design) has been elevated out of the level of marketing and can now be appreciated as art. Though the descriptor "reproduction" may dissuade some, one twenty-page background on the original spirit (pun intended) behind Sykes' most famous sculpture was published in 2011 by the Rolls-Royce Owners' Club and takes a relatively liberal attitude towards originality—at least compared to what one would expect from so august an institution. The wax casting process that Charles Sykes and his daughter Josephine used to create radiator mascots for Rolls-Royce motorcars between 1911 and 1939 was truly a relic of the past, producing about four original copies for every one of Sykes' master models. Naturally, variations occurred within any given model year or casting, leaving us to simply contemplate the singular beauty of Sykes design.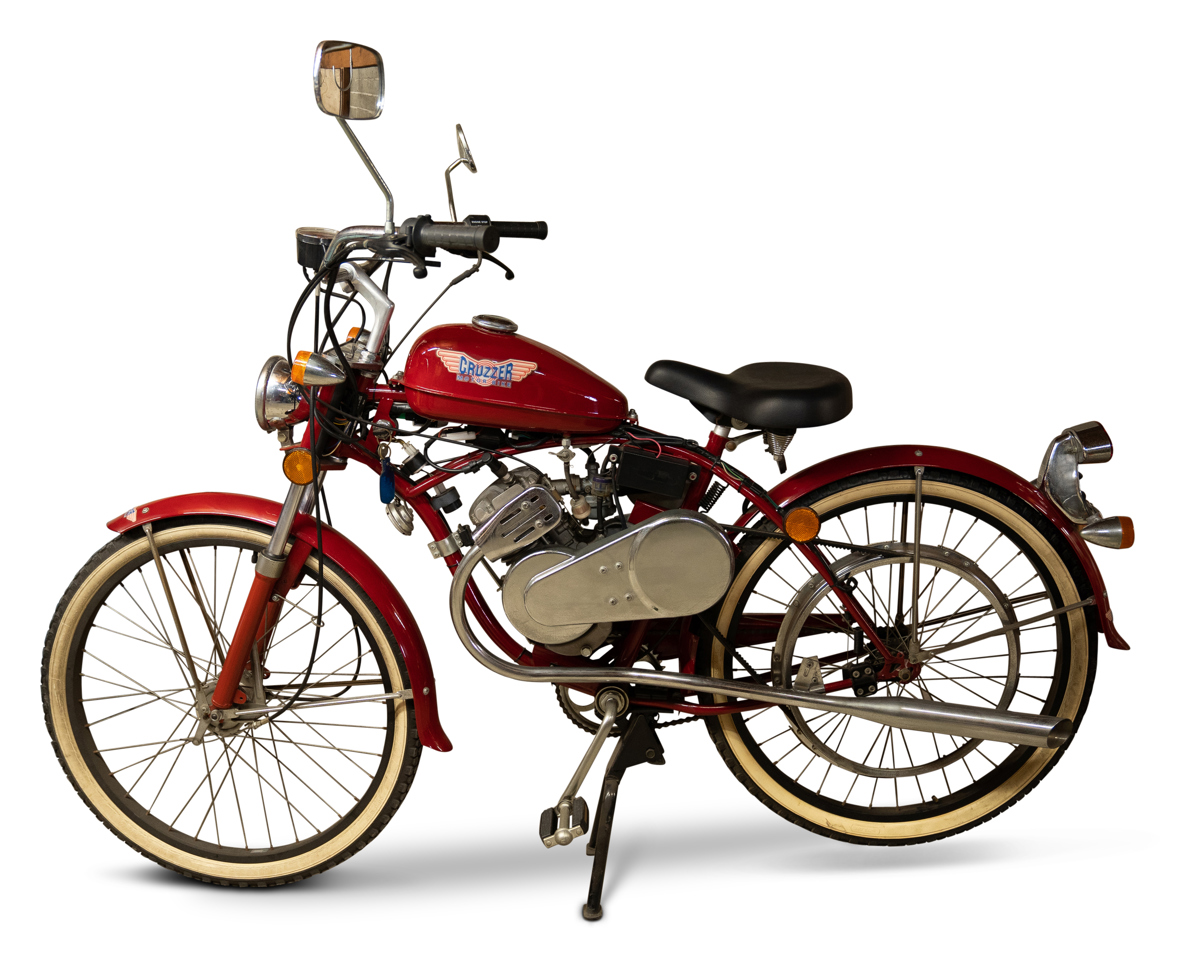 Cruzzer Motor Bike
Estimate: $1,500 - $2,000
 

USD |

 

Offered Without Reserve

 

This motorized bicycle echoes one which debuted in 1939, right before World War II, and yet, with its compact shape and human-assisted power, it almost resembles a hipster-era design from the 21st century. In all actuality, the Cruzzer is a replica of the Whizzer, the classic wartime-era motorized cycle, sold and assembled as a kit, sometimes referred to as a "Schwinn Whizzer," as the well-known American bicycle brand's frames were often fitted with the powerplant. Though this Cruzzer was put together closer to the end of the 20th century, the essential ethos—and high efficiency—remains the same.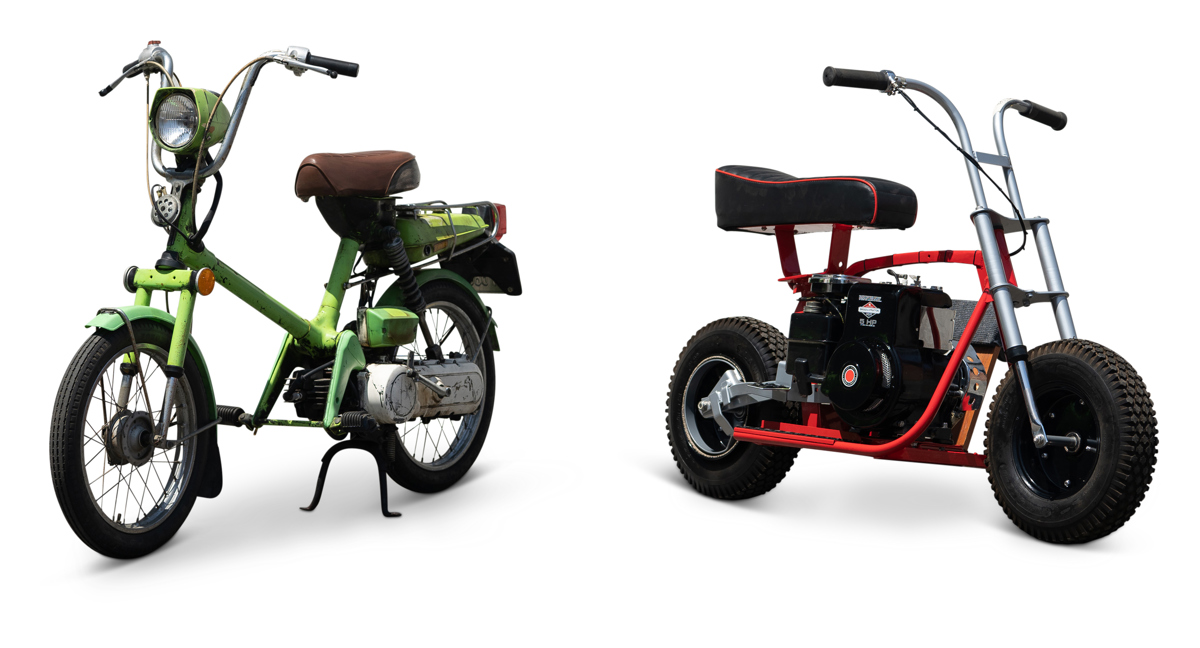 Two Mini Bikes
Estimate: $1,500 - $2,000
 

USD |

 

Offered Without Reserve

 

Looking for adventure? Born to be mild? This lot of two mini-bikes packs all of the joy of vintage mini-bikes with the practicality of modern engineering. The lime green-colored mini-bike is a Honda, while its modern Briggs and Stratton-powered sibling is a custom build. Though it represents one of the best values of the whole auction, this lot offers a generous amount of transportation.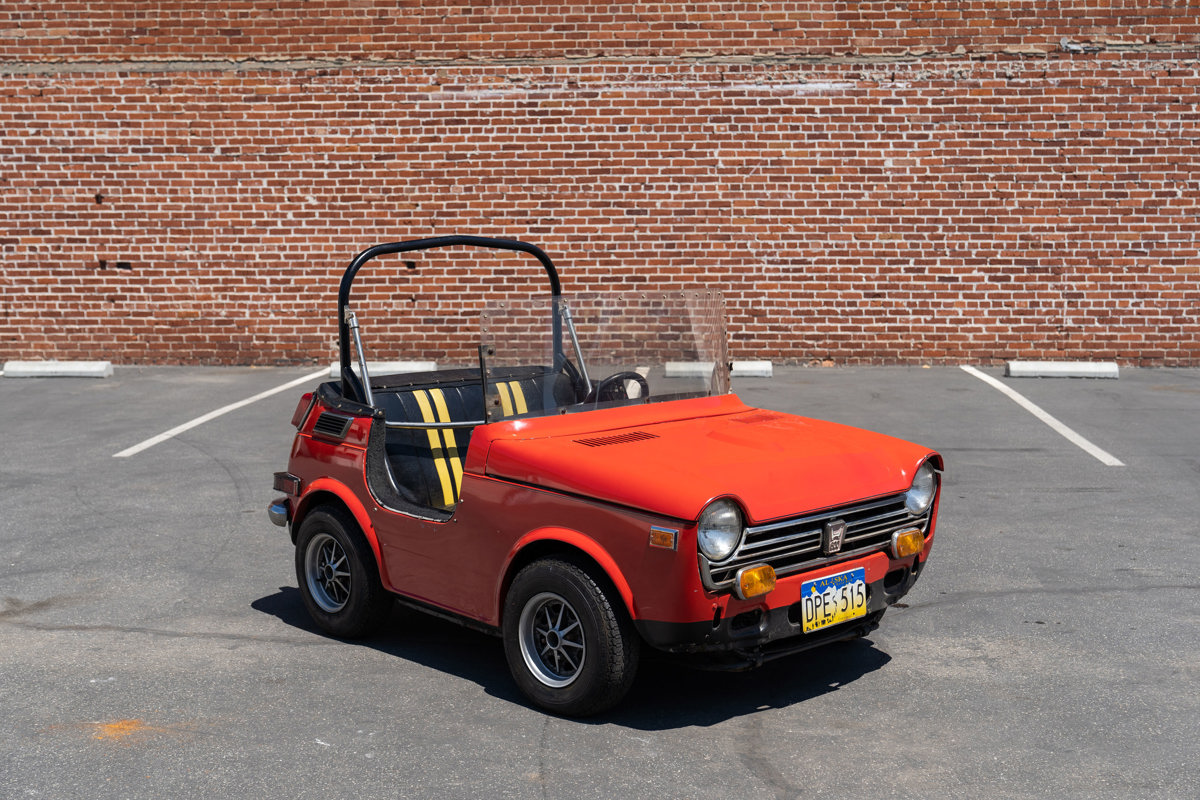 1972 Honda 600 Custom
Estimate: $3,000 - $4,000
 

USD |

 

Offered Without Reserve

 

Speaking of generous, this "Jolly"-spec Honda 600 Custom may prove to be the undisputed transport value of the whole collection. It also speaks to the theme of modern re-interpretation: If Italian coachbuilder like Michelotti (via Ghia) could chop the roofs and remove the doors of econoboxes from Fiat and Renault and create a whole new genre of car, can't we do the same today? Certainly, the "beach cruiser" is an underrepresented variant in the fleets of OEMs today, so the only option available for those who want a carefree, open-top car to drive near (or on) the beach.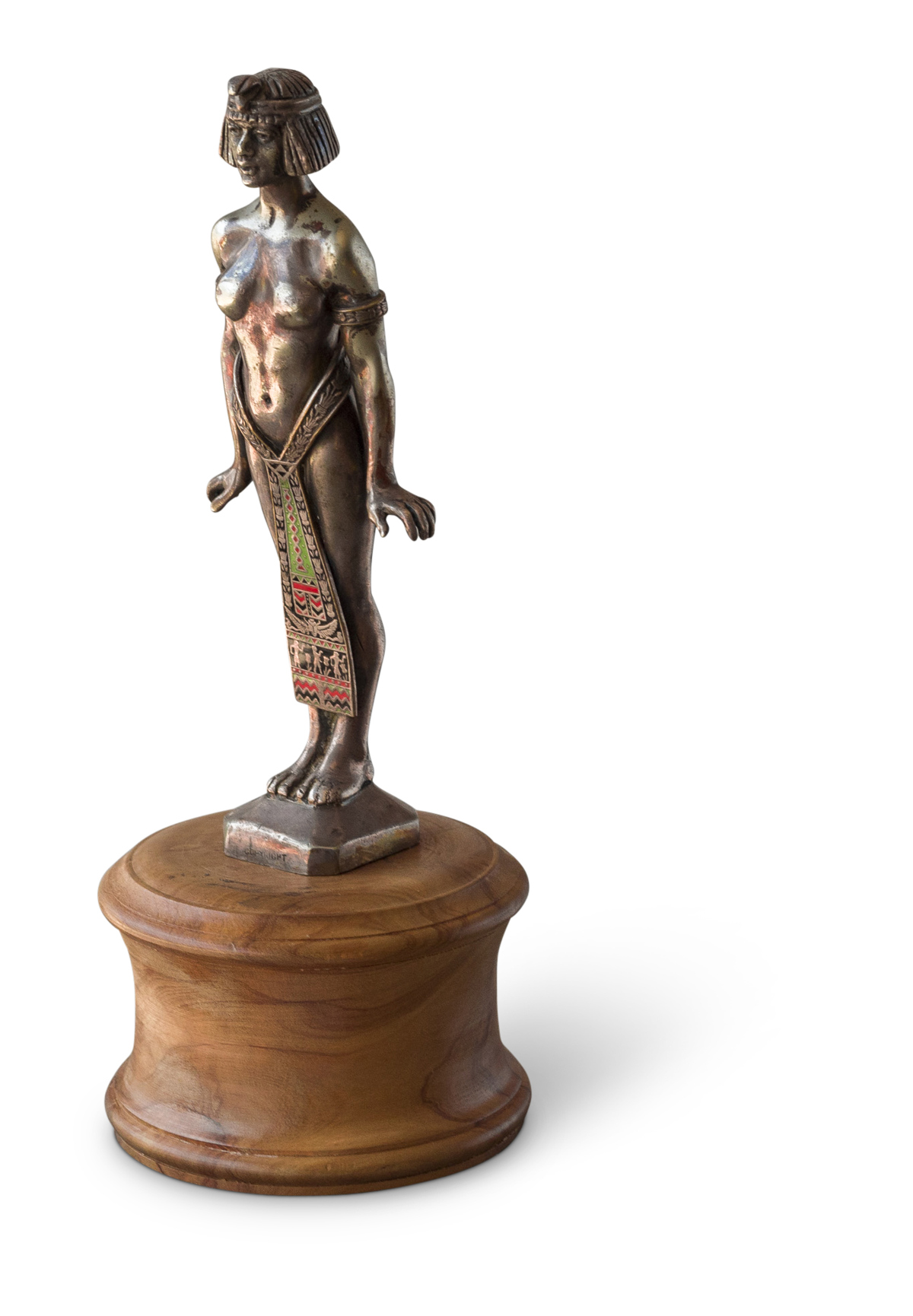 Egyptienne Mascot, ca. 1920s-1930s
Estimate: $1,800 - $2,200
 

USD |

 

Offered Without Reserve

 

Far too intricate and artistic to be labeled mere "hood ornaments," radiator mascots have been regarded as art essentially since the beginning—from our discussion of Sykes earlier, the Rolls-Royce Owners' Club notes that the first generation Spirit of Ecstasy mascots were entirely optional in 1911—offering no extra function over the standard brass cap, save for the additional distinction conveyed.

According to RM Sotheby's automobilia expert Kurt Forry, the hand-painted squares on the front of this brass Egyptienne Mascot "only meant it carried that much more distinction." In his decade's surveying automobilia, Forry had never seen a painted mascot in similar condition. Though this writer can confess a relative dearth of experience compared to Forry, having encountered this Egyptienne empress in person, the impression left is vivid and unforgettable. A stunning stand out in a strong field of mascots.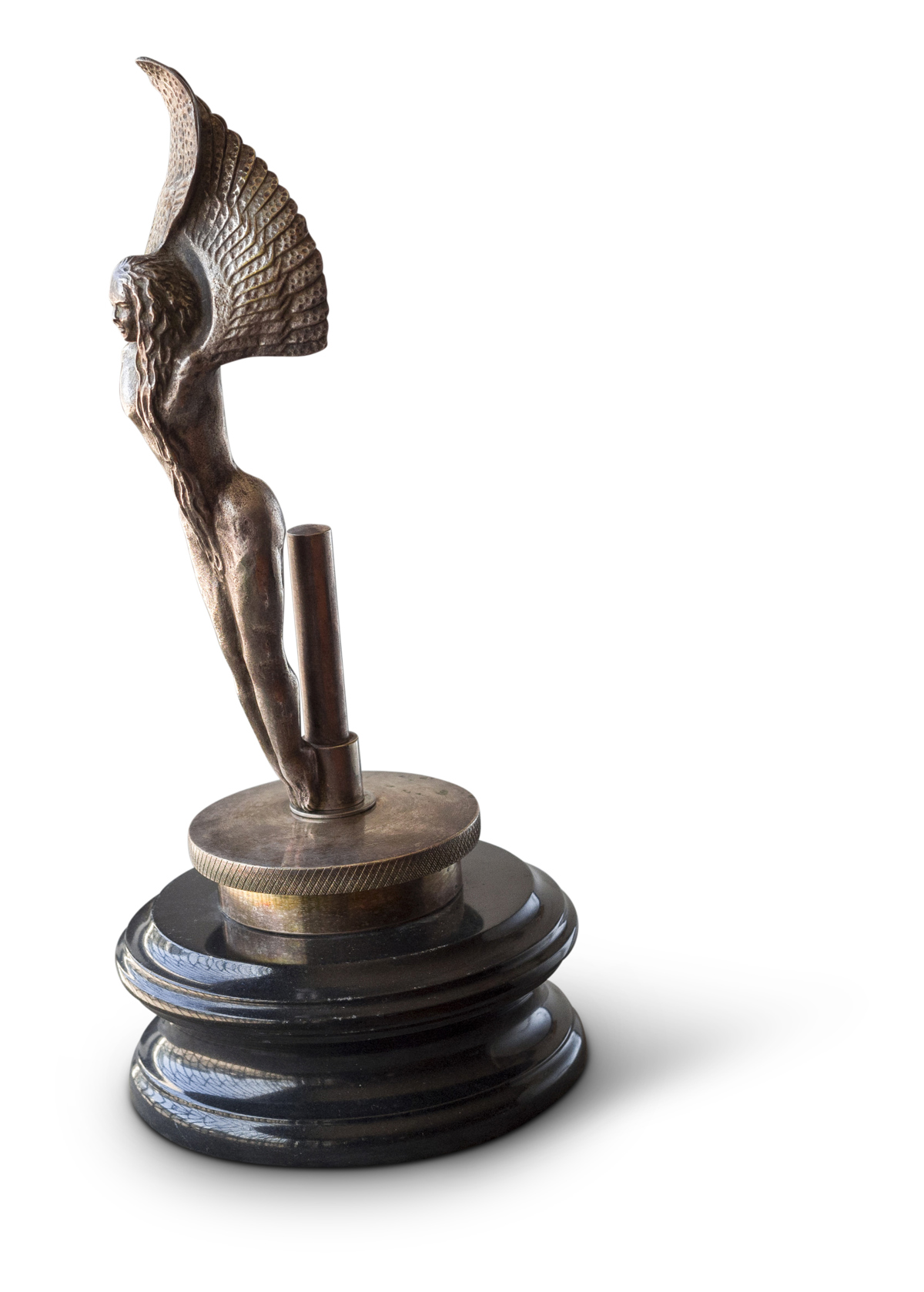 Nude Woman Mascot with Temperature Gauge, ca. late-1920s
Estimate: $800 - $1,000
 

USD |

 

Offered Without Reserve

 

Radiator mascots did not have to be purely ornamental either, as this late 1920s example proves. Hidden within the wings of this angelic figure is a temperature gauge for the radiator, so an eagle-eyed driver could, assumedly, spot an overheating situation and turn off her automobile's engine quickly (and safely). Whether this function proved useful in period is an unanswerable question, but it isn't often one finds an object that melds form and function so seamlessly.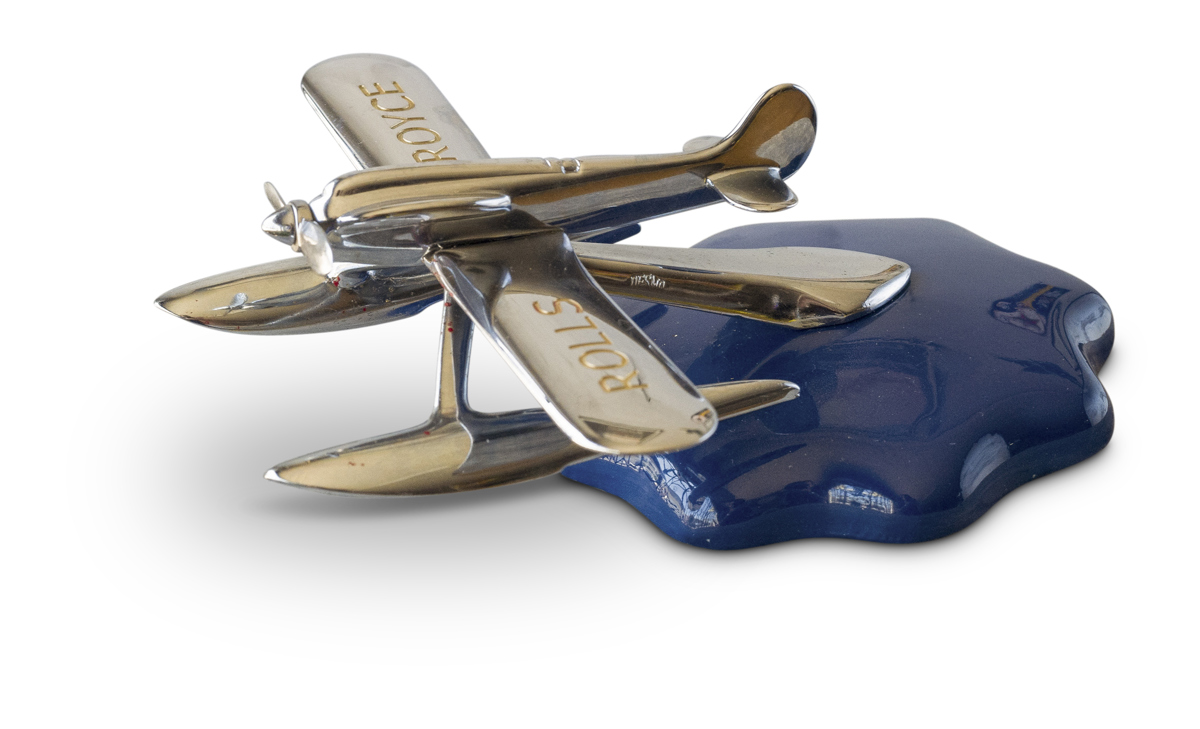 Rolls-Royce Schneider Trophy Seaplane Mascot
Estimate: $1,500 - $2,000
 

USD |

 

Offered Without Reserve

 

Maybe it sounds counterintuitive, but the coolest Rolls-Royce mascots did not feature angels or spirits. This handsome, chromed emblem represents an actual biplane, powered by a Rolls-Royce V-12 engine, that won a cross-country race so many years in a row the organizers retired the competition permanently. A symbol of the brand's dominance in the early 1930s; the spirit of the company with no need for fantasy or exaggeration, this blue-and-chrome radiator mascot belongs at the helm of a matching Rolls-Royce. Forget everything I said about allowing automobilia like this to simply be art—this functional statue is ready to be put back in service. Worthy of commissioning a car to match.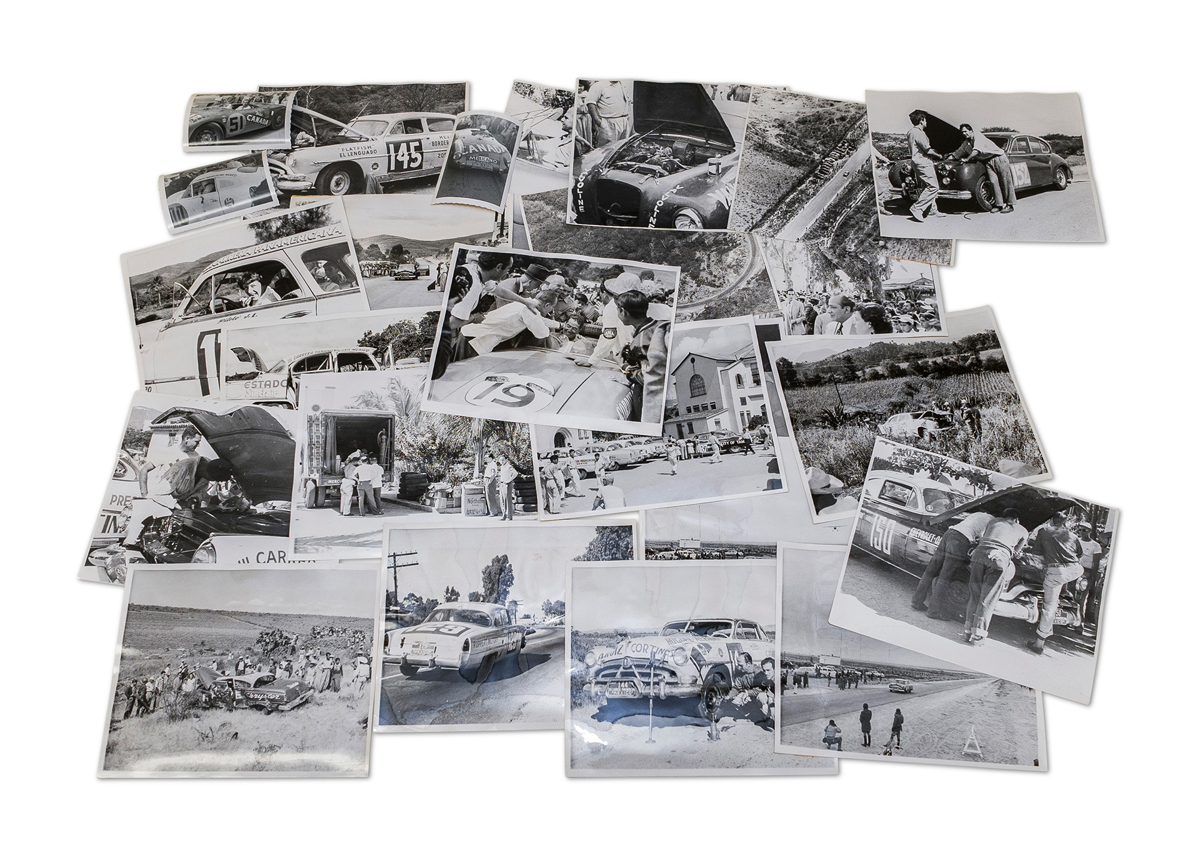 La Carrera Panamericana Photographs
Estimate: $400 - $600
 

USD |

 

Offered Without Reserve

 

Shifting both eras and areas of interest, this collection of period photographs covers one of the most thrilling (and treacherous) cross-country races in motorsport history: La Carrera Panamericana. Originally from the estate of automotive photographer Floyd Clymer, who was himself most famous for capturing the Indy 500, these images have not been widely published before. Many prints feature Clymer's typewritten captions on the reverse side. A firsthand document showing some now-legendary stock cars performing heroic feats, these images could serve as the basis for a feature film, a photojournalistic project, or just a good excuse for a road trip south of the border.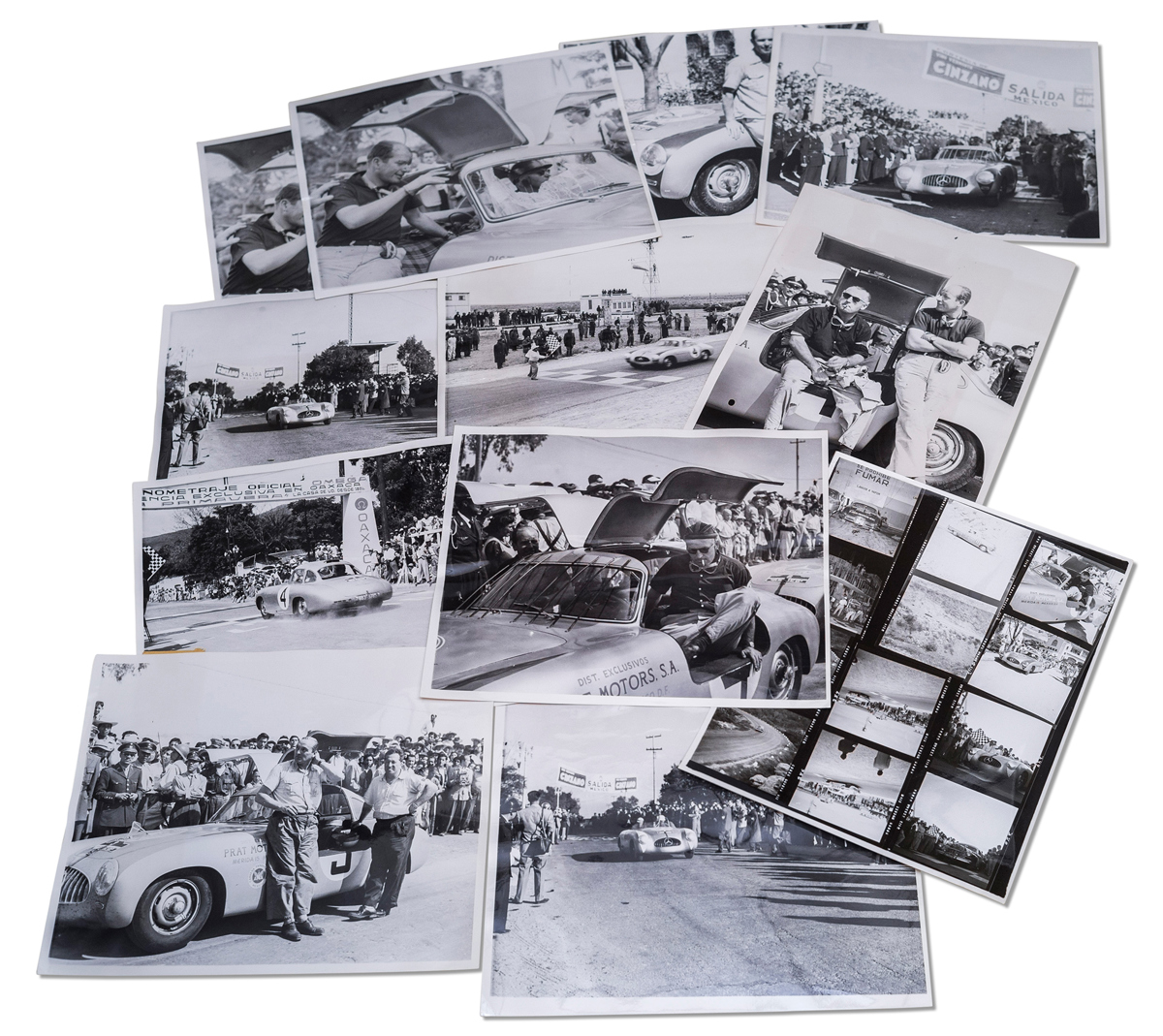 Mercedes-Benz La Carrera Panamericana Photographs, 1952
Estimate: $400 - $600
 

USD |

 

Offered Without Reserve

 

Continuing the theme of the previous entry, this group of period photographs, also from the estate of Floyd Clymer, together tell a fascinating tale about a factory-sponsored Mercedes-Benz team's high-speed encounter with an airborne member of the animal kingdom. The impact shattered both the front and rear windshield of the race-prepped 300 SL as the bird essentially flew straight through the car, injuring the driver and giving 'Gullwing' a new meaning in the process. Ever determined, the Mercedes-Benz team patched themselves up, replaced the windshields and installed the now-infamous "buzzard bars" to protect from future accidents. A legendary story—part of motorsport history—told through photos.

 

 
Circuit du Mas du Clos Badge
Estimate: $400 - $600
 

USD |

 

Offered Without Reserve

 

This private circuit in France has hosted so few visitors in its history that any artifact from it is inherently valuable. Though you could argue this memento is no more functional today than it was when first gifted, it is nonetheless the ultimate souvenir from perhaps the most exclusive venue in the world of motorsport.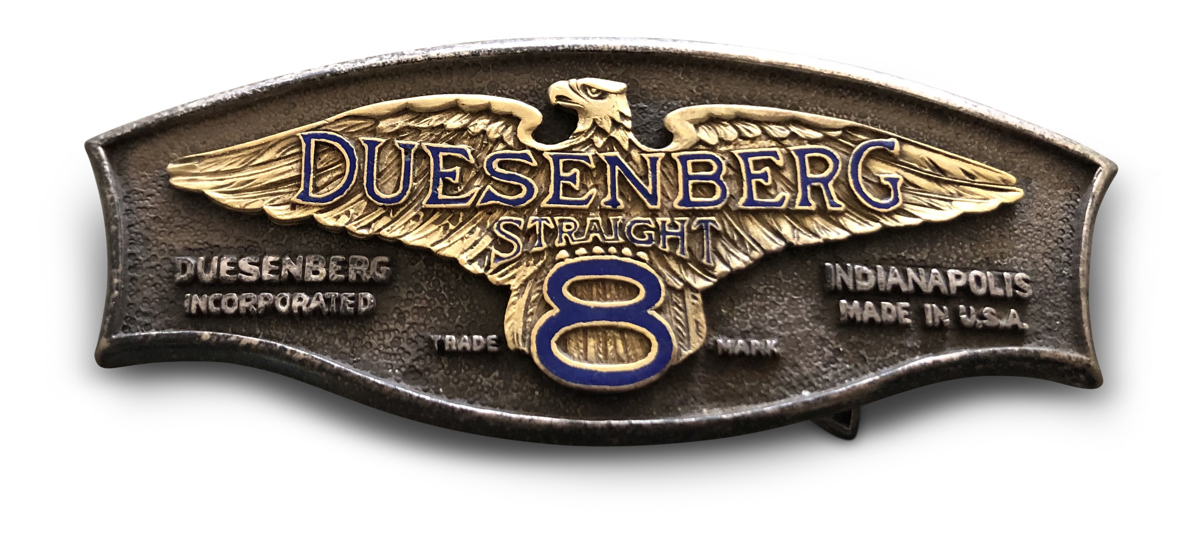 Duesenberg Belt Buckle Made For Leo Gephart
Estimate: $400 - $600
 

USD |

 

Offered Without Reserve

 

In the field of American marques, Duesenberg stands above all others. And yet, with its radiator mascot appearing as a subtle streak, it can be difficult to communicate one's affection for the Auburn, IN-based brand. Pioneering Duesenberg collector and restorer Leo Gephart must have felt similarly when he commissioned this custom belt buckle to be made to mimic the design from a classic Duesenberg emblem. One surefire way to stand out at the next Concours event.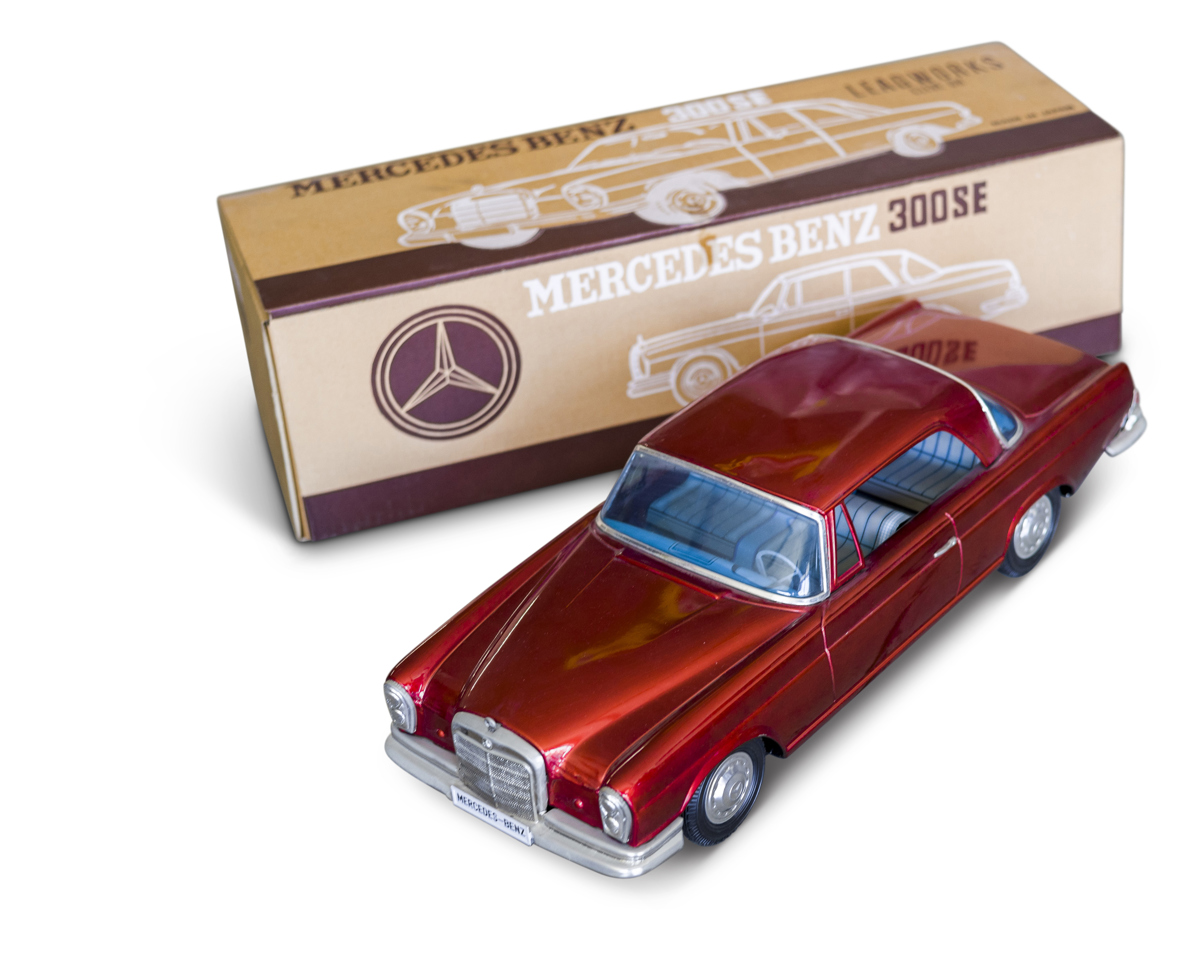 Mercedes-Benz 300 SE Large Scale Model by Leadworks
Estimate: $100 - $200
 

USD |

 

Offered Without Reserve

 

A brief meditation on the least-functional, most-likely to be discarded component of a scale model—the original box that contained it. Not only does this impressive, large-format Mercedes-Benz 300 SE model still come wrapped in its original box, but the box itself proved to protect the condition of the model within, which retains gorgeous paint and interior "appointments."

 

 
Assortment of Classic Car Decanters
Estimate: $150 - $200
 

USD |

 

Offered Without Reserve

 

An interesting addition to any auto aficionado's library (or liquor cabinet), this assortment of classic car decanters represents a diverse array of models, including a Stutz, a pair of Stanley Steamers, and a 'Curved Dash' Oldsmobile runabout made to celebrate the brand's 75th anniversary. Though the quality of any spirits contained within cannot be guaranteed, so-called "deadstock" bars and speakeasies have been popping up lately, and even if these decanters were simply cleaned and refilled, the collection would make an impressive display in any establishment.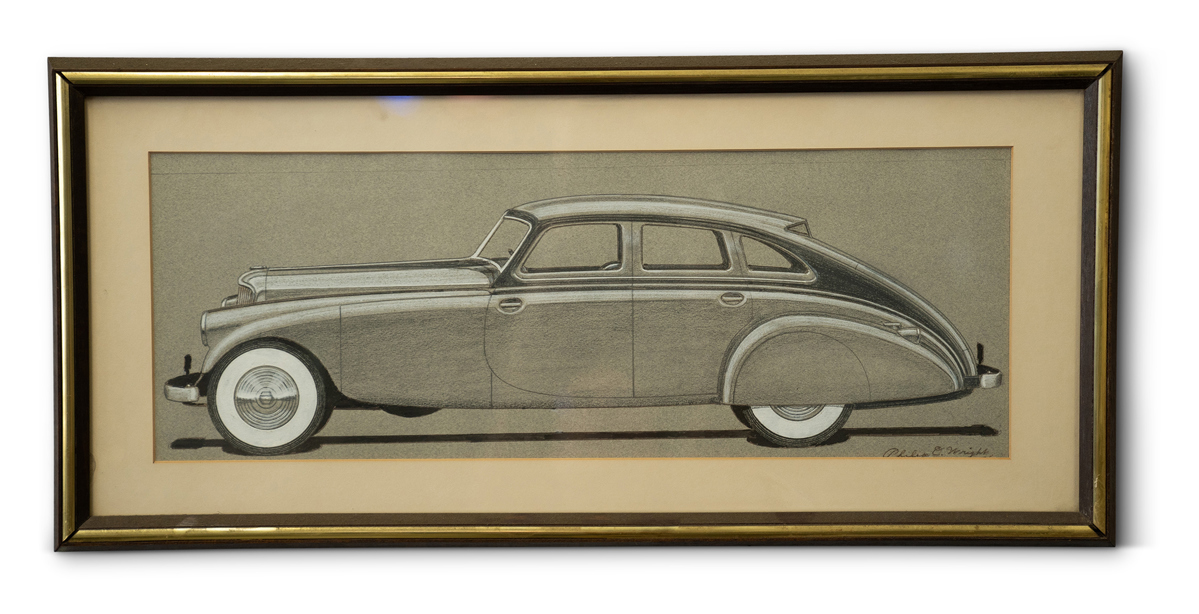 Original Silver Arrow Drawing by Car Designer Philip O. Wright
Estimate: $600 - $800
 

USD |

 

Offered Without Reserve

 

An impressive piece, hand-drawn by an all-too-often overlooked master designer Philip O. Wright, who essentially brought his groundbreaking, streamlined sketch for the Silver Arrow to Pierce-Arrow essentially on-spec. Thankfully, five total Silver Arrow examples were built in 1933 and instantly became an American icon—making this original drawing worthy of inclusion in the greatest hits of automobilia.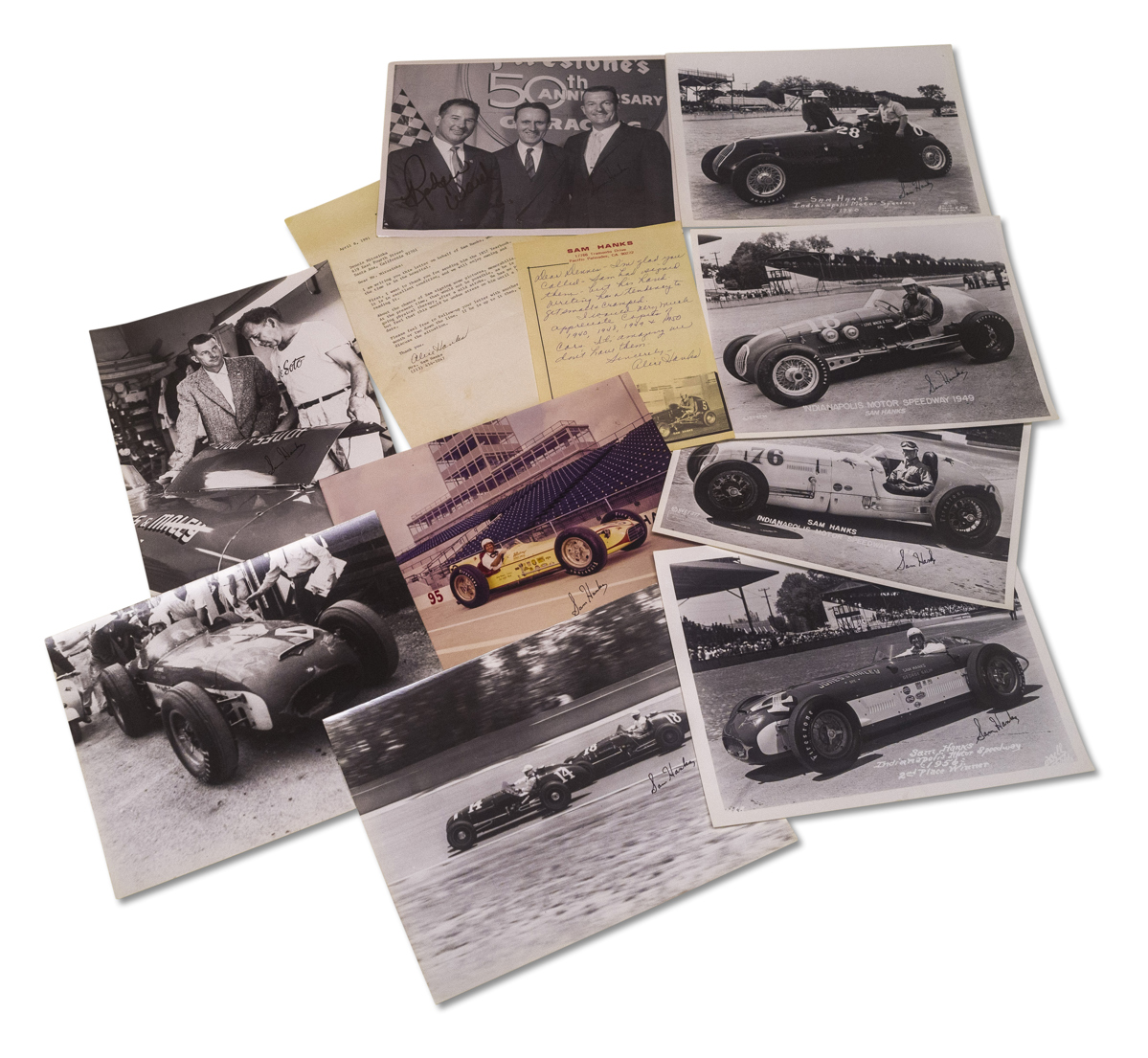 Indianapolis Racing Photographs, Signed by Sam Hanks
Estimate: $100 - $150
 

USD |

 

Offered Without Reserve

 

Another lot wearing a notable signature, these photographic prints were signed by Sam Hanks, the famous 1950s racer who memorably won the Indianapolis 500 in 1957. Hanks was reportedly reluctant to offer his signature often, so these prints are relatively rare and were procured, collected, and preserved by automotive appraiser Dennis Mitosinka. Mitosinka wrote to Hanks later in life, offering to trade some of Floyd Clymer's automotive yearbooks from 1957 in exchange for his signature on a few pieces of automobilia, and Hanks replied generously. A treasure trove for any fan of mid-century motorsport.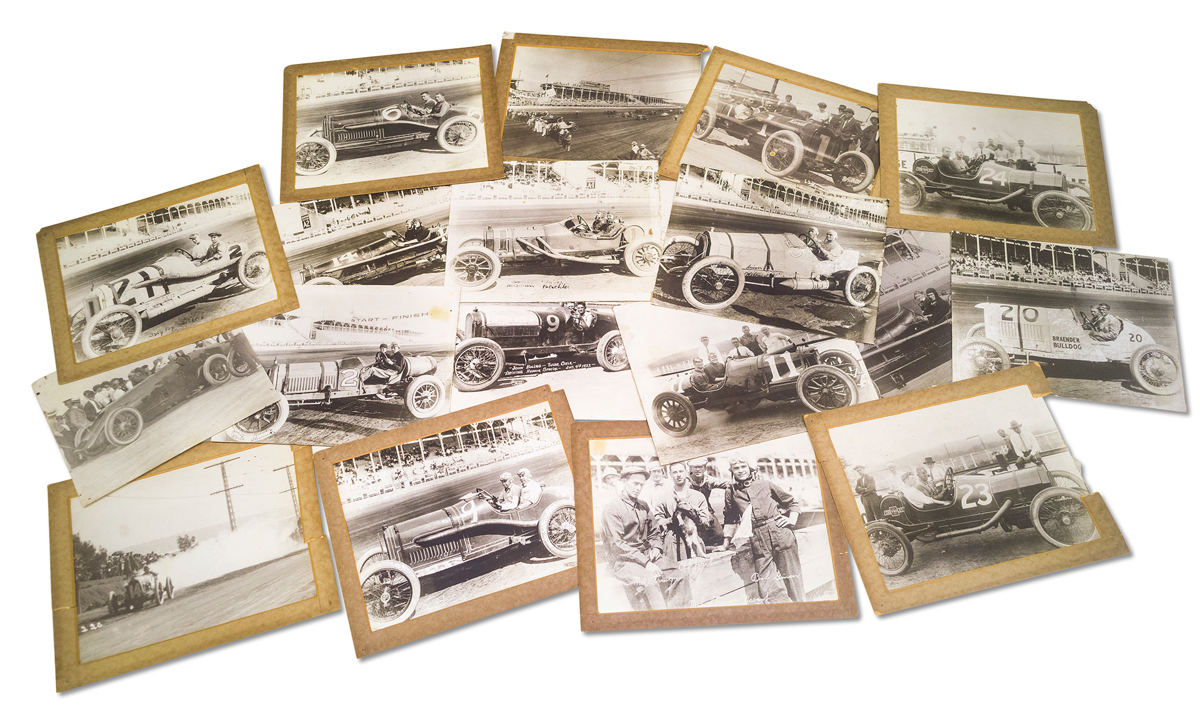 Original Indianapolis Racing Photographs
Estimate: $400 - $600
 

USD |

 

Offered Without Reserve

 

Also, a collection of period racing photographs from America's most iconic race, these photographs depict a far earlier era—including some period prints of drivers, teams, crashes, and spectators alike. A wonderful document from the true golden age of racing, these photographs show a time when driving took real courage—and drivers were regarded as absolute celebrities. A time warp to a bygone era.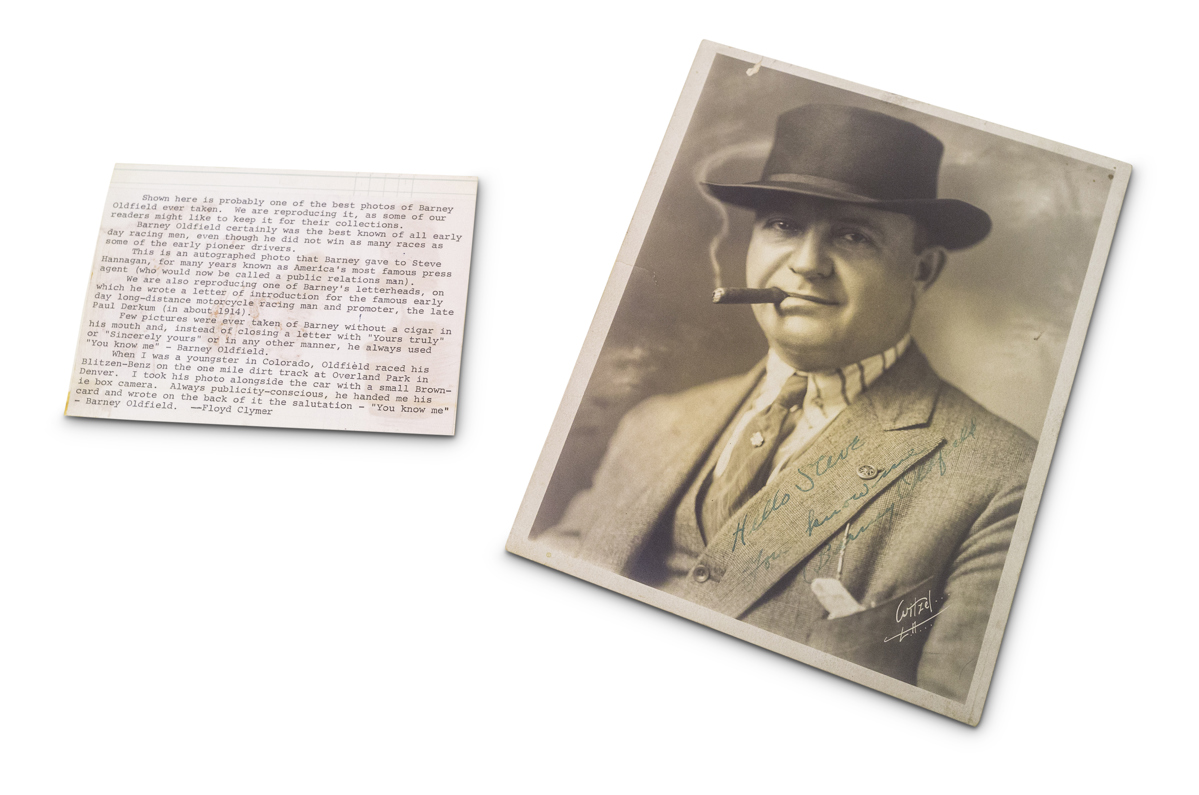 Photograph Signed by Barney Oldfield
Estimate: $250 - $350
 

USD |

 

Offered Without Reserve

 

Our final fantastic lot, once the highlight of Floyd Clymer's collection of racing-related photographs, then the highlight of Dennis Mitosinka's automobilia collection, this is an original signed publicity photo given directly by Oldfield to Steve Hannagan, a pioneering motorsport press agent and promoter. As the typed caption by Clymer accompanying the photo reads, "Few pictures were ever taken of Barney without a cigar in his mouth and, instead of closing a letter with 'Yours truly' or 'Sincerely yours' or in any other matter, he always used 'You know me' – Barney Oldfield".

Sometimes a short anecdote can breathe instant life into a historical figure from long ago. The Mitosinka Collection is an absolute treasure trove of memories; relics still containing some of the spirit of the legendary figures who forged automotive history. What greater function is there?