Of the more than one thousand lots available at Auburn Fall this year—encompassing everything from Dunlop racing tires to mid-century DeSoto Pace Car Convertibles—it is safe to say there is an item for every era and inclination of automotive interest. The annual affair has only expanded over time, offering several distinct collections with specializations spanning nearly the whole of automotive history, from a 1955 Cadillac Series 62 Convertible from The Michigan Collection—which highlights significant models and automobilia from the Motor City—to the 1905 Cadillac Model F Four-Passenger Touring from The Cayman Islands Motor Museum Collection. Motorcycle and scooter fans will be equally delighted with the offerings, as the highly original Glen Hague Collection, which has been featured previously in this space, also features an extensive selection of Cushman scooters and associated parts and automobilia.
With such a wide-ranging array of automobile-related lots coming to auction at Auburn Fall this week, we thought we would narrow the choices to a few highlights from a growing category of interest among collectors: Modern muscle cars have distilled and delivered all the performance and acceleration figures of their predecessors—in some cases, many times over—while still offering many of the creature comforts, tech, and safety advancements of any contemporary automobile. With all these following lots being offered this week from 2-5 September, the timing is right for you to register to bid now: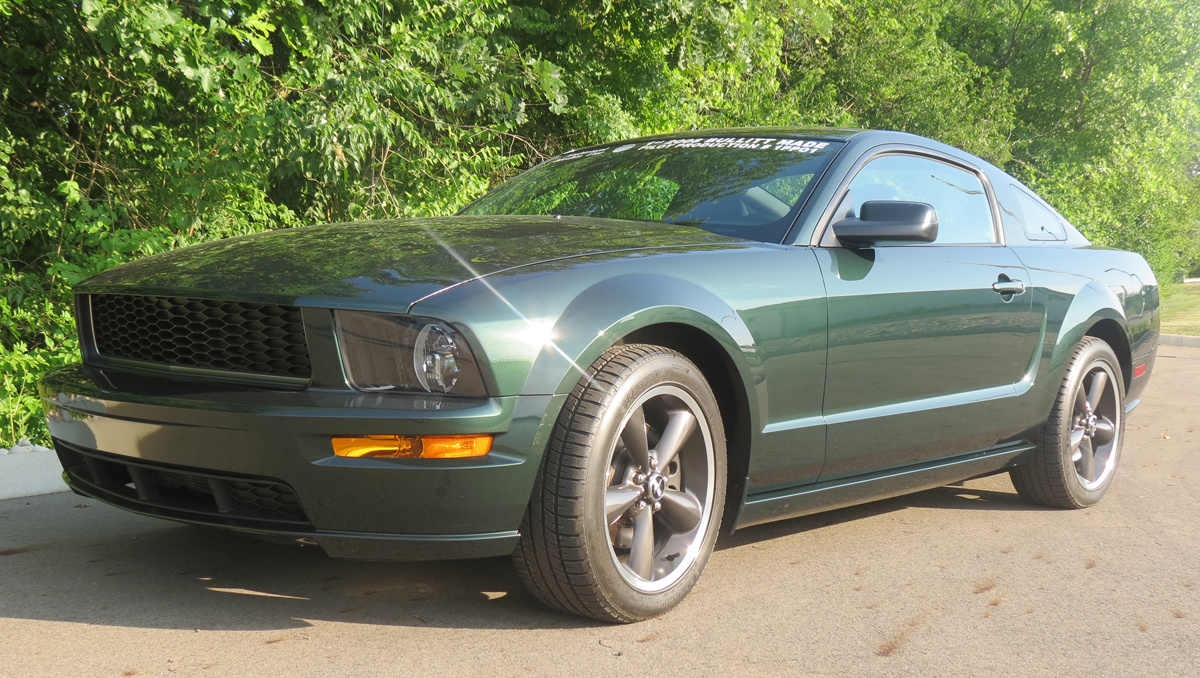 2008 Ford Mustang Bullitt 'Pilot Production'
Estimate: $35,000 - $45,000 USD
The Favazzo Collection
Not only a highlight from the muscle car-centric Favazzo Collection, this handsome Highland Green example was also the actual press vehicle that Ford presented to publications like Autoweek and Car and Driver in 2007 for the 2008 model year. Wearing many nods to the original Mustang GT, which was driven to fame in Bullitt, this 'Pilot Production' example is perhaps the most significant of the 7,700 special edition models that Ford made to celebrate their mid-century hit. This extensively documented and well-cared-for example presents as-new and showed only 14,833 miles on its odometer at the time of cataloguing.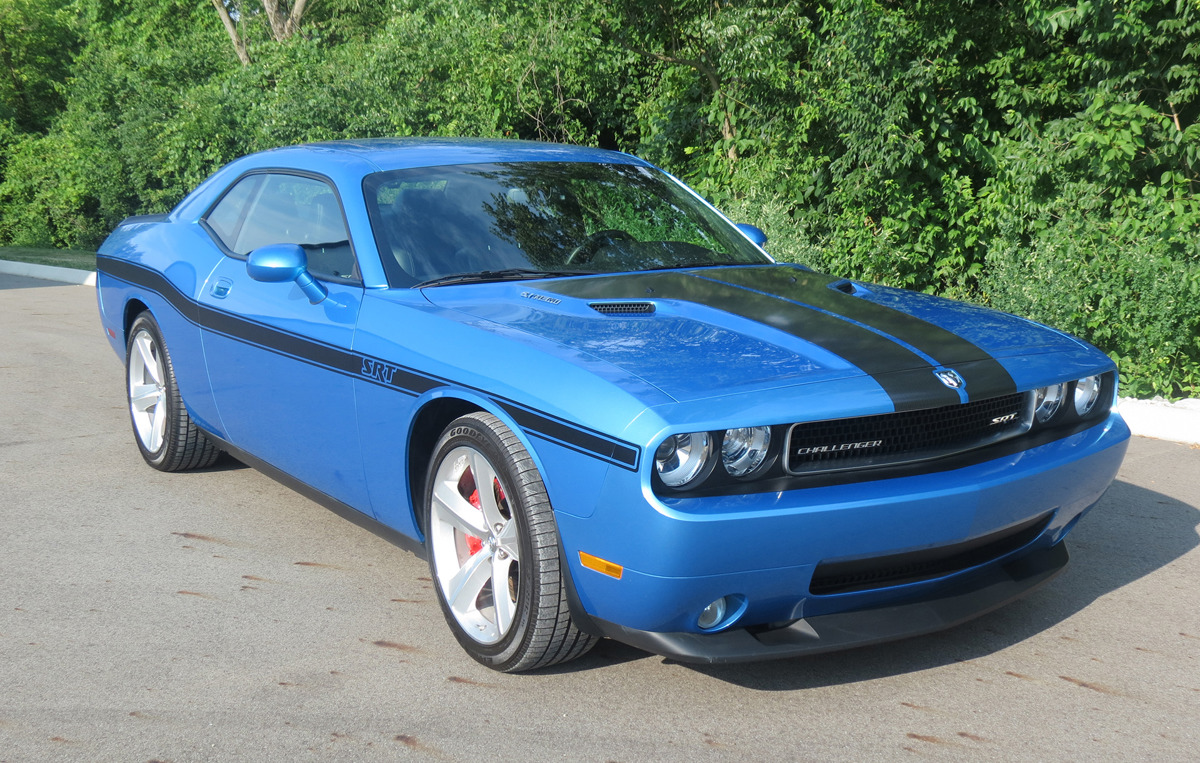 2009 Dodge Challenger SRT
Estimate: $30,000 - $40,000 USD
The Favazzo Collection
Not strictly limited to any one brand allegiance or group of automakers, The Favazzo Collection also includes significant examples from Dodge. Of any brand, Dodge has perhaps played the strongest role in reinventing the muscle car for the modern era, with the clean designs of the Charger and Challenger siblings scoring an early success with customers. This well-optioned example is powered by a Hemi-headed, 6.1-litre, V-8 engine producing 425 horsepower paired with the all-important six-speed manual gearbox.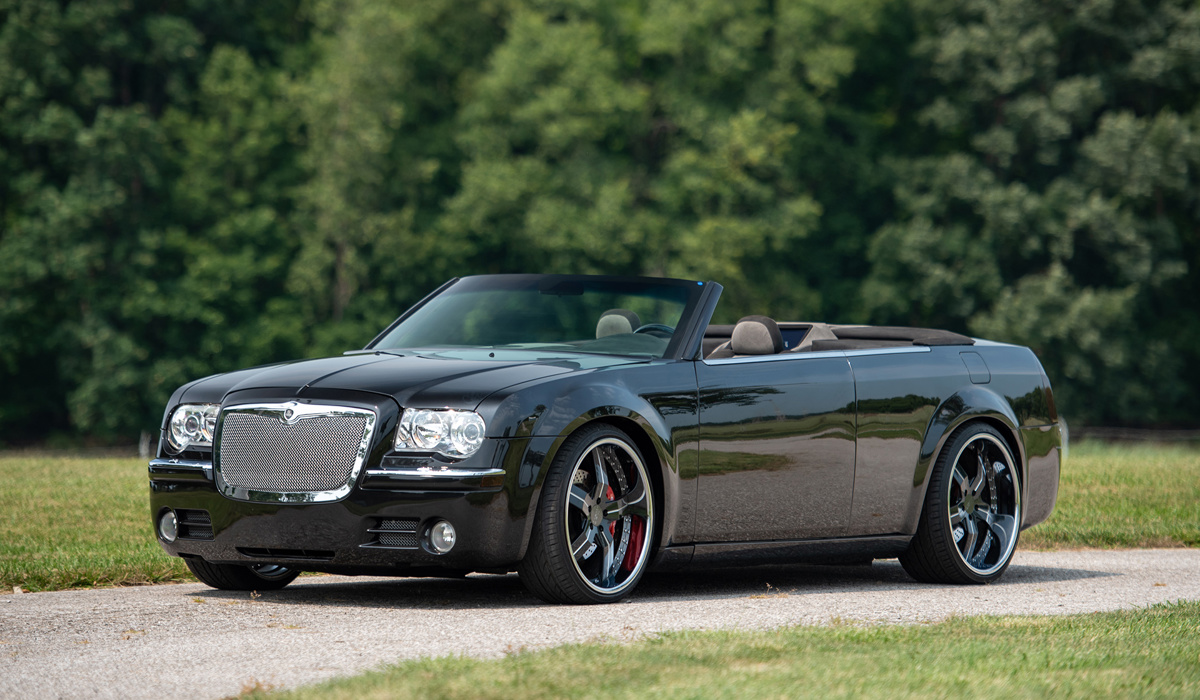 2005 Chrysler 300C Hemi Custom Roadster by West Coast Customs
Estimate: $35,000 - $45,000 USD | Offered Without Reserve
The North American Motor Car Collection
Of course, Dodge's parent company was deeply involved in this muscle car revival, but much to the chagrin of many Chrysler fans, their flagship 300C sedan never received a two-door version, let alone an open-air variant like this one. Made by the world-famous team at West Coast Customs, this Custom Roadster 300C is perhaps what any aficionado of Detroit-made engineering would desire, from its supercharged, 5.7-litre, V-8 Hemi-powered drivetrain, and classic, tasteful look. Of course, this example would not be a West Coast Custom without a significant speaker upgrade, and this Orion-powered system is nothing short of impressive.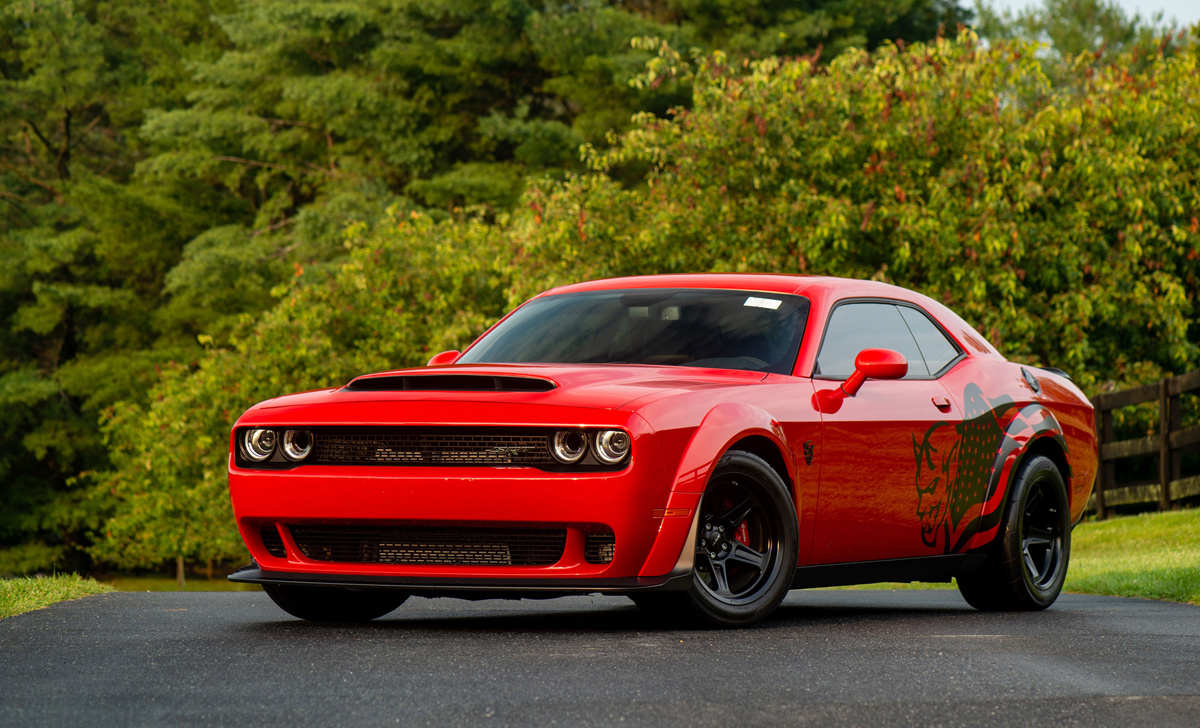 2018 Dodge Challenger SRT Demon
Estimate: $110,000 - $130,000 USD
By 2018, Dodge had been at the forefront of modern muscle for a decade with their Charger and Challenger models. This top-of-the-line SRT Demon became a showpiece not only for the Dodge brand but for the limits of the internal combustion engine as a whole with its 6.2-litre supercharged HEMI V-8 producing a stated 840 horsepower and 717 pound-feet of torque. The all-important 0 to 60 mph acceleration test is dispatched by the Demon in an all-conquering 1.9 seconds. This well-equipped example comes with the so-called Demon Crate, which features a generous allotment of accessories, and has traveled fewer than 5,275 miles from new.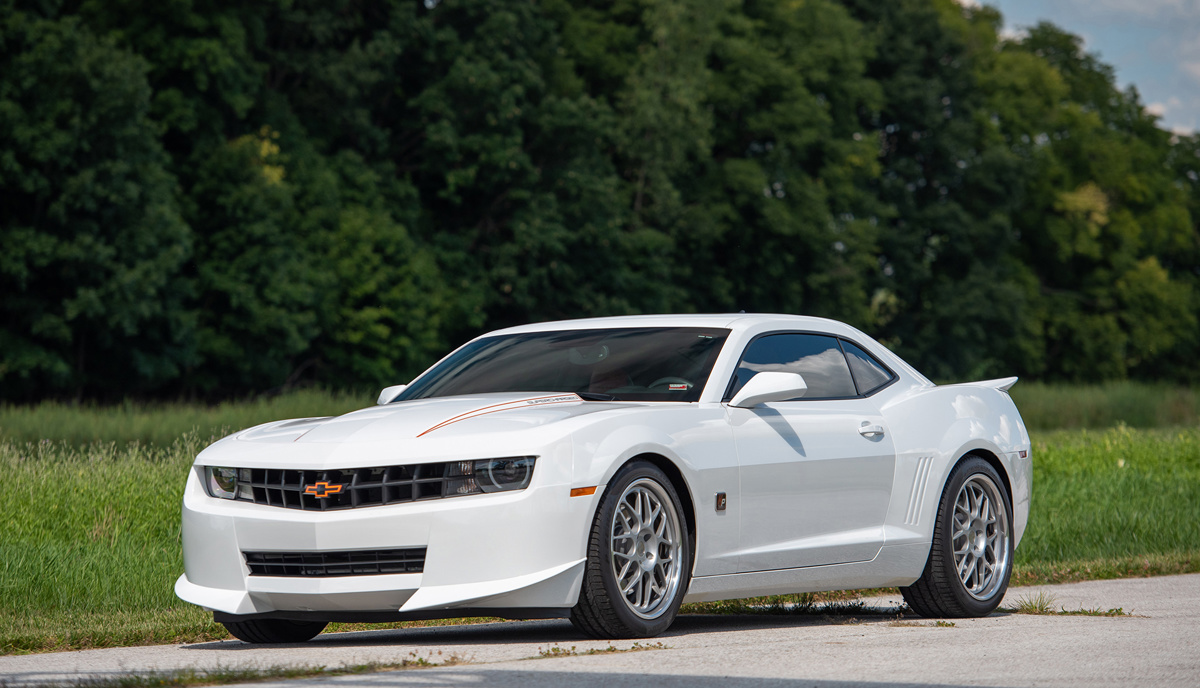 2010 Chevrolet Hendrick Performance Camaro SS
Estimate: $65,000 - $75,000 USD | Offered Without Reserve
The North American Motor Car Collection
While we mentioned both Ford and Chrysler products so far on this list of modern muscle, the performance divisions within General Motors were also eyeing the possibilities of recreating their classic nameplates with modern parts and aesthetics. This Camaro SS was taken to the next level in terms of performance, as it was one of a mere 35 examples that were modified by the noted NASCAR team behind many of the sport's greatest icons, Hendrick Motorsports of Concord, NC. The team's modifications include "Hugger" coilover suspensions, sports exhaust system, uprated Brembo brakes, and forged aluminum alloy wheels. Power is upgraded as well, with a supercharged 6.2-litre "LS3H" V-8 engine rated at 555-horsepower paired with a six-speed manual transmission with Hurst short shifter, which must have pleased its first owner, NASCAR star Dale Earnhardt Jr.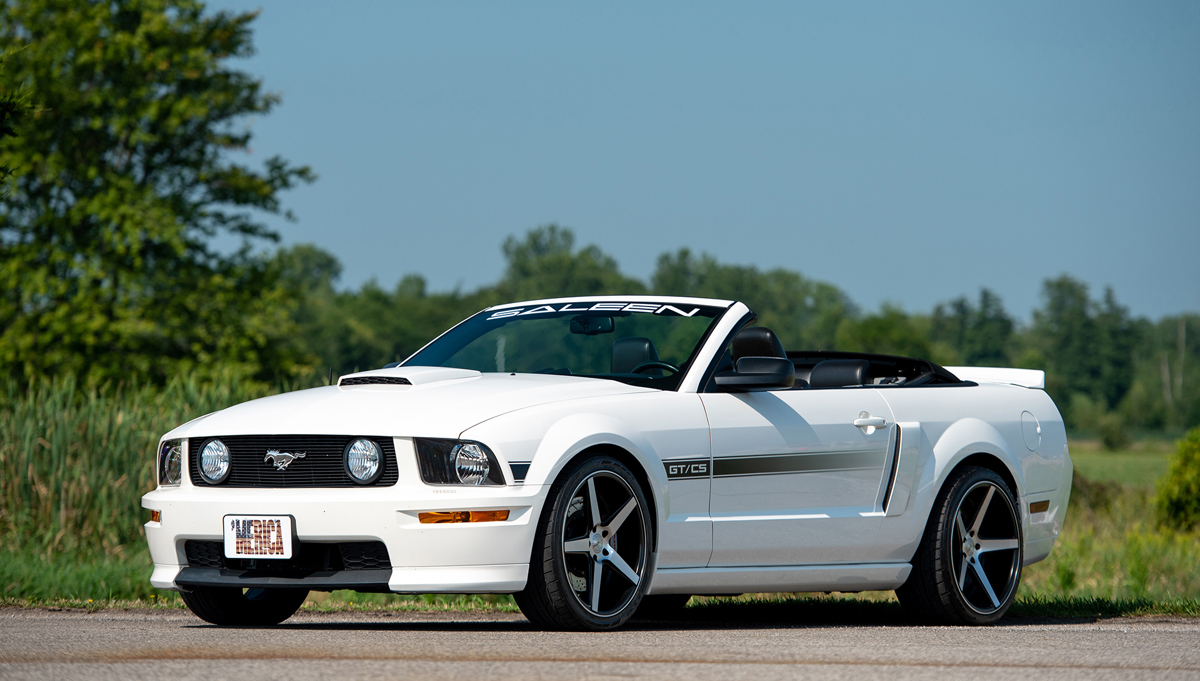 2007 Ford Mustang GT/CS Saleen
Estimate: $30,000 - $35,000 USD
Of course, practically any motoring is made even better with the top down, as this Ford Mustang GT/CS proves. Modified by Southern California speed experts Saleen, this example features a five-gear manual transmission topped by a Hurst shifter and seating for four. Well-equipped with 17-inch painted aluminum wheels and the all-important powered top, perhaps the centerpiece in this example is its supercharged V-8 engine.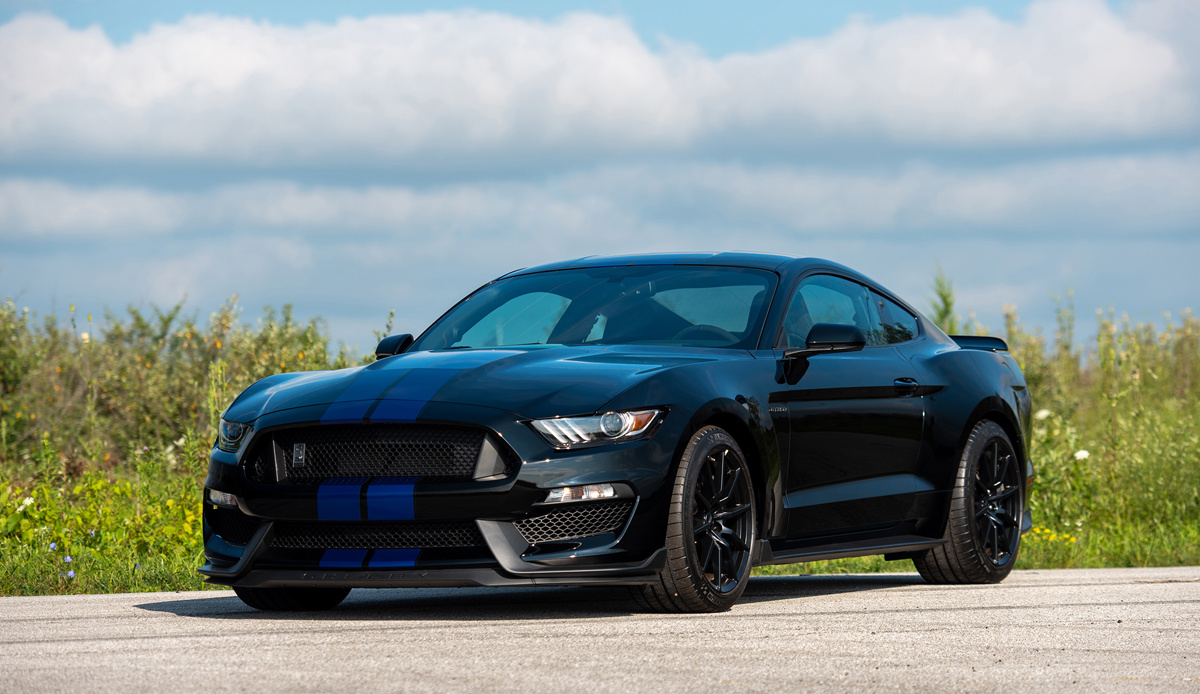 2015 Ford Shelby GT350 '50th Anniversary'
Estimate: $100,000 - $125,000 USD | Offered Without Reserve
The North American Motor Car Collection
Muscle cars had always been sought-after by collectors for their extensive equipment packages and the corresponding rarity that goes with them. Made to celebrate the 50th Anniversary of Mustang coupes modified by Southern California-based Shelby, this example is one of a mere 137 built, an impressively small figure for any modern production car. The rarity on this striking Shadow Black example is made even more significant, as it was one of a mere fifty specified with the optional Track Pack, which includes the desirable MagneRide damping system, and the only one made with blue stripes and an Ebony interior. Modern muscle at its finest.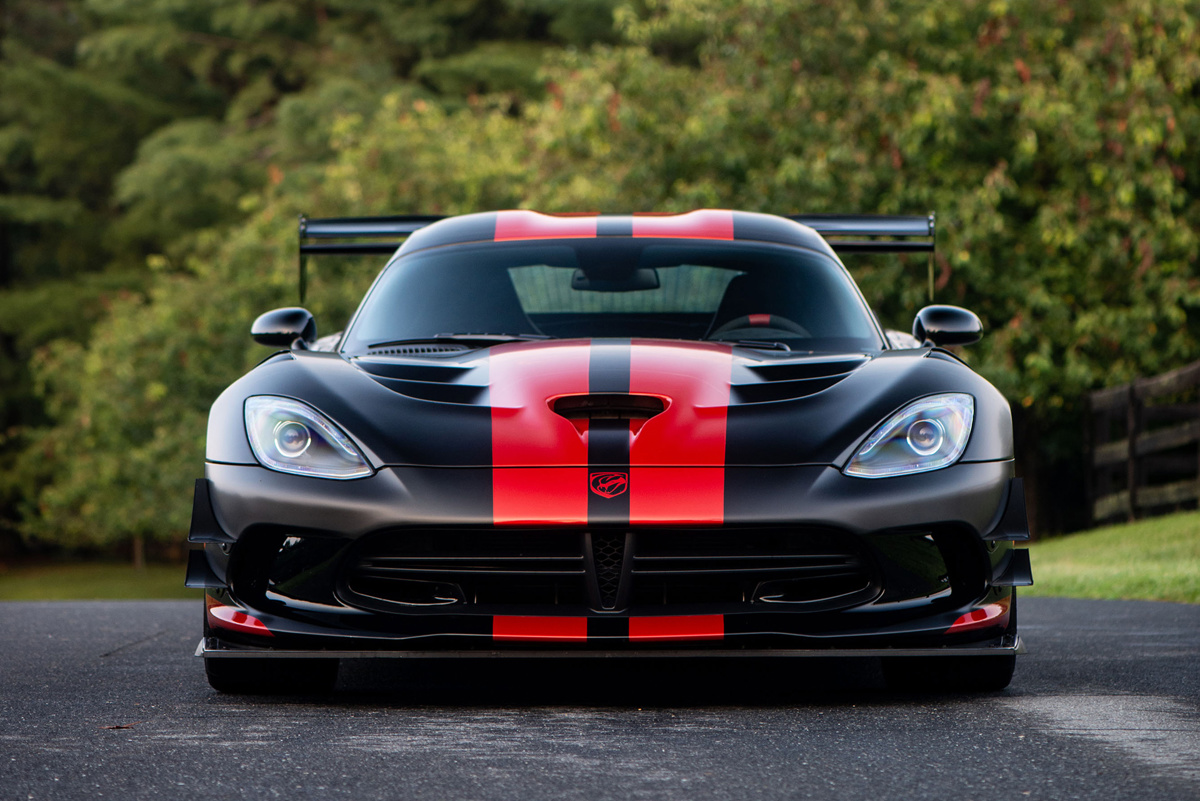 2017 Dodge Viper SRT ACR
Estimate: $180,000 - $220,000 USD
Our cover car for this exploration into modern muscle is in some ways, too much of a sports car to be included. With a well-respected handling package featuring an adjustable Bilstein suspension and Brembo carbon ceramic brake discs and calipers, the SRT ACR was certainly equipped like the finest European sports cars. Under the hood, however, was an all-American powerplant: an 8.4-litre V-10 rated at 645 horsepower and 600 pound-feet of torque. The additional winglets and massive rear spoiler were included in a $6,900 option called the Extreme Aero Package and added a purposeful finishing touch to this tough aesthetic. Finally, with fewer than 4,350 miles showing at the time of cataloguing, this example of modern American engineering is ready for its next owner to thoroughly enjoy.