In the two previous installments of our series on the made-in-Modena machines heading to Monterey in 2022, we focused our attention on Ferrari. Rightly so, as the early 1950s were a golden era for the prancing horse brand. But they were not the only Modenese manufacturer who hit a stride with mid-century sports racers. For the 1957 season, the Scuderia focused its efforts on the top-tier 290 MM, 315 S, and 335 S models, while its local rival, Maserati, had been busy creating a monster. Conceived by a fresh, yet undeniably talented team after the Maserati brothers departed for OSCA in 1950, plans for a more powerful, V-8-engined, trident-badged sports car existed as early as 1954 but were shelved in the wake of the monumental crash at the 24 Hours of Le Mans in 1955. Far closer to home, a second crash during the 1957 Mille Miglia pushed Maserati to withdraw from official factory racing. With new owner Adolfo Orsi at the helm, the future of the great trident was in the hands of privateers now.
Enter American industrialist Tony Parravano, who wished to make an all-new V-8 to take on Indianapolis. The Maserati 450S was an attempt by the Modena outfit to outgun its competition, and, after initial testing at the end of 1956, the Modenese monster launched an all-out assault on the 1957 World Sportscar Championship. Based on a modified 350S chassis and powered by a 4.5-liter, quad-cam V-8 capable of producing as much as 400 horsepower, the 450S was an animal, tamed by great racing drivers like Juan Manuel Fangio, Stirling Moss, and Carroll Shelby. Now, that great legacy lives on, with one of only ten Maserati 450S chassis crossing the block at RM Sotheby's Monterey 2022 auction: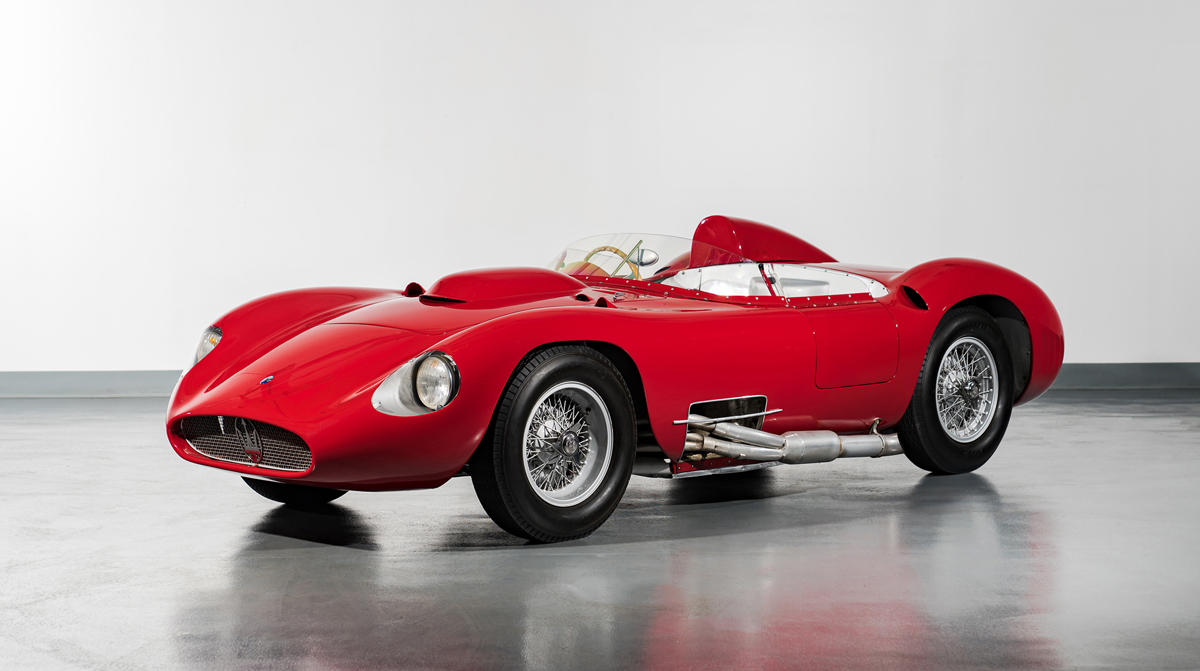 1958 Maserati 450S by Fantuzzi
Estimate: $9,000,000 - $11,000,000 USD
Offered from The Oscar Davis Collection
The Maserati 450S flame burned briefly but brightly in the World Sportscar Championship, but perhaps more than most other models, the car had the attributes to succeed in other race series. Chassis 4509 was one such car, bought new by Texan Jesse 'Ebb' Rose via Carroll Shelby's Dallas outfit in 1958. Joining a fleet that already comprised two 300Ss, the Maserati was immediately pressed into service, winning overall the first two SCCA races it entered in Galveston. Six months later the feat was repeated at Eagle Mountain, with another outright win at Hammond coming just two months after that to round out a hugely successful debut season, beating along the way Jim Hall's Lister Chevrolet and Ray Jones' Ferrari Testa Rossa. This success became part of the lore of the Maserati 450S, which has been described in literature as the "Fastest Sports Racing Car of the 50s."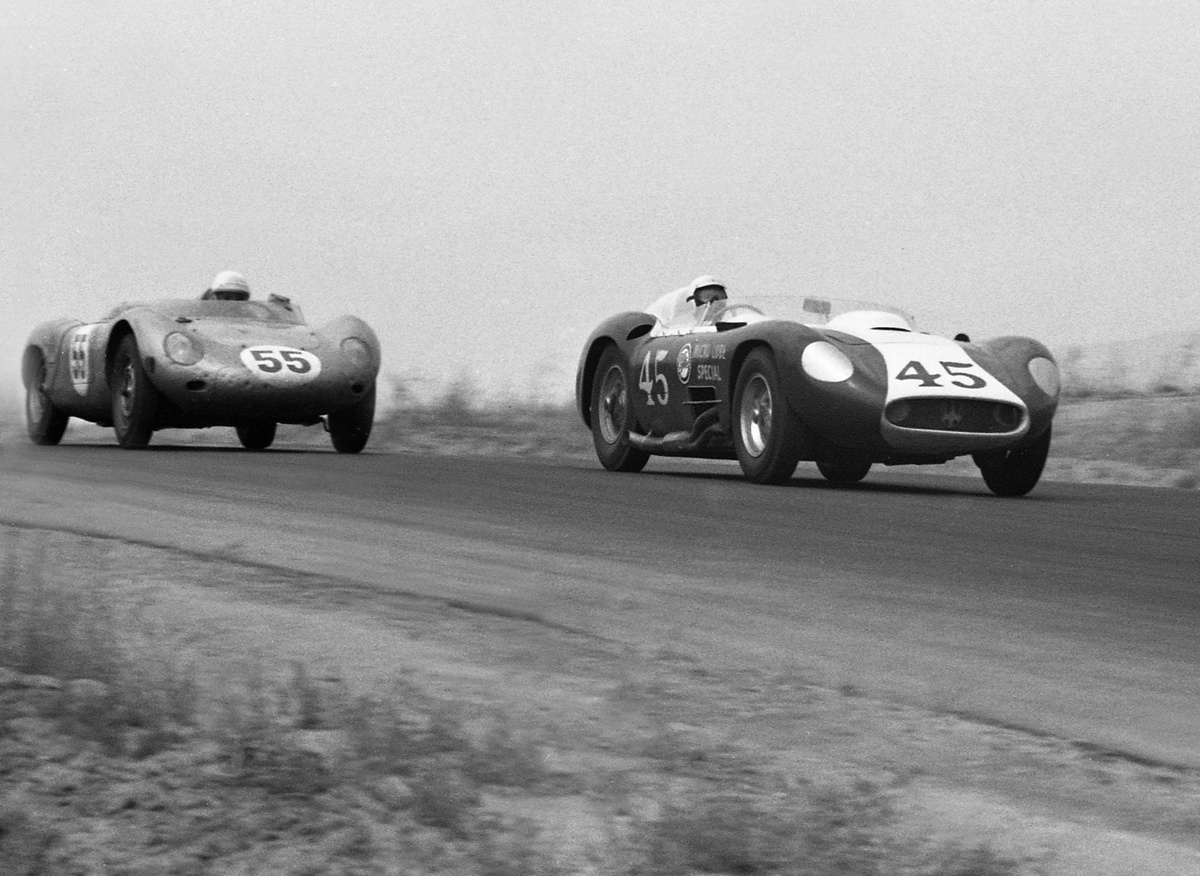 Chassis no. 4509 at Riverside Kiwanis Grand Prix in 1959. Photography by Allen R. Kuhn.
In 1959, in its second year of privateer duty, this Maserati was reborn as the 'Micro-Lube Special,' and given its iconic blue-and-white paint scheme. 'Ebb' Rose's mechanic, Lloyd Ruby, took up the mantle as driver as the USAC Road Racing Championship for sports cars was upgraded to full calendar, quickly finding success against such luminaries as Roy Salvadori and Dan Gurney. Ruby brought the fearsome 450S home in second place at the Meadowdale circuit, north of Chicago, repeating the feat at the Grand Prix of Riverside 200 Miles in November 1959 against Ken Miles. His string of impressive performances was good enough to finish second in the final drivers' standings. The pace of development rendered the Maserati largely uncompetitive by the following year, and it was Ruby who rounded out the car's glittering yet brief competition career with a final outing at Riverside in April 1960.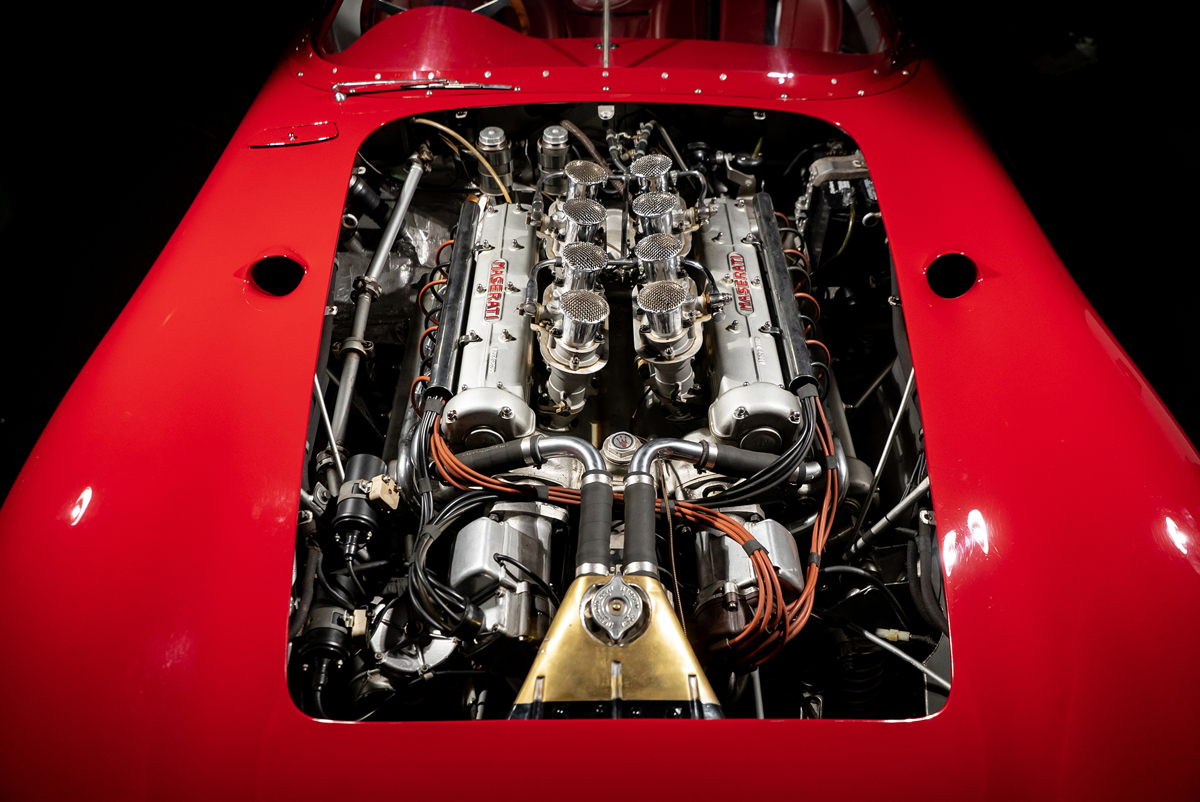 Having enjoyed an international life as part of numerous, prestigious collections in Europe, the United States, and Japan, this Maserati 450S, chassis no. 4509, joined the Oscar Davis collection in the early 2000s. A keen historian for all his noted automobiles, Mr. Davis commissioned none other than Dr. Adolfo Orsi, the grandson of Maserati's former owner, to source original build sheets from company archives to verify the accuracy of the restoration. Dr. Orsi verified the matching number engine with many original components remaining with the car, and this Italian red paint scheme shade as it left the factory. Certainly, its well-preserved original components and the accuracy of its restoration was sufficient for this chassis to be displayed at both the Concours d'Elegance of Amelia Island and Palm Beach in 2006. Yet this Maserati is maybe best remembered as the iconic blue-and-white 'Micro-Lube Special' of the USAC.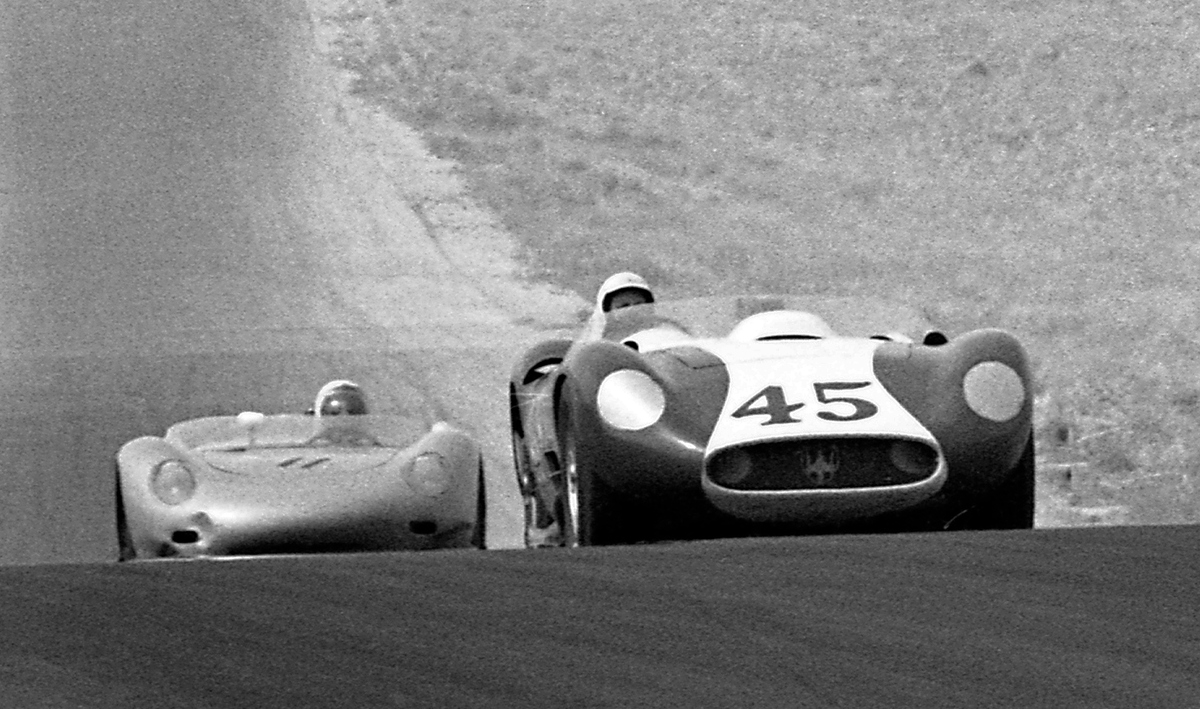 Chassis no. 4509 at Riverside Kiwanis Grand Prix in 1959. Photography by Allen R. Kuhn.
While 'Ebb' Rose and his faithful mechanic Lloyd Ruby retired the 'Micro-Lube Special' after April 1960 to focus their efforts on Indy racing, their contributions to the world of sports racers did not end. Ruby's driving skills helped push the Ford GT40 to its first race win in Daytona in 1965. As far as chassis no. 4509 is concerned, at least according to Dr. Orsi, it possesses a "continuous and well-documented history." Whether its next custodian wishes to relive the glory days of competition in southern California by restoring its iconic blue-and-white livery will be a matter for the future. For now, we can enjoy the good fortune that classic sports cars like this winning Maserati still survive today.
To view extensive documentation on this fine Maserati sports car as well as an extensive set of current images and historic photographs, please click here. Check back soon to catch the next iteration of our series on Modena-built marvels, all bound for Monterey 2022.