With all the advancements of our modern world, there are few objects as adept at transporting their beholder than period photographs. One glance at a piece of film taken in-period and the observer travels to another place and time. In the case of our leading image today, the place is Palm Springs, California, while the time in question is regarded as the golden era of sports car racing. A sepia-toned setting which gave rise to the legends of Ferrari and Shelby.
While the memories of the incredible World Sportscar Championship have gradually begun to fade, still-salient names like Fangio, Moss, and Bandini provide a tangible link to the past. Moreover, the magnificent machines operated by these expert drivers created to contest the races exist today as stunning examples of engineering and design, with cutting-edge technology draped in aluminum coachwork from the leading carrozzerie of Turin and Milan. Today's edition of our series exploring some of the marvelous, Modena-made sports cars heading to RM Sotheby's Monterey 2022 auction turns to what has been called the "Best Ferrari ever made," by none other than Enzo Ferrari himself: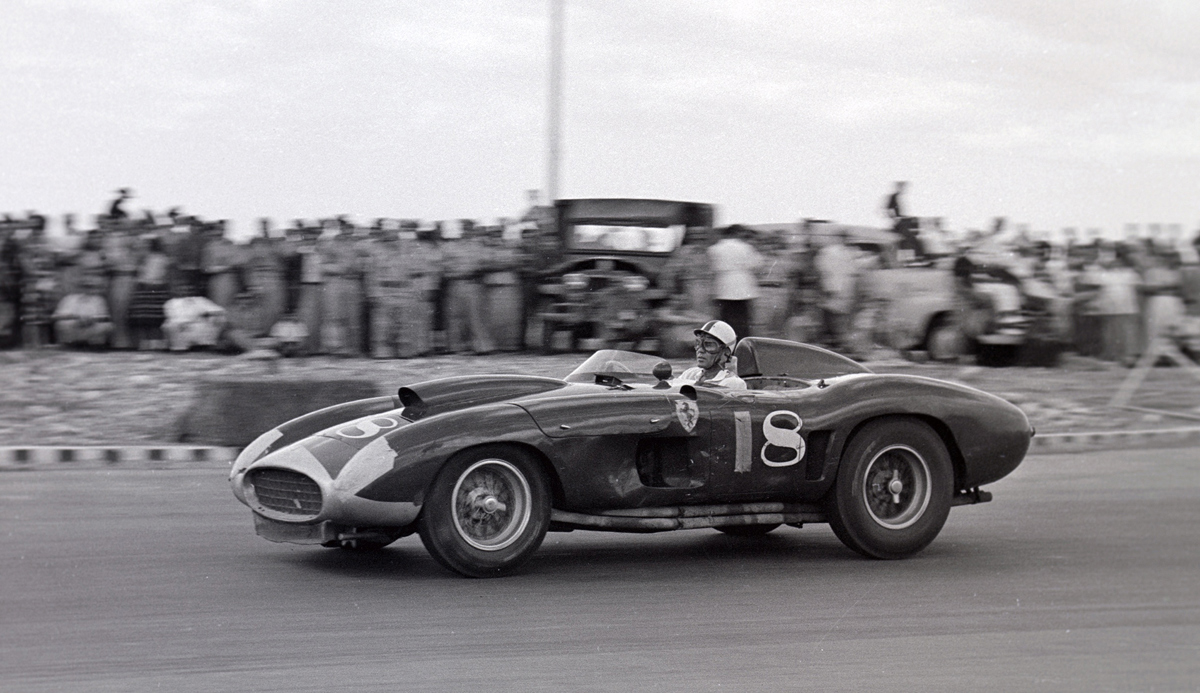 Carroll Shelby behind the wheel of 0598 CM at the Gran Premio de Cuba, February 1957. Photo by Claude Haycraft courtesy of Bill Warner.
1955 Ferrari 410 Sport Spider by Scaglietti
Estimate: $25,000,000 - $30,000,000 USD
Chassis No. 0598 CM
Built to contest the brutal 1900-mile Carrera Panamericana road race in Mexico, the Ferrari 410 Sport Spider was perfectly adapted to punishing endurance events, boasting a strong and lightweight steel chassis formed of elliptical steel tubes. Housing an enormous 195-liter fuel tank in its trunk, this hard-as-nails prancing horse also sported independent front suspension, and Ferrari's familiar De Dion axle with leaf springs. Wider and more muscular than the outgoing 375 Plus, the 410 S was a true hot rod of a machine and the final model to be powered by a variant of Lampredi's famed long-block V-12. With a bigger bore and longer stroke than its predecessor, total displacement came to a hair under 5 liters, while output was rated at 335 horsepower. Only four examples were built, two receiving an uprated twin-plug Type 126/C engine, which produced a scarcely believable 375 horsepower.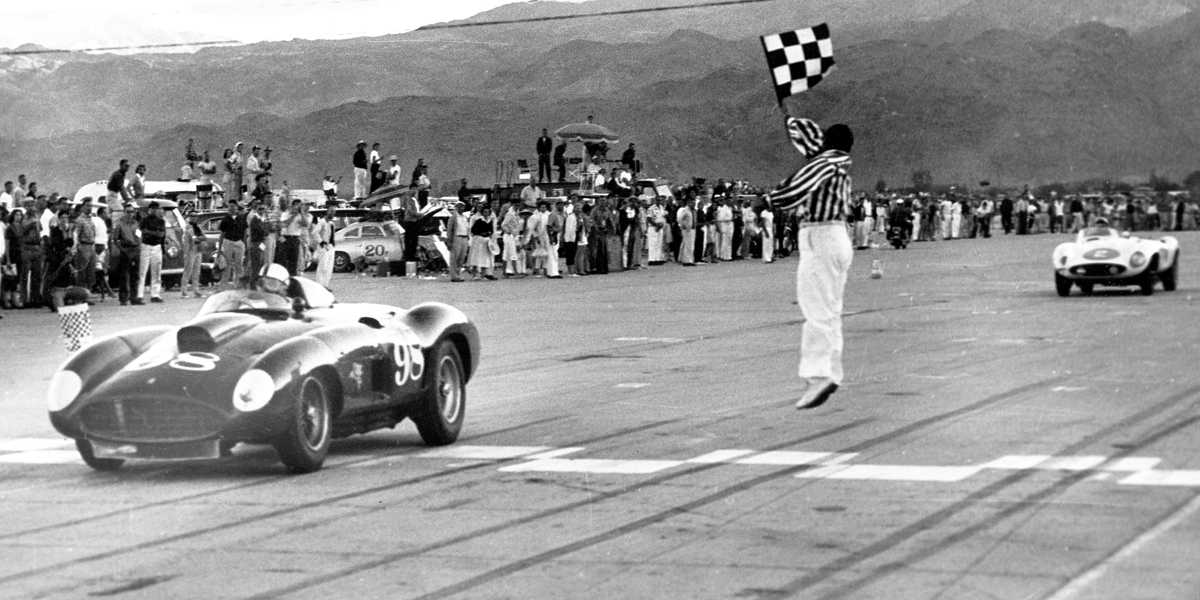 Al Torres waves the checkered flag as Carroll Shelby in the Edgar Ferrari 410 Sport bests Phil Hill in the Ferrari Monza at Palm Springs, November 1956. Photo courtesy of the William Edgar Archive.
Chassis 0598 CM was one of these rare fire-breathing machines. With a suffix that indicated its original intent to race at the "Carrera Messicana," no. 0598 CM was too much of a thoroughbred to not use after the cancellation of the Carrera Panamericana. A star that burned bright and fast, Ferrari opted to enlist this one-of-four racer in the 1956 running of the World Sportscar Championship. When it took to the grid for the 1000 KM of Buenos Aires in 1956, no. 0598 CM had none other than Juan Manuel Fangio behind the wheel. Despite passing through the speed trap at more than 300 kph and setting fastest laps in the process, both official Ferrari entries in the Argentinian race retired with mechanical problems, paving the way for outside privateers to acquire this rare ex-Scuderia racer.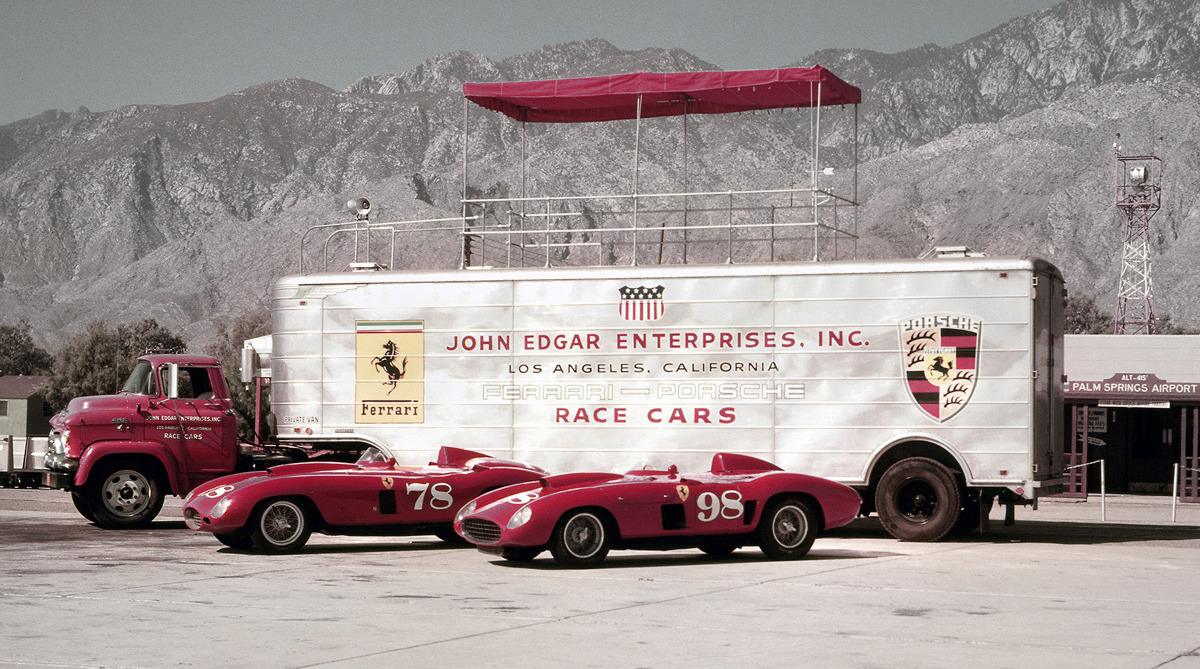 Ferrari 375 Plus and Ferrari 410 Sport with the famous John Edgar Enterprises' GMC-Fruehauf transporter at Palm Springs, November 1956. Photo courtesy of the William Edgar Archive.
After leaving the Ferrari stable, 0598 CM lived an enviable second life, acquired by the great Southern California-based John Edgar Racing Enterprises and piloted with great success throughout 1956 and 1957 by Carroll Shelby, who won everywhere from Palm Springs to Nassau. Shelby, perhaps more than any other driver of his era, knew instinctually how to extract the maximum capability from the massive Lampredi-powered prancing horse. This example put Shelby atop the podium more than any other car, a total of eight times. In-period, Shelby's review to a Los Angeles Times reporter was simply, "Nothing can touch this Ferrari if it runs."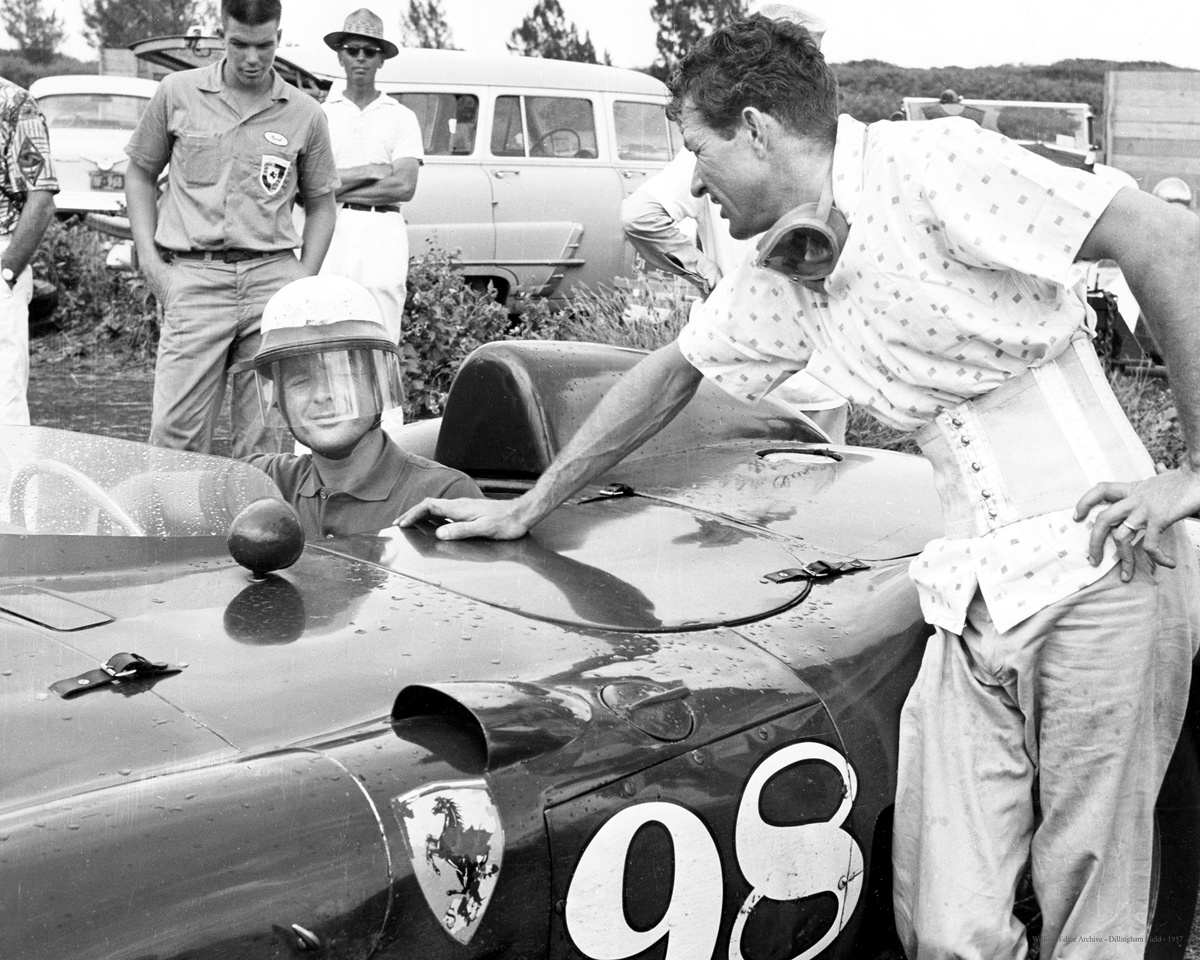 Phil Hill behind the wheel of 0598 CM chatting with Carroll Shelby at Hawaii Speed Week, held on Dillingham Air Base in Northern Oahu, April 1957. Photo courtesy of the William Edgar Archive.
Sometimes, the limiting factor proved to be Shelby himself. After suffering injuries during a pre-race game of touch football in Nassau on the eve of the Bahamas Speed Week, Shelby was forced to withdraw with 70 laps left. He proved more than worthy in Palm Springs one month prior, winning the SCCA National Championship against five other cars fielded by Edgar, up-and-coming drivers such as Phil Hill, and a Ferrari 750 Monza driven by John von Neumann. For his efforts, Shelby was named US Sports Car Driver of the Year by Sports Illustrated, an early milestone in his career.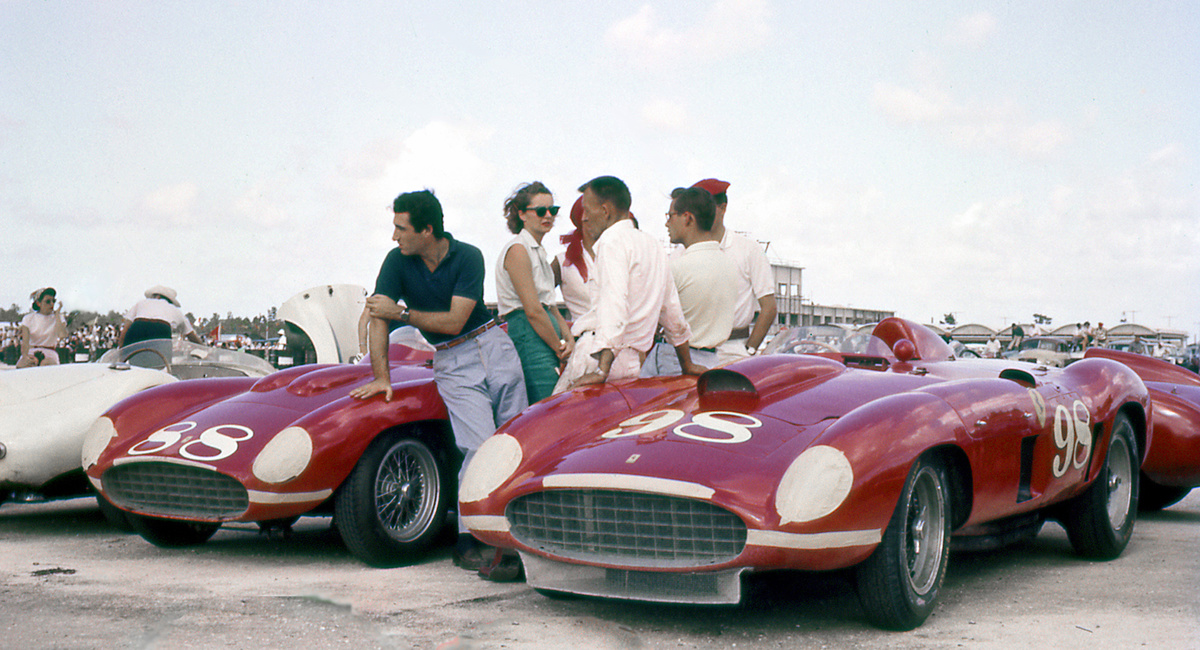 Left to right: Alfonso de Portago, Joe Landaker, Masten Gregory, and friends, with John Edgar's Ferraris #88 857 Sport and #98 410 Sport, Nassau Speed Week paddock, December 1956. Photo courtesy of the William Edgar Archive.
Two years later, after team leader Edgar and Shelby signed a contract with Maserati forbidding him from driving any other brand in April of 1958, the outspoken Texan demanded to be put at the wheel of his favorite Ferrari once again. At the same racetrack where, two years prior, Shelby had won outright victory, Shelby managed a respectable second place at Palm Springs in this mighty 410 Sport. In later life, 0598 CM would be raced by Phil Hill, Richie Ginther, Masten Gregory, and Jo Bonnier, before victories on track were swapped for those on the concours green, taking home trophies in Amelia Island and two years later being shown at Pebble Beach in a tribute honoring Shelby. As Shelby later reflected to William Edgar, automotive historian, provider of many of these period images, and son of his former team leader, "Racing in the 1950s was really and truly some of the best times of my life, and it'll never be replaced. It was an era that's gone and won't ever be back."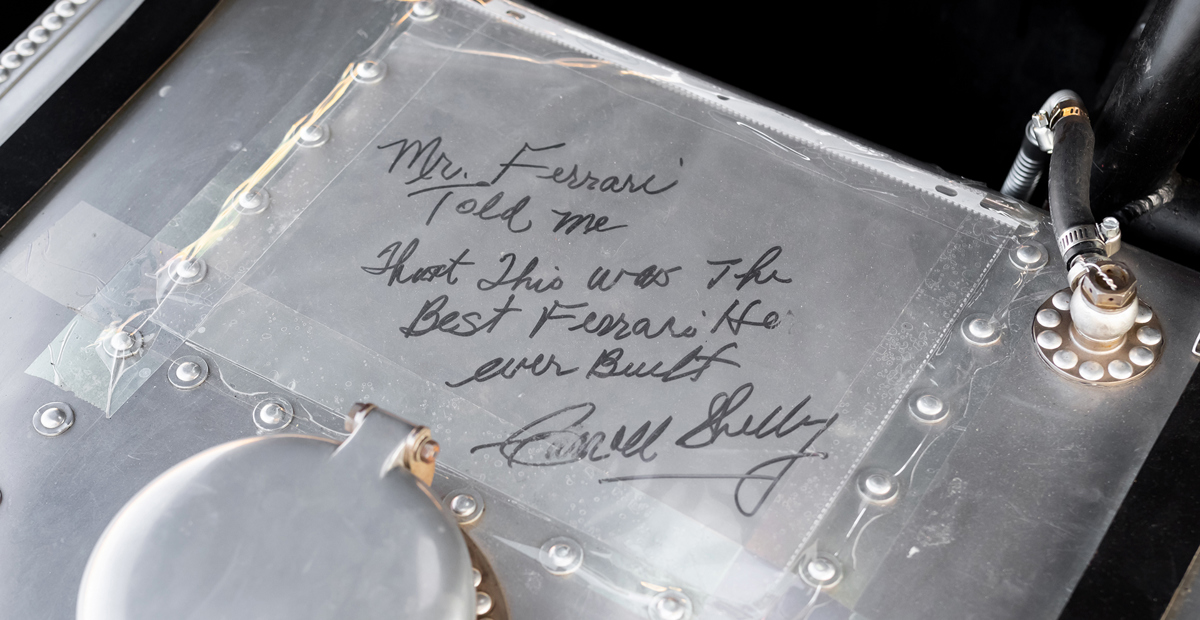 Six years before his death in 2012, Shelby was reunited with 0598 CM at the Fabulous Fifties Concours in Gardena, California. It was there that the iconic American driver added an unforgettable inscription to its 195-liter fuel tank: "Mr. Ferrari told me that this was the best Ferrari he ever built." Perhaps no higher praise could be envisioned for 0598 CM. And no higher honor than being able to hear, see, and even drive it.
To see the first part of our series on Modena Marvels, please click here. And please be sure to tune in to www.rmsothebys.com this August 20, as this competition-bred Ferrari goes up for auction.