When it comes to modern art, the general advice is to buy what you love, as it is a difficult proposition to pick the future stars of today's contemporary scene. When it comes to classic cars, the same advice applies, though it must be said that automobile collectors have the benefit of a greater framework of OEMs that help guide their investments. As everything old is somehow new again, the world's great automotive brands can be viewed as the workshops that produced under the direction of equally great artists; Rodin may have signed the finished sculptures, but they were made by a team of talented apprentices. Ferrari, for instance, can be seen in a similar light—with dedicated workers delivering sports car creations worthy of Enzo's legacy, long after he left the company.
Narrowing down which supercars and hypercars will be regarded as classics in the future is a similar exercise—one first must relate to the spirit of the company, and then determine if the newest examples live up to the standards set by their founders. Sometimes, as in the case of our Koenigsegg CCR cover car, the dynamic empresario in question, Christian von Koenigsegg, is still very much alive. Whether they are motorsport-spec editions of already fast automobiles or new interpretations of their brand's greatest hits, RM Sotheby's has selected several modern classics to appear at our Milan 2021 auction, set to unfold next week: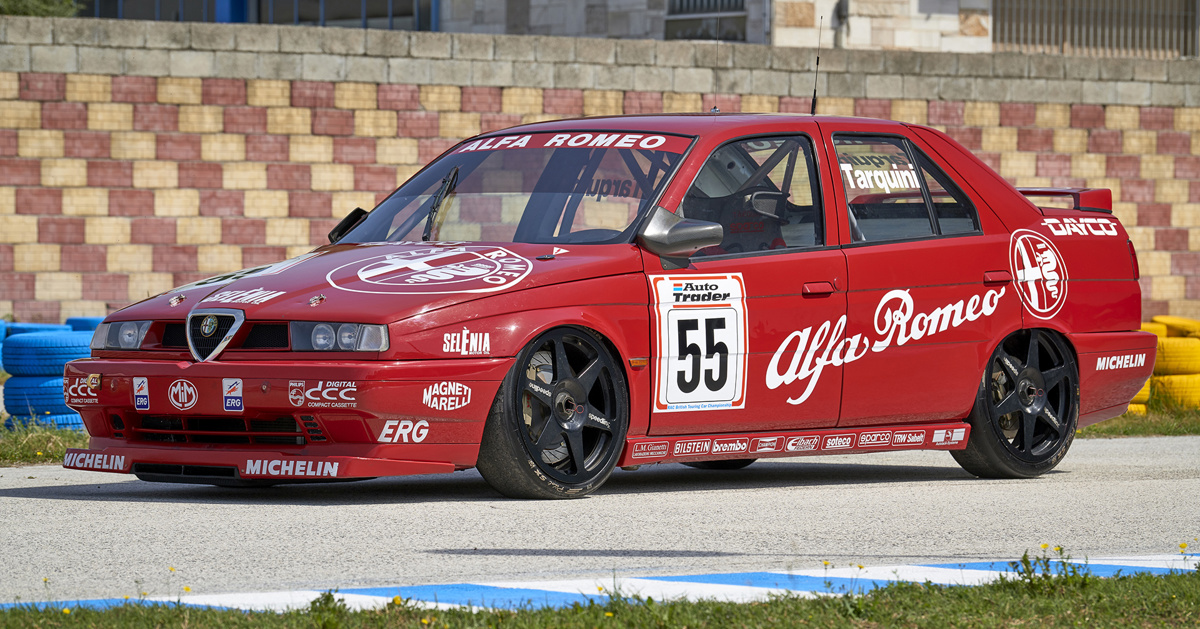 1994 Alfa Romeo 155 TS BTCC
Estimate: €300,000 - €400,000 EUR
In terms of four-door saloon cars, there are few modern vehicles that could stand toe-to-toe with a veteran of the British Touring Car Championship. For the British Touring Car Championship, known as BTCC, each entrant had to supply a homologated saloon car by selling a not-insignificant number (2,500 in total) of non-racing examples to the general public. Constructed with a creative interpretation of these regulations, Alfa Corse, the Alfa Romeo factory racing team, built a special 'Silverstone Edition' of their 155 sedan, including an oversized rear wing and front splitter that could be customer-installed and adjusted. Critically, this addition allowed Alfa Corse the element of surprise when they appeared at the first race of the 1994 BTTC season with the full aerodynamic package attached. Though Alfa's rivals replied in protest, this motorsport-grade example still scored podium-place finishes for noted racer Gabriele Tarquini, who has driven and owned it since new. 
2021 Mercedes-AMG GT Black Series
Estimate: €400,000 - €500,000 EUR
Ultimate speed derived from a classic shape; the origins behind the Mercedes-AMG GT Black Series point to both collaboration and competition over what it means to make a German sports car. First, the collaboration, wherein longtime Mercedes-Benz performance partner AMG became an official branch of the Stuttgart-based band in 2005. While AMG was well-known for its handmade engines, famously assembled, then signed, by one builder per car, the finished products were still primarily badged as Mercedes-Benz products. With the GT, AMG was able to contribute to the underlying architecture of the car—only their second full-production vehicle under the new Mercedes-AMG banner, following the SLS AMG supercar. Debuting to the public on 9 July 2020, the Mercedes-AMG GT Black Series is an all-new variant, featuring significant changes in suspension, engine setup, and aerodynamics when compared to its base model siblings. Speaking of comparisons, the longstanding, so-called "gentleman's agreement" that kept Mercedes-Benz and BMW from building a sport coupe to compete with Porsche unofficially ended on 4 November 2020, if not sooner, as a Mercedes-AMG GT Black Series, driven by Maro Engel, claimed the fastest lap ever recorded for an unmodified production car at the Nürburgring Nordschleife.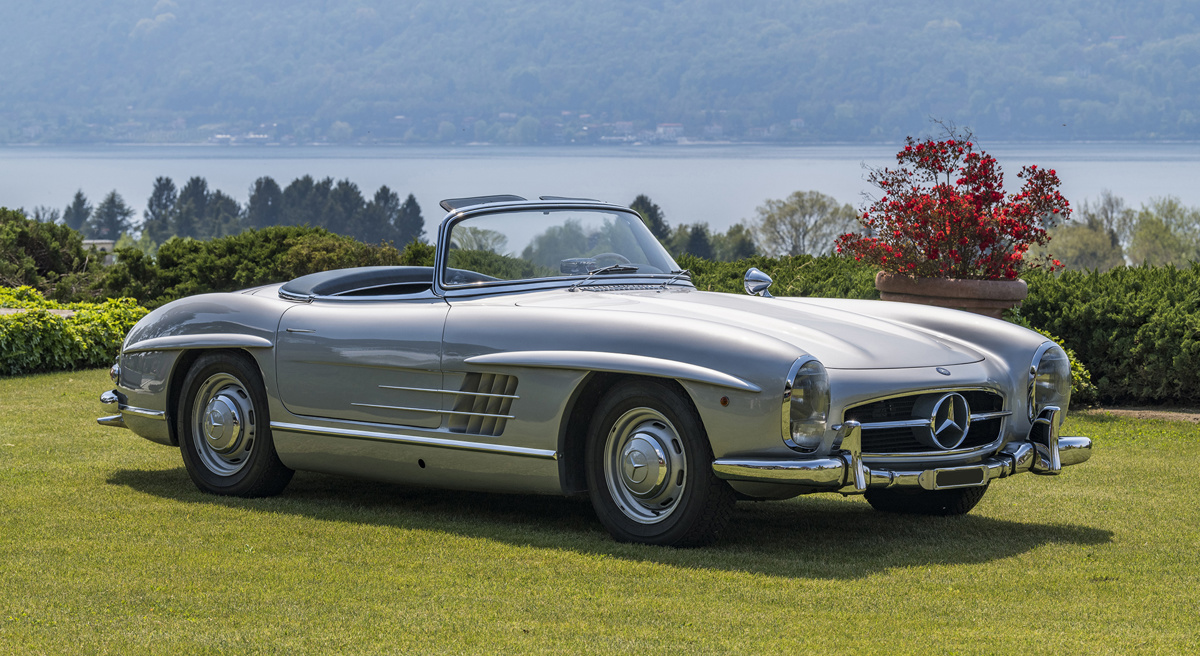 1957 Mercedes-Benz 300 SL Roadster
Estimate: €900,000 - €1,100,000 EUR
In many ways, the goal of Mercedes-AMG in making the SLS and GT sports cars was to somehow capture the magic unleashed by the talented mid-century Mercedes engineers and designers who created an undisputed icon with the 300 SL. Possessing the same purposeful stance and cab-backward styling as the GT Black Series we just featured, the proportions of the 300 SL are classic for a reason. Though powertrain development has certainly moved forward over the last 60 years, the original 300 SL coupe and roadster both featured a race-derived straight-six engine, featuring Bosch mechanical fuel injection. Mercedes-Benz aficionados will recognize that the Roadster variant of the 300 SL sported several advancements over its 'Gullwing' coupe sibling, most notably a redesigned low pivot swing axle in the rear and the sport camshaft standard in the engine. One accessory that even the most well-studied Mercedes-Benz devotees may not have seen before is the custom glass top, made expressly for this example by Count Agusta of the Agusta helicopter and motorcycle brands.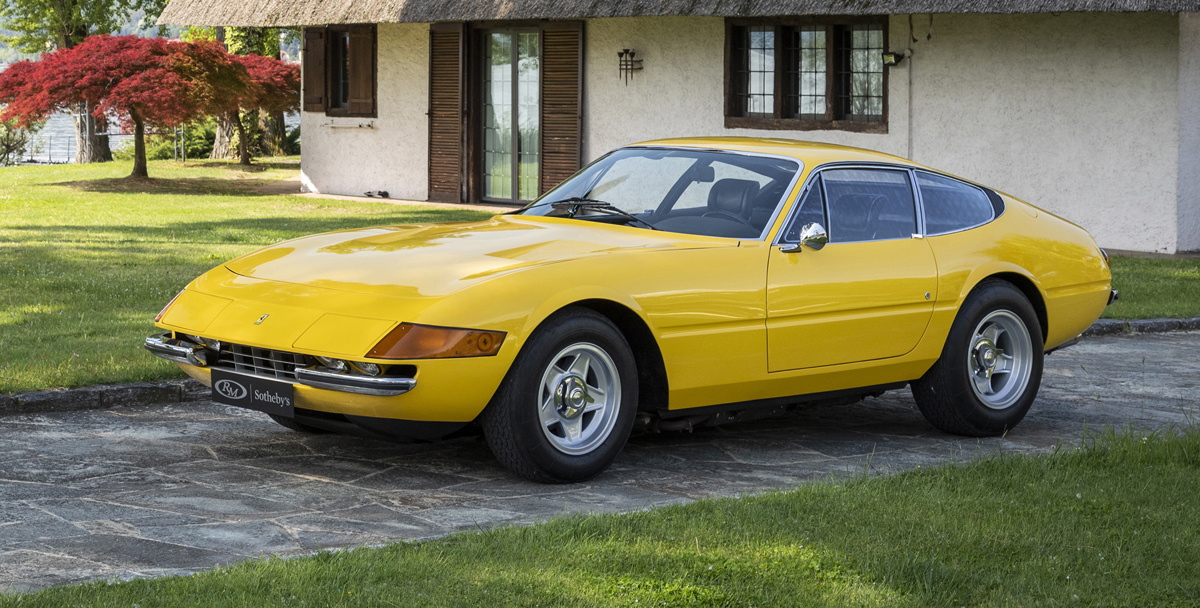 1973 Ferrari 365 GTB/4 Daytona Berlinetta by Scaglietti
Estimate: €550,000 - €650,000 EUR
We have featured this fine, front-engine Ferrari once before in this space, as the headlining car in a piece summarizing all the grand touring examples heading to RM Sotheby's Milan auction next week. With designer Leonardo Fioravanti's extravagant, flowing lines growing somehow more subtle with age, the Daytona is perhaps one artifact of 1970s styling that all automobile aficionados can agree upon. One detail that most Ferrari fans consider extraneous is the side reflector lights on U.S.-spec models of the period, but on this U.S.-spec, European-owned example, they have thankfully been removed. One feature made standard on North American Daytona examples that may be of interest to prospective road trippers is the air conditioning, which has been thoughtfully retained. Fresh off a full restoration in Modena from Ferrari specialists Bacchelli & Villa, this Berlinetta is ready to travel.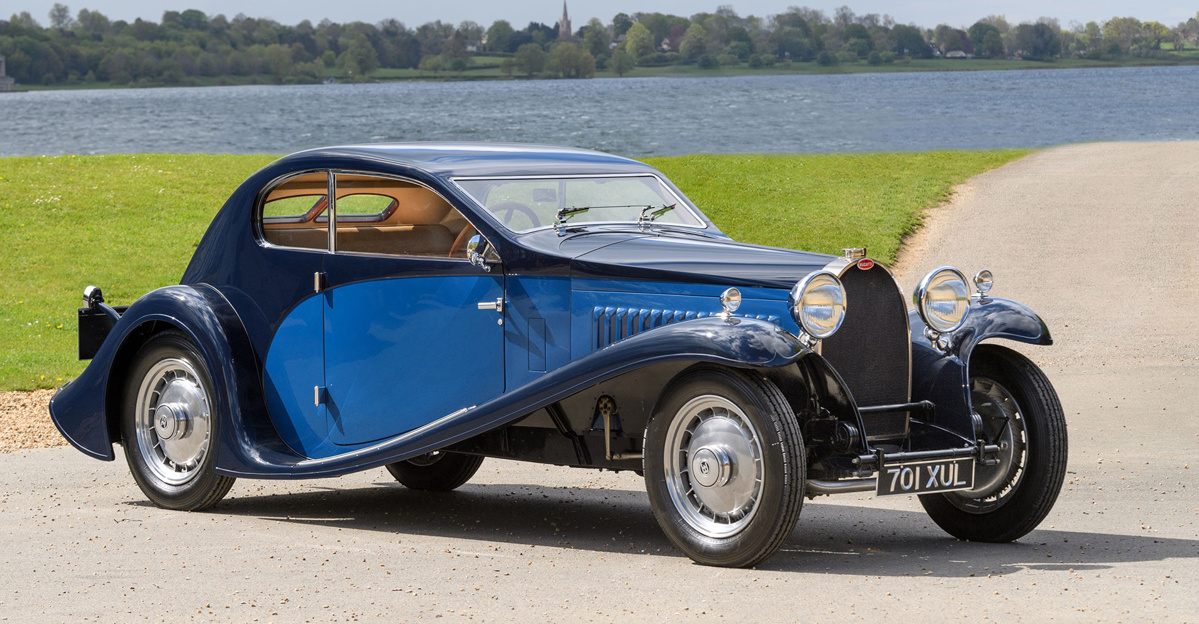 1931 Bugatti Type 46 Coupé 'Superprofilée'
Estimate: €500,000 - €700,000 EUR
While some collectors completely dismiss all forms of modern construction when applied to vintage vehicles, there are some edge cases and outliers where the line between old and new is in the eye of the beholder. The pre-war Bugatti chassis that forms the framework of this car is genuine and was one of four found in the possession of Roland Bugatti, Ettore's youngest son, early in the post-war period. Two of those chassis were acquired by Richard Baudens in 1952, along with two unused Type 46 engines, still packed in their shipping crates. Fast-forward forty years and this chassis, with its new-old-stock powerplant, was finally given the finishing touches it deserved, courtesy of a decade-long build process under the direction of Bugatti expert Barrie Price, with final assembly completed at Keith Bowley's well-regarded Ashton Keynes Vintage Restorations. The effect echoes the famous 'Superprofilée' styling of one of Bugatti's favored coachbuilders, Swiss-based Gangloff, with its teardrop-shape side windows, flowing fenders, and split rear window. A pre-war Bugatti from the modern era.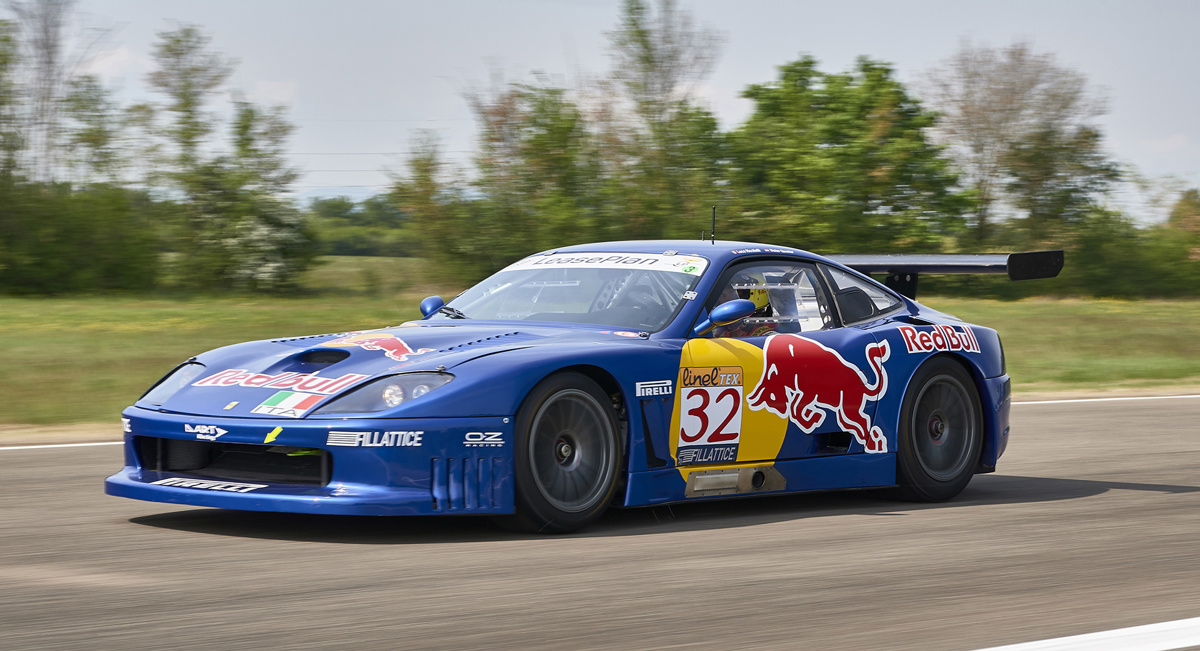 2000 Ferrari 550 GT1
Estimate: €1,800,000 - €2,200,000 EUR
One more motorsport-spec star to headline RM Sotheby's Milan auction, we featured this example at greater length in a previous post exploring the many details that make this Ferrari 550 GT1 exceptional even among other competition-grade cars. Completed by high-grade systems engineering firm Italtecnica, and commissioned by the short-lived Italian Team Rafanelli, this competition-grade Ferrari is a work of functional art, with bespoke carbon-fiber components found throughout the build. More critically for motorsport collectors, this example shows the grand touring roots of one of the most dominant names in racing today, Red Bull. As a relatively new sponsor, competing at the highest level of Formula One, what Red Bull and sister team Toro Rosso have accomplished since this Ferrari 550 GT1 debuted is nothing short of extraordinary. F1 fans will also recognize the name of Toto Wolff, today the team manager for Mercedes-AMG Petronas, who drove this Red Bull-liveried Ferrari during its final season in the 2004 FIA GT championship, appropriately finishing with an overall win in Vallelunga.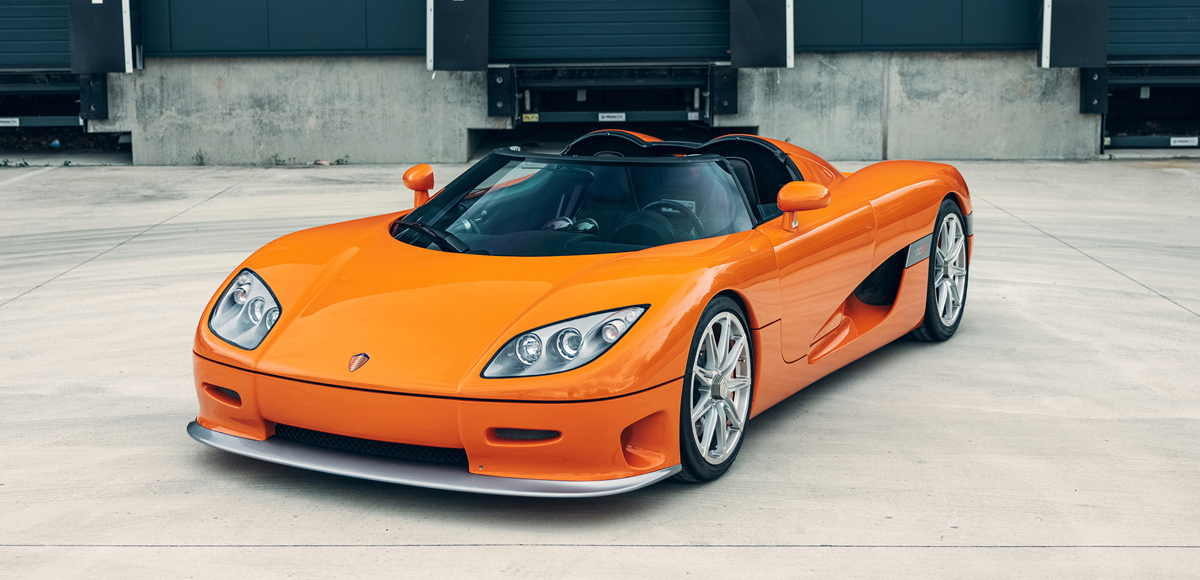 2004 Koenigsegg CCR
Estimate: €720,000 - €760,000 EUR
We have reached the final example on our list of modern automobiles, with a story that will sound recognizable to anyone who has studied the history of Porsche, Ferrari, and many other brands established with sporting aspirations. Only the third model introduced by Christian von Koenigsegg's Ängelholm, Sweden-based outfit, this example is even more crucial to the history of the young supercar company, as it was the first CCR witnessed by the world at the Geneva Motor Show in 2004. Standing out on-stage in a striking shade of Lava Orange over a color-matched interior, this CCR plainly stated its case that Koenigsegg should be compared to the world's best supercar brands. Any lingering doubts over the company's outsized performance claims were dismissed the following year in February when a CCR traveling 387 km/h unseated the McLaren F1 to officially become the world's fastest production car. With von Koenigsegg's firm setting their sights ever higher, examples like this one-of-fourteen CCR can be credibly called classics of the modern era.
Like the city of Milan where these fine examples will be offered on 15 June 2021, the examples on our list blend an age-old story with the benefit of a modern interpretation, producing products that are truly timeless.