Sometimes, the proof of a quality automobile can best be seen in bare metal. With the shapely silhouette of its timeless Bertone body shining underneath the lights of downtown Los Angeles, this gorgeous 1971 Lamborghini Miura P400 S wears all the hallmarks of a significant, road-worthy recommissioning, meticulously executed by marque experts. Possessing an unmatched origin story and rare details which reflect its fewer-than 16,000-mile odometer reading, the tale of how this proud bull of a supercar came to be rediscovered and accurately resurrected was sufficient to make it one of the early stars of RM Sotheby's signature annual Monterey auction, running this year from 12-14 August: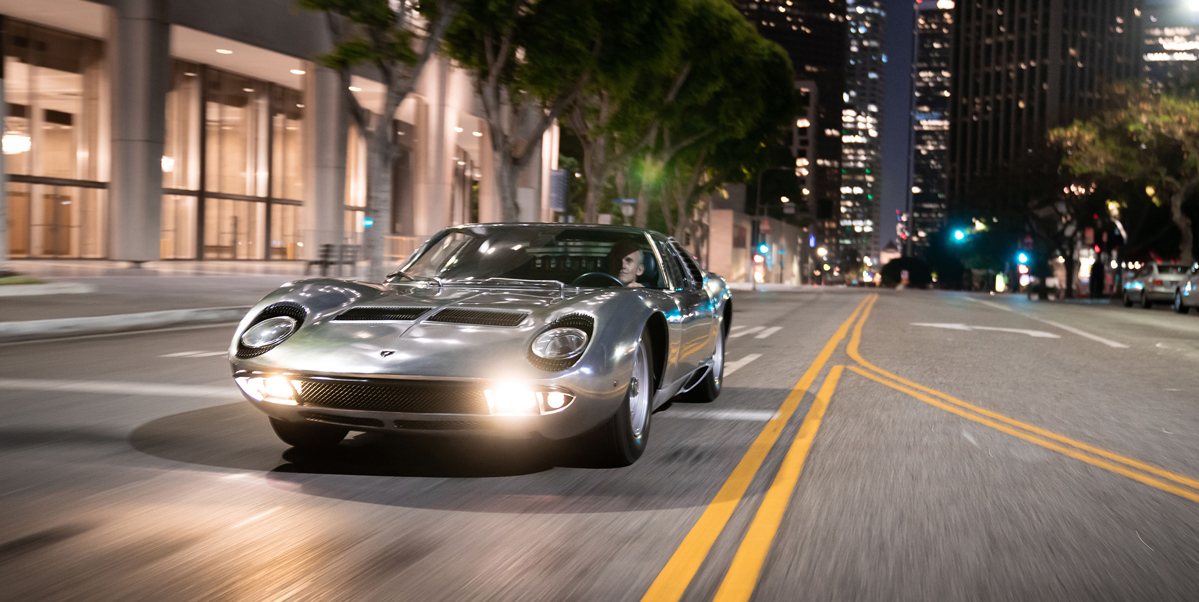 1971 Lamborghini Miura P400 S by Bertone
Estimate: $1,800,000 - $2,200,000 USD | Offered Without Reserve
Any bull, either restored or brand-new, is best evaluated at speed. Which is why we have come to downtown Los Angeles. Relatively uncrowded after dusk, the generous expanse of Grand Avenue becomes a perfect backdrop for these photos from expert shooter Karissa Hosek. Capturing the form of this car during daylight hours is almost impossible given the chrome-like shine of its polished metal body. The consignor's goal was to maintain this car's authenticity and originality, preserving the true hand-built quality of the car, as a testimony to how they were actually constructed, rather than starting with a bare chassis and over-restoring the car as a modern interpretation of a Miura and, in essence, losing the car's soul.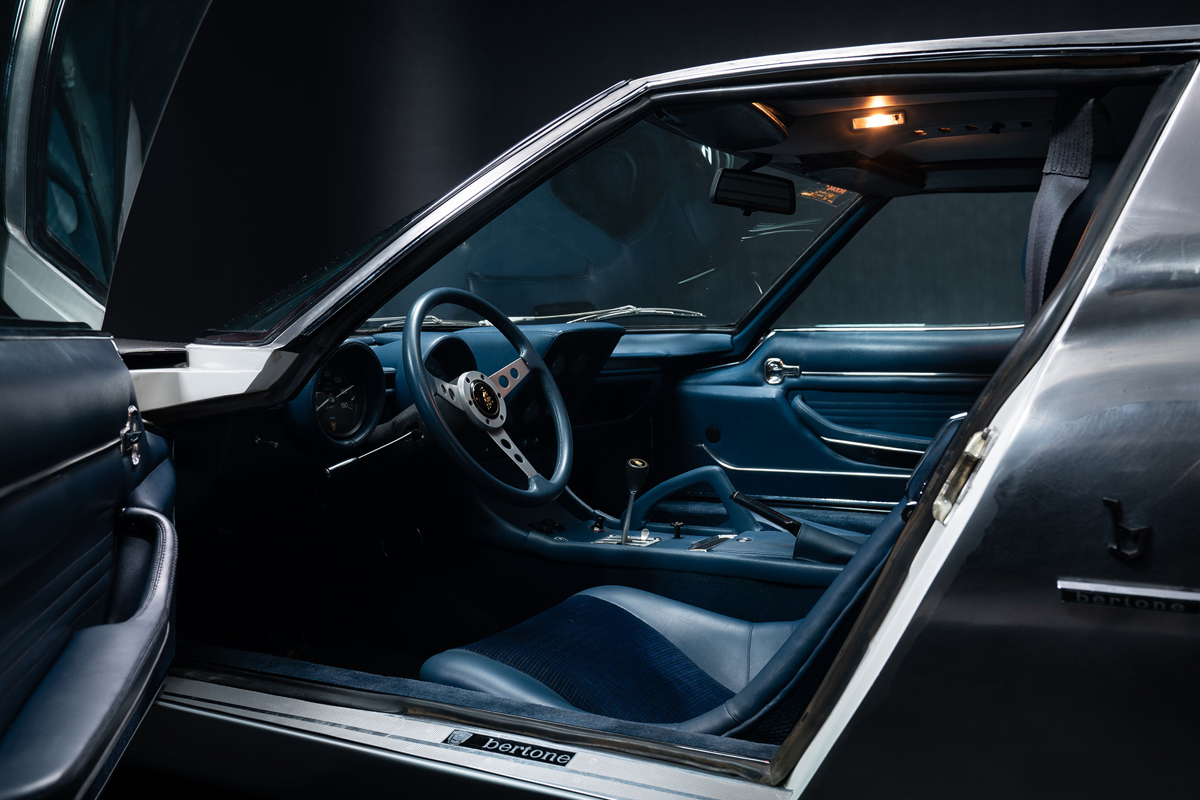 Left with the tantalizing choice of which aesthetic direction to take this numbers-matching Miura S (numbers-matching even to the point of all body panels originally numbered to the car), the next owner of this icon of the Lamborghini catalogue can either go with the original color scheme of Gray-White over blue interior, which the consignor considered far too unexciting for such an exceptional shape, or another combination of their choosing. They can also enjoy this Lamborghini as-is, in stunning bare metal, perfectly matched for the city of those who want to be seen. This standout example's current consignor, having previously won with his other unrestored, original Miura, a First-In-Class Award at the Pebble Beach Concours d'Elegance's 50th Anniversary celebration of the Miura against Lamborghini's own Polo Storico-restored prototype Miura SV, and rescued this example from decades spent in a Bay Area storage facility, is sensitive to how prospective owners wish to be involved in the process to make the car their own.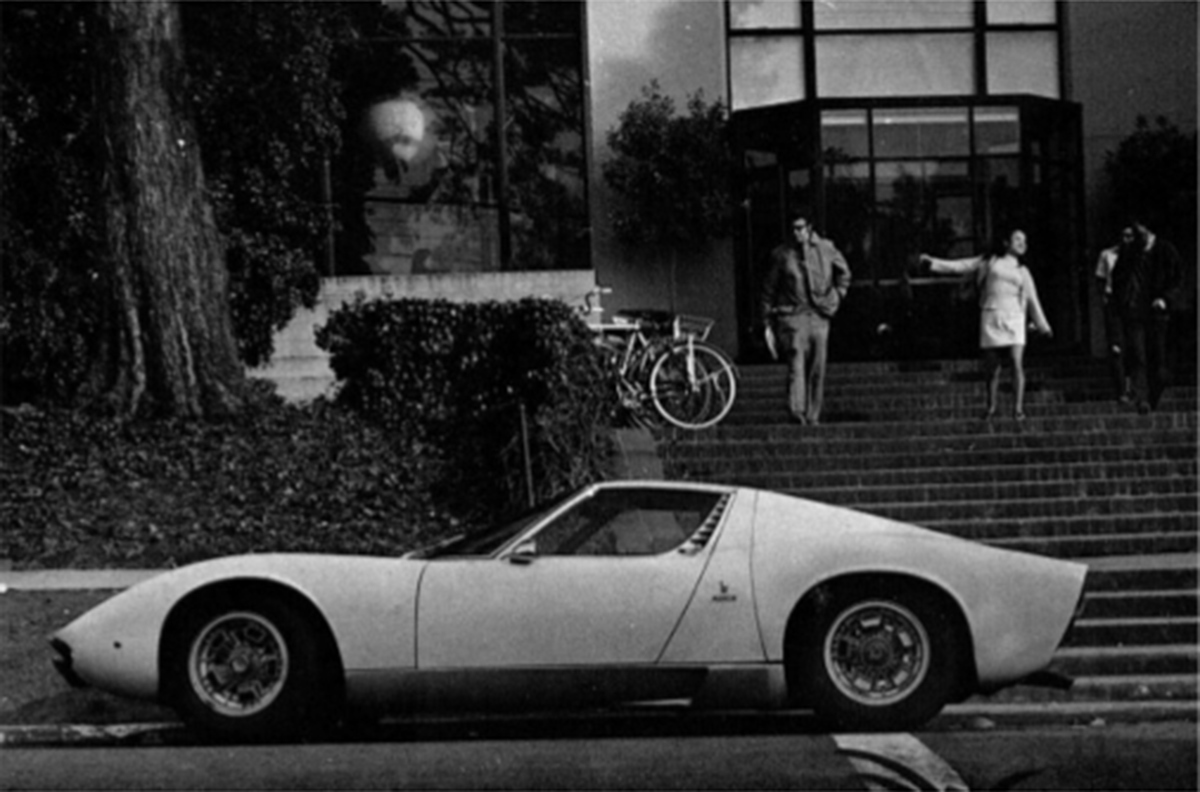 Photo by Dimitry Struve, 1972
But why was this barn-find-style Miura S stored in the first place? The story leads back to the origins of the P400 S as a model, which late in Series II production, as the ultimate-spec SV was being developed, saw some crossover between SV and S variants. Known by Lamborghini aficionados as "transitional" examples, these factory-modified Miura models amounted to no more than 50 in total and featured upgraded frames with improved airflow ventilation for both radiator and engine compartment cooling, larger venturi Weber carburetors, ported intake manifolds and cylinder heads, vented SV-style brakes, and CV joint rear axles, while retaining the iconic "eye lash" surrounded headlights and narrow body of the Miura S model. The first owners of chassis no. 4761, a well-connected family from Iran, were so smitten, they collected this U.S.A.-spec example on site at the Lamborghini factory in Sant'Agata Bolognese. It was then shipped to the west coast of America, where the family's 19-year-old daughter had enrolled at the University of California, Berkeley.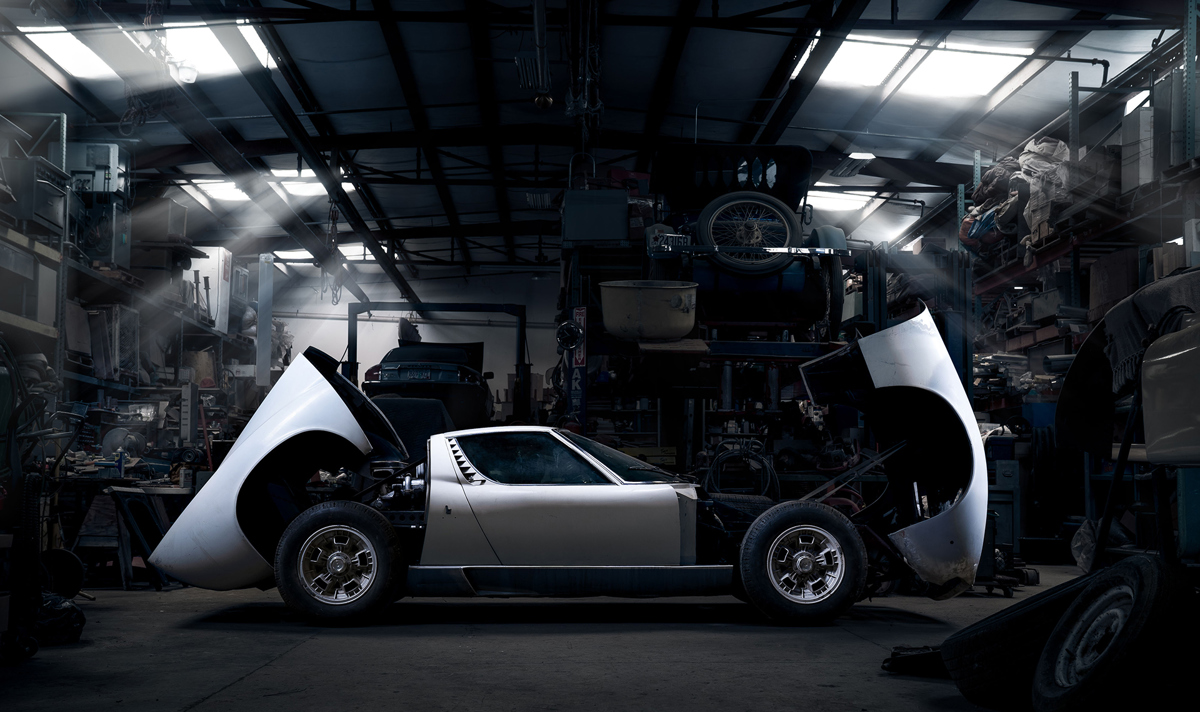 By all accounts, the college co-ed enjoyed her ownership of this top-of-the-line Miura S, but as she had been instructed, placed a classified ad offering it for sale. In a fascinating article featured in MotorTrend Magazine about the find (featuring equally stunning images by Hosek), the author reveals that the family's assumed plan of having their daughter sell the Lamborghini shortly after arriving in California was spoiled by the young student herself, as she reportedly used this Gray-White Miura S as a daily driver for nearly two years. As MotorTrend noted, a copy of a concert ticket from a music venue in Long Beach was found inside the Miura's perfectly preserved cabin. After an incident to the clamshell aluminum hood, the student sought out a Bay Area repair shop that she had used for a previous minor repair. Realizing the time involved with the repair, her parents opted to purchase the daughter a new car and sold the Miura S to the shop owner.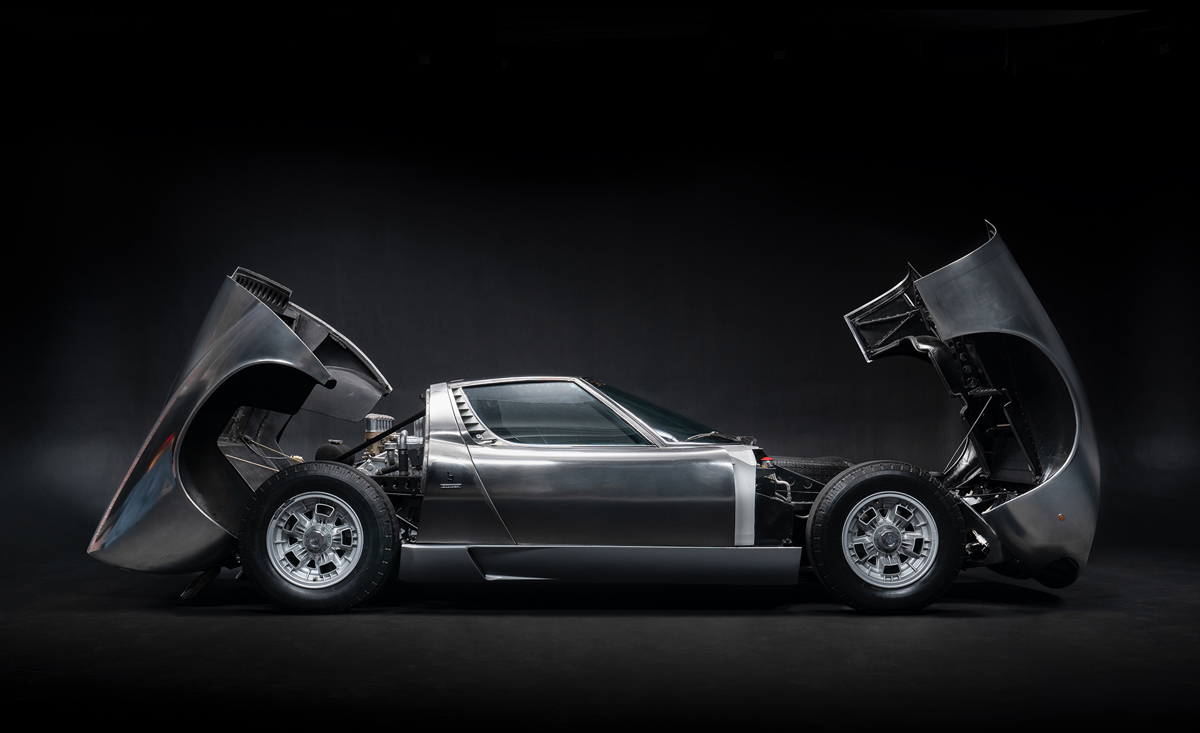 After being acquired from the family by the shop owner, this Miura S sat undisturbed for decades in his San Mateo garage. A project car in search of skilled craftsman, the shop owner was knowledgeable enough to know he could not complete the task, though he did search out and acquire replacement parts directly from Lamborghini while on a trip to Italy in 1977. Because of its long period of hibernation, many Lamborghini details from the factory had been left untouched, down to the rarely seen original PPG paint label and Pirelli GR70VR15 Cinturato CN73 tires that were supplied from new. When the current consignor committed to purchase this supremely original example, he was wise enough to invite Hosek to photograph the purchasing process. As a result, each stage of the conservation of this Miura S is accompanied by an extensive collection of documentary photographs.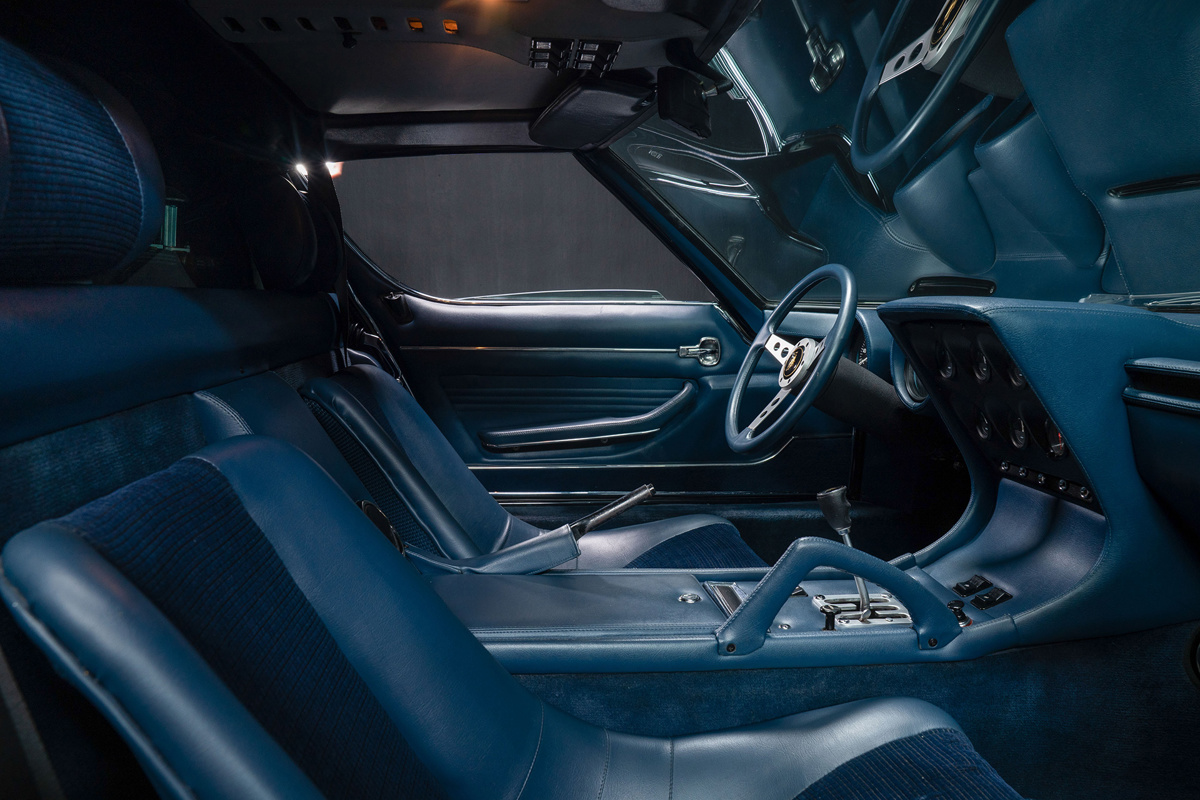 Despite its current bare metal shade, perhaps the full blue interior is the area that shines brightest in this Miura S. While Lamborghini fitted some Miura interiors with blue carpets or seats, having the dashboard, door cards, and even steering wheel in blue make this example even more uncommon. In fact, the unrepeatable originality of the interior ultimately convinced the current consignor that the entire car would be worth the effort to keep as an outstanding preservation example. Thanks to his previous experience showing Miura examples at concours-level, even receiving the Best Overall Preservation Award against the formidable field at Pebble Beach, the consignor knew the high degree of quality that any repair work would need to be worthwhile. This task was taken on by an experienced team. The most critical portion of the metal shaping was taken on by Steve Beckman of Beckman Metal Works in Costa Mesa, CA, along with additional bodywork by Chris Morgan of Morgan Images, who was responsible for stripping the seventies supercar to its current bare metal status, and Steve Brown, one of the top PDR experts in Southern California, who helped fine-tune the straightness of all body panels. Thanks to the handiwork of Beckman, who alone attended to the complex front nose piece so that the original, numbered skin could be saved, as well as the combined efforts of Brown and Morgan, the timeless, original shape of this Miura S was conserved. The consignor then entrusted the mechanical work to renowned Miura specialist Jeff Stephan, who accomplished a long list of sympathetic services on all mechanical aspects of the car to get this bull back on its feet.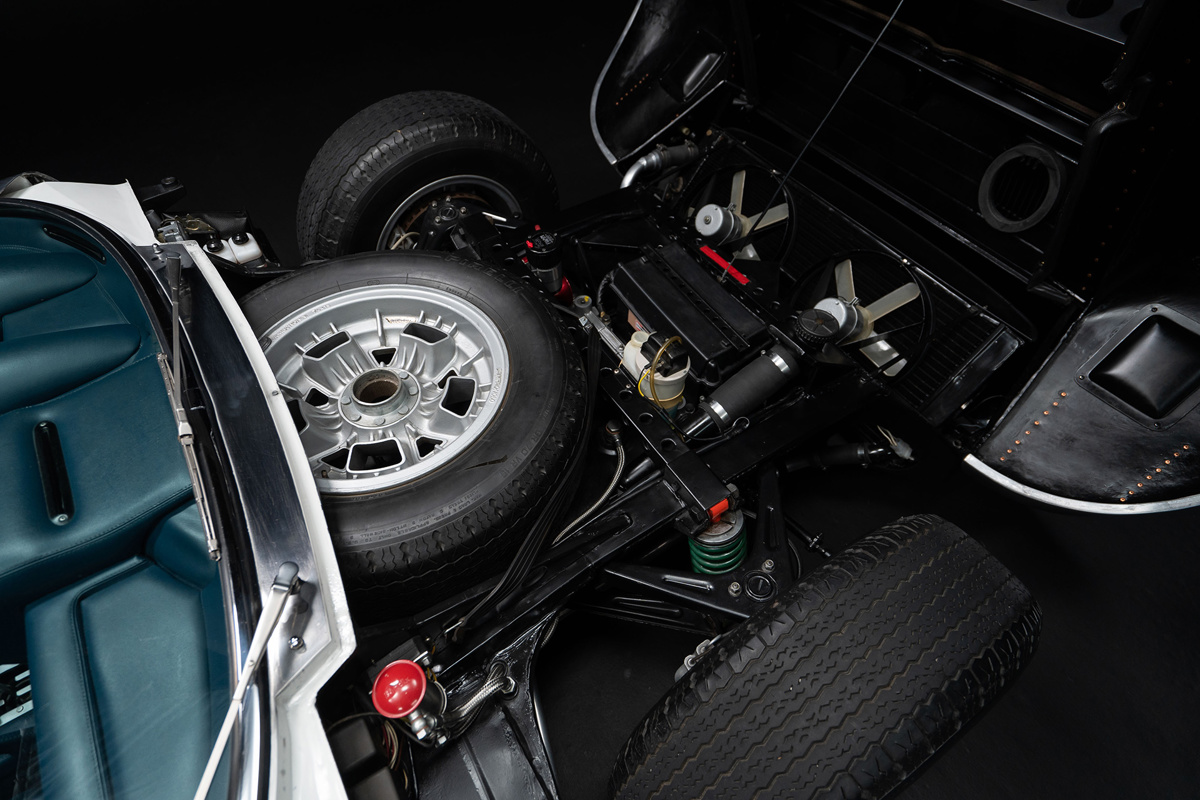 After addressing a long list of mechanical needs, including his specialty of applying his own proprietary process to restore and tune the Weber carburetors to as-new, Stephan then turned to one final piece of jewelry to complete this exquisite twelve-cylinder powerplant. Years ago, in collaboration with the late, legendary Lamborghini test driver Bob Wallace, Stephan commissioned a craftsman in Germany to make a set of custom velocity stacks to crown the restored carburetors. The addition of this ultimate, rare accessory sets this Miura S apart. Of course, befitting the consignor's appreciation of originality, the original, untouched factory Miura airboxes are included as well.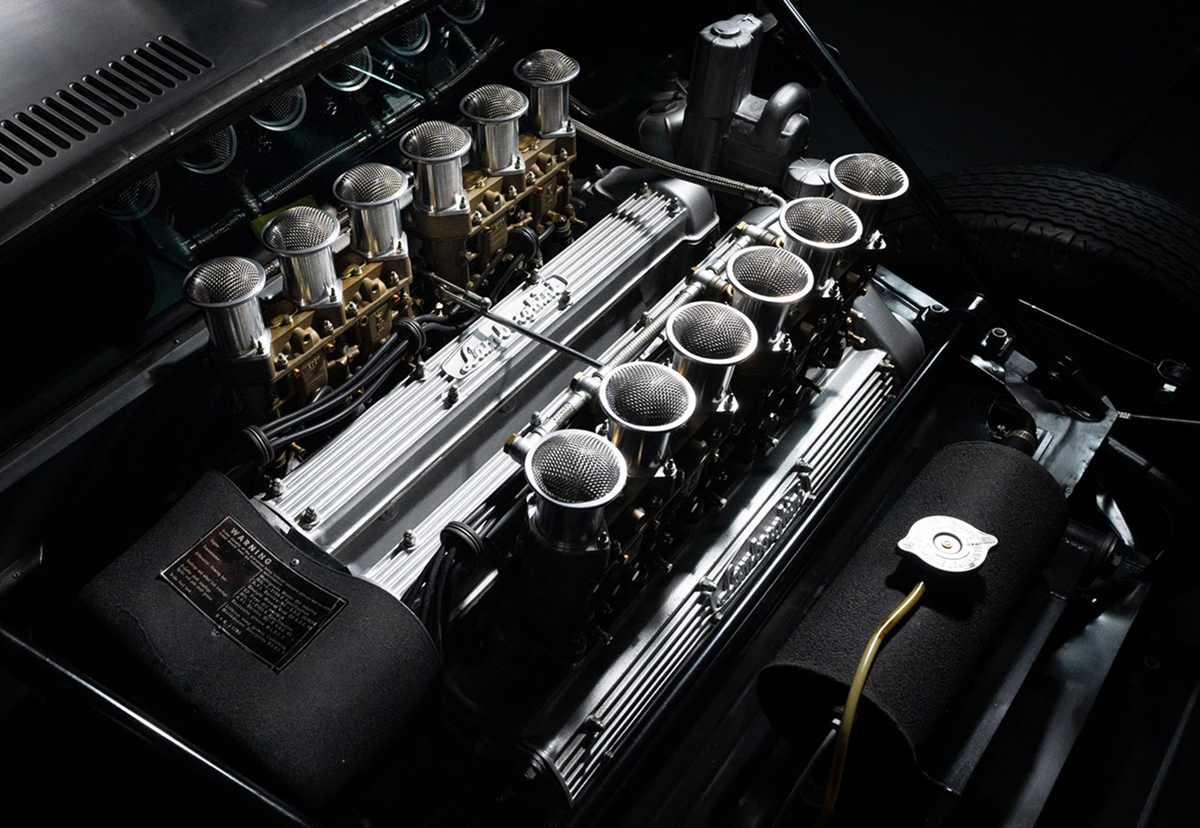 With the current consignor having done his part to preserve the history of the Lamborghini brand, this exquisite Miura S now serves as a reference point for future conservation and preservation projects. With all the qualities of a true time capsule wrapped up in its showstopping polished metal skin, this never-shown-before example is sure to attract attention at RM Sotheby's signature Monterey auction from 12-14 August. Having already attracted the interest of multiple prestigious automotive publications, the future path of this exciting Miura S discovery will now be in the hands of its next fortunate caretaker. The sum of years of noble effort to preserve an example of what many consider not only the first modern supercar, but also one of the most beautiful automotive designs of all time.