Graceful in proportion, with sculpted body shells barely concealing the race-tuned technology contained within, nearly all automobiles built by Ferrari are worthy of collecting. Some, like the jaw-dropping, shark-nose 1962 Ferrari 268 SP by Fantuzzi we are featuring as today's cover car, are one of a mere handful of examples that can credibly be called historic, especially when motorsport is concerned. And yet, the family tree of motorcars wearing the prancing horse crest is one that contains many branches; from modern supercars and hypercars to genuine competition cars, raced in-period by some of the world's best, no matter the style of motoring you prefer, there is a Ferrari perfectly suited to the task.
With our season-defining summer event quickly approaching, RM Sotheby's wishes to show the generous offerings of Ferrari sports, road, and race cars, all headed for auction from 12-14 August in Monterey. With several limited-production models, both modern and classic, offered from throughout the Ferrari range, surely there is a Ferrari example in our selection that will appeal to the sensibilities of serious collectors: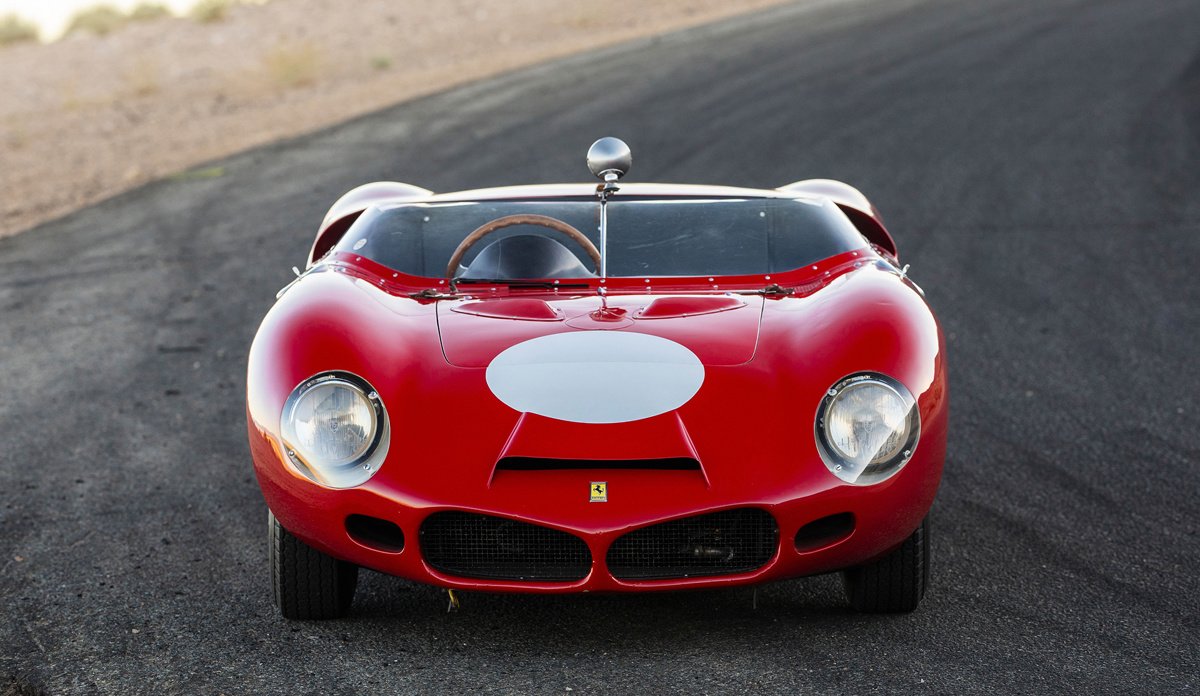 1962 Ferrari 268 SP by Fantuzzi
Estimate: $8,000,000 - $10,000,000
From the very first roadgoing automobile wearing the Ferrari crest, the formula for building fast, sporting cars was relatively stable: A twelve-cylinder engine mounted in front of the driver, creating a distinctive long hood, short tail look. And yet, as the 1960s dawned, upstart sports car manufacturers like Lotus were enjoying stellar results in terms of handling by locating their engines between the wheels and behind the driver, creating a new format for racing altogether. Ferrari was never a company to allow the competition to succeed without a fight, and so tasked fellow Modena-based coachbuilder Fantuzzi with constructing an all-new spider-style body.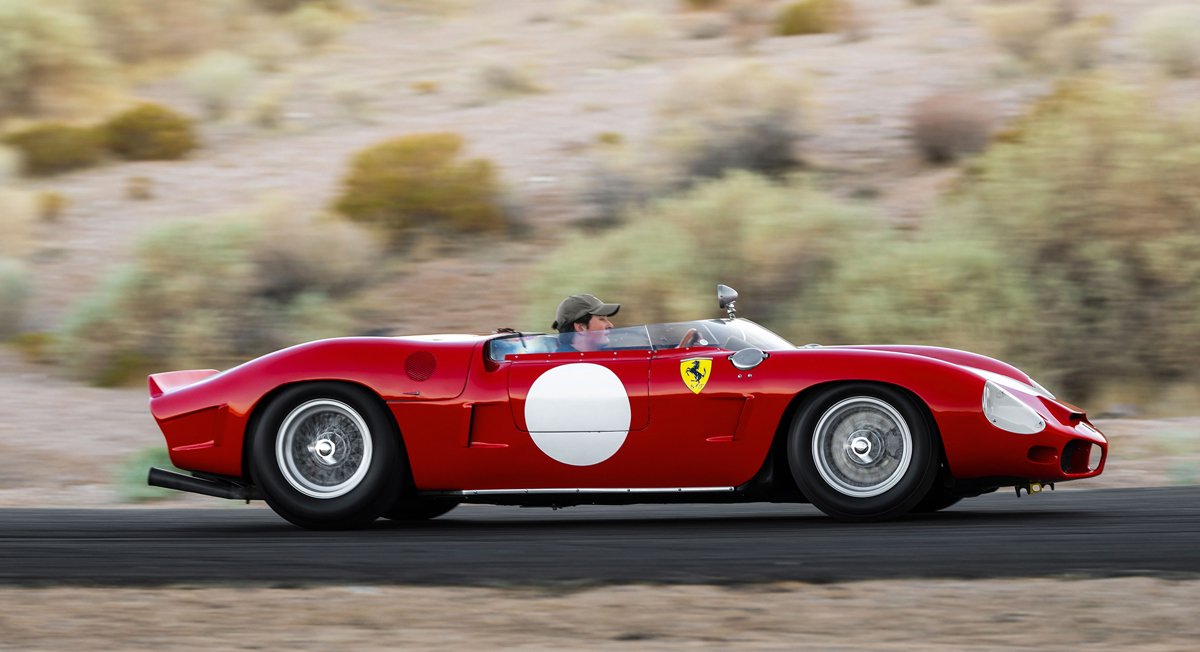 This example, the third of a mere six ever built, is one of only two that was originally fitted with the Type 202 2.6-liter V-8 engine, and the only one which retains this configuration today. Put through its paces at the trials of the 24 Hours of Le Mans in spring and the actual race itself in summer of 1962 by the Scuderia Ferrari works team, this example was integral to the development of Ferrari motorsports efforts like the 250 P and 330 P, as well as top-tier sports racers like the 250 LM. Restored to its original twin-nostril configuration by Fantuzzi themselves while in the prestigious custody of Pierre Bardinon's Mas du Clos collection, this Classiche-certified example is a showpiece for Ferrari's devotion to technological advancement, with the race resume to back it up.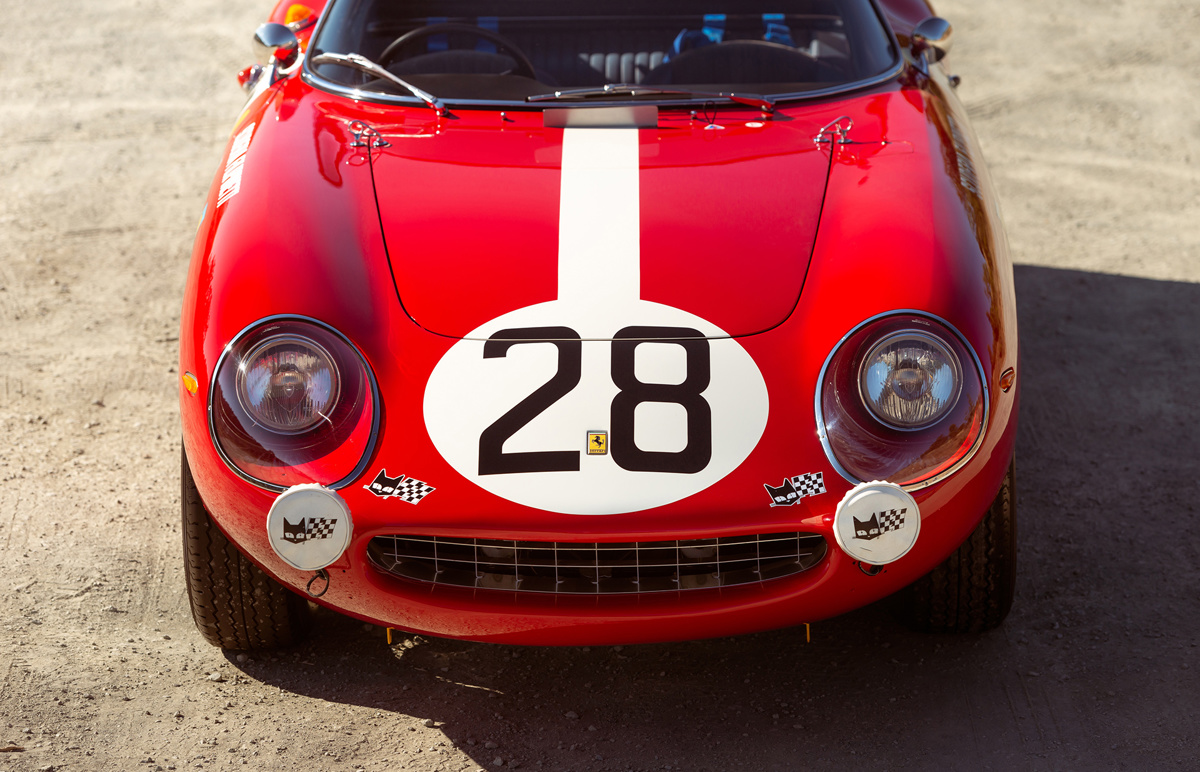 1966 Ferrari 275 GTB Competizione by Scaglietti
Estimate: $8,000,000 - $10,000,000 
Though the experiments with engine configuration were essential for Ferrari to secure the future of motorsport, during the mid-1960s the fundamental formula established by Enzo Ferrari still proved highly effective for racing. Unfortunately, while the mid-engine 250 LM was determined by FIA judges to be too modified from production car roots to be entered in performance racing, Ferrari still possessed a potent grand tourer in the 275 GTB which could be built to suit the all-out nature of endurance racing. This example is one of a mere twelve built to different configurations, with a balance of lightweight features and optimized components that makes this so-called second series of 275 GTB Competizione models highly desirable.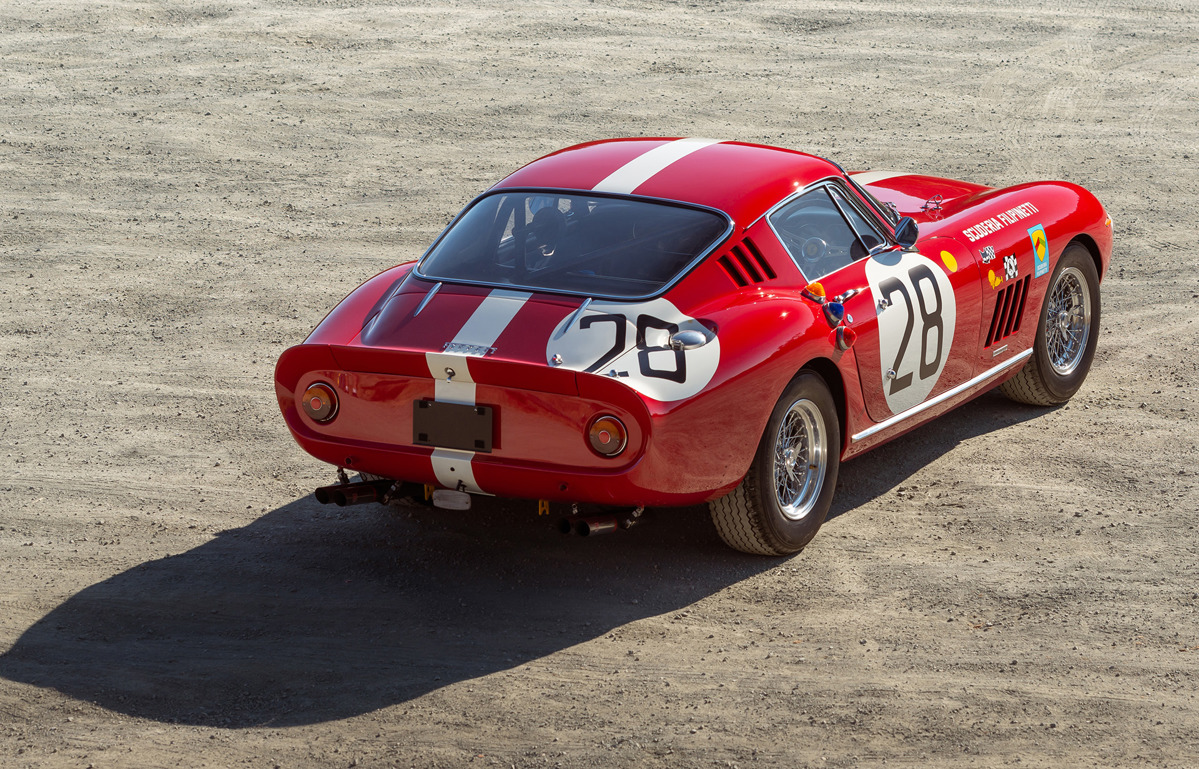 While Ferrari continued to employ neighboring Modenese firm Scaglietti to handle the body design, this variant of the 275 GTB was perhaps one of the toughest builds accomplished by the coachbuilder. Starting with an already lightened chassis, the aluminum body shell on this Competizione-grade example was hand-formed and half as thin as the alloy typically used by Scaglietti. Numerous aluminum and magnesium components complete the lightening regimen, finished by Plexiglas side and rear windows. Though this model was the last motorsport-spec GT car built by Ferrari, the placement of the dry-sump, competition-grade Tipo 203 engine in the chassis showed the learnings made from the mid-engine Ferrari models. Topped by its history of in-period competition, including three years of racing at the 24 Hours of Le Mans by factory-supported privateer team Scuderia Filipinetti, this Ferrari Classiche-certified example proved its abilities with class wins at the 1967 24 Hours of Le Mans, 1969 1000 KM of Spa-Francorchamps, and 1969 500 KM of Imola.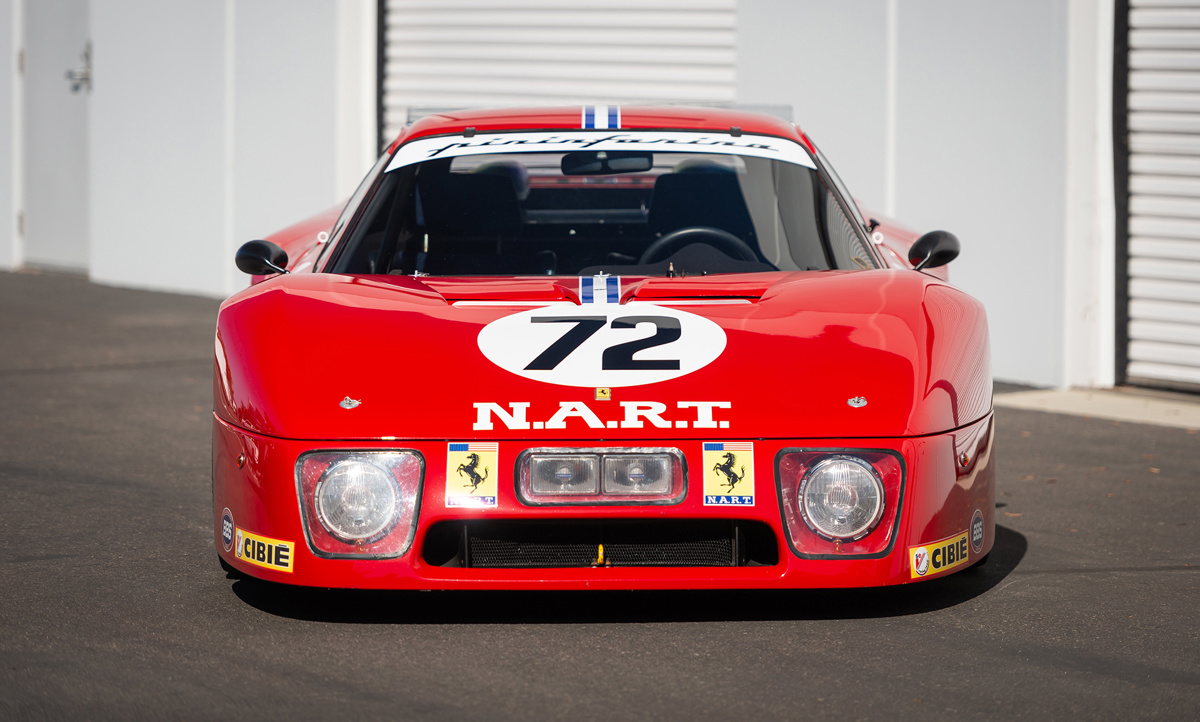 1981 Ferrari 512 BB/LM
Estimate: $3,000,000 - $3,500,000 
Our third and final exceptional example provides the conclusion for privateer-driven Ferrari race models. Encouraged to build a race-spec version of their mid-engine 512 BB sports car by team leader and Ferrari North America distributor Luigi Chinetti, this Series III example was branded with the famous NART logo and campaigned at the 24 Hours of Le Mans in 1981 and 1982. The tenth example of a mere sixteen Series III BB/LM examples built, this very car finished an impressive 9th place overall at Le Mans in 1982, with Alain Cudini, John Paul Jr., and the star of The Stainless Steel Carrot, John Morton at the wheel. With Chinetti's legacy of owning and competing with some of the finest Ferrari automobiles ever made (Chinetti also once owned the 1962 Ferrari 268 SP by Fantuzzi example we featured above), it was truly the end of an era when his world-famous NART dissolved entirely after the end of the 1982 season following the death of Chinetti's first wife Marion.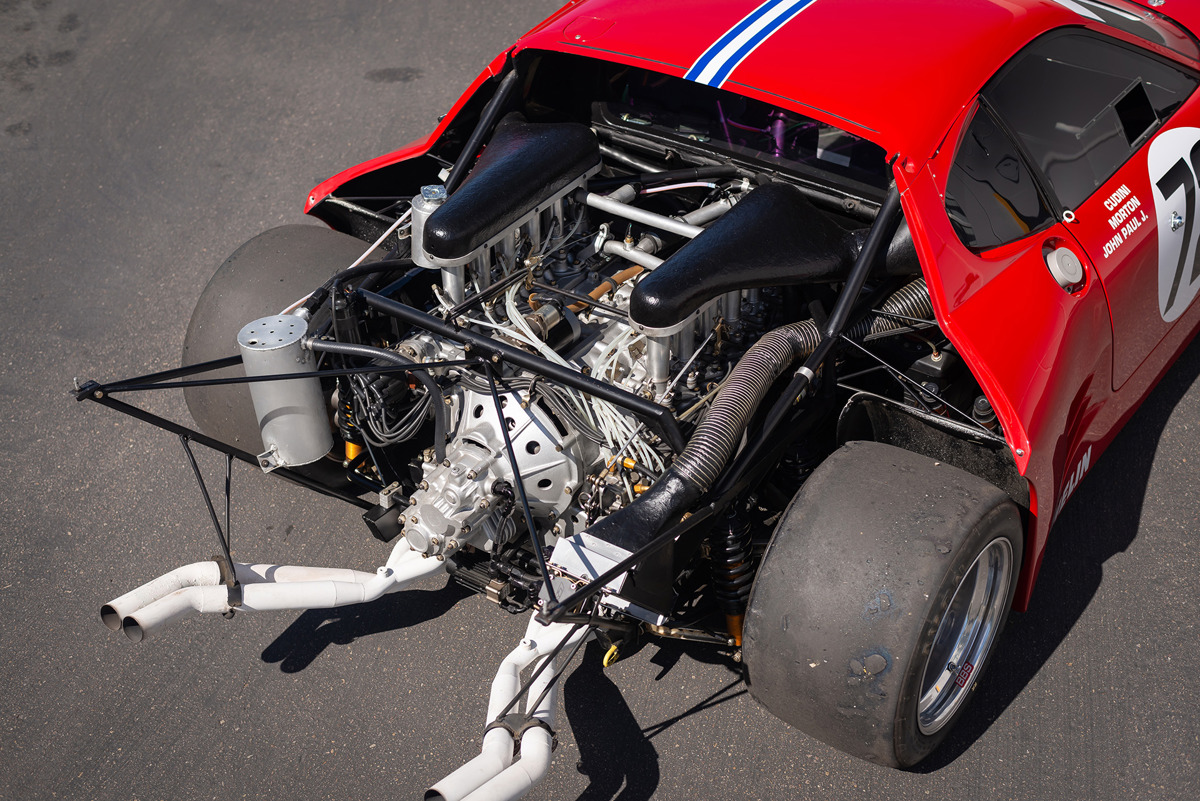 However, because this silhouette racer was still undeniably capable in terms of performance, the competition history of this example did not end in 1982. In order to more responsibly use this historic artifact as originally intended, its original F102B engine (F102B 0000.23) was replaced by a period-correct F110A V-12 (number 00682) in 1999 by Motion Products of Neenah, Wisconsin. In dedication to its privateer history, the original engine was pulled, stamped "Marion," rebuilt and bench tested in 2001, and today accompanies the sale. With the potency of this example proven on vintage race circuits such as the Shell Ferrari Historic Challenge Series in the mid-2010s as well as its most recent outing in the Group 10 IMSA class at Sonoma Speed Festival on 31 May 2019, this is one historic Ferrari racer still able to set blistering lap times in the modern era.