For mankind, inventing the wheel only solved the first problem of mobility. One wheel necessitated four; horse-driven carts paved the way for internal combustion engines with near-unlimited horsepower potential, literally opening a world of possibilities for boundless travel. Road-bound, rear-wheel-drive carriages evolved finally into the off-road-ready 4x4 format: Essentially the alpha male, or female, of automobiles. We are pleased to announce one of the most capable collections of vehicles anywhere on the planet: A private group of significant vehicles owned by the former Director of Bowler Brands Limited, Richard Hayward, all offered without reserve at RM Sotheby's annual Paris auction on 13 February 2021.
These exceptional examples were collected by Hayward, an avid Rally Raid competitor. As RM Sotheby's London-based Consigning Specialist William Smith explains, "The only reason for selling the collection is that Mr. Hayward is now getting older and doesn't see himself competing at the same level he did as a younger gentleman."
For any readers currently unfamiliar with the U.K.-based Bowler brand, let this list serve as a primer. "In short," Smith summarizes, "The Bowler Collection represents an unrepeatable opportunity to acquire a group of cars that together form an integral part of the company's history." A quick overview of what makes these off-roaders worthy of collecting: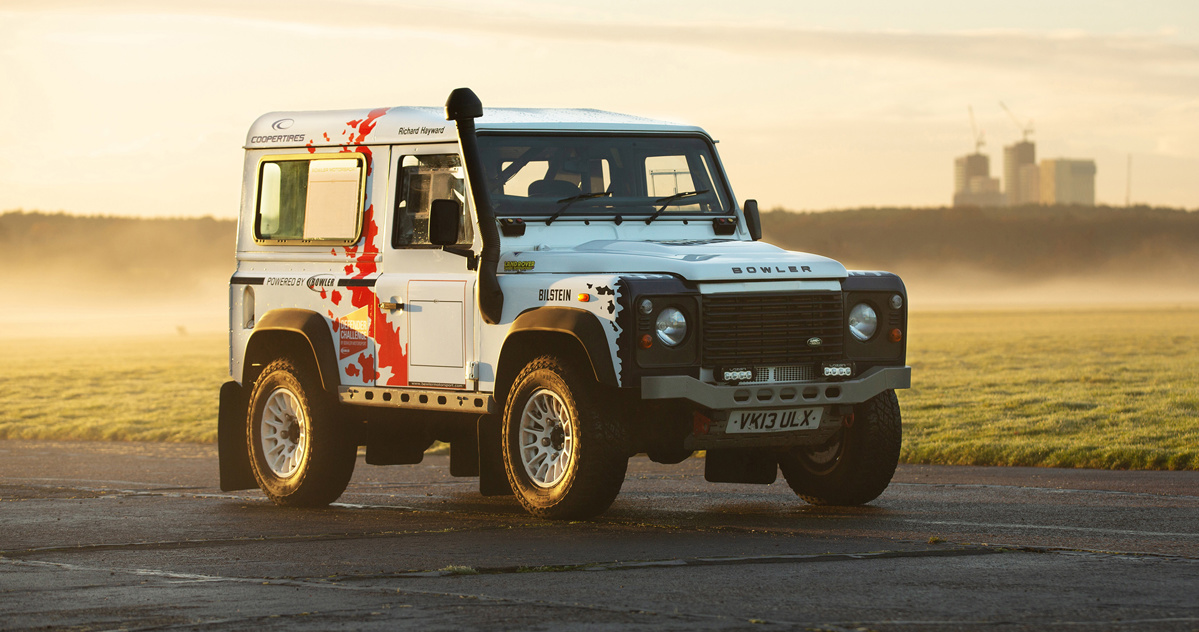 2013 Land Rover Defender 90 Hardtop TD "Challenge" by Bowler
Estimate: €60,000 - €80,000

 EUR 

|

 

Offered Without Reserve

 

Company founder and namesake Drew Bowler established such a sterling reputation for off-road engineering excellence that in 2012, his firm Bowler Motorsport attracted the attention of the world's most prestigious marque for unfettered mobility: Land Rover. The following year marked the beginning of a one-make series of hill climbs and off-road rallies known as the Defender Challenge, featuring Bowler-modified Land Rover chassis. This primary press car promoting the series was no mere show car. At the hands of Drew Bowler and Richard Hayward, it finished first-in-class at the 2016 Scottish Borders Hill Rally and scored another class win at the 2018 Hill Rally Championship. The start of something great.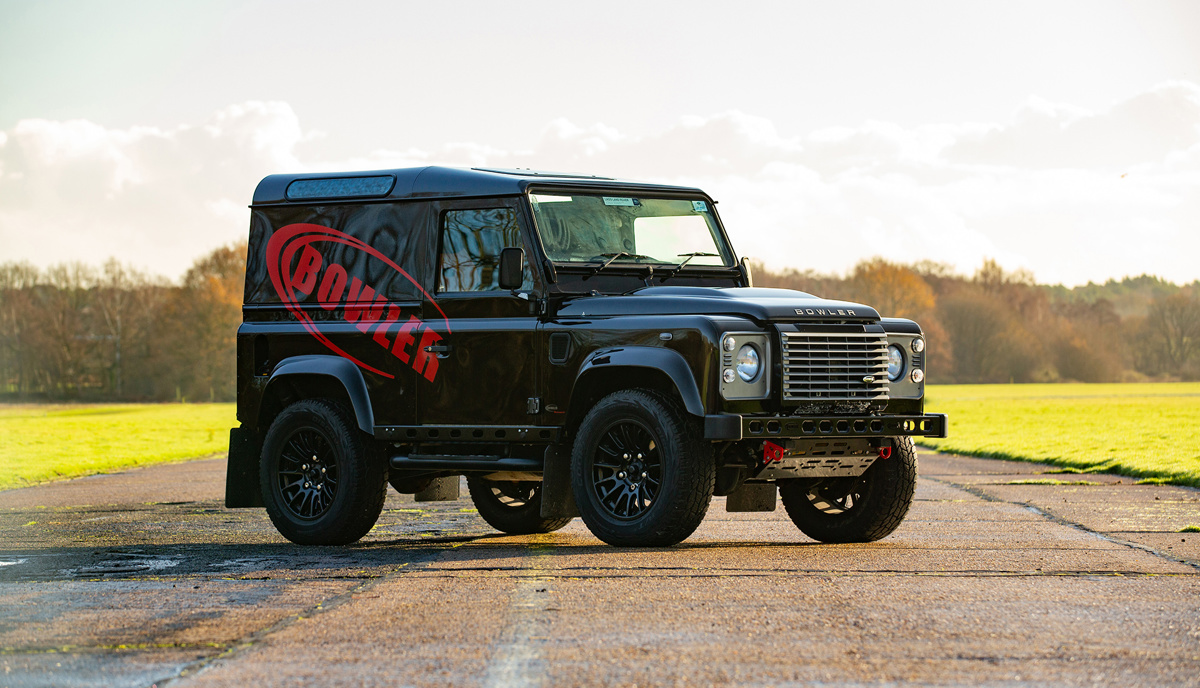 2015 Land Rover Defender 90 Hardtop XS by Bowler
Estimate: €50,000 - €60,000

 EUR 

|

 

Offered Without Reserve

 

Like California-based ICON 4x4, Bowler Brands also operated in the field of sympathetically upgrading and modifying classic SUV examples for the 21st century, showing the performance potential of these "obsolete" vehicles. The canvas on which Drew Bowler was to paint his picture of off-road prowess was the outgoing Land Rover Defender, a venerable platform with roots tracing back to Chief Designer Maurice Wilks' original Series 1 from 1948. With the addition of Bowler's proprietary "Fast Road" suspension and Stage 1-tuned, 2.2L turbocharged engine, this late-model Land Rover became, as Bowler concluded, "exactly as a Defender should be."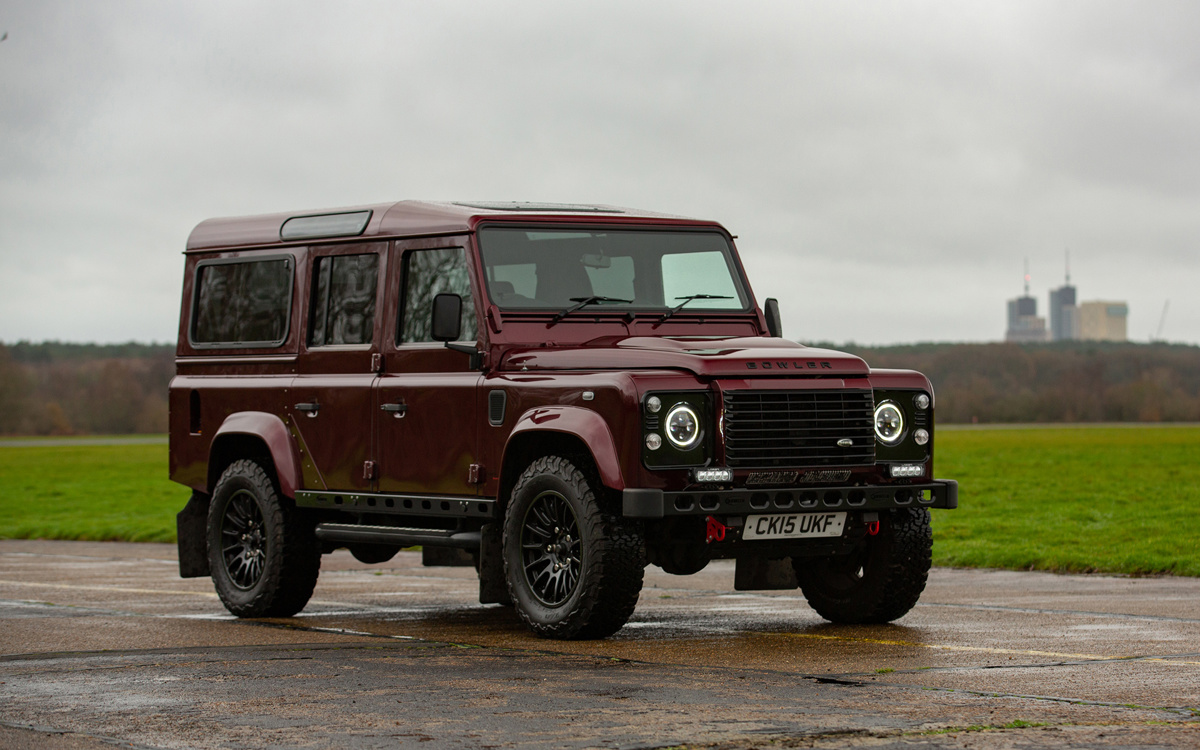 2015 Land Rover Defender 110 Landmark XS by Bowler
Estimate: €60,000 - €80,000

 EUR 

|

 

Offered Without Reserve

 

A prime example for any off-road enthusiast who still wants the opportunity to turn up to the opera occasionally, this "Landmark" Land Rover Defender was also tastefully modified by Bowler. Featuring heated leather seats and laser halogen headlights, as well as Bowler's engine upgrades and signature "Fast Road" suspension, this example stands out as a perfect blend of town and country.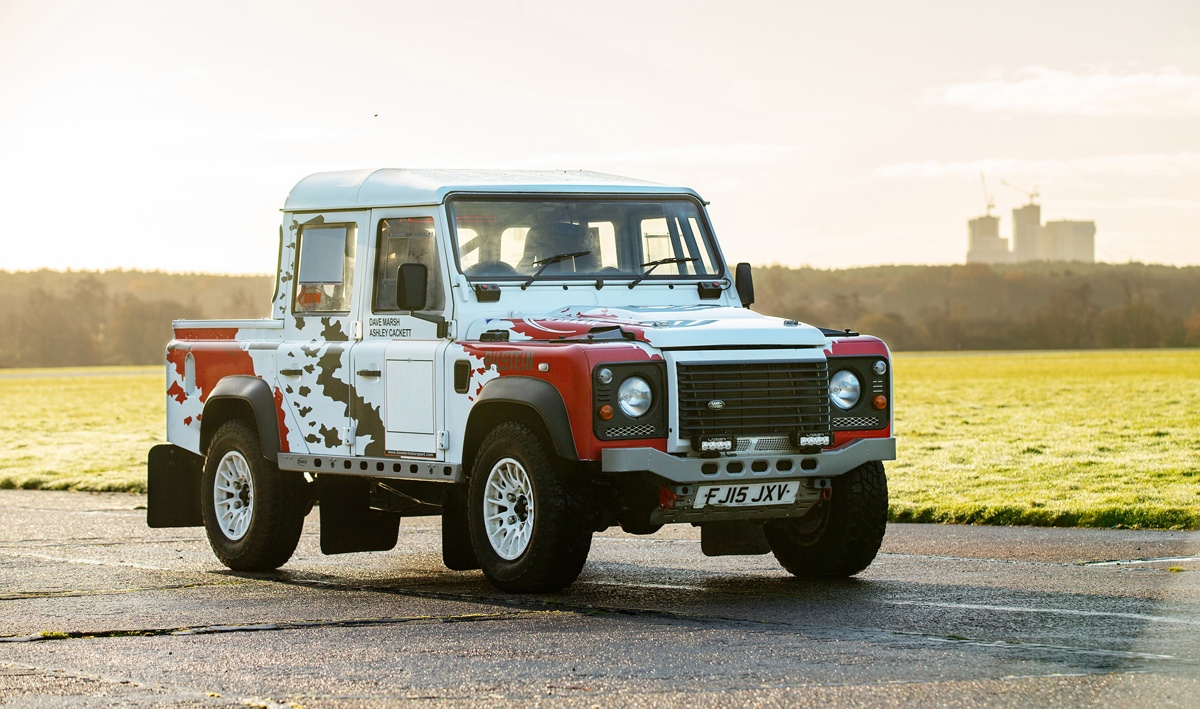 2015 Bowler Pennine V6 110 Prototype
Estimate: €75,000 - €100,000

 EUR 

|

 

Offered Without Reserve

 

The result of the productive collaboration between Bowler and Land Rover that began in 2012, this Pennine Prototype marked the inflection point between mere modifications and outright overhauls. Instead of turbocharging and tuning Land Rover's 2.2L powerplant, Bowler instead opted for a stout, 3.0L supercharged V6 made famous in the Jaguar F-Type. Limited-slip differentials were added to both front and rear; competition-grade Bilstein shock absorbers rounded out the Pennine's off-road resume. With an eye towards lightweight construction throughout, Bowler reported a 0-60 mile-per-hour time of merely 5.4 seconds. Most significantly, this was the final car raced personally by company founder Drew Bowler before his untimely passing in 2016. A piece of off-road history.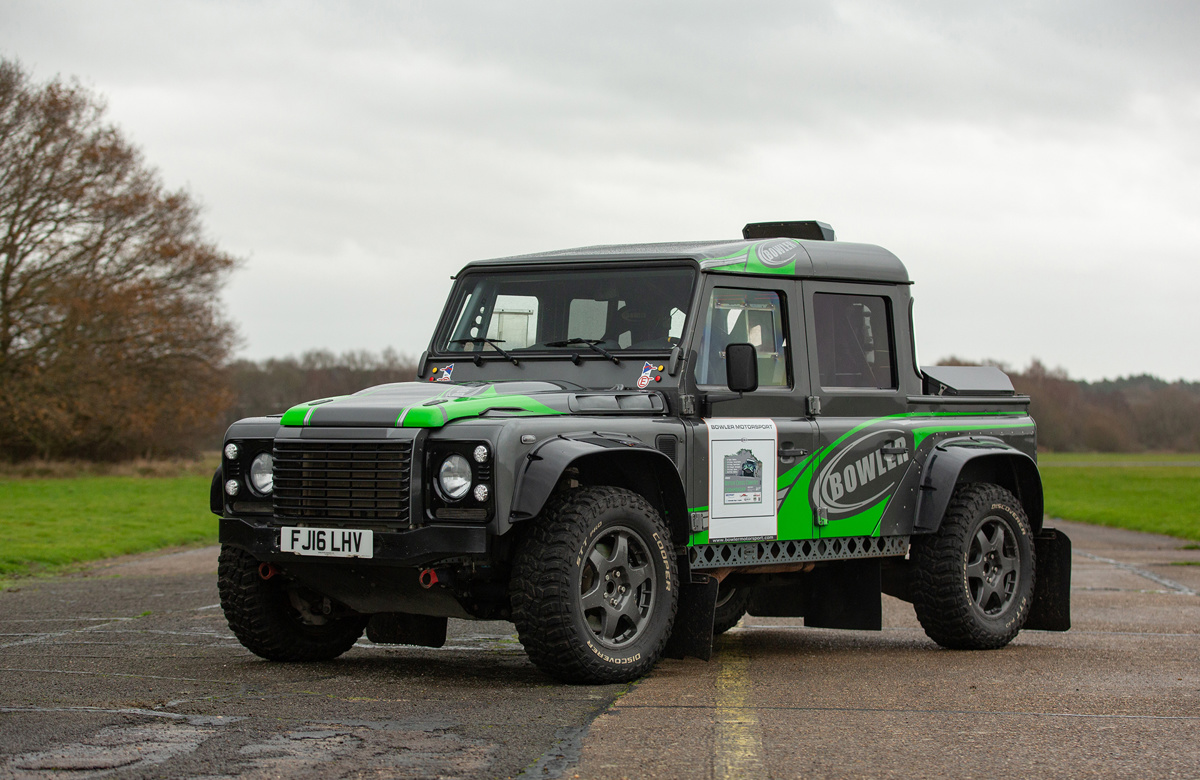 2016 Bowler CSP V8 Prototype "P1"
Estimate: €100,000 - €125,000

 EUR 

|

 

Offered Without Reserve

 

As in the evolution of mankind, the most significant upgrade starts with the backbone itself. The CSP Prototype "P1" features a chassis of Bowler's own design, the so-called "Cross Sector Platform." Taking a close look at Bowler's novel chassis in the gallery above is totally worth your time, especially for those familiar with Land Rover's "ladder-style" chassis. In contrast, this CSP looks like it was built like the Brooklyn Bridge (or, for those in the U.K., The Iron Bridge). Accordingly, this example is still eligible for cross-country rally events like the Tuareg Rally or Spanish Baja. Innovative from the ground-up.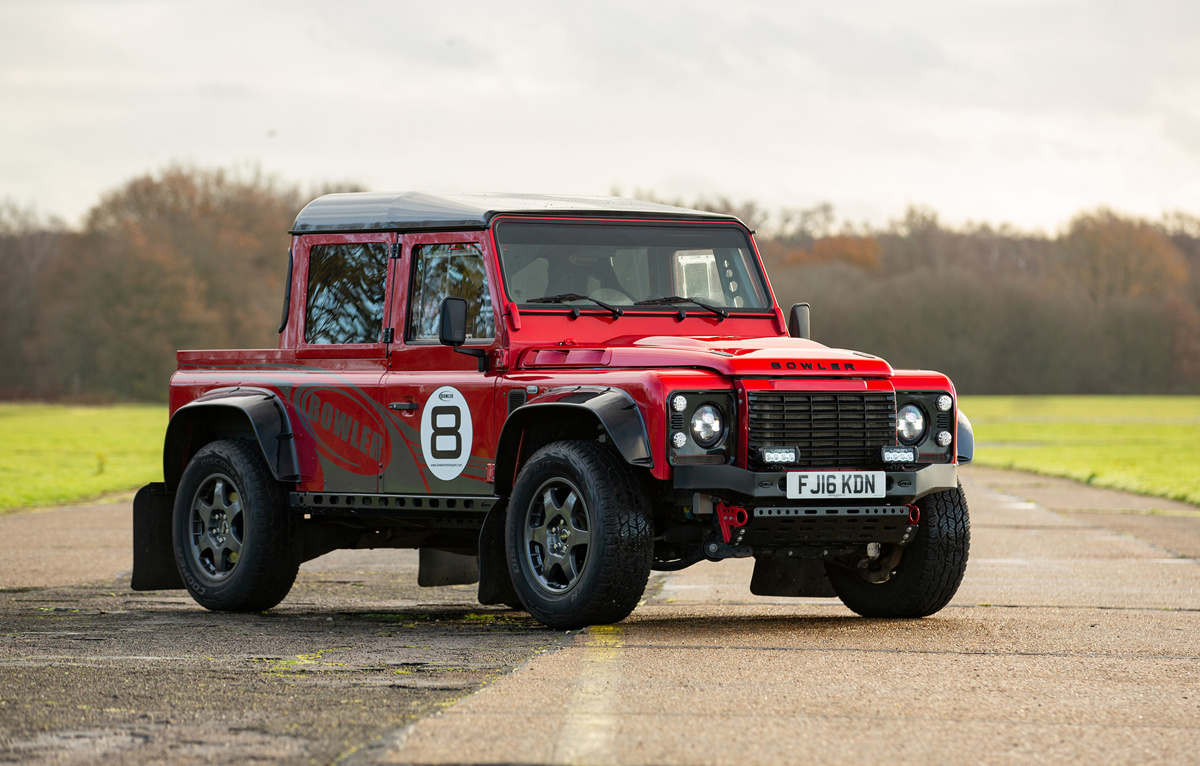 2016 Bowler CSP V8 Prototype "P2"
Estimate: €100,000 - €125,000 EUR

 

|

 

Offered Without Reserve

 

Like the "P1" prototype featured above, this "P2" example was the foundation on which Bowler's next-generation models were built. Unlike the competition-focused "P1," Bowler's second effort is set up for on-road motoring. Yet do not let that descriptor lead you to believe the "P2" is a de-tuned variant. Power instead is derived from a 5.0L supercharged V8 sourced from Jaguar. As part of Jaguar Land Rover's decision to incorporate the Bowler brand in their Special Vehicle Operations division in December 2020, the CSP represents the beginning of the next generation of off-road vehicle development.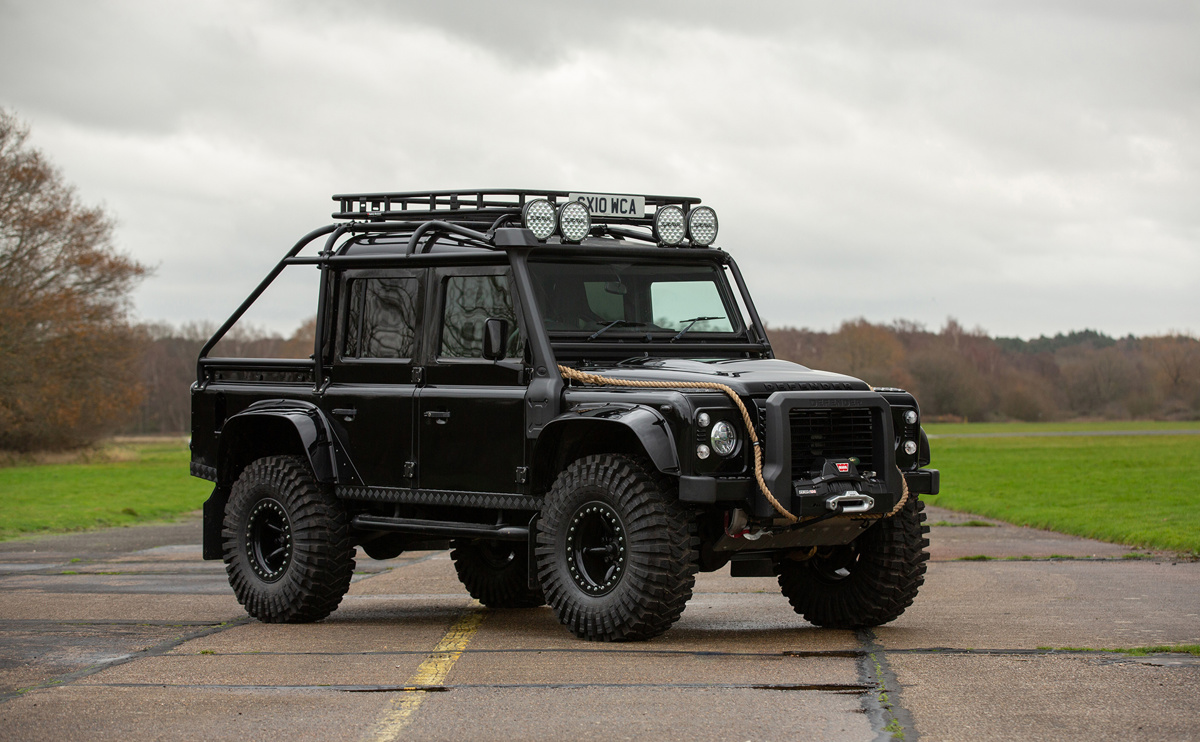 2010 Land Rover Defender SVX Custom
Estimate: €150,000 - €200,000 EUR

 

|

 

Offered Without Reserve

 

Like the preeminently capable "Challenge" press vehicle we discussed earlier, this Custom Defender was no mere show car. Prepared by Bowler's engineering team for company Director Richard Hayward to the same specification as the fearsome Defender that chased James Bond in Spectre, this example was no mere replica effort, either. Several members of Bowler's team provided consultation to the production crew behind Spectre, so this final example was built with the same expertise that constructed the original run. A fitting end for the Defender platform, the final car on our list is an instant icon and a tribute to the enduring legacy of Drew Bowler.