Coming off a 2018 headlining exhibition at the Petersen Automotive Museum, and an even more impressive display outside the main gates of the 2019 Pebble Beach Concours d'Elegance, cars built for the Japanese Domestic Market are finally getting their due. About 50 years ago, long before Toyota, Honda, and Datsun were household names in America, the idea of purchasing a vehicle imported from Japan instead of a fine American car was considered by many consumers to be a risky proposition—much like buying a car made in China would be today.
Those brave US customers who did buy a JDM car in-period were treated to an entirely different ride than their domestic-driving counterparts, with minimalist packaging and no-frills simplicity—especially compared to a mid-1960s car from the Detroit Three. Though the relative dearth of chrome accessories, fins, wings, and spoilers made mid-century JDM cars appear less extravagant than American cars from the same era, that simplicity is part of what turned them into enduring classics today. Here are some of the most interesting exported from Japan, all available without reserve at RM Sotheby's Elkhart Collection auction later this month.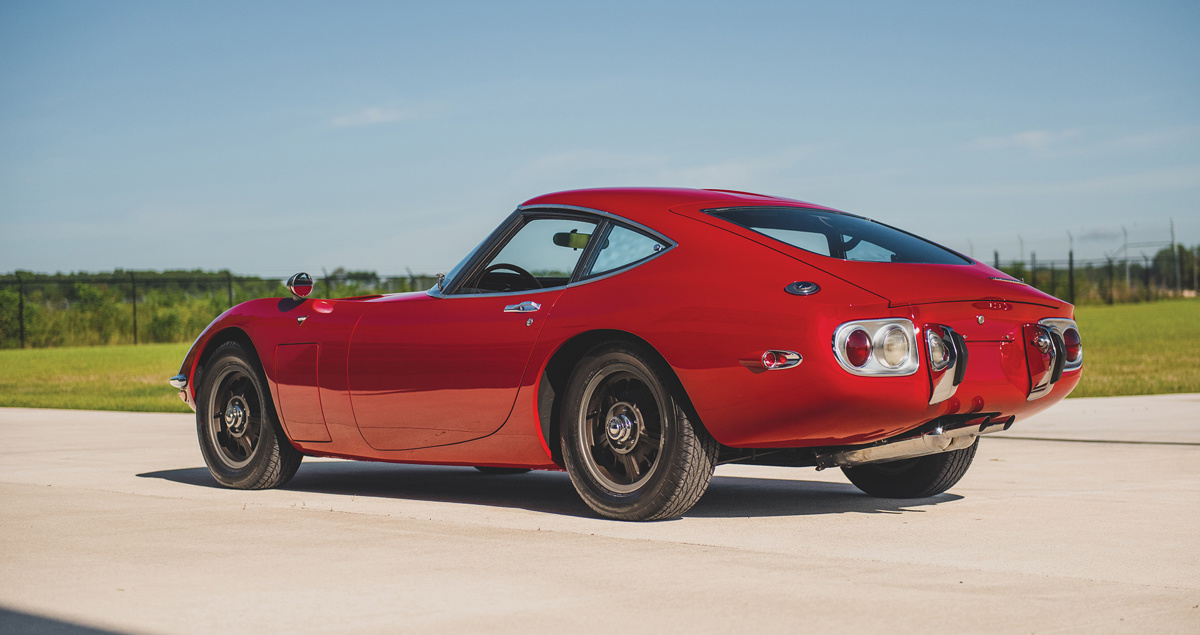 1967 Toyota 2000GT
Estimate: $700,000 - $850,000 

USD |

 

Offered Without Reserve

 

Our feature car for a number of different reasons—accelerating values of the Toyota 2000GT was undeniable evidence that cars built in Japan could be considered as collectible as the fine European cars. Though values have come down a bit since their peak, the Toyota 2000GT has not gotten any less rare—only 62 examples were assembled in left-hand-drive for the US market.

Though some critics compare the 2000GT's low-slung coupe design as a too reminiscent of the Jaguar E-Type, it is important to remember that this Toyota actually cost $1,000 more in-period than an E-Type. In our recent round-up of Specialist's Selections, RM Sotheby's Netherlands-based European car expert Tonnie Van der Velden actually chose this 2000GT as his top pick for its impressive build quality. A (relative) bargain.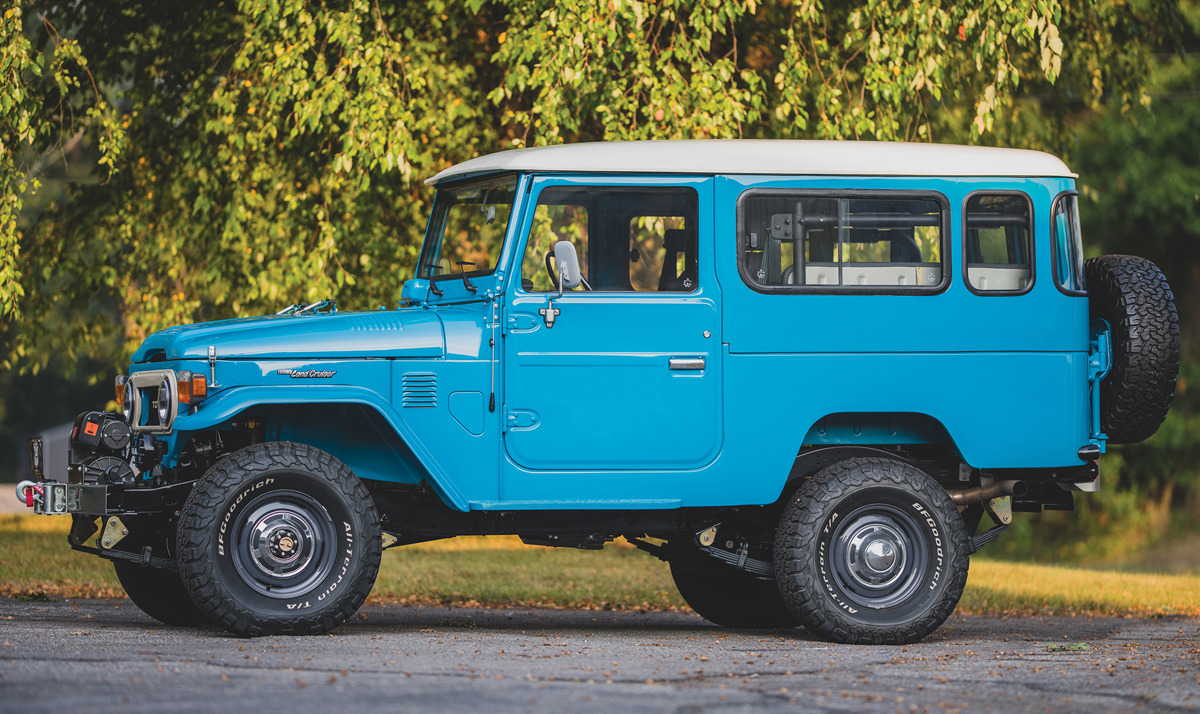 1981 Toyota FJ43 Land Cruiser Hardtop
Estimate: $80,000 - $100,000 

USD |

 

Offered Without Reserve

 

Speaking of appreciating values, the vaunted Toyota Land Cruiser has similarly benefitted from modern interest. From the top, resto-mod companies like Jonathan Ward's TLC and ICON 4x4 have transformed tired FJ43s into high-priced, off-road machines. Thankfully, you can find FJ43 Land Cruisers that have been restored (and even upgraded) but not yet been given the over-the-top ICON treatment.

This FJ43 Land Cruiser is powered by a Toyota 1FZ engine with nearly 4.5-Liters of displacement. The full, frame-off restoration was completed by the FJ Company of Miami, and also includes an ARB Old Man Emu suspension and Vintage Air climate control system—the perfect blend of old and new. Though they have not quite reached the same level of fame as Ward's ventures, the FJ Company is currently pricing FJ conversions starting at $180,000—another bargain on a legendary Toyota.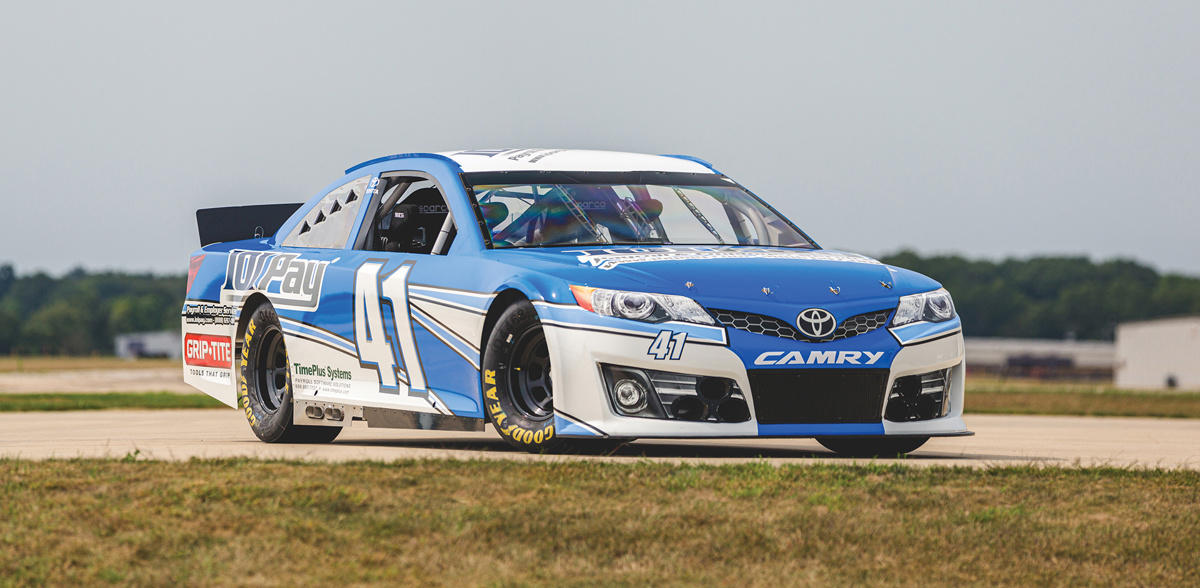 2014 Toyota Camry NASCAR
Estimate: $40,000 - $60,000 

USD |

 

Offered Without Reserve

 

Not your typical Toyota, is it? Much like the mid-sized sedan of the same name, Toyota's TRD team intended cars like this Camry to compete against Ford's Fusion and Chevrolet's Impala in NASCAR's Sprint Car series in 2014. By the end of the series, with Matt Kinseth at the wheel, Toyota scored second place overall in the most competitive series in the sport—not bad for, as the company calls themselves, "the first Asian car company to even attempt to race at NASCAR."

Though this Camry was never officially campaigned, it was built to the same standard as the NASCAR version for noted collector Rob Kauffman. Powered by a TRT High-Performance Toyota 3.58-Liter V-8 engine, this car is professionally prepared to use only on the track. But with a downright reasonable estimate when compared to the prices of typical track day specials (let alone previously used NASCAR cars), this Toyota is truly special, and just happens to be a bargain.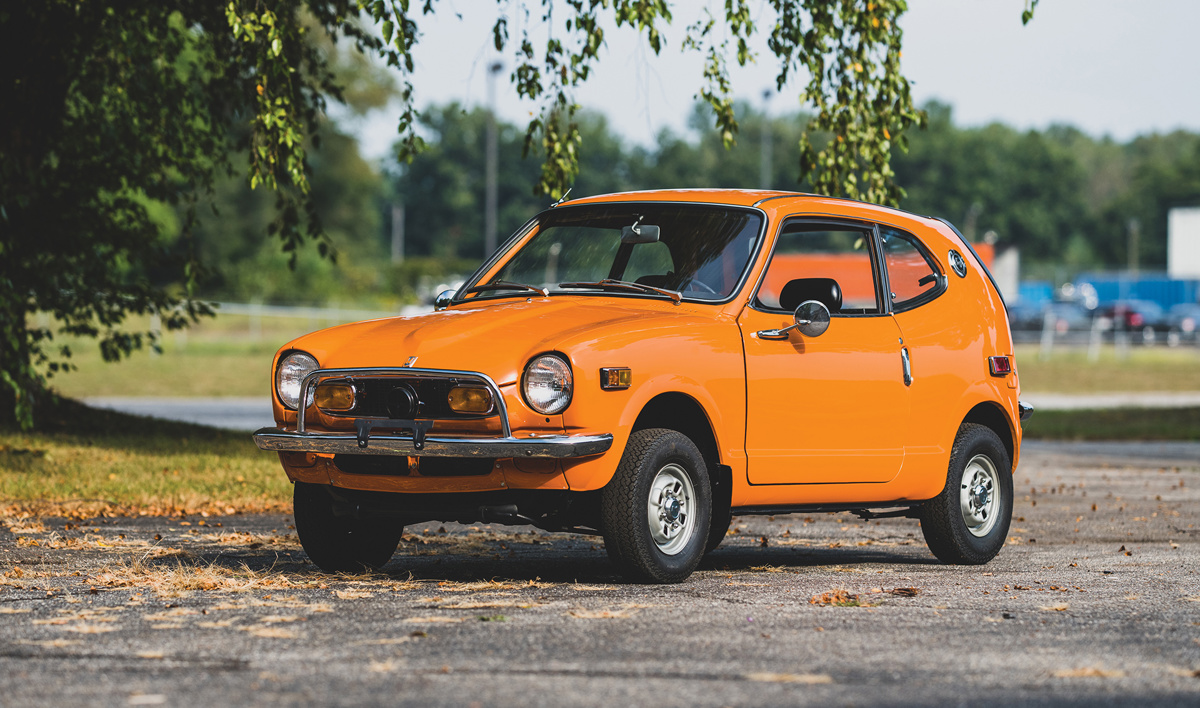 1972 Honda Z600 Coupe
Estimate: $15,000 - $20,000 

USD |

 

Offered Without Reserve

 

Switching gears, as well as brands, this early 1970s Honda Z600 Coupe, showed how forward-thinking the JDM designs were. While American brands were focused on low (and slow) cabin cruisers, this microcar from Honda is downright sprightly in contrast. Powered by a 598 cc SOHC, two-cylinder, air-cooled motor, this Z600 was only said to weigh 1,312 lbs when new—a fine power-to-weight ratio for spirited city driving.

We can all celebrate the increase in values of JDM classics like this Honda—the more valuable they are, the less likely they are to be scrapped. When the prices reach a certain level, full restoration can be justified—just like in the case of this example, which has been finished in the Z600's most recognizable color scheme of orange-on-black.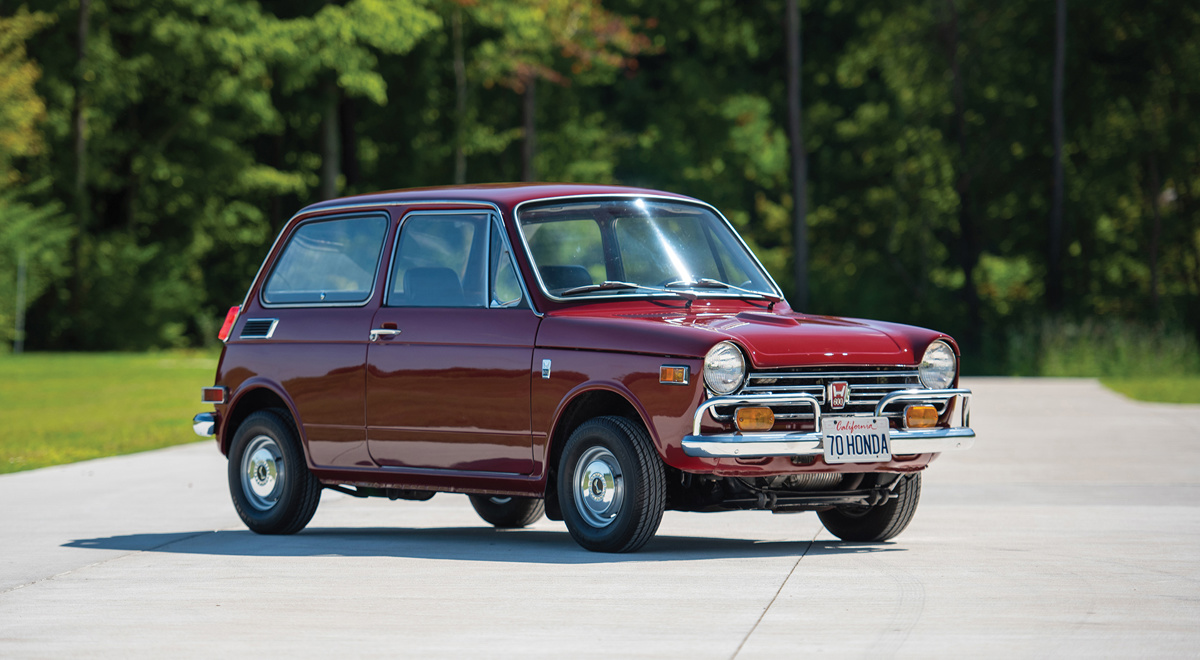 1970 Honda N600
Estimate: $15,000 - $20,000 

USD |

 

Offered Without Reserve

 

Less-known than the Z600 it spawned; this well-appointed compact may be even more important in Honda history for one simple reason—the N600 was the first car the brand chose to officially import into America. Its design is decidedly different from earlier city cars like the Mini, Beetle, or Fiat 500, however this small car was no less handsome. Launched as the world was on the brink of an oil crisis, Honda's timing could not be more perfect. While some derided its in-period performance or diminutive size relative to the domestic cars of the era, nobody could deny its efficiency—Honda reported 30 mpg combined at a time when US averages were comfortably half of that.

Like the Z600 we saw earlier, this N600 has been the recipient of a full restoration by a true marquee expert Tim Mings of Duarte, California. Ming's shop, Merciless Mings, has become a center for So-Cal JDM culture and gave this N600 a restoration worthy of a piece of Honda history back in 2000. The work performed on the 598 cc, air-cooled, parallel-twin engine still shows equally well today. Worth a look for anyone with an interest in automotive history.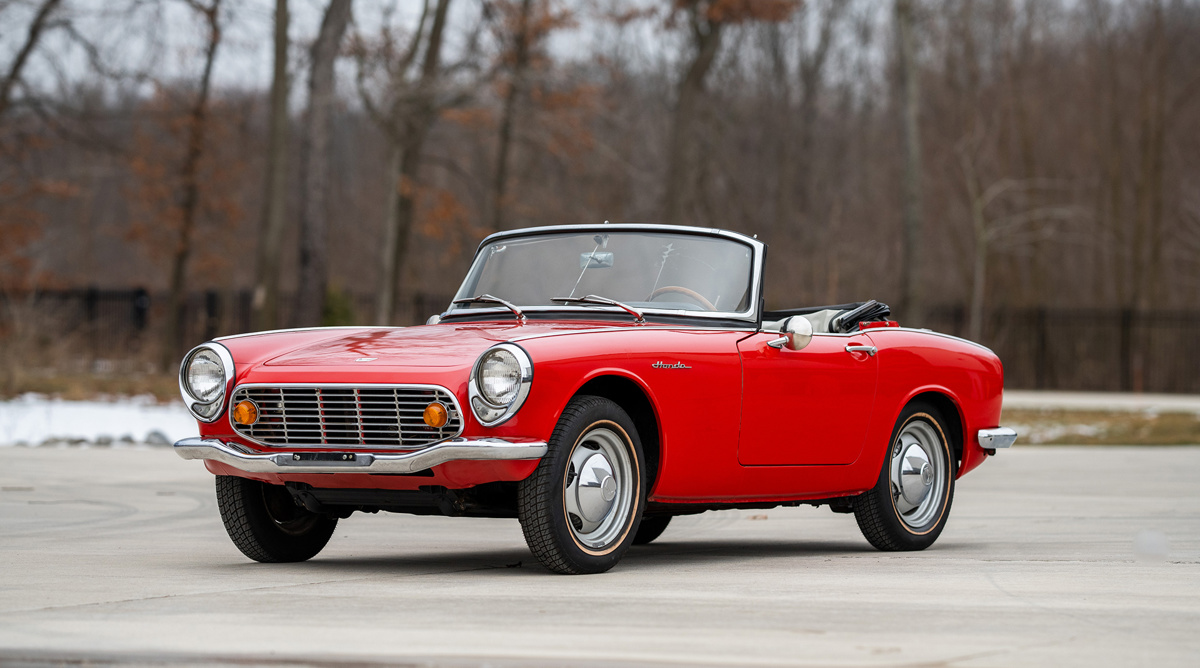 1966 Honda S600 Convertible
Estimate: $15,000 - $20,000 

USD |

 

Offered Without Reserve

 

The final Honda on our list is a truly rare one—believed to be one of only 111 S600 convertibles built in 1966. Never officially imported into the US, Honda's S600 and its more-powerful S800 sibling have become cult classics for their high-revving performance. Devoid of much of the "surface entertainment" that dotted other 1960s sports cars, this S600 has aged exceptionally well.

While the first Japanese cars imported into America were small, frugal cars almost by necessity, this S600 proves that the Japanese Domestic Market received truly inspired sports cars. The third of three Honda "S" sports cars up for sale in Elkhart (the third is a deeply intriguing S600 Coupe project), this S600 will allow you to experience what the mid-century American market never could.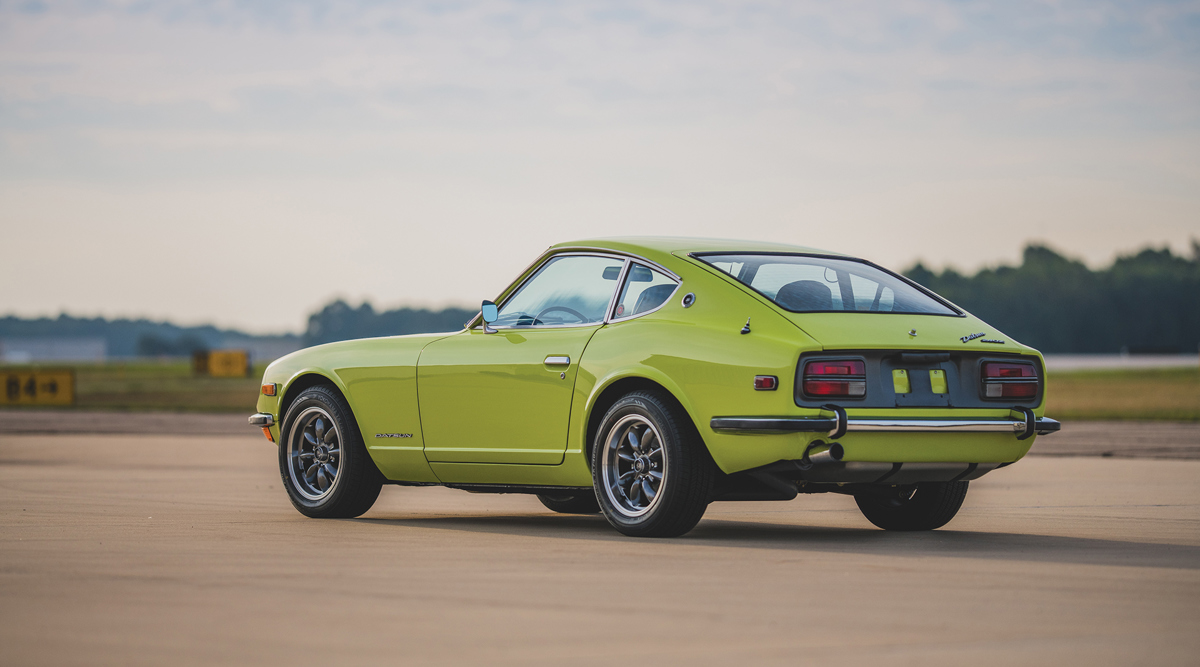 1972 Datsun 240Z
Estimate: $75,000 - $90,000 

USD |

 

Offered Without Reserve

 

We covered the design of this lovely Lime-colored 1972 Datsun 240Z earlier in our comparison against the all-new Nissan Z Proto, yet it is worth re-visiting on its own merits. What was most apparent in the piece was how modern the original Datsun design proved to be. Even the color scheme, which has been restored to its original Lime-over-black leather interior, appears fresher today than its modern counterpart.

During its restoration, this Datsun was treated to a carbon-coated exhaust system and Rota wheels. The Frigiking air-conditioning system brings modern performance to the in-cabin comforts while still preserving the overall originality of the example. Considered a classic for a reason.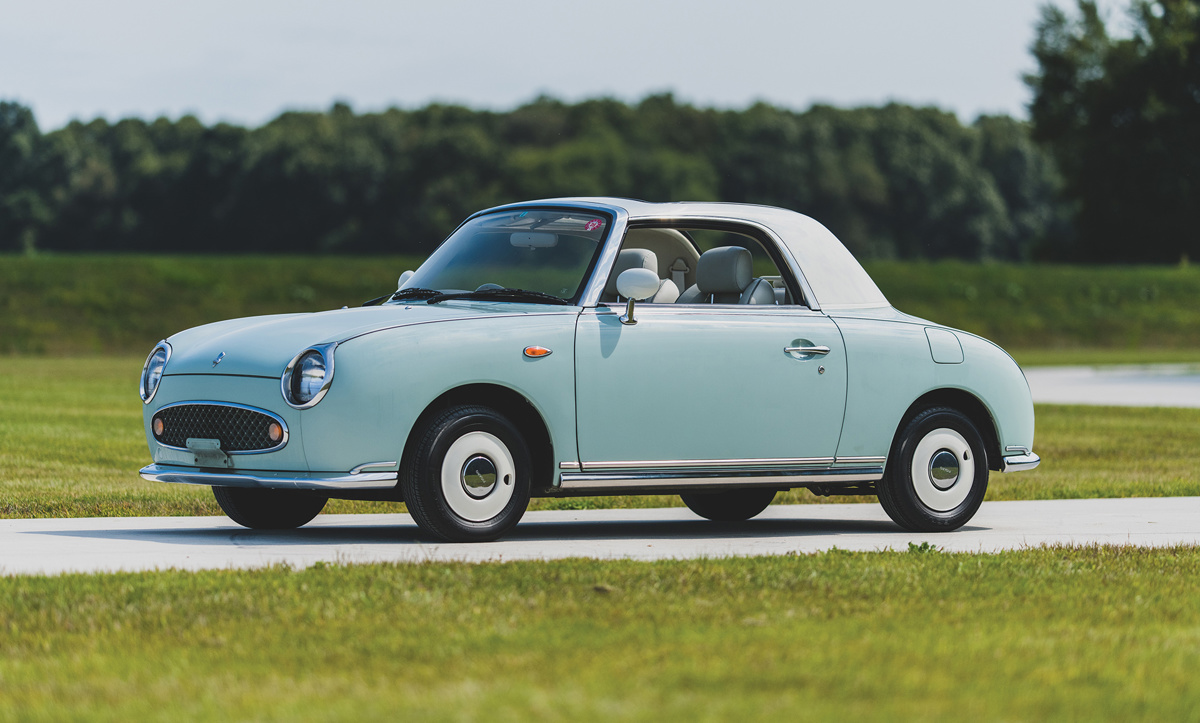 1991 Nissan Figaro
Estimate: $20,000 - $25,000 

USD |

 

Offered Without Reserve

 

The lone Nissan on our list, as well as the most modern car by a decade or two, this Figaro is a true JDM neo-classic. Also never officially offered in the US, this Figaro was part of a mini-revival of retro-inspired, "Kei-sized" cars built at Nissan's Pike facilities. Along with its siblings—the Pao, S-Cargo, and Be-1—this Figaro was appreciated almost immediately for its modern interpretation of a classic, "fixed profile," open-top cruiser.

With is design perfectly treading the line between classic and modern, the Figaro would be this author's pick for a car to watch as a future classic. Valued today equally for their understated shapes, their overall efficiency, and their relative rarity in this country, JDM cars are undeniably worthy of their recent rising values. Who knows where the trend will go from here—but at least as far as examples of impressive in-period engineering, these examples are all worth appreciating.