Quick—which coachbuilder would you call your favorite? If you've read part one of our series on intercontinental coachbuilding, you have already gained an appreciation for the unexpected connections that come to light when talented engineers and designers collaborate. While European coachbuilders like Battista "Pinin" Farina deserve their legendary status, there also exists a seldom-discussed American aspect of his fame, which we will explore. Sometimes the American underpinnings are more literal—as in the case of the 1955 Hudson Italia by Touring. We will examine that noteworthy example, too.
Coachbuilt cars can often look entirely different from their OEM counterparts—so even familiar cars from brands like Hudson and Renault end up looking brand-new after a trip to the coachbuilder. In our last deep dive, we mentioned veteran Vignale designer Giovanni Michelotti, the internal transformation he was about to undergo, and the new category of cars he helped craft. Let's pick it up from there: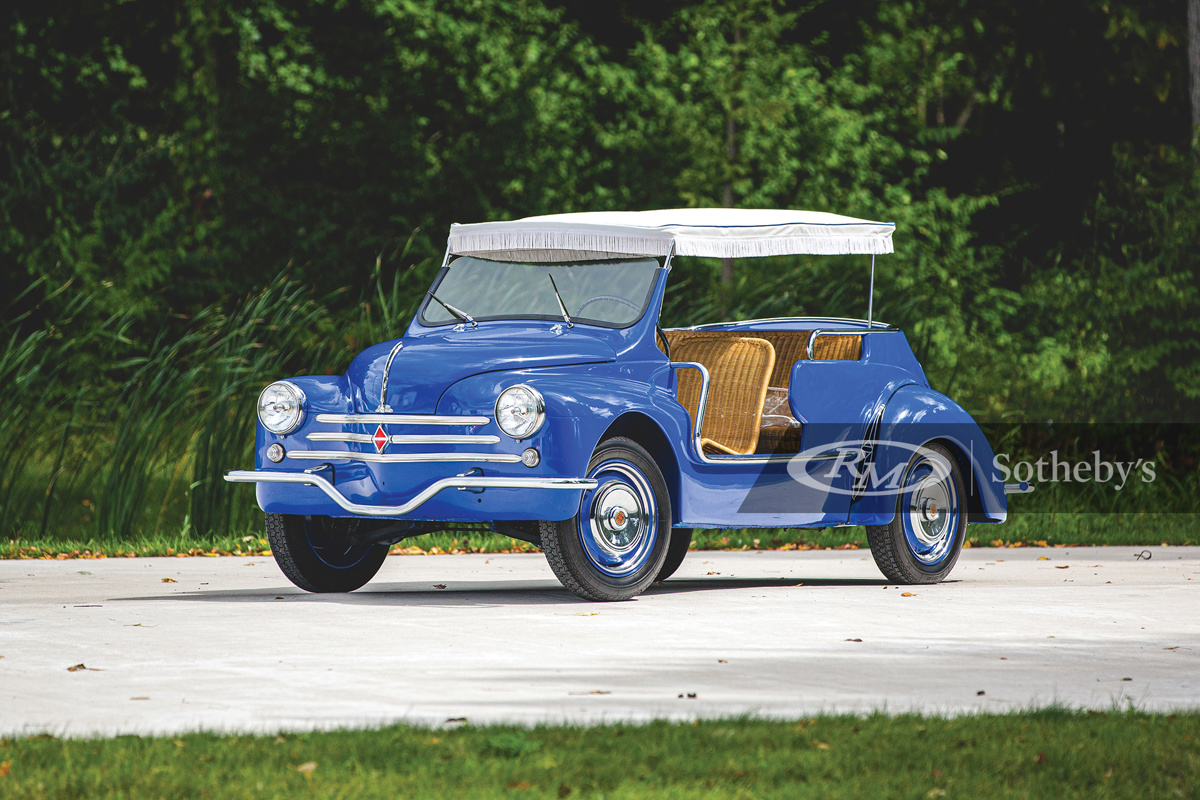 1961 Renault 4CV Jolly by Ghia
Estimate: $60,000 - $80,000. Offered Without Reserve.
One of approximately 50 built
If the 4CV's nickname was "La motte de beurre" (or, "the lump of butter"), then this rare Renault could be pictured like one of the prizewinning butter sculptures from the NY State Fair. Reportedly, the impetus behind the Jolly beach car came from a V.I.P. customer—Gianni Agnelli, the Italian industrialist, FIAT S.p.A. owner, and noted yacht enthusiast. Agnelli wanted a land-based counterpart to his boat, which he could store on-board for quick jaunts into town, so he sent two Fiat 500 coupes to Gigi Serge of Ghia for customization in 1957. Though some sources credit the idea to Serge himself, there is little doubt that the team at Carrozzeria Ghia accomplished a Herculean task by chopping off the roof and removing the doors from a Fiat 500 and still retaining some semblance of structural rigidity.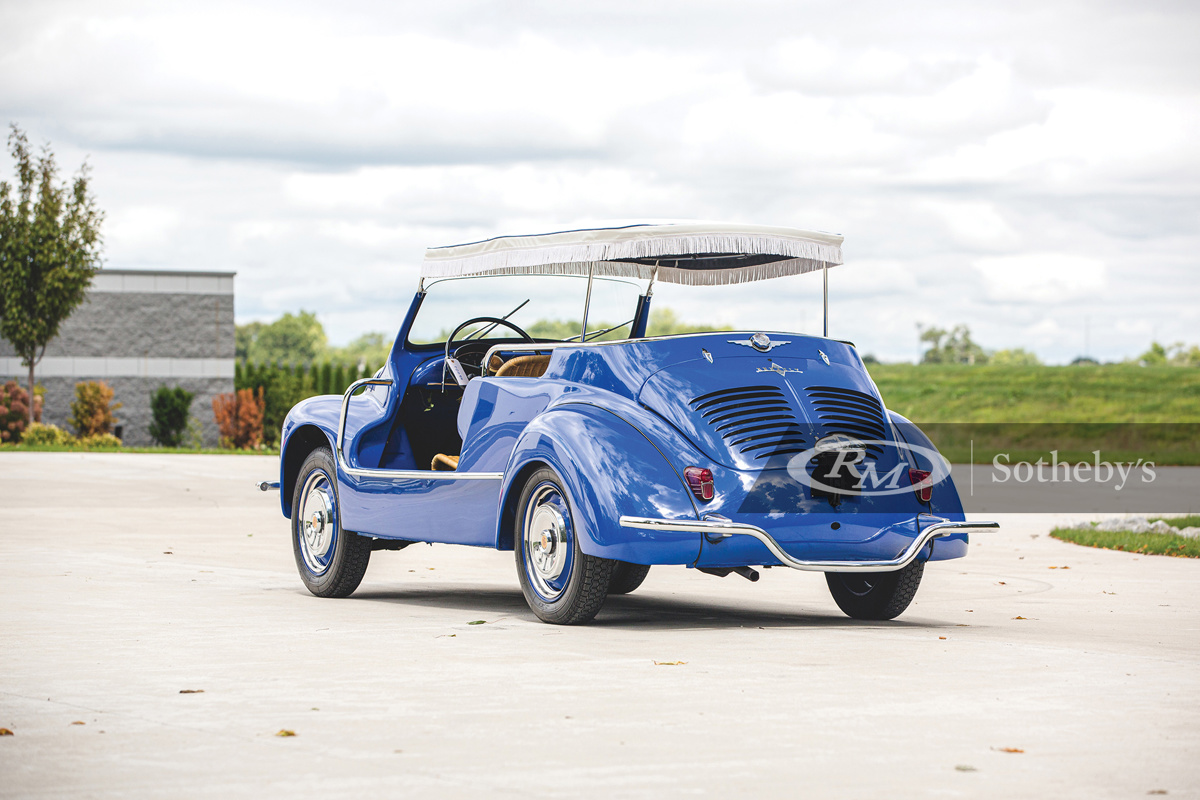 Serge's solution was an internal subframe hidden beneath the Jolly's skin, constructed of tubular steel and filled with lead. The result was charming, if a bit heavy, though the Jolly's signature wicker seats and dashboard did save some weight. Even with an entry price nearly double that of the standard 500 ($1,760 vs. $998), the Fiat 500 Jolly was a huge hit for both Ghia and Fiat, with approximately 650 total constructed between 1958 and 1966.

Comparatively, the Renault-based version is far less common, but because of its slightly longer wheelbase and more powerful engine, the 4CV proved a better platform on which to build a beach car. And yet, even in period, the Renault Jolly was more than ten times rarer than the Fiat, with only 50 reportedly built in total. An uncommon inspiration, indeed.
1970 Fiat 850 Spiaggetta by Michelotti
Estimate: $60,000 - $80,000. Offered Without Reserve.
One of approximately 80 built
At nearly the same time as the Jolly was conceived, Giovanni Michelotti, who had experienced the evolution of Italian design firsthand at Vignale, Farina, and Ghia-Aigle, was ready to strike out on his own. He began consulting with BMW in 1959, contributing work that culminated in the "New Class" look made famous by the BMW 2002, then in 1963 moving on to design for Dutch conglomerate DAF. Designed by Michelotti over a stout, dependable frame, the DAF 44 provided a superior foundation on which to build a spectacular beach car. A one-off custom, presented to the Dutch royal family after the birth of Prince Willem-Alexander, the DAF 'Kini' (or "King") debuted in 1966. Michelotti's first bespoke beach car differed from every other model previously because it was built from the ground up rather than the top-down—unlike the Fiat and Renault, it did not require lead-filled tubes for stability.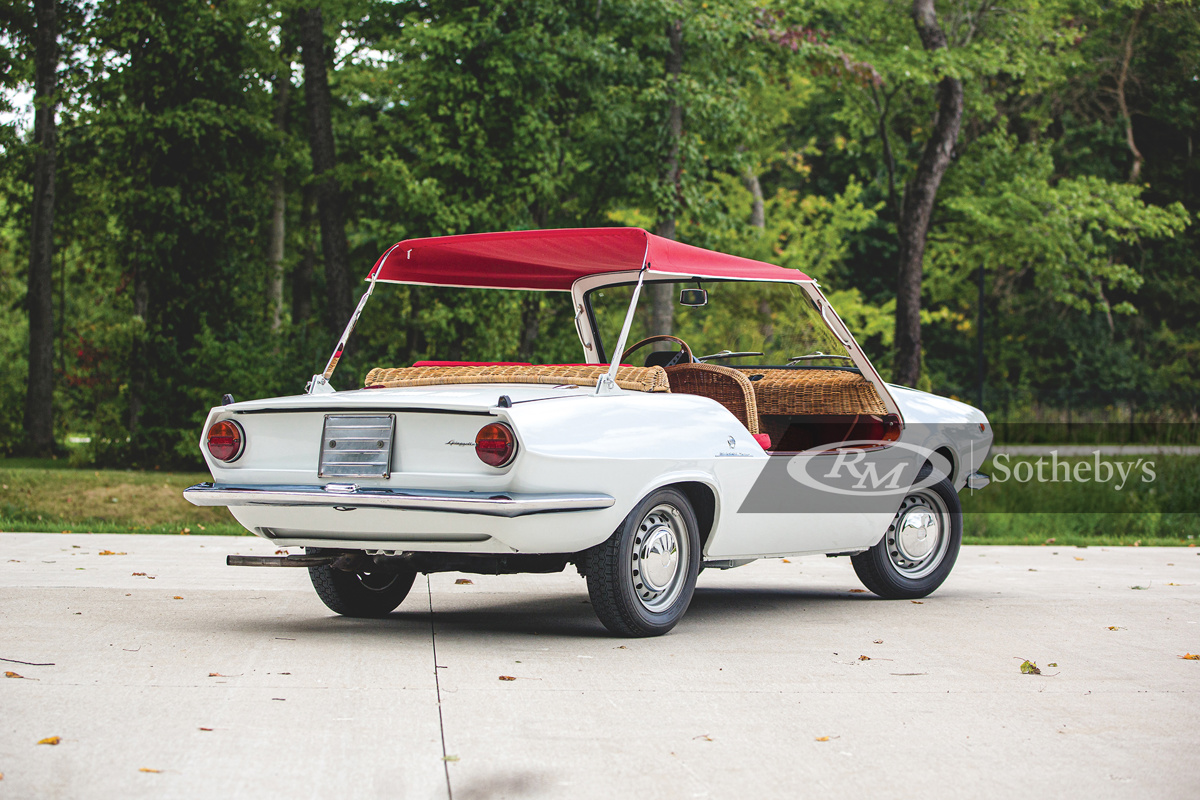 The sleek 1966 'Kini' concept soon spawned orders for a more accessible production model. The following year, in collaboration with yacht designer Phillip Schell, the Spiaggetta and Shellette debuted.  In a career reportedly spanning 1,200 automobiles designed in total, these two bespoke beach cars were the first two models to wear Michelotti's brand. Unlike the Michelotti's own chop-top Kini, the Spiaggetta and Shellette were made in the Barchetta style and did not require a large external hoop for stability. This Spiaggetta is an uncommon survivor, one of approximately 80 built.

With even fewer surviving the salty, seaside air (not to mention the typical antics that take place below deck), this wicker-trimmed wonder is a highlight in the career of a true Italian artist. It was not, however, the swan song: Michelotti was designing fun city cars well into the next decade, as this prototype from 1984 proves.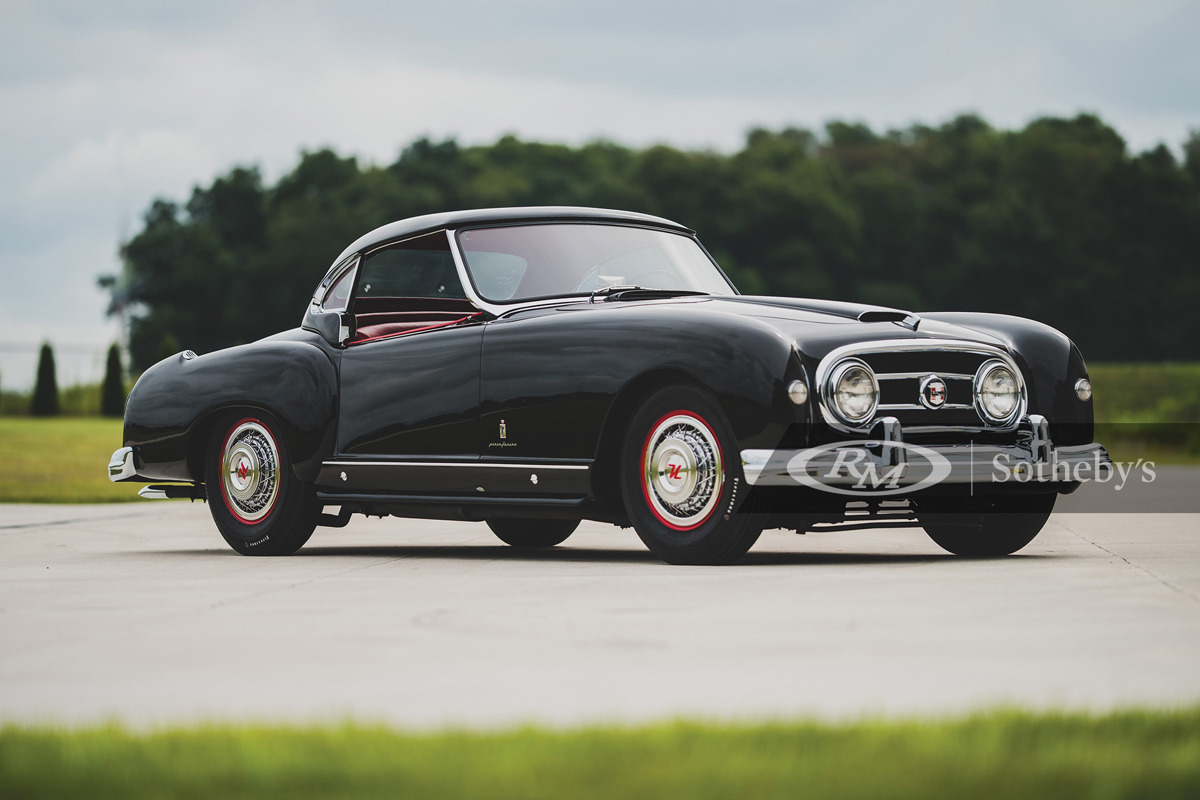 1953 Nash-Healey Roadster by Pinin Farina
Estimate: $120,000 to $140,000. Offered Without Reserve.
One of 162 Nash-Healey Roadsters built in 1953
We have journeyed this far without examining a car from stabilmente Farina, and yet this Nash-Healey represents a significant milestone in the career of the most famous Italian automotive designer. Battista "Pinin" Farina ventured out from his family's coachbuilding business in 1930, establishing Carrozzeria Pinin Farina's reputation for pre-war coachwork on fine chassis from Isotta-Fraschini to Talbot-Lago. By the end of WWII, Farina's facilities were sufficiently advanced that he was commissioned to construct the extraordinary Cisitalia 202 CMM Aerodynamica Savonuzzi race car. Farina quickly adapted the fundamental shape of Savonuzzi's fully-integrated, "envelope-style" design into the 1947 Cisitalia 202 road car, regarded even in its day as a groundbreaking design. Farina's 202 was featured in the 8 Automobiles exhibit at the Museum of Modern Art in 1951, and an example still resides in the museum's permanent collection.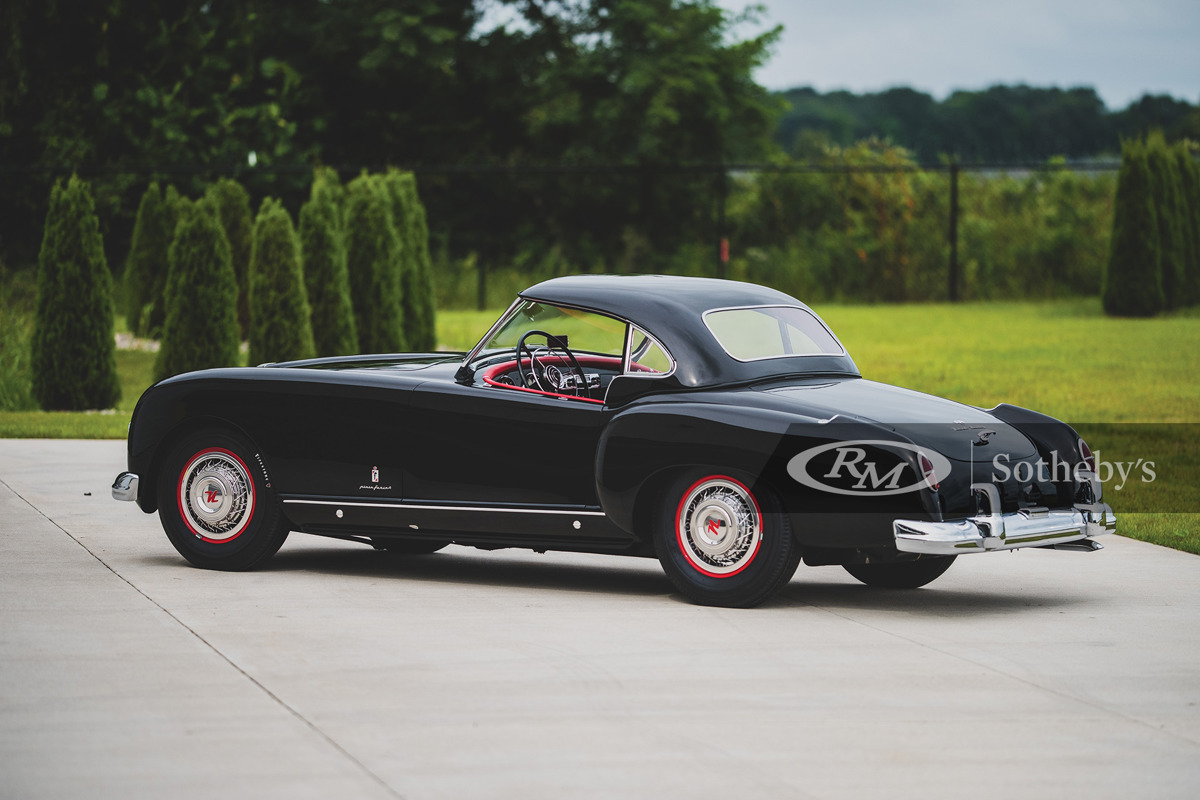 Farina's success with the Cisitalia 202 was sufficient to land the firm a contract with Ferrari in 1952. Though the elder Farina welcomed the intrastate income, he famously charged his son Sergio with the Ferrari account and set his sights higher—towards America, and the prospect of mass production. By then, Farina's work had already attracted the attention of George Mason, President of Nash-Kelvinator, who was already reinventing the post-WWII American domestic market, launching the low-cost Rambler in 1950 and partnering with the Donald Healey Motor Corporation in 1951 to release the Nash-Healey, which served as a halo car for the brand.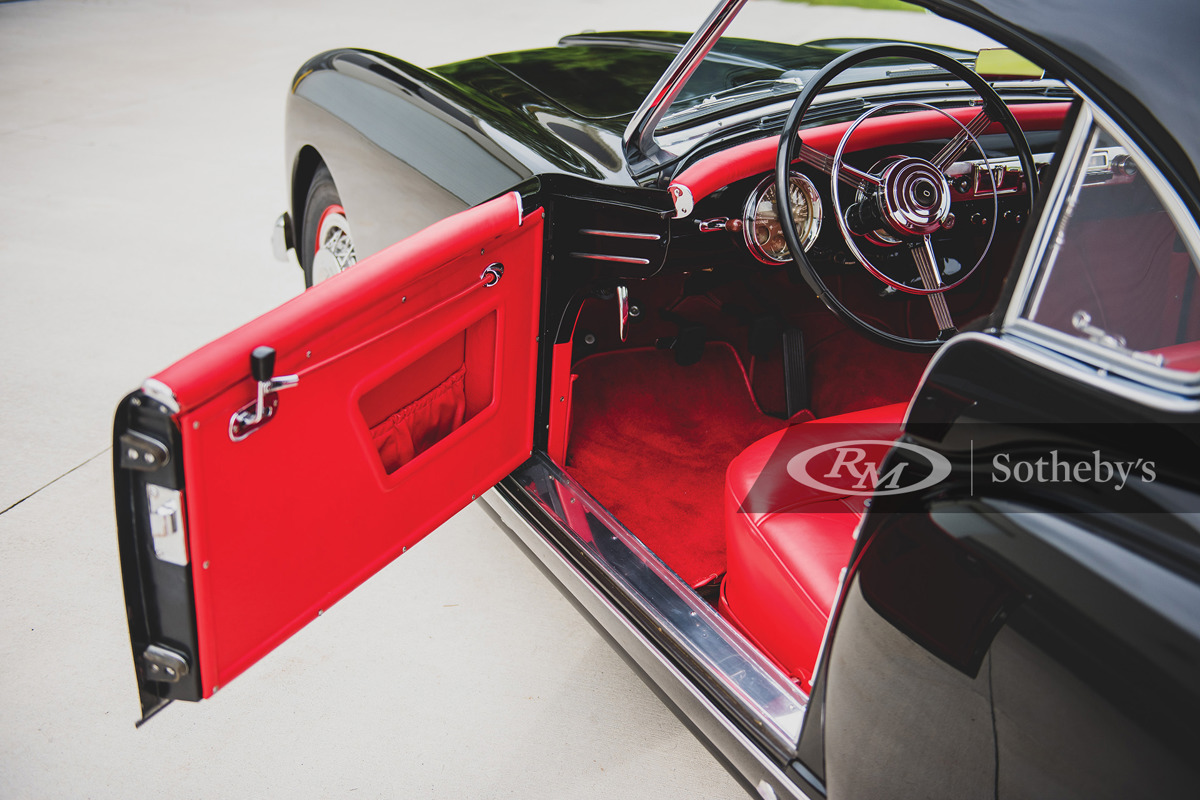 For anyone who has experienced one at speed, the first-generation Nash-Healey is surprisingly potent for a post-war sports car. And yet Mason felt that the whole brand deserved some design fireworks, so he sent George Romney (father of Utah Senator Mitt Romney) to hire Farina's firm to redesign the whole Nash line and oversee final assembly of the new Nash-Healey.
The example up for auction in Elkhart is perhaps the ultimate spec: Roadster with one of three factory hardtops ever made. Like all second-gen Nash-Healey sports cars, the bodies were all finished by hand at Pinin Farina's Turin facilities, making them genuine products of Italy. (And England and America, too.)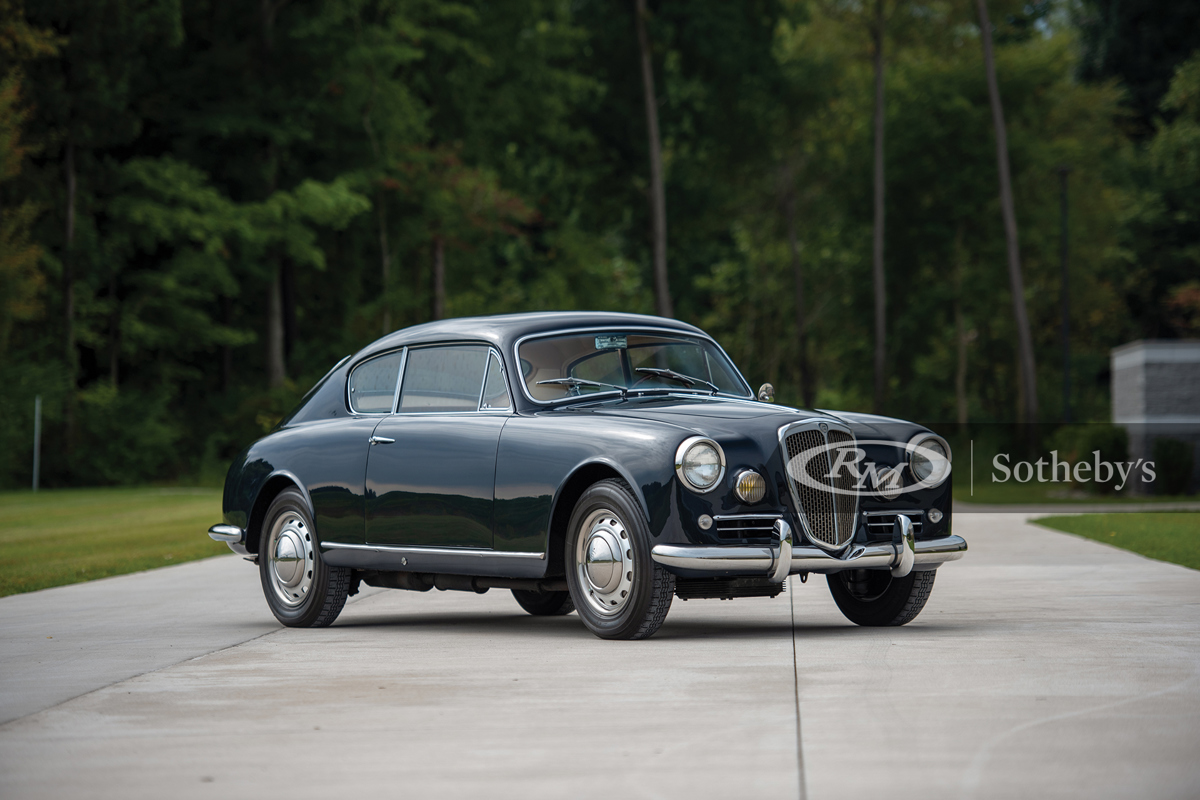 1958 Lancia Aurelia B20 GT Series 6 Coupe by Pinin Farina
Estimate: $140,000 - $180,000. Offered Without Reserve.
One of 196 2.5L Series 6 GTs built
After the Pinin Farina-styled 1953, Nash model lineup debuted, the world changed for the veteran designer. Nash billboards featuring Farina's face appeared around America for years afterward proclaiming: "Pinin Farina designs the world's most beautiful car." Note the present tense—this was not about looking back to Pinin Farina's pre-war coachwork, but a declaration of something fresh and modern.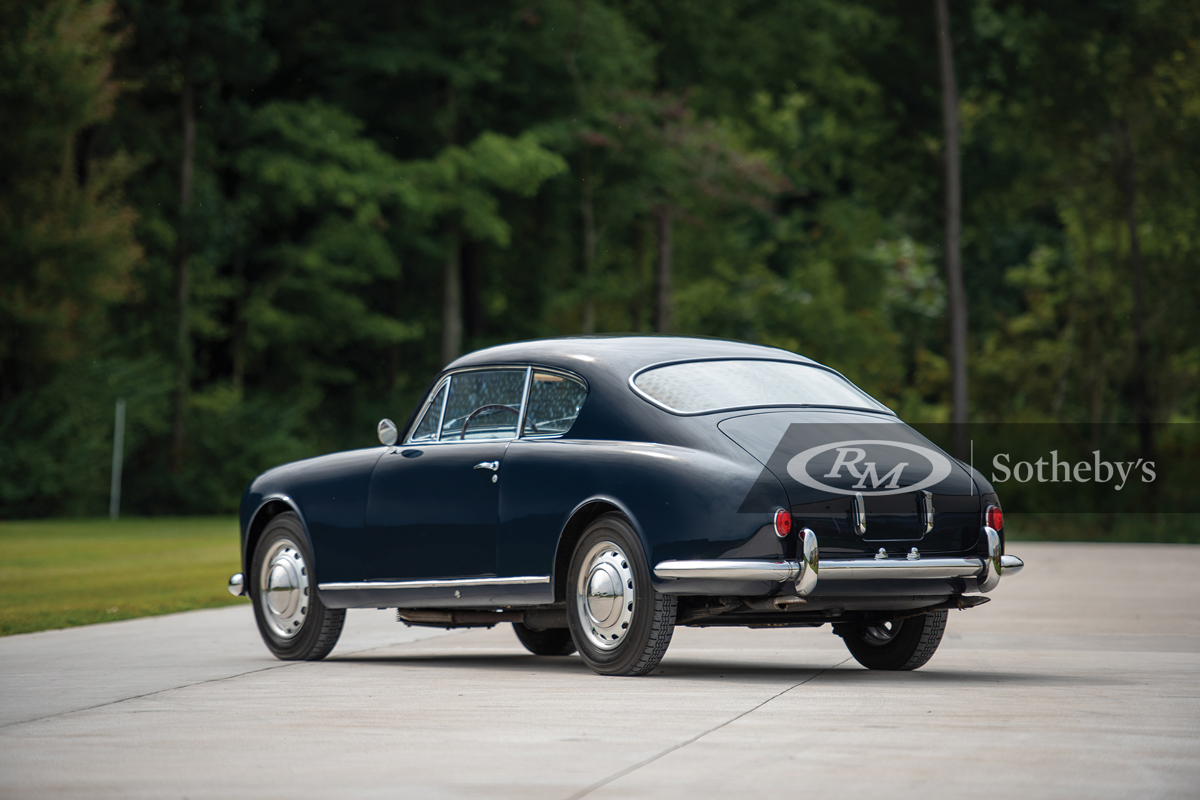 While Farina's fame grew across the ocean in America, his firm's expertise in assembling Italian sports cars like this Lancia Aurelia did as well. With the vast majority of Aurelia examples made in right-hand-drive, few Americans got to experience the impressive handling and "fine road-holding" from the de Dion-style rear axle firsthand, never mind seeing this handsome Pinin Farina coupe in person. While the contract with Nash thrust Farina onto a worldwide stage, elegant Italian coachwork like on this Lancia made his firm's legacy endure to this day.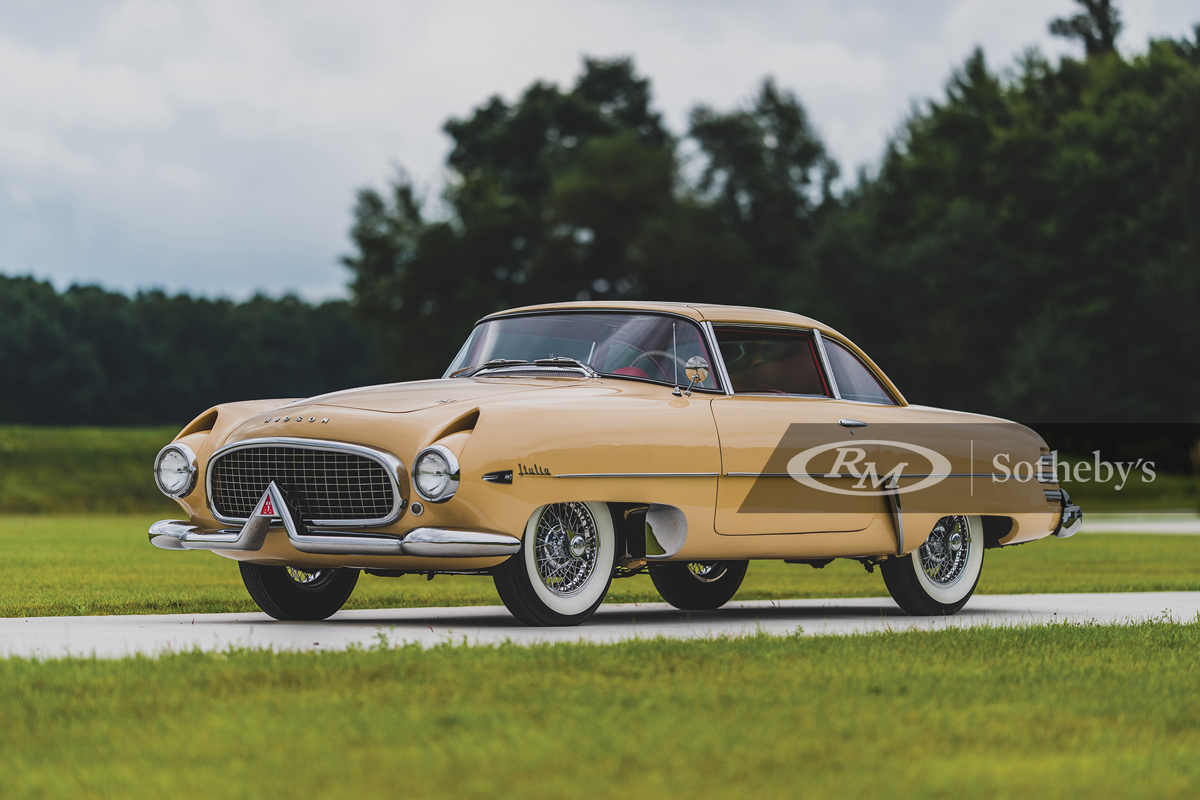 1955 Hudson Italia by Touring
Estimate: $350,000 - $450,000. Offered Without Reserve.
One of 25 examples built
The rarest car on today's list of uncommon cars, this handsome, coachbuilt Italia coupe features concept-level styling courtesy of an American designer working for Hudson named Frank Spring, whose "Super Jet" concept debuted to much fanfare in 1953. Spring's series of aesthetic upgrades for the Jet, Hudson's smallest car, included jet-fighter-style exhausts, scoops and air ducts everywhere, and a signature, wraparound rear windshield. The look unquestionably evoked the Jet Age, but thanks to Carrozzerria Touring, the Super Jet was no mere pretender.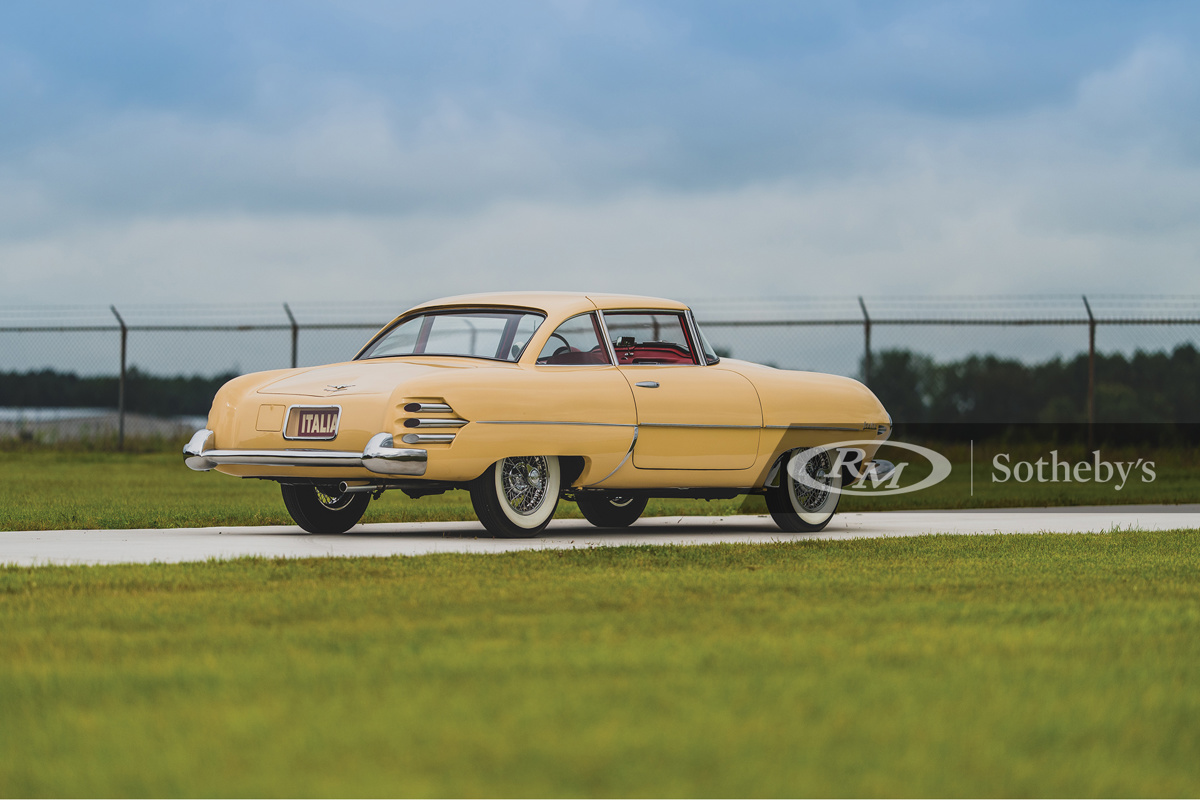 More than a mere styling exercise, the Italia was a thoroughly modern sports car, manufactured via Touring's famous 'Superleggera' construction—a unibody build, handmade from aluminum. Unlike Ghia's ongoing collaboration with Chrysler, the 25 Italia coupes plus one prototype made between 1953 and 1955 exist as the total extent of Touring coachwork on American chassis. Part of the problem was the price—at $4,800 new, the Hudson Italia was more expensive than a new Nash-Healey roadster.

The more pressing problem was political: Hudson merged with Nash on January 14, 1954. After Nash invested considerably in promoting Pinin Farina styling as the world's best, the need for a halo Hudson wearing Touring coachwork diminished considerably, and the Italia was phased out after 1955. What might have been…