From its inception, the Auburn Automobile Company showed an uncommon dedication to design.
For a fraction of the price of a coachbuilt Rolls-Royce or Hispano-Suiza, motorcar customers in the 1920s and 1930s could purchase an Auburn in touring limousine, saloon, or phaeton form. Twelve-cylinder engines, superchargers, and even diesel engines appeared in Auburn cars. Auburn's technical achievements were not just for the sake of marketing—world records for high-speed runs were set and smashed by Auburn stock cars—though, as you'll see, the company's advertising executives had some novel ideas on how to communicate those achievements.

Auburn associates included (from left) Wade Morton, Al Leamy, and Ab Jenkins, who sold the Auburn brand by breaking records on the racetrack and setting new standards for American styling.
Auburn employed a cast of characters that wouldn't appear out of place in a black-and-white David O. Selznick feature, including debonair designer Alan "Al" Leamy (who styled the first Auburn Speedster, which debuted in 1928) and test drivers Wade Morton and Ab Jenkins, both as famous as any celebrity in the same era. Morton didn't necessarily wear his trademark beret while racing, though at least one Auburn history book notes speed endurance drivers like Jenkins oftentimes did wear formal ties during flat-out runs on salt flats and dry lake beds.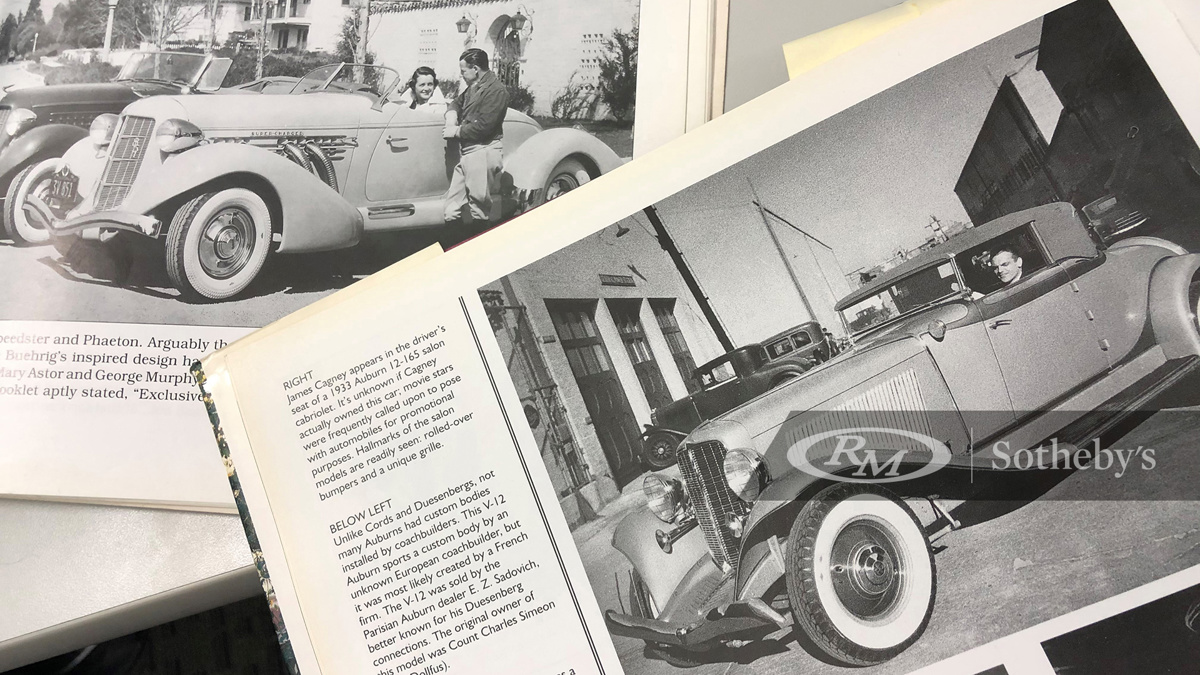 Hollywood celebrities photographed at the wheels of Auburns included Mary Astor, George Murphy (above, left), and James Cagney (above, right), among many others.
After Auburn's Gordon Buehrig–designed, second-generation 851 Speedster debuted in 1935, it was quickly adopted among the Hollywood set, with Jean Harlow, Errol Flynn, Barbara Hutton, James Cagney, and the Duncan siblings all proudly posing at the wheels of Auburn motorcars for staged, pre-paparazzi photos. According to at least one period account, "Cord's publicity people thought it would be good business to have the Duncans each drive the Auburn, so they made the sisters a very attractive deal, wholesale."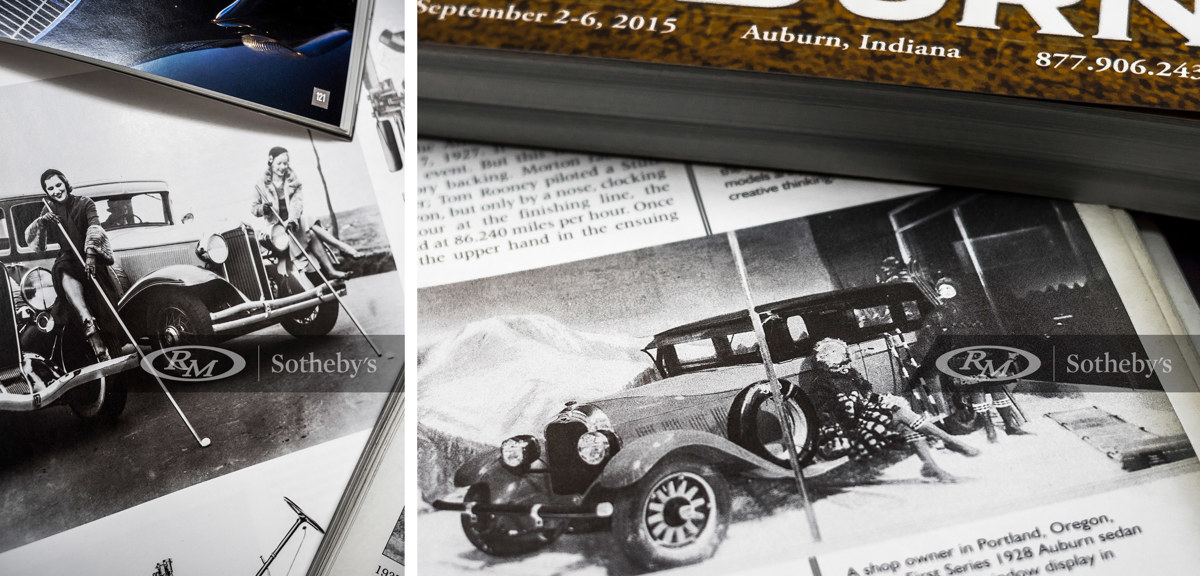 A curious Auburn publicity photo (left), alongside a more traditional department-store window display, centered around a 1928 Auburn (right).
Cord, of course, referred to E. L. Cord, who purchased a controlling stake in the Auburn Automobile Corporation in 1926. Cord claimed he devoted 24 hours a day to Auburn, though it's not clear if he approved the ad campaign (depicted above, left) in which two women are playing polo with giant metal rods and raw eggs, assumedly to show the Auburn V-12 engine's superior smoothness wouldn't crack an eggshell. The window display at a Portland, Oregon, department store (depicted above, right) showed a 1928 Auburn sedan could act as advertising in and of itself.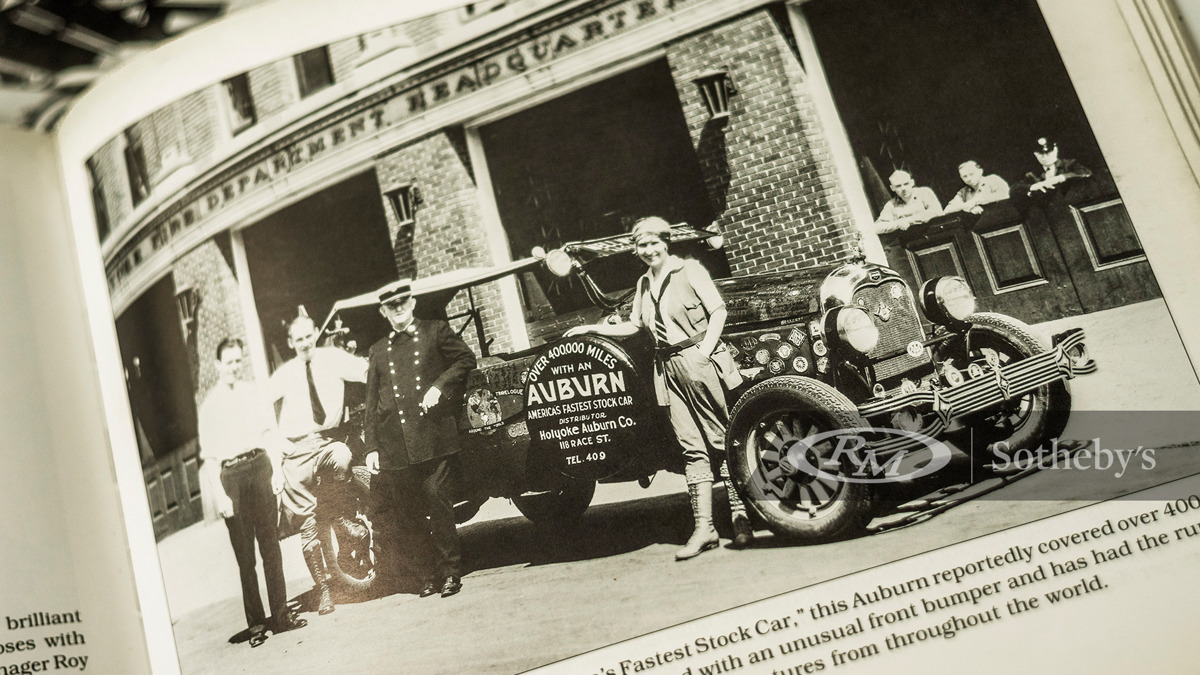 An American stop on this record-breaking 1924 Auburn 8-88's round-the-world tour.  
Even Auburn's more everyday owners displayed their own outspoken sense of style. After setting yet another high-speed record for an American stock car, this 1926 Auburn 8-88 Touring sedan went on a parade around the world. The unidentified woman's traveling outfit may appear out of place with the formality one would expect from an Auburn owner in the period, though a closer look links the style to something much more traditional—the practical silhouette of an equestrian riding outfit.
Equestrian garb had previously pushed forward the bounds of female fashion a decade prior, when the first women's breeches were popularized for horseback riding—made so its riders could face forward, as opposed to the sidesaddle method universally used by many women previously. Clothes specifically made for motoring needed to be even more lightweight (and hence less formal) as, unlike horses, early 20th-century automobiles were enclosed environments with hot engines and no air-conditioning.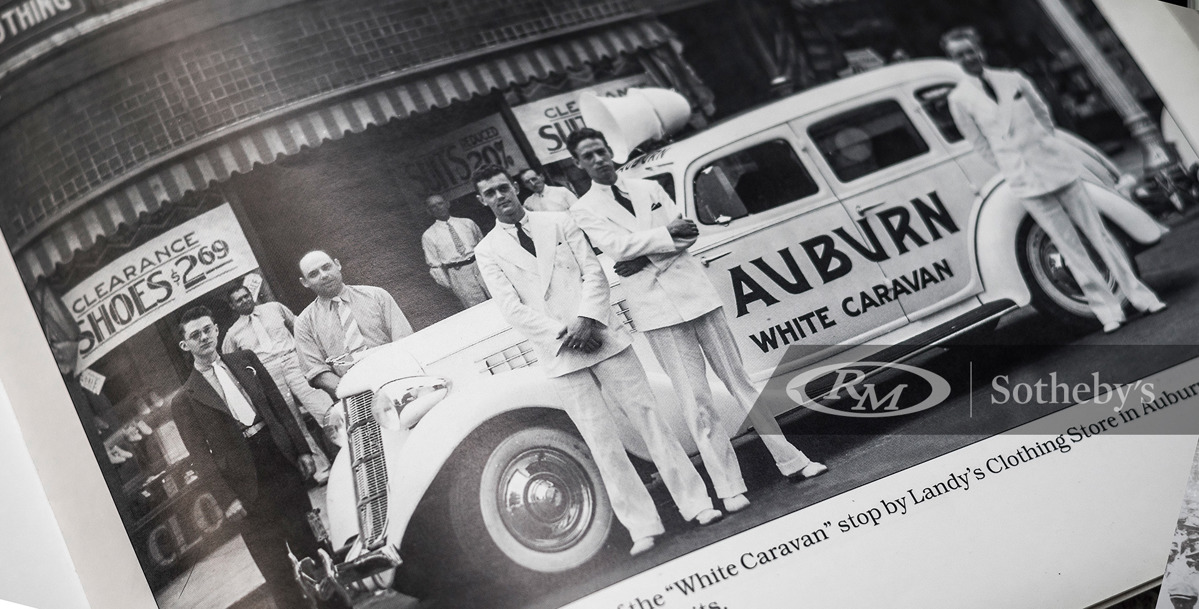 The last hurrah for official Auburn style, the ill-fated White Caravan of 1935.
In one final publicity push in the middle of 1935, Auburn sent four cars from their Indiana fleet on yet another road trip to generate goodwill: a phaeton, cabriolet, sedan, and speedster, all painted the same striking shade of white. Before leaving Auburn, the team stopped at Landy's Clothing Store on Main St. to get outfitted in matching double-breasted white suits, complete with white shoes. If clothing was ever meant to project a sense of confidence, especially in the middle of the Great Depression, it was on display here.
Sadly, the enthusiasm was destined to be short-lived. In 1936 Auburn reportedly produced only 1,250 cars the year following the White Caravan tour. Many Auburns sold in 1936 were unsold 1935 models rebadged from the previous year. The high style that came to define the brand was, ironically, a cause of its downfall. Even though Auburn ads claimed the company offered its customers "The Most for the Money," owning a fast, sleek, supercharged automobile with two-tone paint and nickel-plated accessories in the middle of such hard economic times was no longer so fashionable, regardless of price.
And yet today, Auburn's final years are regarded as its finest. The rarity of the final series of cars only adds to their value, as does the addition of designer Gordon Buehrig's 851 Speedster in 1935 making the already storied brand into an Art Deco icon. Though fashion may fade, true style endures forever.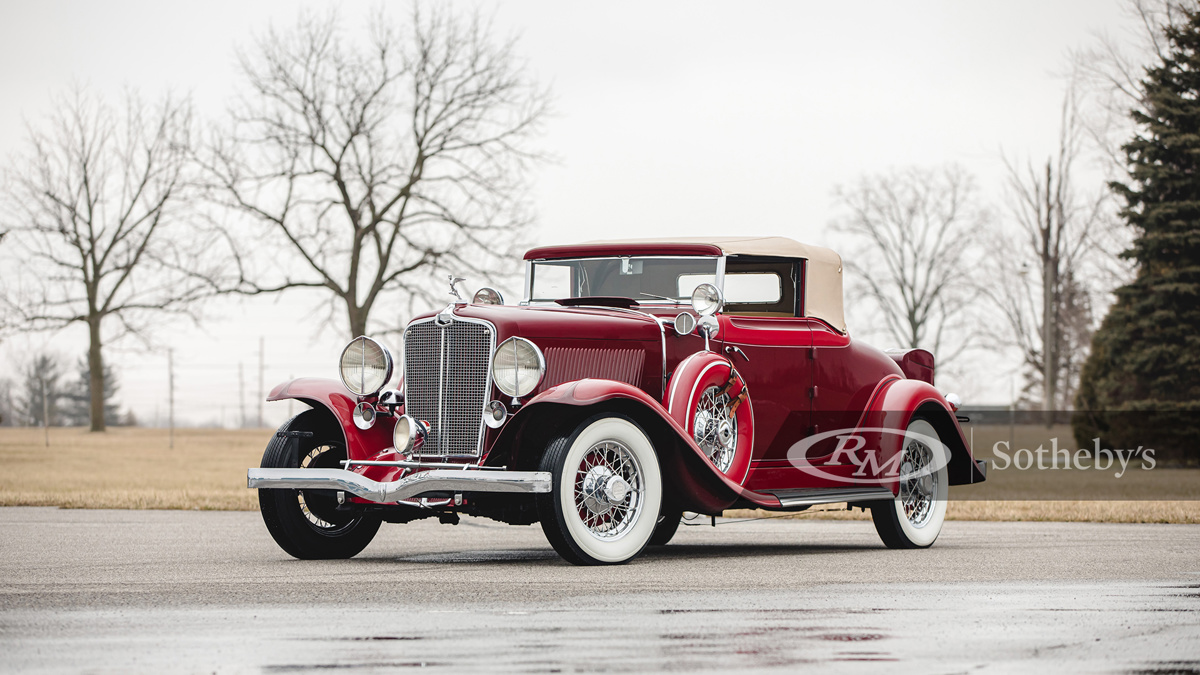 In case this article has increased your interest in acquiring a piece of vintage Auburn style, RM Sotheby's has two from which to choose. Both originally part of the Schluter Collection, these two two-tone red open-top cars appear to be made as twins. The 1932 Auburn Twelve Custom Cabriolet comes equipped with a matching luggage chest and side-mounted spare tire with leather straps.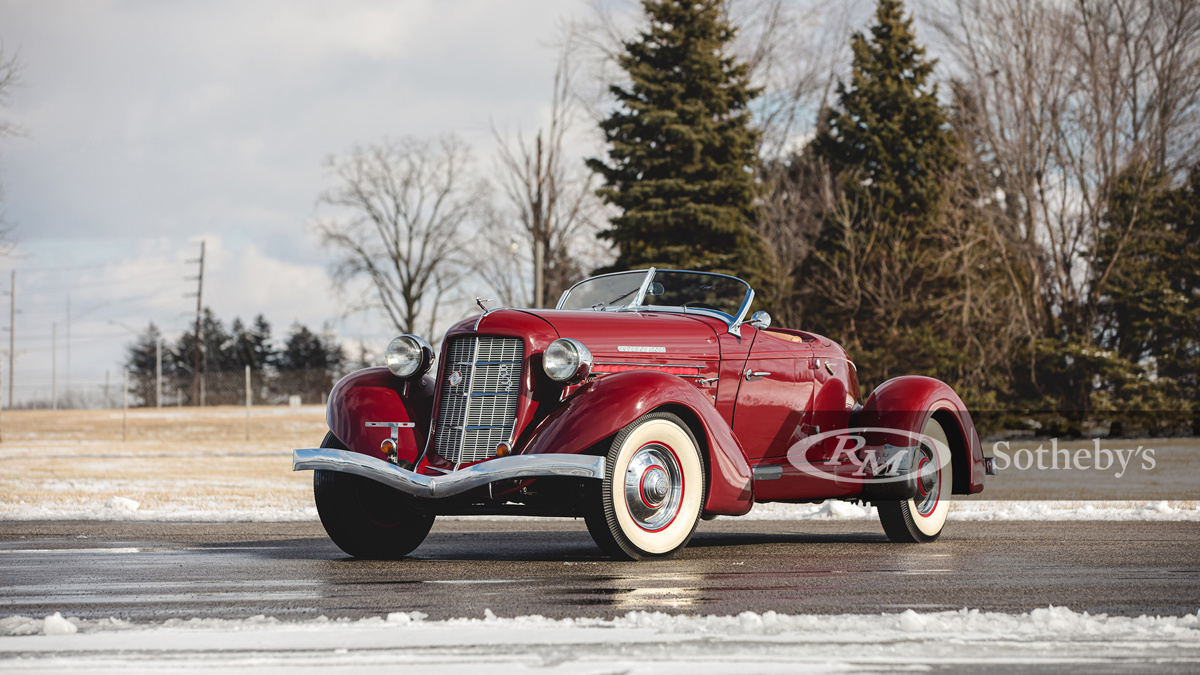 The 1936 Auburn Boattail Speedster may be merely a "replica," but as we have seen, sometimes style is everything.