Auburn is a name that generates genuine emotions for many of us interested in automotive history. The company's signature Speedster, which debuted in 1928, sported a boat-tail shape so beguiling that many casual enthusiasts commonly misidentify any Art Deco–era open-top with such a configuration, "Must be an Auburn!"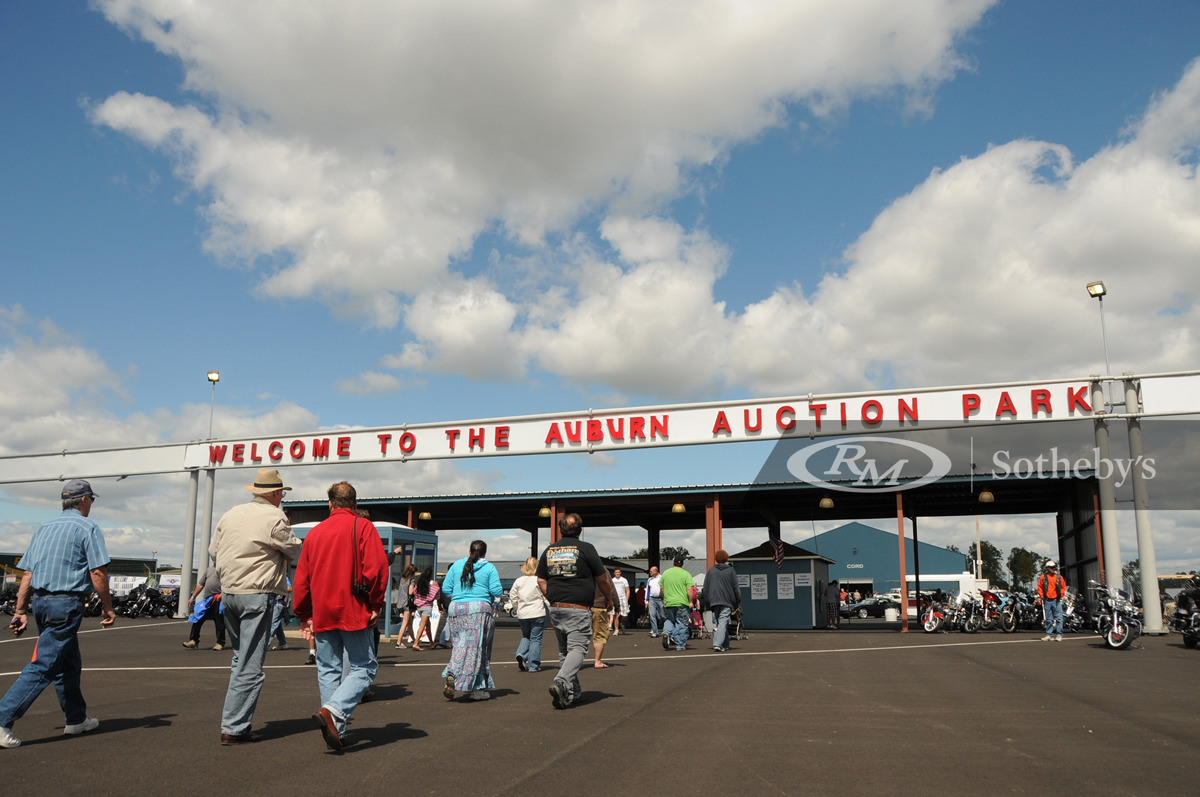 Auctiongoers stroll towards the Auburn Auction Park, which hosted its first sale in 1970.
Named for the Indiana town in which it was founded, an early Auburn advertising slogan was "Once a customer, always a friend." The friendly atmosphere fostered a culture of devoted fans, many of whom made the twice-yearly pilgrimage to the Auburn Auction Park once sales began there in the autumn of 1970. This year, RM is pleased to celebrate the 50th anniversary of auctions in Auburn. We'll be posting updates all year in the run-up to Auburn Spring, which will take place this year from 7–9 May.

A taste of the diverse selection of offerings available at past Auburn gatherings.
Though the Auburn Auction Park is mere miles away from the factory where every Auburn was built, the auction is not brand-specific. Held once in fall and once in spring, the Auburn auctions have come to mean the best in American automobiles–from rare split-window Corvettes and MoPar muscle cars to heavily customized hot rods. Though they are rare sights at any auction, when a classic Auburn crosses the block at the Auburn auction, it's like a prizefighter returning home in time for the heavyweight championship—everyone roots for the hometown hero.

Two distinct eras in American luxury represented at the 2011 Auburn Fall auction.
Throughout 2020, RM will be posting bi-monthly stories highlighting both the Auburn auction and significant dates in Auburn Automobile Company history. Always ahead of its time and definitely gone too soon, the story of Auburn started ambiguously and, sadly, ended ignominiously. And yet, at the onset of the Great Depression, Auburn consistently set high speed records for stock cars at Daytona Beach, Muroc Dry Lake Bed, and Bonneville.
Style was part of the Auburn brand from the very beginning. Though the aforementioned Speedster design set the tone for the company post-1928, Auburn's elegant touring cars defined Auburn as fashion-forward, offering "The Most for the Money." Hollywood celebrities like James Cagney, Mary Astor, and George Murphy, musician Huston Ray, Vaudeville comedians Rosco Ates—all of them were proudly photographed in Auburn motorcars.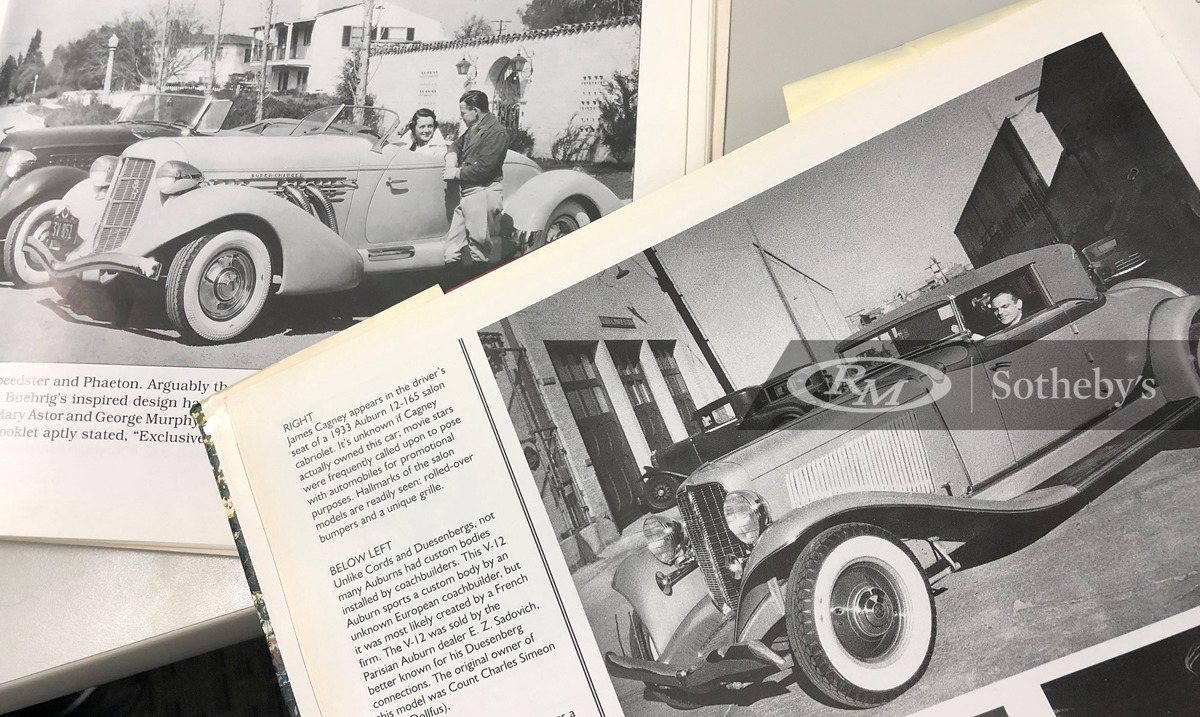 A selection of history books in RM's library shows off some of Auburn's celebrity connections.
Unfortunately, fashion fades. Many modern readers will not recognize the names of Astor, Murphy, Ray, Ates—or even Cagney, for that matter. On the other hand, true style lasts forever. Though the black-and-white images of formerly famous people may seem like they've lost their luster, a closer look reveals an enduring aesthetic. If Auburn motorcars were ahead of their time, what does that say of their owners?
Check back this Friday for a fashion-forward article about the stylish owners of Auburn automobiles and throughout 2020 for more highlights from the quintessentially American brand's fascinating past.