Hot rodding took root in the sunny suburbs of Southern California in the post-war period for a few concrete reasons. One was just that—concrete: The wide boulevards of Van Nuys, the landing strips in Orange County where the first drag races took place. Other reasons were equally as practical—the prevalence of pre-war cars, stacked far and wide in the scrapyards across Los Angeles, and the population of trained mechanics returning home after WWII. The product was an outburst of "outlaw" creativity and engineering brilliance that still resonates today. We look at some hot rod-inspired highlights from the Mitosinka Collection: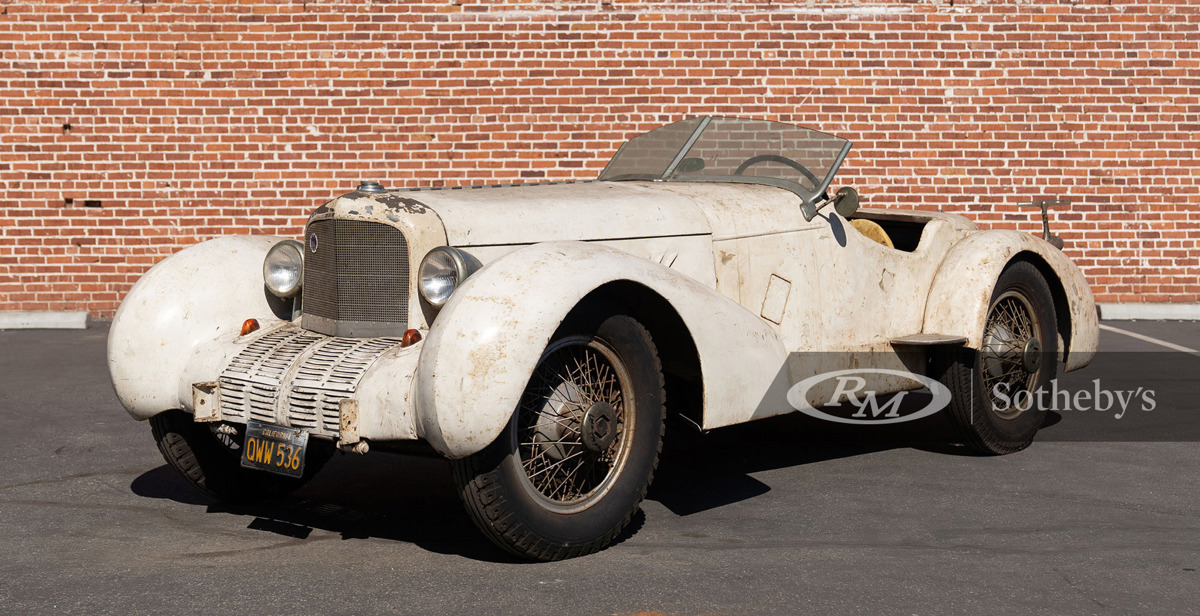 1929 Stutz Sport Custom
Estimate: $50,000 - $80,000. Offered Without Reserve.
Part of the value of any post-war hot rod build is in the engine that drives it. This fascinating "Sport Custom" is constructed around a legendary engine—the Stutz DV32 inline eight-cylinder powerplant that made the brand famous, sending motive force to an Auburn Twelve two-speed rear axle. The list of full-classic parts goes on from there, with the stout radiator from a V-16 Cadillac, 1934 La Salle front fenders, and a genuine Duesenberg Model J hood to complete the look. With late 1940s and early 1950s customs finally receiving the deserved attention of concours-grade collectors, this unfinished project has the pedigree to be worthy of restoration.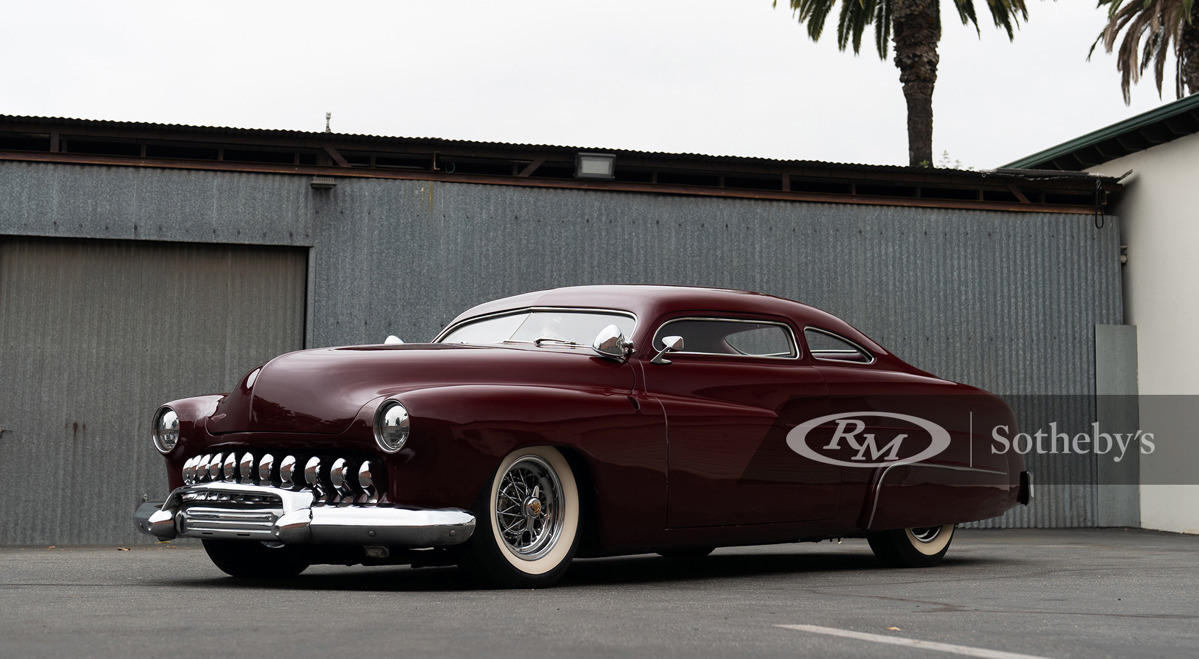 1951 Mercury 'Lead Sled' Custom
Estimate: $25,000 - $35,000. Offered Without Reserve.
A 'Lead Sled'-style "Merc" Coupe like this one marked a turning point for custom culture, which moved away from piecing together pre-war classics to building new creations from late-model cars. George and Sam Barris's "Hirohata Merc" is undoubtedly the most famous of the bunch, and inspired others to "chop" the already-low roofs of their 1951 Mercury Coupes, filling in the gaps in the streamlined roof with lead, inspiring the nickname in the process. This example was built in-period according to a feature in Andy Southard Jr.'s Hot Rods and Customs of the 1970s; the skill of builder and former owner, Red Spence, is evident in the delicacy of the chop and the smoothness of the Merc's curved roof.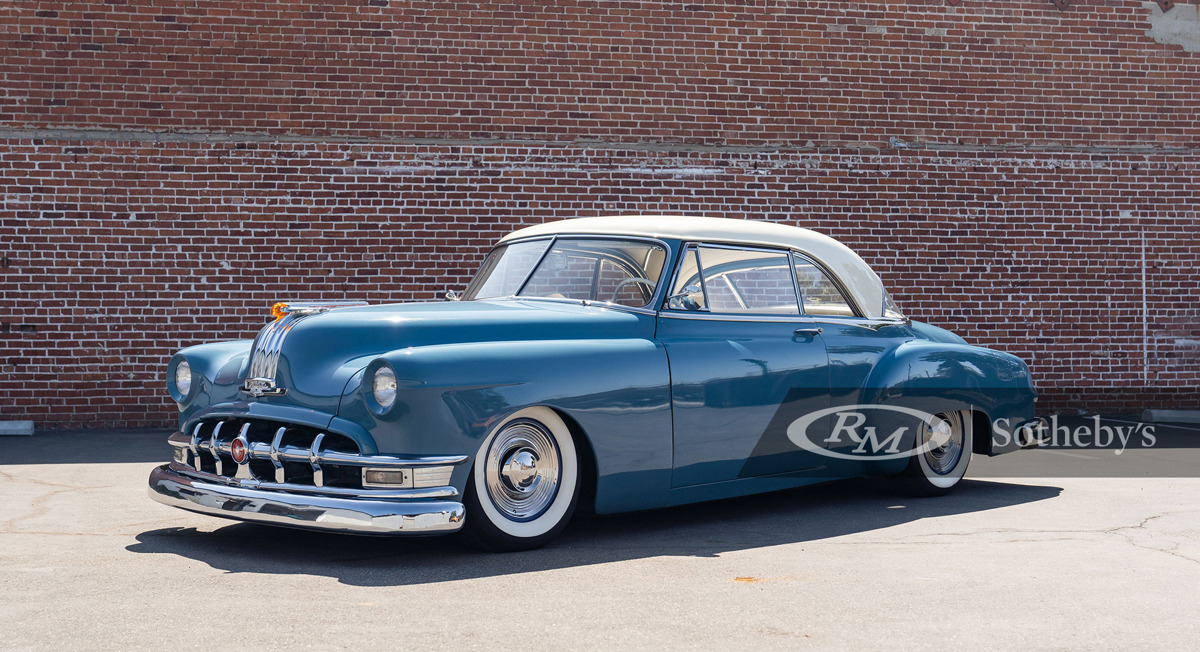 1950 Pontiac Coupe Custom
Estimate: $20,000 - $30,000. Offered Without Reserve.
With hot rod and custom culture breaking over into the mainstream in the late 20th century, cars like this 1950 Pontiac Coupe became good candidates for full customization. Assembled in the mid-2000s, this handsome, blue coupe is powered by a 390 GTO V8 engine, its sides shaved of any chrome trim, its rear "decked," with all badging removed. The see-through Chief Pontiac radiator mascot was retained, and the whole car was given a new stance thanks to a Ford 9-in rear end, Scott's Hotrods tubular A-arm front with four-link Bilstein coil-overs. Modern yet classic.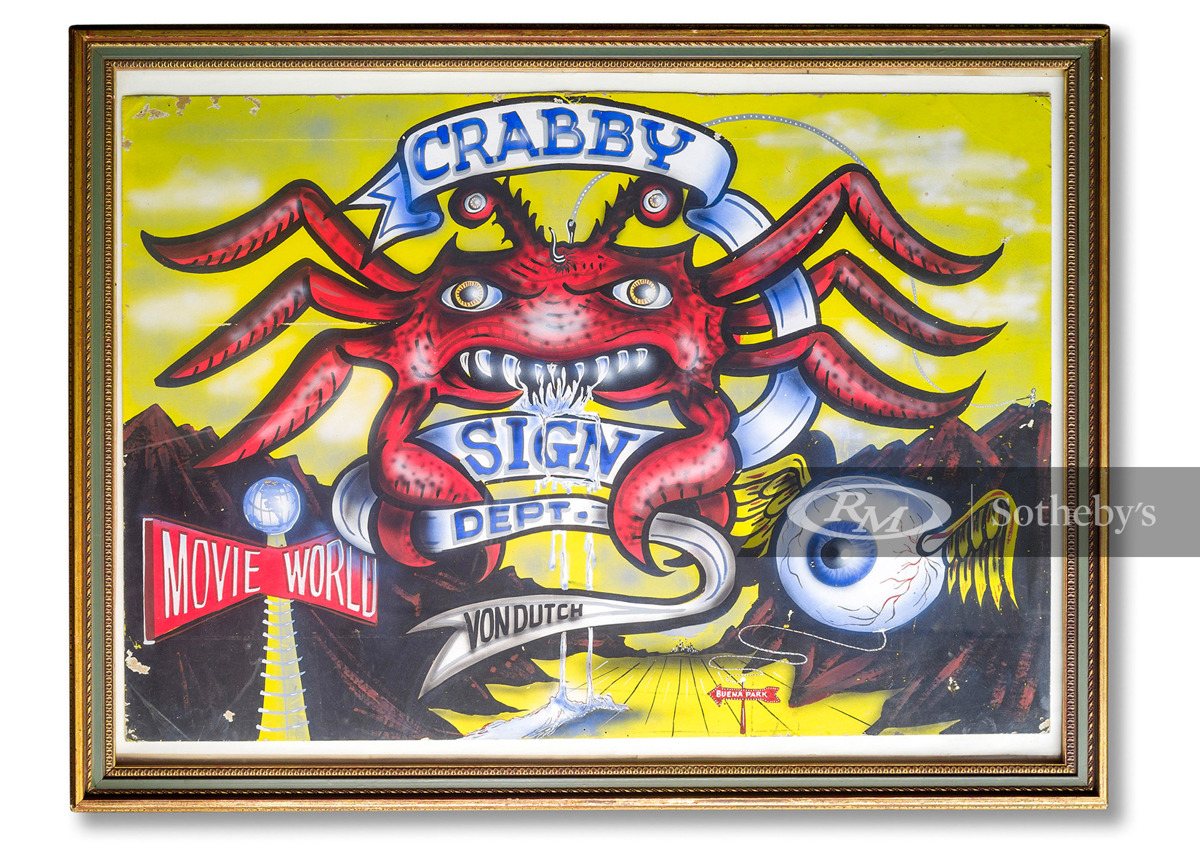 "Crabby Sign Dept." Original Framed Sign by Von Dutch
Estimate: $10,000 - $15,000. Offered Without Reserve.
Shifting gears from cars to automobilia, the next three lots were all made by the painter, pinstriper, and all-round American artist Kenny Howard, known infamously as "Von Dutch." An outspoken figure in the So-Cal custom culture scene (and friend of Steve McQueen), Von Dutch was reportedly painting professionally by the age of 10. Working alongside fellow Los Angeles legend Dean Jeffries as a pinstriper, Von Dutch earned a reputation of melding technical perfection (notice the intricate detailing in this framed original) with an outlandish style still valued today as an icon of the counterculture.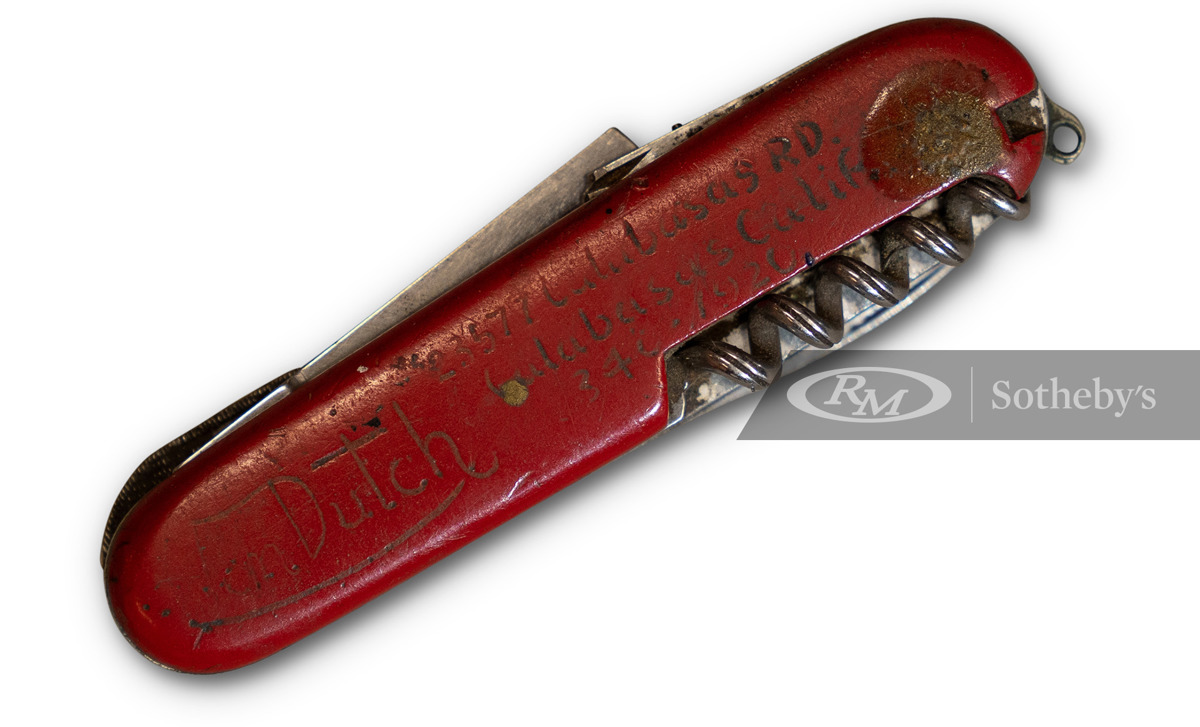 Von Dutch Original Swiss Army Knife
Estimate: $1,000 - $1,500. Offered Without Reserve.
Personal artifacts display so much about the people who owned them and this customized pocket knife is no exception. Acquired directly from Von Dutch by Dennis Mitosinka, this piece shows Dutch's less-healthy habits as well as his talents. Witness the exquisite engine-turned styling on the scissors of this customized Swiss Army Knife, similar to the dashboard on a Duesenberg. Also witness the bottle opener, rusty with use. A usable piece of hot rod history.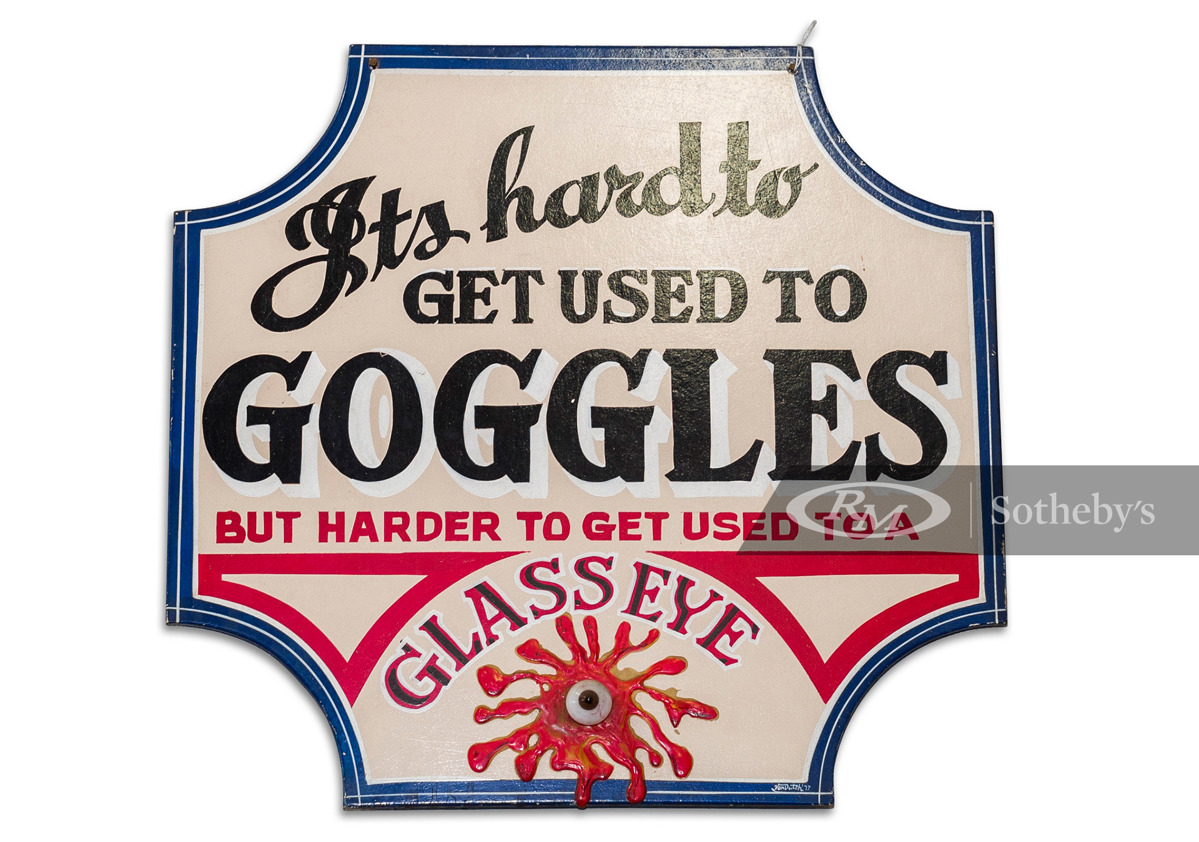 "Its Hard to Get Used to Goggles" Original Sign by Von Dutch, 1977
Estimate: $10,000 - $15,000. Offered Without Reserve.
Our final lot of original Von Dutch artwork shows off the balance between professionalism and absurdity that became his signature style. As any sign painter or pinstriper knows, the technical perfection of applying a line of paint is unquestionably the top priority of the job. That Von Dutch could execute alternating type styles with equal ease only highlights the dark humor of this sign's punchline: "But harder to get used to a glass eye." The eye itself is three-dimensional, popping out of the sign in a pool of grisly blood—apparently, Dutch kept it in his shop as a warning to the eager onlookers who wanted to watch him work.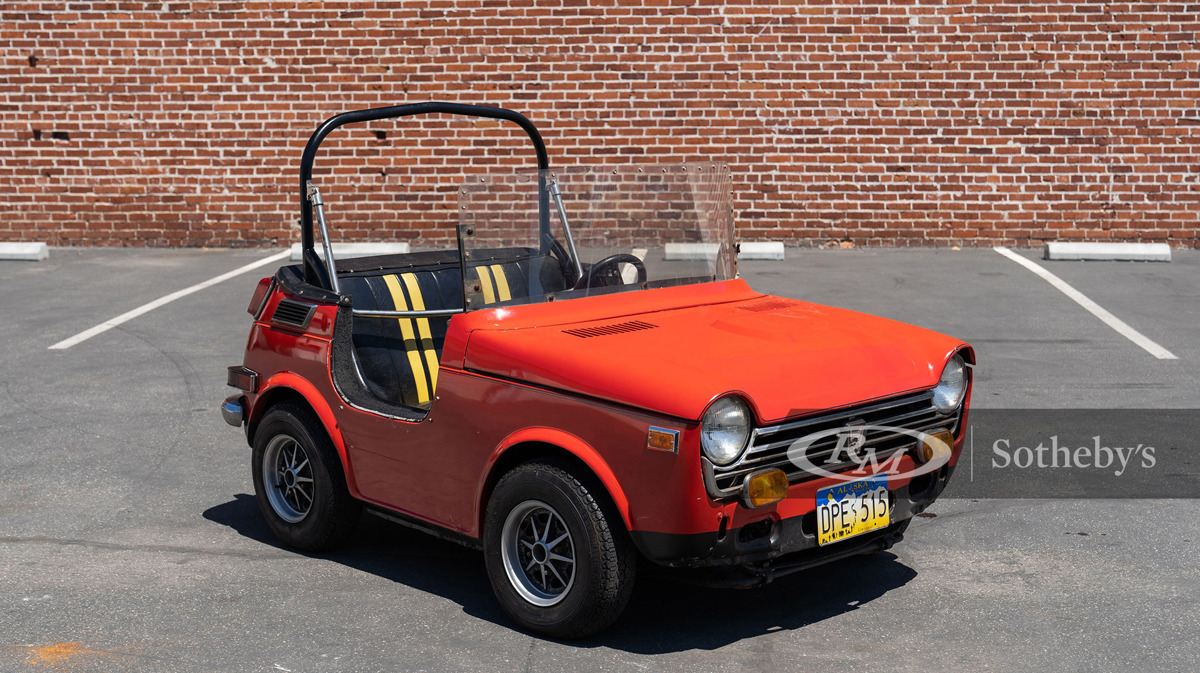 1972 Honda 600 Custom
Estimate: $3,000 - $4,000. Offered Without Reserve.
Admittedly, this Honda is not your typical hot rod. We've spotlighted this "Jolly"-style beach cruiser before, and with good reason: The chop-top style proves that custom culture didn't die off in the 1970s and 1980s. Fun-centered city cars, like this Honda 600 Custom, showed off the less-serious side of Southern California custom culture. With its removable canvas top and lightweight stature, one could still use it today to jet around beachfront cities or even tow it behind an RV. And with its lightweight windshield in place, you won't even need goggles. Von Dutch could be wrong sometimes, too.