Since its inception, the annual gathering that has made Hershey, Pennsylvania, a must-visit destination for aficionados of automobiles of all styles has centered specifically around the true classics. These are the veteran and Brass Era vehicles that wear their age with dignity. Consider the craftsmanship involved in the construction of these vehicles: All were made in a time long before the assistance of laser-guided robots or exact CAD-created blueprints. Though the innovation of the moving assembly line was utilized and popularized by the arms industry even before Henry Ford adapted it to vehicle production, the examples on this list were still largely assembled by hand with dedicated teams of technicians, woodworkers, and upholsters all collaborating to ensure the quality of each finished model. This dedication to quality is largely why classics are still coveted today.
Today, with the all-but-certain electrification of every new model of production cars practically around the corner, there has never been a better time to look backwards, to the birth of the automobile, to survey the paths already traveled to better appreciate the road ahead. Classics, after all, are designated as such for good reason. Those early vehicles that still exist today have been lucky enough to survive multiple wartime scrap drives and the City Beautiful movement, which financially incentivized destroying old cars. And yet we can consider ourselves the lucky ones: The examples on our list have been cherished throughout their lifetimes and interested bidders will appreciate that all examples are offered without reserve. With RM Sotheby's proudly serving as the official auction of the AACA Eastern Division Fall Meet, these no-reserve highlights could be your ticket to the world of classic motoring, available from 7-8 October 2021: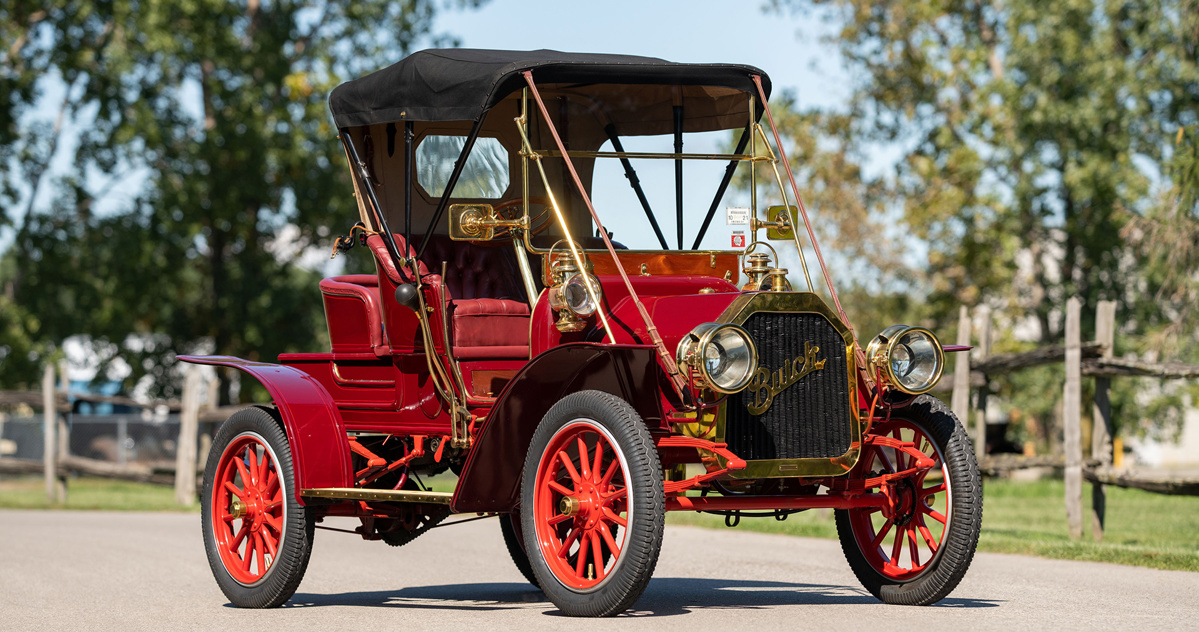 1909 Buick Model G Roadster
Estimate: $60,000 - $70,000 USD | Offered Without Reserve
Along with longtime American stalwart Oldsmobile, the company now known as Buick could credibly claim its founding to stretch into the 19th century, with an official establishment dating back to 1897 as the Buick Auto-Vim and Power Company. The engineering firm, founded by David Dunbar Buick, switched fully into automotive production in 1903 which coincided with a move from Detroit to Flint, Michigan, in the same year. Holding a position in the marketplace as promising top-tier quality for a value-conscious price point, Buick became a darling of the Brass Era. Its rise minted the reputations of Swiss-born race car driver Louis Chevrolet (with the infamous Buick Bug) as well as Walter P. Chrysler, who started his career in the automotive industry at Buick in 1912, shortly after this Model G Roadster example was built. Before Chrysler's influence, Buick could boast the output of a far smaller firm; This example is one of a mere 144 built for the 1909 model year, and one of only two known to survive.
1909 Peerless Model 19 Touring
Estimate: $100,000 - $150,000 USD | Offered Without Reserve
Early automobiles are fascinating artifacts for all historians, in part because the year-to-year technological advancements were so profound. The Peerless Motor Car Company of Cleveland, Ohio, could boast of many of these innovations, as it was the first firm to install drum brakes on all four wheels of its cars as standard (most manufacturers of the period only fitted a pair on the driven wheels). With a purchase price topping out at nearly $11,000 as early as 1903, Peerless could also claim the esteemed title of offering "The most costly touring car in America." This example's ownership history is as colorful as Peerless itself, passing from one dedicated enthusiast owner to another, including Pat Boyle, editor of the Antique Automobile Guide, and Dr. Stanley Cope, who restored this example with such skill it won an AACA National First Prize in 1960. But the unparalleled history of this Peerless Model 19 did not stop there: With modern stewardship undertaken by Les Holden, who not only showed this example at the prestigious Amelia Island Concours d'Elegance, but also took it on tour, accomplishing a 2,300-mile journey through the Canadian Rockies in 2004, nearly a century after it was built.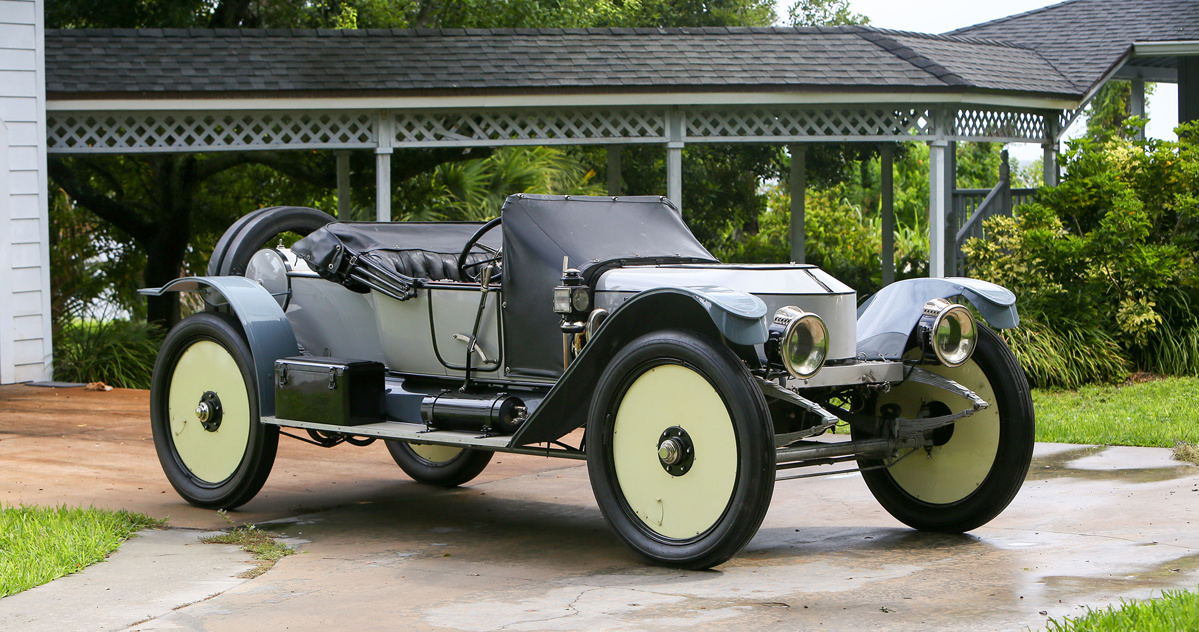 1912 Stanley Special Roadster Tribute
Estimate: $150,000 - $200,000 USD | Offered Without Reserve
In the earliest days of the automobile, major decisions that we can take for granted today were still yet to be settled. The internal combustion engine, for instance, was only one of several possible powertrains that could have provided motive force for the nascent automobile. Steam, which had already provided the fuel for many of the world's locomotives and factories, was favored for its safety and reliability (there have been zero reported cases of a steam-powered Stanley's boiler ever exploding, for instance) as well as their speed. This was sufficiently proven by a Stanley racer achieving a land speed record of 127.659 mph in 1906 with test pilot Fred Marriott at the wheel. Helming a company which represented innovation in all areas, the Watertown, Massachusetts-based Stanley Motor Carriage Company was a family affair. This sprightly Special Roadster Tribute was patterned after a car built expressly for F.E. and F.O. Stanley's direct descendant, Raymond Walker Stanley, and used while the young heir attended Harvard University. Meticulously constructed after fifteen years of study, this faithful replica was pieced together by marque expert Bruce Campbell, whose own grandfather worked under Fred Marriott in the original Stanley factory. Boasting an engine output rating of 30-hp and a proven hillclimb record at Mount Washington in New Hampshire, this tribute is likely one of the fastest steam-powered classics in operation. Especially so, as Raymond Stanley's original Roadster was dismantled after an accident.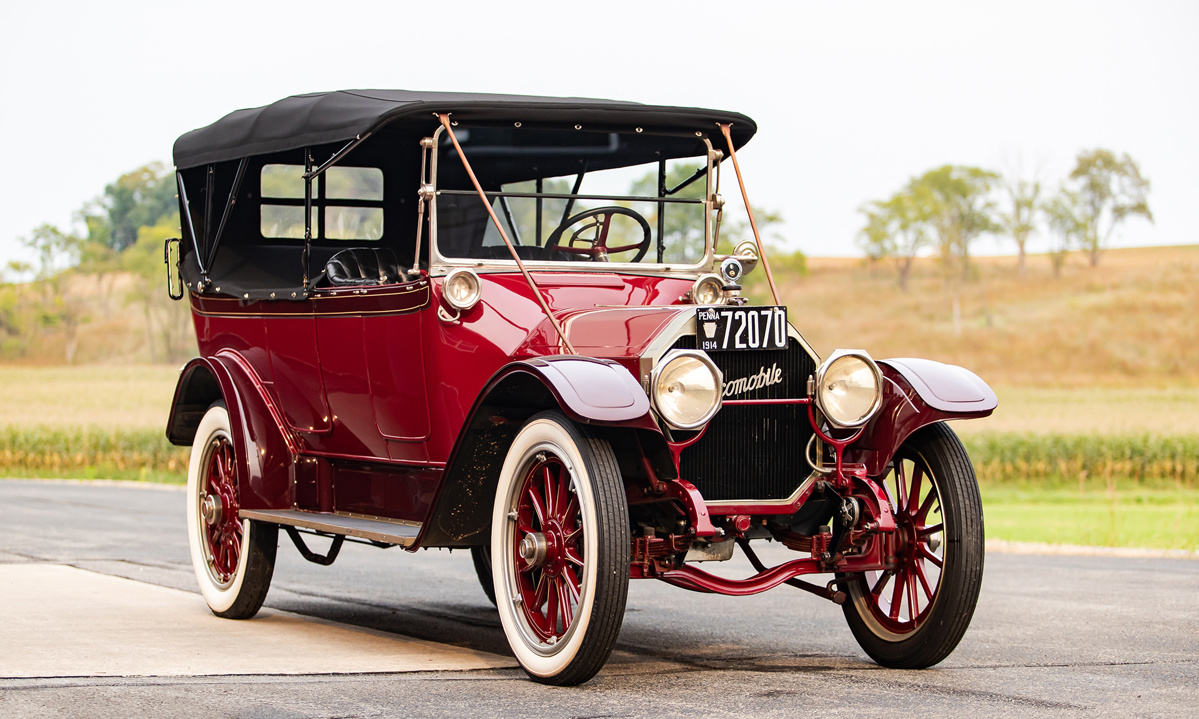 1914 Locomobile Model 48 Seven-Passenger Touring
Estimate: $175,000 - $225,000 USD | Offered Without Reserve
One of a handful of automakers that could boast their founding before the turn of the century, the Locomobile Company of America was based in Bridgeport, Connecticut, and predated its Detroit-based peers Cadillac and Ford by years (1899 vs. 1902 and 1903, respectively). Admittedly, the Locomobile was elevated far above those more-familiar brands, with a price point nearly triple that of a top-of-the-line Cadillac. Having started with steam-power for their first few models, Locomobile switched to internal combustion in 1904, and even participated successfully in endurance motorsport as early as 1905. Launching in 1911, the Model 48 was one of Locomobile's most critical early models. Featuring lighting styled by Tiffany Studios and sporting a stout powerplant that was originally rated at just over 48 brake horsepower by the North American Tax Board, the actual output of this era of Locomobile was likely closer to 90 horsepower, exceptional for its time. This example, the centerpiece of the Dorothy and James Conant collection for many years, was upgraded to a later 525 cu. in. six-cylinder T-head engine and four-speed manual gearbox and proved to be a mighty companion for the Conant's cross-country touring. It is considered a Full Classic by the AACA because of its outstanding performance and build quality.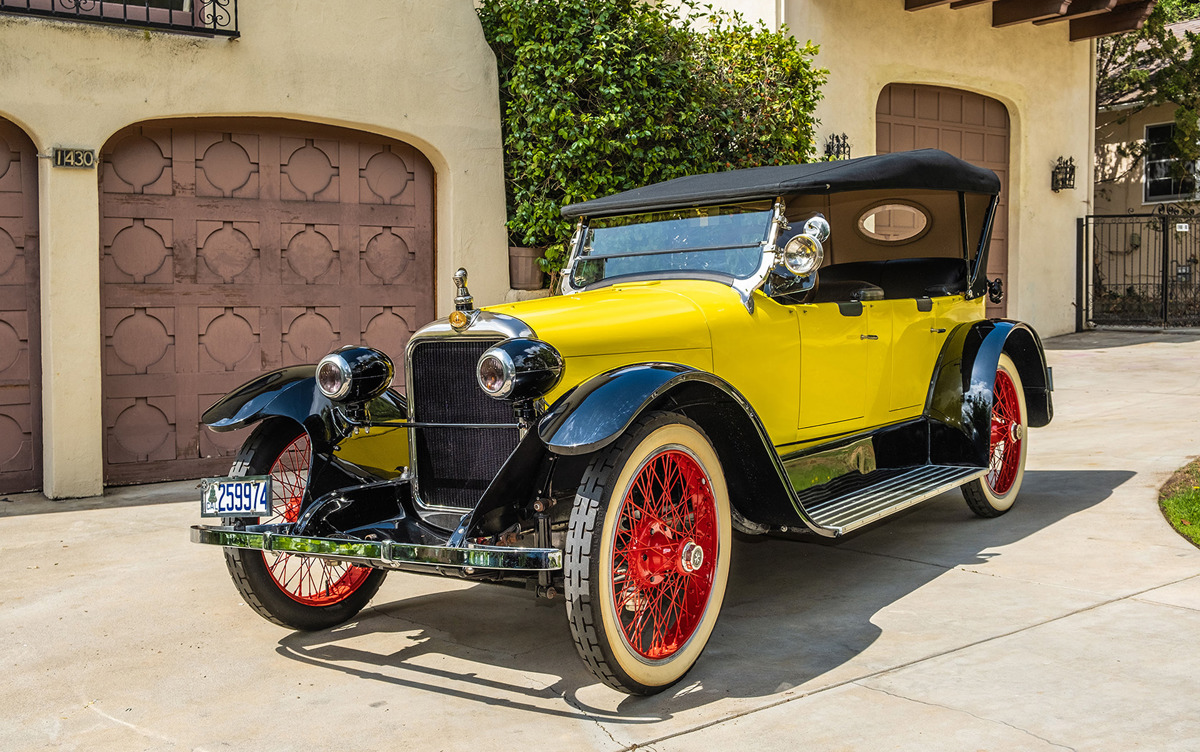 1918 Templar Model 4-45 Sportette
Estimate: $80,000 - $110,000 USD | Offered Without Reserve
Part of the reason why early automobiles are so appealing is to be able to witness the evolution of great brands and also-rans with the benefit of hindsight. Soon after the automobile's invention, the number of manufacturers who tried their hand at creating their own brand almost resembles the modern explosion in tech-related firms. Of all of them, one would think that Cleveland, Ohio-based Templar Motors Corporation would have a fighting chance at long-term survival with adventure-oriented examples like this Model 4-45 Sportette. Certainly, the added accessories and attention to detail would catapult them above their competitors, with a standard inspection light and electric horn, as well as a tire pump and hose powered by the car's engine. Templar models were powered by their own performance-oriented powerplants, with skilled suppliers providing the body, chassis, and gearboxes. The overall effect was that of a lively, light automobile, well-suited for its Sportette moniker. With surviving Templar examples proving most uncommon outside of Cleveland, this example is a surefire way to gain entry to a truly rare ownership club, and a testament to the power of orphan auto brands.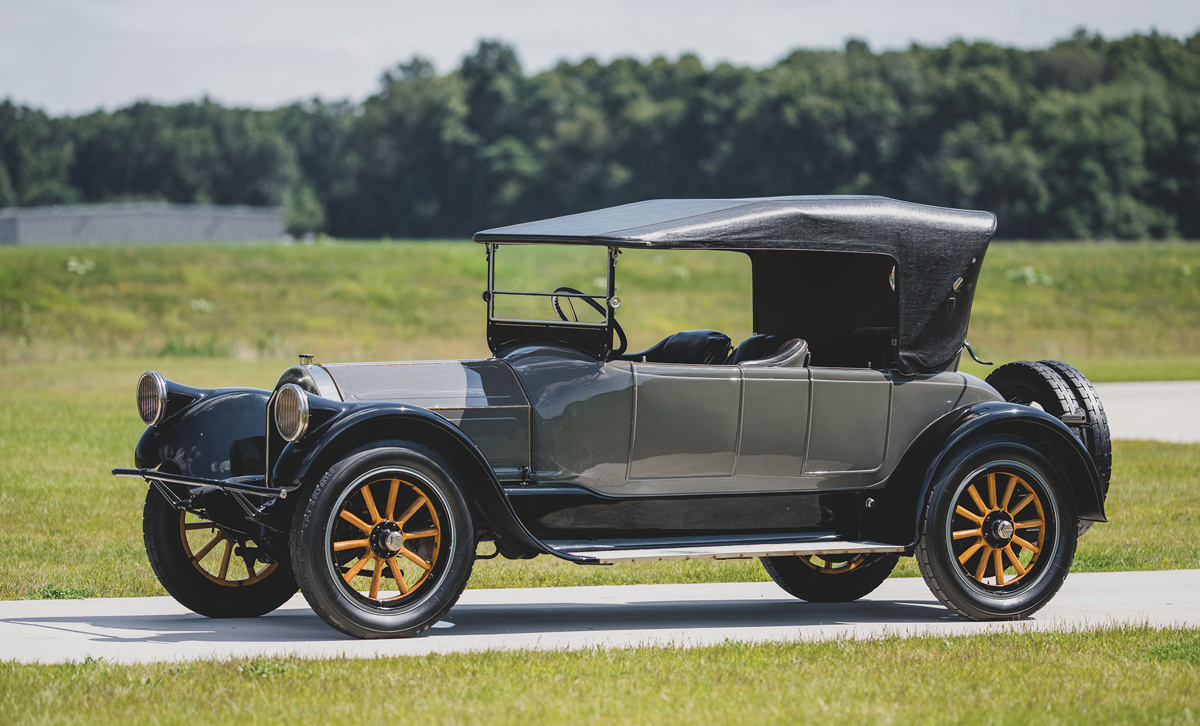 1919 Pierce-Arrow Series 31 Four-Passenger Roadster
Estimate: $160,000 - $200,000 USD | Offered Without Reserve
Another AACA Full Classic, this Pierce-Arrow comes with the pedigree of a history of considerate, enthusiast owners from new. Part of the much-cited "three P's" trio of prestigious American marques (our offerings in Hershey also include examples from Peerless and Packard), this Pierce-Arrow was ahead for its time in terms of materials, construction, and aerodynamics. Based in Buffalo, New York, the Pierce-Arrow Motor Car Company is perhaps best today known for their Silver Arrow sedan, which stunned the automotive world in 1933 with its shapely design, presaging many of the post-war styling cues. The relatively streamlined construction of our 1919 Series 31 example most resembles the Silver Arrow in its headlights, which are integrated into the front fenders. Astonishingly, the futuristic design of these headlamps were illegal for a time in Pierce-Arrow's home state of New York, as officials feared they would be mistaken for two motorcyclists riding in tandem at night. Thankfully, our well-kept Four-Passenger Roadster example was delivered new to South Pasadena, California, and still retains all of its future-forward styling cues.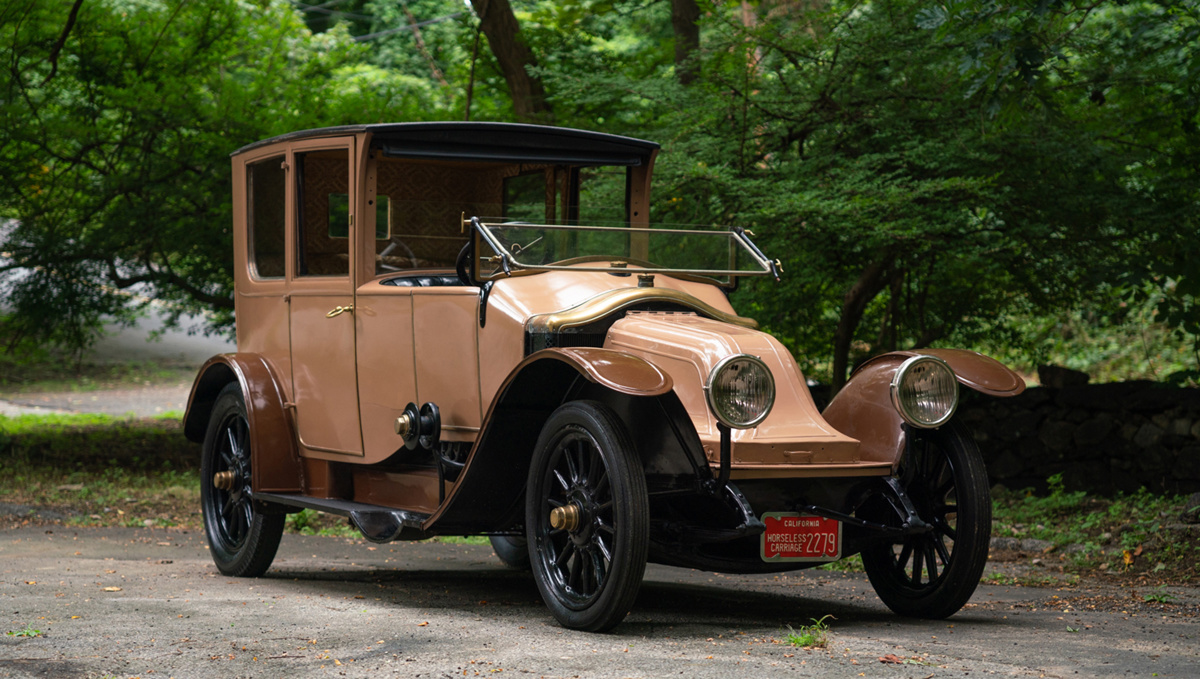 1920 Renault Type EU Coupé de Ville by Henry Binder
Estimate: $35,000 - $55,000 USD | Offered Without Reserve
Coachbuilt European classics, for many antique automobile aficionados, represent the absolute pinnacle of period handcraftsmanship. Especially when completed by a workshop as well-regarded as Henry Binder et Cie of Paris, France, the coachbuilt era was one where the well-heeled client could choose any number of body styles, paint colors, and accessories to customize their car to a degree that still is impressive today. Made with a chauffeur in mind, the Coupé de Ville style (sometimes referred to as the Town Car style) was intended to cocoon the passengers in fabric-lined privacy while the driver operated the vehicle from a comparatively durable, leather-upholstered chair in the front, in a clear nod to the earlier world of fine carriages. As the carriage begat the automobile, certain holdovers remained constant. One tradition was the enduring appeal of the French automobile, a favored choice of Hollywood stars like Fatty Arbuckle, who preferred Renault for their comparatively capable performance and elegant designs. This Type EU example also has a distinct Hollywood connection, as it was purchased in Paris by the prop department of Metro-Goldwyn-Mayer Studios and shown on-screen during the 1931 film Mata Hari starring Greta Garbo, and even played the star car of the 1941 Marx Brothers feature The Big Store.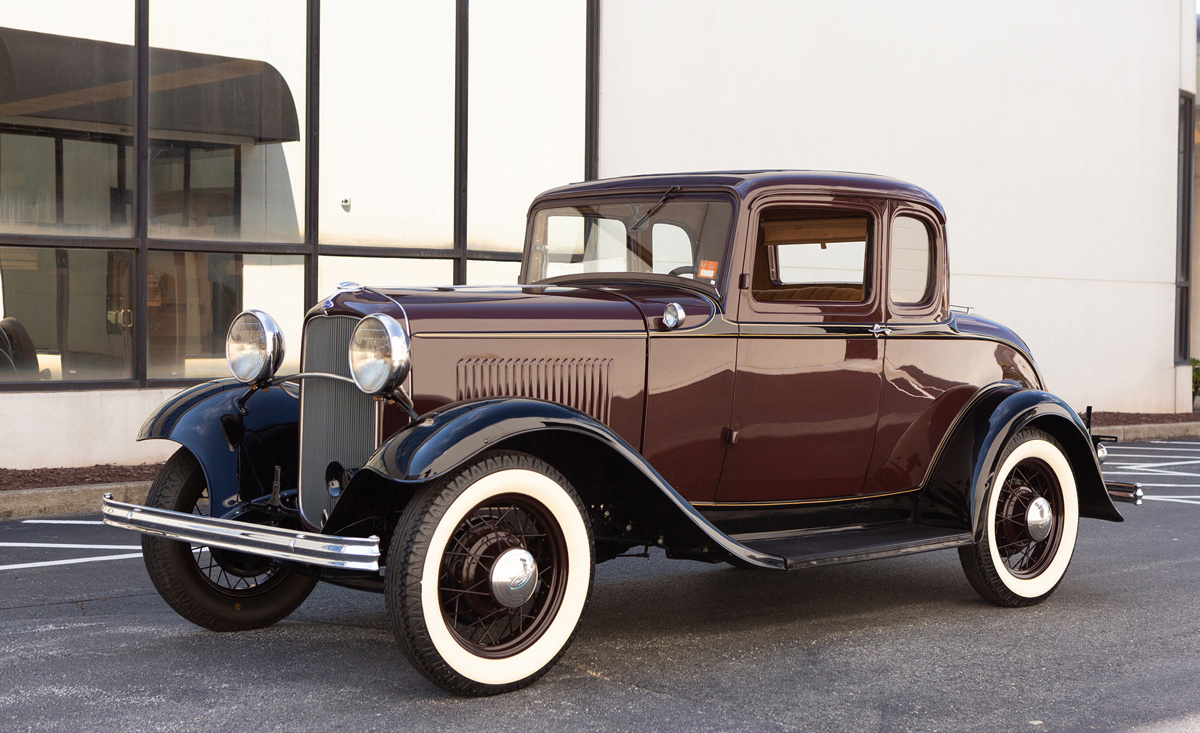 1932 Ford Model B DeLuxe Five-Window Coupe
Estimate: $50,000 - $60,000 USD | Offered Without Reserve
The final example on our list of classics offered without reserve at this year's Hershey Fall auction is typically where the discussion about vintage vehicles begins. Immortalized in song by The Beach Boys, praised in a letter personally sent to Henry Ford by period bandits Bonnie and Clyde, and of course, used as a blank canvas for modification by noteworthy hot rodders like Larry Shinoda both before and after WWII, the 1932 Ford is considered by many to be the quintessential American classic. Unfortunately, this near-universal desirability has made clean examples of Ford's iconic coupe difficult to source. This example, which is believed to retain its all-original steel body (the highly desirable so-called "Henry Ford steel" sought by purists), is even more rare in its inline-four-cylinder configuration, the main distinction between the V-8-powered Model A and Model B. Though this handsome example has greatly benefitted from a meticulous, five-year restoration to factory specifications, it is still natural for any hot rodder to gaze upon this unmodified example and wonder what it would feel like with the power delivery from a modern, turbocharged, four-cylinder engine. Without reservations, the choice is yours.