Only five years after the launch of another prestigious automotive gathering—the Pebble Beach Concours d'Elegance—on a rainy week in early October, the Antique Automobile Club of America unveiled an event that would quickly become a must-attend event for anyone interested in pre-war automobilia. Fascinatingly, 1955 was also the first year a classic car took home the top prize at Pebble Beach, so the inaugural year of what is now known as the Hershey Fall Meet was thoroughly cutting edge from its onset. Though the event was intended at first to serve as a regional meet-up for the AACA's Eastern Division, drawing classic car aficionados from the Midwest and Northeast states, the quality of the coachbuilt examples that attend the early gatherings in Hershey soon attracted the attention of classic enthusiasts from around the world.
With a history of hosting prominent coachbuilders and top-tier collections, the state of Pennsylvania has also served as a steady source of premier classic car auctions, captured famously by Sports Illustrated in the early 1970s. The undisputed star of SI magazine's story, Milford H. 'Tiny' Gould, left a legacy that could only be taken up by a direct descendant; today, the Hershey Fall auction tradition is maintained in part by his son, Donnie Gould, whose consignments are worthy of a trip to Pennsylvania alone. But that is not all; the classic-conscious team at RM Sotheby's has worked diligently on sourcing truly spectacular examples, like the 1931 Duesenberg Model J Roadster "Green Hornet" offered from the collection of Robert Thayer that serves as today's auction headliner. Without a doubt, these selections are worthy headliners of RM Sotheby's Hershey Fall 2021 event: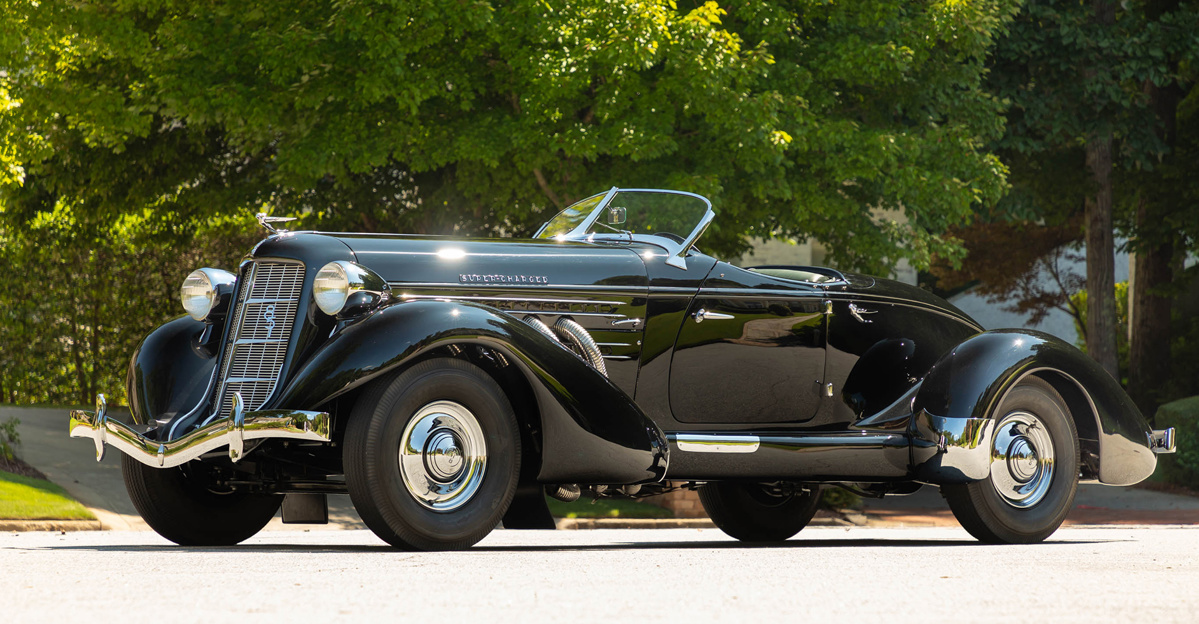 1935 Auburn Eight Supercharged Speedster
Estimate: $700,000 - $900,000 USD | Offered Without Reserve
Offered From The Collection of Robert Thayer
What makes an automobile worthy of inclusion in this list of headliners? Not all classics have to be coachbuilt to qualify; for the most prestigious brands of the pre-war era, the combination of exceptional quality and advanced engineering for the period are sufficient for the AACA to consider it for inclusion in their list of Full Classics. Like all supercharged 851-generation Auburn Eight Speedsters, this example came from the factory with a plaque certifying that it achieved a speed of 100 miles per hour before it left the factory, complete with the stamped signature of America's beloved racing pilot, Ab Jenkins. This stunning straight-eight-powered example wears a tasteful black-over-green leather color combination and earned a Best-in-Class nod from the prestigious Amelia Island Concours d'Elegance in 2011.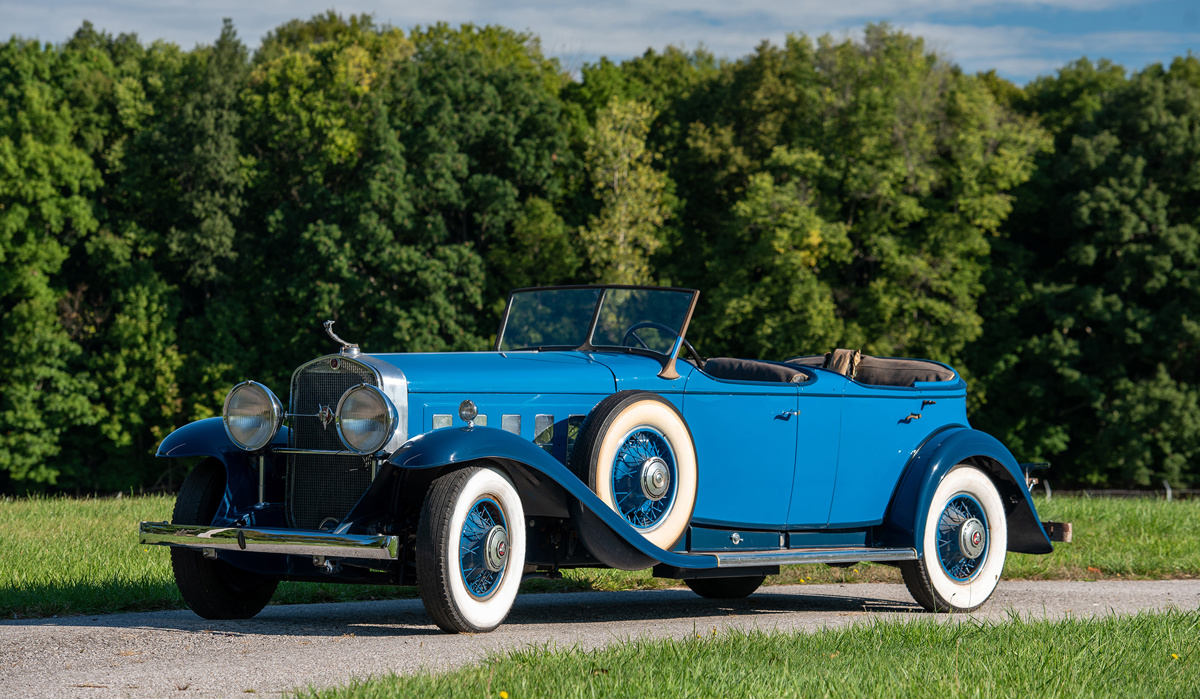 1931 Cadillac V-16 Sport Phaeton by Fleetwood
Estimate: $350,000 - $450,000 USD
An opportunity to bid on one of the most legendary powerplants in American history, any time a sixteen-cylinder Cadillac crosses the auction block is cause for fans of Detroit-built masterpieces to take notice. Part of the reason is the rarity of these powerful examples; debuting amidst difficult times economically, every model of Cadillac V-16 stood apart from its peers during the Great Depression. Rakish models such as this Sport Phaeton were exceptionally uncommon during such a downtrodden time. This Phaeton-bodied example was ordered new from one of the only areas of America that were comparatively impervious to recession, Cadillac's west coast distributor and "dealer to the stars," Don Lee, on April 19, 1930. In a full-circle story that perhaps could only occur in America, Don Lee's Los Angeles, CA-based facility also offered its own coachbuilding services and was the first place of automotive employment for a young Harley J. Earl. Famously, this top-of-the-line Cadillac was advertised as both the world's first "Super Car" and the first to feature design down to its iconic engine by Earl himself.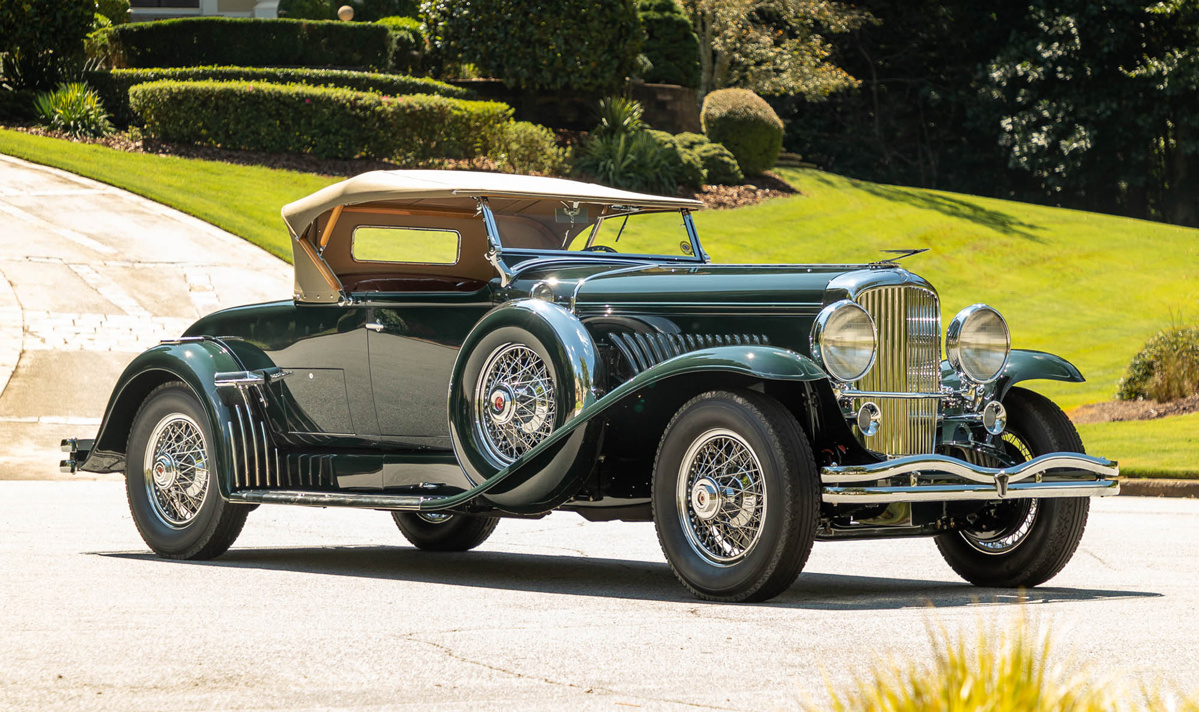 1931 Duesenberg Model J Roadster "Green Hornet"
Estimate: $1,400,000 - $1,800,000 USD | Offered Without Reserve
Offered From The Collection of Robert Thayer
Our "Green Hornet" cover car wears all the hallmarks of one of the most legendary American companies in the pre-war period: Duesenberg. From its iconic, arrow-like radiator mascot to its elegantly executed hood louvers, the Model J showcased premier engineering and styling for any firm, not just those based in Indiana. And yet, among learned experts of the classic car field, it is immediately clear that this Model J Roadster is no ordinary Duesey. To start, the first owner of this example was unsatisfied with the sporting body styles offered both by Duesenberg themselves and even noted coachbuilding firms like Pennsylvania-based Derham. First owned by a U.S. Navy surgeon named George Tucker Smith, this chassis originally wore a Sport Sedan body finished by Derham. Less than two years after his acquisition, Smith returned to the New York factory branch of Duesenberg and requested they re-body this chassis with perhaps the most sporting body style offered by any American firm at the time, a Packard roadster. Smith's vision was executed to perfection: Longer than any Packard and lower than any Duesenberg. An example that blends the best of both automaker's areas of expertise, the "Green Hornet" Roadster is a minor legend among Duesenberg aficionados and is fully deserving of its headliner status.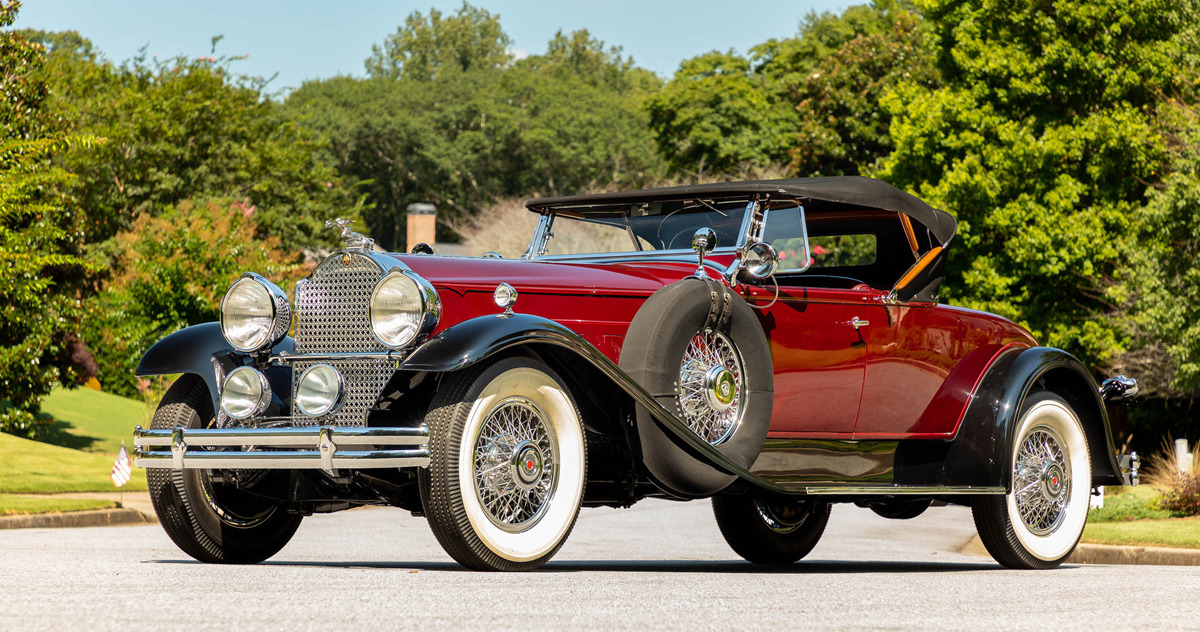 1930 Packard 745 Deluxe Eight Roadster by LeBaron
Estimate: $350,000 - $450,000 USD | Offered Without Reserve
Offered From The Collection of Robert Thayer
If one wishes to observe the differences between our "Green Hornet" Duesenberg Roadster and a Deluxe Eight Roadster-bodied Packard, this example provides the perfect point of comparison. And yet, with a shape as elegant as this LeBaron-bodied, straight-eight-powered Packard, one can see that the roots of this Roadster are anything but standard. Moreover, this example has been shown at the most prestigious concours competition in the world, the Pebble Beach Concours d'Elegance in 2015. Wrapping up our list of Hershey headliners, this coachbuilt Packard is pre-war American automobiles at their best, considered a Full Classic by the AACA, and ready for open-air motoring on the sunniest of days.