Unlike automobiles, motorsport itself is an ephemeral thing. A roving band of manufacturers and racing teams swarm across a single location over the span of no more than a week, create a competition, pack up, and ship off to a new location to recreate the whole affair the following week. In a sense, racing is performance art. As in other performing arts, few physical artifacts are left behind. Certainly, the strong results from the recent sale of the Lewis Hamilton GP Winning McLaren MP4-25A at speed on the Silverstone circuit shows that artifacts of motorsport history can still thrill as-new.
Encompassing many famous names from several decades and diverse formats of competitive driving, the only way to amass such a collection of motorsport-related automobilia is to be a racer as well. Having earned his reputation starting as a rally driver in 1967 and soon progressing to circuit racing two years later, British-born Peter Hemming established his skill at the wheel of modified Mini Coopers, factory works-made Mazda coupes, and even competed in a fearsome Chevron 2-liter sports car.
After being invited to apply to the motorsport division of Lotus in 1978, Hemming advanced from Assistant Team Manager to essentially become the right-hand man of company founder Colin Chapman. Having served several roles including PR and Marketing, coordinating both sponsors and the team itself (as well as serving as the official timekeeper), Hemming had a front-row ticket to some of the greatest Formula One drivers of all time. 1979 saw Hemming running the successful Newman Freeman Can-Am team in the USA. From a period photograph from Juan Manuel Fangio addressed to Hemming to the surprisingly slender, signed gloves of Lewis Hamilton, these artifacts are all the genuine article, either collected personally by Hemming or, for the majority, with third-party COA.
Michael Schumacher's signature shows up twice, represented on race-worn gloves as well as on a vintage photograph. Hemming's collection encompasses NASCAR as well, so Jeff Gordon, Kyle Busch and Dale Earnhardt Jr. are also represented. Formula One fans will appreciate signed memorabilia from modern stars like Max Verstappen, Dario Franchitti, and Fernando Alonso, as well as household names such as Damon Hill, Hurley Haywood, and Martin Brundle. As a significant part of our Online Only: Open Roads, August auction, RM Sotheby's is proud to host the Signed Champions of Motorsport automobilia collection, perhaps the most important group of signed and race-worn gloves ever offered for sale, all offered without reserve: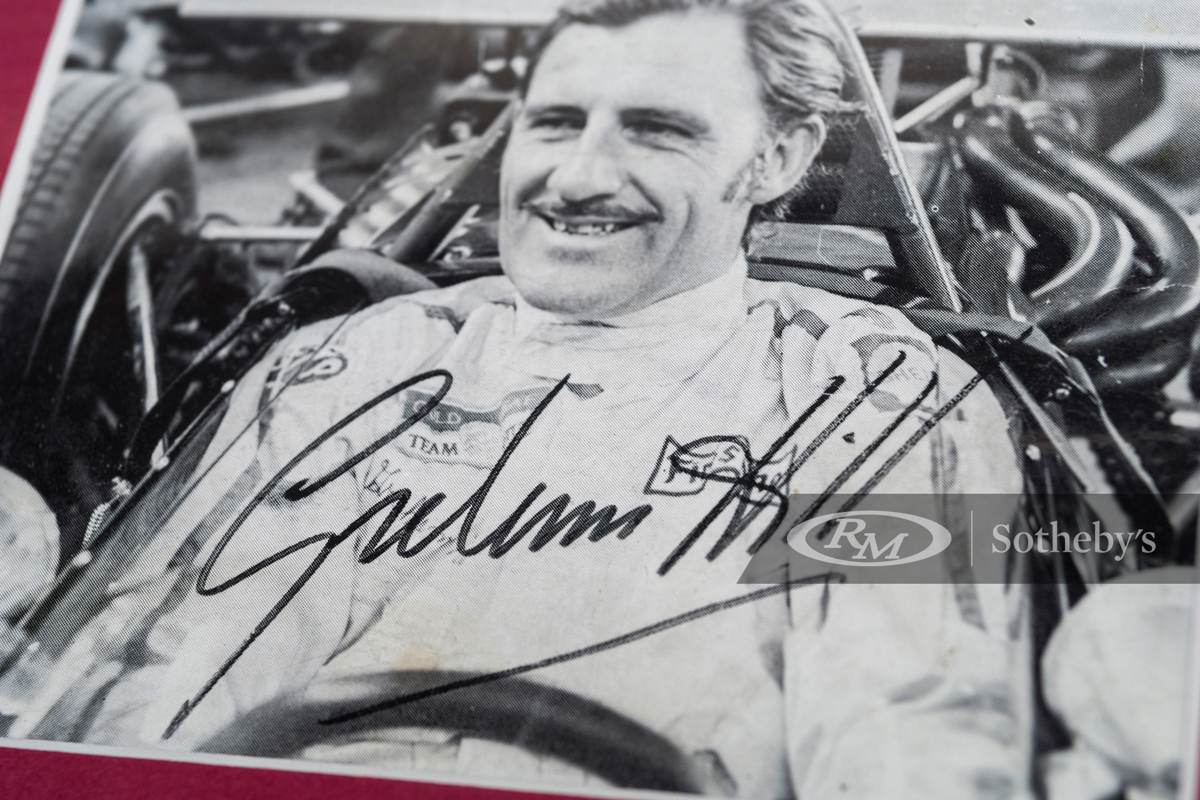 Graham Hill Signed Photograph
Estimate: $500 - $700 USD | Offered Without Reserve
Pairing a period photograph with the signature of a two-time world champion always proves a potent combination. This autographed image, likely taken during the 1969 season, shows Graham Hill as a veteran racer, at the wheel of his Lotus-Ford 49B.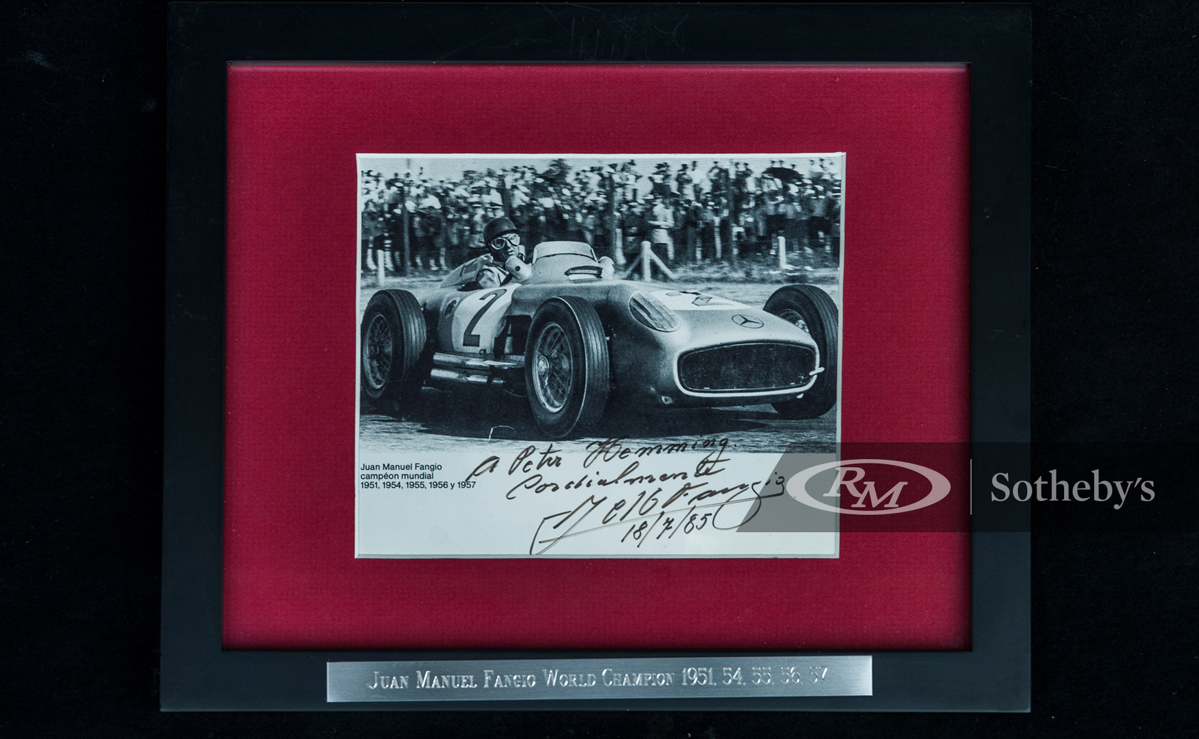 Juan Manuel Fangio Signed Photograph
Estimate: $500 - $700 USD |Offered Without Reserve
Any collection of world champion drivers has to pay homage to the great Juan Manuel Fangio. Starting his career in the early days of wartime and post-war motorsport with several early Grands Prix wins in South America, Fangio evolved to Formula One as early as 1948, and moved to Mercedes-Benz team in 1954. Only staying for two fruitful years, Fangio's second-place finish at the Targa Florio in 1955 helped the Mercedes-Benz team secure the manufacturers title that season. This signed photograph, personally endorsed to Peter Hemming, was given to the collector by Fangio himself.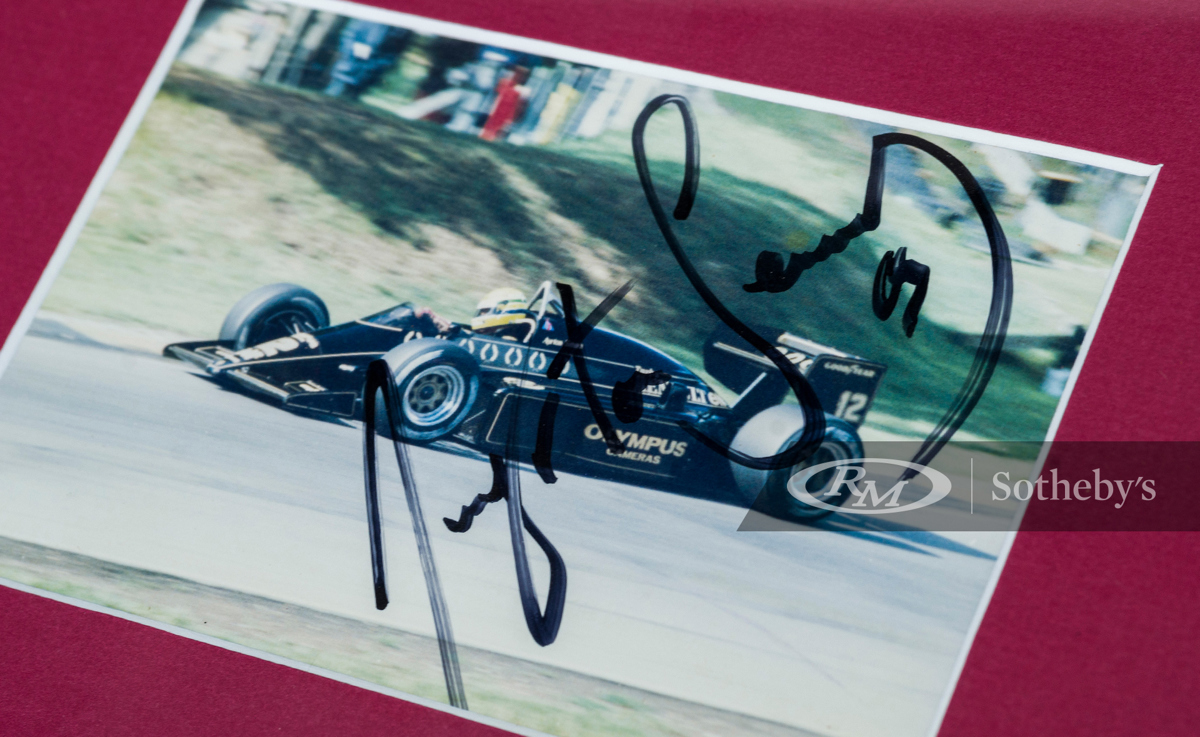 Ayrton Senna Signed Photograph
Estimate: $2,000 - $3,000 USD | Offered Without Reserve
Another artifact of Formula One history, this signed photograph was collected personally by Hemmings after the European Grand Prix at Brands Hatch in 1985. Ayrton Senna is photographed at the wheel of his John Player Special-liveried Lotus 97T Renault; his full-width autograph shows as much flourish as his driving did when he put his Lotus on pole position.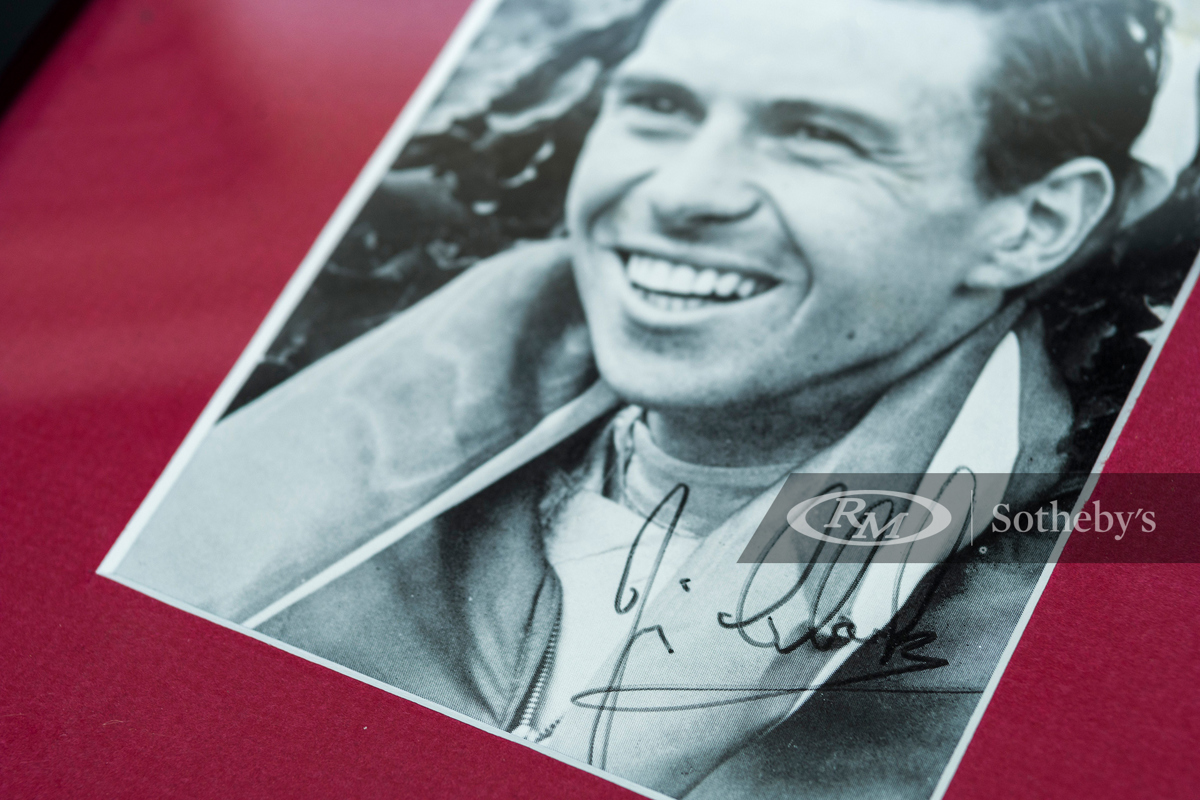 Jim Clark Signed Photograph
Estimate: $2,000 - $3,000 USD | Offered Without Reserve
Aside from the Senna signature above, perhaps the other centerpiece of Hemming's collection of signed artifacts is this uncommon autograph from the late Jim Clark. As both a competitor and teammate of Graham Hill, Clark demonstrated his exceptional abilities, taking more Grands Prix titles and earning more pole positions by the age of 32 than any other driver before. His untimely death at a Formula Two race in 1968 at the Hockenheim circuit in Germany meant that we will never know the true potential of Jim Clark. This rare piece was presented to Hemming by Classic Team Lotus from their personal archives and a Certificate of Authenticity provided accordingly.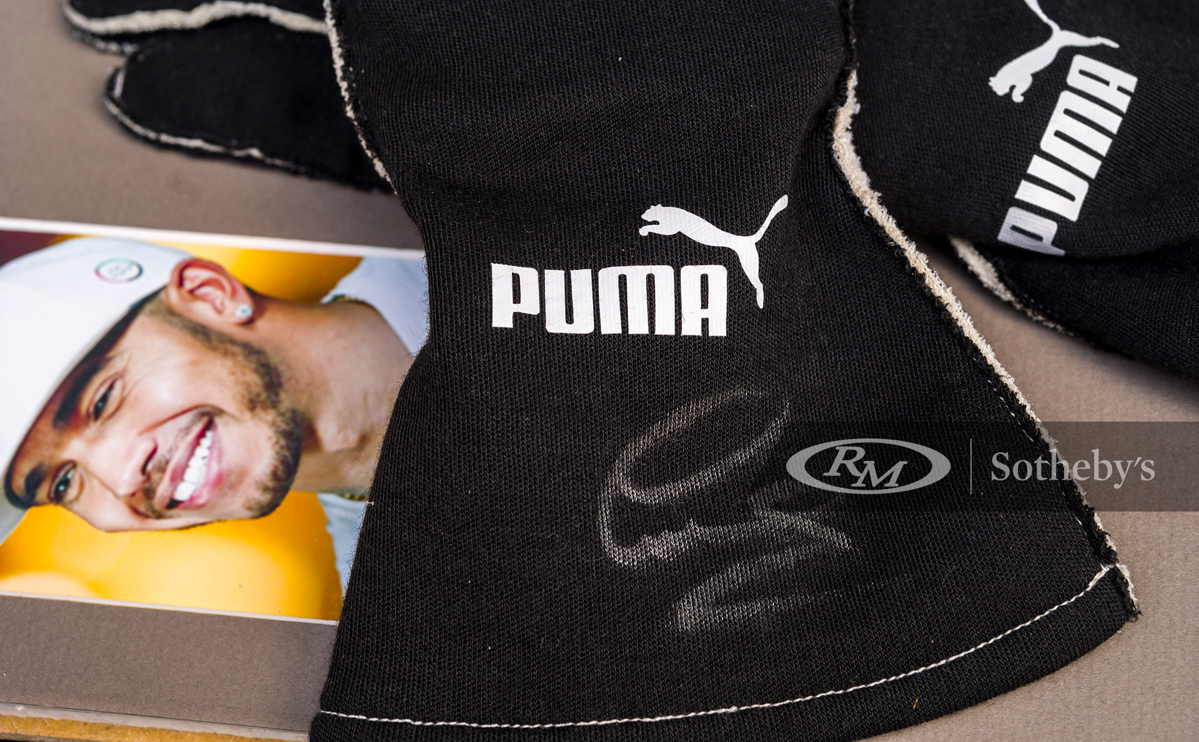 Lewis Hamilton Race Worn and Signed Gloves
$3,500 - $4,500 USD | Offered Without Reserve
Starting off our list of signed race worn items is an item of true significance. This pair of Puma gloves was verified to be used by Lewis Hamilton himself in a race early in the 2013 season and comes with a Certificate of Authenticity. Like all the signed gloves on our list, the items are presented in shadowbox format, framed and glazed with an engraved silver identification plaque. Each of these lot listings contain several photos of the gloves on either sides, as well as any important identifying marks or tags.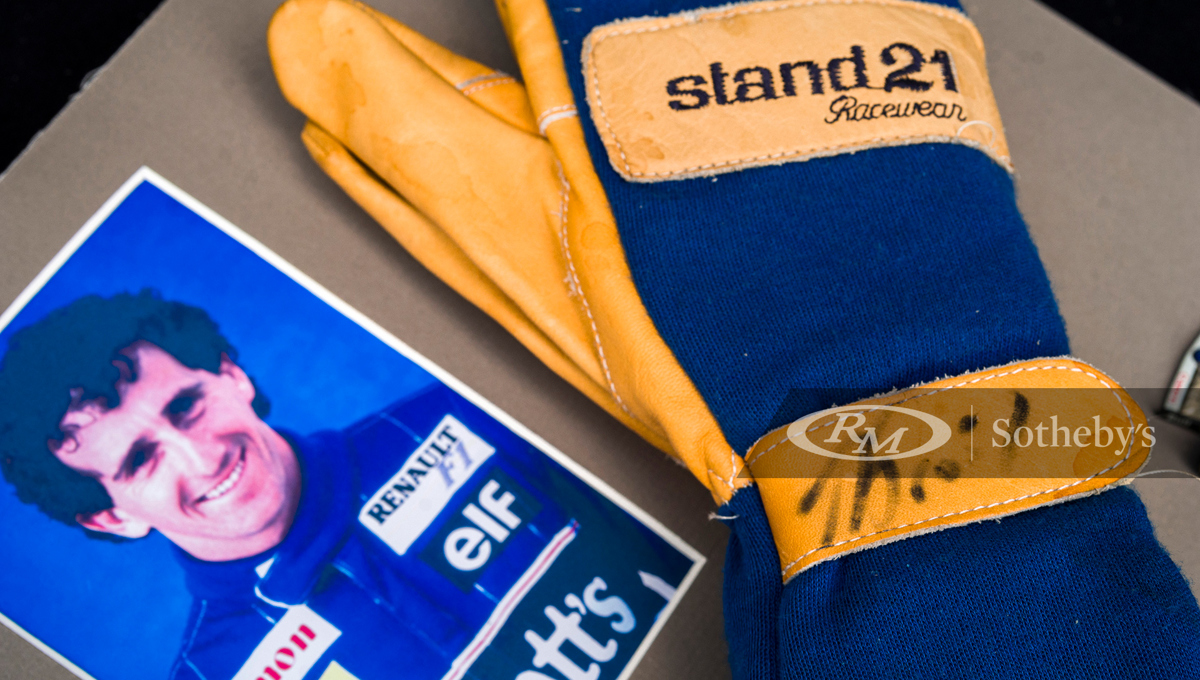 Alain Prost Race Worn and Signed Gloves
Estimate: $3,000 - $4,000 USD | Offered Without Reserve
Encompassing Grand Prix greats both contemporary and classic, the Hemming collection also includes Senna's main rival (and current advisor to the Renault team), Alain Prost. A fascinating benefit for all motorsport fans, courtesy of this collection, is the ability to browse between eras and drivers to see how much the sport advanced in terms of materials and design. The difference between the delicate gloves of Hamilton and the hearty leather on this pair of race worn gloves from Prost is profound.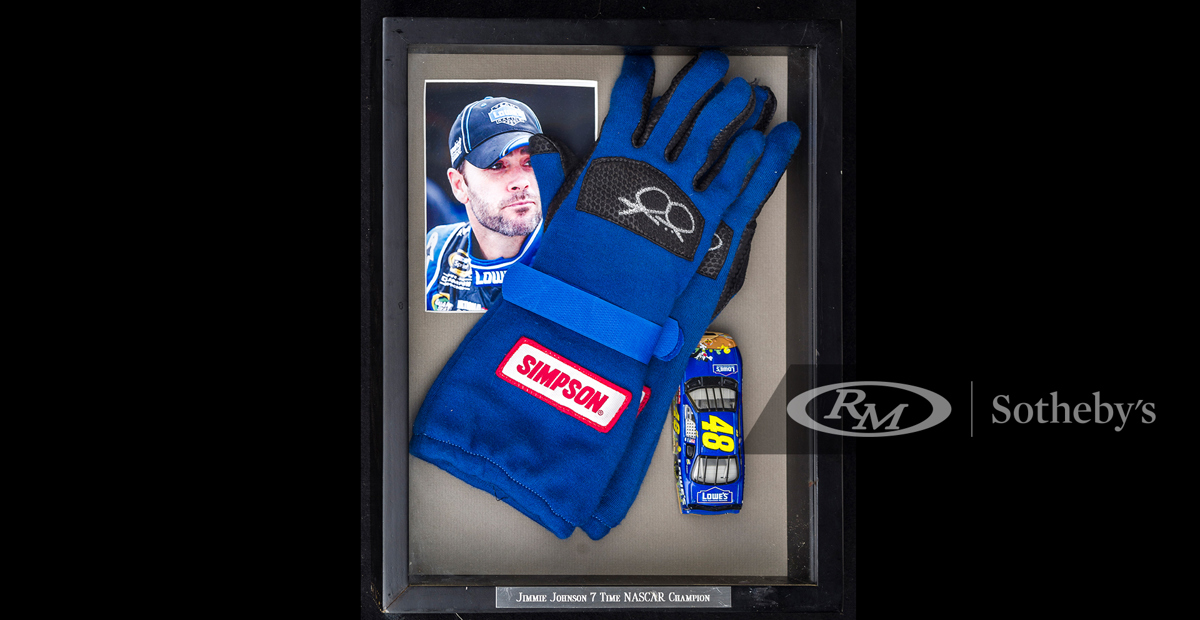 Jimmie Johnson Worn and Signed Gloves
Estimate: $2,500 - $3,500 USD | Offered Without Reserve
For another study in differences, take a close look at these Simpson-branded gloves made for the NASCAR series. From the simple leather of the late 1980s to the technical, dimpled fabric on the hands of these modern gloves, worn in the 2004 season, the world of protective clothing has certainly taken a leap forward. In terms of interesting formats, the Hemming collection also includes race worn gloves worn by the 20-time World of Outlaws champion Steve Kinser and four-time Craftsman Truck Challenge champion Ron Hornaday Jr, both worthy inclusions in the Signed Champions of Motorsport collection.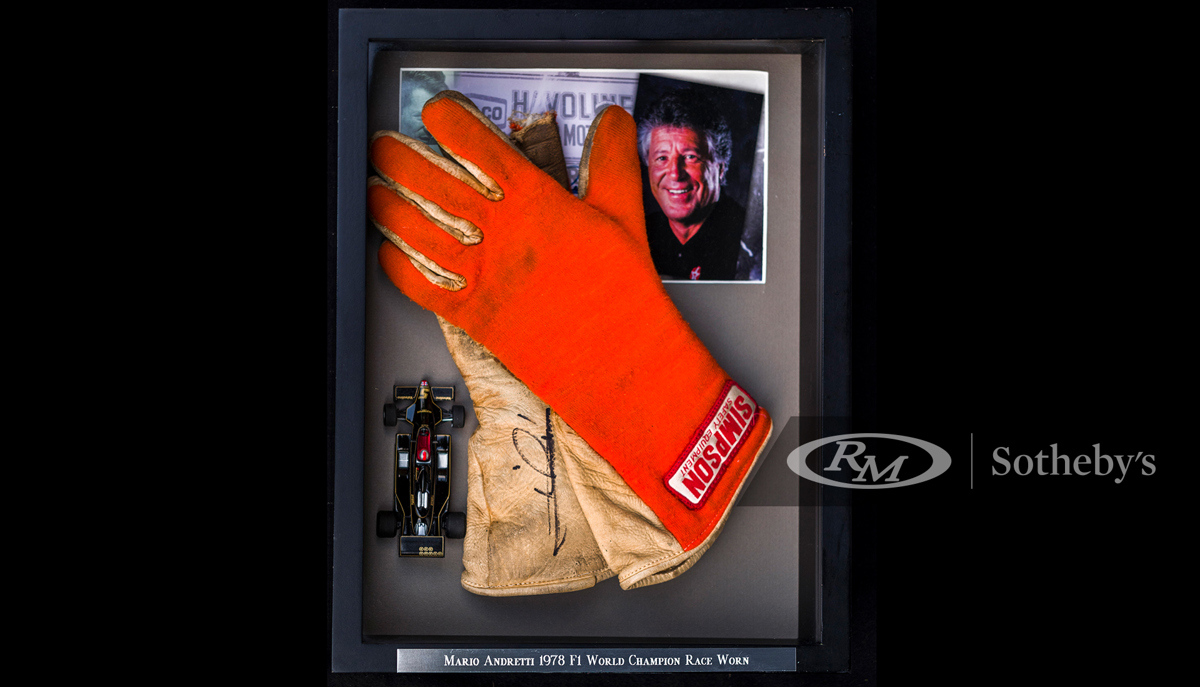 Mario Andretti Race Worn and Signed Gloves
Estimate: $4,500 - $5,500 USD | Offered Without Reserve
The final item on our far-from-exhaustive list of the over 68 items of memorabilia on the Signed Champions of Motorsport collection is perhaps the most honored American driver of the modern era. Moving from accomplishment to accomplishment, and now serving as an unsurprisingly adept team leader, Mario Andretti is one of only two racers ever to have claimed victory in motorsport formats including NASCAR, Formula One, IndyCar, and the World Sportscar Championship. These race worn gloves were used during the 1978 World Championship, when Andretti was crowned Driver's Champion, the last American to hold that honor.