Picture this: You are on a long road trip, far from civilization, in your brand-new McLaren F1. Indeed, this story begins well, but quickly takes a turn, as your wintertime journey is interrupted by a troublesome rattle from the rear compartment. You pull over to the side of the road and pop both rear engine compartments to investigate, lifting up the F1's signature gold-lined exhaust bay. If there are any bolts, nuts, or hex screws which need tightening, it is fortunate you are equipped with a set of tools that lives up to the F1's legendary status.
Hidden under a small access panel set in-between the McLaren hypercar's front headlights is a small, black, leather tool roll that is nearly as extraordinary as the car for which it was designed. It is a testament to the careful consideration that designer Gordon Murray brought to the F1 project that these tools were made of heat-resistant titanium, still durable, yet far lighter than their stainless-steel counterparts. Want to find the least-expensive McLaren F1 for sale today? Well, that may not exist, but aided by a reasonable estimate, performance enthusiasts can bid on perhaps the most glamorous tool roll in hypercar history. Today's article highlights several items of automobilia all available from 16-23 this month during RM Sotheby's Open Roads February auction. Those wishing to purchase the automobiles themselves are in luck, as the auction also includes sporting examples from Ferrari and Jaguar—with an assortment of original tools already included: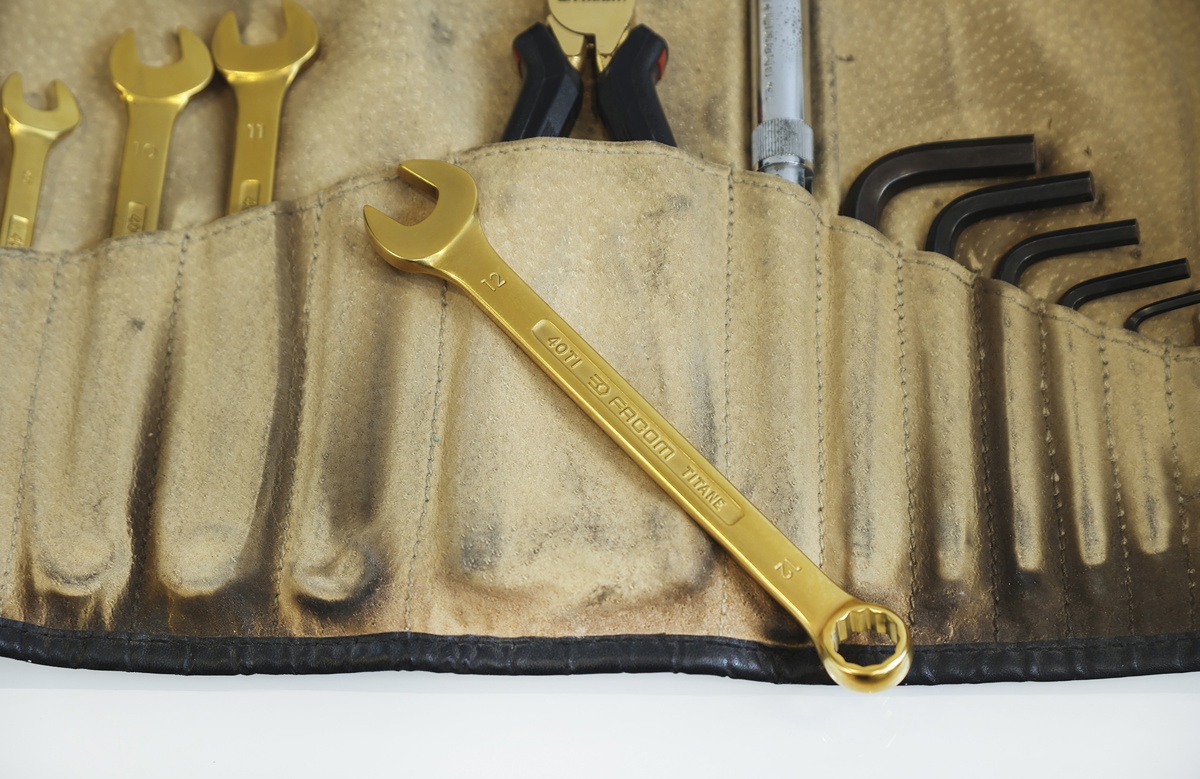 McLaren F1 Tool Kit
Estimate: £4,000 - £5,000 GBP | Offered Without Reserve
The worthy inspiration behind this article of automotive ephemera is a spectacular example of what made Gordon Murrary's tech-fueled three-seater such a veritable icon of 20th century motoring. If the McLaren F1 could boast extreme feats in terms of power and performance, the reason why was a steady dedication by McLaren's engineers to achieve strict weight requirements in every included component. Murray's team literally looked around the world to source elements for the F1. These titanium tools are no exception. Finished in a shade of gold to match the rear engine bay by way of a titanium nitride coating, the assortment of tools come wrapped in a durable leather case made by high-end outfitters Golf Brothers of Milan, Italy. The tools themselves are made by FACOM, a prestigious Franco-American craft factory which has been producing delicate devices since the post WWI-era. Whether your culture calls them "spanners" or "wrenches," the earliest FACOM tools have themselves become collectible. One imagines that the number of these sets assembled by McLaren in the first place must be limited, as only 64 examples of the F1 road car were made.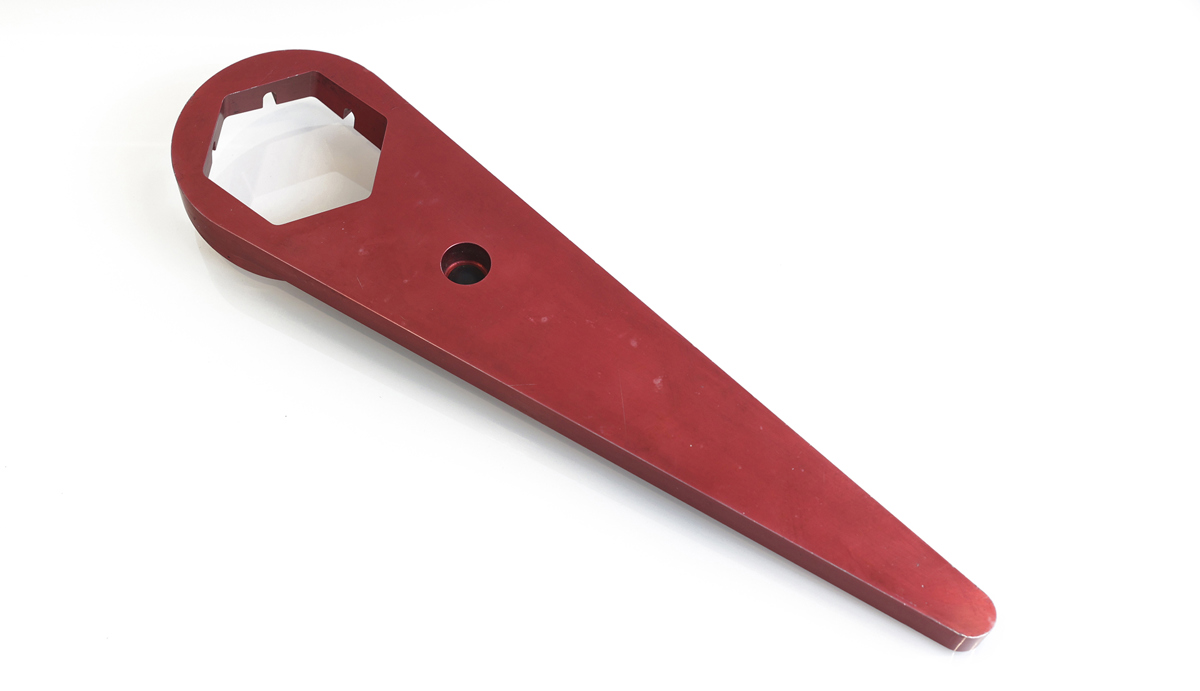 McLaren F1 Wheel Nut Wrench
Estimate: £500 - £1,000 GBP | Offered Without Reserve
Another fascinating accessory included with every McLaren F1 was this purposeful Wheel Nut Wrench. As the motorsports-inspired F1 utilized wheels with a central-locking nut, which is the most simple and evenly-distributed method of attachment, owners of the brand-new hypercar needed a purpose-built tool to detach these wheels. Enter this wrench, which has been machined from billet aluminum, and then anodized in an easy-to-notice shade of red and included as part of the F1's standard accessory package. Today, like all components of the McLaren F1 hypercar, this tool can be seen as a collectible piece of industrial art.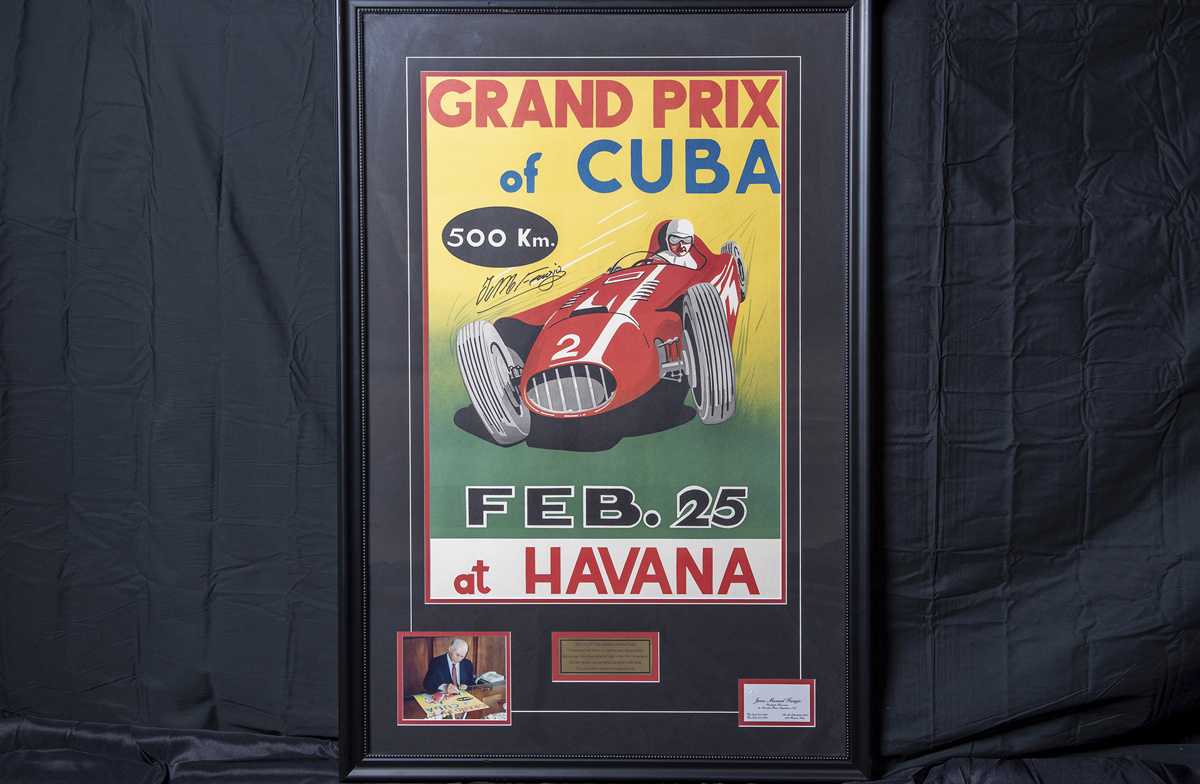 Grand Prix of Cuba Poster Signed by Fangio
Estimate: $500 - $700 USD | Offered Without Reserve
From tools so elegantly crafted that they can be considered artwork to a printed poster which can credibly claim to be a piece of motorsport history, the previous two lots show the breadth of automobilia in our February auction when considered together with this signed offering. As regular readers of our newsletter will already know, 1958 was a pivotal year for the Argentinian icon. Fangio was favored to win the Grand Prix of Cuba that year, equaling his success from the previous year, but instead was kidnapped before the race started. A consummate gentleman, Fangio earned the respect of his captors enough that they allowed him to listen to the race play out on a radio. He was later released unharmed. As the inset photo depicts, thirty-six years later, on 1 May 1994, Fangio signed this poster. The date marked one of the final times Fangio applied his signature to a piece of memorabilia, and also marked a significant tragedy: The unexpected death of Fangio's spiritual successor, Ayrton Senna. For those who are perhaps not prepared to submit a blind bid for the ultimate artifact from the great driver, his personal 1958 Mercedes-Benz 300 SL Roadster, this historic and handsome poster is the next best thing.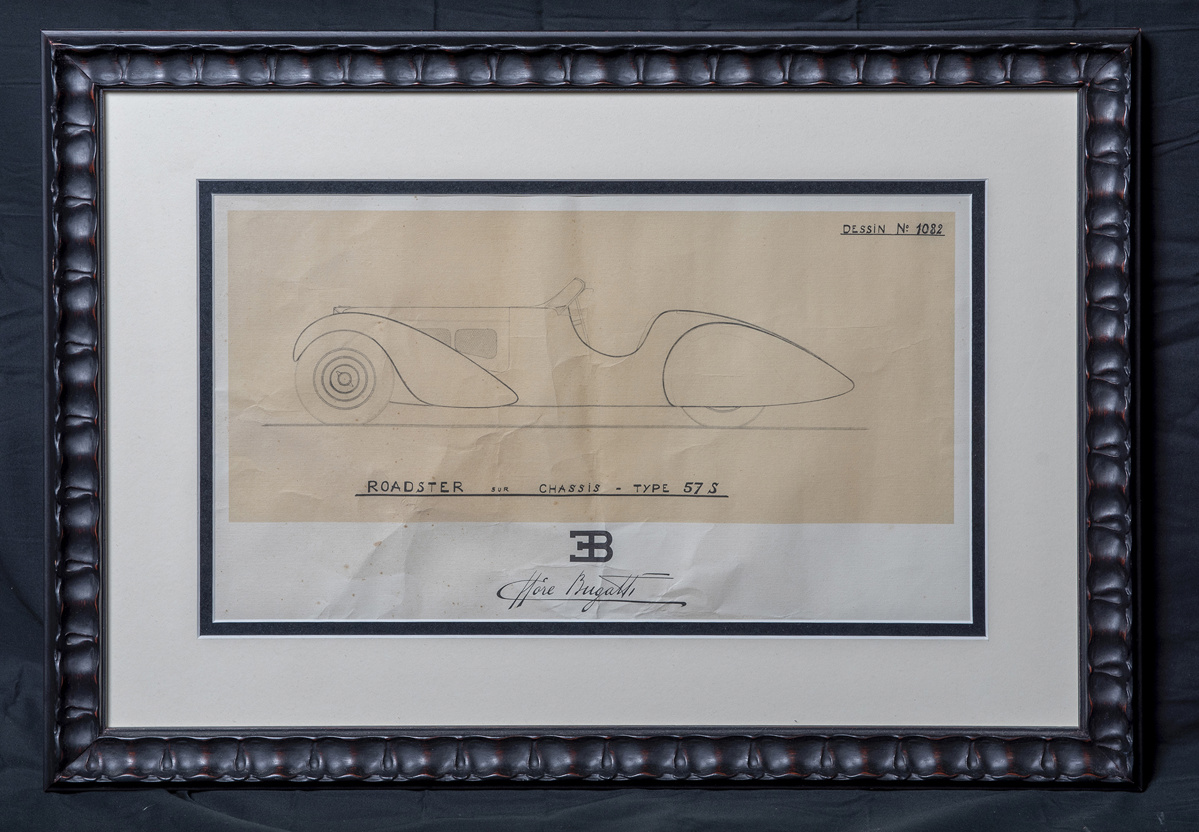 Bugatti Drawing
Estimate: $150 - $250 USD | Offered Without Reserve
The open-air Bugatti depicted in this drawing is one that nearly any automotive aficionado would wish to witness parked in their garage. In all likelihood, the finished car hinted at in this drawing probably resembled a mix between this gorgeous two-toned Cabriolet, which RM Sotheby's offered in our Monterey sale last year, and this low-slung Type 57SC Tourer by Corsica, which we sold in Scottsdale, Arizona last year. With all the interest, especially in the pre-war period, in acquiring an open-air Bugatti, the Alsace-based atelier's in-house coachworks regularly sketched designs that were never built. Featuring a handsome frame by Picture This… in the Cayman Islands, this aerodynamic sketch perfectly captures what might have been.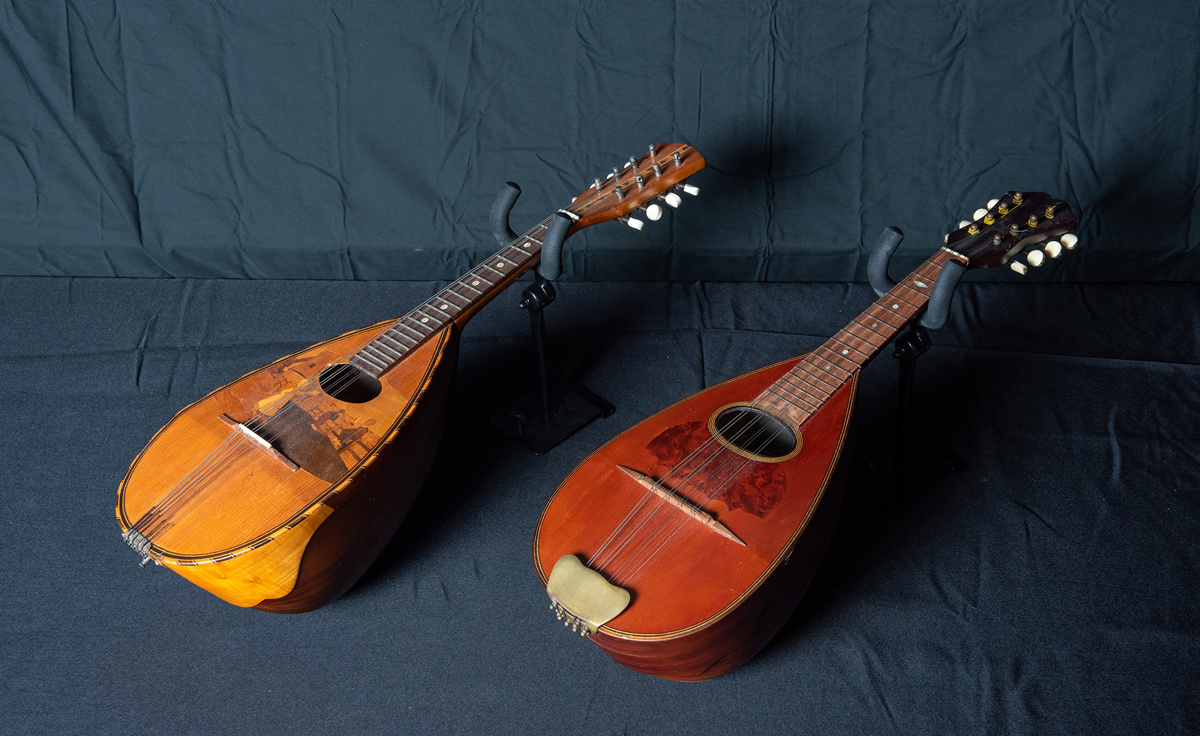 Pair of Ornate Mandolins
Estimate: $100 - $200 USD | Offered Without Reserve
We move from a piece of artwork to a pair of handcrafted musical instruments, one etched with an artistic waterfront scene, the other handsomely finished and inlaid with luxurious materials. Many sources trace the ancestor of the Mandolin to Italy, though the instrument itself mostly had gained a popular acceptance by the 18th century. Certainly the romantic ideal of a mandolin player is Don Giovanni, depicted by Mozart, playing a solo serenade to win the heart of a willing suitor. The lighter of these two instruments is etched with a European scene, though it more likely shows a Dutch harbor, complete with a windmill and tourists wearing wooden clogs. Open Roads, February features several selections for the would-be musician, including several other (equally beautiful) sets of ornate mandolins, a trio of petite violins by Menzel, and six electric Westfield guitars (three standard, three bass guitars) in a variety of colors. Sufficient firepower to start your own band.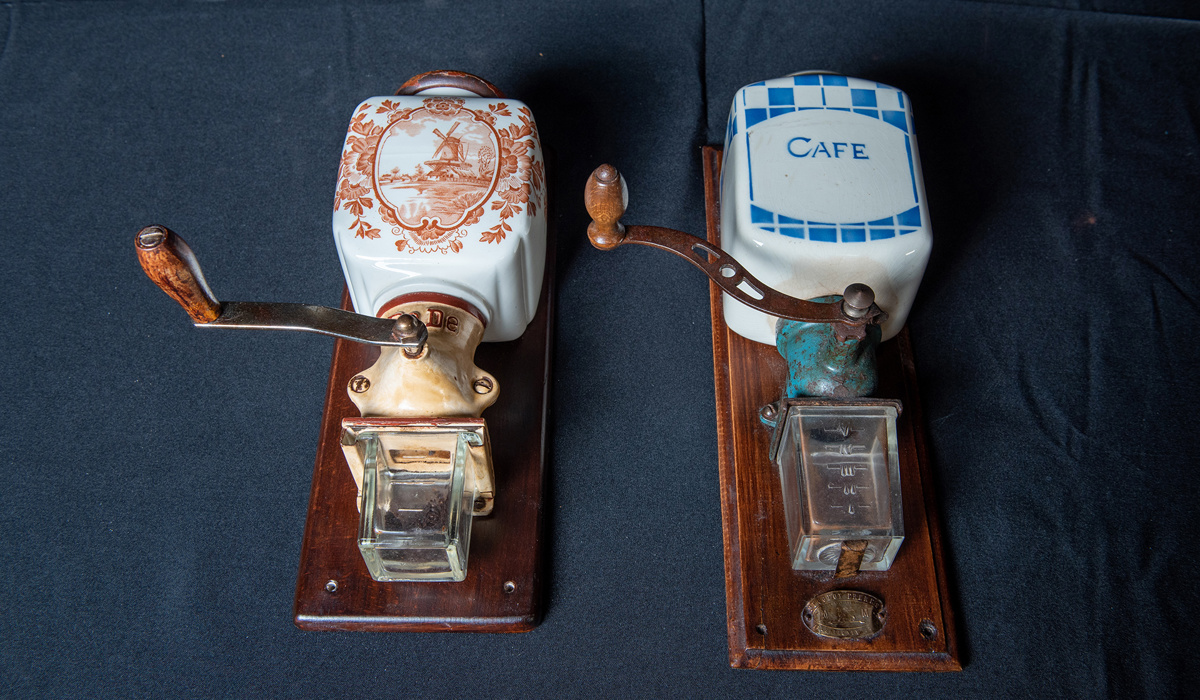 Pair of Porcelain Wall Mounted Coffee Grinders
Estimate: $100 - $150 USD | Offered Without Reserve
Another intriguing area of collecting that is covered in-depth in Open Roads, February is a wide-ranging selection of what used to be a regular household tool. Before the days of pre-ground, vacuum-sealed coffee, it was common for many kitchens to come stocked with a dedicated coffee grinder with which the head of the household could hand-grind their own roast beans. These pair are intended to be mounted to a wall, with porcelain tops to keep the unground beans cool and dry. For those who have witnessed this method firsthand, it is an entirely effective way to dice up a truly impressive amount of coffee. Other grinder-specific formats included tabletop-mounted units, handheld devices, even a quartet of grinders that appear hand-painted. It is common to fall into collecting these quaint antiques, whether one uses them for their morning fix or not. There is even a website that helps identify the origin of these grinders, with the left "Pe De" example likely from the Holland-based hardware outfit called Peter Dienes. Anyone in the mood for a fresh cup?