At least in terms of industrial design and engineering, the 1950s were a time when the United States of America was the focus of the world. Whether appearing in the form of chrome-accented concept cars rolling out of Detroit design studios, or the more subtle, organic shapes favored by furniture makers like Cranbrook Academy of Art-educated Eero Saarinen and husband-and-wife team Charles and Ray Eames, the mid-century look so popular today had decidedly midwestern origins. Enzo Ferrari himself had to recognize this worldwide trend—after all, his flagship, twelve-cylinder Ferrari gran turismos all wore the designation: "America." RM Sotheby's is pleased to present this top-of-the-line 1954 Ferrari 375 America Coupe by Vignale at our Arizona auction on 22 January 2021: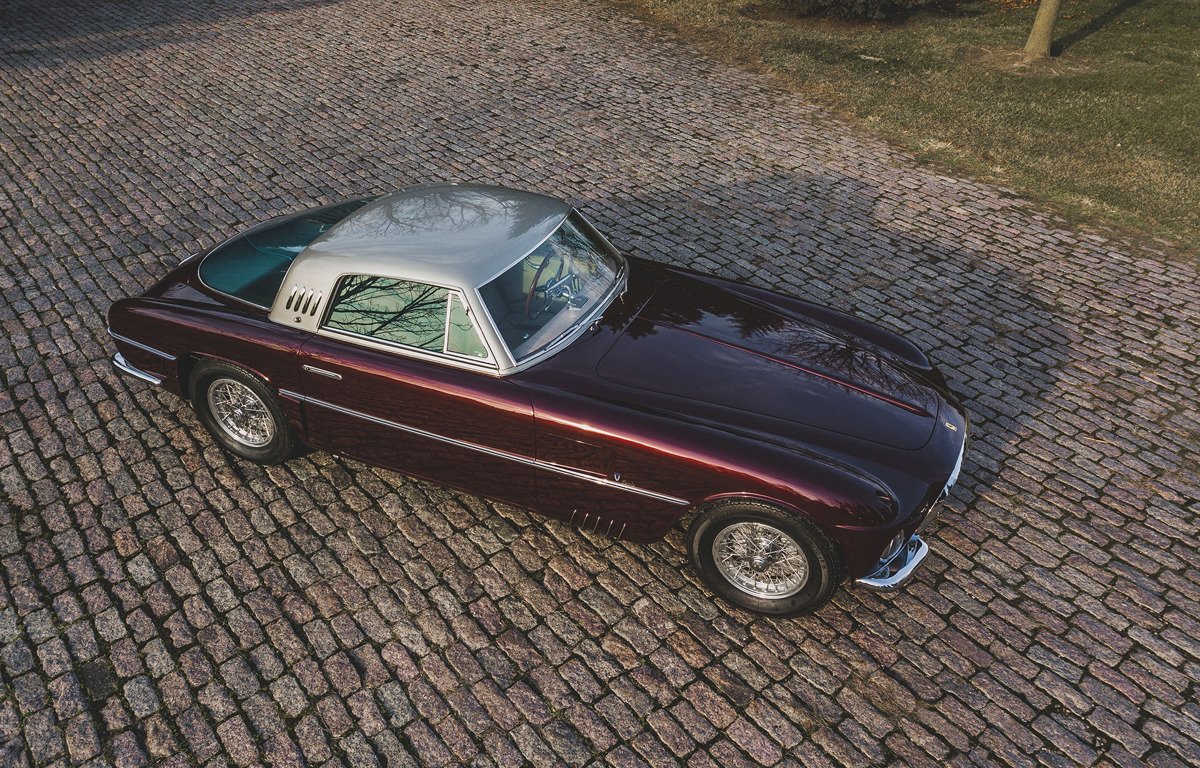 1954 Ferrari 375 America Coupe by Vignale
Estimate: $2,400,000 - $3,400,000 USD
Featuring a design shared with only two other Ferrari chassis, the mid-century shape riding on this coachbuilt Ferrari suggests that the Jet Age had indeed arrived at Italy's Carrozzeria Vignale. Before establishing his own venture, Alfredo Vignale was a veteran of legendary coachbuilder Pinin Farina. Vignale's father worked as the foreman of Farina's paint shop. Across all Vignale's future output, particular attention was paid to crafting unique paint schemes. This extraordinary attention to detail can be observed in the two-tone, metallic-grey-over-Amaranto colorway on our America Coupe; recently restored to the same color scheme in which it was originally finished.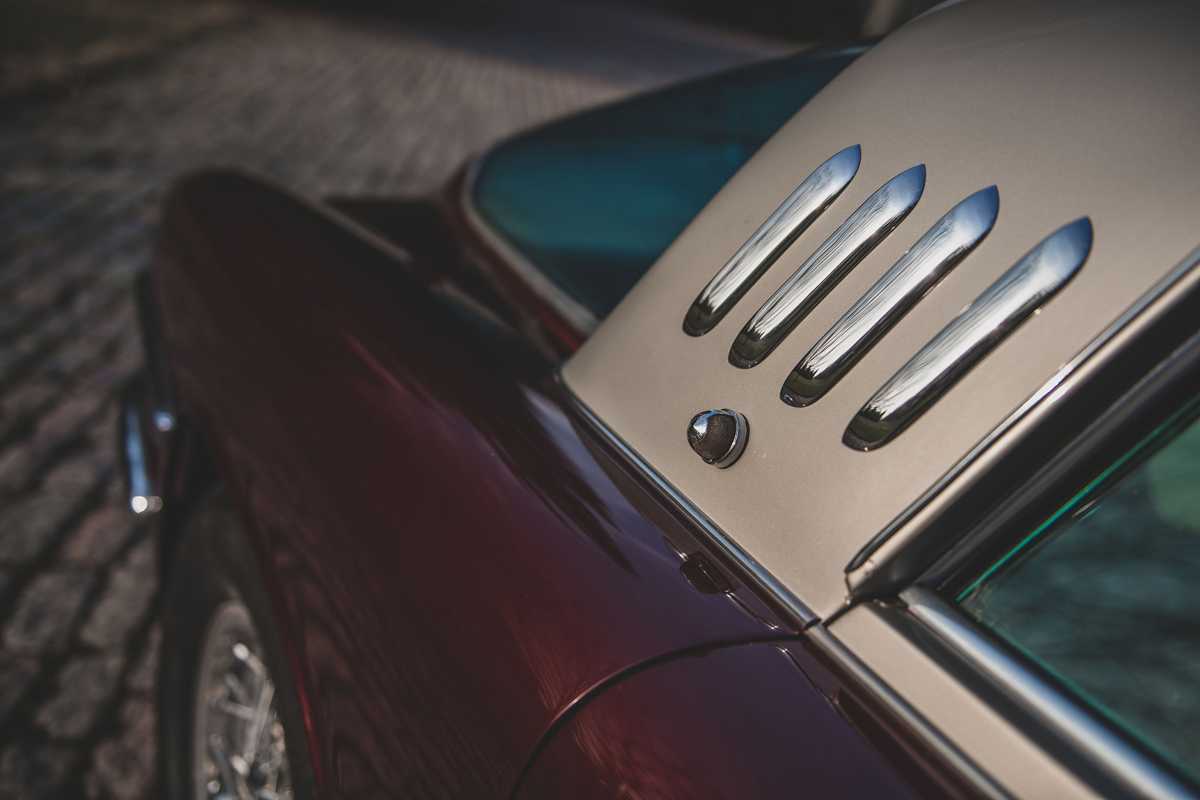 While working at Stabilimente Farina, young Vignale absorbed as much experience as he could before striking out on his own in 1940; before wartime ended, Vignale was already creating custom bodies on otherwise-ordinary chassis for friends and family out of his small Turin-based garage. After an early success in 1948 crafting an elegant, aerodynamic body on a humble Fiat 1500 chassis, Vignale attracted the attention of Detroit's Packard Motor Car Company, who sent one of their pre-war chassis to Turin for Vignale to install modern bodywork. But, as with all Italian coachbuilders in the early post-war period, the ultimate client was Ferrari.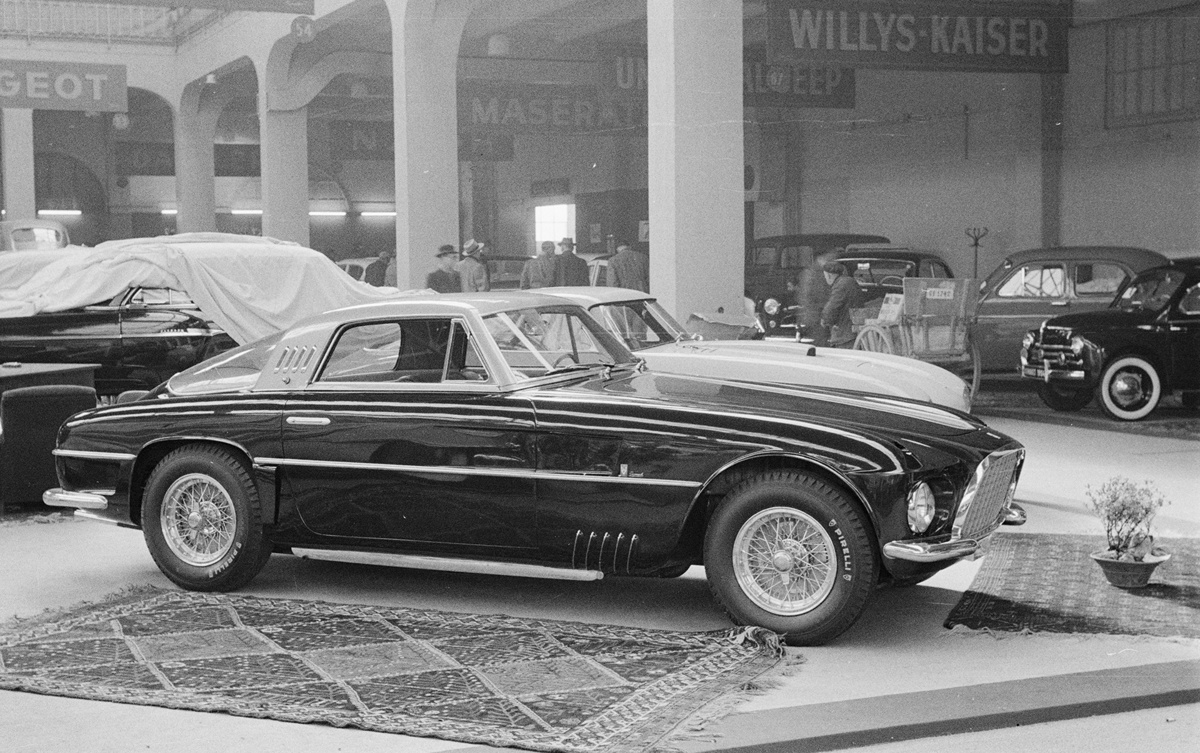 The 375 America, chassis no. 0327 AL, on display at the Geneva Motor Show, 1954. Courtesy of the Revs Institute
In a testament to the young designer's skill, Vignale's first coachwork on Ferrari chassis debuted the same year as the first Stabilimente Farina-bodied Ferrari, and two years prior to the first completed by Pinin Farina. More importantly, Vignale's aerodynamic designs were set to get an unbeatable debut on the world stage, with two aluminum-bodied Ferrari 212 Inter coupes achieving first and second place at the Carrera Panamericana in 1951. By the time this America Coupe debuted in 1954, Vignale was viewed as a high-tech, progressive design firm, leading to avant-garde concept cars like this example, chassis number 0327 AL.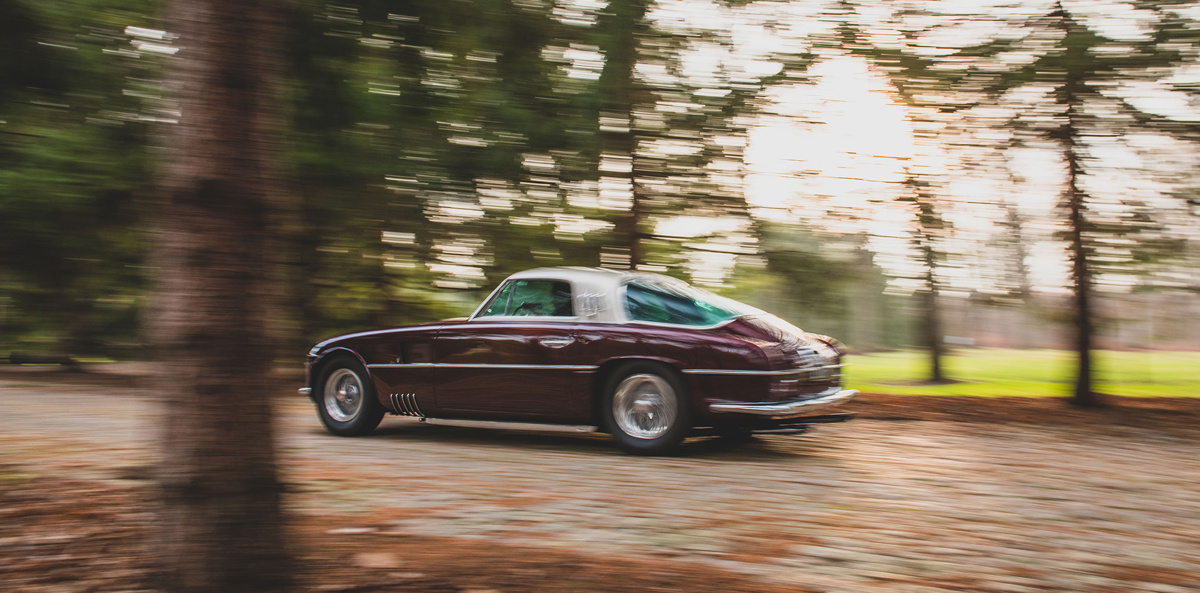 By the time 0327 AL experienced its' European debut at the Geneva Motor Show in March 1954, the chassis was already an international star of sorts, having appeared earlier that year on the Chinetti Motors stand at the New York Motor Sports Show in January. A forward-thinking design with an expansive back window that presaged the Plymouth Barracuda by a decade, the Vignale-bodied Ferrari was from a time when coachbuilding set the tone of the auto industry; a time when concept cars could be purchased by the general public.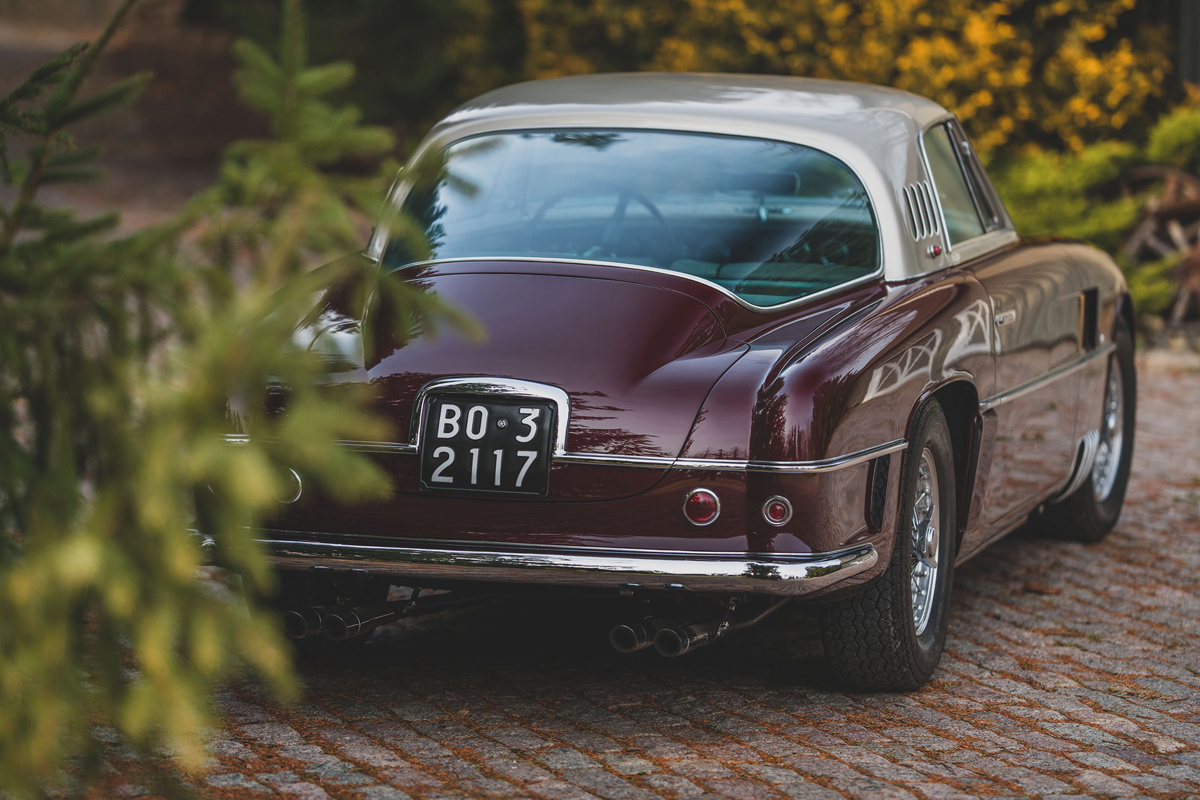 At least, that is the story of this Ferrari America, which was purchased by Robert C. Wilke, a well-known collector and speed-friendly owner of the Milwaukee, Wisconsin-based Leader Card Company. Wilke so enjoyed his rare Vignale, he retained this striking example of Italian coachwork for the remainder of his life.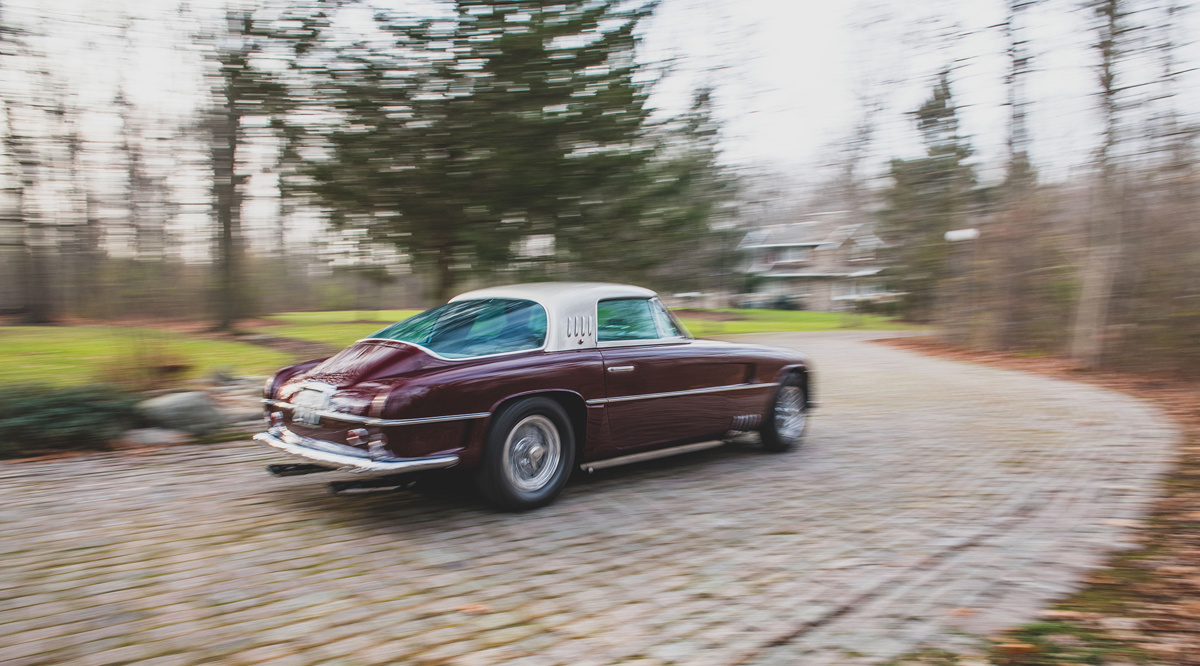 In the catalogue description of this fabulous Ferrari, the author muses about the impact such a futuristic shape would have in Wilke's native Wisconsin: "One imagines the looks such a spaceship must have received on the roads of Eisenhower-era Milwaukee." And yet, one doesn't have to stretch their intellect too hard to imagine this scenario: It is the same, undeniable feeling we all get when seeing a Ferrari today—a vision of the future.
A mid-century design that stands the test of time recently restored to the same tasteful, two-tone color scheme in which it left Vignale's workshop in Turin, RM Sotheby's is proud to offer this 1954 Ferrari 375 America Coupe as part of our Arizona 2021 sale, set for 22 January. May the Jet Age live on forever.