Ferrari has produced an enviable stable of V8 and V6 machinery—and let's not overlook the Lampredi in-line fours and sixes—but it is the company's many glorious 12-cylinder engines which are rooted most deeply in Maranello legend. Gioacchino Colombo designed the company's first 12-cylinder powerplant in 1947 for the Ferrari 125 and began a V-12 legacy that has broadly defined the company's approach to its flagship models—and much of its motorsport heritage—throughout its history to today's 812 Superfast. 
So, is a V-12 Ferrari for you? Thankfully, the price range for such a car is vast, and not all the Maranello legends set to be offered in Monaco need break the bank. With that in mind, let's take a look at a few options at multiple price points that are available to potential buyers at our upcoming sale on 14 May.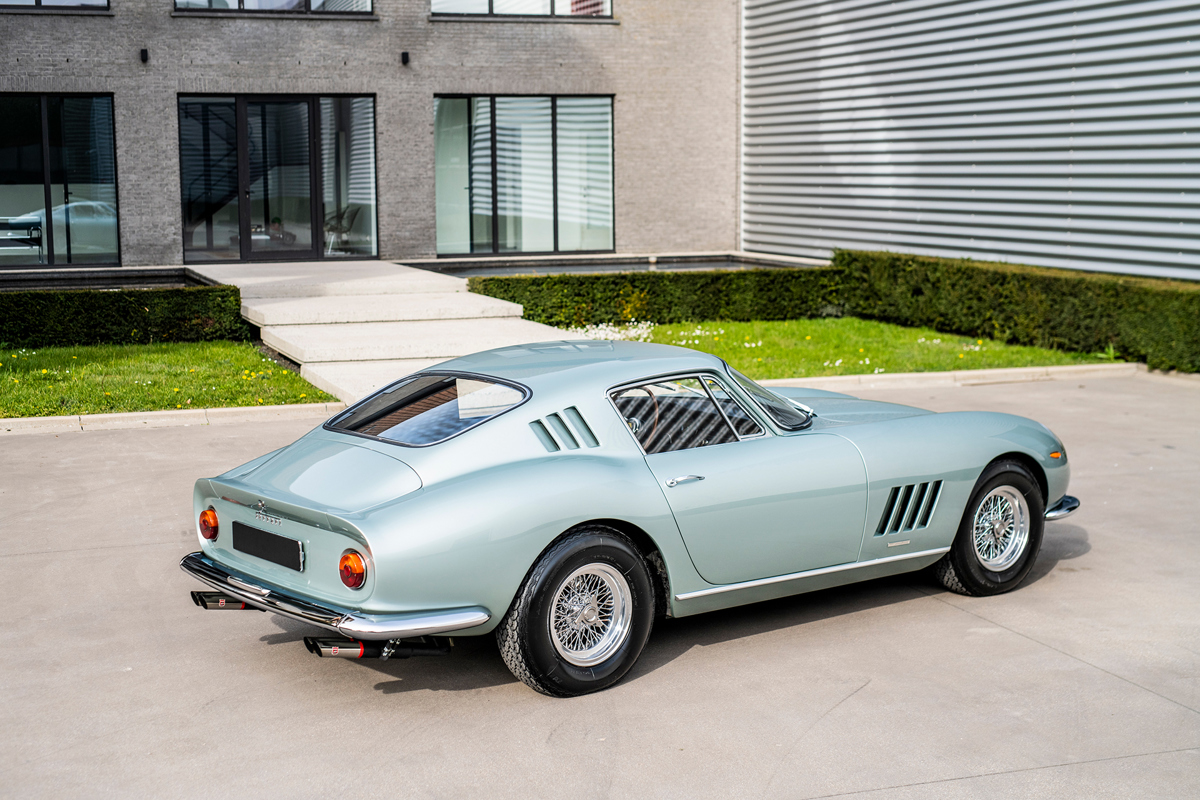 1965 Ferrari 275 GTB by Scaglietti
Estimate: €1,700,000 – €1,800,000 EUR
For many, this is 'peak' Ferrari V-12. An aesthetic triumph and an exceptionally effective machine, the 275 GTB proved to be one of the most desirable road sports cars of all time, as well as being a car that could take on the best in international motorsport. That long nose, those side louvres, and that stubby rear end create what is perhaps the most perfect silhouette in automotive design. On offer in Monaco is the first 275 GTB to be imported to the French market and it boasts a fascinating and storied history. Chassis number 06691 is presented in its stunning original colours of Grigio Argento over Nero Connolly leather and is a short-nose example that was originally used as a prototype to homologate the 275 GTB for the French market. Interestingly, this particular car was featured in a photoshoot with French music icon Johnny Hallyday, a man known for his love of fast cars. OK, so this isn't a car that sits at the budget end of the Ferrari V-12 price spectrum. But for serious collectors, a 275 GTB should remain an object of desire, especially when the car in question has an interesting history, is beautifully restored, and boasts matching numbers and Ferrari Classiche certification. In collecting terms, that's all the boxes ticked.
1995 Ferrari 456 GT
Estimate: €90,000 – €120,000 EUR
Certainly, €2 million V-12 Ferraris aren't within everyone's grasp. But don't panic—we have another, more approachable option that also has a unique and fascinating place in Ferrari history. The 456 GT first appeared in 1992, continuing the lineage of fast road cars with a slightly more practical 2+2 configuration. The car was well received, and its good looks and potent performance were undeniably appealing to buyers looking for a fast grand tourer. Today, it is finding its way into the hands of discerning collectors looking for an exceptionally practical modern era Ferrari. Ferrari's flagship machine in 1995, it was powered by a 5.5-litre V-12 that sent power through a fully analogue open-gate, six-speed manual gearbox. The car offered in Monaco was supplied directly from the factory to Mr. Sergio Pininfarina, the head of the legendary design house that styled this model and so many other icons of automotive design. The fact that this car was supplied directly by the factory and not through a dealer signifies the VIP status of the illustrious original owner. With Sergio Pininfarina's name clearly legible on the original paperwork, this 456 has to be one of the most interesting examples to come to market. With only 26,917 kms recorded, a V-12 Ferrari with such provenance is a fantastic opportunity. And it is estimated at a price which is barely enough to acquire a modern, mass-produced luxury SUV.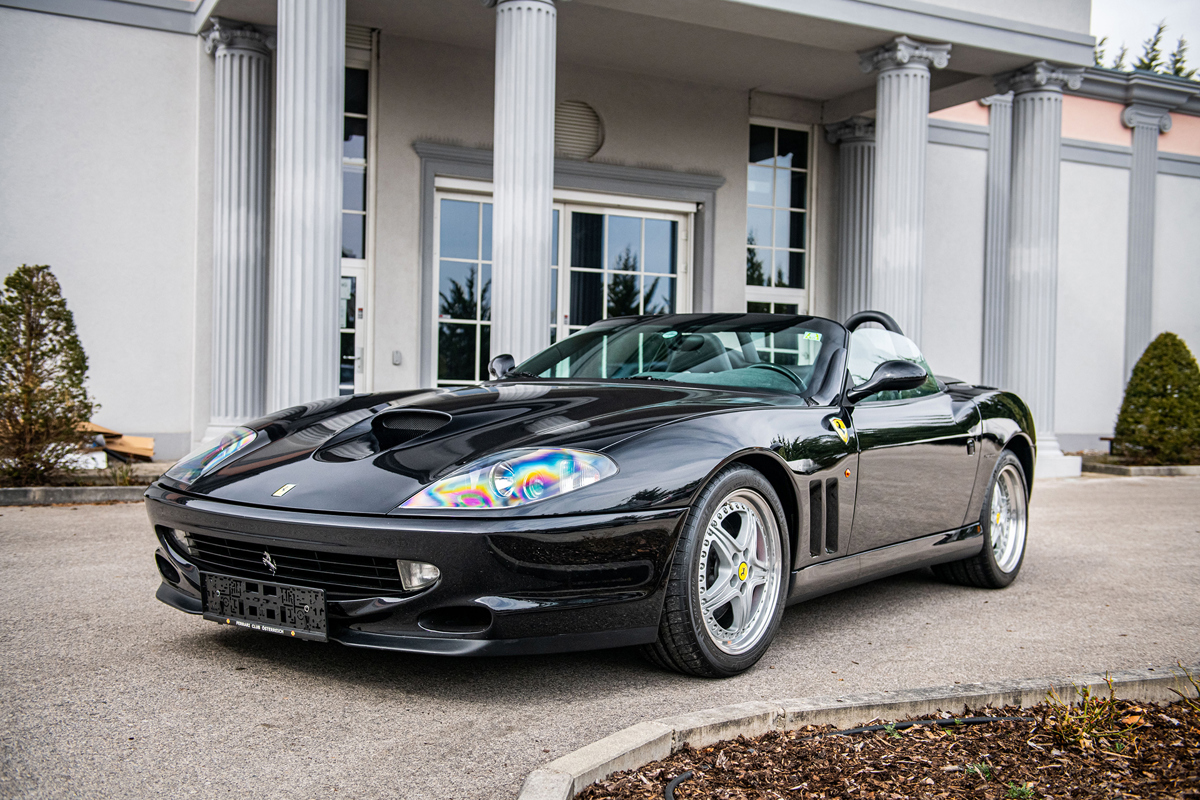 2001 Ferrari 550 Barchetta Pininfarina
Estimate: €290,000 – €360,000 EUR
The 550 Barchetta was first shown at the 2000 Paris Motor Shown—a car to celebrate the 70th anniversary of Pininfarina. It was a limited edition model with only 448 examples built, so in collecting terms, it's a car that hits all the right notes with Ferrari aficionados. The 550 Barchetta isn't a practical car; the absence of a fully functioning, year-round convertible roof renders it less than ideal for bad weather commuting, but it is more than deserving of a place in the hearts, and garages, of a car collector. The 550 Barchetta has a simple but brilliant formula; that powerful 'F133' V-12 producing 478 bhp, set within an exceptional chassis and that stunning, open bodywork—it is the epitome of a stylish, exclusive, 'wind-in-the-hair' grand tourer. This example is number 240 of 448 and was delivered new to Austria, remaining there throughout its life, and residing with only two owners. A car that marked the welcome return for a Maranello two-seat, front-engined V-12 format, this car was, in many respects, the Daytona Spider for a new generation.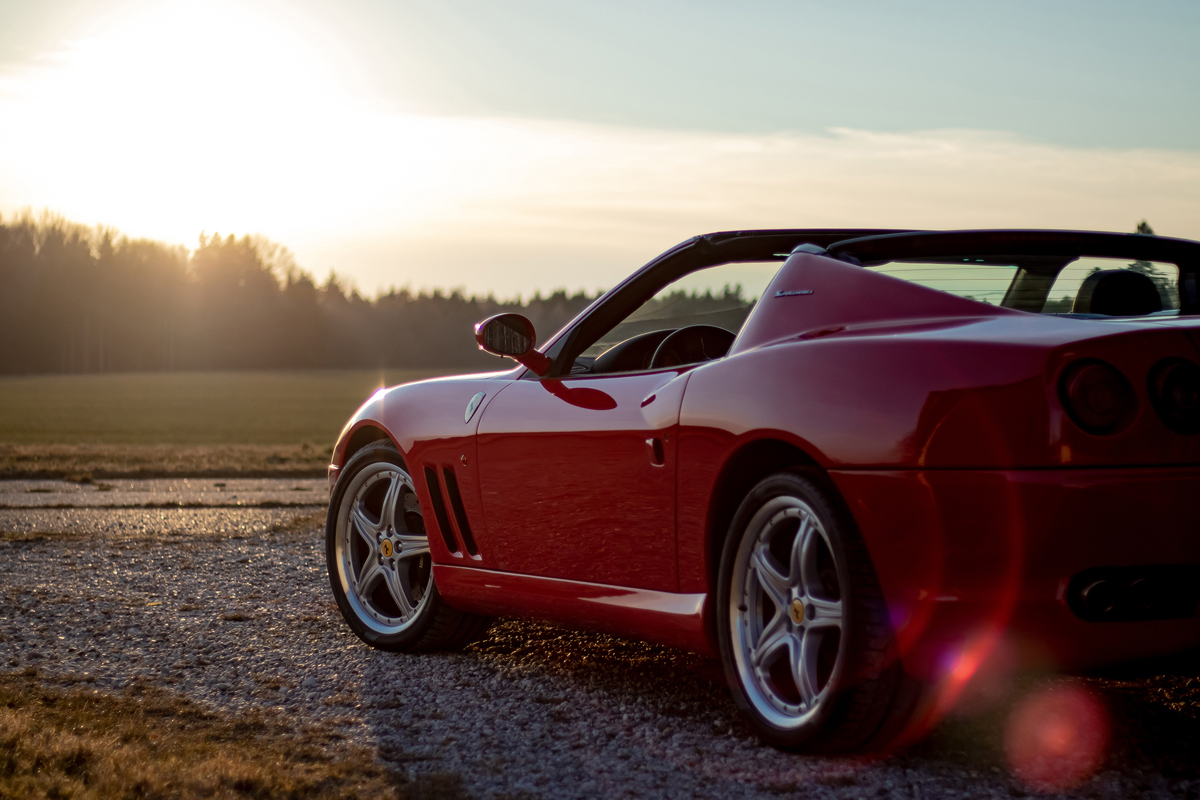 2006 Ferrari Superamerica
Estimate: €280,000 – €320,000 EUR
Reviving a name that had last been used in the 1960s, the Superamerica was brought back to showrooms as a result of customer demand for a convertible version of the highly-successful 575M. Ferrari duly obliged and launched the Superamerica—a remarkable feat of engineering featuring a fully reversible roof panel that flipped 180 degrees to open and close, seamlessly changing from coupe to spider in a matter of seconds. Boasting an enhanced version of the V-12 that features in the 575M, the Superamerica was marketed at the time as the world's fastest convertible, with it being capable of a remarkable 199 mph. The car on offer was first bought by esteemed Ferrari collector Alberto Garnerone and was retained by him up to his death in 2008. With a fresh service and new timing belt installed by Mertel Italo Cars Nürnberg in March 2022, this example is ready for its next adventure.