With a passionate, worldwide following encompassing practically every model and article of memorabilia, Ferrari collecting has evolved into an institution in and of itself. And yet, that does not imply that Ferrari collecting is a monolithic activity. Some seek out the newest examples, fresh from the Ferrari factory in Maranello. Others aim for practicality, at least as much as possible given the brand's performance-oriented sports car offerings. Still others yearn for so-called "blue chip" examples, which have stood the test of time as collector's items. Naturally, the Ferrari brand would be very different without its history of participation in motorsport, so a handful of collectors aim to exercise their prancing horses on-track. Only the most inspired and out-of-the-box among Ferrari aficionados manage to achieve these diverse dreams at once.
Of course, Dr. Terry Maxon was no ordinary enthusiast. Having curated a group of some of Ferrari's greatest hits, the Glendale, Arizona-based Dr. Maxon could credibly claim an uncommon pattern of long-term ownership, with four cars all serving different needs. Taken together, these four models represent distinct divisions of collecting, all combining to create one collector's vison of the ultimate Ferrari garage. Encompassing a concours d'elegance class winner, a four-seat "family car," a twelve-cylinder, open-top tourer, and a club racer, The Dr. Terry Maxon Collection can be said to offer a Ferrari for nearly every purse and purpose. As a cornerstone collection for RM Sotheby's Arizona 2022 auction, we are proud to present these divergent visions of what a Ferrari sports car can be, all set to cross the block on 27 January 2022: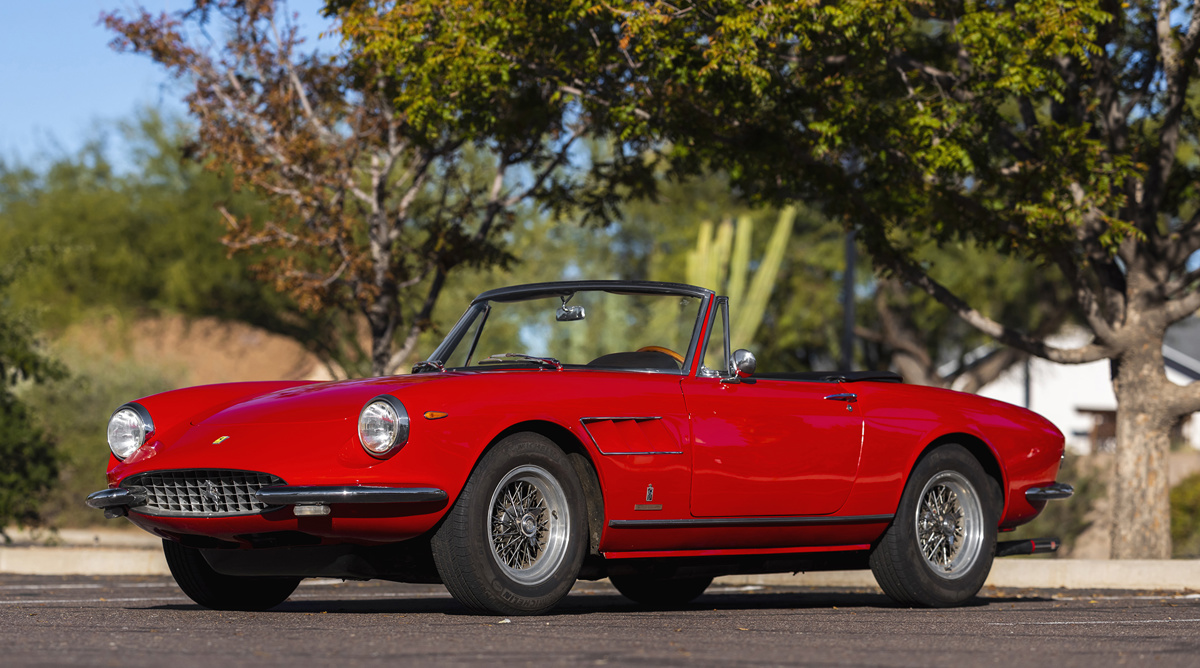 1967 Ferrari 330 GTS by Pininfarina
Estimate: $1,500,000 - $2,000,000 USD
In a subtle break with our in-house tradition, instead of describing these four examples in order of their original production chronology, we will put these fine Ferrari examples in the order in which they were acquired by Dr. Maxon. Owned and cared for over the span of forty-six years by Dr. Maxon, this uncommon convertible was acquired in 1976 after a nationwide search for a similar model. As one of a mere 99 examples built worldwide, the 330 GTS has always been a difficult Ferrari to source. After purchasing this V-12-powered example in Florida, Dr. Maxon reportedly road tripped back to his home state of Arizona, proving its capabilities as a grand touring machine. Used first as a daily driver to shuttle Dr. Maxon between home and office, then reserved for long-distance rallies on such prestigious events as the Copperstate 1000 in 2017, this numbers-matching example benefits from years of mechanical sorting over its history of long-term ownership.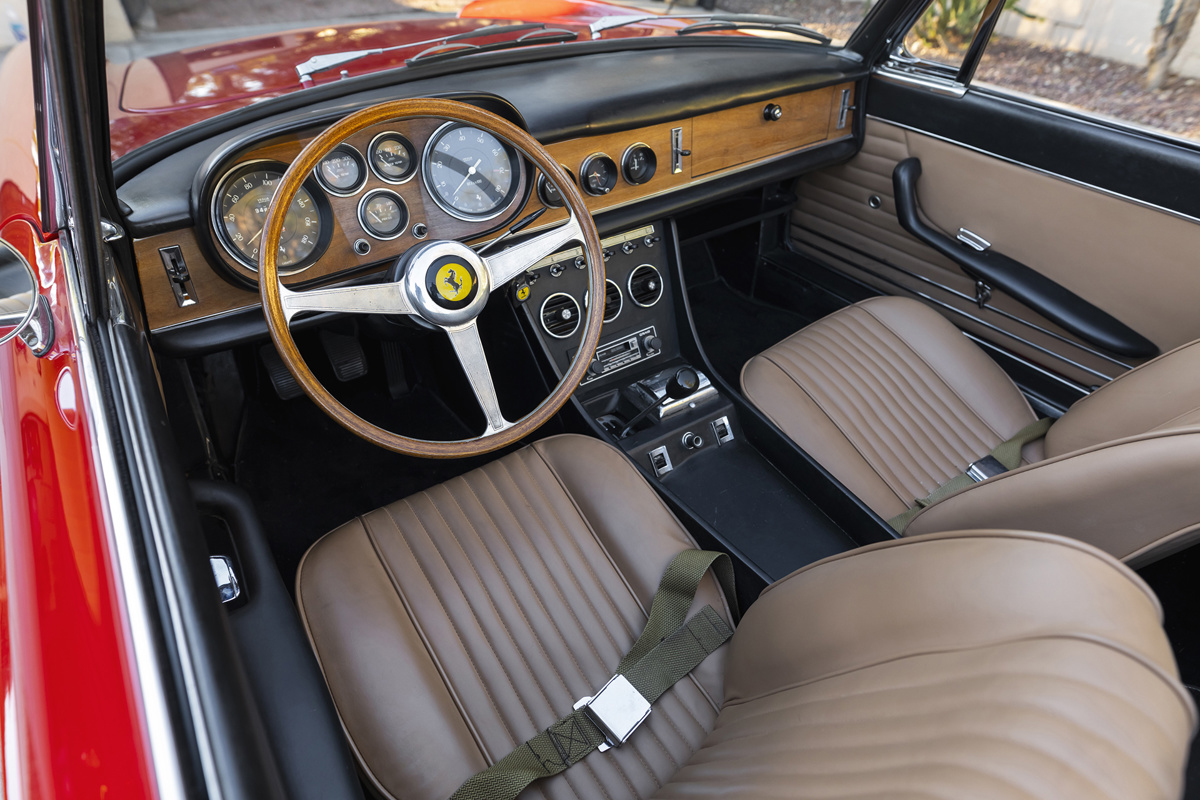 Restored to the tune of $45,000 after its appearance on the Copperstate 1000 in 2017, this 330 GTS provides an intriguing prospect for Ferrari fans. The original delivery of this open-top Ferrari specified a genuinely uncommon color combination of Blu Sera paint over Arancia (orange) leather. For Ferraristi who value distinctive originality above all else, this opens a possibility of owning an already-rare 'Colombo'-powered convertible that could hold its own as a unique example in nearly any grouping of prancing horses. Or simply enjoy this Rosso-over-beige 330 GTS as Dr. Maxon did, for its considerable capabilities on the open road. As RM Sotheby's in-house Ferrari expert Jarrett Rothmeier summarizes, "The 330 GTS was really the most refined open spider of the 1960s. With more power and updated engineering than the initial 275 GTS, the 330 GTS provides arguably the best driving experience of any open Ferrari GT car during this era."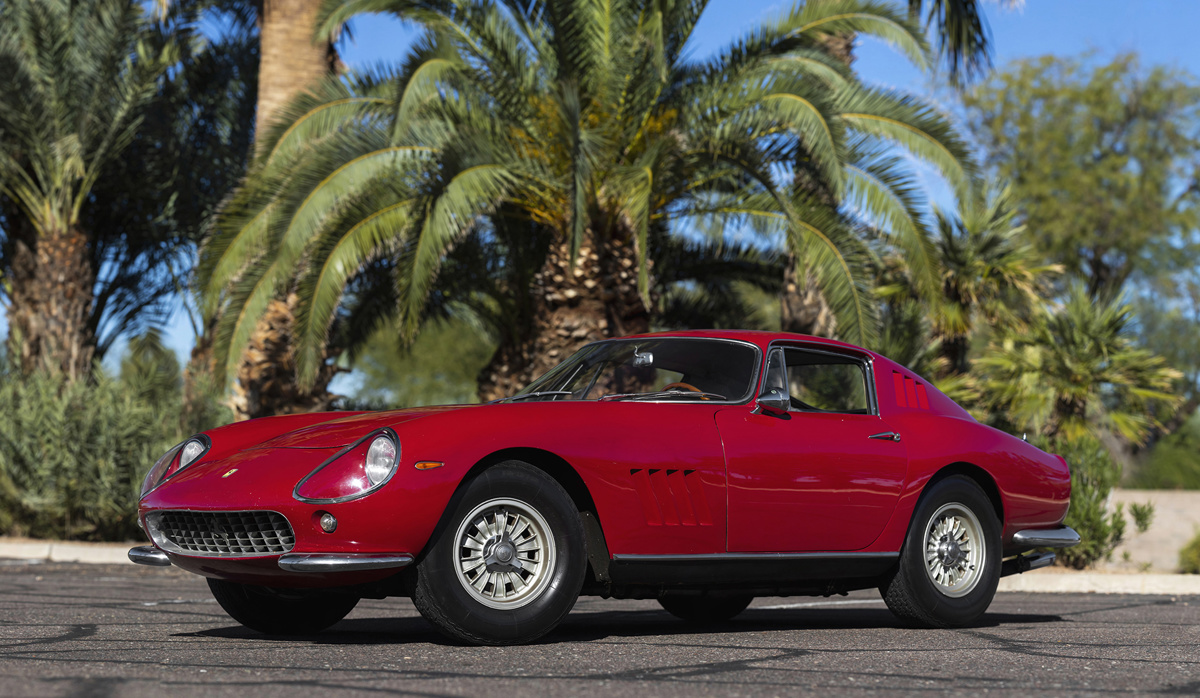 1965 Ferrari 275 GTB by Scaglietti
Estimate: $1,500,000 - $2,000,000 USD
Having already acquired one of Enzo Ferrari's greatest grand touring convertibles, Dr. Maxon set his sights on one of the greatest automobiles to ever wear the prancing horse badge. Finding this first-series, "short nose" 275 GTB by Scaglietti must have presented an easier proposition to Dr. Maxon than his previous Ferrari purchase, as this example was listed for sale in his home state of Arizona. In 1985, Dr. Maxon surprised his wife with the acquisition of a 1965 Ferrari 275 GTB, some two decades after it first rolled off the Scaglietti workshop in Maranello. Inspired by the 275 GTB seen in the movie A New Leaf, starring Walter Matthau, Dr. Maxon named it Walter. Unlike Dr. Maxon's 330 GTS, his intentions for using this 275 GTB were far different.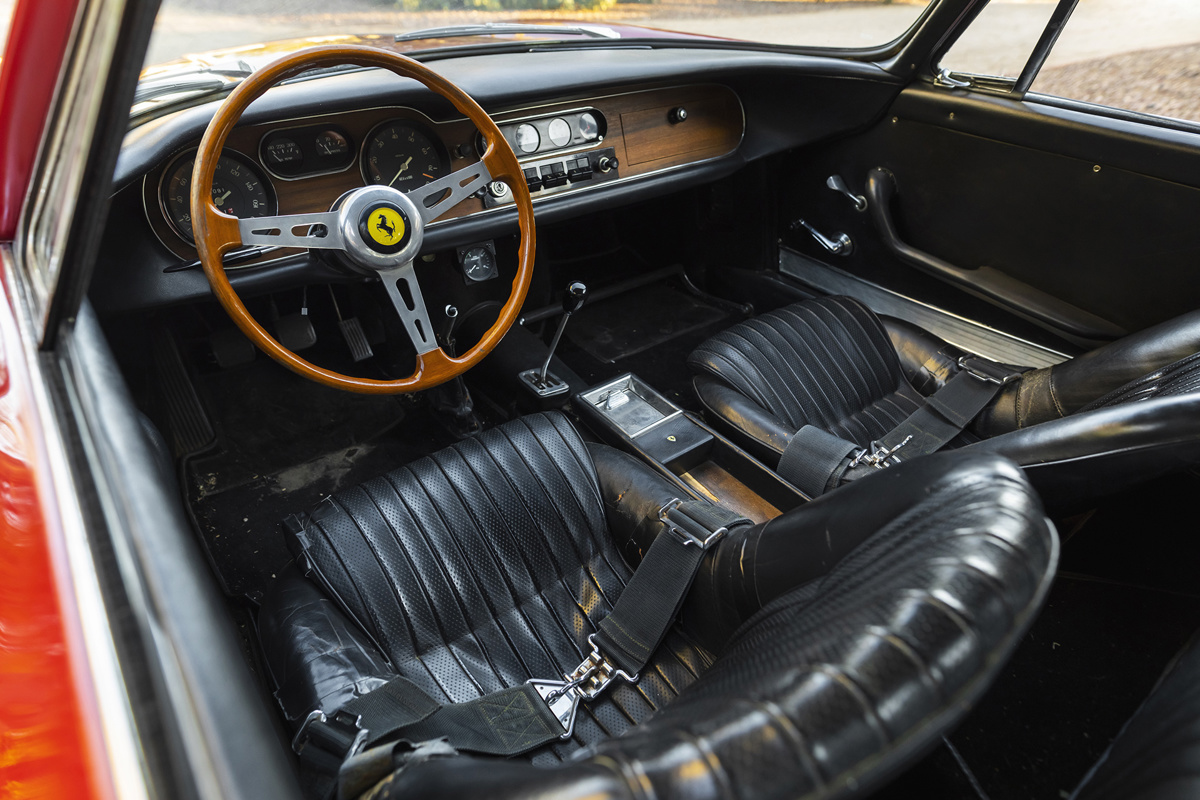 If his 330 GTS was enjoyed for its grand touring characteristics, Dr. Maxon's fastidiously kept 275 GTB was reserved for show. Instead of aiming for a full restoration, Dr. Maxon valued this example for its high degree of originality, and it is clear that several judges of various concours d'elegance competitions agreed. This example was publicly shown in 1994 at a foundational event for many enthusiasts, the Ferrari Club of America's International Concours d'Elegance at Monterey, California. Just over two decades later in 2015, it earned a first-in-class award in the Preservation Class at the Arizona Concours, coincidentally held at the same location where it is set to go up for bidding, the Biltmore Hotel. The show circuit for this example continued later that year at perhaps the most prestigious car-related event in the world, when it returned to Monterey, and was shown as part of the Preservation Class at the Pebble Beach Concours d'Elegance.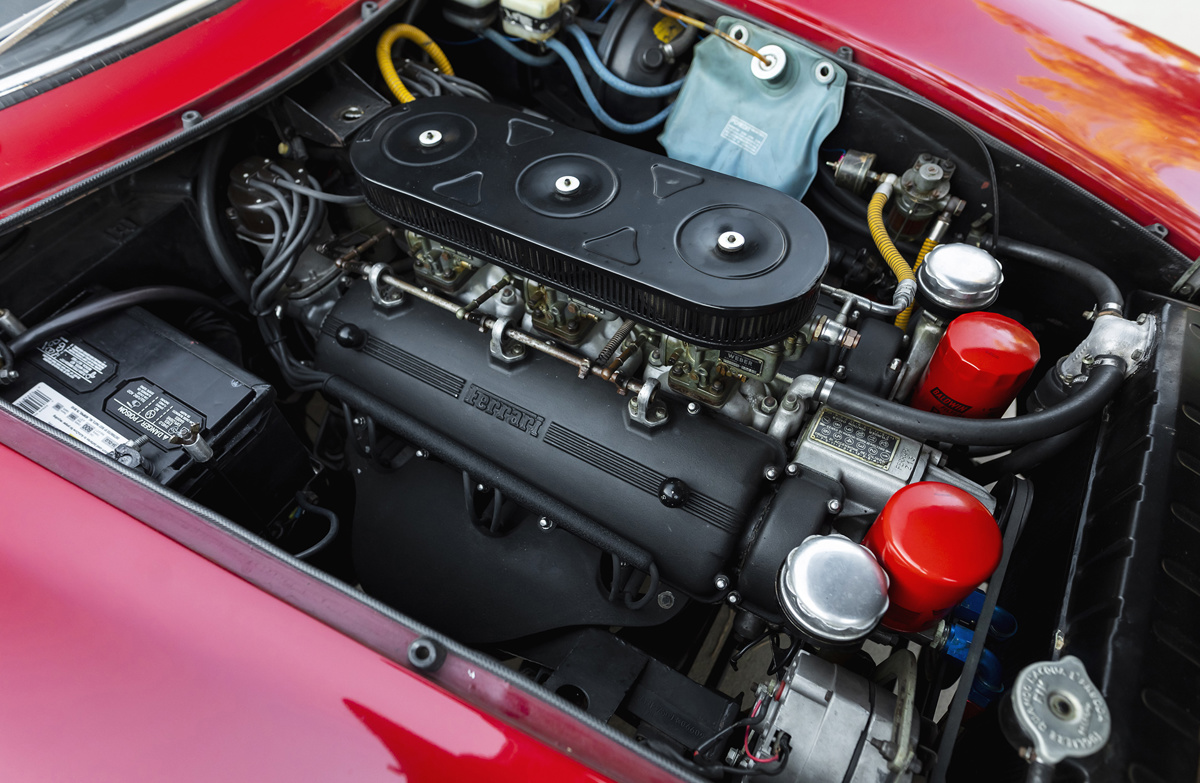 As marque expert Rothmeier sums up this one-of-250 Berlinetta, "The 275 GTB was the sportiest, highest performance GT road car of its era and this is a classic example of the first and what many people consider to be prettiest version of that car. With short-nose bodywork, "starburst" wheels, and iconic Ferrari red paint (all original specs to the car), this is very much a premium example from that standpoint."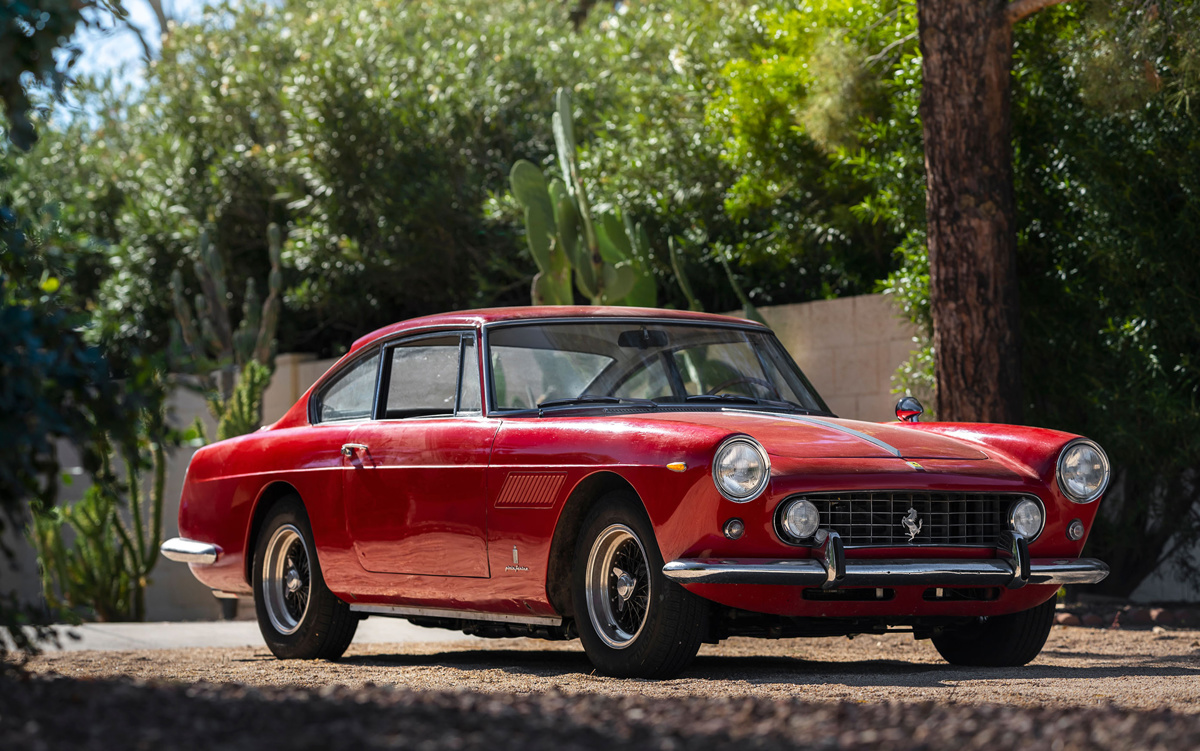 1962 Ferrari 250 GTE 2+2 Series II by Pininfarina
Estimate: $175,000 - $225,000 USD | Offered Without Reserve
If Dr. Maxon's garage already contained cars for show and touring, his next Ferrari example would serve a more practical purpose. In October of 1985, the same year that he acquired his 275 GTB, Dr. Maxon added this Series II Ferrari 250 GTE 2+2 to his collection. Originally an Italian-delivery example, this tasteful 2+2 coupe was also acquired in Dr. Maxon's home state of Arizona and was soon put into service as both a car to show at events and enjoy with his family. In 1985, the same year that Dr. Maxon's 275 GTB was invited to the Ferrari Club of America's International Concours d'Elegance, his 250 GTE 2+2 appeared at a special Gathering of the GTEs staged during Concorso Italiano at the Quail Lodge in Carmel Valley, California. Refinished later that decade in a shade of Rosso to match his 330 GTS, this example was kept by Dr. Maxon for 37 years.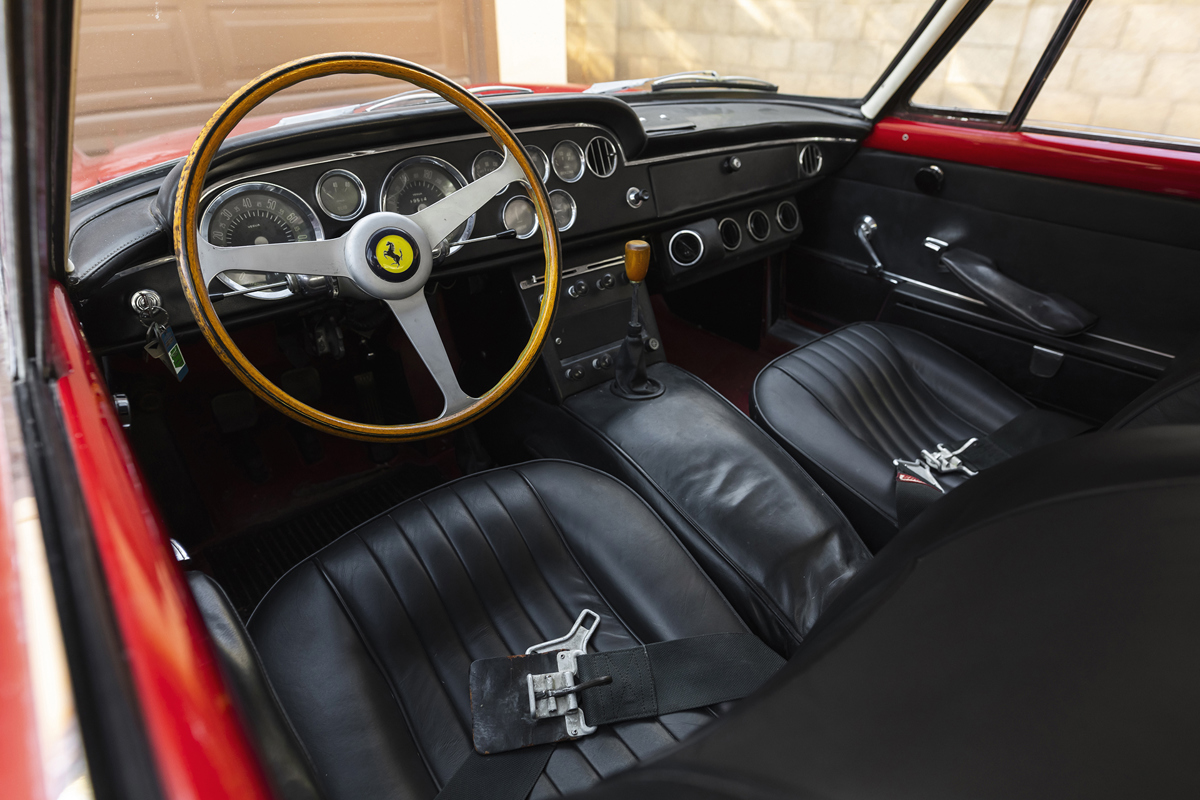 With its interior refinished in 2016 with tasteful nero leather, this example was featured later that year in the Winter 2016 issue of the Ferrari 250 GTE Register & Newsletter. As Ferrari researcher Rothmeier summarizes, "the 250 GTE is considered the most desirable of the 2+2 Ferraris. The only 2+2 version built with the famous 250 motor, the Pininfarina styling on these cars has aged beautifully, and they hold the honor of being the most affordable 250 model one can buy, plus they are practical if you have a couple young kids!"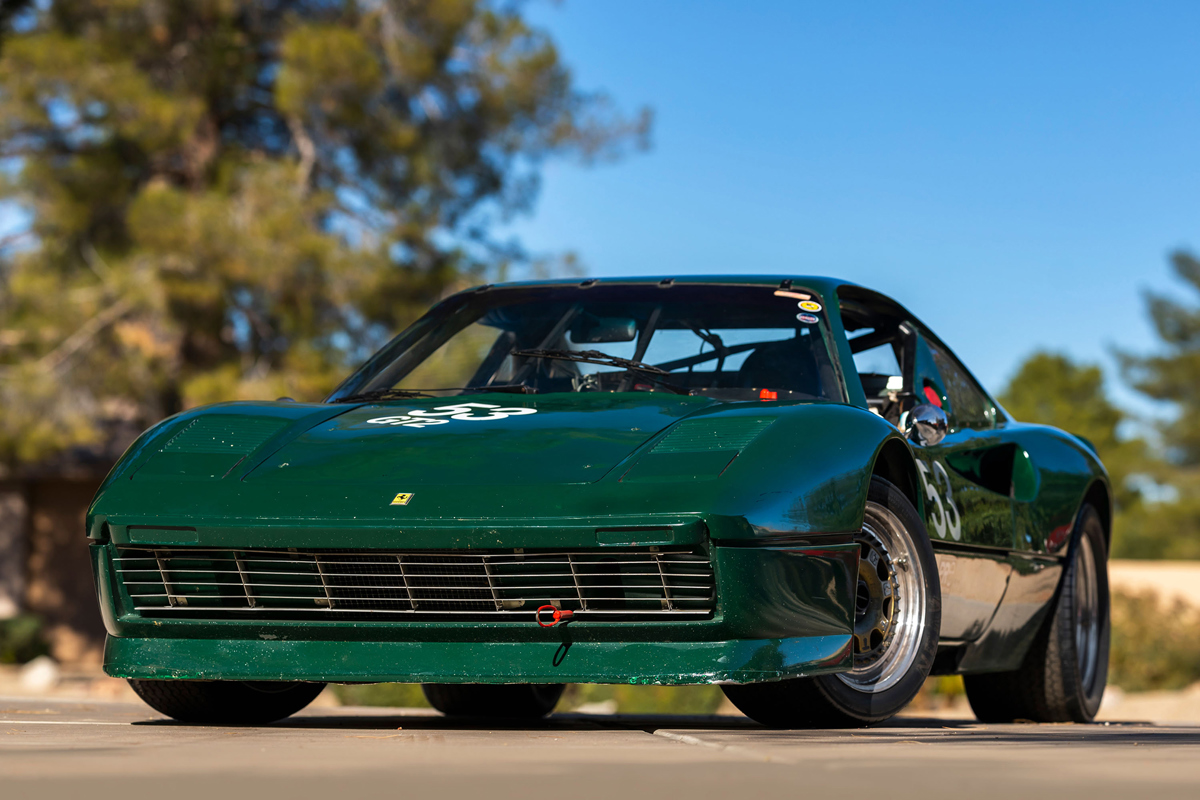 1979 Ferrari 308 GTB Club Racer
Estimate: $30,000 - $40,000 USD | Offered Without Reserve
With his Ferrari collection already encompassing three different avenues of enthusiasm, by the mid-1990s, Dr. Maxon decided that what he needed was to go racing. Purchased in 1993 and developed over the course of several years into a formidable club racer, this 1979 Ferrari 308 GTB rounded out Dr. Maxon's diverse collection. Clearly a feature film fan with a sense of humor, Dr. Maxon nicknamed this green-hued example "Shrek." With its eight-cylinder engine rebuilt by the legendary Lamborghini test pilot Bob Wallace, this Club Racer, like all the cars in the Dr. Maxon collection, has extensive documentation covering its 13-year build.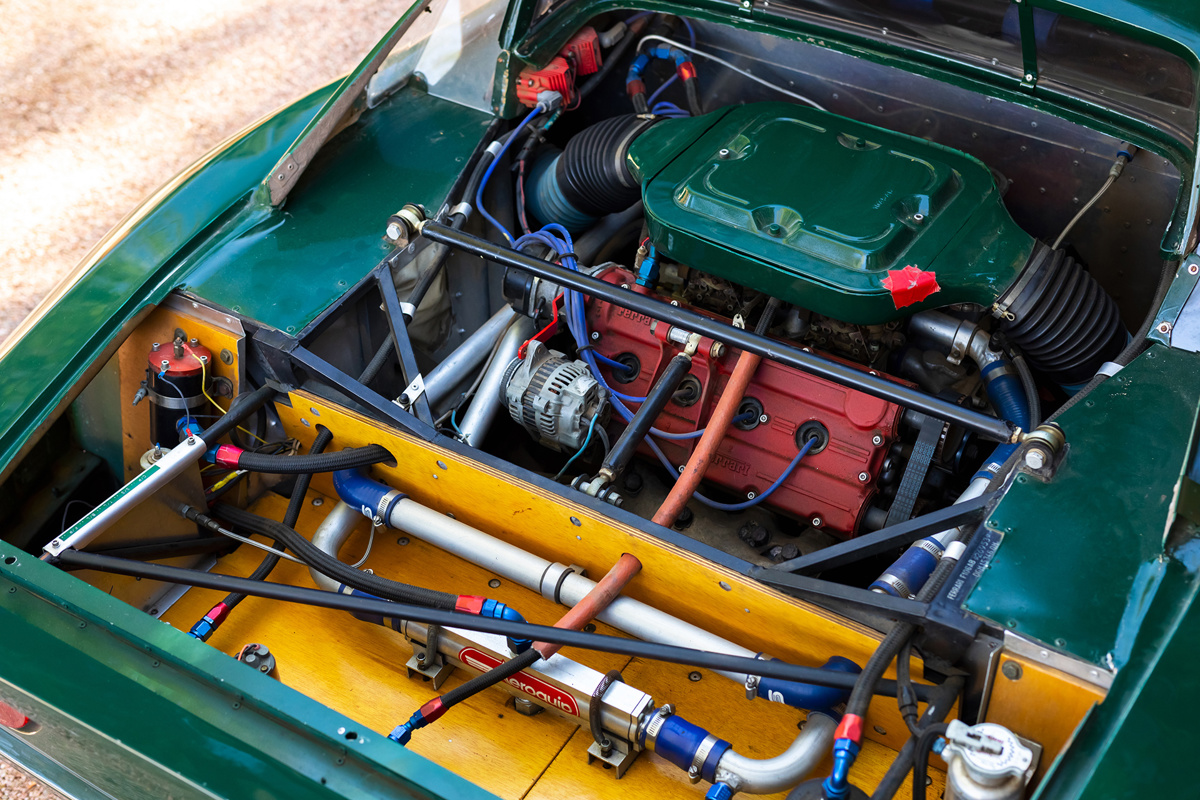 Wallace's work on the engine included overhauled carburetors and intake manifold; a Holley fuel pump was installed, among other mechanical measures. The powerplant on this Ferrari racer was not the only area to receive motorsport modification. Its interior was fitted with a full roll cage and stripped of most of its sound deadening. A purpose-built dashboard, fire extinguisher, and fixed racing seats capped off the interior transformation. Racing-focused suspension components were installed, including custom-built shocks. The exterior of this forest green-colored Ferrari featured a few dramatic upgrades, including a new front grille and chin spoiler, and an adjusted rear end featuring 288-style exhaust vents and an upturned decklid edge. Offered without reserve at RM Sotheby's first in-person auction of 2022 in Arizona, this truly unique example proves that Ferrari collecting can take many fascinating forms. For more images and extensive documentation on this example and the rest of The Dr. Terry Maxon Collection, please click this link, and best of luck bidding!