Some companies note the anniversary of their founding with a cake, or maybe a commemorative t-shirt. The inspired decision Ford management made was to celebrate with a supercar. But the birthday in question was no ordinary one—2003 marked the company's centennial, and Ford management at the time included industrialist Jacques Nassar, designer J Mays, and the scion's grandson, Bill Ford Jr. Reportedly, the genesis of the GT occurred on a flight to visit Volvo, which was then a division in Ford's Premiere Automotive Group. We'll dive into that a bit later in this investigation of three Fords, all up for sale at RM Sotheby's Open Roads, Fall auction, occurring online 12–19 November 2020.
Though this story of supercar redemption has been retold often, it is significant nonetheless to remember exactly how Ford's company profile looked around the turn of the millennium: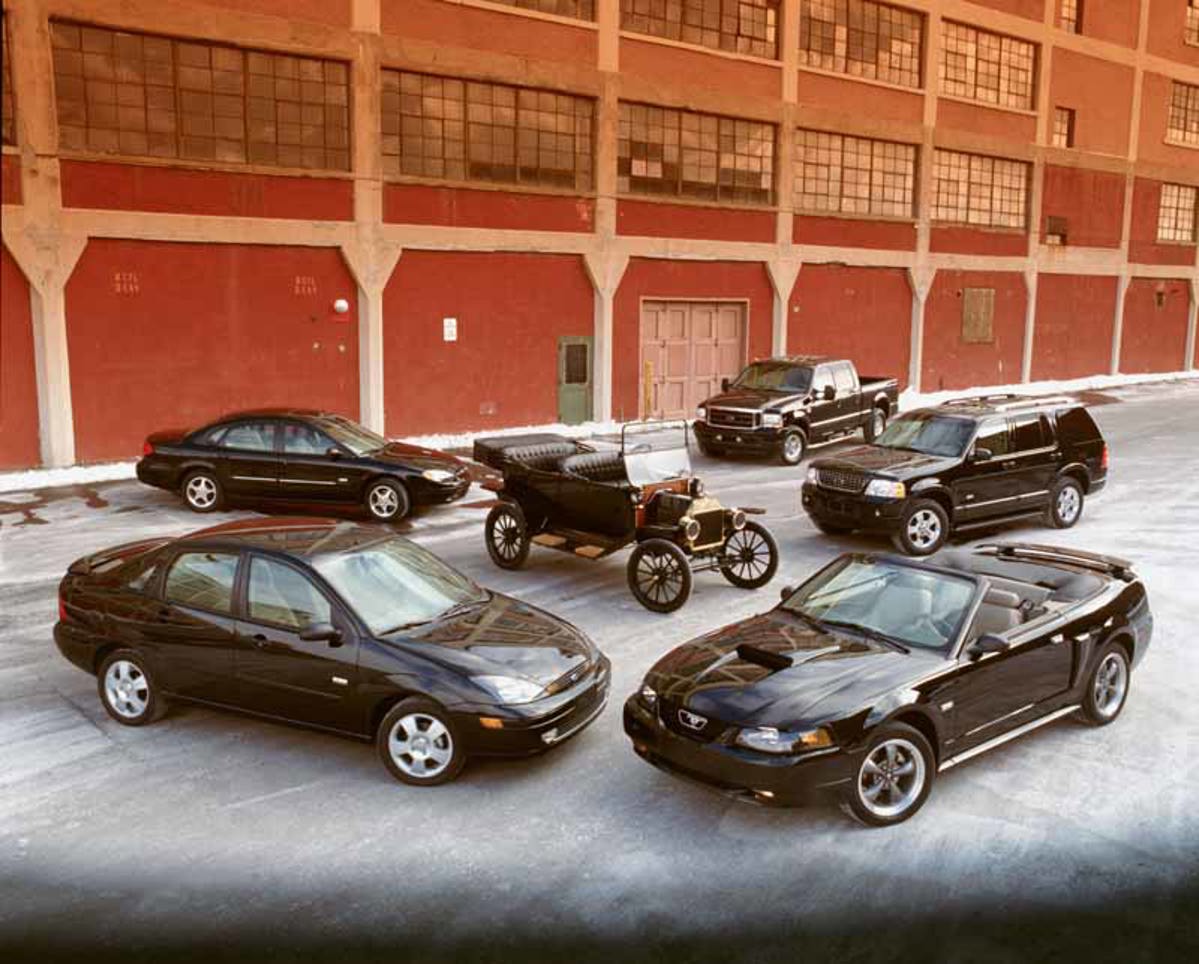 All clad in black to match the shade most associated with the Model T, Ford's Centennial editions of popular vehicles (shown in the 2002 press photo above), ranging from the F-150 to the Focus and Mustang, were a mere appetizer, released three years before the Ford GT was announced to the world during the Super Bowl in 2004, during this thrilling commercial directed by Jeff Zwart.
As the end of the commercial proudly proclaimed, the Ford GT was to be "The Pace Car for an Entire Company."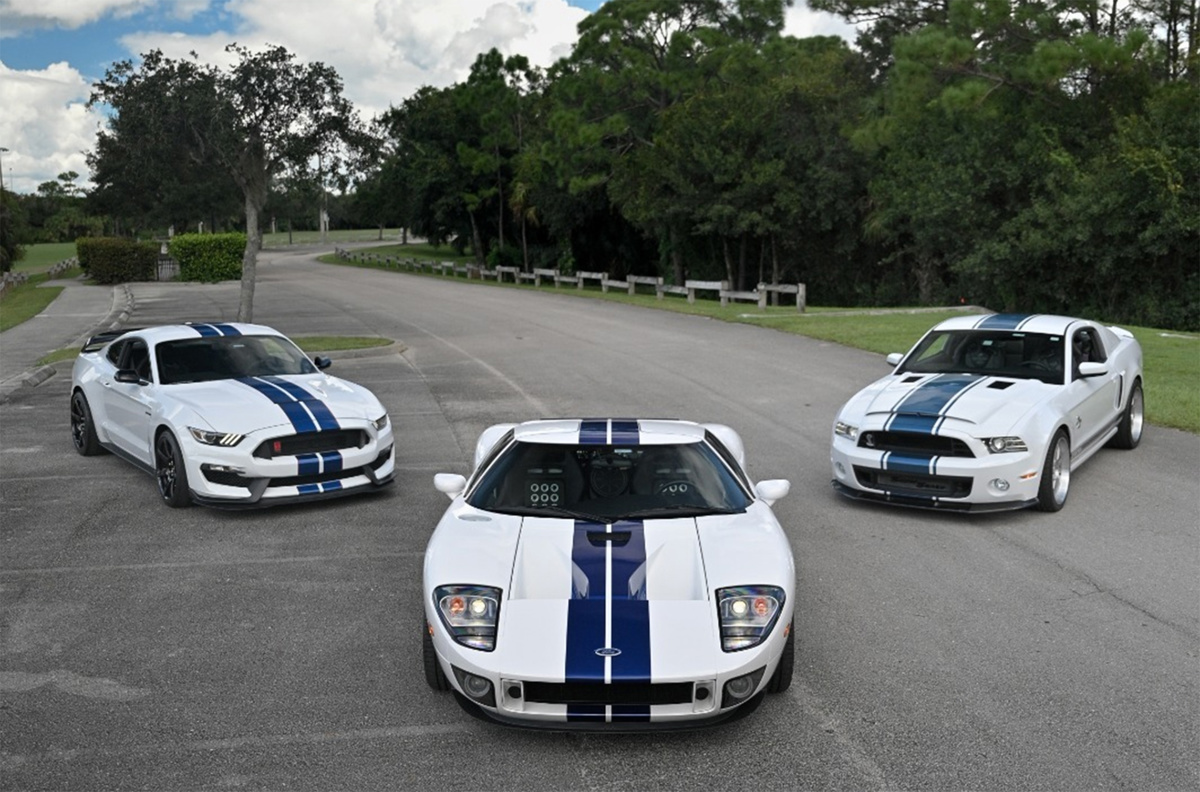 Painted the mid-century racing colors that designated an American racing car, this trio of Ford speed machines proved that the US auto industry appreciated its own history. Instead of a group of five cars painted black to match an old icon, the Camilo Pardo-designed Ford GT, flanked by two generations of Shelby Mustang (2014 GT500 and 2017 GT350 R), were made to be modern icons themselves. The heritage-inspired blue-over-white liveries may be reminiscent of the past, but underneath the skin, these Fords were more than mere retro revivals.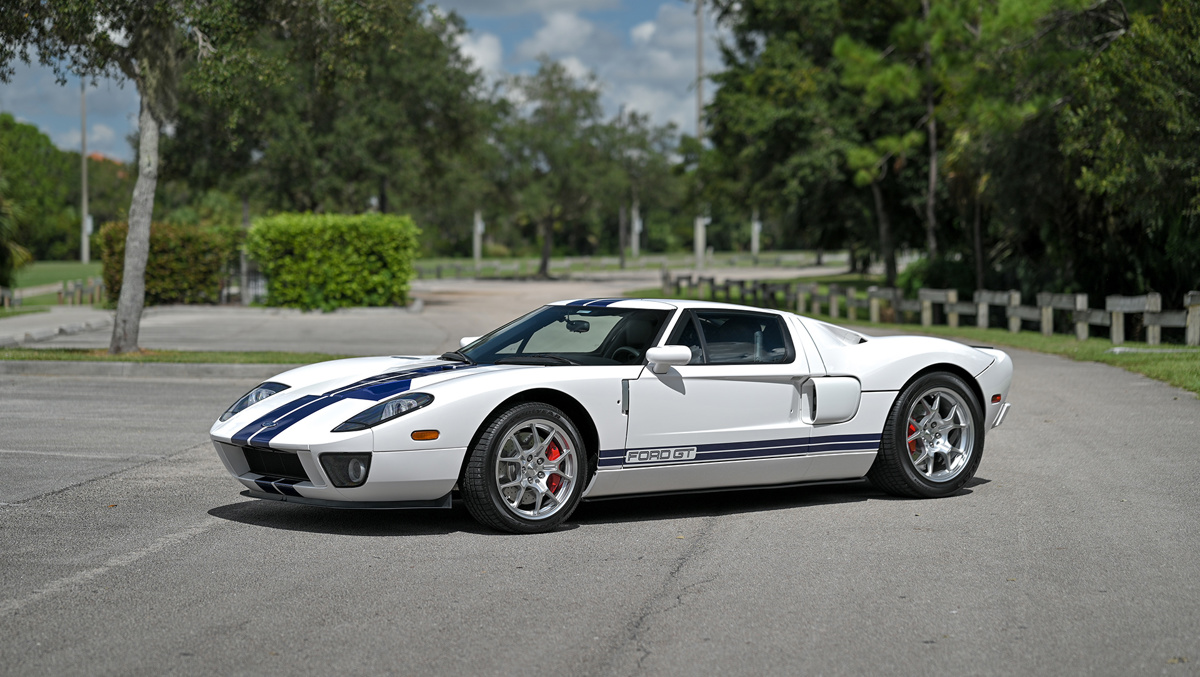 2005 Ford GT
Estimate: $275,000 - $300,000 USD
Conceived at a time when Ford was truly taking risks and reaping rewards, the Ford GT was a statement of purpose, showing that the fighting spirit that defined the company from its inception was still driving decision-making in Dearborn. Perhaps unsurprising for those familiar with the inner workings of Detroit's "Big Three," the impetus behind Ford's performance push actually came from a cross-town rival: Chrysler.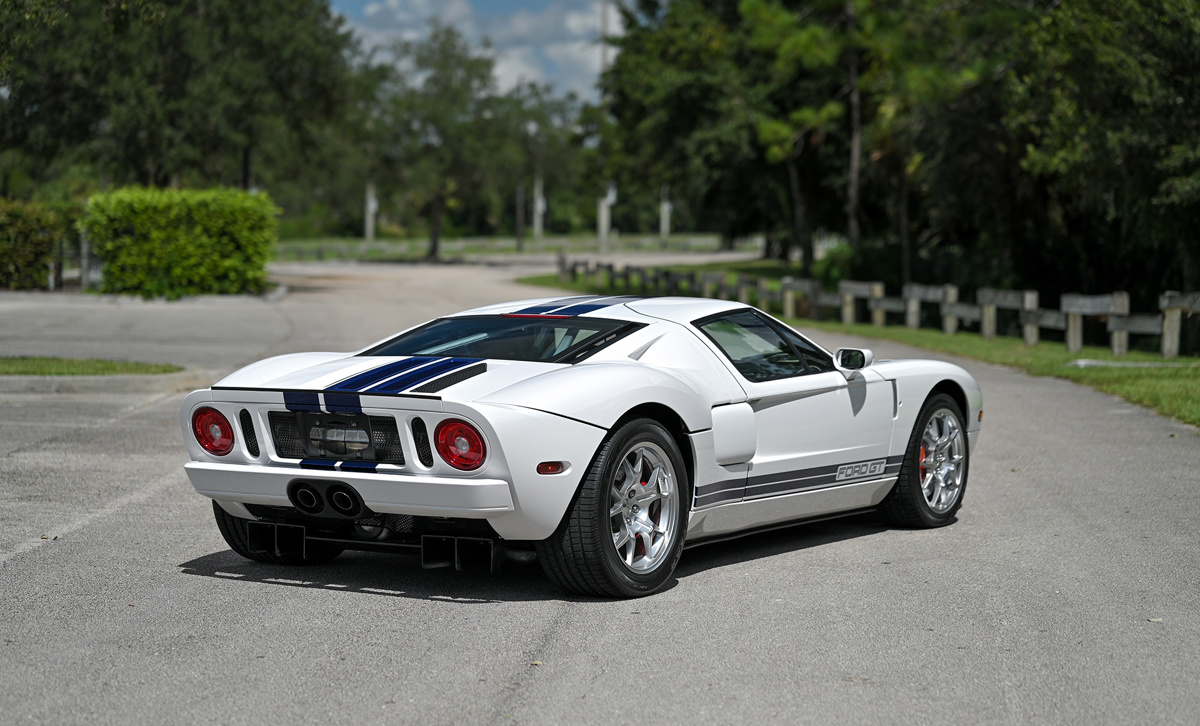 At this point, most Ford fans have to be asking, "What?" The whole story of the Ford GT was a resurgence of the rivalry with Ferrari—with the Modenese-made, V-8-powered 360 coupe set as their performance benchmark. But recently, alternate history has emerged, with the "Father of the Ford GT" being revealed as longtime product manager Chris Theodore, who came to Ford after a long history at Chrysler culminating in the Dodge Viper. Theodore's career stretches back to the days of DeLorean, and a recent, long-form video interview with the roundtable at Autoline After Hours is deeply illuminating, both on Theodore's work on the Ford GT and the 2005 Ford Mustang.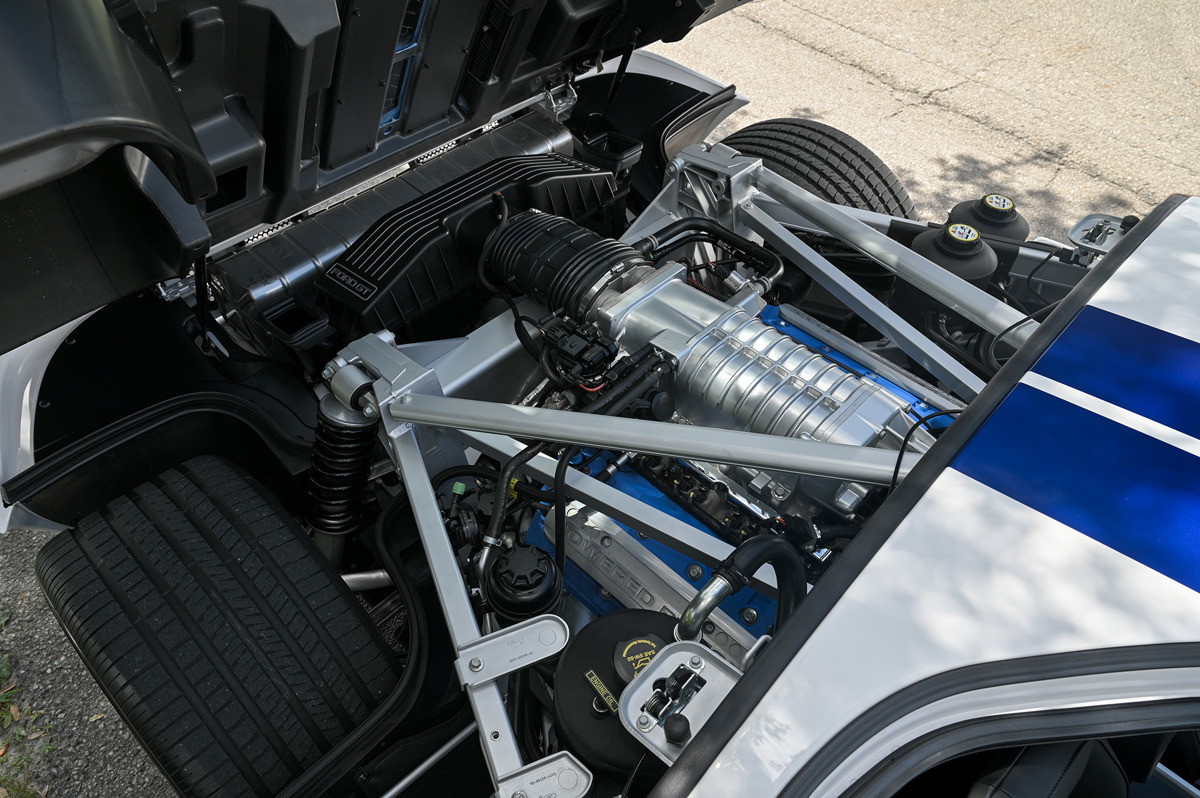 But enough history—aside from the paint scheme, Ford GT fans really care about two things: mileage and options. A "Four-Option" GT, like this example, comes equipped with forged aluminum wheels by BBS, red-painted brake calipers, the critically acclaimed McIntosh stereo system, and, last but not least, twin Sonic Blue Metallic stripes. And the all-important mileage: Fewer than 2,400 on the odometer.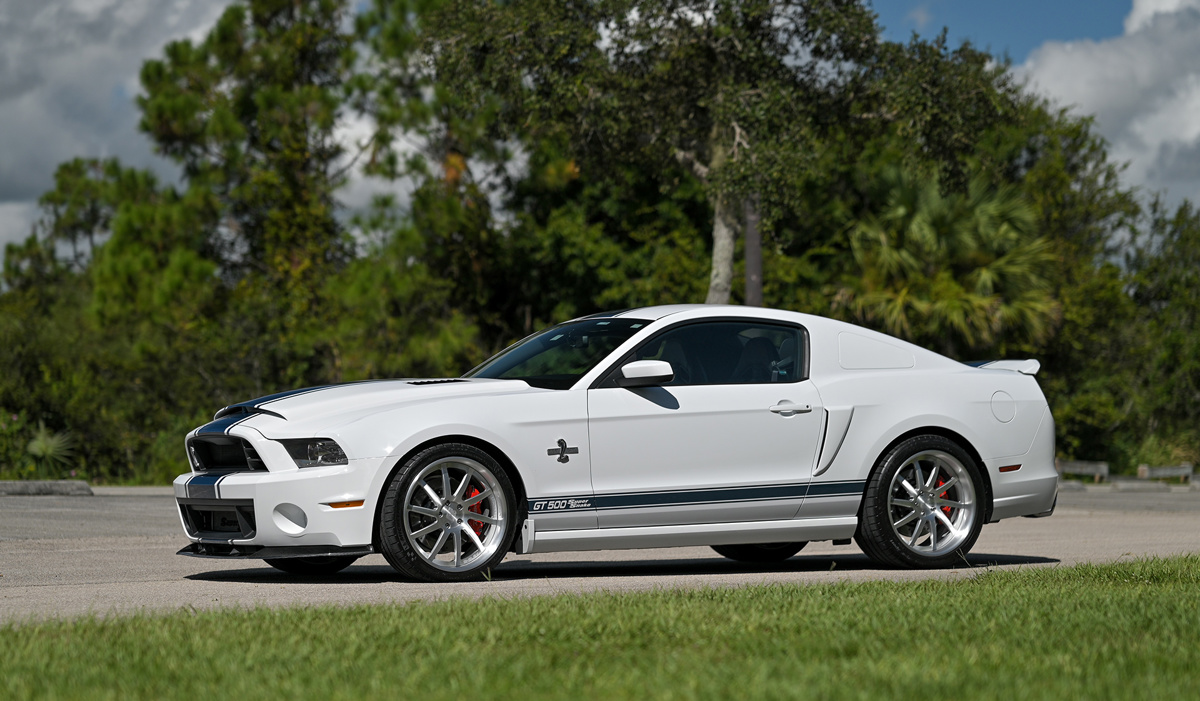 2014 Ford Shelby GT500 Super Snake Prototype
Estimate: $60,000 - $80,000 USD
For those who want a true piece of Mustang history, this Ford Shelby GT500 Super Snake is worth close inspection. Made especially for a collector of early Mustang examples, Mr. Les Baer (whose collection included both development mules and early Shelby prototypes), this 2014 Ford Shelby GT500 Super Snake rolled out of the Ford Flat Rock, MI, Assembly Plant on 18 November 2013, and shipped to Gaudin Ford in Las Vegas, NV. The Mustang must have been lucky, as it was retained by none other than Shelby American, Inc. in May 2014. Then the upgrades started…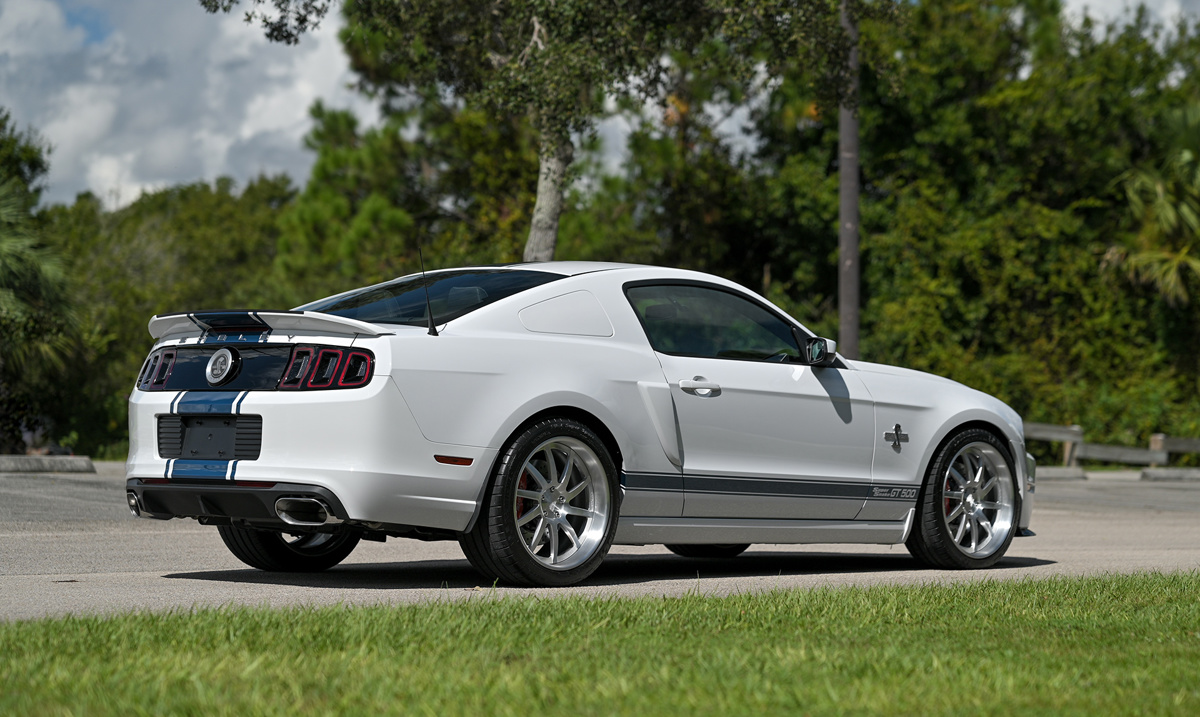 Wearing a color scheme of Oxford White under the optional triple "Over-The-Top" stripes in Guardsman Blue, according to the accompanying Marti Report, was already a relatively rare specimen from the factory, one of only 58 built with this aesthetic spec in 2014…
Yet the most significant upgrade to note has to be the hand-built, 5.8-Liter all-aluminum V-8 engine—which, thanks to a lovely, polished Kenne Belle supercharger, turns out a massive 850 horsepower. Featured in a tour of Mr. Baer's collection in the November 2015 issue of Guns and Ammo Magazine, this Shelby comes with a fully documented path of noteworthy ownership and is an honest part of Ford performance history.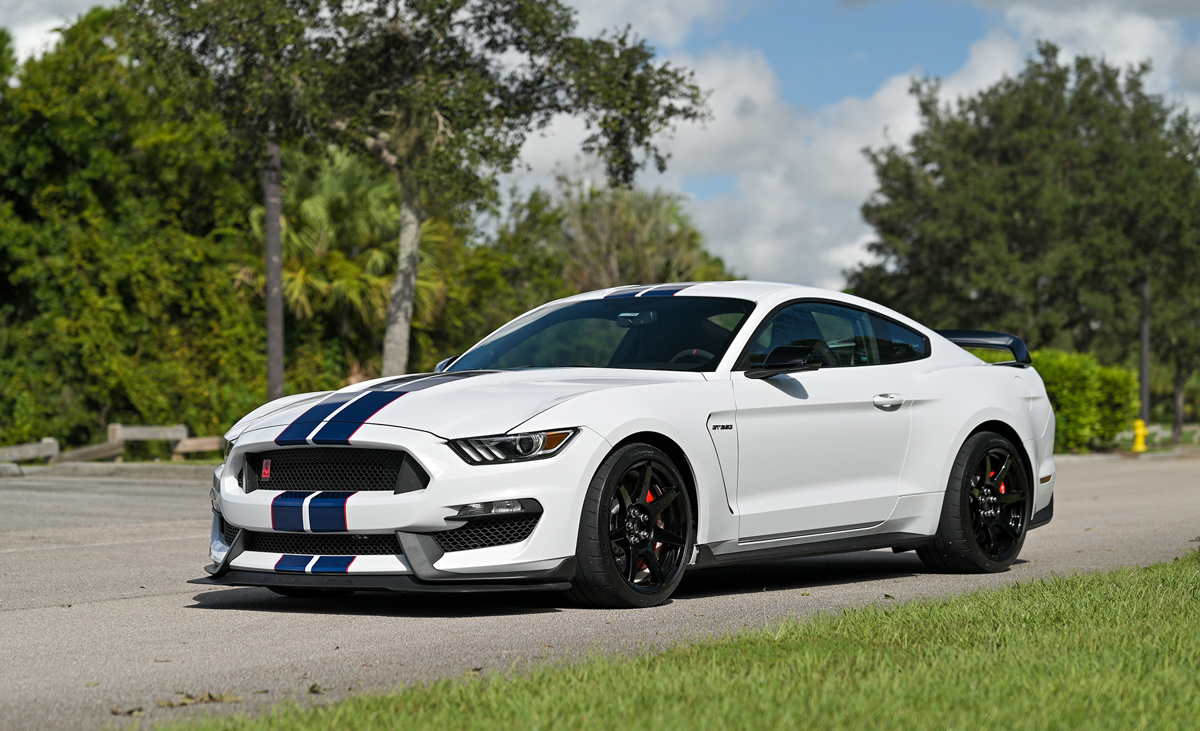 2017 Ford Shelby GT350 R
Estimate: $55,000 - $65,000 USD
Perhaps counterintuitively, the newest car on our list of fast Fords comes with the lowest estimate. But don't count out this modern Mustang—packed with next-generation technologies and track-focused features.
Also, relatively rare, this GT350 R was one of only 906 assembled in 2017—specially ordered by the consignor to match the other two Ford examples. Wearing Oxford White with twin Lighting Blue stripes, this Mustang harkens back to classic Shelby coupes and is one of only 111 produced in this scheme for that model year.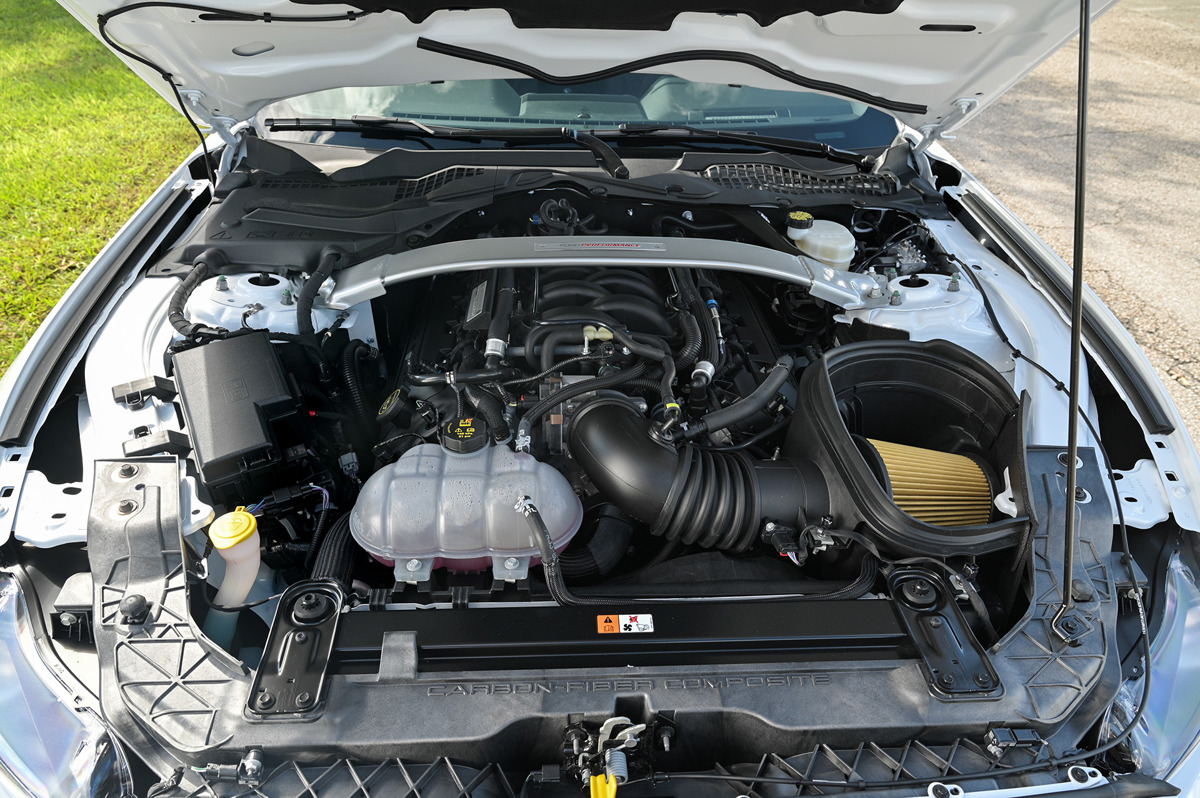 But beneath the heritage color scheme breathes an all-new Shelby Mustang, with MagneRide dynamic suspension offering driver-controlled dampening on the staggered carbon fiber wheels clad in Michelin tires. Also, hand-built, with lightness in mind, the all-aluminum 5.2-Liter produces 580 horsepower—perhaps not as much as the Super Snake, but not bad for a naturally aspirated engine. Included is a model of perhaps the engine's headline feature—a flat-plane crankshaft that roars up to an 8,200 RPM redline.
With advanced sports cars like this Shelby GT350 R lifting the bar for the rest of the brand while remaining respectful of its past, the future of Ford performance looks undeniably bright.