Some executions of automotive artwork are so immediately captivating that there is no question whether they are worthy of being considered as works of art. Created by Southern California-based artist Hiro Yamagata, the subject of today's exploration is aptly entitled "Butterflies and Roses," an expressive and extravagant work, blooming with captivating color and liveliness on the outer skin of this post-war Mercedes-Benz. A work that is perhaps best viewed in profile, this unique piece of art on wheels will be viewable along with a slate of exceptional cars from RM Sotheby's signature Monterey sale, spanning this year from 18 to 20 August at the Portola Hotel & Spa. Art is, after all, best judged in person: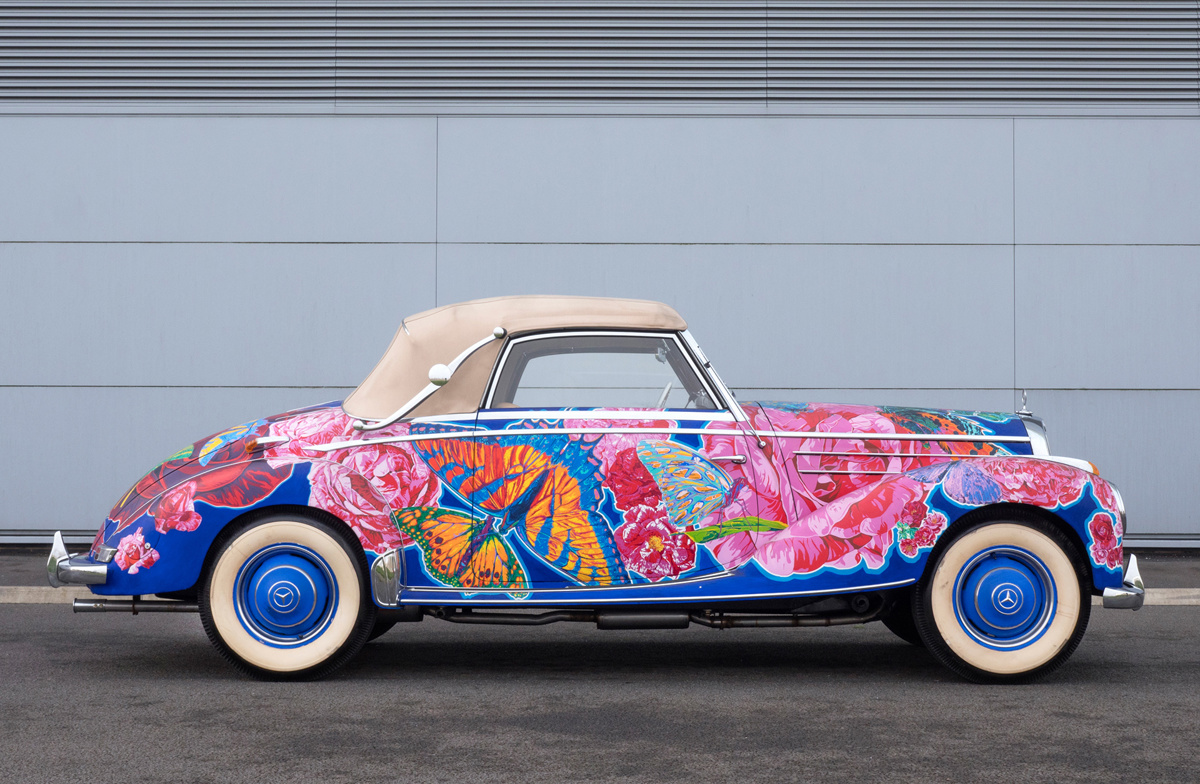 1952 Mercedes-Benz 220 A Cabriolet
Estimate: $220,000 - $350,000 USD | Offered Without Reserve
A pioneering artist born in Maibara, Japan, who moved to Los Angeles in 1978 and both captured and changed the city's artistic landscape with his intricate serigraph reproductions, the depth of abilities possessed by Hiro Yamagata is undeniable. Popularized first by a chain of galleries owned by Martin Lawrence Galleries, Yamagata's prints were the cornerstone of a multi-million dollar business in the mid-1980s. Ten years later, the mercurial artist shifted his focus from two-dimensional to three-dimensional art when he paired with longtime gallery owner Fred Hoffman, who still represents Yamagata today. Though their collaborative efforts encompass everything from large-scale laser installations in prestigious museums like the Guggenheim Bilbao to comparatively tiny bronze sculptures, finished in his signature colorful style, without a doubt the largest-scale paintings ever created by Yamagata are known as the "Earthly Paradise" series. Initially, this example was going to be one of a staggering twenty-four in total.

All of Yamagata's works in "Earthly Paradise" used the same model, the 220 A Cabriolet. One of the first new production models for the three-pointed star brand after World War II, the Mercedes-Benz 220 A marked the reappearance of the six-cylinder engine to the firm's fleet. Unlike the various 170 models, the 220 A showed a distinct step away from pre-war styling for the typically conservative brand, with its headlights integrated into the front fenders.

Of course, because this cabriolet is in the lineage of fine pre-war Mercedes-Benz products, accessories that were common at the time have now become extraordinary. Take the chromed carriage bars that help reinforce the canvas top, for instance. Mercedes-Benz was serious about bringing quality and luxury to their post-war products. Another instance of that famous German build-quality can be observed in the leather-and-wood-lined interior of this example.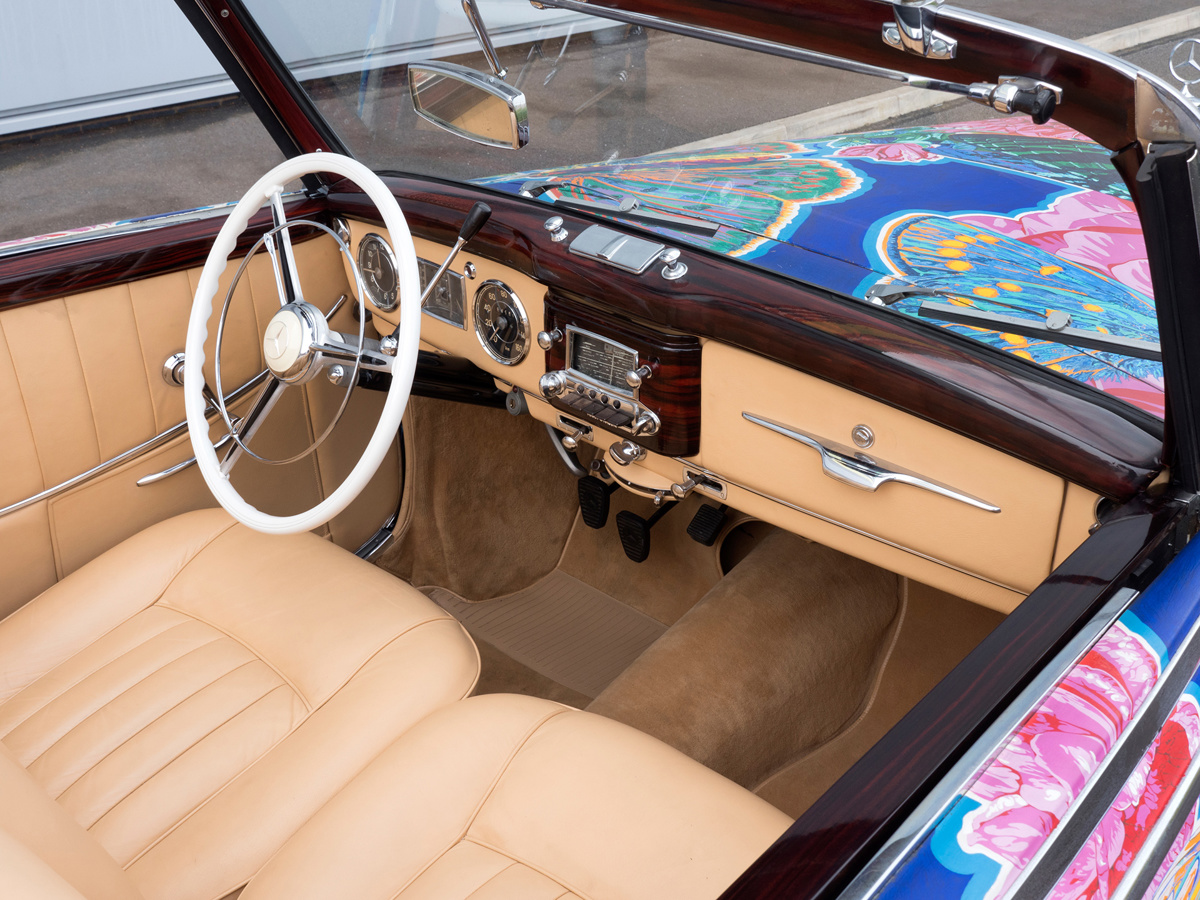 This Mercedes-Benz made for an exceptional platform on which to paint, in part because Yamagata insisted that all of his "Earthly Paradise" series be treated to interior restorations and exterior refinishing before the process started. Watching a period video of the series being created reveals the extent to which the common chassis unite Yamagata's diverse subject matter. Painted after photographs that the artist captured in Fiji, the works were meant to challenge viewers to notice the beauty that is contained in the world around us. Of course, that viewpoint is a lot easier to appreciate when at the wheel of a fine European automobile such as this.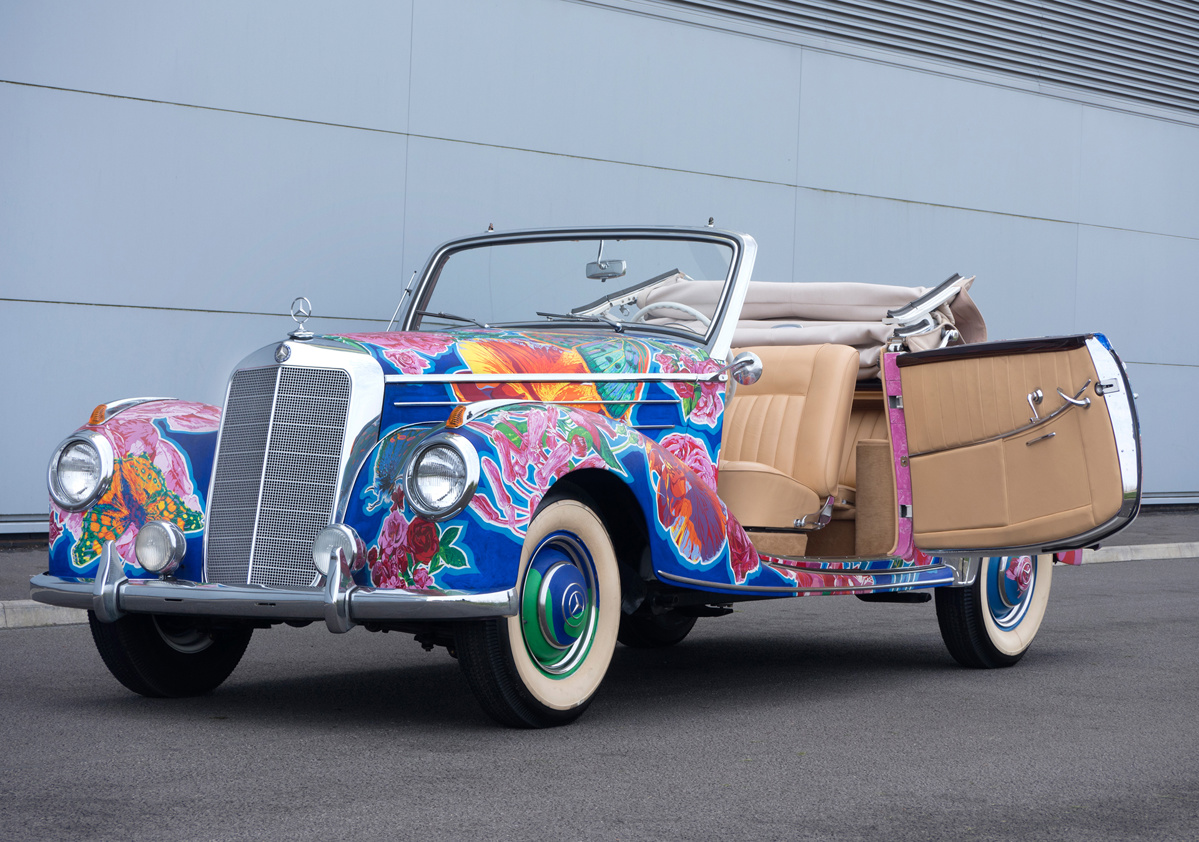 One final party trick. This post-war example sports another feature that would set any fine German cabriolet apart from more modern editions: Rear-hinged doors. After a showing at the Los Angeles Municipal Art Gallery in autumn of 1994, cars from the "Earthly Paradise" series took an overseas trip back to the continent that originally constructed them. Appearances at the 46th Venice Biennale in 1995 and several prominent European museums followed. This example, "Butterflies and Roses," was exhibited at the Vienna Museum of Applied Arts after its completion. Though Yamagata's works were the subject of local controversy upon their debut, nearly three decades later, art critics and automotive historians alike can agree that these complex works are at once distinctive and playful; delightful in execution and effervescent in their tone. Yamagata's creations are undeniably art. But are they your taste? Find out yourself at RM Sotheby's Monterey 2022 auction later this month.