The thrill of seeing a concept car debut on-stage can be sufficient to spark a lifelong passion. Before the concept car was itself a popular term, these special vehicles were popularly referred to as dream or idea cars. Telegraphing the future of design for their respective brands as well as inspiring present-day loyalty, these extraordinary cars were hand-made in extremely limited quantities. For any young person, the prospect of OEMs actually putting these concepts into production is almost as unlikely as one day actually owning one of these rare and futuristic vehicles.
Interviewed in the early 1970s, Virgil Exner, the talented designer of many dream cars including this gorgeous 1954 Dodge Firearrow II, was honest about their intent: "There was really only a single purpose in all of them, and that was to let the public know that Chrysler was thinking ahead as far as styling was concerned." Certainly, the idea of a rocket-shaped open-top cruiser with a Hemi powerplant was a tantalizing idea in the mid-1950s. Released a decade before the Ford Mustang and a year before the Ford Thunderbird, the aim with this showstopping concept was to show that Chrysler innately understood the personal luxury vehicle. Now, nearly seven decades after its debut, RM Sotheby's is proud to offer a mid-century vision of the future at our signature annual auction in Monterey: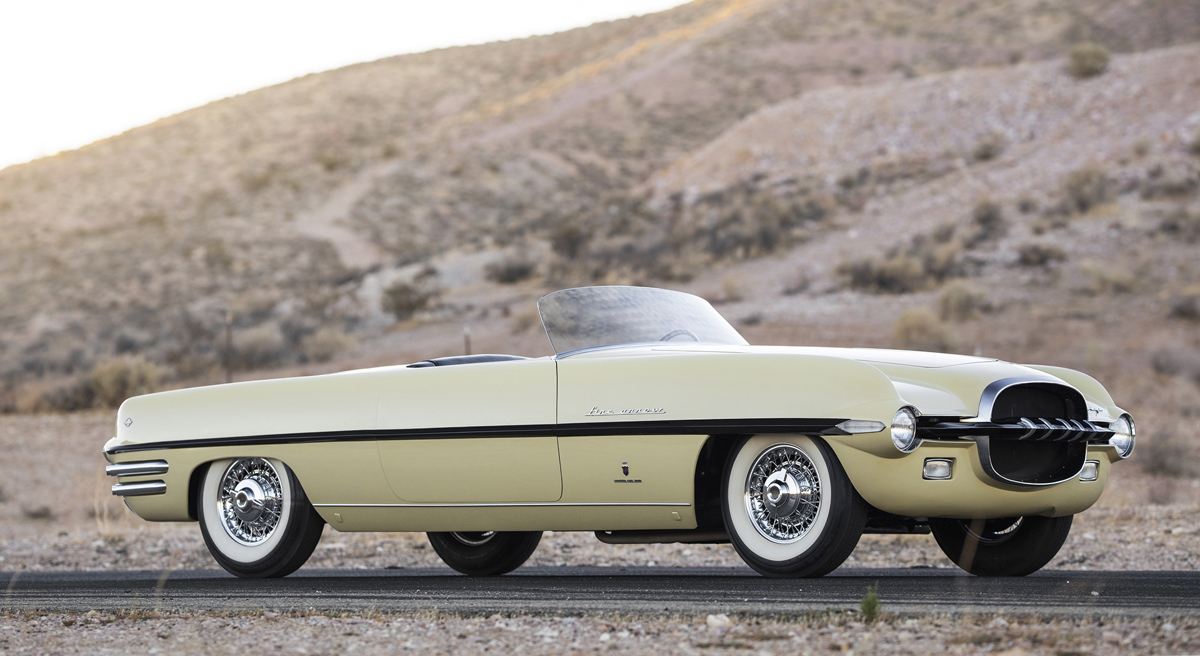 1954 Dodge Firearrow II by Ghia
Estimate: $900,000 - $1,200,000
The second in a series of spaceship-shaped Firearrow idea cars, this example was originally handbuilt by Ghia in Italy and dispatched to a number of auto shows in New York City throughout 1954 and 1955. To compete against General Motors and their attention-grabbing Motorama production, which was a veritable traveling roadshow of innovative design (if not functionality), the executives at Chrysler thought it wise that their second attempt at a Firearrow should be a working car. Unlike its predecessor or the La Salle roadster and sedan mockups which served as the centerpiece of GM's Motorama display, this Firearrow II features a fully functioning 241-cubic-inch, 150-horsepower "Red Ram" Hemi V-8, paired with a Gyro-Torque four-speed automatic transmission.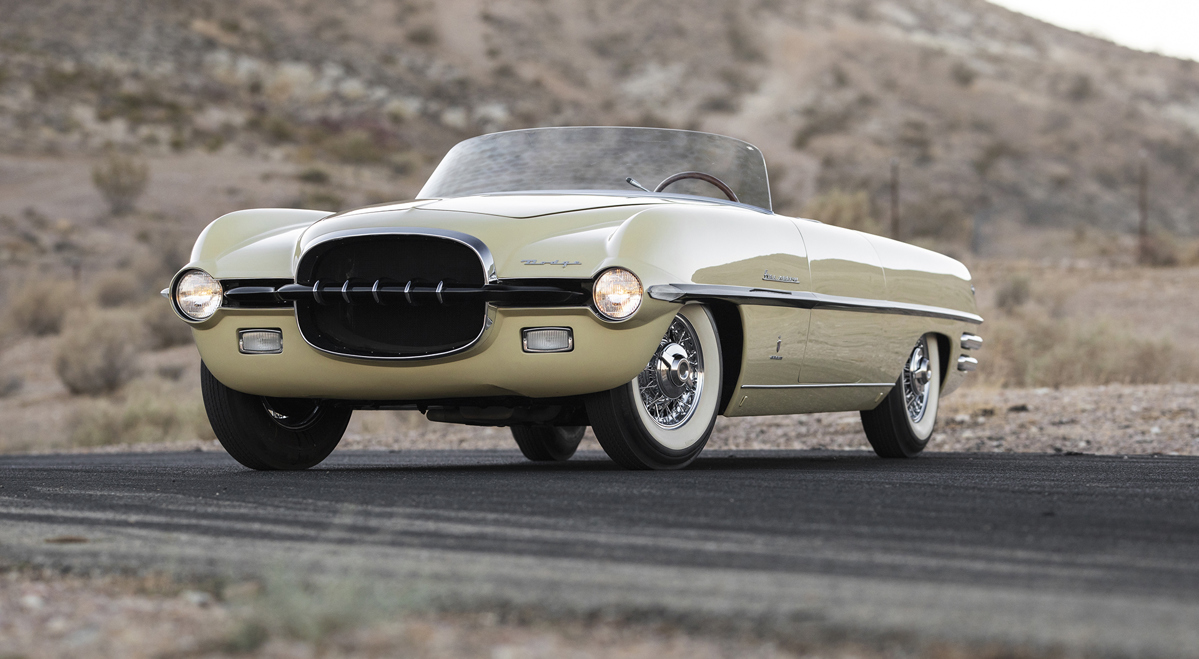 Public demand for new cars like this Italian-built, American-powered Firearrow II was so strong, after its debut in January 1954, at an exhibit Chrysler advertised as "Harmony on Wheels," this example was shown again in New York City on 8 April 1954 in a second show called "Easter Parade of Stars," as confirmed by historian of the New York International Auto Show, Gregg D. Merksamer. Though at that time, there was no official auto show in New York City, these events were highly attended. The definitive book by Merksamer describes this Easter event at the Waldorf-Astoria hotel as a direct competitor to GM's popular Motorama event. There, along with efforts from other Chrysler brands, including a De Soto Adventurer and the Plymouth Belmont, the racy Dodge Firearrow II arguably stole the show.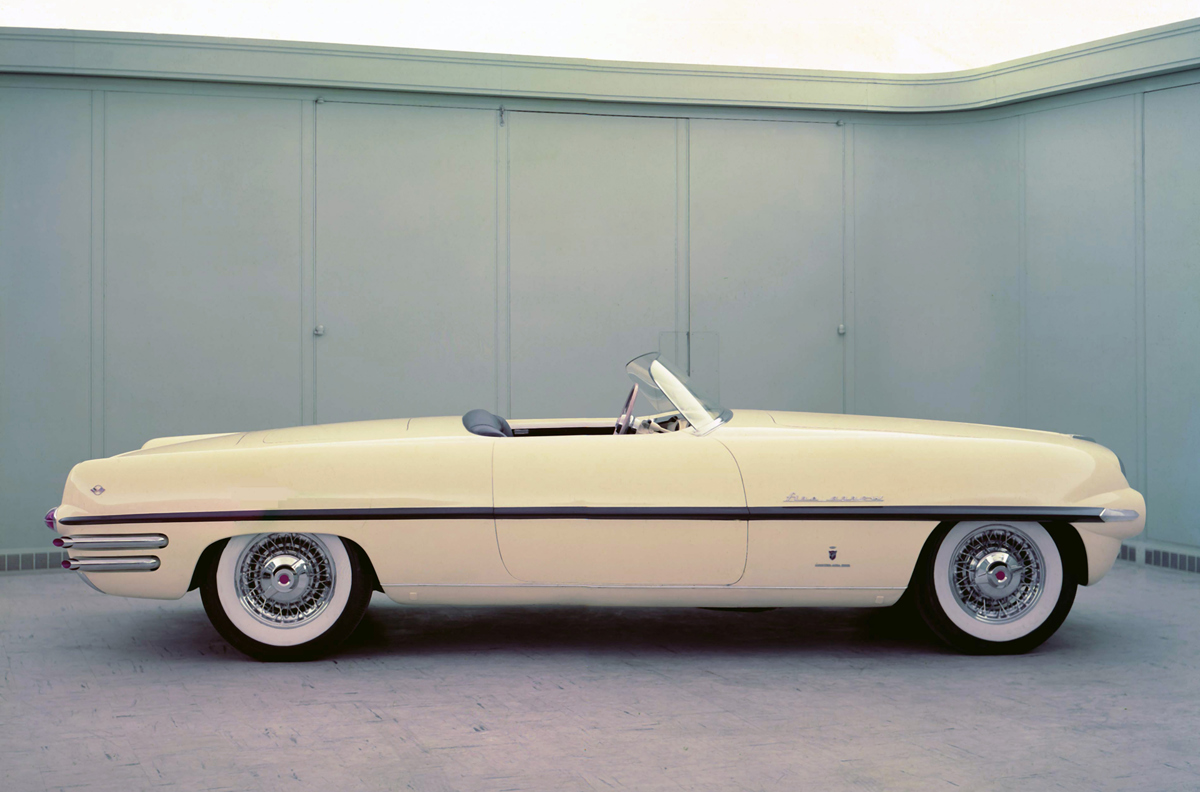 "Historic images courtesy of Stellantis Archive"
Wearing a popular period color combination of pale yellow paint paired with a practical black leather interior, proudly sporting an intricate front bumper, integrated into the evocative grille, and a novel, frameless windshield, this Firearrow II no doubt inspired the New York show attendees. With quad chrome exhaust tips extruding from a high point on its rear bumper, this concept car more resembled a fighter jet for the road. As with the best Italian-American styling collaborations, both design languages communicate with one another in fascinating ways. We are left with a tasteful automobile, handbuilt in Turin, overseen by perhaps the most talented, outspoken design chief ever to work at Chrysler.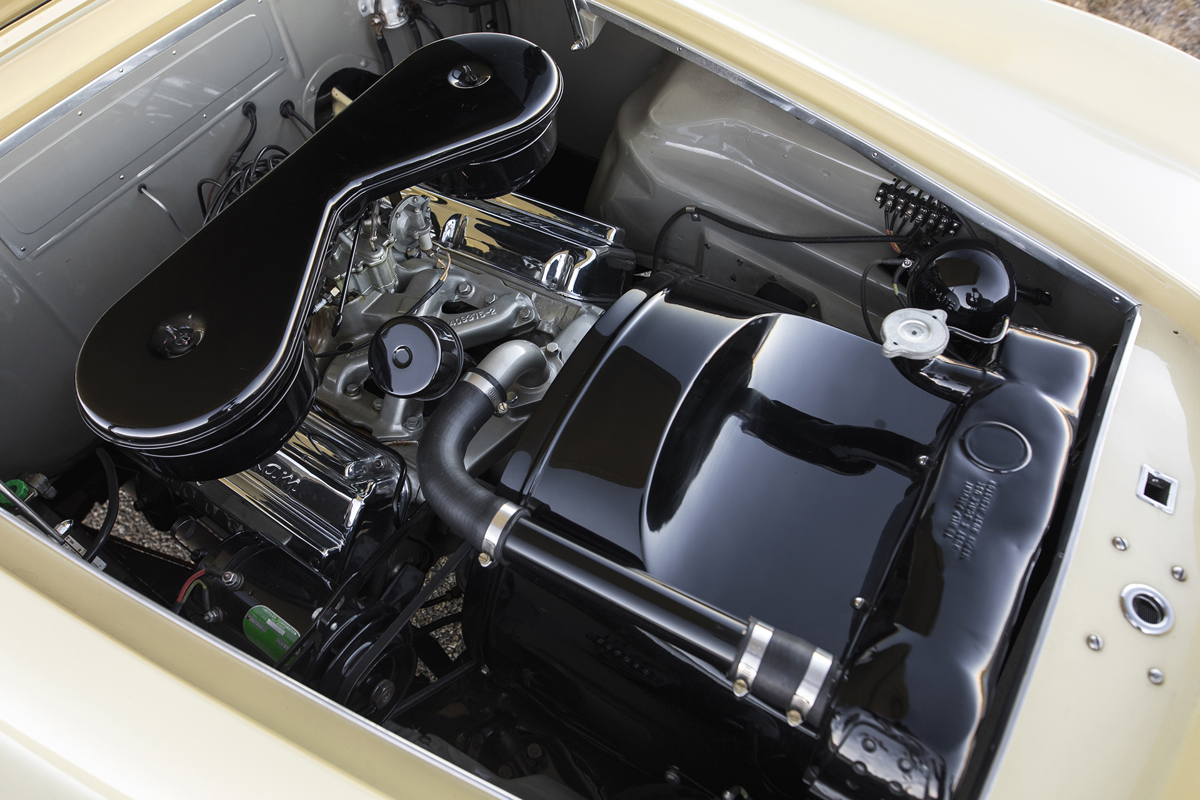 Still unique among automakers, the hemispherical heads of this "Red Ram" V-8 engine were definitely a look toward the future of propulsion in the mid-1950s. Today part of a worldwide automotive group known as Stellantis, the firms formerly in the Chrysler portfolio are all looking to the future. With the debut of an electric-powered Challenger sports coupe recently teased, it seems that the future of Dodge-branded idea cars is still filled with progressive powertrains.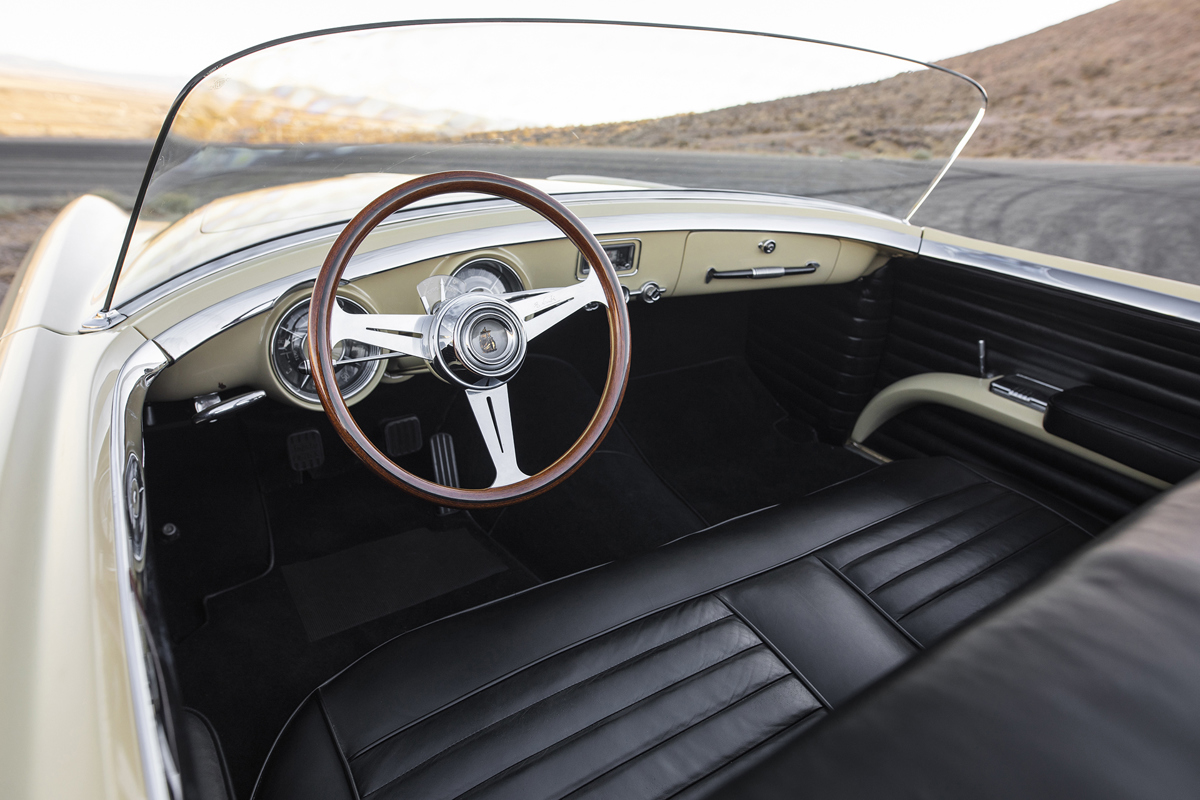 With this Jet-Age example sporting the previous ownership of noted concept car collector Joe Bortz, under whose watch this Firearrow II was rediscovered and returned to its former glory, this is a fully functional dream car, made into reality. To see the next chapter in the life of this thrilling Dodge concept car, tune in to RM Sotheby's Monterey auction, from 12-14 August 2021, and see it once again take center stage.
Special thanks to Brandt Rosenbusch of the Stellantis Archive and historian Gregg D. Merksamer for their helpful contributions to this article.