When it comes to radical reinvention in the mid-1990s, the last automotive brand that would need to reset expectations was Ferrari. After all, the Maranello-based brand was enjoying a wave of goodwill and positivity—even from their longtime competitors—after their legendary founder and namesake, Enzo Ferrari, died in 1988.
Enzo's parting gift to the Ferrari faithful was of course another iconic effort, the F40, which we have covered in this space previously. As luck would have it, RM Sotheby's is offering both flavors of Ferrari halo car in our annual Amelia Island auction, set for 22 May 2021. Join us as we go on a tour through the qualities that made the F50 exceptional even in the rarified air of limited-edition Ferrari models: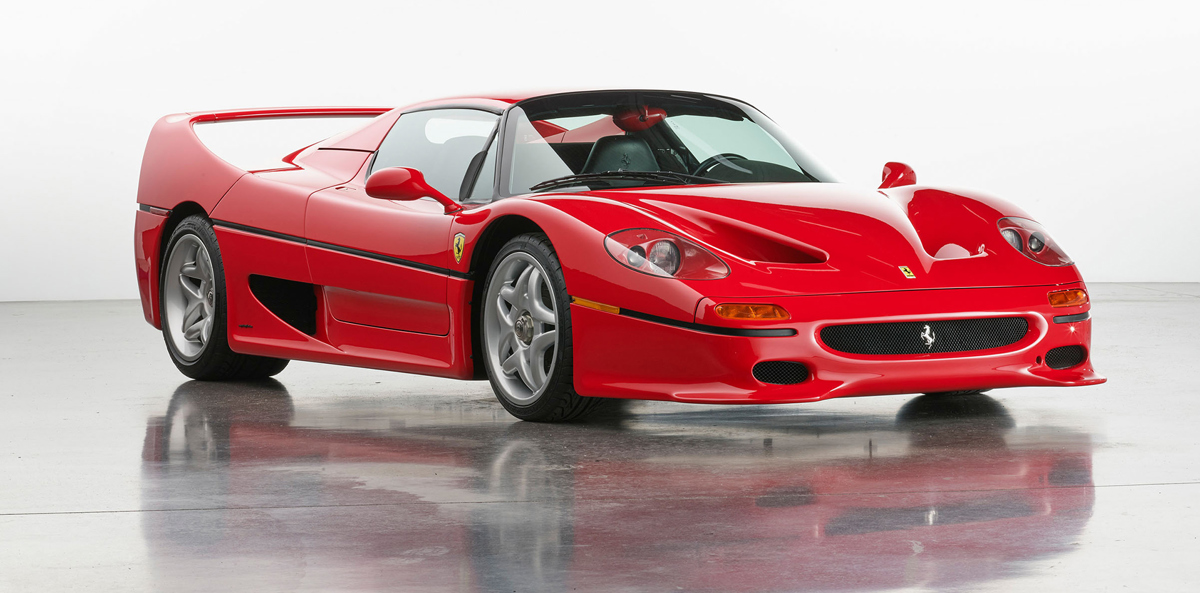 1995 Ferrari F50
Estimate: $3,400,000 - $3,750,000 USD
Chassis No. ZFFTG46A5S0103922
Serial No. 048/349
Engine No. 810237
Consider, for a second, the enormous task faced by the product planners, engineers, and marketers at Ferrari in the early 1990s. The F40 was (and still rightly is) considered an enduring icon of automotive performance; Enzo's glorious final act, never to be repeated. Ferrari would have to top their previous effort in every avenue for the tifosi to consider the all-important F40 follow-up to be a success.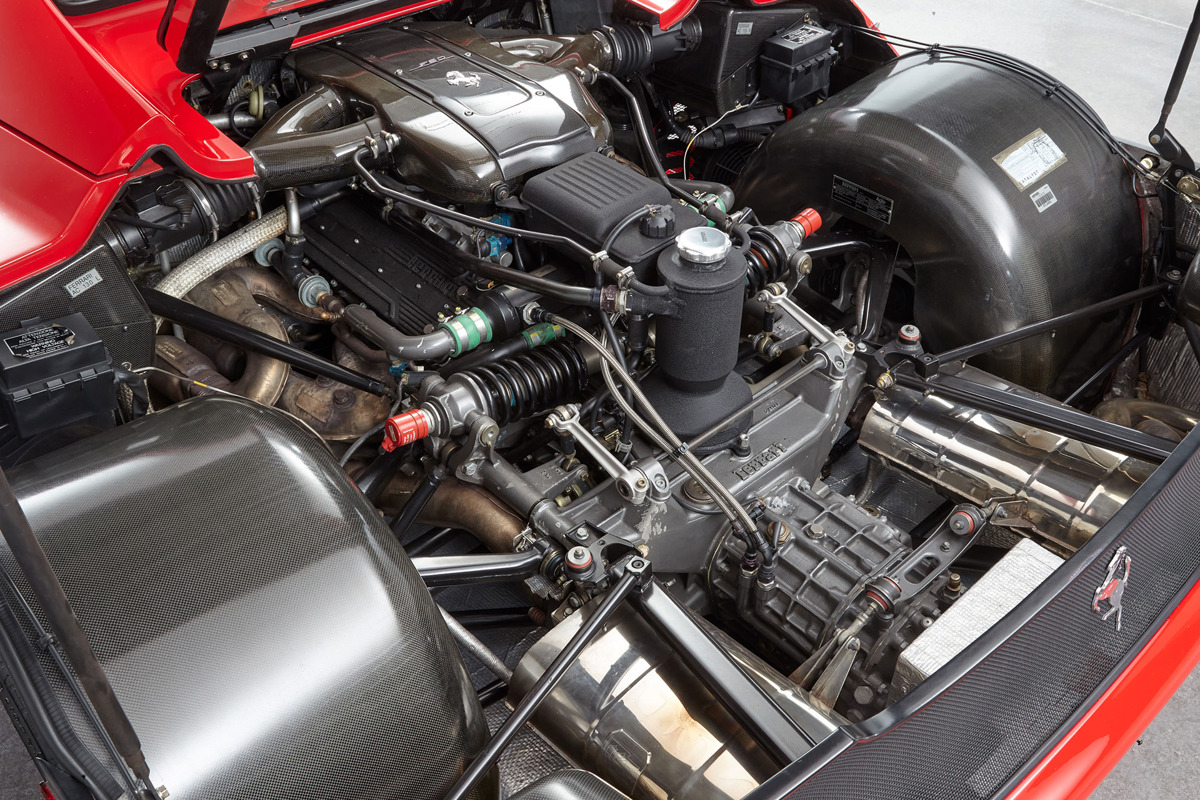 The first area of focus was the powerplant. Though the F40's twin-turbocharged V-8 power delivery had its advocates, then and today, the F50 promised something even more satisfying to automotive aficionados: A naturally aspirated, 4.7-litre V-12; an enlarged version of the 3.5-litre powerplant found in Ferrari's official entry in the 1990 Formula 1 season.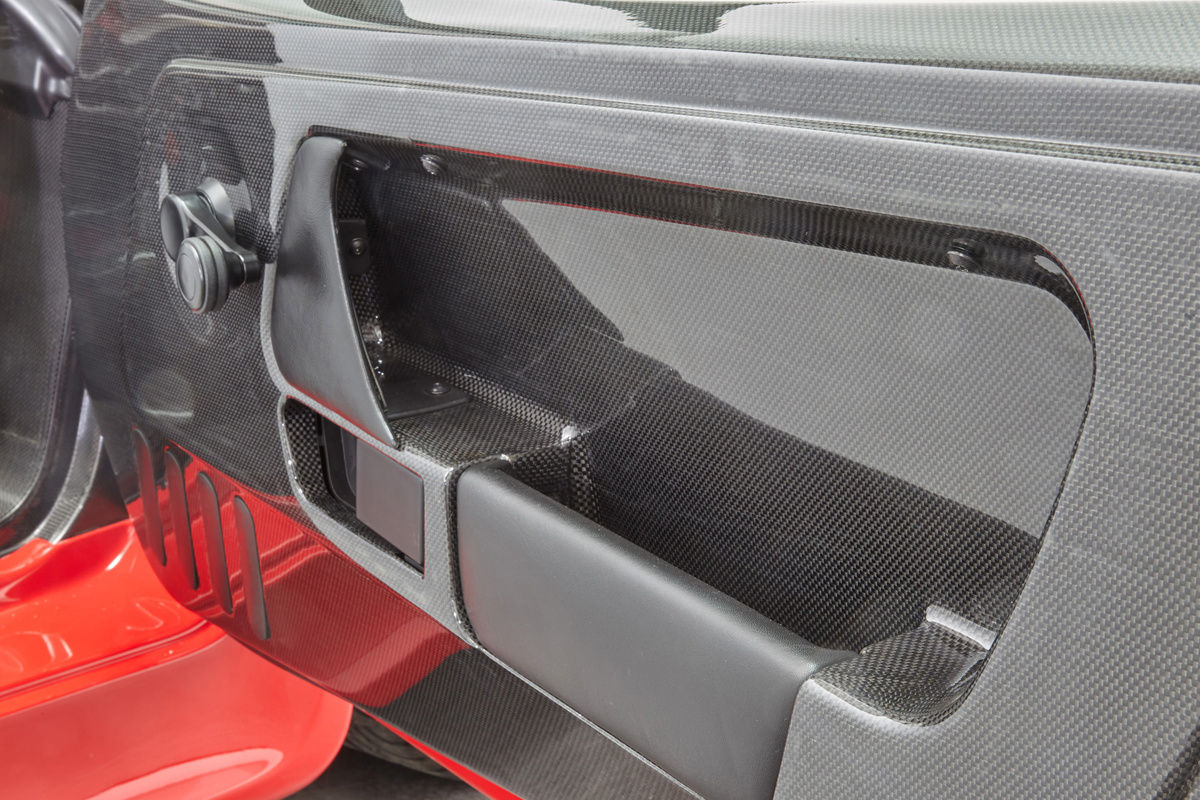 Taking another cue from their motorsports learnings, Ferrari engineers designed the Tipo F130B powerplant on the F50 to be utilized as a stressed component of the chassis. As with the numerous carbon fiber components making up the shape and form of the F50, the overall goal of the Ferrari engineers was a sports car with a formidable power-to-weight ratio, as well as the direct steering feel and connected driving experience that can only come when the driver is sitting in a carbon fiber tub attached directly onto a twelve-cylinder engine.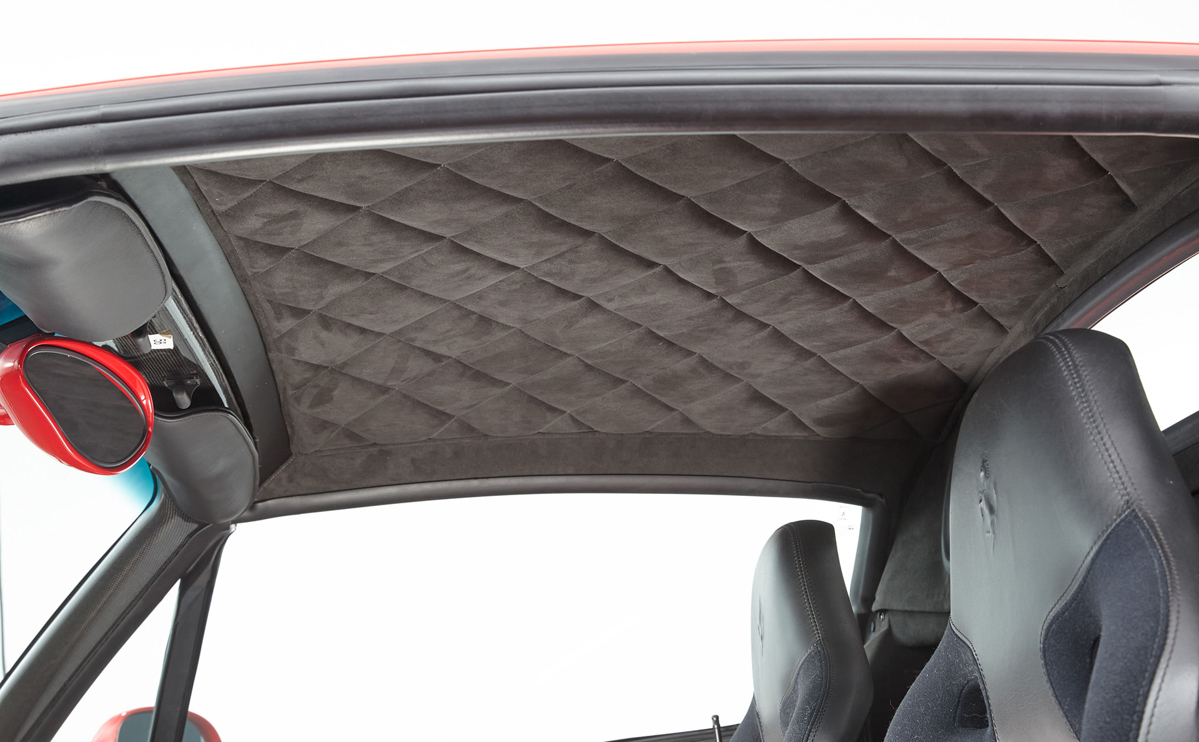 Inside the F50's spartan cabin, the carbon-fiber theme was visibly on display. And yet, in contrast to its track-ready predecessor, the F50 showed Ferrari had evolved not only in their expertise in advanced materials but in terms of overall design as well. Direct evidence of this can be seen immediately when opening the doors on the F50, which feature traditional interior door handles (as opposed to the ultra-lightweight pull-strap on the F40) as well as a handy storage area, executed in carbon fiber. This newfound ability to consider both practicality without compromising driving experience became a hallmark of future Ferrari hypercar designs, from the Enzo to La Ferrari.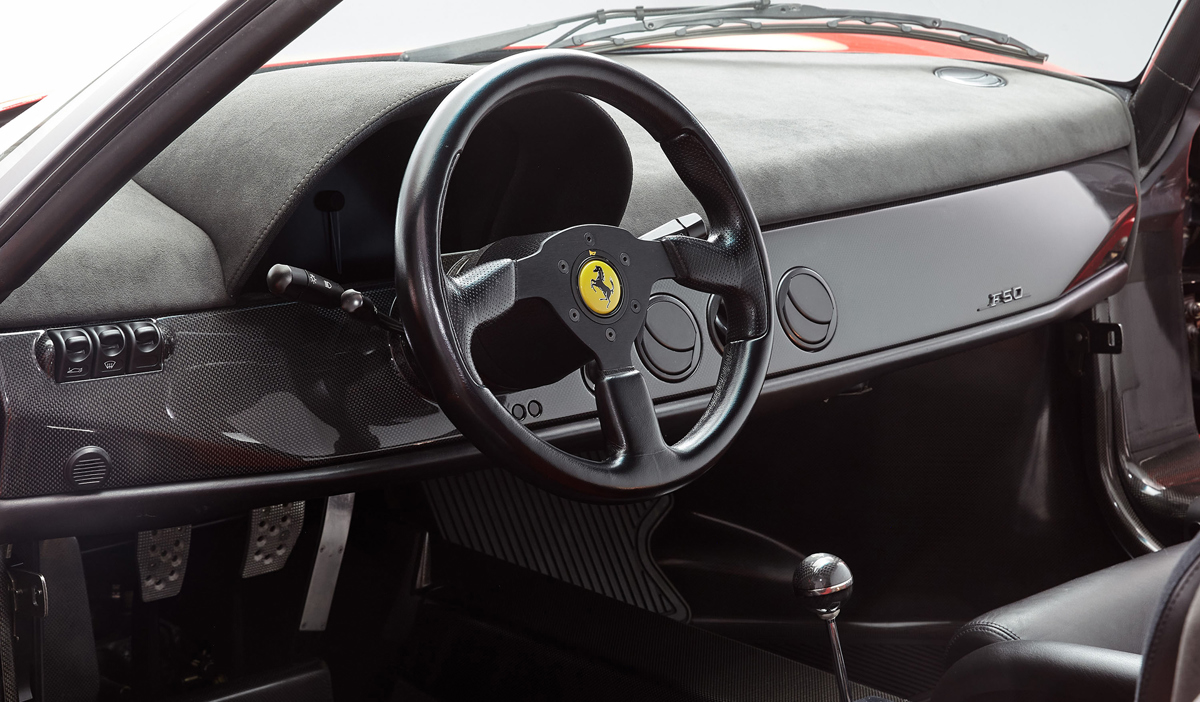 Unlike the La Ferrari and Enzo, F50 owners could enjoy their purebred prancing horses al fresco, as one feature found only on examples like this one is a removable hardtop, also made of carbon fiber. More of a fully integrated part of the F50 rather than a mere accessory, the removable targa roof on the F50 requires some consideration before taking off and typically involves help from a second set of hands. When attached, the padded top creates a comfortable, cossetted environment within the F50. The subsequent owner of this fabulous F50 will get to make the ultimate decision of whether to exercise their Ferrari supercar with its top open or closed.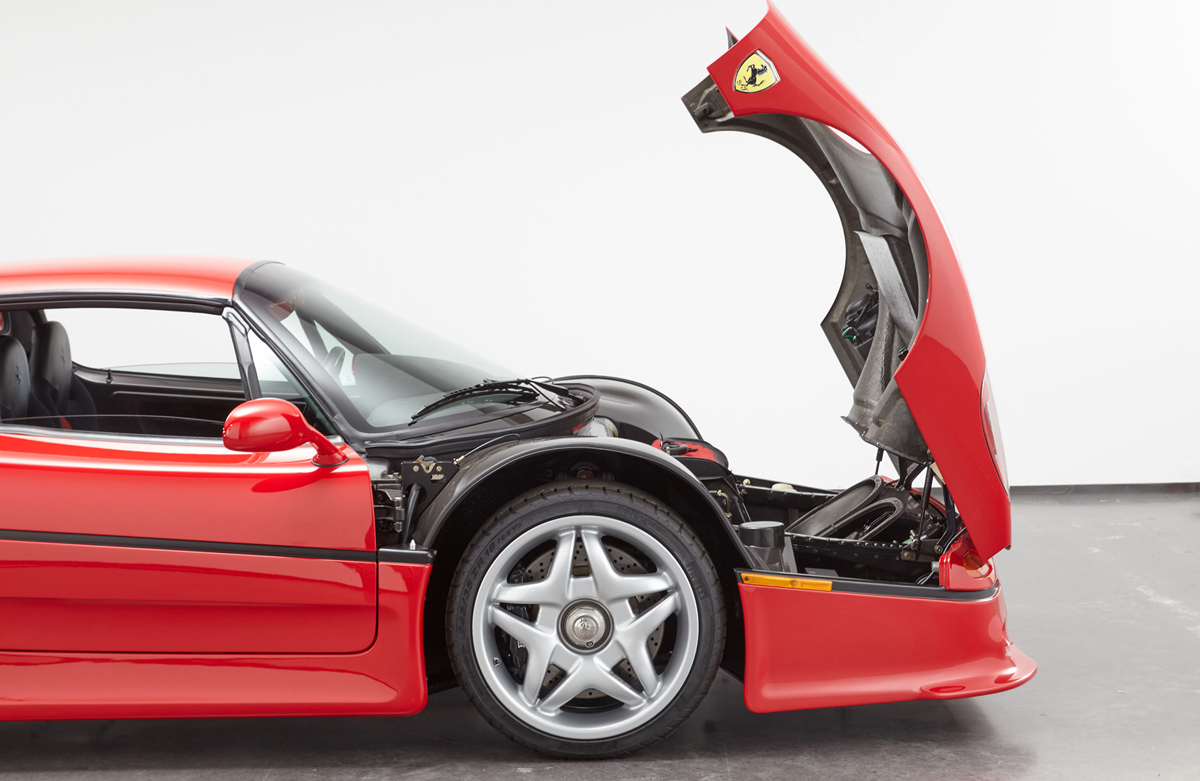 Either way, the new owner will gain access to a front-row seat for a fundamental formula that has come to define the best Ferrari-branded cars since Enzo's earliest motorsports efforts, driven (quite literally) by a six-speed, open-gated manual transmission. Unlike more modern offerings, the F50 came fitted only with a standard-style transmission.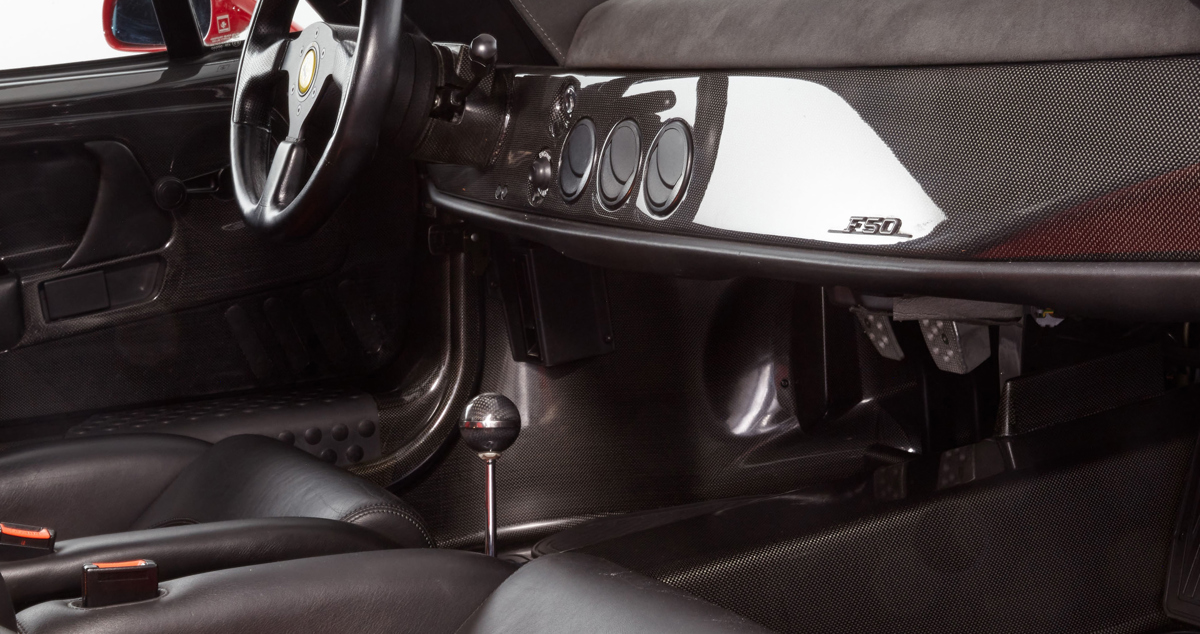 And yet, the longitudinal six-speed featured in the F50 could be described as anything but standard. If anything, the choice of a manual transmission on the F50 made accessing its high-revving, naturally aspirated V-12 much more of a user-driven operation than was possible in the hyper-competent hypercars that followed. If you happen to be a Ferrari fan in search of a visceral driving experience, reaching the upper regions of RPM allowed by the 512-horsepower V-12 on the F50 surely has to be on your bucket list.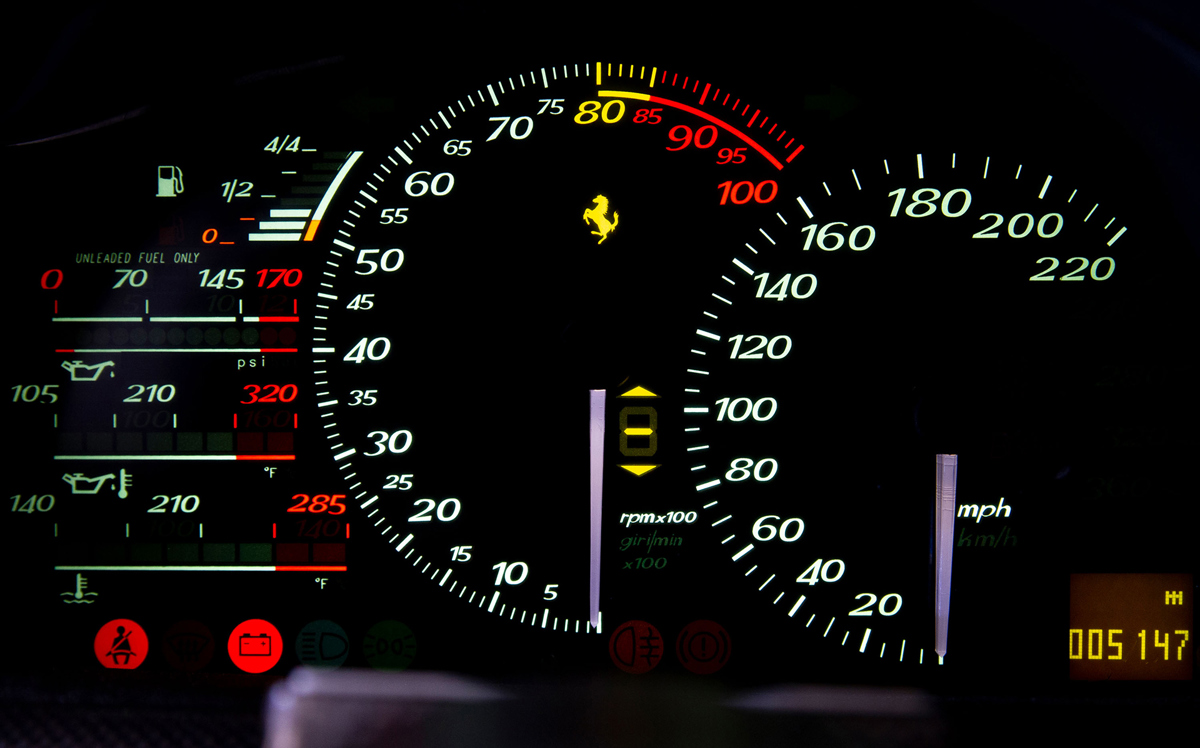 Perhaps pertinent to this performance-oriented dream, this example has received its major service as recently as 2018 by Ferrari of San Antonio. Uncommon even among Ferrari's exclusive halo models, this example was the 48th of 349 examples produced, and one of a mere 55 provided to the U.S. market. And yes, the highly desirable, custom-fitted set of Schedoni leather luggage is included.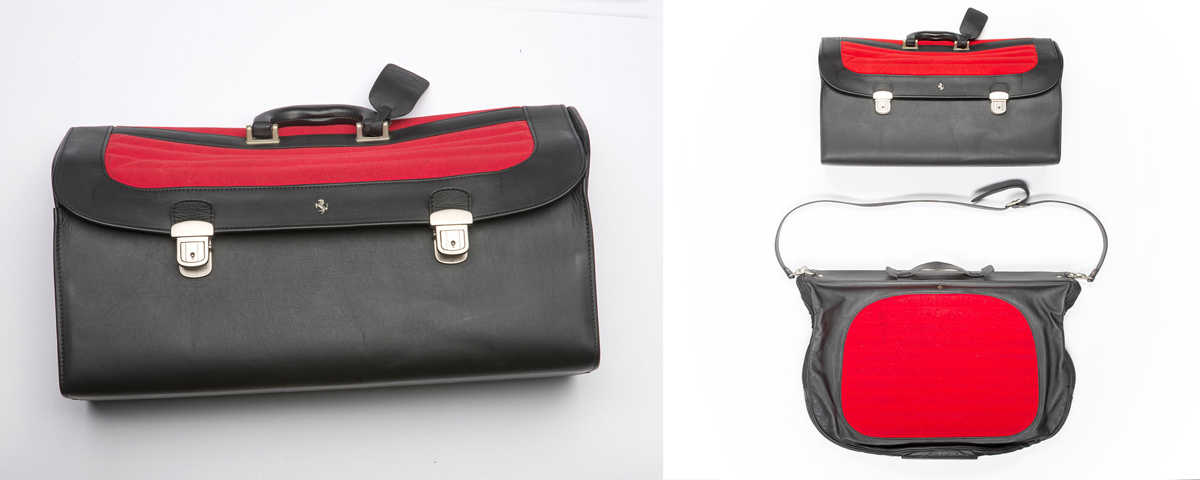 With only 5,147 miles showing on its digital odometer at the time of cataloguing, this F50 is a supercar without comparison, allowing for an open-top, driver-focused follow-up to the F40 that surely would have made even Enzo himself proud. A halo car for the Ferrari brand which still shines brightly.