Ferrari is a brand well-known for their worthiness of poster car status. Though every automobile finished with a prancing horse badge is built to deliver thrilling excitement at the wheel, some models are by their nature more special than others. Typically, one can tell this by the badge. Of the many decades and model years, the Ferrari cars that most intrigue the tifosi have three digits: F40, F50, F60.
Handbuilt in limited quantities, these halo-level Ferrari cars were arduous to acquire even when new. Fortunately, RM Sotheby's recognizes the desire among Ferraristi to view the freshest-to-market selections of flagship Ferrari cars. And so, at our signature annual event in Monterey, running three days this year from 12-14 August, our organization is proud to offer all three pieces of the triple-digit triple crown of Ferrari, with a 1991 Ferrari F40 showing merely 2,896 miles from new, as well as the achingly uncommon 2016 Ferrari F60 America, one of ten built for the 60th anniversary of Ferrari in North America. We will cover both in greater detail in the run up to Monterey.
Today's topic is about the oft-misunderstood middle child in the triple-digit trilogy, the Ferrari F50: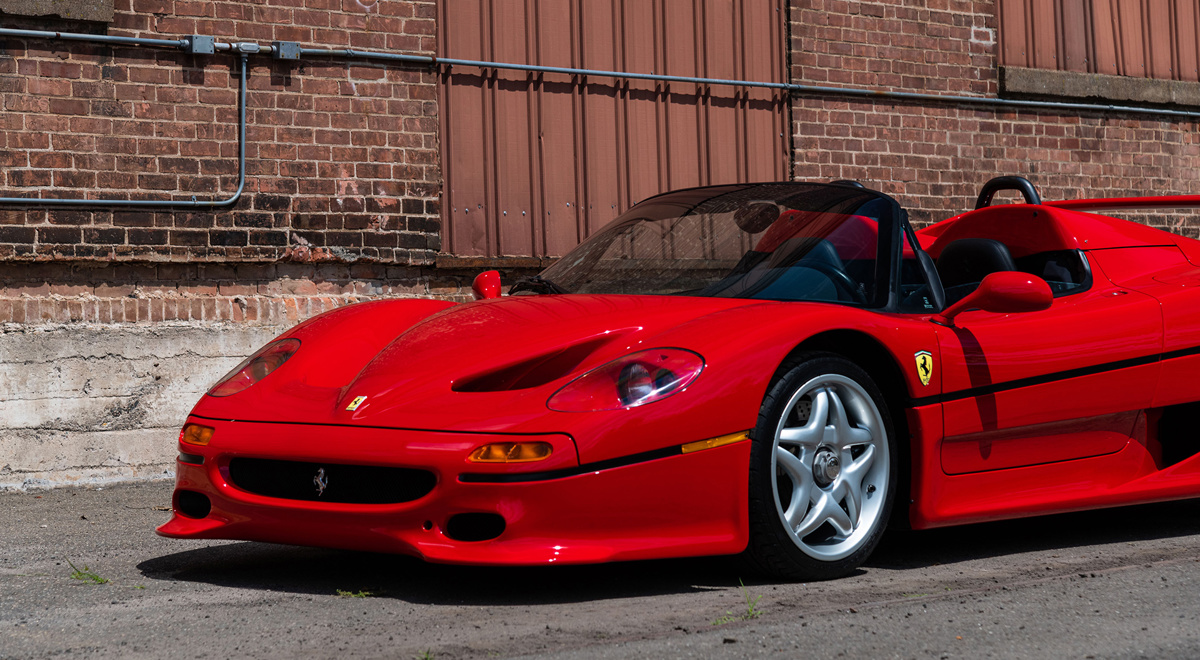 1995 Ferrari F50
Estimate: $3,600,000 - $4,000,000 USD
Now finally appreciated as much for its relative rarity as the raw driving experience available from its Formula One-derived engine, the Ferrari F50 is now rightly heralded, if nothing else, as one of the all-time greatest powertrain packages ever offered on a prancing horse road car. Screaming toward its 8,000-rpm rev limiter, the naturally aspirated V-12 providing the motive force to the back wheels of the F50 is now considered one of the most tuneful motors to ever encounter an exhaust pipe. But what sets this chassis, no. 104262, so far above all the other examples out there?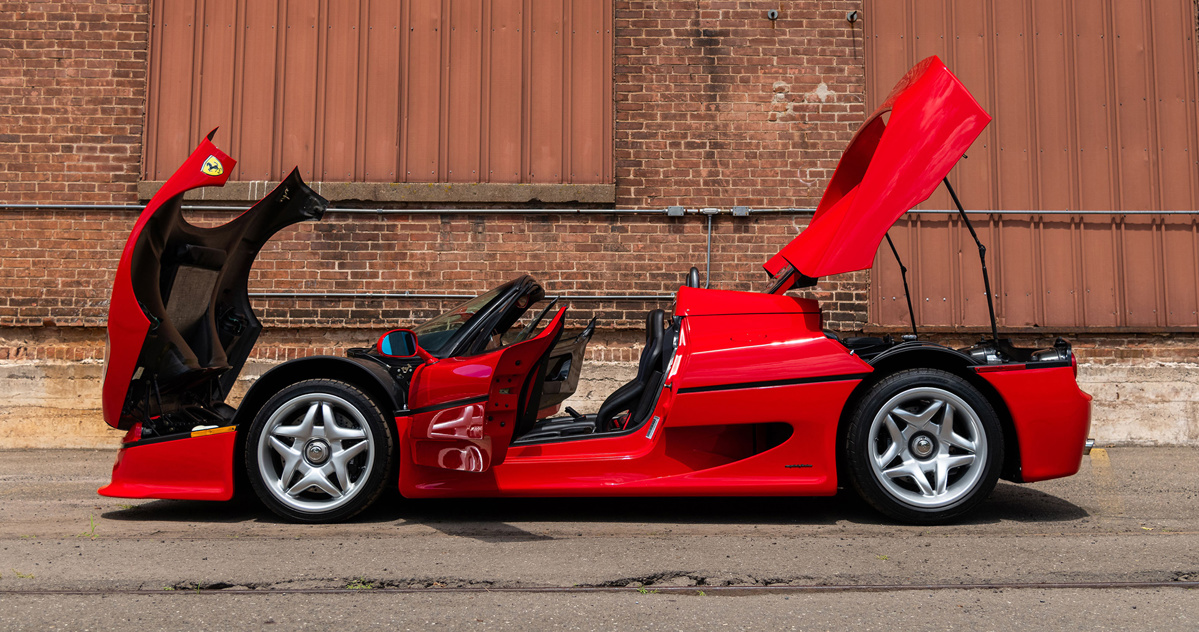 Perhaps it is down to the miniscule number of owners: Only two from new. Being an already-uncommon U.S.-spec example (one of a mere 55 of a total production of 349 total worldwide), this chassis began its life at the Ferrari factory in Maranello on 17 November 1995, and was completed on 23 February the following year, and shipped to Miller Motorcars of Greenwich, Connecticut.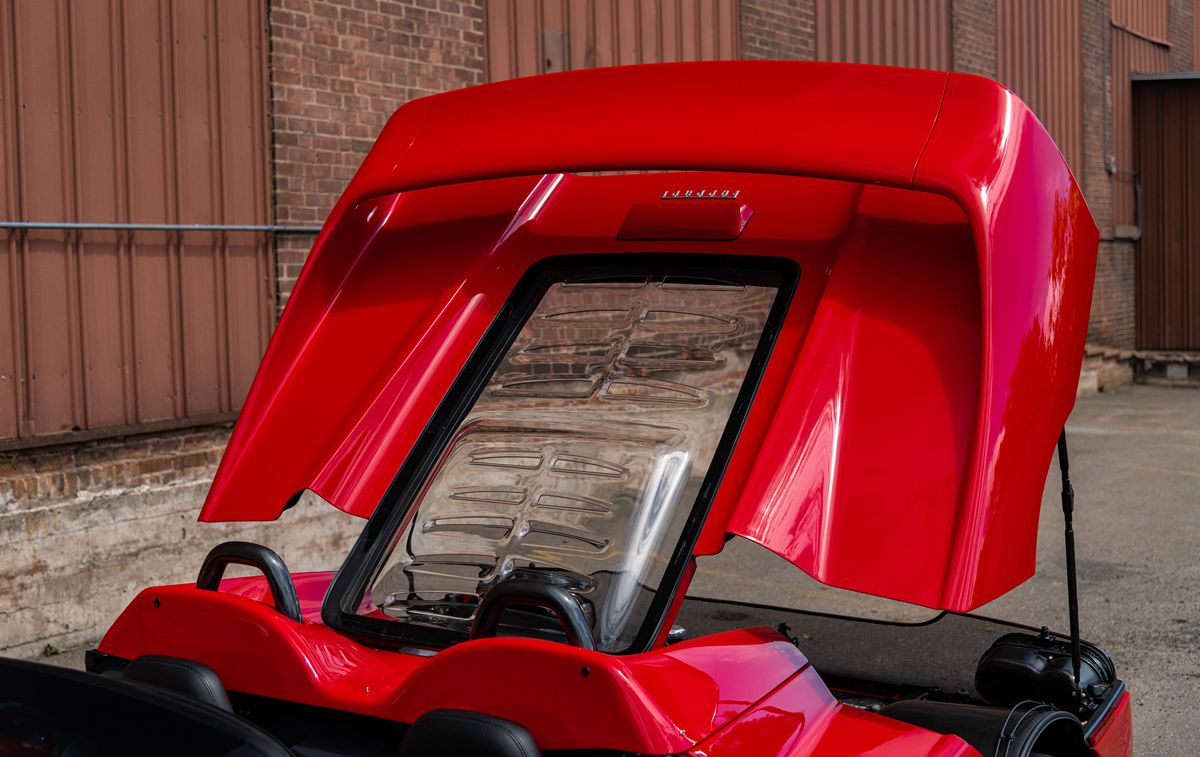 The handmade assembly, featuring motorsport-derived materials and methods such as its unequal-length wishbones attached by rose joints and its aircraft-grade Sekur fuel bladder, certainly was like no other road car, before or since. Ferrari anticipated that demand for the F50 would inspire speculators to trade their limited-production supercar soon after acquiring it, so every example imported to the United States was set up through a novel one-year lease program. This example is completely documented down to the copy of the original lease agreement, signed by the first owner.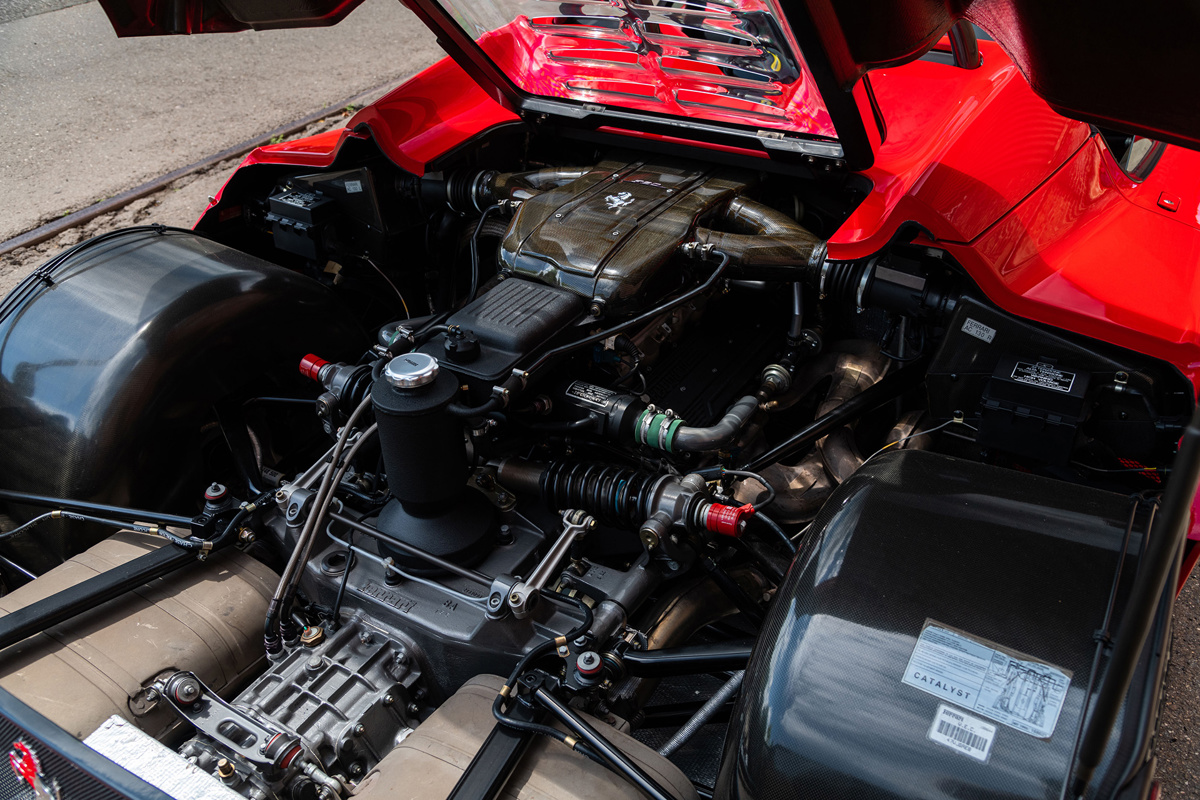 Not content to merely lease this ultimate Ferrari, the first owner, Stanley Cohen of Windsor, Connecticut retained this F50 for the next twenty-two years, meticulously maintaining its annual service schedule with the same marque expert mechanic, and even going through the trouble of receiving Classiche certification for the originality of this example.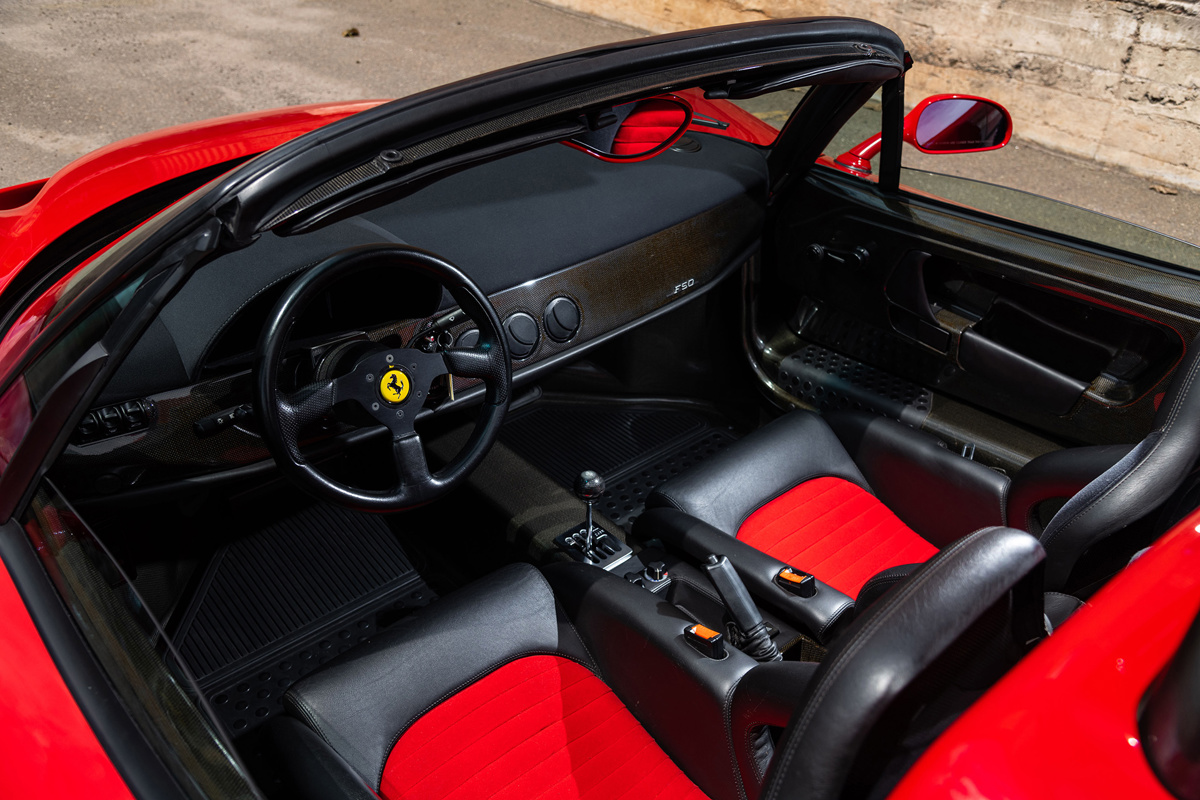 As recently as January 2017, this example received its "major" engine service, encompassing the replacement of its fuel bladder and addition of new tires and brake lines, all amounting to $51,000 USD. A small price to pay considering that the same renowned New England-area technician, Thomas Passalacqua, also completed the pre-delivery inspection on this example in May 1996. With the first owner amassing a mere 8,375 miles by January 2018, this well-preserved F50 was sold to its present owner, the current consignor, who immediately had this example prepared for concours.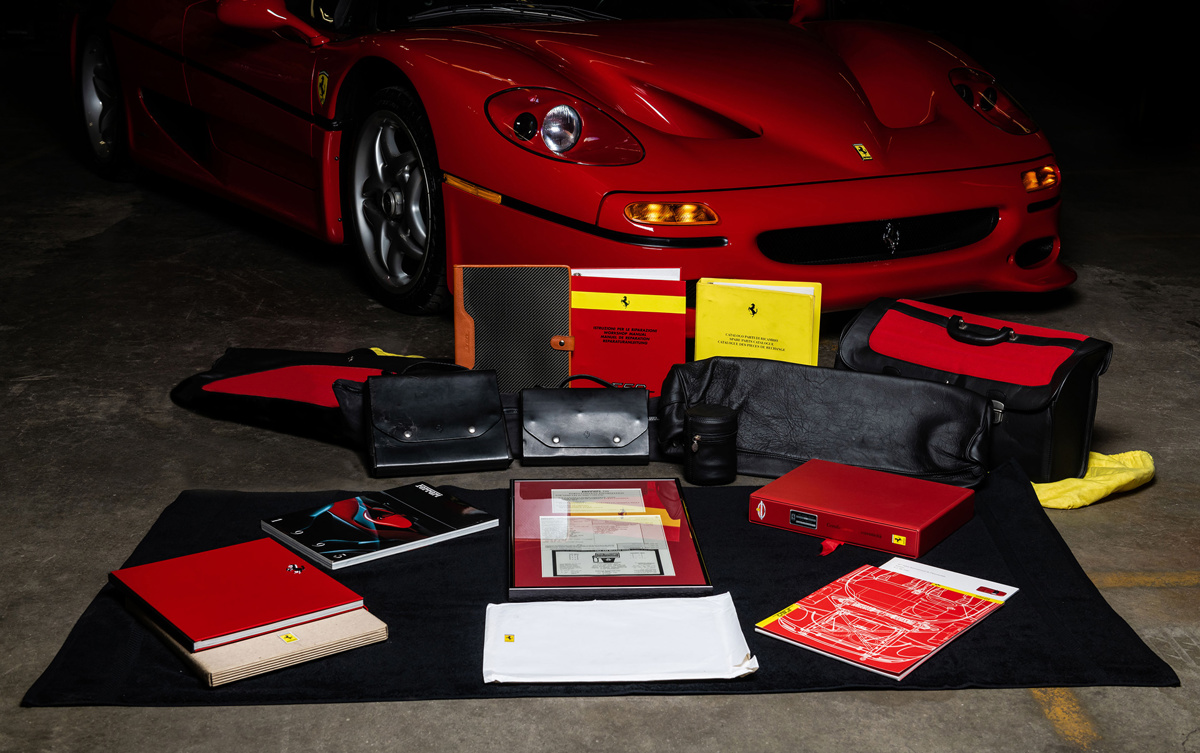 Showing a high degree of originality in terms of original accessories, chassis no. 104262 still retains its original framed window sticker, as well as its original owner's manual, shop manuals, and official factory presentation kit and brochure. The famous red chest of tools and accessories, nicknamed the "circus box" by Ferrari aficionados, is all present-and-accounted-for, including its spare parts pouch with fuses, light bulbs and bulbs and ¼' drive socket driver with Torx-head sockets, tire inflator, and complete tool pouch. Also included are the rare, serialized carbon fiber luggage made by Schedoni, and all factory correspondence with the original owner. The extensive list of accessories, as well as the impressive overall condition of this example, earned it a Platinum Award among stiff competition at the 2020 rendition of the Cavallino Concours d'Elegance in Palm Beach, FL, even earning the title of "Best F50" after the Supercar Class judges rated it 98.5 points out of a possible 100.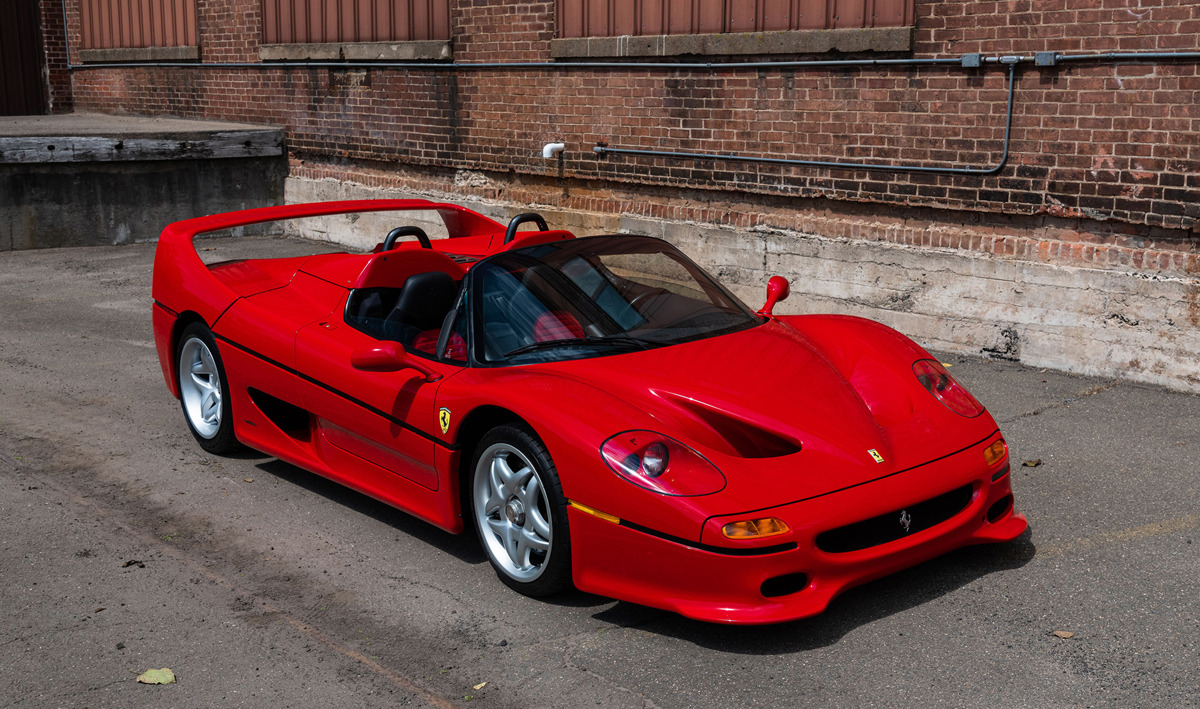 With the current consignor certifiably continuing the steady, consistent service schedule necessary for anyone to run a Formula-style road car—even going so far as to retain the mechanical services of Passalacqua for its annual services in January 2020 and March 2021—this example can easily be considered one of the best choices for an F50 offered anywhere. With its status as supreme supercar assured by that triple-digit model name, and with its odometer showing a scant 8,496 miles at time of cataloguing, this meticulously maintained F50 has earned its place in the triple crown of Ferrari.