Sometimes, a long look at a period photograph is all it takes to momentarily travel back in time. In this case, the period in question is August 1966, and the photo shows one of the more famous and controversial French filmmakers of the era, Roger Vadim, stepping out of a 1966 Ferrari 275 GTB by Scaglietti, his attention turned toward his passenger, Jane Fonda. In the background, all eyes are turned towards the couple, who appear to have just completed a cross-country journey in their grand touring Ferrari, finding parking in a Saint Tropez lot between two Citroën estate cars. Dressed in a short-sleeve sweater, Fonda's corduroy hat matched the vertical stripes of the Ferrari's Pelle Nera interior. The only component of the period paparazzi snapshot that looks out-of-place to modern eyes is Vadim's cigarette.
Almost a decade later, the New York Times found Fonda living in a humble cottage in Santa Monica, with a "dented station wagon" parked out front, married to Detroit-area activist Tom Hayden. In their considerate profile, the Times noted this change of pace: "Five years ago, Jane Fonda was the party-giving hostess at both a St.-Tropez villa and a showplace 130-year-old farmhouse west of Paris. She and her husband, Vadim, employed a family of Italian servants." To say that Fonda's life changed considerably would be an understatement. A recent, well-reviewed HBO Documentary, Jane Fonda in Five Acts, chronicles these movements, with Fonda reinventing herself throughout the decades. The second of Fonda's five acts is reserved for Vadim.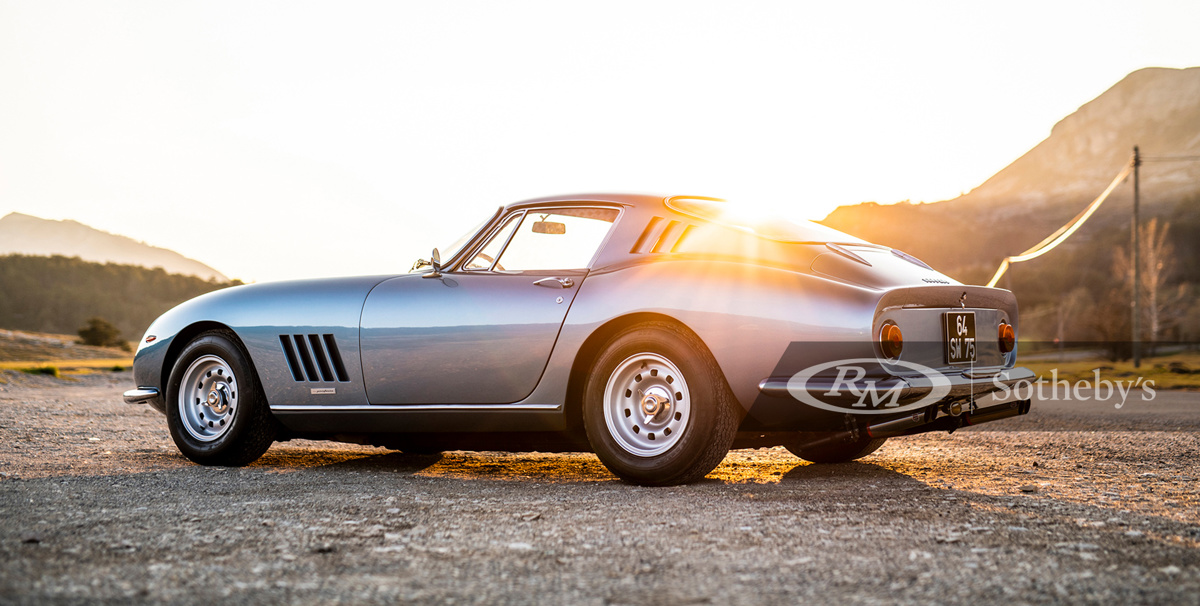 1966 Ferrari 275 GTB by Scaglietti
Estimate: €2,000,000 - €2,500,000 EUR
An auteur during the peak of French New Wave cinema, Roger Vadim was a superstar in his own right. As Fonda recalls in Five Acts, Vadim was, "so seductive and charming. You walk down the Champs-Élysées with Vadim and it was like walking down the street with Robert Redford." Any romance between the duo was easy to see, whether the photograph featured a prancing horse or an adorable puppy. Prior to this 275 GTB (for 'Grand Touring Berlinetta') example, Vadim owned another now-classic Ferrari sports car, a 250 California SWB Spider, chassis number 2175 GT.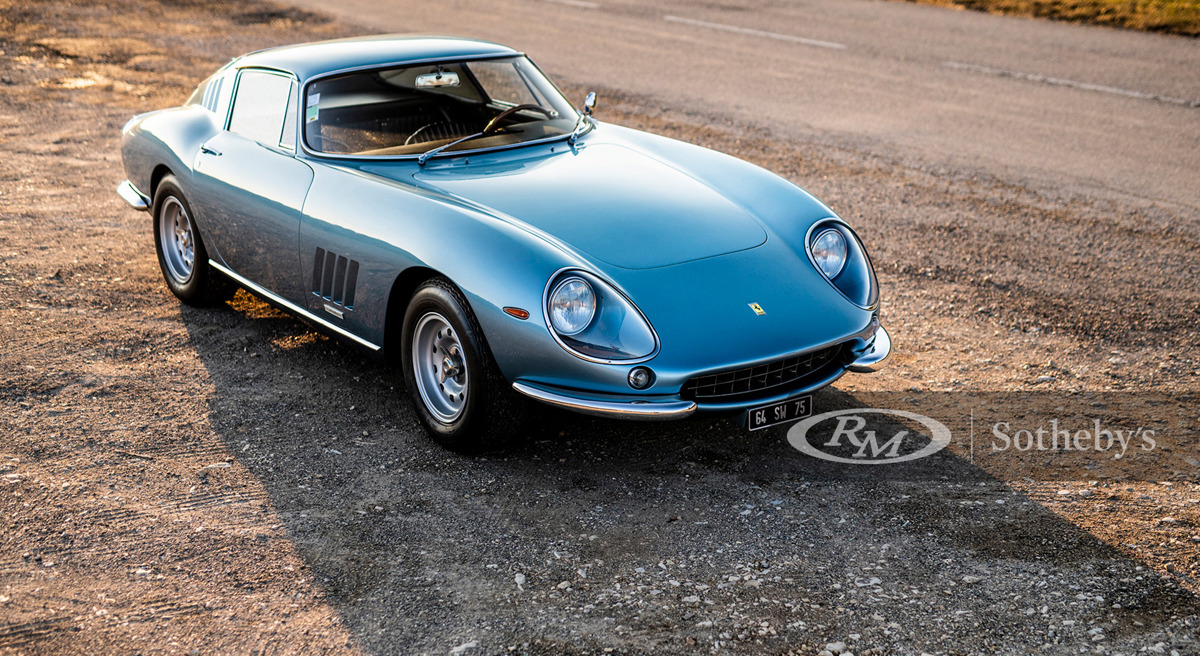 Perhaps preferring the more subtle, closed-bodied Berlinetta style as a means of privacy among such adoring fans, Vadim sold his SWB Spider before purchasing this example, serial no. 08641, on 15 June 1966 from Franco-Britannic Autos, the official distributor for Ferrari in Paris. Set-up in left hand drive for French roads, this spectacular Ferrari was equal parts glamourous and provocative, befitting Fonda and Vadim's admittedly hedonistic lifestyle. As the New Yorker's famous film writer Pauline Kael began in her review of Klute, "Jane Fonda's motor runs a little fast."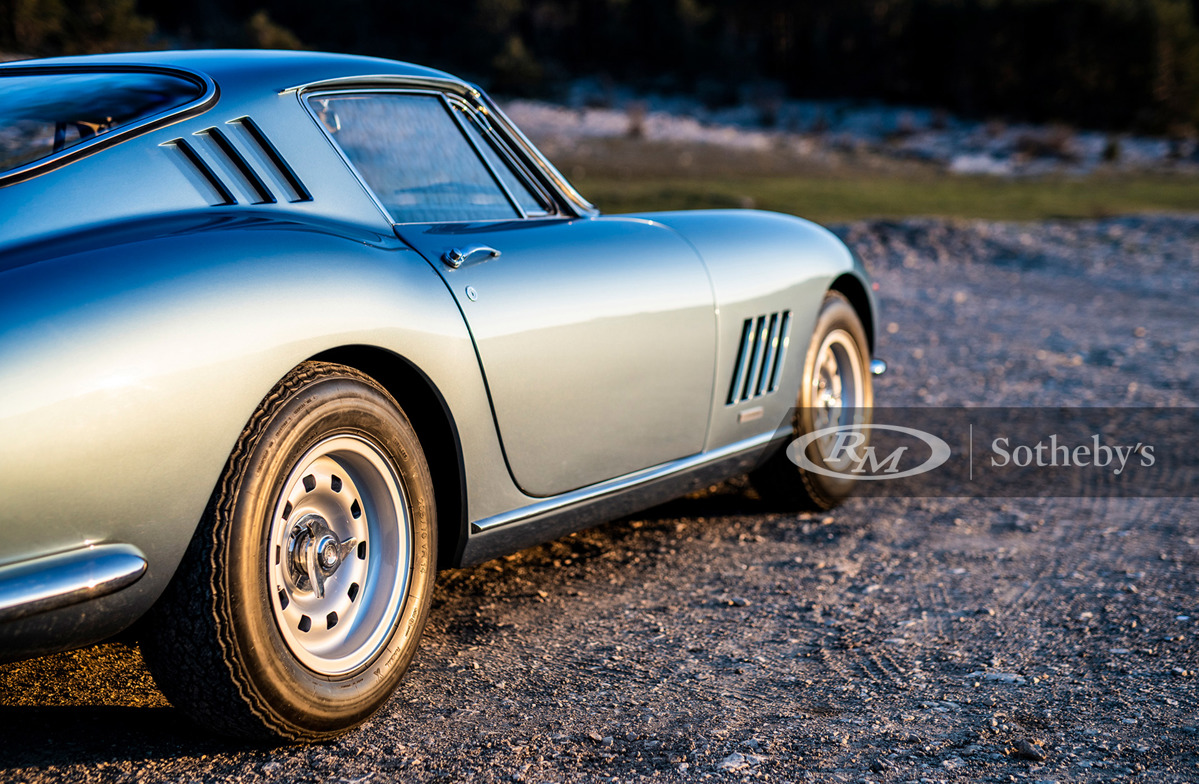 Part of what makes the Ferrari 275 GTB/4 such a standout sports car today is this duality; perhaps extreme in terms of proportions, but refined and measured when considered against its main competition. We have previously explored the sculptural qualities bestowed by Scaglietti's talented builders on models like this example, but with lines as fresh and crisp as those shown here, its constructors certainly deserve additional praise. Produced late in the build cycle of the 275 GTB/4, this example features the more shapely, so-called 'long-nose' design. The sculptural qualities of what many consider to be the ultimate grand touring Ferrari are especially visible when covered in a light shade, like the Azzurro Metallizzato on this example, its original color.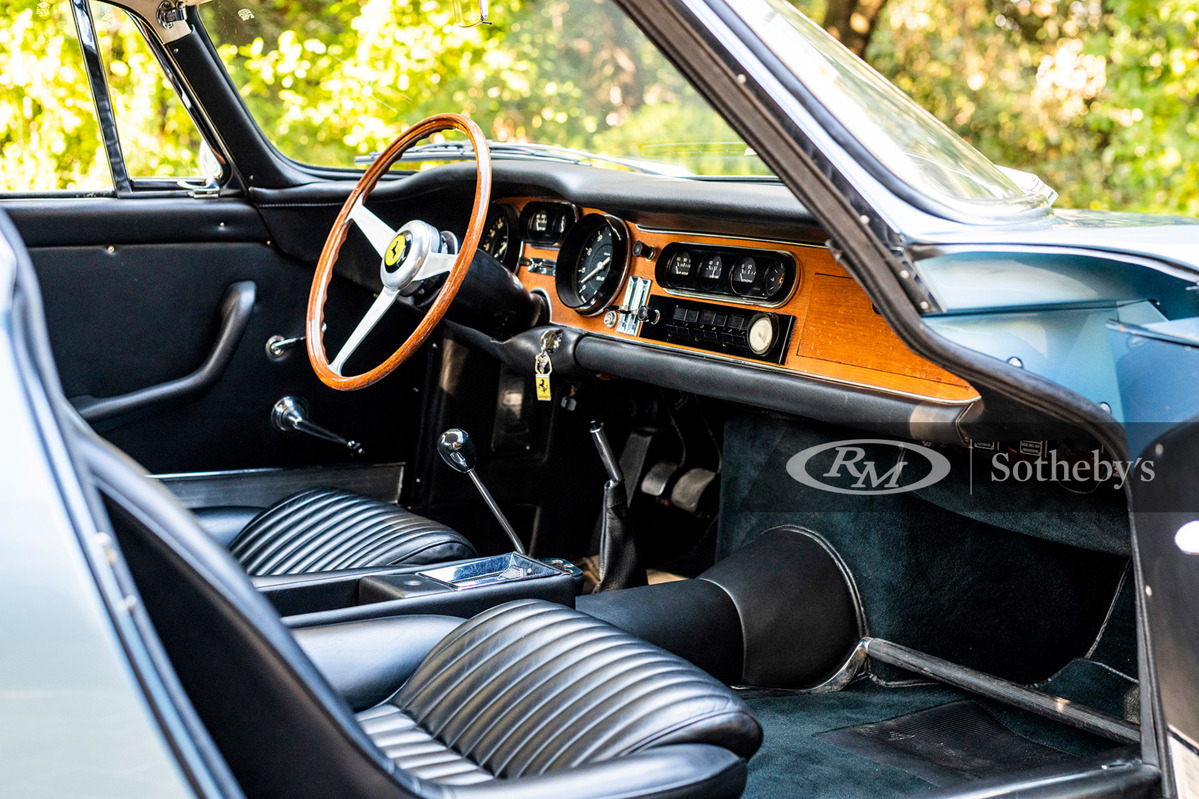 Strong, yet somehow subtle; hedonistic, yet undeniably wholesome. As a family, Vadim and Fonda used this Ferrari for perhaps the most important task possible for a private vehicle: Transporting their new baby Vanessa back home from Belvedere Hospital in Paris on 7 October, 1968. A color photograph shows Fonda sitting in the passenger seat with Vanessa Vadim balanced on her lap. The images appear even more extraordinary when realizing that, by this point, Vadim had transferred registration for no. 08641 to Fonda, meaning the Ferrari was all hers. These images add a level of personal detail to the provenance of this Ferrari, but they also suggest that perhaps this two-seat coupe was not the optimal choice for a growing family.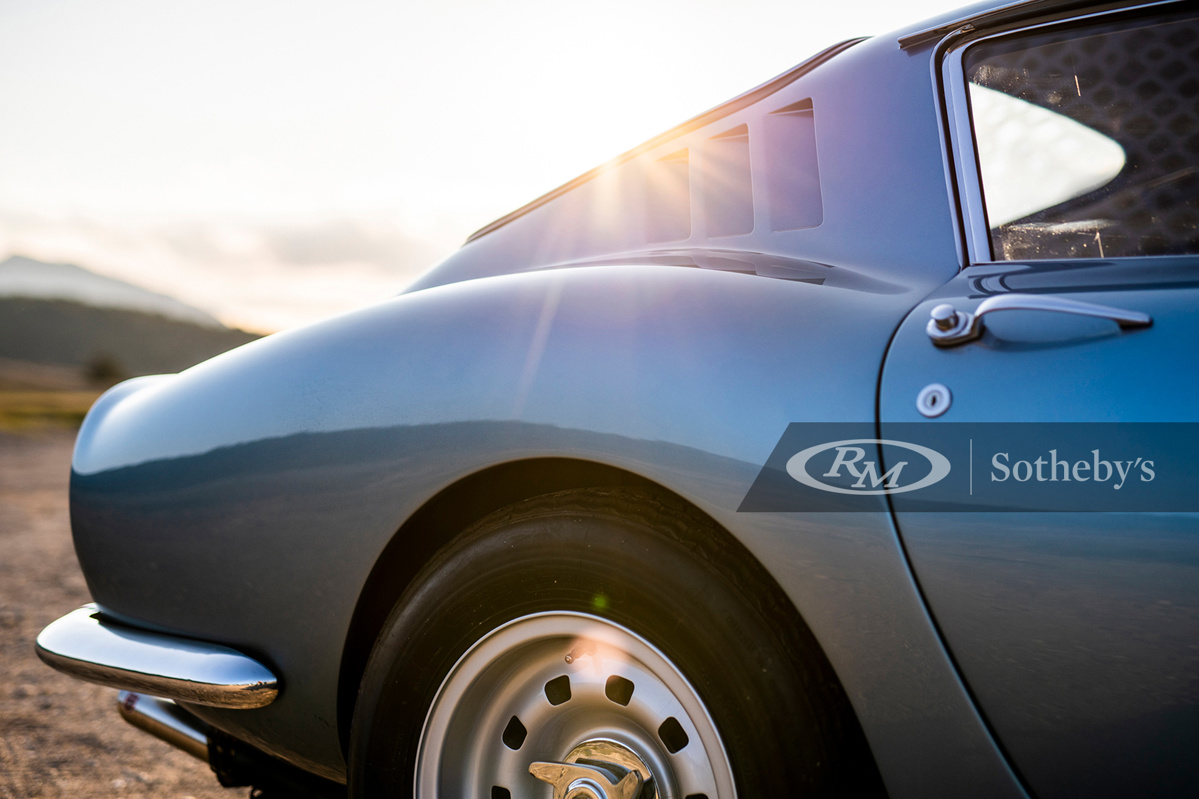 In the 1974 New York Times profile, an unnamed newspaper reporter is quoted as having attached this dismissive note to a review of Fonda's first film, circa 1959: "I have a hunch that Jane Fonda will do O.K. in pictures for about four years. Then, as soon as she gets Hollywood out of her system, she'll settle down with a nice, handsome husband, make babies, and that will be it. By 1965, I think, she'll be more often on the society pages than the entertainment pages." Perhaps Fonda's non-conformity was partly constructed in opposition to ignorant statements like this; either way, from the passenger seat of her own Ferrari gran turismo, Fonda was able to define motherhood and femininity on her own terms.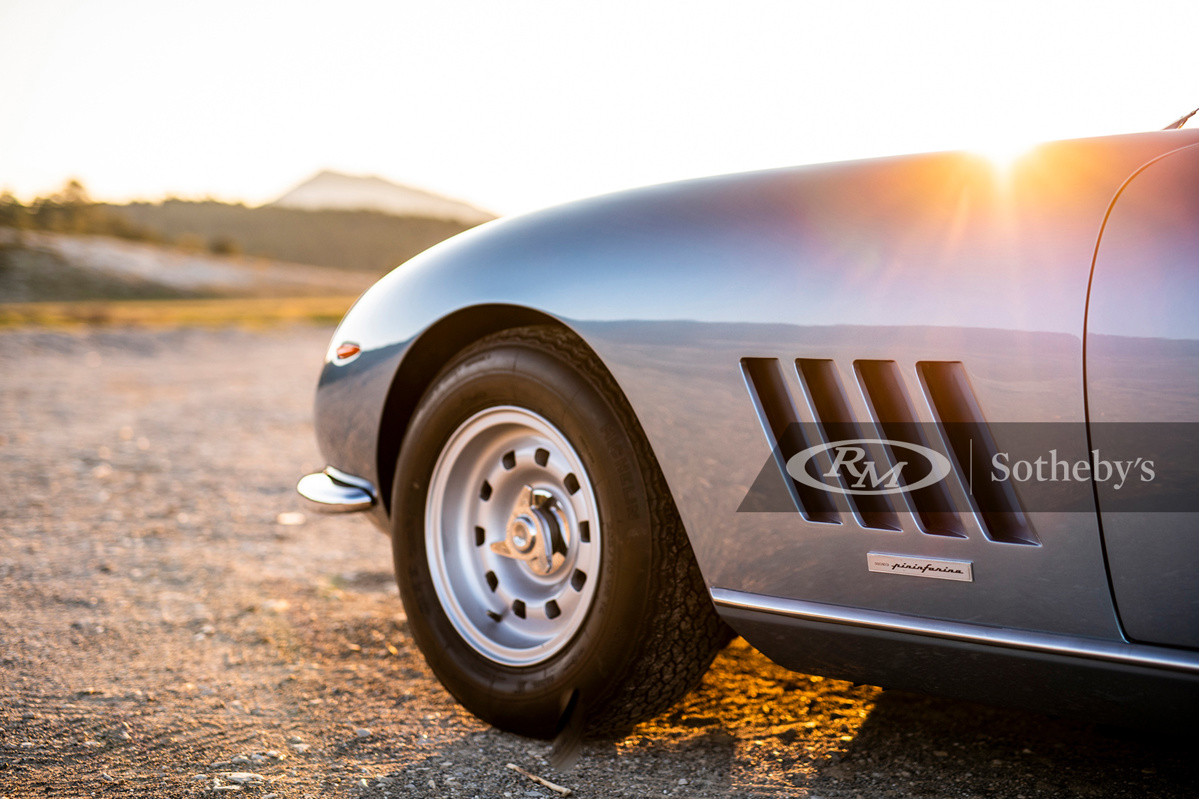 Barely over a month after Fonda and Vadim used this fine Ferrari to shuttle their daughter home from the hospital, they decided to sell it back to Franco-Britannic Autos in Paris. The decision was not driven by money; one month prior, Vadim and Fonda's most well-known on-screen collaboration debuted to popular acclaim worldwide. Barbarella went on to become the second-highest grossing film in the U.K. that year, as well as pulling in $2.5 million from the U.S. box office. Having surmounted the worlds of science fiction and French New Wave cinema in one fell swoop, Fonda perhaps sought a new challenge. Or she simply wished to be relieved of the burden of high-action acting; as a young Roger Ebert attested, filming Barbarella was intense and demanding.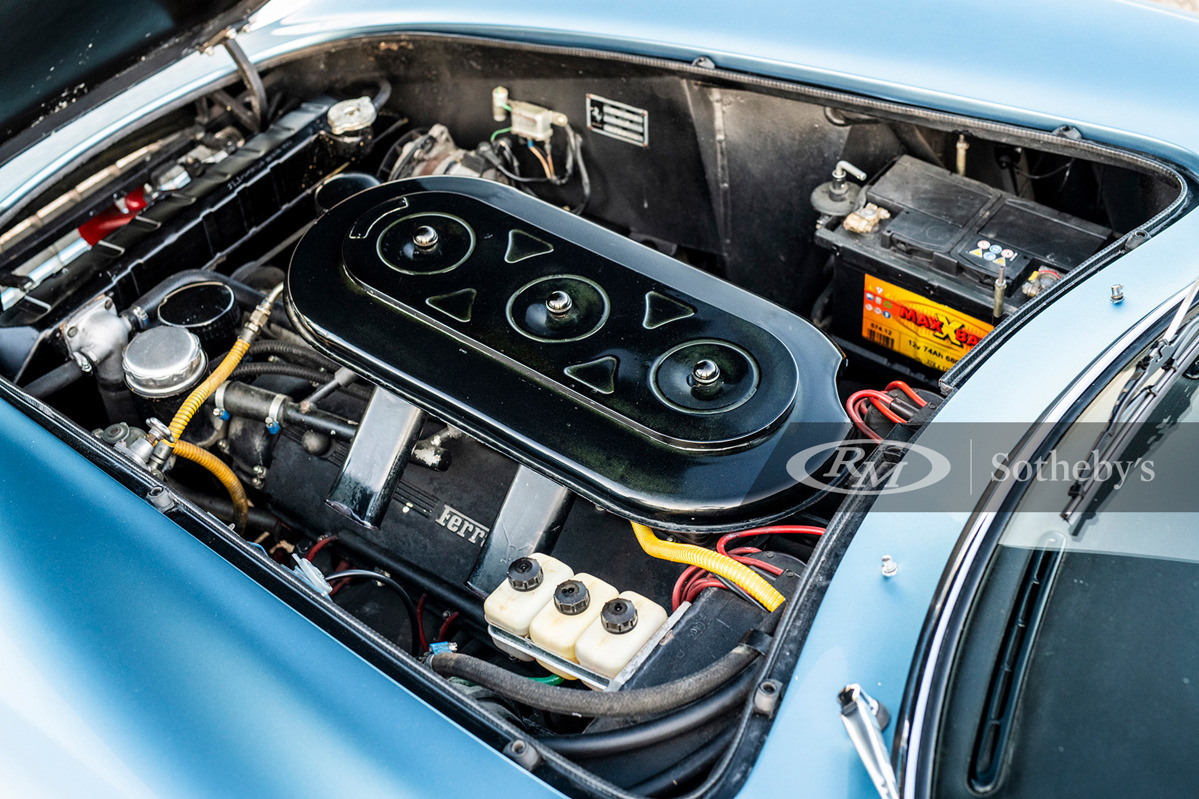 Either way, after Fonda and Vadim officially parted ways with this fine prancing horse, this torque tube-fitted, triple-carbureted example stayed in careful, French ownership, traveling only as far as Monaco. In the past five years, it has been restored to its original color scheme, and achieved Ferrari Classiche certification in 2018. Befitting its superstar status, as well as its handmade, Italian origins, this example will be on display as part of RM Sotheby's exclusive boutique auction in Milan, set for 15 June, 2021. Shown in the grand setting of the Palazzo Serbelloni in Milan, no. 08641 retains all the seductive power that it had during its first, glorious period of ownership. A landmark example capturing an incredible moment in time, great Ferrari sports cars like this one provide vehicles for all of us to travel back in time, albeit briefly.
To view an extensive gallery of images of this fine example, including some period photography as well as the history file, and with a complete list of prior ownership and all associated documentation, please use this link.