With the furious pace of the classic car auction world these days, we thought it might be useful to slow down and take stock of what makes RM Sotheby's so unique. Balancing the forty years of hard-earned experience in the world of vintage vehicles from founder Rob Myers is a focus on genuine innovation, inspired by RM Sotheby's President Kenneth Ahn.
Since 2016, Ahn has led the company to new heights in terms of single-lot sales and areas of operation with our significant shift to online sales starting with 2020's Palm Beach auction. Before starting at RM Sotheby's, Ahn worked in the world of finance at Goldman Sachs & Co. in New York, taking a global view when it came to advising industrial clients, and most recently at Sotheby's where he focused on growth strategy and corporate development, including Sotheby's partnership with RM. Ahn's ability to see macroeconomic trends has aided his leadership and informed his decisions as to where RM Sotheby's is heading in the future.
At the end of the day, Ahn is still a tried-and-true automobile aficionado who didn't hesitate to express his passion for cars or his vision for the future:
1. What was your first car? Any memorable early drives?
My first car was a 1992 Jeep Wrangler Renegade (YJ Platform). I have been a "car nut" since about five years old, and when I immigrated to the U.S. from Korea—a land of small Hyundais, Daewoos, and Kias—to me, the Jeep Wrangler symbolized the American culture and freedom, not to mention the rugged looks.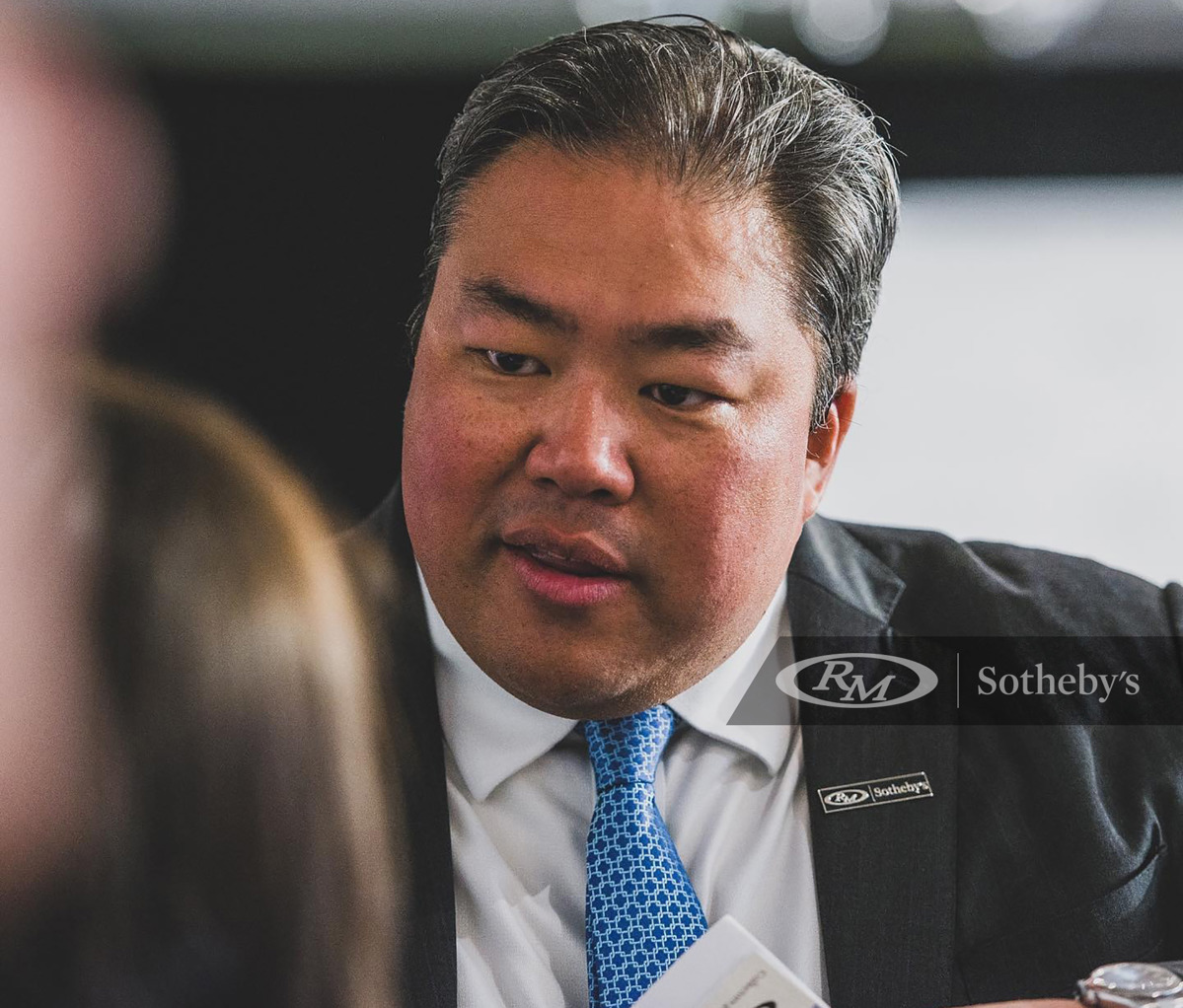 Looking back, I was spoiled that my dad bought me one that was one year old with just 1,700 miles on the odometer. Unfortunately, a 3-speed automatic, as I hadn't yet learned how to drive a manual.  I loved that car, and almost every drive was memorable.
2. Where do you believe the classic car world is heading? Any surprising trends you're noticing?
I believe the cyclical but strong secular growth we have seen in the classic car market over the past several decades will continue. There is always an argument that "it's different this time." In the 1970s, it was the oil prices, in the 1980s it was interest rate and inflation, in the 1990s it was Japan—all the various reasons for why the classic car world will not be the same. But the classic car world is more vibrant than ever.  I've learned over the years that "mean reversion" trumps "it's different this time" over time.
I think the classic car market is the same, despite concerns on how "it's different this time" with electric cars, autonomous driving, and regulations. The classic car market is driven by passion and the desire to own a piece of automotive history. It touches on various aspects of human emotions—the joy of owning/collecting, the joy of driving/racing, the joy of investing in a tangible asset that can perhaps appreciate in value, or the joy of just looking at a car in your garage or driveway.  As long as classic cars touch these human emotions, they will be important.  No different than art, watches, jewelry, etc.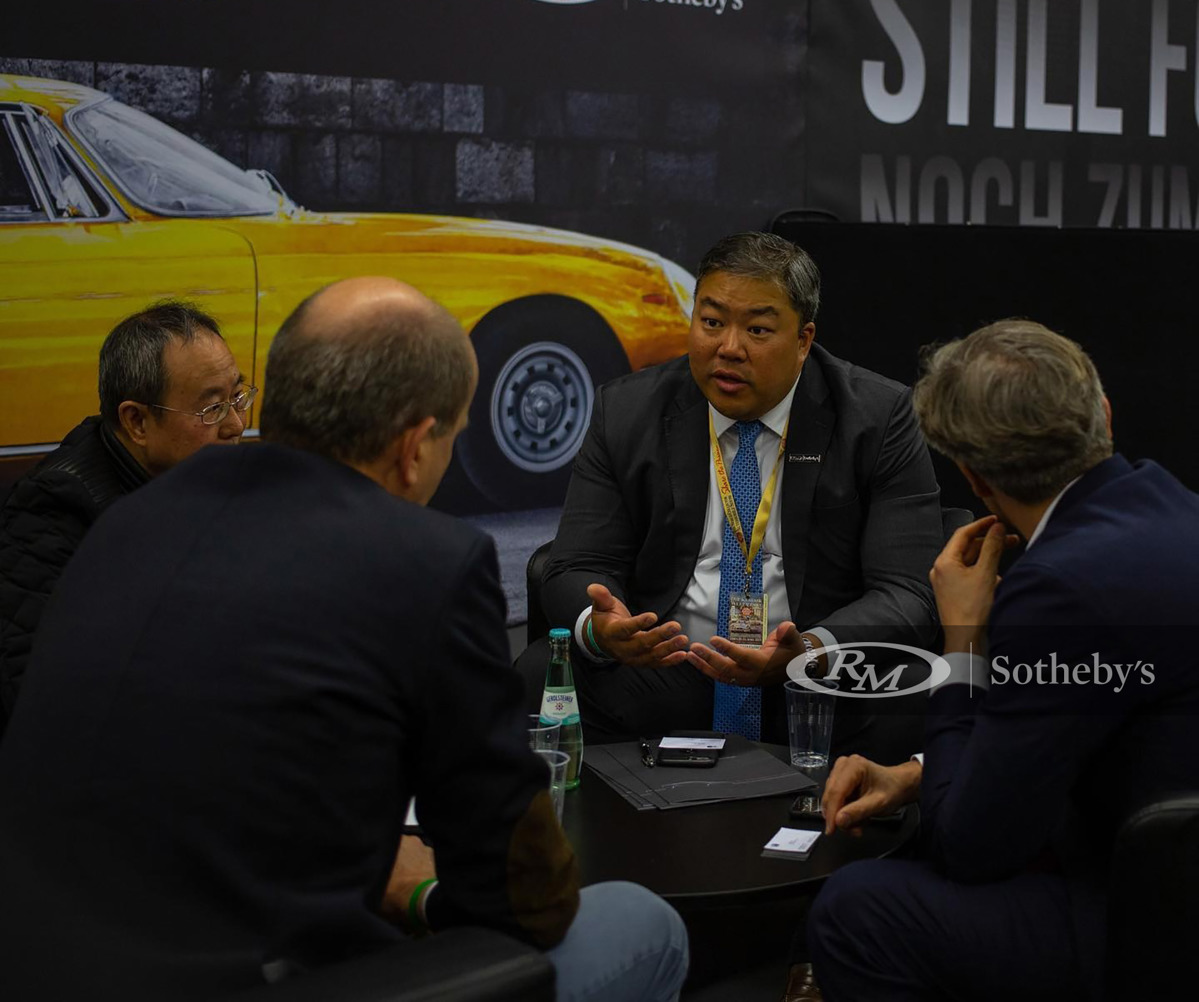 Where I think we will see more change is the speed of information flow and the channel through which collectors buy and sell. Think of buying and selling stocks in the 1980s and 1990s. You learned about stock prices in the newspaper, and you called a stockbroker to make trades, who then worked with traders, many of whom were in the trading pits of NYSE. Today, technology has vastly improved availability of real-time information, and the ease and cost of transaction have improved exponentially. Technology has also rapidly changed the way collectors buy and sell classic cars over the past ten years in terms of information dissemination and the way in which transactions are conducted, and I'm certain it'll change faster in the next ten years.
3. 

You've been at RM since 2016, any auction highlights stick out in your mind?
So many auctions come to mind.  Here are the ones that stick out the most for me each year:
2016: The Duemila Ruote auction in Milan. Unbelievable auction. It actually happened the weekend before I officially joined RM, but I remember following it and hearing all of the accounts of the event. It was a case study on the power of an auction for a large collection appealing to a global audience.
2017: Ferrari 70th Anniversary auction in Maranello. Amazing setting, exceptional cars, strong collaboration with Ferrari, and I remember that was the 4th auction in nearly as many weeks between Monterey, Auburn, London, and the Ferrari sale. It was an incredible global team effort to pull it off.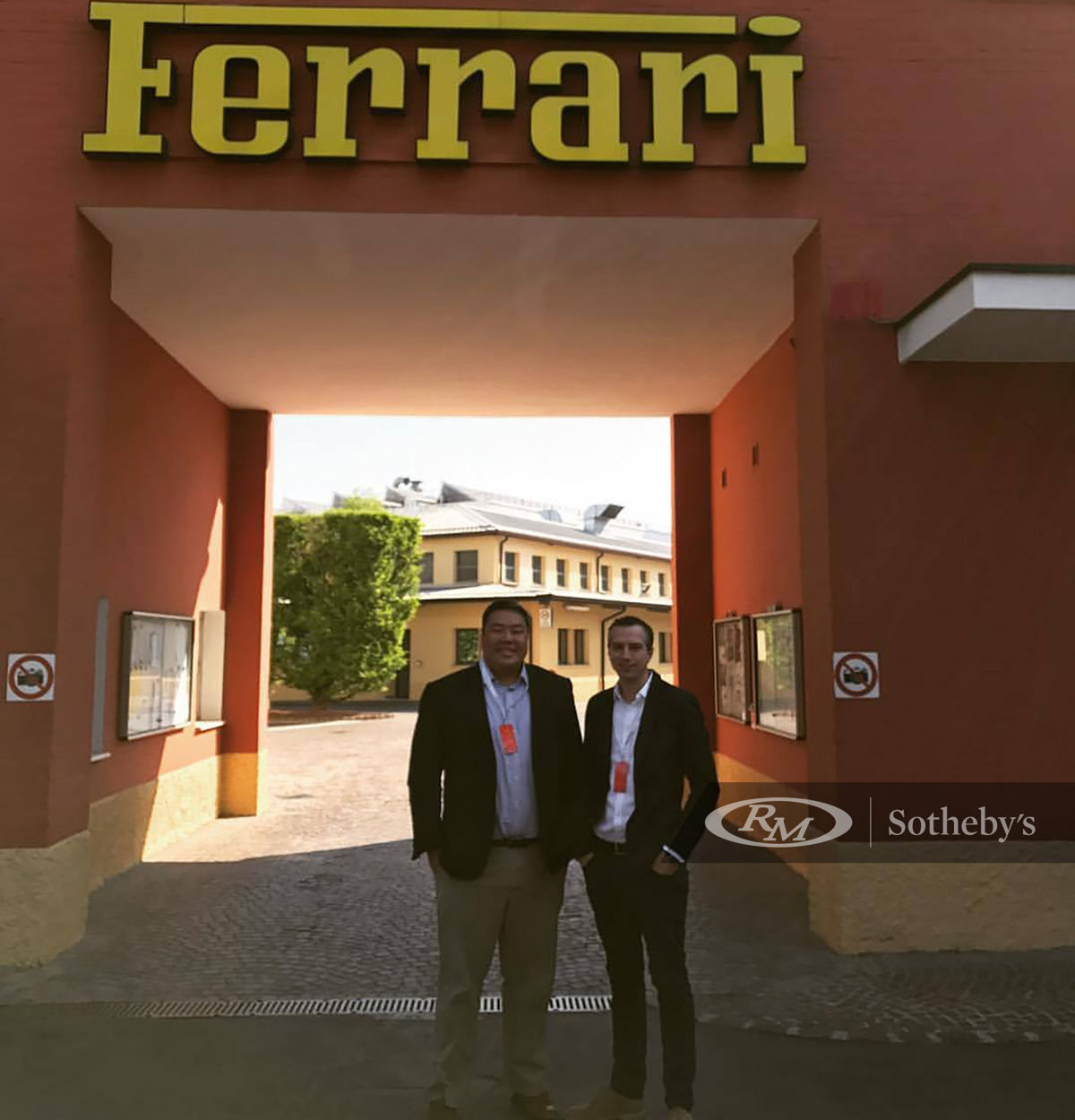 2018: Monterey. 1962 Ferrari 250 GTO for the world record auction price of $48.4M. I was very closely involved in the structuring of the transaction, and it was an incredible line up of cars—including the 1963 Aston Martin DP215 and a 1966 Ford GT40 MKII. These three cars sold for a combined $79.7M.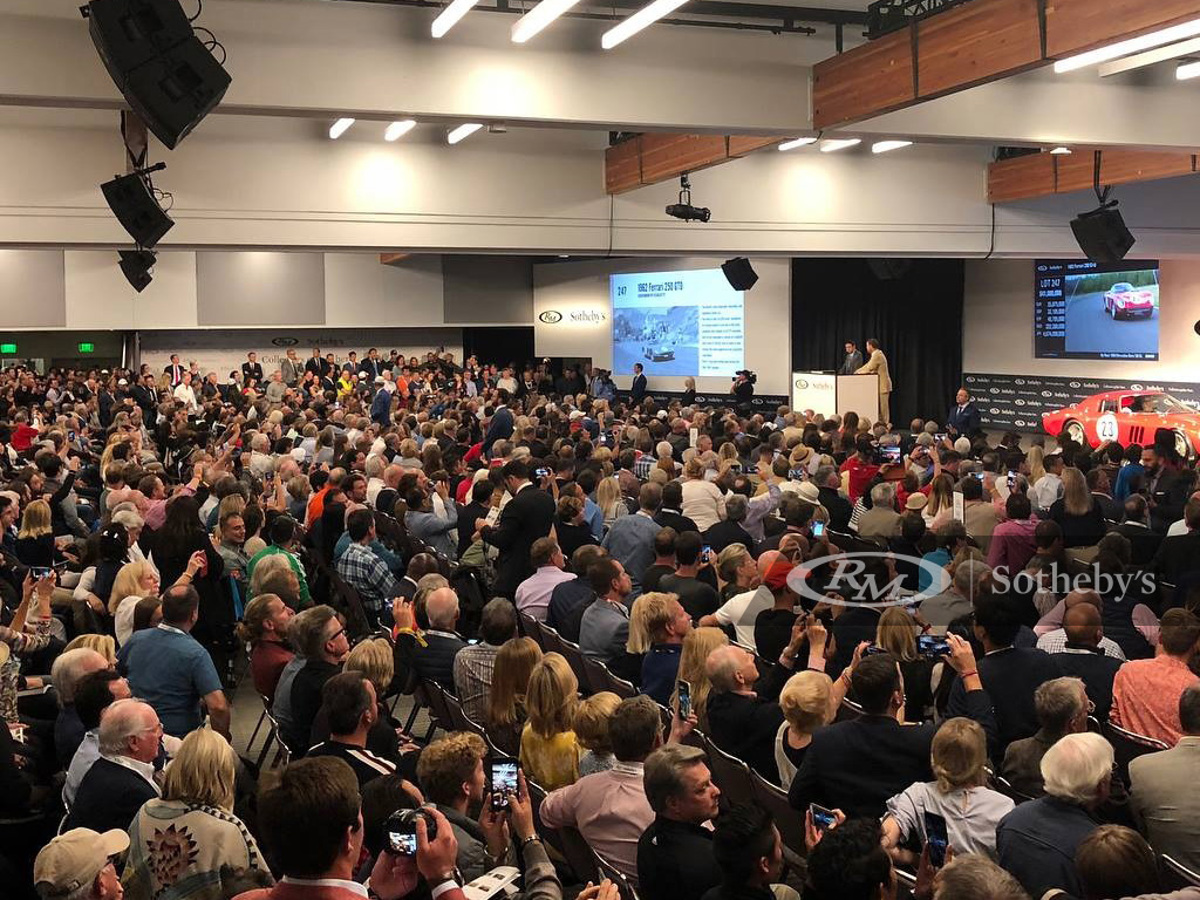 2019: Abu Dhabi. The most memorable sale in 2019, which we held in collaboration with Formula 1

®

. I'll never forget our team setting up for the auction at the finish line of Yas Marina Circuit just after the conclusion of the Saturday qualifying race. We could still smell the rubber and heat on the track. It marked our first expansion into the Middle East.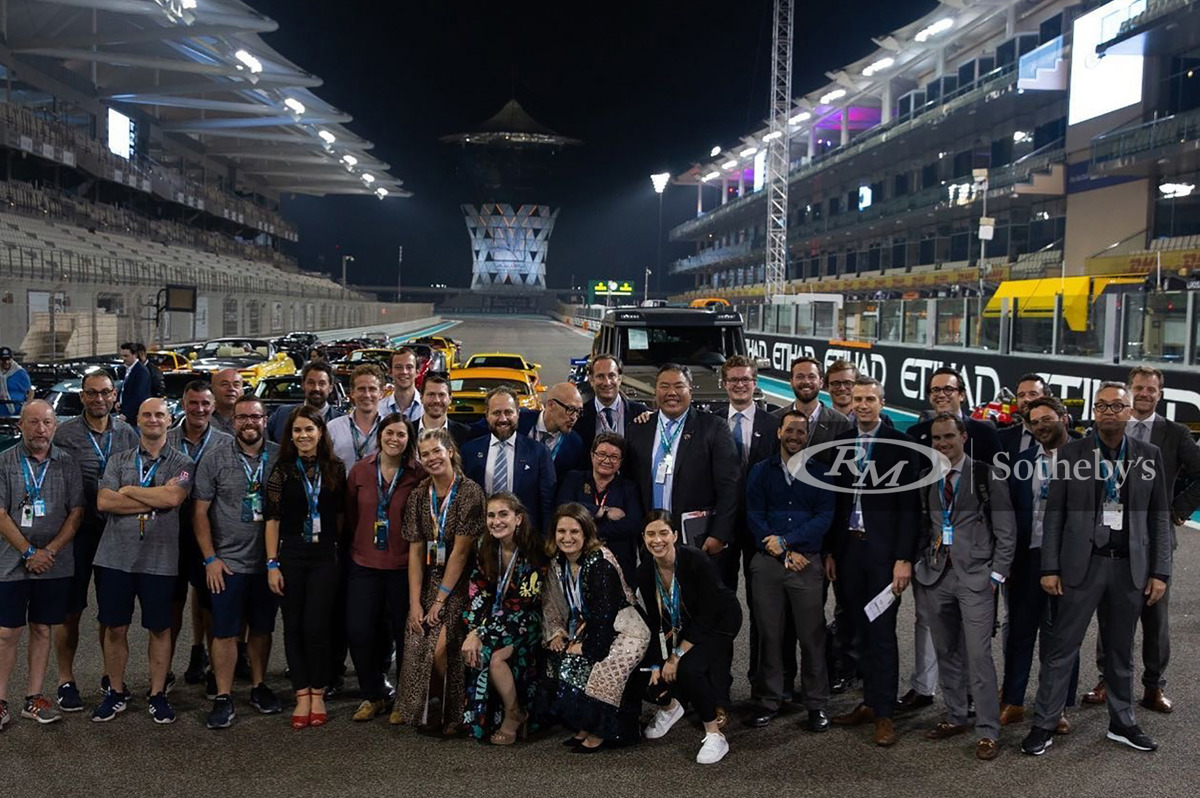 2020: Palm Beach. While not the biggest or most successful sale of the year, to me, it was a crucial sale for RM as we pivoted the sale to an Online Only sale just before the scheduled auction amidst COVID-19 when the environment was changing rapidly in the U.S. in March. The success of that sale catapulted us into Online Only auctions, which has achieved more than $95M in total car sales thus far this year—something we couldn't dream of this time last year.
4. Do you have a car you wish you bought? The "one that got away"?
Well, I'm probably cheating a bit here, because the one that got away is now sitting in our storage facility in Auburn, IN.
I inherited my passion for cars from my dad, who would often kiss the hood of his car. During my high school and college years, we had a family sedan (coming from Korea, my dad always wanted a Mercedes-Benz, as he called it the "pinnacle" of automakers), a 1995 Mercedes-Benz E320.  It was the final year of the Mercedes' most successful W124 chassis with a timeless design by Bruno Sacco.
In 2003, as I was headed to work in Asia for my management consulting job, my dad asked me to sell the car in the classifieds. I fielded a few calls, and a gentleman named Ron G was very interested in the car. At the time, it was an eight-year-old car with 120K miles.  Ron was an avid car enthusiast who had several Mercedes and VWs in his garage in Seattle, and we were happy he found a good home.
In 2004, I lost my father very suddenly to aggressive cancer. It took less than three months from us learning of his illness to him passing away. When my father passed away, he also had the first-generation Mercedes-Benz ML320, but to me, the W124 chassis E320 was the 'real' Mercedes in which our family spent significant time together.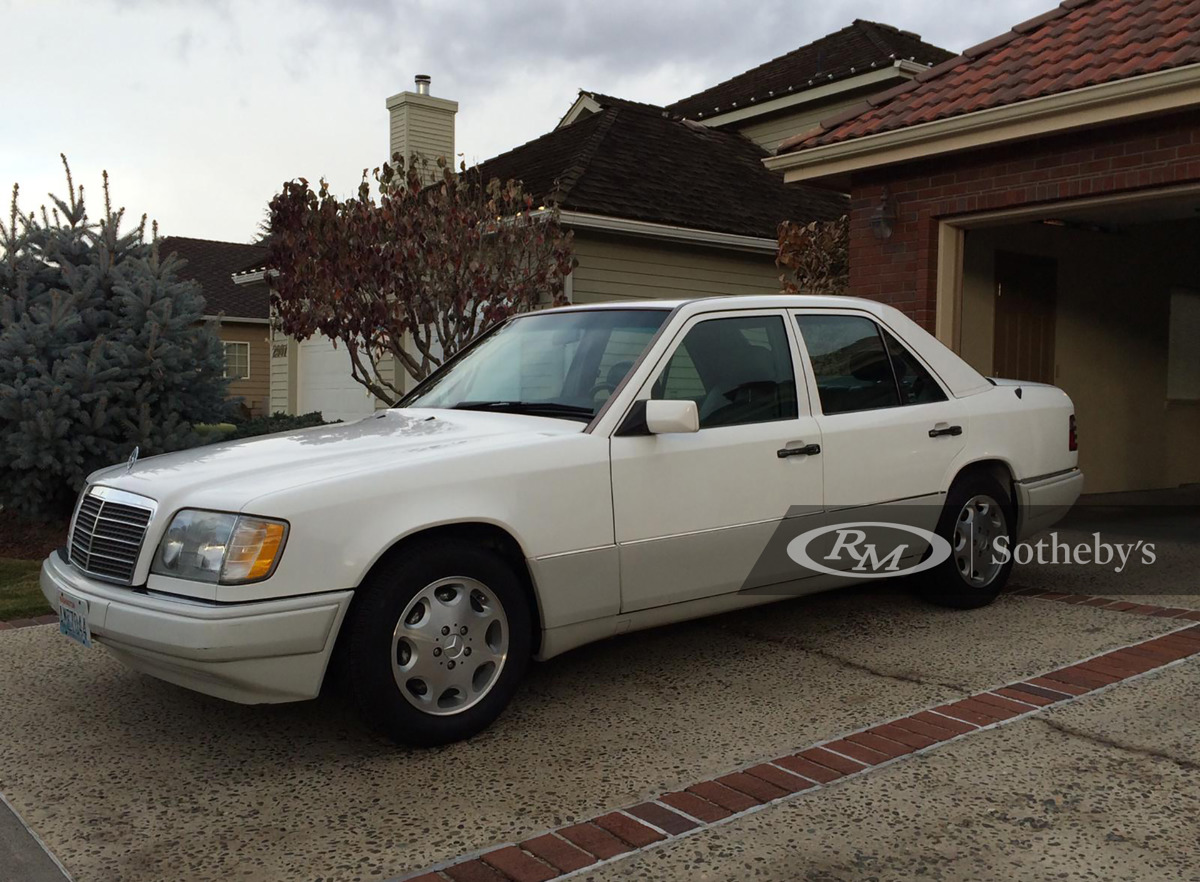 After the birth of my son in 2009, I started thinking about the E320. The car is nothing special from a collector's standpoint—just a 4-door inline 6-cylinder sedan and Mercedes-Benz made 2.7 million W124 chassis cars.  But it was special to me, not any E320, but that E320. However, I was living in New York at the time, and it made no sense to have a 15-year-old Mercedes with six-figure miles on the odometer and pay $800 a month for a garage space in Manhattan with another $150 a month in insurance—if I could even find it.  Yet it made perfect sense: How cool would it be if my kids can ride, and one day drive, their grandfather's Benz? I went on a mission to find Ron G. 
Two years later, I found a decade-old notebook with his number. When I finally got in touch with Ron G, to my surprise, he not only had the car but he had added only 20K miles and serviced it religiously. Over ten years, he had spent nearly as much in maintenance as he did to purchase the car, all to drive 2K miles per year. I couldn't believe it. Ron told me he named the car "Lilly."
I was sold, but my wife was skeptical. Alas, I had to agree that it made no rational sense, even though it made perfect emotional sense. I had to bury my excitement and apologize to Ron G. For several years, it was the one that should have never gone away in 2003, and the one that got away in 2010.
Fast forward to 2013, I get a call from Ron G, who said he needed to downsize his collection. If I still wanted "Lilly," she was mine; otherwise, he planned to trade her for a pickup truck. I was working on an M&A deal in Edmonton at the time, and my return flight happened to be through Seattle. It was fate. It was meant to be. This time, there was not much thinking. The agony and regrets from the decisions in 2003 and 2010 far outweighed any rational thinking that got in the way. I called Ron and said, "I'm flying into Seattle."
He picked me up at the Sea-Tac Airport, in Lilly. It was almost exactly as my dad left it. All original. As I sifted through the service records in a massive folder, a chill went through my spine as I saw my dad's old signatures and his cell phone numbers on the records.
So, I bought the car I wish I had bought, and the one that had gotten away twice. It's the last car I'll ever sell.
5. Any advice for young people, or people new to the classic car hobby?
If you love cars, God bless you. If you want to buy cars, buy what you love, not what you think will go up in value. Chances are, what you love will be loved by your generation too—and when they become more financially capable, those cars will be more sought after. In the meantime, you can really enjoy driving what you love. If you want to sell cars, think twice, because I have yet to sell a car that I bought as a collector car that I have not regretted.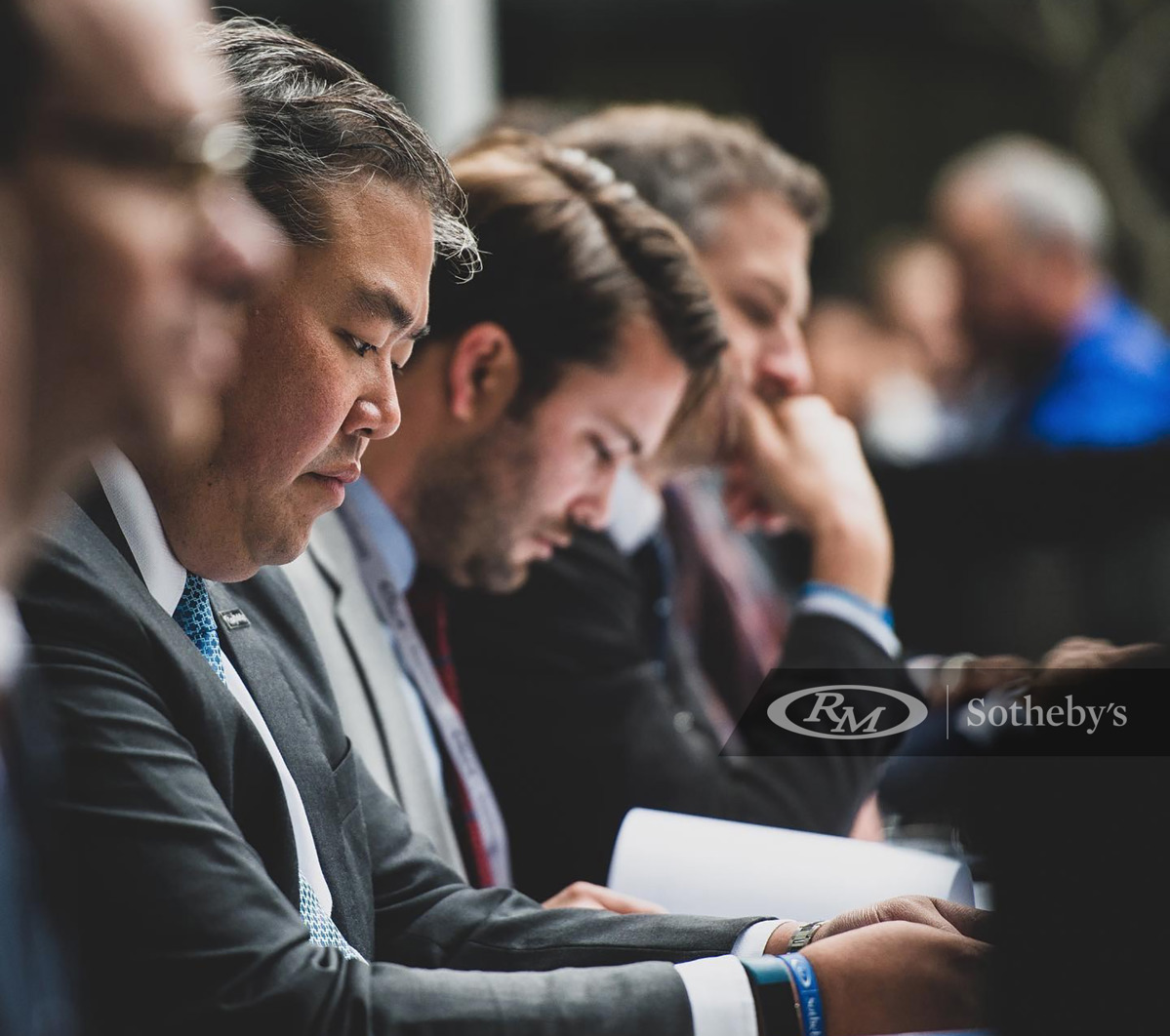 When you know it's time to sell, make sure you look at all of your options and find people who will give you the best advice. I believe people tend to do a lot more research when buying because they are emotionally driven. But they tend to do far less when they are selling because they have gone through the process of emotionally detaching themselves from the car by coming to that conclusion. Selling is just as important as buying, as I have learned over the years, and make sure you think through it hard and find someone that can help you best through that process.