Taking home a trophy can mean many things. While, for some collectors, podium-place finishes are the most important qualification for any motorsports-related car, others can appreciate a car in context. Even the last-place finisher at Le Mans is, after all, still an undeniably special automobile, at least in terms of development time and engineering attention alone. And the same principle applies all the way up the leaderboard. Enduring success happens both on and off the racetrack, after all.
For other collectors, participation in professional motorsport is the last thing they desire in a road car. Instead, the signifier of what makes a quality car is instead a more natural measure of its endurance on the road; has the model gathered a following of devotees? How does the model reflect on its make—in other words, has the example become a halo car for the company that built it? RM Sotheby's understands this deeper definition of enduring success, and as such, our team has diligently sourced examples that reflect positively on the brands that made them; each offering a different take on what it means to take home a trophy, all available this month at Amelia Island: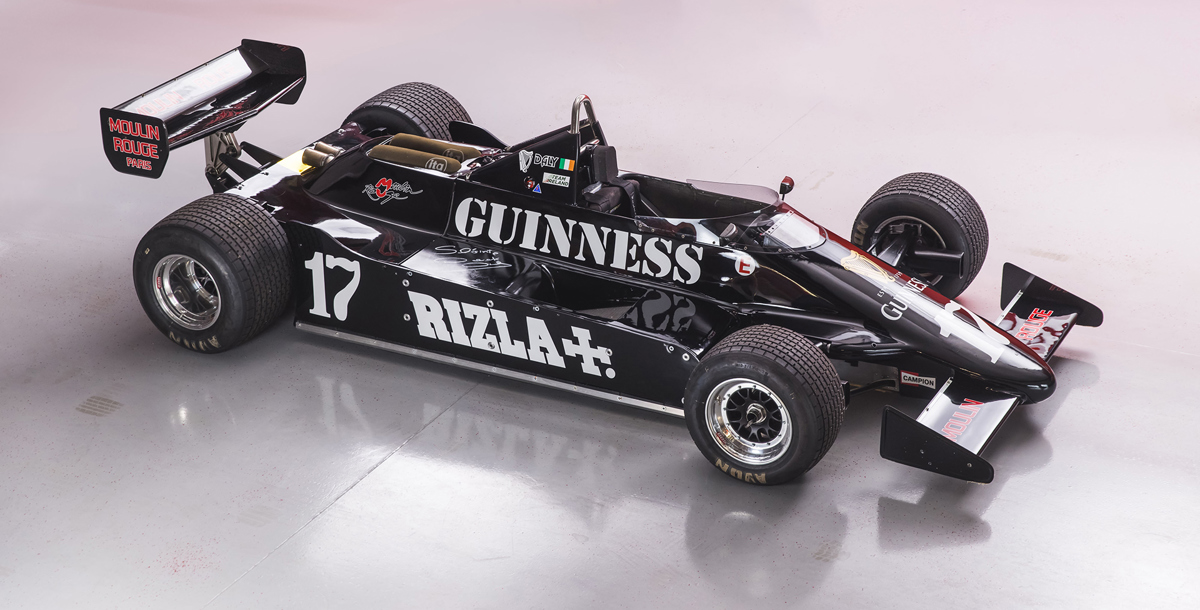 1981 March 811 Formula 1
Estimate: $300,000 - $400,000 USD
In a recent post covering three motorsport-related examples all owned by beloved collector John Campion, we explored the history of this Irish-liveried March Formula 1 car. The performance and history of this car were so inspirational to Campion that it changed the course of his collecting history and thereafter focused his efforts on preserving and promoting the proud (and underpublicized) history of homegrown motorsports in Ireland. Eligible for Masters Historic Racing events, and the Monaco Grand Prix Historique, this example is peak period Formula 1.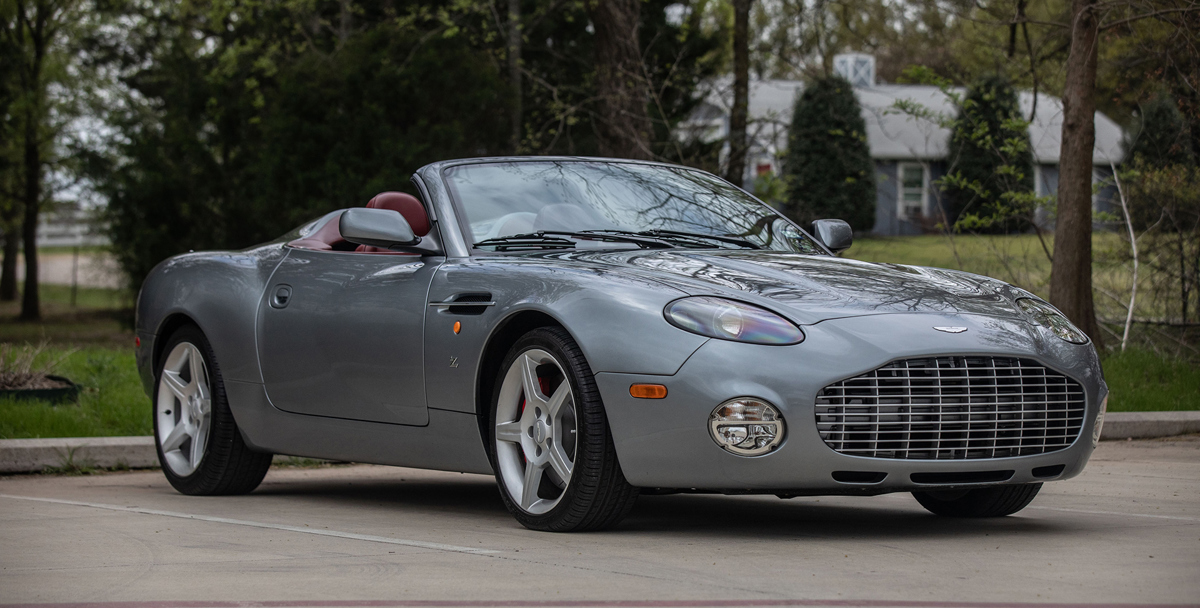 2003 Aston Martin DB AR1 Zagato
Estimate: $300,000 - $350,000 USD
Zagato, for some collectors, represents the ultimate pinnacle of coachbuilding. One of the most prestigious firms in the pre-war era, the oftentimes outlandish designs seen rolling out of Zagato's Milano atelier were more akin to sculpture or modern architecture rather than simply automobile bodies. With iconic features like double-bubble rooflines, which look no less purposeful on open-top cars, designs by Zagato stand apart from the rest, right down to the stylized "Z" badges on the front fenders. This late-model example is no exception; its gorgeous lines inspired the next generation of collaboration between Aston Martin the consummate Italian coachbuilder.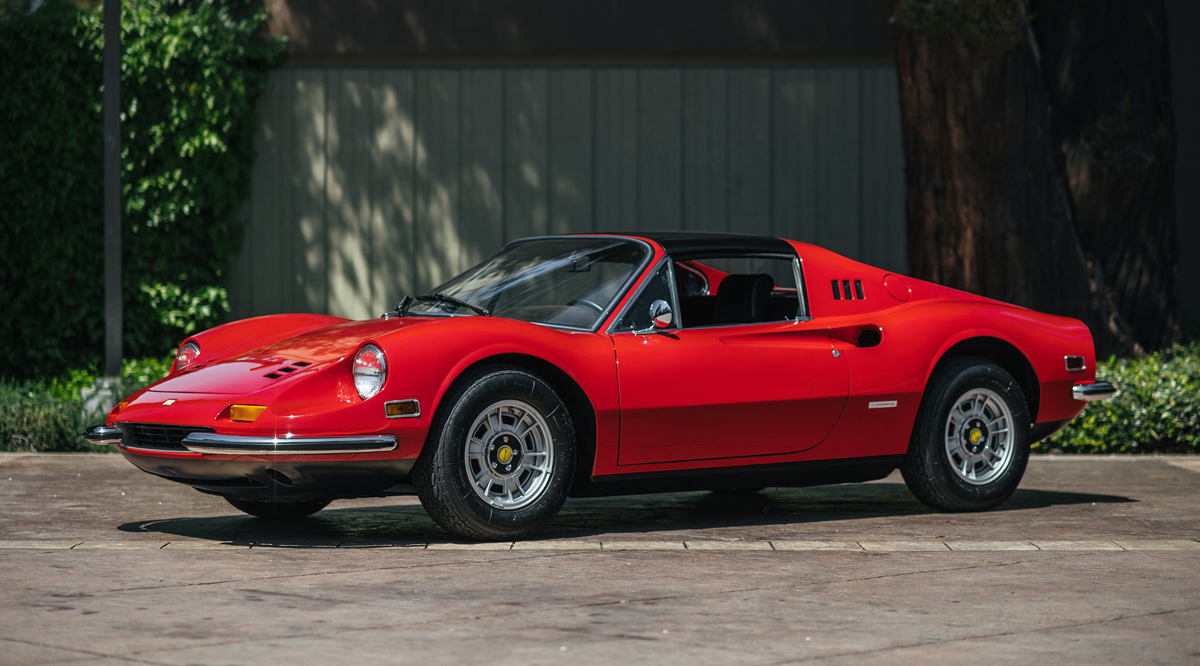 1972 Ferrari Dino 246 GTS by Scaglietti
Estimate: $350,000 - $400,000 USD
A U.S.-spec car from its inception, this Ferrari Dino 246 GTS by Scaglietti is the epitome of what it means to have built an enduring following. Because of its radical mid-engine placement, Dino Ferrari's eponymous coupe looked like nothing else on the road upon its debut. And yet, as the years have progressed, the radical hood scoops, air ducts, and rear buttresses that combined to make this Scaglietti-built sports car so futuristic in the early 1970s, can all be found today as standard features on nearly any car with supercar aspirations. In the ultimate nod to enduring success, the Dino name was dropped after 1976 and the cars were officially welcomed into the Ferrari fold. Well-deserved, indeed.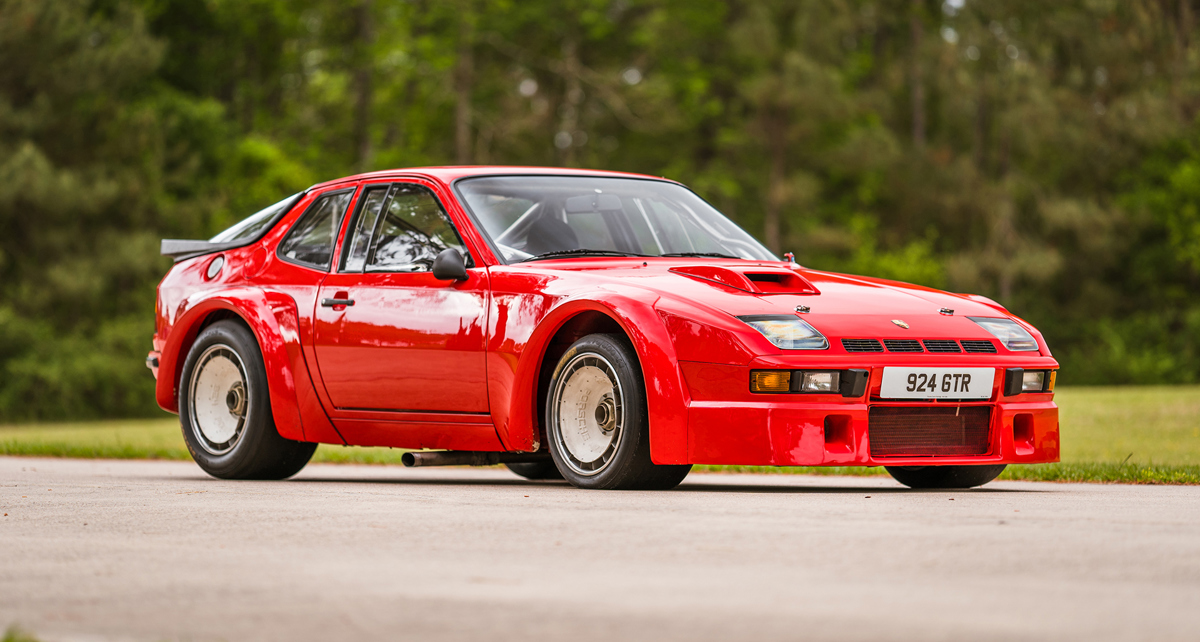 1981 Porsche 924 Carrera GTR
Estimate: $375,000 - $450,000 USD
Any automobiles that have been prepared for motorsport already stand head-and-shoulders above their regular-production counterparts. With additional chassis-strengthening adaptations including a full alloy roll cage and extra cross-bracing underneath the hood, the 1981 Porsche 924 Carrera GTR was made with durability in mind. That is not to say that attention was not paid to overall weight, as the replacement of regular steel panels with lightweight materials such as aluminum and fiberglass, as well as a thin-gauge glass windshield and sliding plastic panels instead of the standard roll-up variety. Achingly rare, with only 17 GTR examples built for customers and privateers worldwide, this motorsport-spec Porsche is worthy of consideration.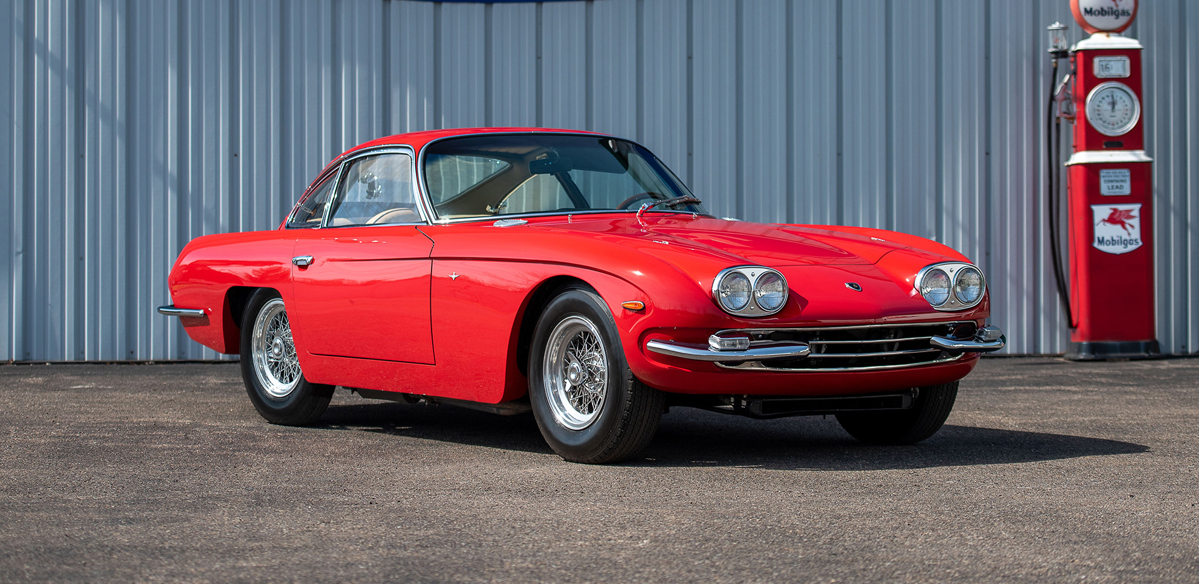 1966 Lamborghini 400 GT 2+2 by Touring
Estimate: $475,000 - $550,000 USD
Though, much like a stable of prancing horses, every Lamborghini model has its advocates, some raging bulls were more important than others in building an enduring brand. While the 400 GT 2+2 was not the first Lamborghini ever released, it was the first featuring four seats; an important differentiating factor when it came to defining the brand as separate from Ferrari. For connoisseurs in-period, the young Sant'Agata Bolognese-based brand offered a luxurious alternative to the typical sports-oriented choices in the mid-1960s, and yet still featured a futuristic superleggera body shell designed by Touring. Today, the enduring popularity of Lamborghini can be, at least in part, traced back to the success of this model.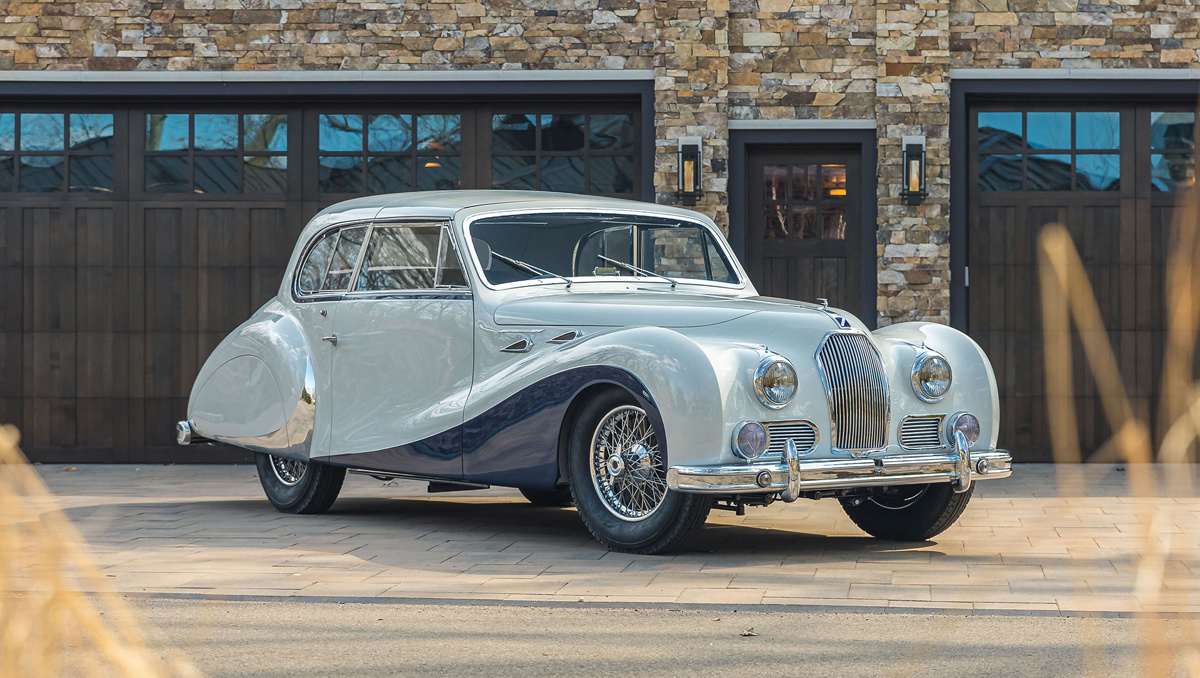 1948 Talbot-Lago T26 Record Sport Coupe de Ville by Saoutchik
Estimate: $600,000 - $700,000 USD
Our tour through some enduring icons has so far touched on some of the greatest names in classic coachbuilding, including Zagato, Scaglietti, and Touring. And yet, in terms of sheer art per square foot, the automotive world has few sculptors who could credibly compete with Saoutchik. We covered this one-of-one Talbot-Lago T26 Record Sport Coupe de Ville in greater detail in an earlier post, but suffice to say, this stunning design is worth mentioning again. A peek into what Jacques Saoutchik saw as the future of the automobile in the post-war period, this Sport Coupe claimed the ultimate in-period prize for a non-motorsports-oriented car: Le Grand Prix du Salon during the 1950 Paris Salon. A winning vision of the future.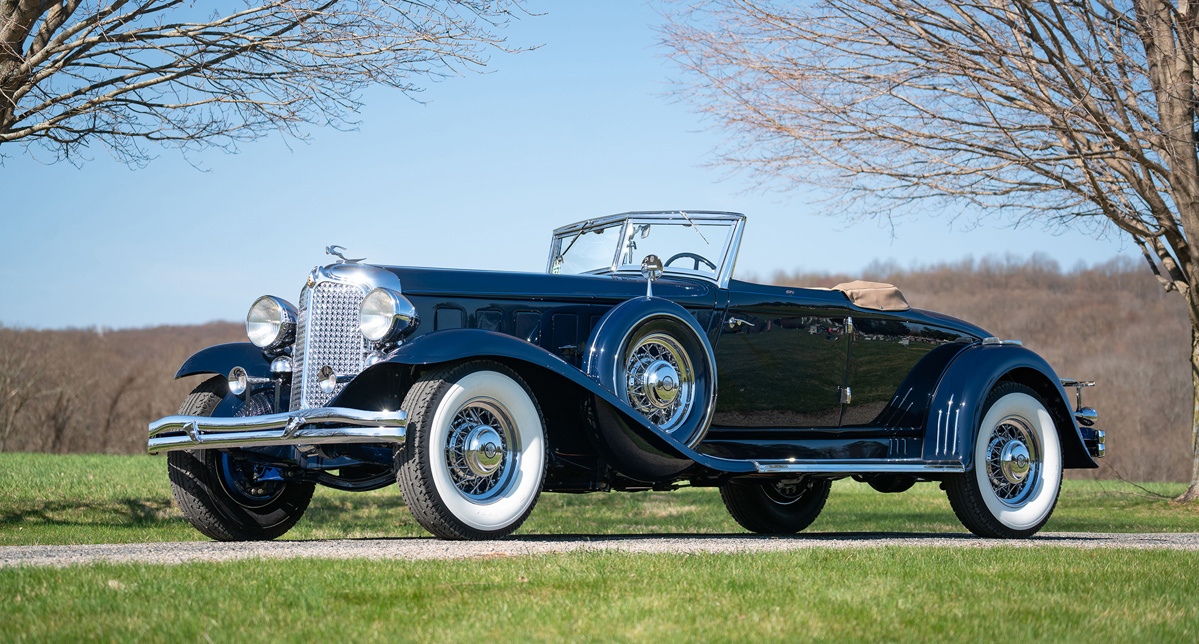 1932 Chrysler CL Imperial Convertible Roadster by LeBaron
Estimate: $600,000 - $675,000 USD
During the Great Depression, few automakers could afford the continuous investment and refinement required to produce a true classic. Debuting in perhaps the most damaging year of the Depression, where U.S. GDP shrank an astounding 14% in one year, the Chrysler Imperial was like a vision of an alternate reality, one in which American-made automobiles still stood toe-to-toe with the best in the world. The Convertible Roadster variant was the most carefree body style made by New York-based coachbuilders LeBaron, and possibly, as a result, was one of only 29 examples delivered in 1932. Low production numbers, of course, signify more about the time period rather than the quality Chrysler built into the CL Imperial; as one of this example's former owners, noted collector Sam Mann, recently attested: "Frankly, it was the best-driving car I've ever owned and my favorite driver."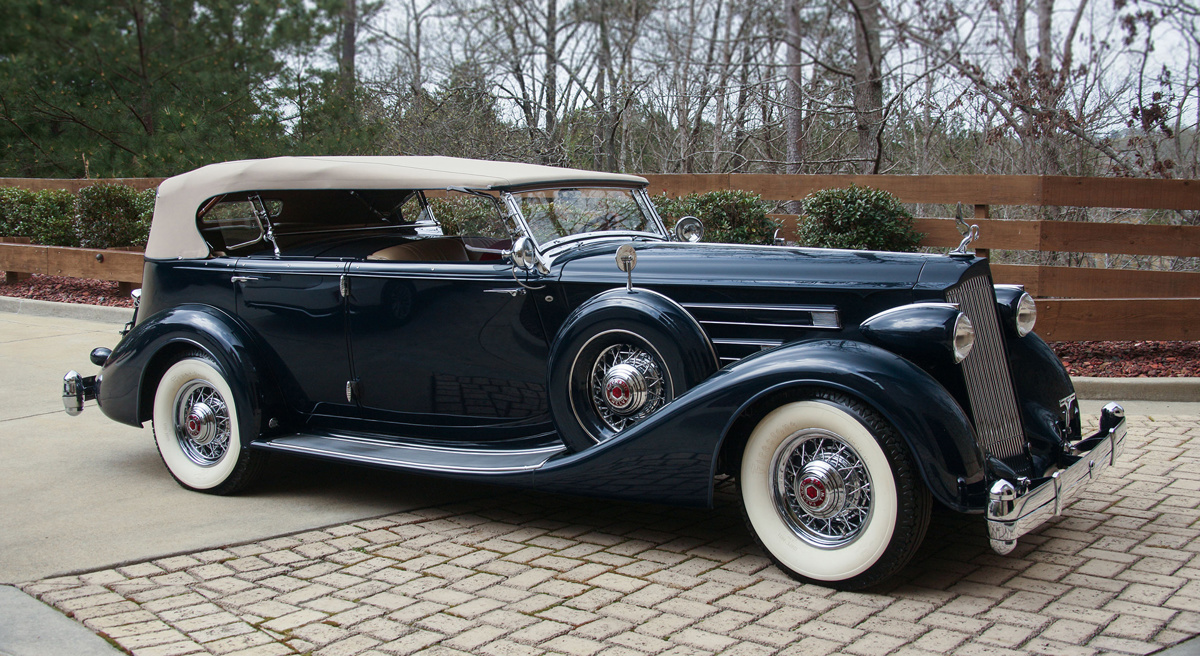 1936 Packard Twelve Sport Phaeton
Estimate: $650,000 - $750,000 USD
Some icons endure long after the companies that made them. Examples like this stunning twelve-cylinder Sport Phaeton have come to represent the Packard marque long after the top-tier Detroit-based brand closed its doors for good. Part of the reason for the enduring enthusiasm around Packard stems from their premium-quality, handbuilt construction on body styles that were much more sporting than typical selections in-period, as well as their relative rarity today. This example was the last factory-built dual-cowl phaeton produced by Packard and sold out of the brand's New York location on Park Avenue, meaning its place in Packard history is assured.
1993 Porsche 911 Carrera RSR 3.8
Estimate: $750,000 - $850,000 USD
One step up from the already fearsome Porsche 911 Carrera RS model was the competition-grade RSR 3.8, of which a mere 49 examples were offered to the public. While today, the automotive world has accepted the Porsche 911 as an icon in every generation, in the early 1990s, the fate of Stuttgart's rear-engine sports car was in a far more tenuous state. It was because of highly modified, driver-focused offerings like this example, not to mention its impressive results at motorsport in the European Pro GT racing and the North American Supercar Series, that the Porsche 911 has survived today as an enduring icon. Fresh from a full service including a replaced clutch before being sold to its present owner in 2016, this example showed a mere 14,793 kilometers (approximately 9,190 miles) at the time of cataloguing.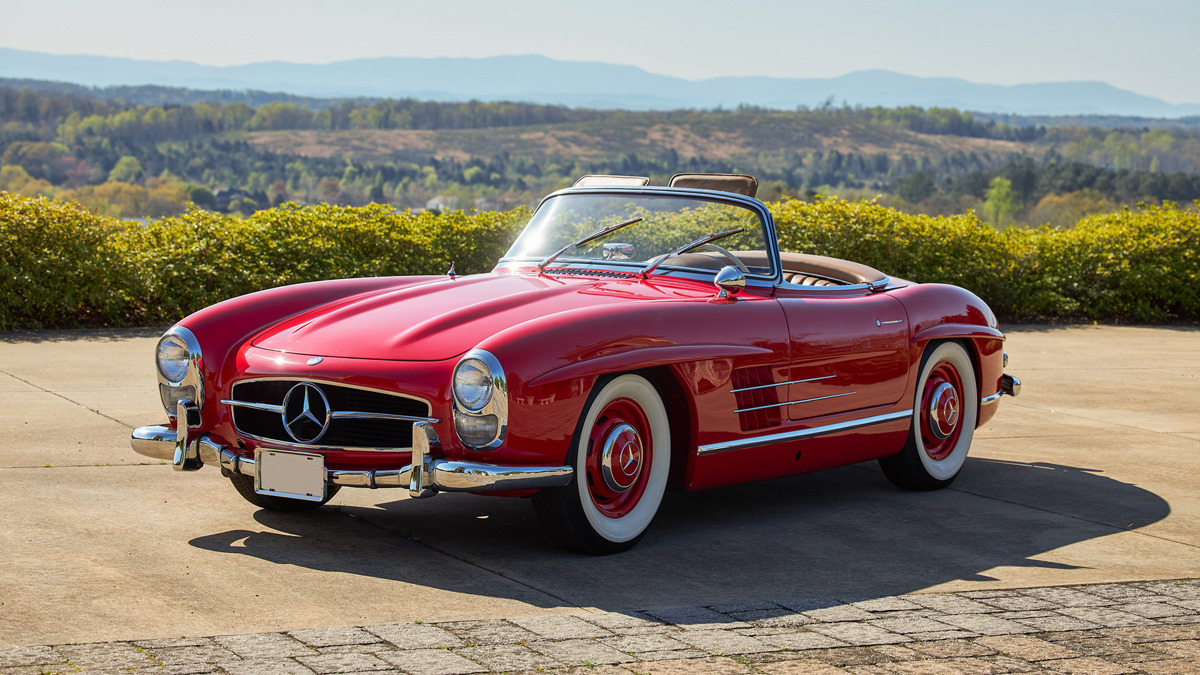 1958 Mercedes-Benz 300 SL Roadster
Estimate: $800,000 - $1,000,000 USD
Speaking of enduring icons that have buoyed their parent brands, there is no doubt that Mercedes-Benz enthusiasts today all derive some of that enthusiasm from the legendary 300 SL "Gullwing" Coupe and Roadster. Though the SL nameplate lives on in the upper end of today's Mercedes-Benz grand touring options, in-period, the futuristic tube-frame construction of the 300 SL siblings lent them the status of halo cars. The prodigious in-period performance that set the 300 SL above its European rivals in tough endurance races like the Carrera Panamericana means that today, collectors find examples like this 300 SL Roadster even more desirable for their roadgoing abilities.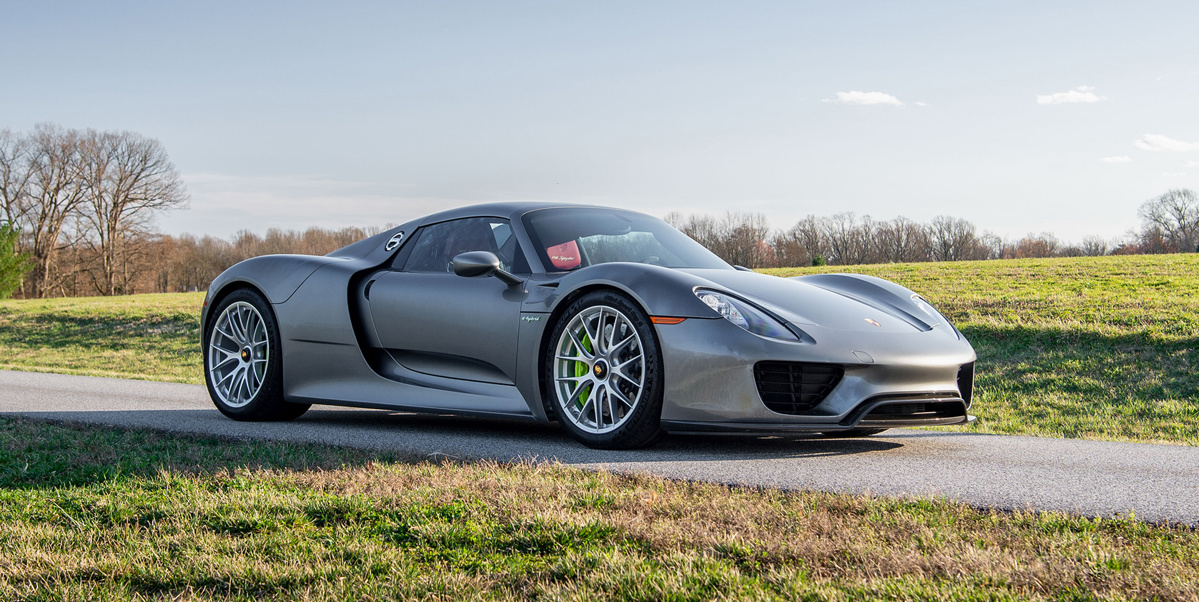 2015 Porsche 918 Spyder
Estimate: $1,000,000 - $1,250,000 USD
Fast-forward over fifty years, and the competition between automakers for the ultimate in all-out roadgoing vehicles turned hyper. Viewed most as opposed to its top-tier competition of the McLaren P1 and Ferrari LaFerrari, the Porsche 918 offered an intriguing alternative to the hypercars of the U.K. and Italy. Like the 300 SL Roadster we covered previously (and altogether unlike the Ferrari and McLaren) the 918 offered an open-air experience with its removable, easy-to-stow Targa roof panels. Wearing perhaps the quintessential color combination for any open-air Porsche sports car, the 918 Spyder is all-the-more handsome for its Meteor Silver Metallic over Garnet Red leather.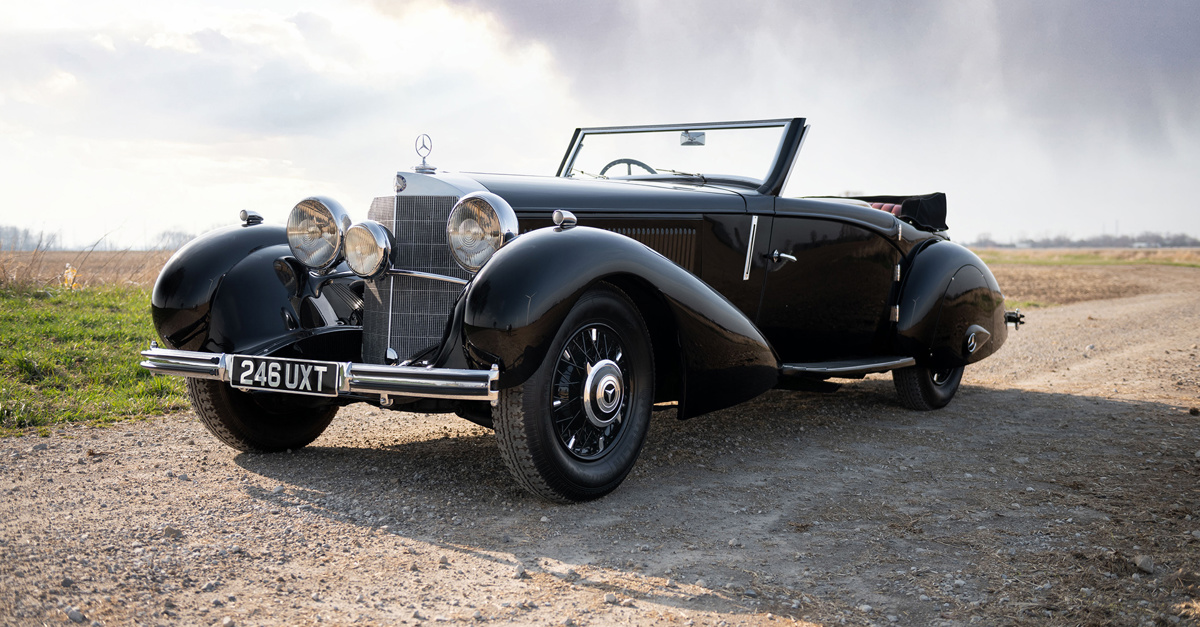 1935 Mercedes-Benz 500 K Three-Position Roadster by Windovers
Estimate: $1,000,000 - $1,500,000 USD
The third in our mini-series of iconic open-air sports cars from Germany, this pre-war Mercedes-Benz example still benefits from a handsome, thorough cosmetic and mechanical restoration courtesy of the experts at RM Auto Restorations. Though that statement may seem subjective, the restoration was sufficient for this example to be invited to compete at the Pebble Beach Concours d'Elegance in 2007 and at Amelia Island the following year. With its original Windovers body shell retaining all of its original visual impact—from the exposed, chrome air ducting suggesting a supercharged powerplant, to its elegant, hand-sculpted fenders, the shape of this 500 K came to define the pinnacle of the pre-war era for years to come.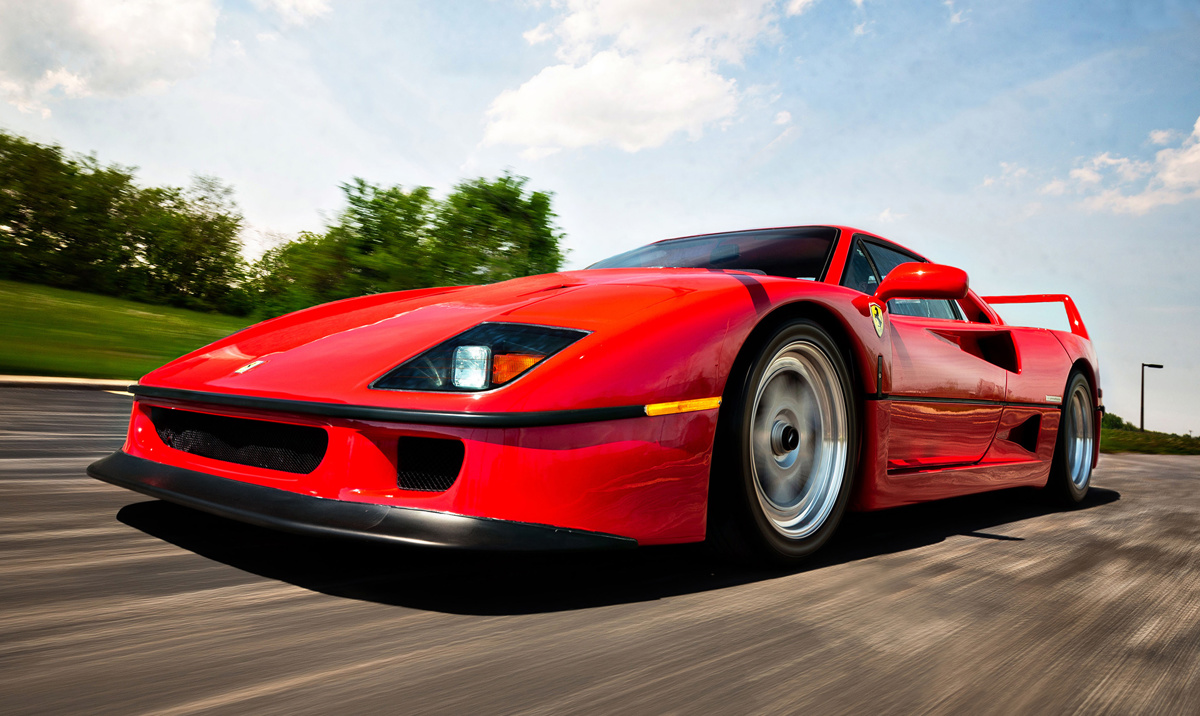 1992 Ferrari F40
Estimate: $1,800,000 - $2,200,000 USD
Speaking of automotive pinnacles, there are few cars that can inarguably be labeled "super." With an engineering pedigree that can trace back directly to company founder Enzo Ferrari, the F40 was quite simply intended to deliver exhilarating performance, either on-road or on-track. We covered this example in further detail in a previous blog post; it is definitely worth your time to see the extensive photo gallery and documentation attached. The first of two headline features, especially for U.S.-based readers, is that this example is one of a mere 60 built for the North American market in 1992, the final year of the F40 production. The second would be relevant for Ferrari enthusiasts worldwide: The minimal 3,304 miles shown on this example's odometer at the time of cataloguing.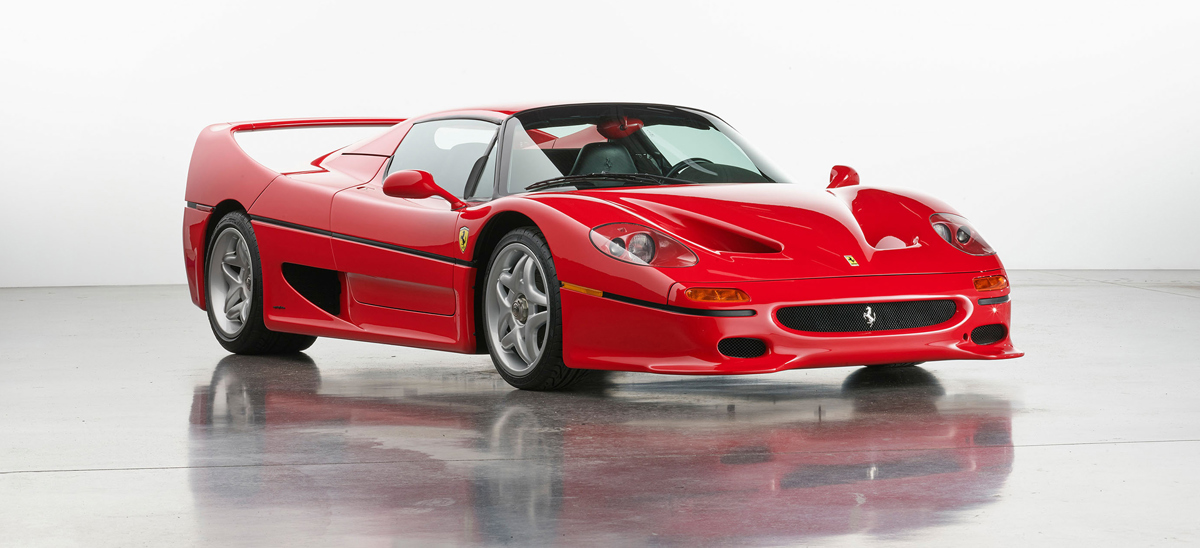 1995 Ferrari F50
Estimate: $3,400,000 - $3,750,000 USD
The final lot on our list of enduring icons is valued today for its rarity in terms of production but also in terms of ethos. Like the Porsche 918 hypercar we covered previously, the Ferrari F50 was designed to be used either with its top opened or closed, offering drivers the option of how they wished to experience the headline feature of examples like this one: A naturally aspirated V-12 engine. When paired with a six-speed manual gearshift made of carbon fiber and connected to an open-gate, the F50 delivers a driving experience highly sought-after for any Ferrari fan. Even today, when the values of modern manual transmission supercars are starting to rise considerably, the formula behind the F50—naturally aspirated V-12, six-speed, top-down—is difficult to replicate among supercars of any stripe. A torch-bearer for driving engagement industry-wide, the F50 is an enduring automotive icon.