Before Ford vs. Ferrari, another team of ambitious American drivers, mechanics, and engineers traveled to Europe to prove the worth of sports cars made in the U.S.A. The year was 1960, and the team was led by legendary entrepreneur and race builder Briggs Cunningham.
It would not be an exaggeration to say that the team had greatness in their ancestry. Bill Kimberly, the driver of the noteworthy Chevrolet Corvette LM we are covering today, was part of one half of the family-run Kimberly-Clark paper business. Kimberly's well-loved uncle, Jim Kimberly, a onetime President of the S.C.C.A., was known as "Gentleman Jim," setting a template for gentleman drivers until this day. At Le Mans in 1960, Kimberly was piloting the No.1 Corvette LM, a certifiable artifact in the arena of American automotive history. Rediscovered in 2012 and only recently announced for sale, the upcoming offering of this extraordinary example at RM Sotheby's annual Amelia Island auction on 22 May 2021 is bound to be a historic event in and of itself: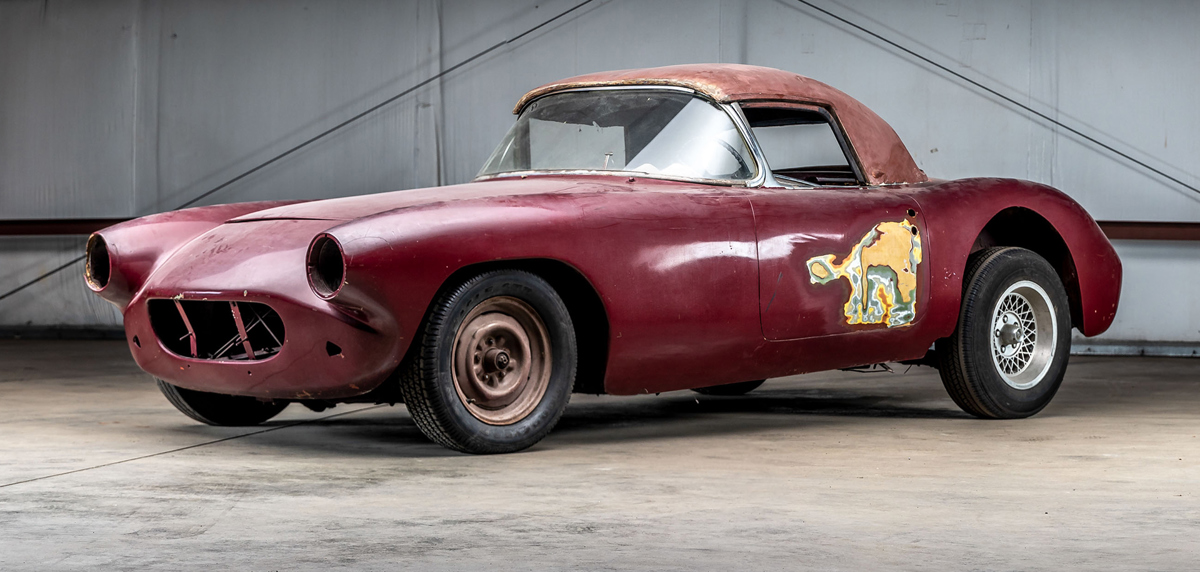 1960 Chevrolet Corvette LM
Estimate: $900,000 - $1,300,000 USD

 

|

 

Offered Without Reserve

 

The rest of the 1960 Corvette Le Mans contingent had equally storied pasts. John Fitch, perhaps the most successful driver on the team, was the descendant of another man named John Fitch, who had invented the steamboat. Briggs Cunningham's family had used this invention to gather a small fortune, running riverboats in the Ohio area, then investing that money in a soap startup called "Proctor & Gamble." Cunningham Sr.'s investment turned out to be a wise one, setting his son up for a lifetime of sporting adventures: Sailing competitively at the America's Cup, constructing his own make of sports cars, and racing at Le Mans as early as 1949.

Ten years later, Cunningham had grown serious about competing against the Europeans. His 1960 effort fielded four cars in total, three standard Corvettes, and one prototype Jaguar. The prototype car, E2A, was actually the test mule for the Jaguar E-Type. Though its futuristic chassis design and aerodynamics were proudly displayed, and despite setting the Le Mans lap record during practice, the prototype Jaguar did not finish the race. The hopes of America, and indeed the pride of the Cunningham team, rested on the Corvettes.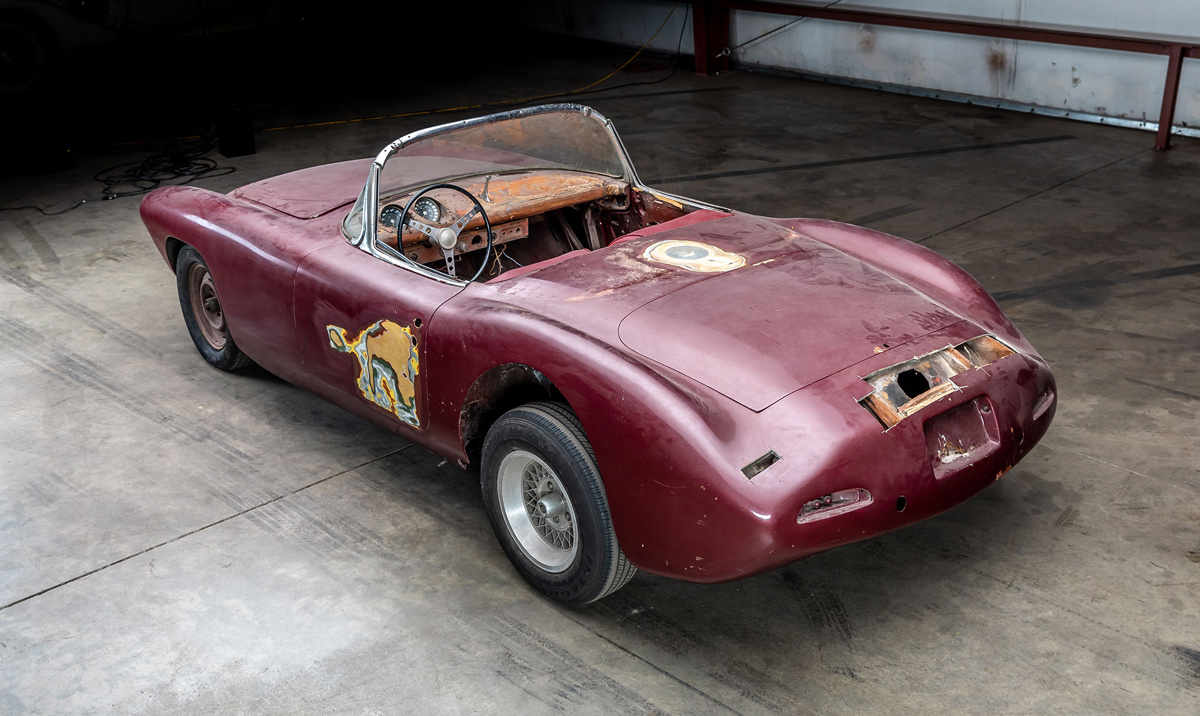 Thankfully, the Cunningham team had a clandestine compatriot in the battle against the best sports cars of Europe: General Motors. Though the support was officially "unofficial," GM dispatched the engineering genius in charge of their Corvette division, Zora Arkus Duntov, to provide advice and assistance (some historians claim that Cunningham's idea to race Corvettes at Le Mans was actually inspired by Duntov, completely plausible given Duntov's competitive nature). The General also financed a substantial piece of filmmaking to document the effort, comprising thirty-four minutes of some of the most compelling historic racing footage ever captured; essential viewing for sports car fans of all stripes.
Introduced and narrated by one of the Cunningham team's other famous American drivers, the so-called "Flying Dentist," Dick Thompson, the documentary that GM commissioned provides an honest introduction for mid-century Americans to the Euro-centric world of endurance racing. Thompson describes the famous Circuit de la Sarthe as a racetrack that was "selected, not built," and goes on to detail each of its treacherous corners, and how they each test different aspects of automotive performance, from brakes to power output. In each arena, Thompson is generous to his competition, calling the V-12-powered Ferrari coupes "strong" and "dependable cars," but his emphasis throughout the film is that the Corvette LM was essentially stock.
Of course, now we know that they were anything but. With race-prepared V-8 engines, featuring futuristic fuel-injection and aluminum cylinder heads—all personally dyno-tested by Duntov at the GM Tech Center in Dearborn—the Corvette LM race cars were significantly modified, with motorsport-spec fuel-fillers, center-mounted in their rear decks, twin electronic fuel pumps (operated by switches on the dashboard), and a tachometer with a telltale sweep hand, so Cunningham could ensure his drivers did not over-rev his precious Corvette LM sports cars.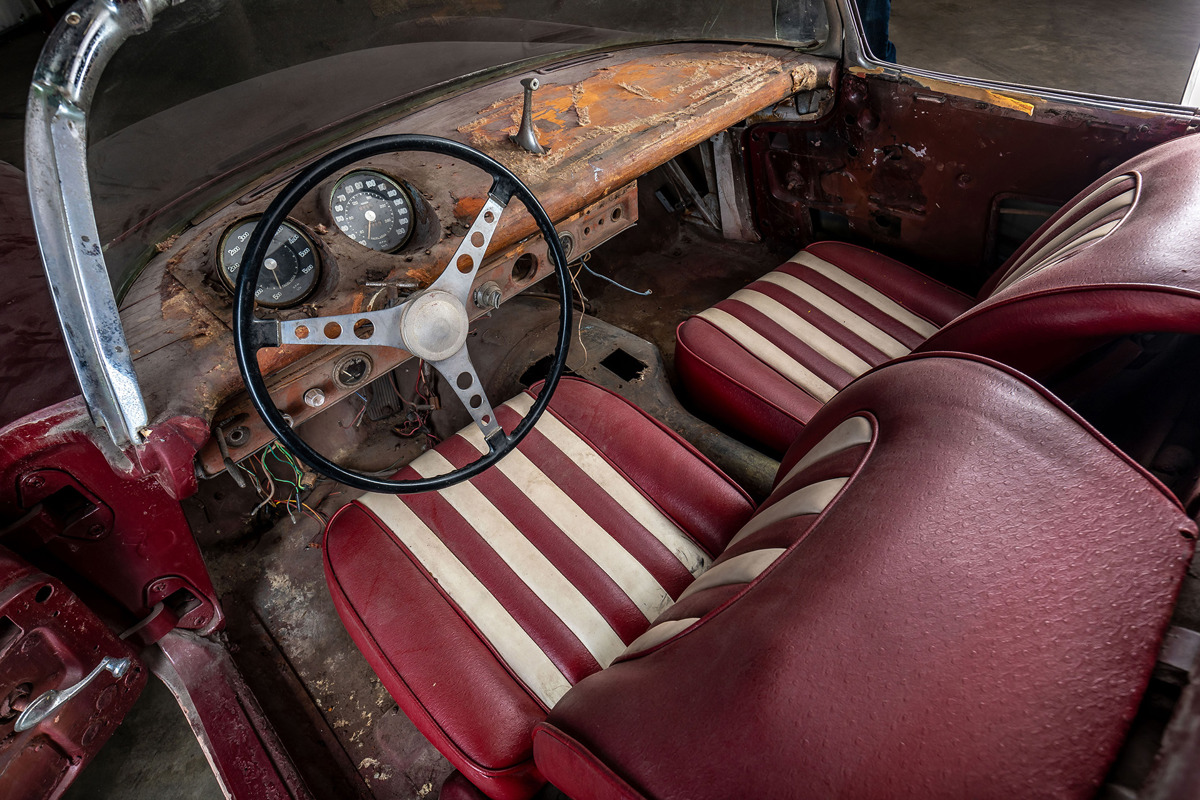 Sadly, though Kimberly was a supremely professional driver, and kept his Corvette engine unstressed in the early part of the race, two hours in, the infamously treacherous weather conditions at Le Mans struck his No. 1 Corvette LM literally head-on. "A virtual wall of rain forced Kimberly's No. 1 Corvette off the track at White House [turn], and he flipped. Spilled gasoline caught on fire and burned the ignition wiring off the engine. If this hadn't happened, perhaps he could have made it back to the pits, and that car could've finished the race after a few repairs. But you can't repair a car on the course, it must get back to the pits," Thompson summarized, indicating the Corvette LM was damaged, but repairable.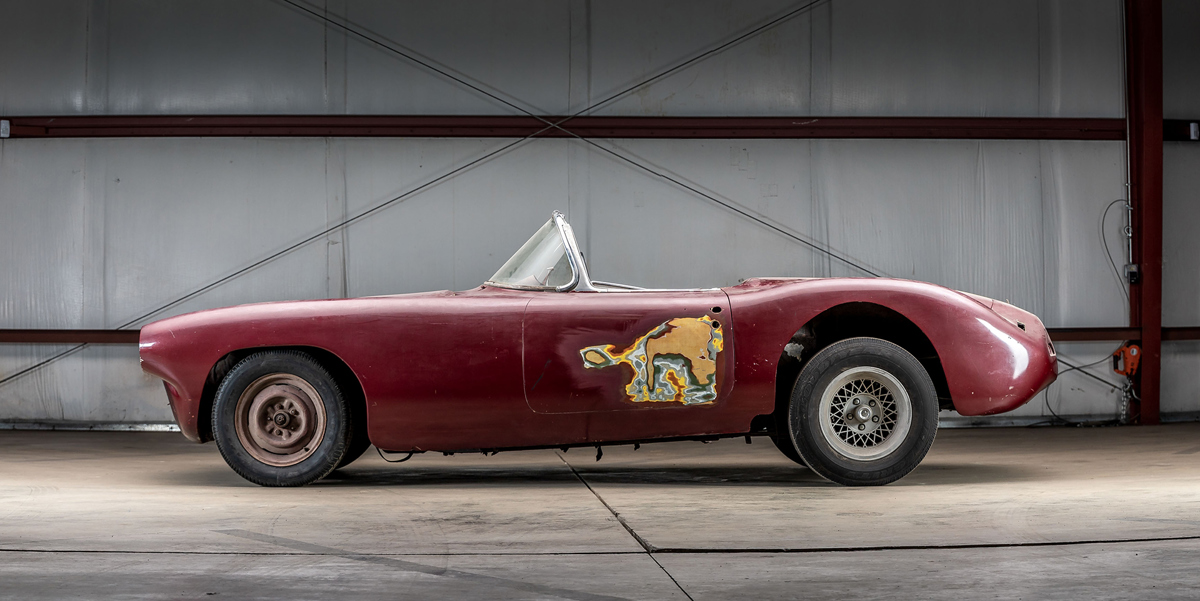 Watching the Corvette LM cars, painted white-with-blue-stripes initially unloaded at the port in La Harvre, then slide through narrow streets to arrive at Le Mans, one begins to appreciate what an international effort this was. "Our foreign cars received a lot of attention from the French people. I guess they hadn't seen many Corvettes to speak of," as Thompson described it. Fast-forward four decades and the Corvette racing team was still such a favorite among the French population, the official crew photo had the team all donning berets and fake mustaches. One realizes that "Chevrolet" sounds different when pronounced with a French accent. After Fitch's No. 3 Corvette LM finished first in its class and eighth place overall with 281 laps completed, the Corvette's international credentials were established forever.
Cars like this 1960 Chevrolet Corvette LM became beloved underdogs, setting the tone for GM's surprisingly successful international motorsports efforts until this day. In the modern era, Corvette Racing had an astonishing sixteen straight victories with the C6.R, proving that the Le Mans success was not an outlier. It has also made this exceptionally rare trio of mid-century race cars a class in-and-of-themselves. Noted collector Bruce Meyer owns both the No. 2 Corvette LM and the 2009 Corvette C6.R, linking the cars in a well-curated display of world-beating American cars. Fitch's No. 3 Corvette LM is no less iconic, itself inspiring a feature-length documentary about its rediscovery and restoration at the hands of a father-and-son team of Lance and Chip Miller.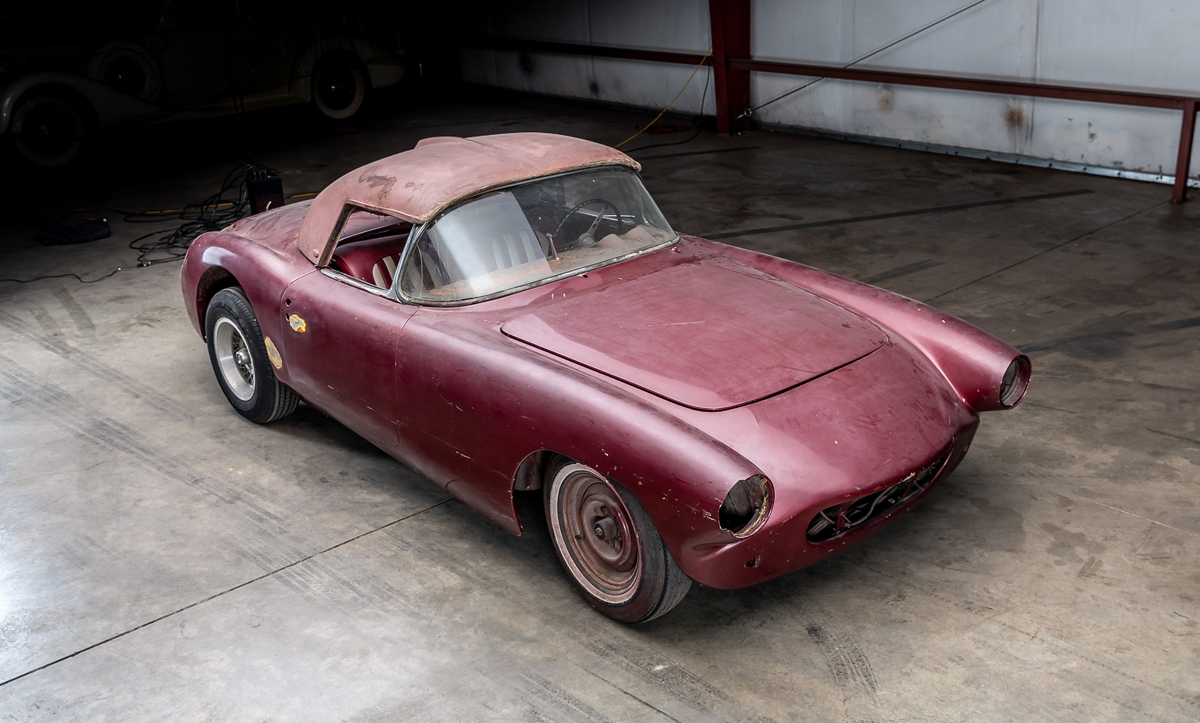 Simply put, this Corvette LM chassis is an artifact of American racing history. The offering of the No. 1 car at Amelia Island in May 2021 will be a significant event in terms of the timeline of this car, but it will in no way mark the end of its story. Truly a car worthy of a full restoration, this 1960 Chevrolet Corvette LM will no doubt be a welcome participant at concours events and vintage races around the world.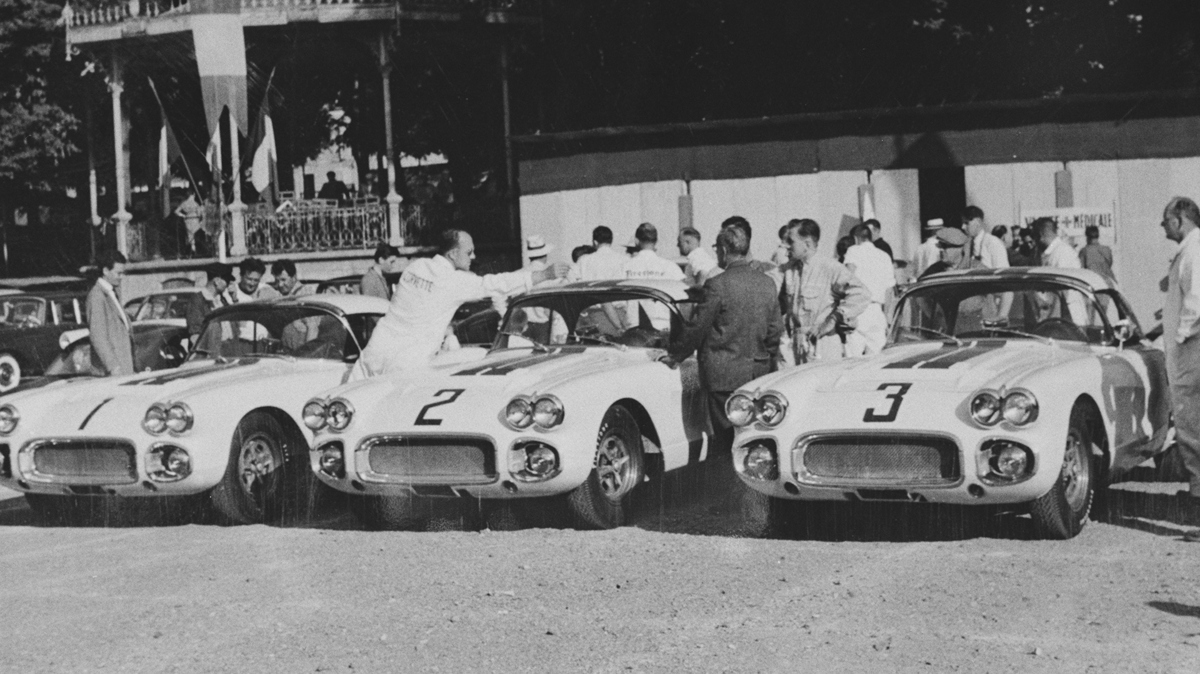 Courtesy of the Revs Institute
And maybe one day, hopefully soon, we can see all three of Cunningham's Corvettes lined up once again—No. 1, No. 2, and No. 3—on the grid at Le Mans. Surely, that will be a welcome sight to motorsport enthusiasts of all nations; a V-8-powered vision of the future.