Launching an all-new automotive auction can be an exceedingly complex task, with many moving parts even before one considers the cars. And yet, with industry-leading reputations of delivering first-class amenities and exceeding even the highest of client expectations, RM Sotheby's, MGM Resorts, Sotheby's have teamed up to offer a spectacular selection of thrilling sports car examples, making this all-new event one that surely will capture the attention of devoted car collectors as well as the numerous tourists and casino-goers that visit Las Vegas each October. Drawing visitors' attention away from the flashing lights and world-class entertainment would be a difficult proposition if not for the truly stunning selections on offer.
Instead, hosting an event on the Las Vegas strip perfectly suits the outspoken character of this iconic American sports car. Moreover, it represents a homecoming of sorts. Though Carroll Shelby's eponymous sports car company famously was founded in southern California, in 2013, Shelby American officially moved its global headquarters, including its engine building division, to an off-strip location in that famous desert oasis in Las Vegas, Nevada. As you will immediately appreciate, this hometown hero is no ordinary Cobra: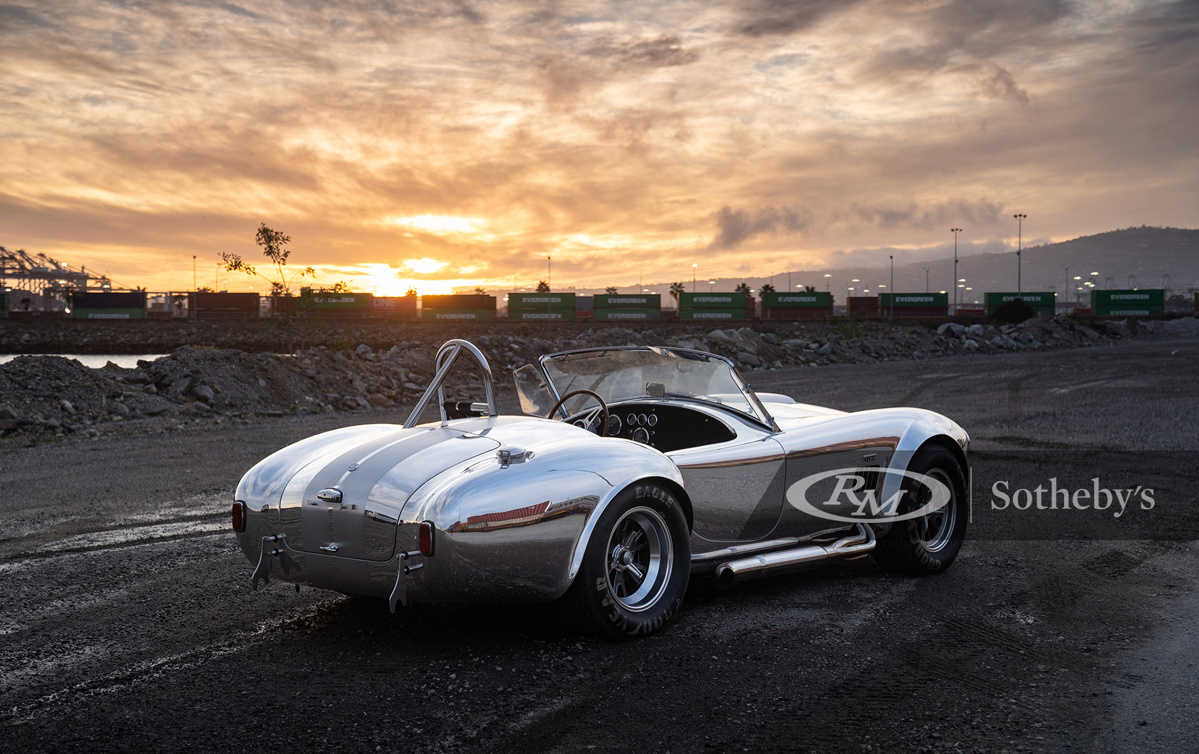 1965 Shelby 427 S/C Cobra "CSX 4428"
Estimate: $350,000 - $400,000
Wearing a coat of polished and brushed aluminum, this example will certainly stand out, even in an environment as engaging as Las Vegas. Renowned for its lightweight qualities, aluminum is a magical material, the adoption of which has advanced the automotive industry almost by itself. Its density equivalent to 1/3rd of what a comparable amount of steel would total, aircraft-grade aluminum has been used in hand-formed, high-end sports cars since the sixties. Typically, the advanced material is covered in paint to better blend in with the other cars on the road.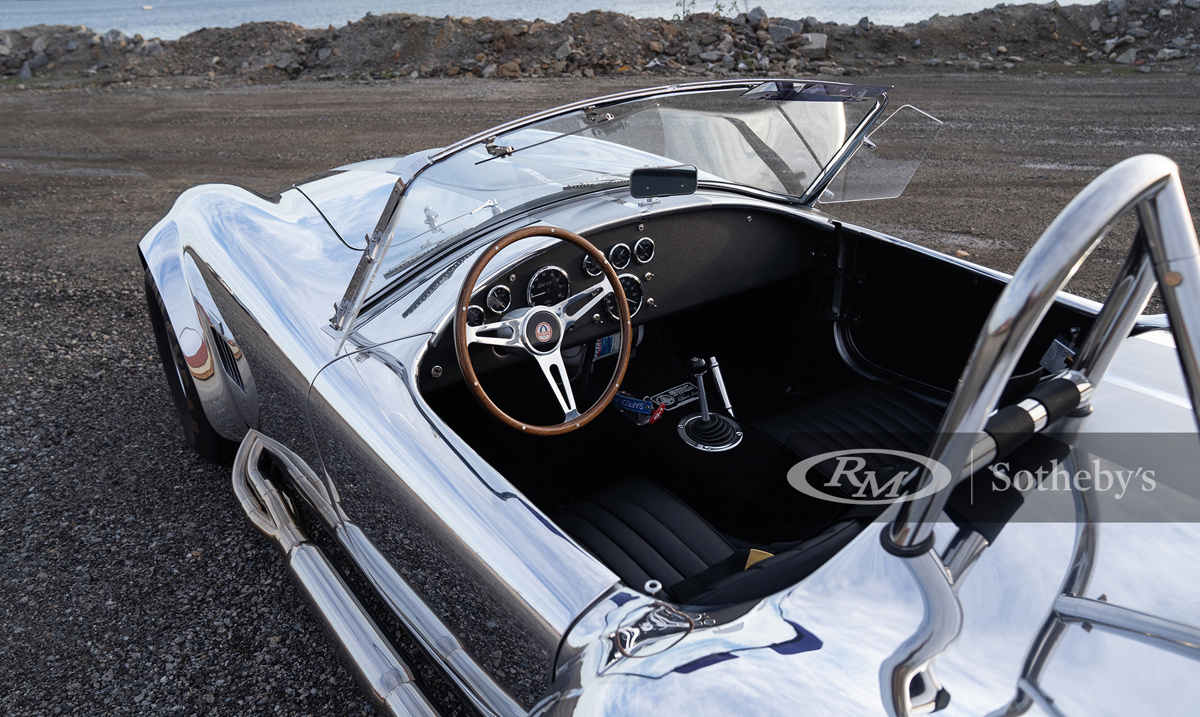 A work of automotive art made at least in part as a tribute to Shelby by the Provo, Utah-based firm Kirkham Motorsports, the expert craftspeople employed there built a renowned reputation on executing aluminum-bodied Cobra sports cars with exacting quality and attention to detail. Building a bare metal car requires absolute perfection in terms of surfacing and panel fit, as each piece of the body shell is presented without paint.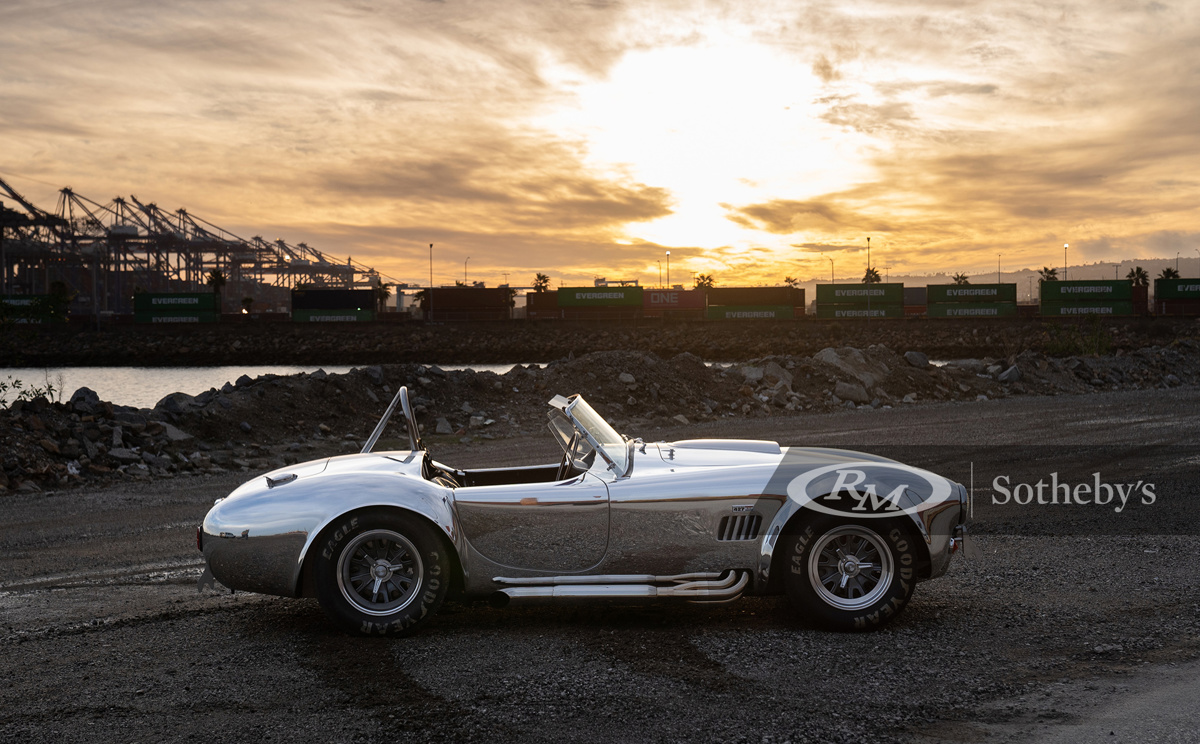 Only in rare instances like the jaw-dropping Ford GR-1 concept car are automobiles presented in bare aluminum. Shelby enthusiasts will no doubt know that the gorgeous GR-1 concept was co-developed with Carroll Shelby, one of the Texas-born sports car maven's final collaborations with Ford before he passed away in 2012. The mirror-like finishing on this example serves as a fitting tribute to one of the most iconic shapes in sports car history.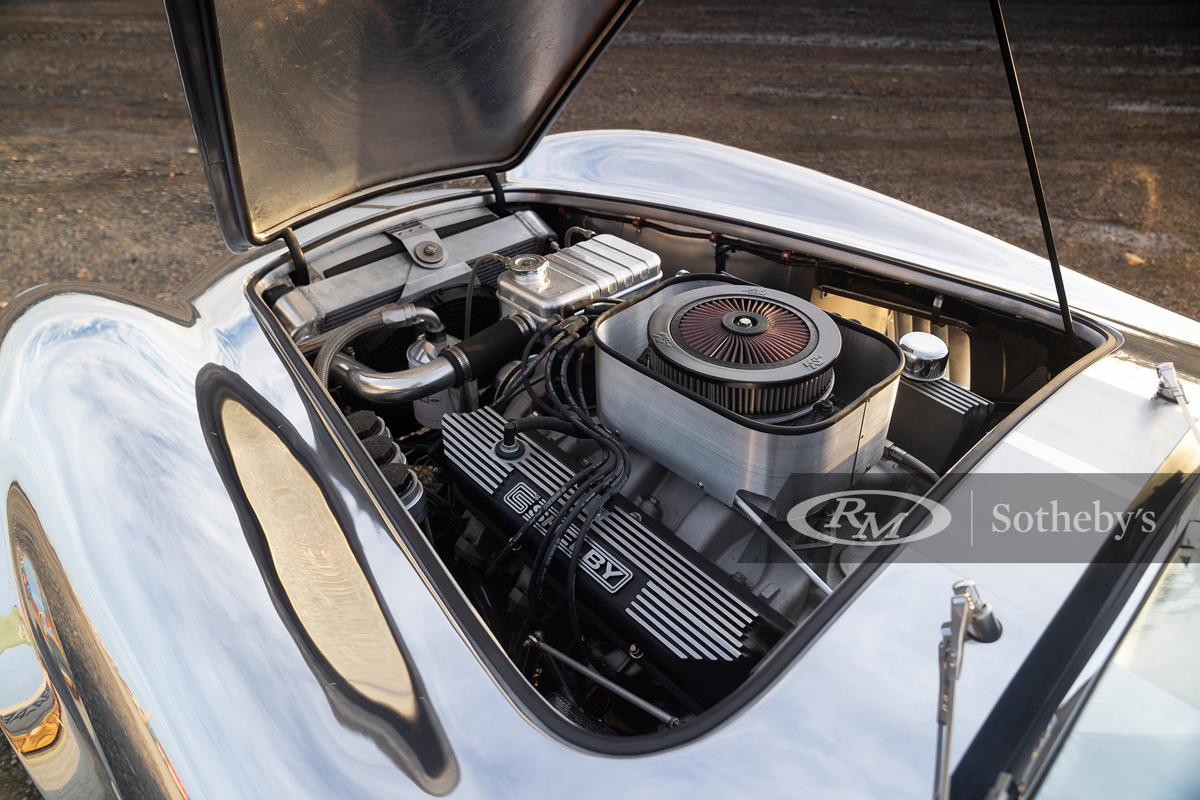 Composing the centerpiece of this Cobra is an authentic, aluminum-block "427 FE" V-8 made by the Carroll Shelby Engine Company, aluminum also makes up the Shelby-branded finned valve covers, air intake, high-flow water pump, and the heads themselves. Though the 427 S/C model Cobra featured an engine of the same displacement, Carroll Shelby Engine Company has bored and stroked this powerplant to an impressive 468 cubic inches in total. Power output amounts to an impressive 550 horsepower. Complete with a Carter fuel pump, a Melling high-pressure oil pump, an MSD pro billet distributor, and an aluminum intake and Holley Hardcore 850HP Double Pumper carburetor, this engine is comfortably in the upper echelons of Cobra performance.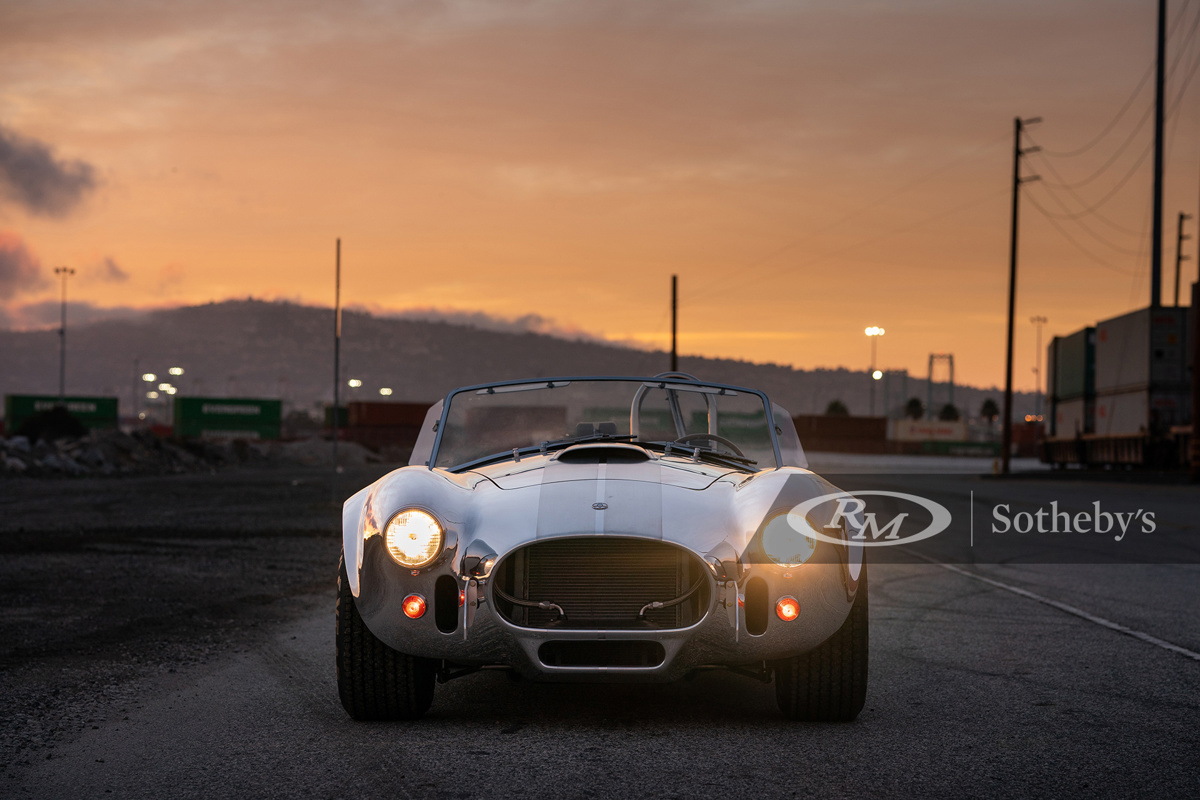 With its classic Cobra shape presented in polished aluminum with twin contrasting brushed "stripes" marking its centerline, the team at Kirkham has achieved a command of materials and fine finishing that would not look out of place in an art gallery or even a private museum. A moving sculpture worthy even of attracting attention on Las Vegas Boulevard, this shapely Shelby Cobra is an ideal icon up for auction at the Icons of Excellence & Haute Luxury auction, with all lots selling on 24 October 2021. For more information and to see the full listing of offerings click here.